Fantastic, spectacular: Heligoland Pilgrims lose their head
In one respect both teams concurred when looking back at the 4th ERDINGER Alkoholfrei Atlantik Cup, played on Heligoland on 3 and 4 September 2016: "It was a fantastic three days of cricket," voiced Cam, who had valiantly led Heligoland Pilgrims' campaign against the victorious Andorra Cricket Club. The guests' team manager Steve replied: "Can you please pass on our heartfelt thanks to you and the rest of your team for hosting such a wonderful, once in a lifetime experience and also a spectacular weekend of cricket." So, what was so fantastic, so spectacular? Well, it was not only the cricket and the exciting match; it was the whole event socially enshrouding sport, fun and happiness for all participants on a remote island. Let us expand:

Yes, the Pilgrims lost their cup once again, but they accomplished it as a team, and they certainly did it in style. The increasingly dramatic match went down to the wire, right to the very last over. What turned out to be crucial was that in the first innings none of the Pilgrims' bowlers nor their fielders could get Mike S. out. Andorra's power pack achieved 125* on Saturday – incidentally the highest recorded individual score on Heligoland so far.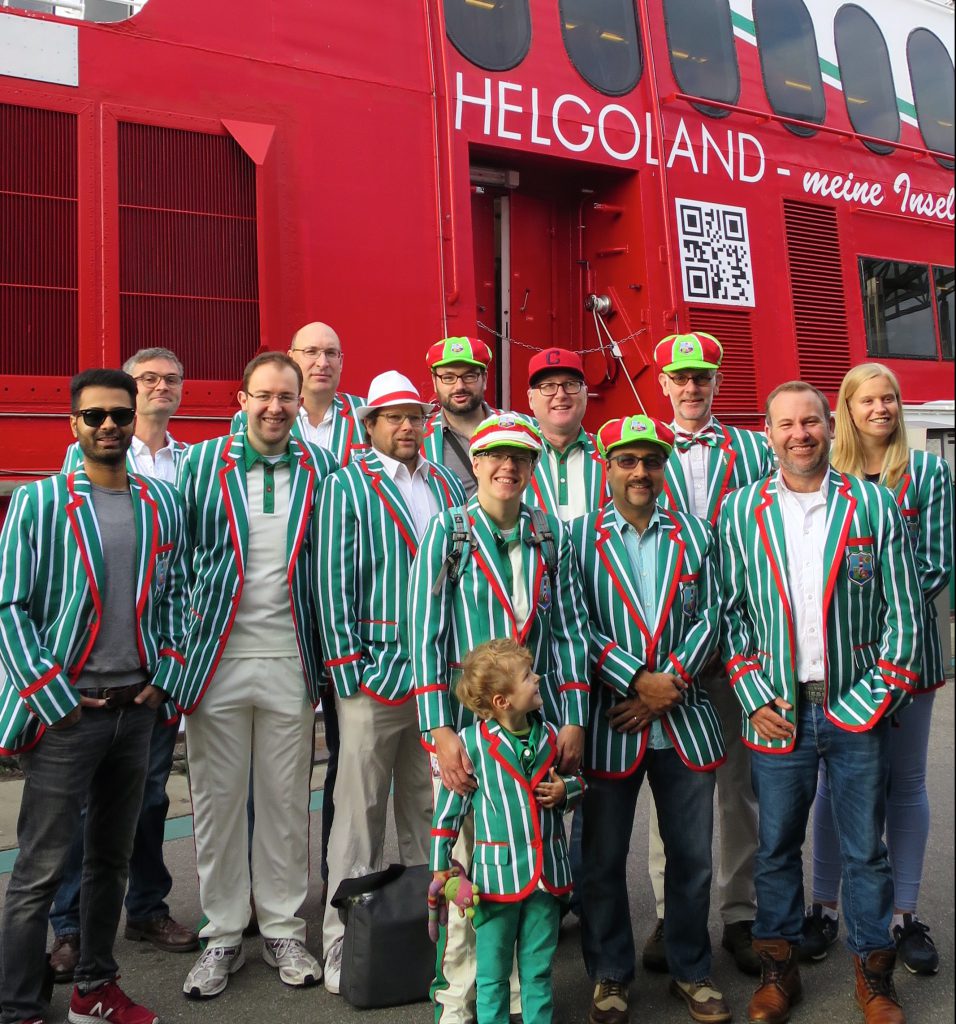 Satya took 4 for 26, Mark R. got 3 for 32, all neatly bowled, and Cam and Steve managed a clever run-out together. But Mike S. stayed in, carefully selecting his shots until he accelerated when it mattered, namely at the end of his stint where he even hit 5 boundaries in one over. Not all of the Andorran players reached double figures, though. The most valuable contributions came from Ian (32) and his son Daniel (31). Still, 207 for 8 after 40 overs on day one should have been an achievable target for the self-proclaimed islanders.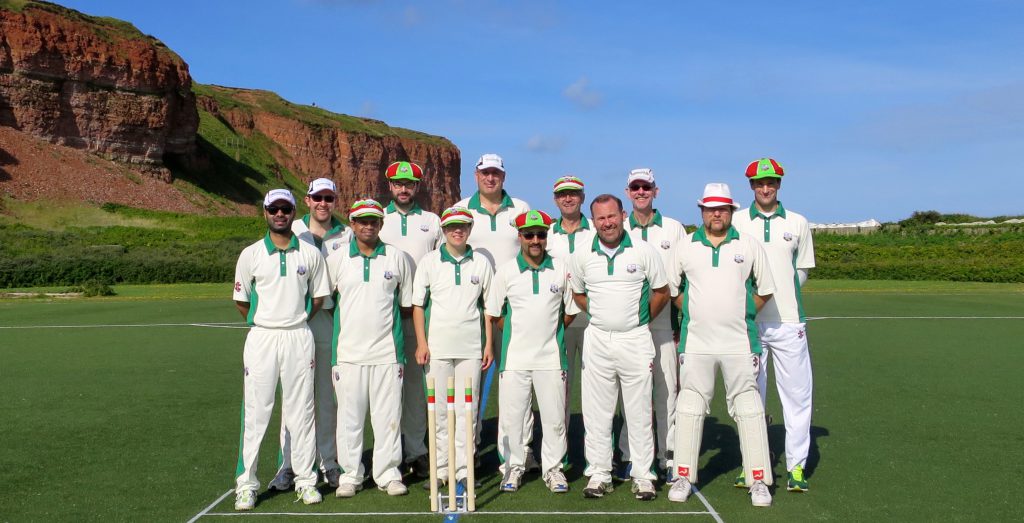 In the Pilgrims' reply only Cam (57), Satya (38), Steve (33) and Nabeel (21) could match the Andorran players' figures. Wickets, however, were lost in a careless manner – five catches by the opposition tell the tale. Credit must go to Mike S.'s bowling, too: he took 4 for 26, ably supported by young Daniel (3 for 46), Peter (2 for 26) and Nick (1 for 33). With 181 all out after 32.3 overs the Pilgrims may have had the better run-rate, but they had wasted more than 7 valuable overs and were 26 decisive runs behind; this debit would prove fatal on the next day.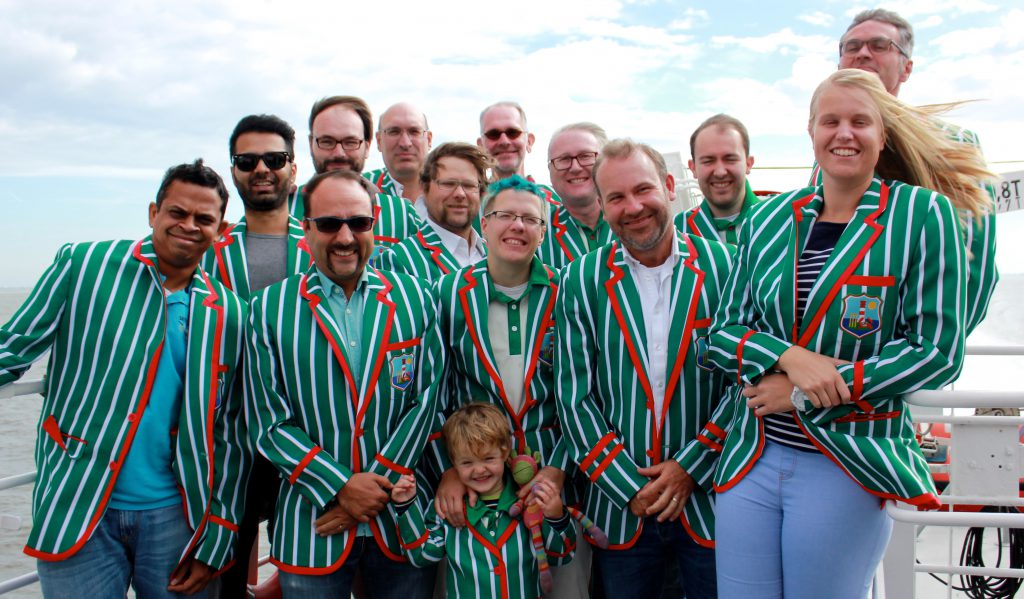 Who knows what might have happened had the cup's second innings started on time on Sunday? Would Mike S. have been able to play early in the morning? Rain from northwest stopped play for 2.5 hours. The teams agreed to allow an additional 30 minutes of play before everyone had to rush back to catch the ferry. Under the time game format in which the match continued this left the guests merely one hour to increase their lead.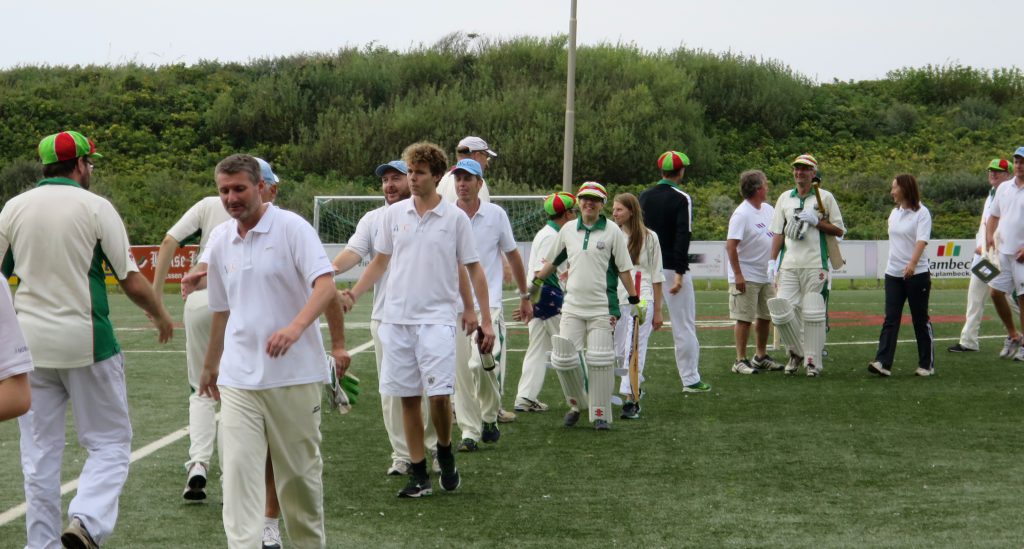 When Andorran wickets started falling quickly you could sense the Pilgrims felt they might still win the game. The bowlers rushed through their overs, Mark R. (3 for 9) removed Andorra's openers and their no. 4, thereby reducing the guests to a score of 10 for 3 in only the third over. Cam at last eliminated Mike S., the danger man, who was given out on 38 to a dubious lbw decision by his own team manager. The Pilgrims' captain continued spitting fire and collected 4 wickets more, thus achieving the first 5 wickets in an innings haul on Heligoland with impressive figures of 7-3-22-5. Steve tidied up the courageous Andorran tail-enders with 2 for 10. Catches were held by Steve in his favourite spot on the boundary, in slow motion by Laurence, by Mark R. and by Adrian. In a breath-taking hour and 19.4 overs the Pilgrims had bowled Andorra out for a stunningly low 78.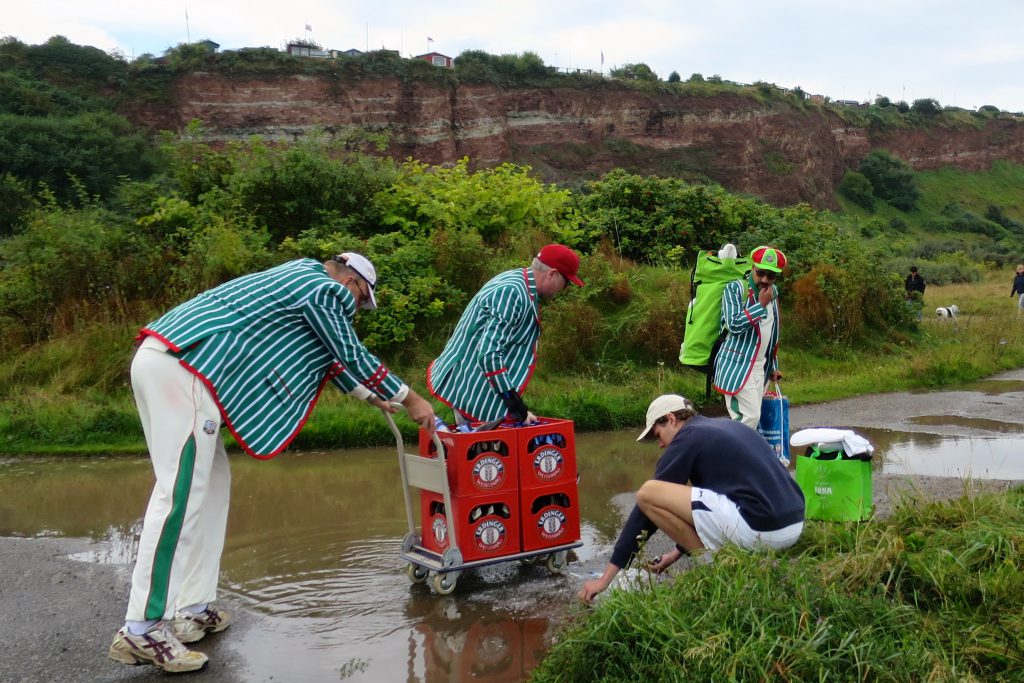 So the final target was 104 and the Pilgrims had 60 minutes or 15 overs to reach it. In a combined team effort they all tried hard – and lost the match together. First the openers scored too slowly, one of them avoiding a golden duck by just one ball. Matthew found himself trapped lbw on 13. Nabeel increased the run-rate, hit seven stylish boundaries only to sky one to Ian and get caught on 35. Nevertheless, after 12 overs the Pilgrims were 80 for 4 and thus in sight of a potential victory. Only 24 runs to beat Andorra and still 6 wickets in hand! Cam gave everything to win, ran hard, even used the opposition's confusions to score on an overthrow, but fell clean bowled on 24.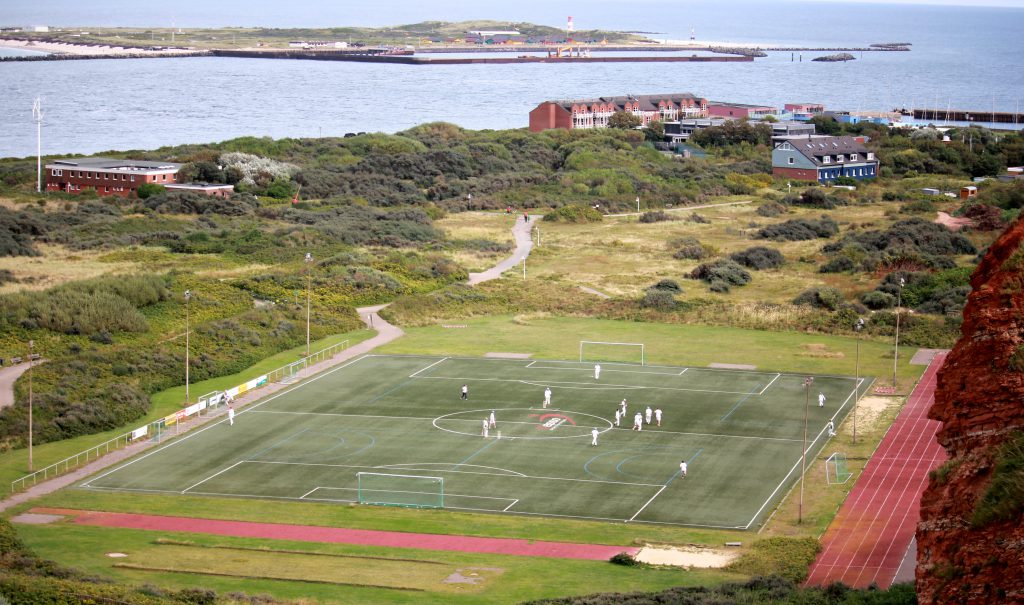 And then the Pilgrims lose it. Wickets keep tumbling: 83 for 5, 84 for 6, 84 for 7. Then a bloodcurdling appeal from all over the field. Umpire Jürgen heroically resists harming the Pilgrims. But to no avail. The domino-effect continues: 88 for 8, 89 for 9. The scoresheet is looking like a duck pond: Two batsmen have scored one, four have scored none. But isn't the clock running in their favour now? This is a time game. Can they save the draw? Tim stoically enters the crease as no. 11 with less than 5 minutes to play, no more than 2 overs. He blocks the ball – again, and again, and again. The Pilgrims cheer him on.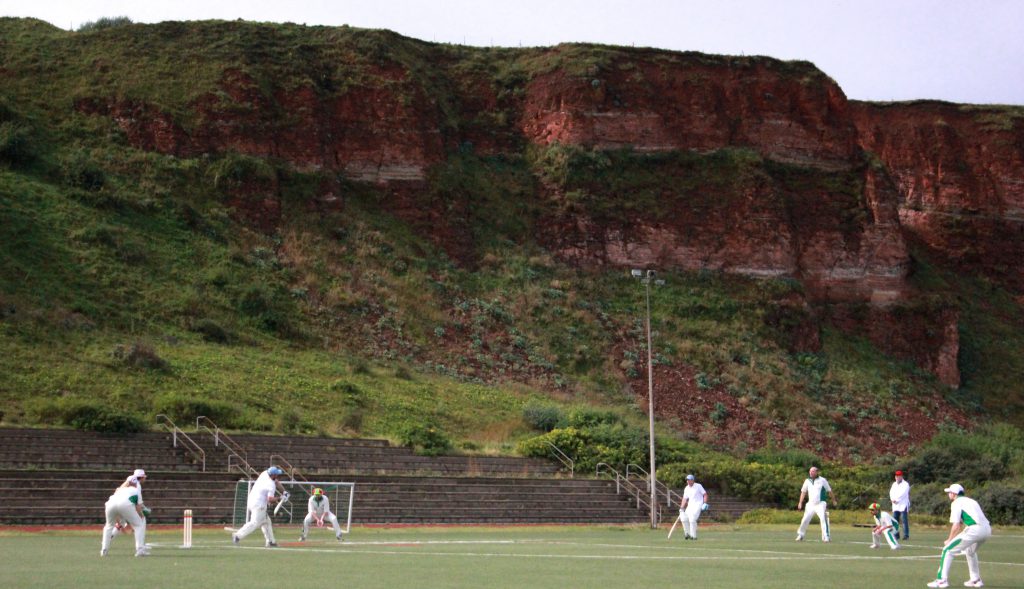 Now the 18th and definitely last over begins. Does Tim really need to back up at the non-striker's end? "Sit down," shouts Nabeel, knowing the match can no longer be won, but a draw is still possible. The first ball is defended, so is the second, and the third. Only three balls to go! None of the spectators is sitting any more. The ball zooms in from the southern end of the pitch. No. 10 deflects it towards third man. No slip there. He calls. But it is not his call! He runs. But there is no run! Nick is faster, picks up the ball and hurls it to the keeper Dave. No. 10 is out. The Pilgrims are all out! But why on earth did you run, young man? "I lost my head," says no. 10. Indeed, the Pilgrims lose their head and thus they lose the match.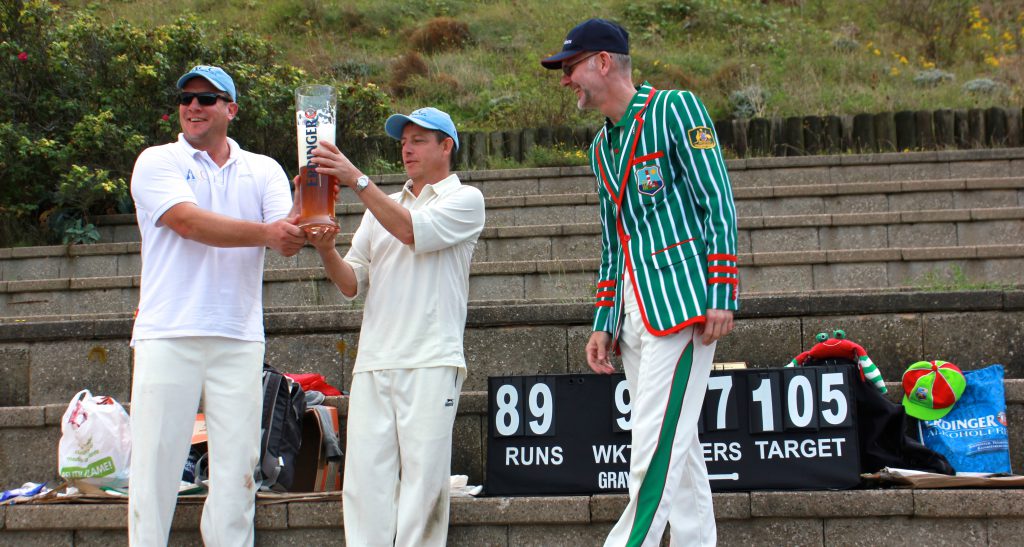 Can you imagine a more exciting finish to a two-day cup match with all players from both teams involved in the action? Andorra's players are all smiles. They receive the precious cup and have some ERDINGER beer as a reward for their incredible efforts. What a great turn around! The Pilgrims compose themselves, congratulate the winners and thank them for their visit from more than 1,000 miles away and the thrilling game. Andorra endows Cam with a Man of the Match award for his all-round efforts. The Pilgrims nominate centurion Mike S. as Man of the Match. Caps are presented and bottles of champagne change ownership. A last look at the red cliffs and then everybody heads back to Hamburg from where they go their separate ways.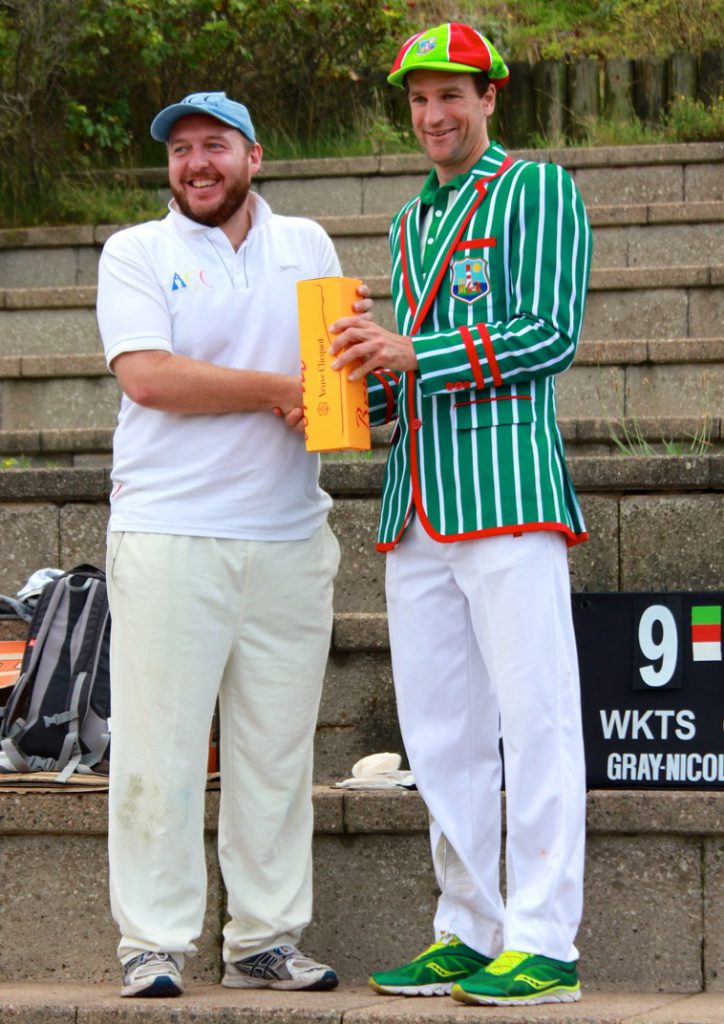 The memories of their joint tour to Heligoland, however, will linger for a long time. Worth remembering are at least some of the following occurrences: the Pilgrims in their jolly blazers welcoming their still unknown guests at Landungsbrücken, and Jim turning up at the last minute, albeit without his luggage or glasses. The fast jet cruise down the river Elbe and through a choppy sea towards Heligoland. A friendly warm up T21 for everyone on Friday afternoon with Nick scoring 27* off only 12 balls, Tim taking 2 wickets in one over, Adrian scoring 8 off 29 balls, Thomas reaching 22*, Tina hitting six boundaries in succession, Steve J. also claiming 2 wickets and last, but not least, Rebecca and Samantha bowling for Andorra.
Memories of exploring the island's entertainment facilities in the evening may vary according to individual perceptions. A string feature: ERDINGER beer crates always ready at the sports field whenever players arrived. The lively barbecue for everyone in the sunset over the cliffs on Saturday evening. The hilarious Andorran romper suits worn by two seemingly sober Australians for breakfast on Sunday. The unpredictable rain on Sunday morning. The cakes and the delicious fish rolls – peppered mackerel, smoked salmon, marinated herring. Throughout the weekend there was such a congenial spirit between the two teams; more like friends reuniting than two teams of strangers meeting for the first time. All of this combined with the tense cup cricket and some finer details made up a weekend that can only be summarised as fantastic and spectacular.
Heligoland Pilgrims: Cam (cpt.), Adrian, Bianca (1), Laurence, Mark R., Matthew, Moritz (2), Nabeel, Satya (1), Steve (wk1), Tim, Tina (2), Thomas (wk2)
Andorra Cricket Club: Adrienne, Daniel, Dave, Ian, Jim, Mike H., Mike S., Nick, Peter, Rebecca, Samantha, Steve
Umpire: Jürgen
Scorer: Vikki
Men of the Match: Mike S. and Cam
Report: Max Minor, cricket correspondent, Photographer: Jessica Mancuso