Read the English version below.
Die Switch-Strategie
Heligoland Pilgrims bilden einen einzigartigen Cricketclub. Sie machen die Dinge anders. Sie touren mit Gespür und spielen aus Spaß. Gewinnen oder verlieren, das wichtigste Ergebnis ist ein unterhaltsames Cricketspiel zu erleben. Sie sind fröhlich, wohltätig und hilfsbereit. Man sehe nur, wie sie bei ihrer Ankunft am Freitagabend in Erding einem angeschlagenen Mann halfen, während die Einheimischen vor ihm die Jalousien herunterließen. Und wie ein heiteres spätes Abendessen im griechischen Restaurant Ilios den Kellner veranlaßte, sie alle zu bitten leise zu sein.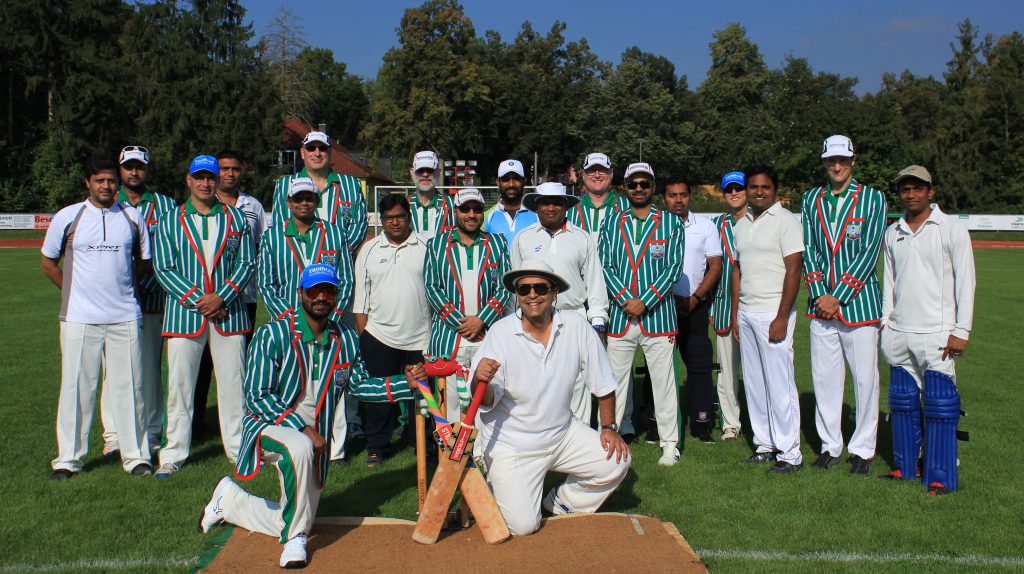 Ach, aber nichts kann die Pilgrims im Zaum halten. Die Touristen hatten ihre besondere Art von Cricket-Spaß nach Bayern gebracht, und plötzlich war ein Switch im Gange. Im Süden war es an der Zeit, die Dinge anders zu machen.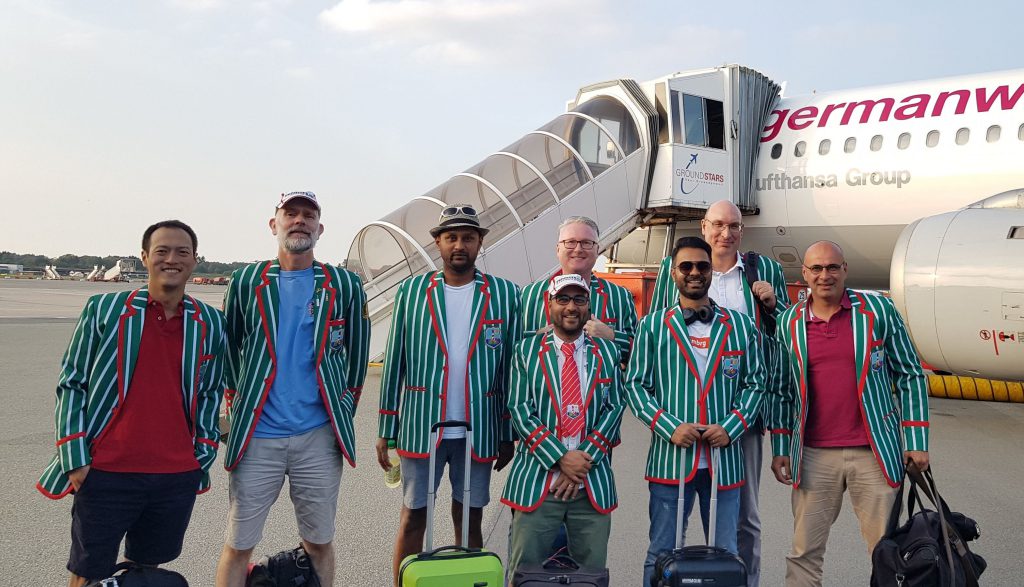 Für alle bisherigen Pilgrims-Veranstaltungen wurde das ERDINGER-Bier über Land und Meer transportiert. Diesmal transportierten sich die Pilgrims direkt dorthin, wo die Produkte ihres großartigen Sponsors hergestellt werden: in die Messestadt Erding, wo sie auf ein Team von Bavarian All-Stars trafen.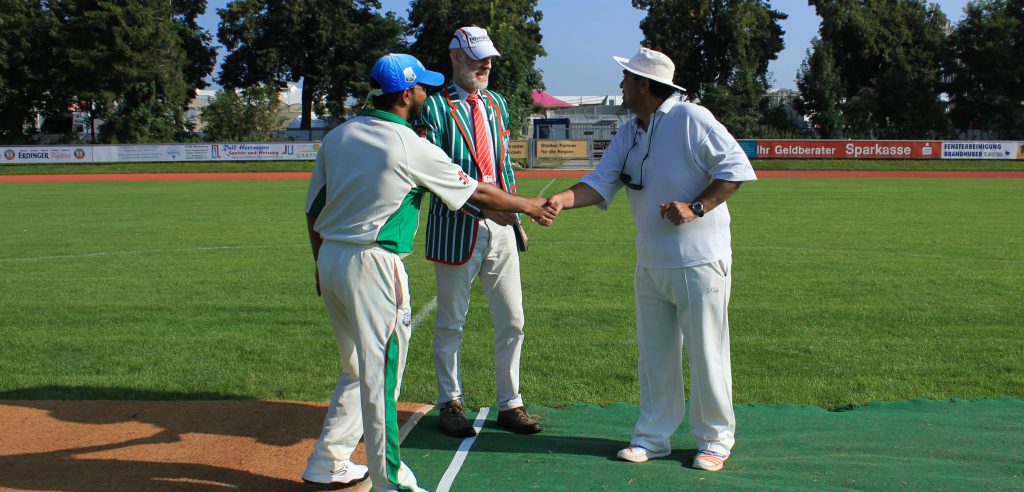 Und diese Veränderung bewirkte weitere Veränderungen, denn Kapitän Murali (der kürzlich von Hamburg nach Berlin gewechselt war) gewann das Los und entschied sich zu bowlen, zweifellos im Hinblick auf das Chaos, das die Pilgrims zwei Wochen vorher in Canterbury bei der Verteidigung ihrer Punkte angerichtet hatten.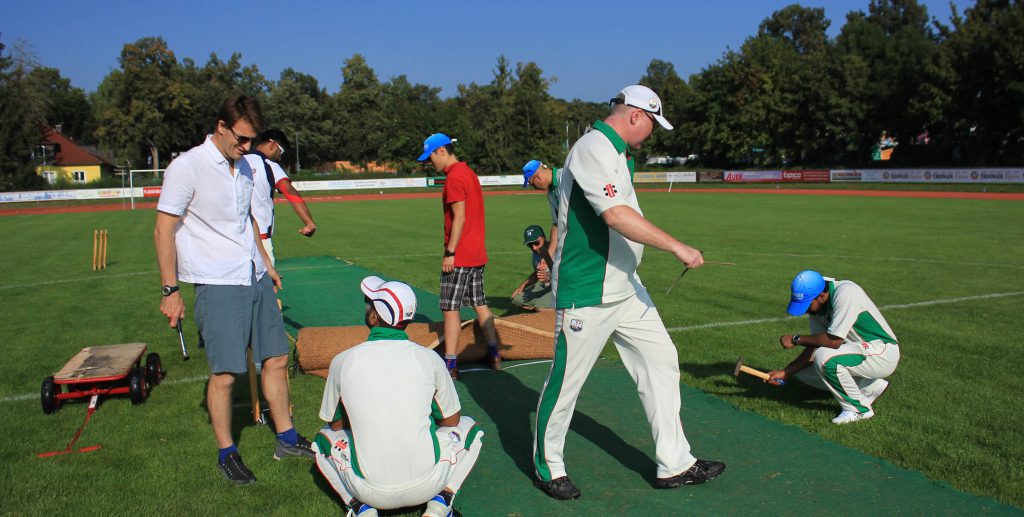 Anlaß für dieses 21-Overs Spiel, das auf dem saftigen Erdinger Fußballplatz auf einer Matte gespielt wurde, die auf Spanplatten festgenagelt worden war, war das 79. Erdinger Herbstfest. Der warme Sonnenschein bot eine willkommene Abwechslung von den windgepeitschten Spielen auf der Insel des Vereins.

Die Bavarian All-Stars begannen stark, bis Nabeel beim Stand von 21 zuschlug und Murali einen scharfen Ball hinter dem Wicket hielt. Aber dann kam ein weiterer Switch, als die Pilgrims, die in Canterbury so gut gefangen hatten, begannen, die Bälle überall auf dem Platz fallen zu lassen. Dazu gehörte auch der Schatzmeister, der angeblich in seiner gesamten Pilgrims-Karriere noch nie danebengegriffen hatte,nun aber einen Ball an der unangenehmen Stelle verpaßte, wo der Rasen an die Tartanbahn grenzt. Wird diese Missetat dazu führen, daß er aus dem Amt gewählt wird? Es war wirklich schlimm auf dem Feld, Nabeel hielt sogar einen Ball mit seinen Ellbogen.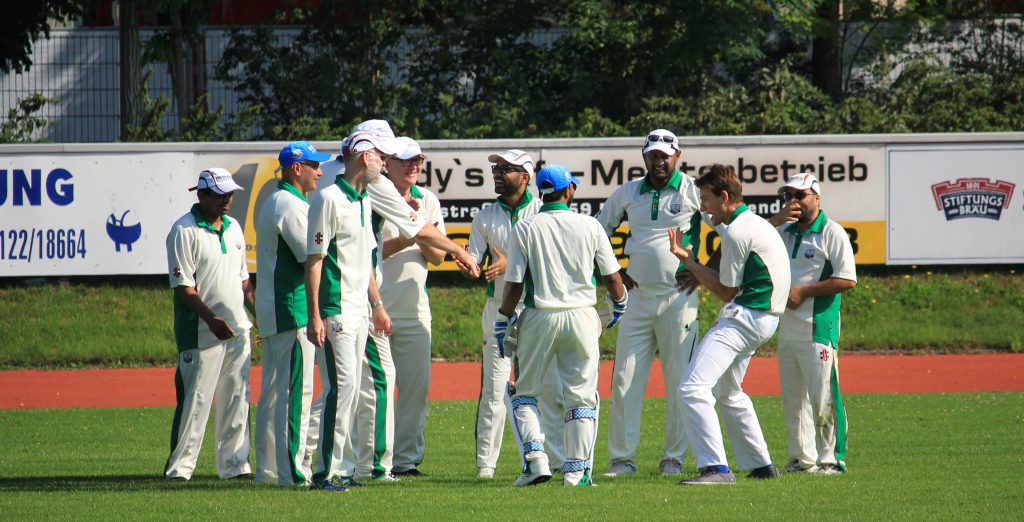 Satya, der vor einigen Jahren von Hamburg in den Münchner Raum gewechselt war, hielt den Fluß der Läufe auf und wurde mit 2/10 aus vier Overs zum Besten der Bowler. Chris bowlte auch gut und nahm zwei Wickets, er hätte sogar mehr haben können, wenn irgendjemand seine Bälle gefangen hätte. Jürgens Gastspiel begrenzte die Runs weiter, so daß das Target am Ende auf 111 stand.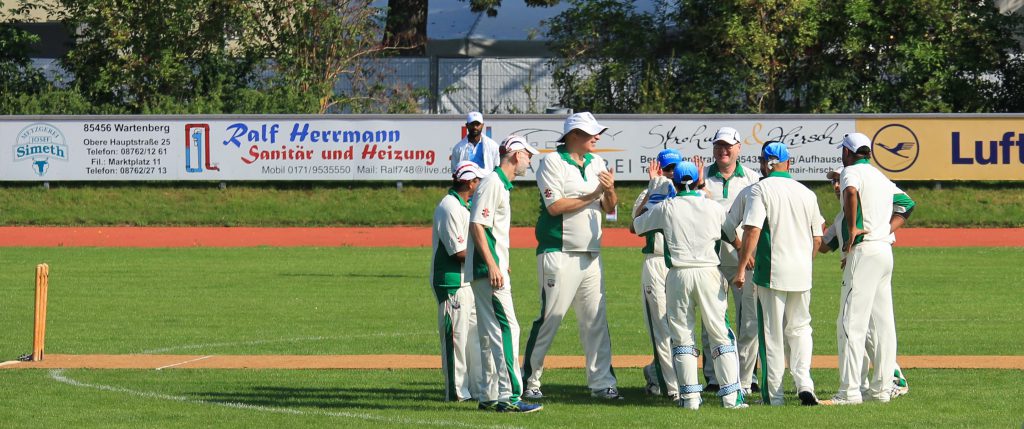 In einem weiteren Switch begannen die Pilgrims (nicht dafür bekannt, daß sie gerne 2 oder 3 Runs laufen) ihre Aufholjagd mit einem Run-Out, als Cam zwei rief, wo kaum ein einziger Run war, und der arme Adrian die Linie am Bowler's Ende nicht mehr erreichte. Cam schämte sich offensichtlich dafür und versuchte, Wiedergutmachung zu leisten, indem er eine Handvoll Boundaries schlug, bevor er einen schlechten Schlag spielte, der auf Mid-On gefangen wurde. Satya brannte auf, schlug zwei Sechsen und machte locker 20, bevor er aussetzte. Murali nahm sich der Sache an und teilte eine atemberaubende Partnerschaft mit Jürgen. Der Skipper schlug auch den Ball des Tages: Ein Switch-Hit-Slog, der mit einem Schlag über den Zaun ging und nur knapp zwei Flaschen Erdinger Bier verpaßte.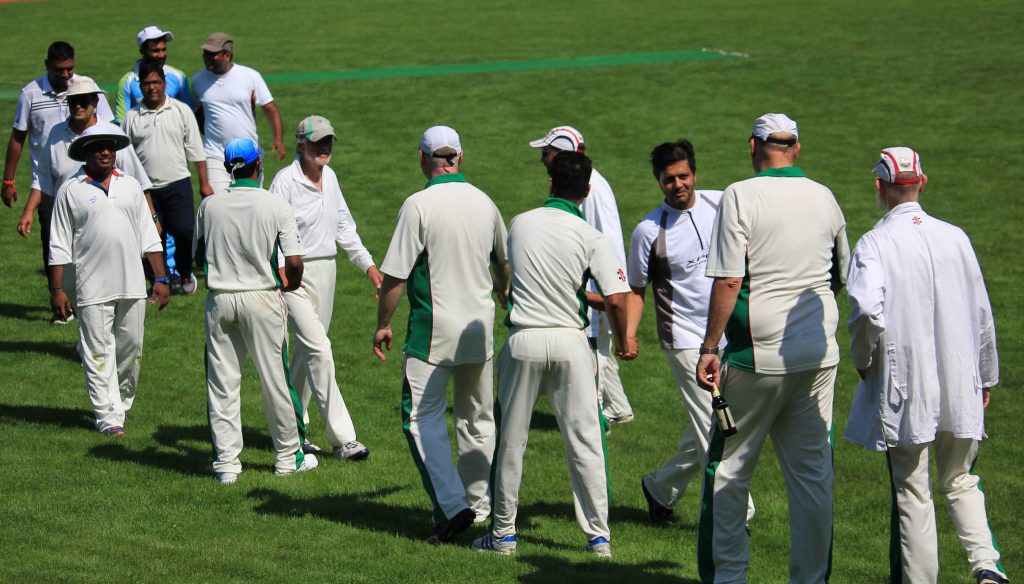 Mark brachte Stil aufs Feld, schied aber auf ein gutes Caught and Bowled aus. Und als Chris gebowlt wurde, begannen einige Pilgrims nervös zu werden, da Einbrüche beim Schlagen eine unglückliche Angewohnheit des Vereins sind. Aber dann kam ein weiterer Switch, mit den erfahrenen Köpfen Dev und Surya, die trotz einiger Nervosität zwischen den Wickets liefen und die Pilgrims über die Ziellinie brachten, zum Gewinn des ersten Bavaria Cup mit drei Wickets.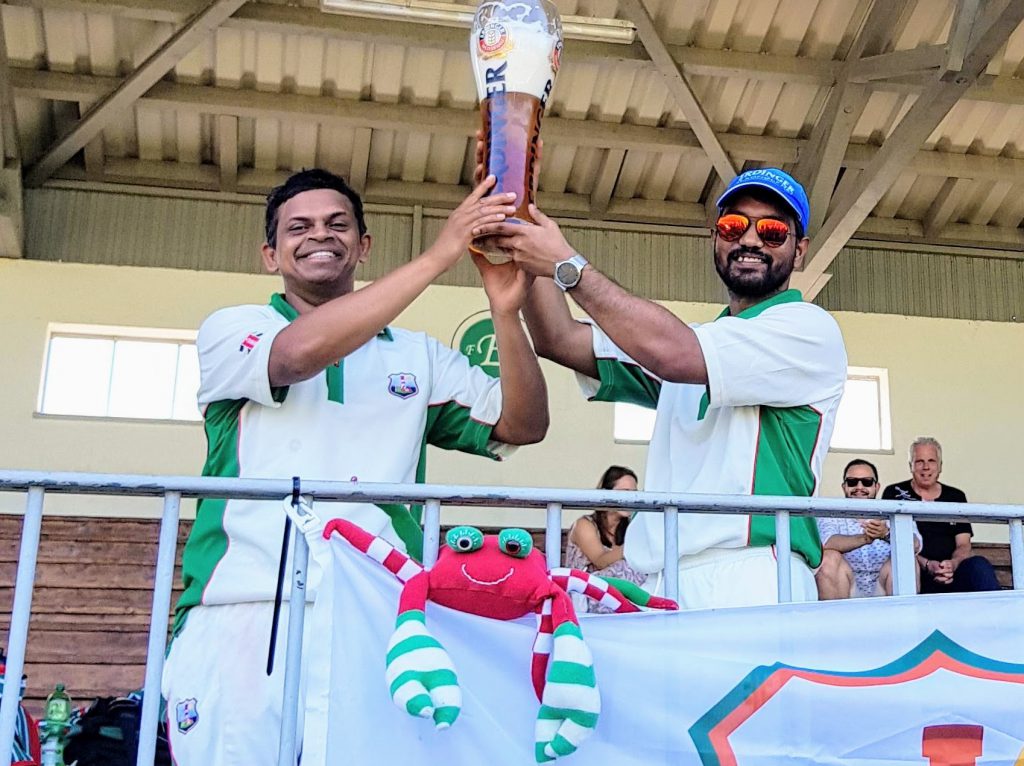 Mitin nahm 3 für 9 in seinen vier Overs, und war so der beste Bowler der All Stars. Aber Satya war der Mann des Spiels aufgrund seiner Allrounder-Leistung und auch als Anerkennung für seinen großen organisatorischen Einsatz, der das Spiel erst möglich gemacht hatte. Hut ab an dieser Stelle auch vor Moritz, denn er zeigte wieder einmal eine glänzende Organisation, damit diese bayerische Pilgerfahrt so reibungslos verlaufen konnte. Alle Mitglieder der Reisegruppe hoffen, daß der Bavaria Cup in Erding eine regelmäßige Veranstaltung wird.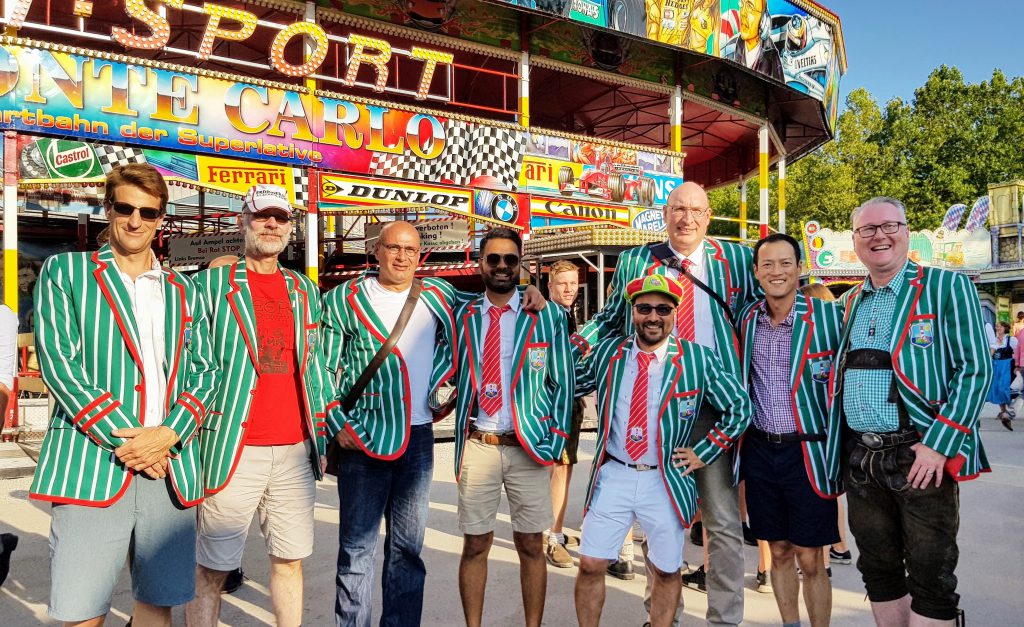 Welch ein Vergnügen für die Pilgrims, den Erdinger Pokal zu heben und den Sieg zu feiern, ein weiterer Switch, bei dem die Pilgrims als Gewinner aus dem Glas tranken, anstatt es nur zu präsentieren. Die Feierlichkeiten dauerten lange bis in den warmen Abend hinein an, als das Team seine Tische im ausgelassenen Erdinger Festzelt einnahm. Die Pilgims, in ihren hinreißenden Blazern und sogar einige Mutige mit brandneuen Lederhosen, paßten genau ins bunte Zelt. Ein Switch war hier nicht erforderlich. Die Pilgrims waren zu Hause.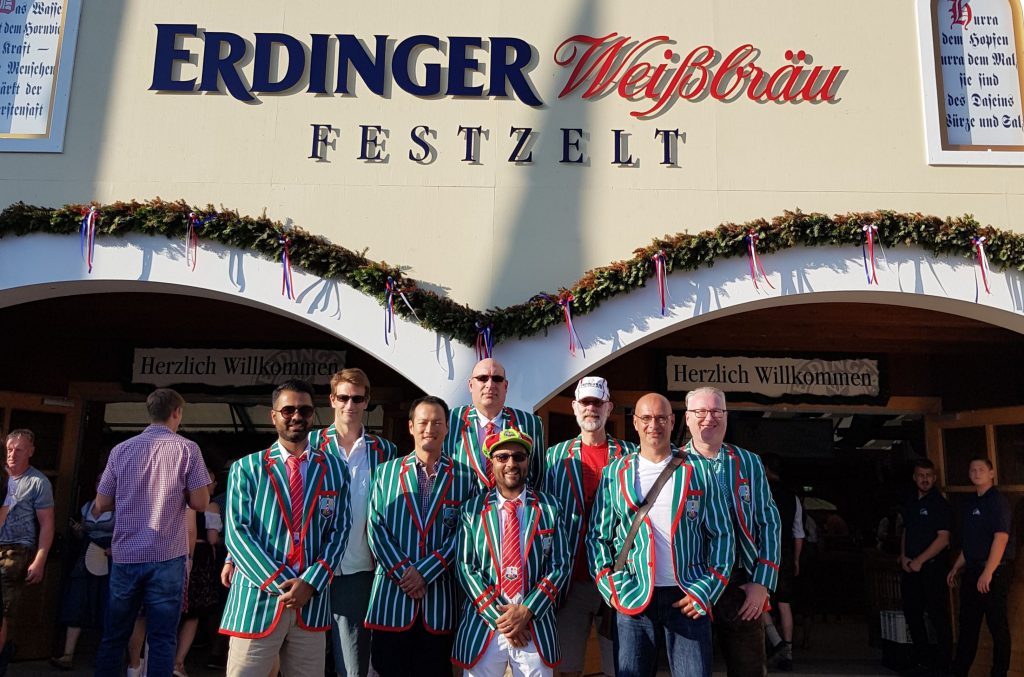 Vielen Dank an Uday für seine Anführung der Bavarian All-Stars, an die Mitglieder der All-Stars für ihr Spiel, an Peter Jonas von der ERDINGER Brauerei für seine wunderbare Unterstützung abseits des Feldes wie auf dem Platz, und an Jess für ein weiteres Wochenende mit brillanter Photographie.
Heligoland Pilgrims: Murali (c, wk), Adrian, Cam, Chris, Dev, Jürgen, Mark, Moritz, Nabeel, Satya, Surya
Bavarian All-Stars: Uday (c), Brian, Hameed, Mitin, Murali, Parikshit, Sasi, Shashi, Silva, Srikant, Srivinas (wk)
Bericht: Royce Leville, Übersetzung: Max Minor (mit DeepL)
Photos: Jess Mancuso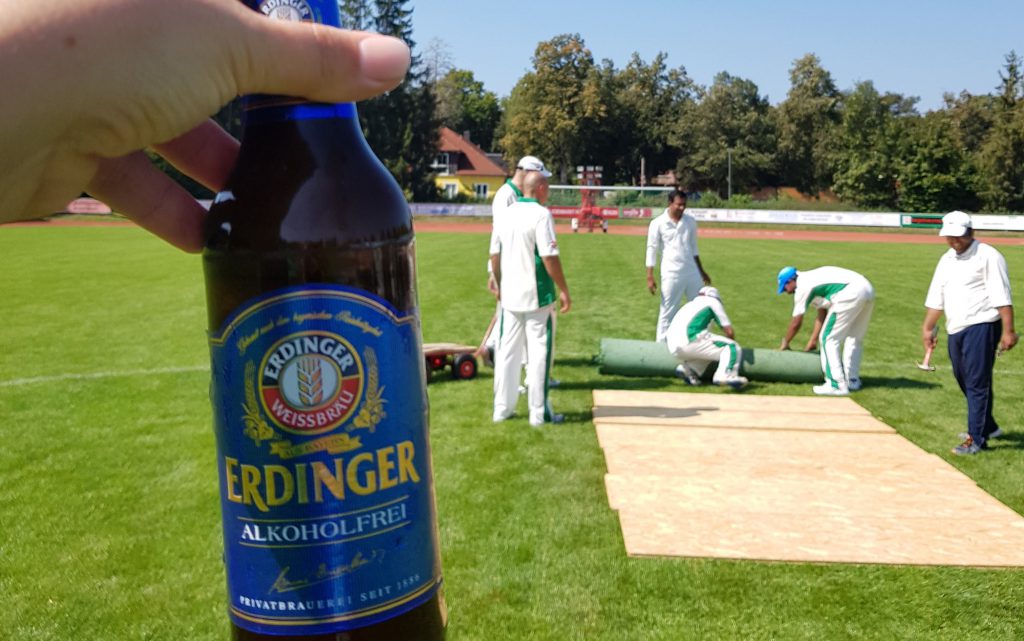 The Switch Strategy
The Heligoland Pilgrims is a unique cricket club. They do things differently. They tour with flair and play for fun. Win or lose, the most important result is to have an enjoyable game of cricket. They are cheerful, charitable and helpful. See how they helped a stricken man upon arriving on Friday evening in Erding, while locals closed the blinds on him. And how a jovial late dinner at the Greek restaurant Ilios required the waiter to tell them all to keep it down.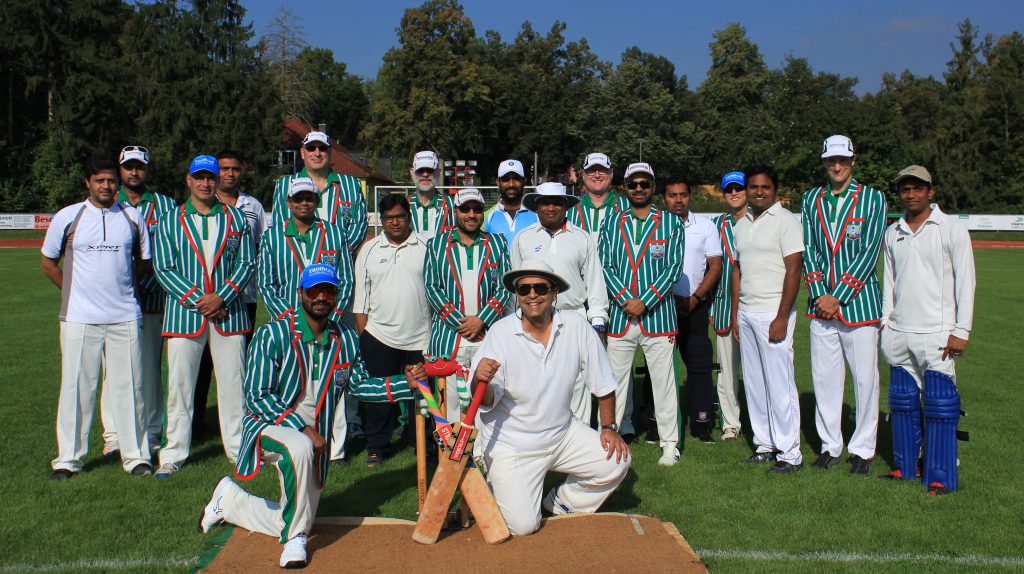 Ah, but nothing can keep the Pilgrims down. The tourists had brought their special brand of cricketing fun to Bavaria, and suddenly, change was afoot. Down south, it was time to do things differently.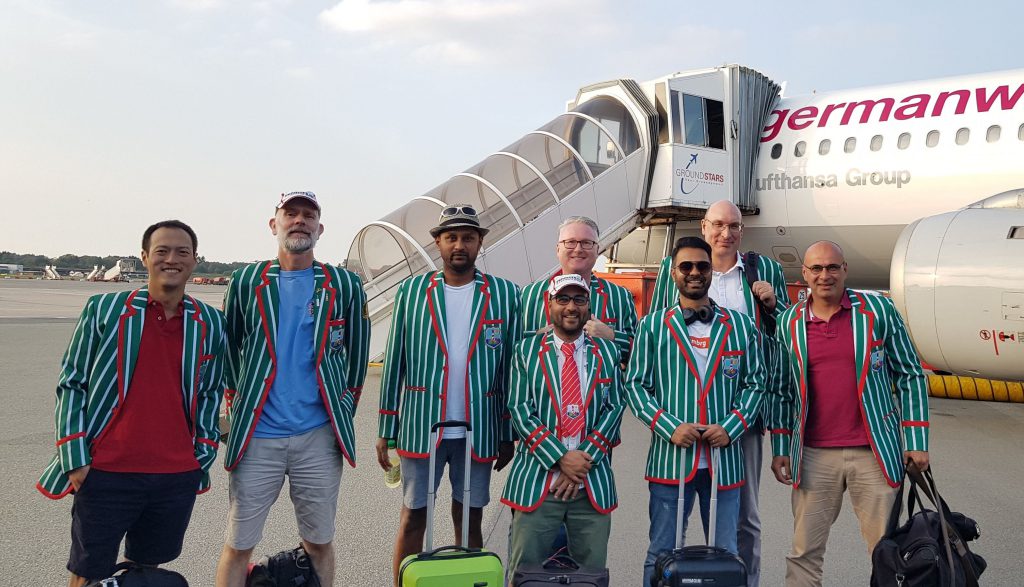 For all previous Pilgrims fixtures, the ERDINGER beer was transported across land and sea. This time, the Pilgrims transported themselves right to where their wonderful sponsor's products are made: to the fair town of Erding, to face a team of Bavarian All Stars.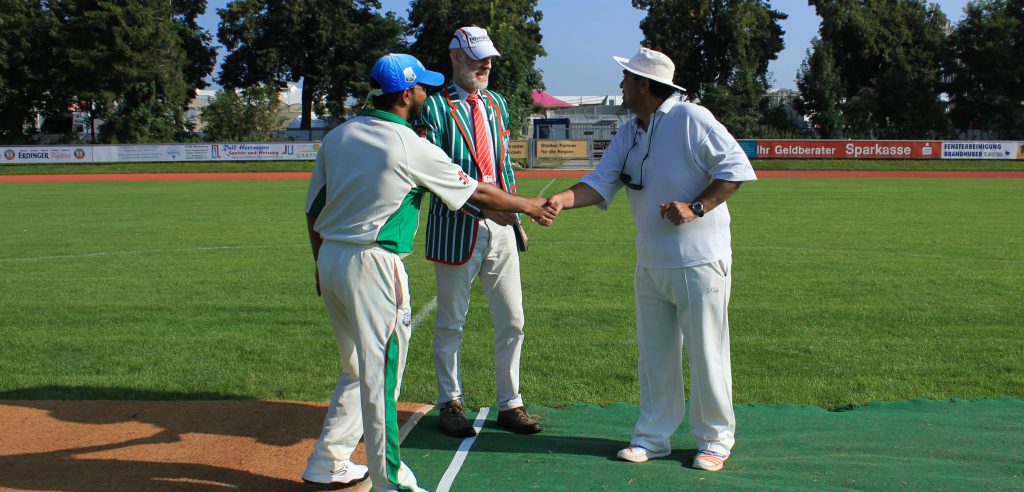 And that change begat more changes, with captain Murali (who had recently switched from Hamburg to Berlin) winning the toss and choosing to bowl, no doubt taking into account the mess the Pilgrims had made of defending their totals two weeks prior in Canterbury.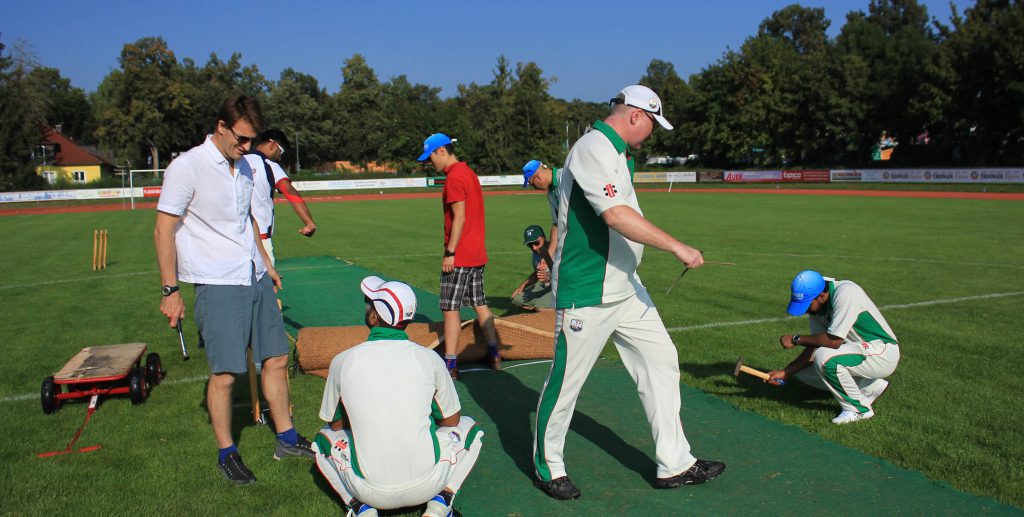 The occasion for this 21-over match, played on the lush Erding football field with a pitch that required carpentry skills to build, was the 79th Erding Herbstfest (autumn festival). The warm sunshine was a welcome switch from windswept matches on the club's island home.

The Bavarian All Stars got off to a strong start, until Nabeel struck with the score on 21, Murali taking a sharp catch behind the stumps. But then came another switch, as the Pilgrims, who had caught so well in Canterbury, started dropping catches all over the place. This included the treasurer, who is rumoured not to have dropped a catch in his entire Pilgrims career, spilling one on the awkward area where the field met the running track. Will this misdeed see him voted out of office? Things were so dire in the field, Nabeel caught one with his elbows.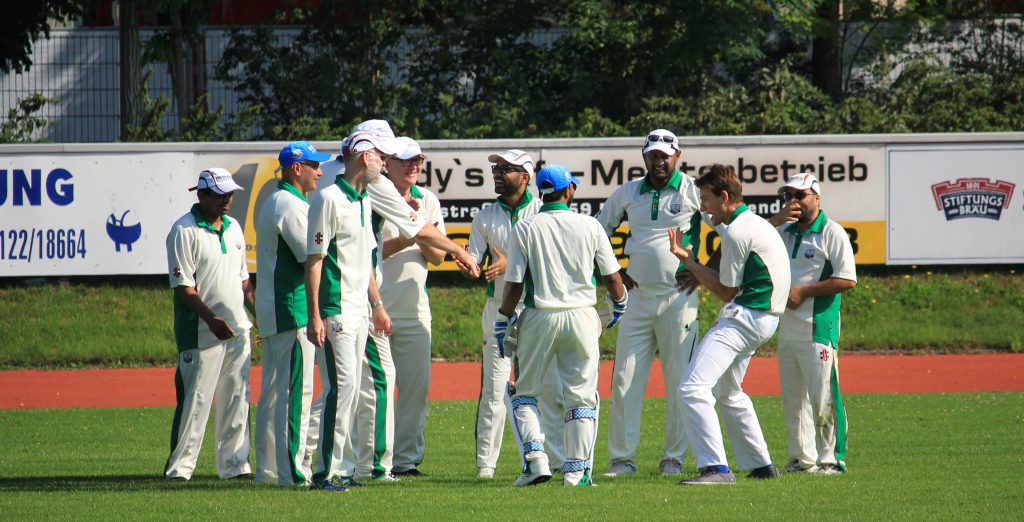 Satya, who had a few years back switched from Hamburg to the Munich area, stemmed the flow of runs, finishing as the pick of the bowlers with 2/10 off four overs. Chris also bowled well to take two wickets, and could have had more, had the catches stuck. Jürgen's final over cameo restricted the runs further, so the target was set as 111.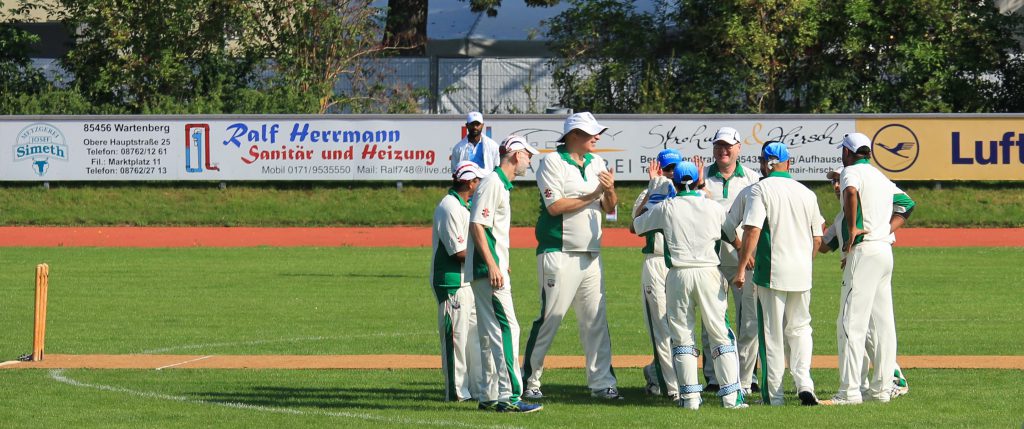 In another switch, the Pilgrims (not known for pushing hard for 2s and 3s) started their run chase with a run-out, as Cam called two on what was barely a single, and poor Adrian was out of his ground at the bowler's end. Clearly ashamed of himself, Cam tried to make amends hitting a handful of boundaries before playing a poor shot to be caught at mid-on. Satya blazed away, hitting two sixes and making 20 with ease, before retiring. Murali took up the cause, sharing a breath-taking partnership with Jürgen. The skipper also hit the shot of the day: a switch-hit slog that went with one bounce over the fence and narrowly missing two bottles of Erdinger beer.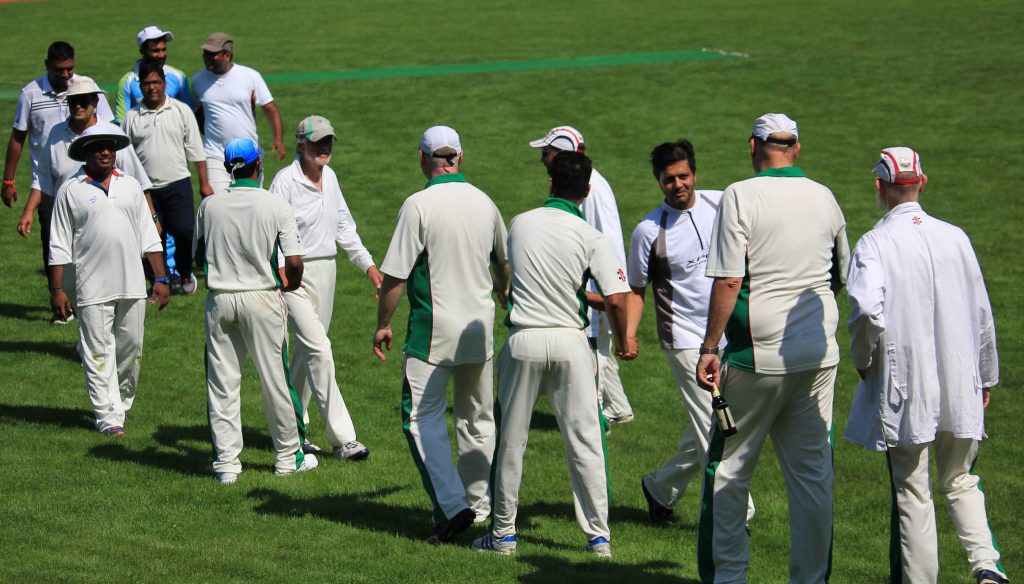 Mark was stylish but out to a good caught and bowled effort. And when Chris was bowled, some of the Pilgrims got nervous, as batting collapses are an unfortunate club habit. But then came another switch, with experienced heads Dev and Surya, despite some nervy running between the wickets, seeing the Pilgrims home, winners of the inaugural Bavaria Cup by three wickets.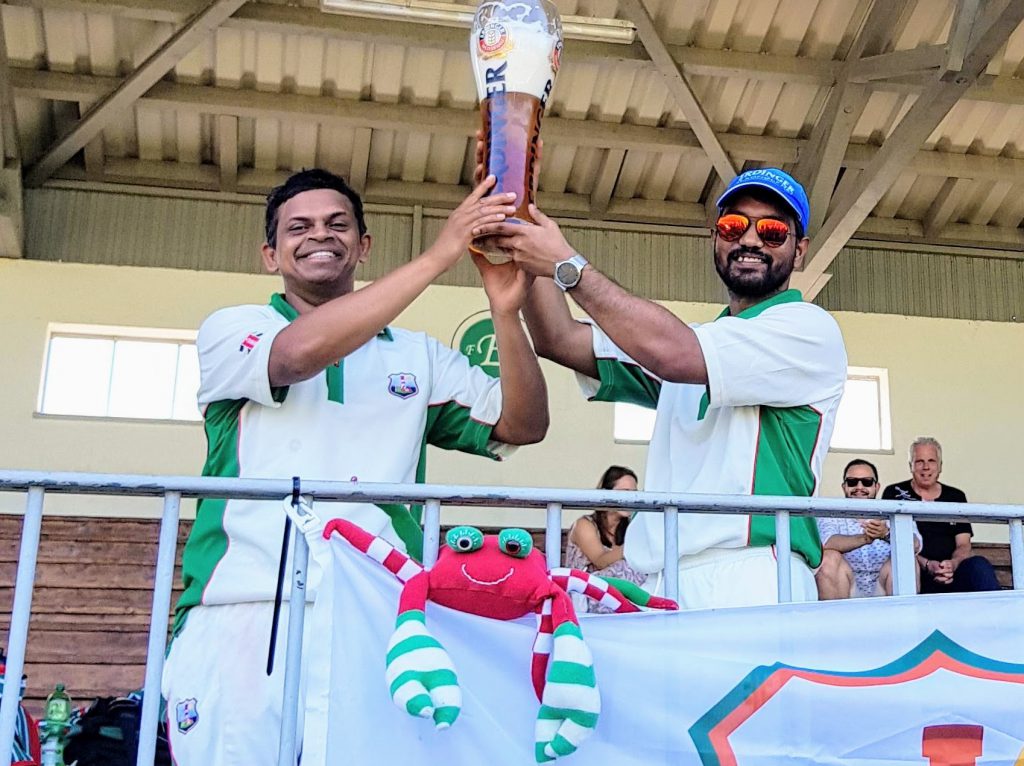 Mitin took 3/9 off his four overs, to be the best bowler for the All Stars. But it was Satya who was man of the match for his all-round performance, and also as recognition for all his great organizational efforts that helped make the match happen. Kudos to Moritz as well on that front, as he once again showed sterling organization to enable this Bavarian pilgrimage to go off so swimmingly. All members of the touring party hope the Bavaria Cup in Erding will become a regular event.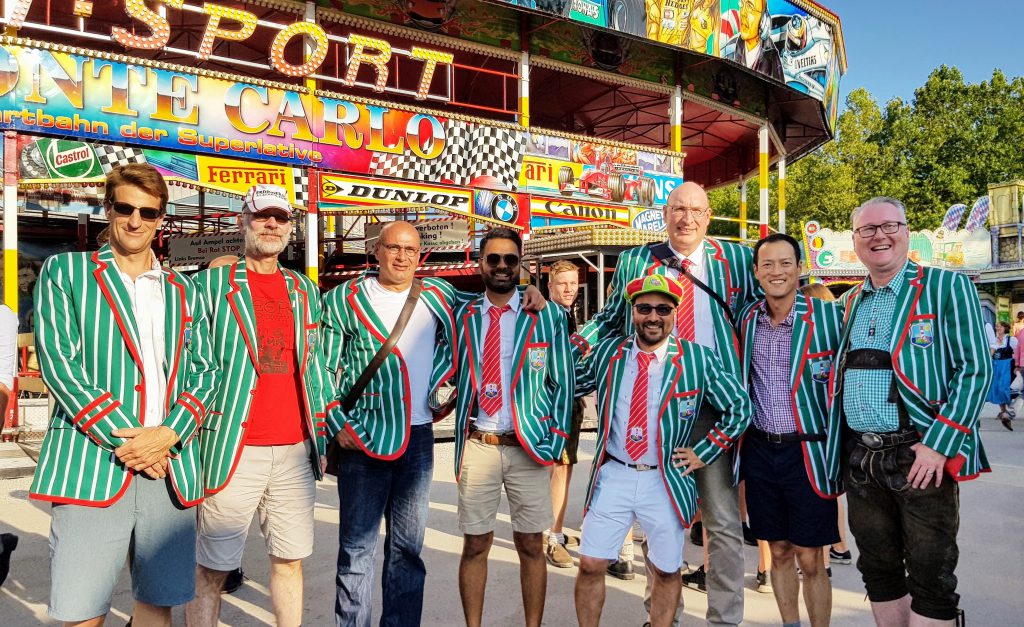 What a pleasure it was for the Pilgrims to lift up the Erdinger glass and celebrate the win, providing another switch where the Pilgrims drank from the glass as winners rather than simply presenting it. The celebrations continued long into the warm evening, as the team took their tables in the rollicking Erdinger festival tent. The Pilgrims, in their smashing blazers, and even a few cutting a dash in fresh lederhosen, looked every bit the part in the colourful tent. No need for switching here. The Pilgrims were right at home.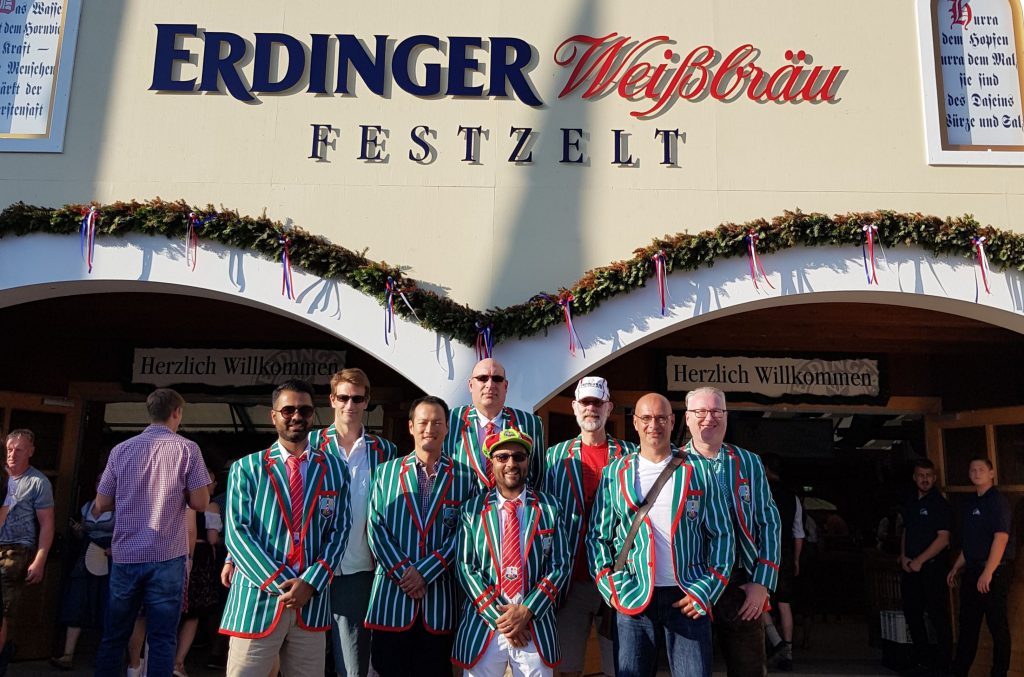 Many thanks to Uday for captaining the Bavarian All Stars, to the members of the All Stars for playing, to Peter Jonas from the ERDINGER Brewery for his wonderful support off the field and at the ground, and to Jess for another weekend of brilliant photography.
Heligoland Pilgrims: Murali (c, wk), Adrian, Cam, Chris, Dev, Jürgen, Mark, Moritz, Nabeel, Satya, Surya
Bavarian All Stars: Uday (c), Brian, Hameed, Mitin, Murali, Parikshit, Sasi, Shashi, Silva, Srikant, Srivinas (wk)
Report: Royce Leville
Photos: Jess Mancuso