Read the English version below.
Freunde und Familie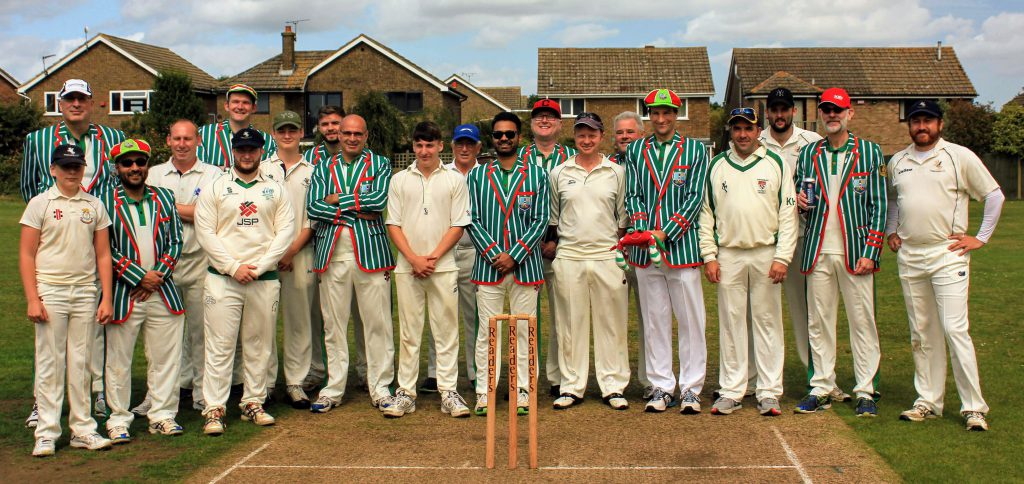 Zum Abschluß des Spiels am Sonnabend, den 17. August, hatten sich alle Sorgen der Pilgrims in Luft aufgelöst. Der Reiseleiter hatte sich Sorgen gemacht, ob sie genügend Spieler sein würden, da der starke indische Allrounder Abhinand wegen eines Fahrradunfalls nur eine Woche vor der Tour nicht mitfahren konnte. Kapitän Dev hatte sich Sorgen gemacht um die geringe Stärke seines Teams – würden sie den Erwartungen ihrer Gastgeber gerecht werden können? Immerhin führte Harbledown CC damals die Kent Village Liga an. Das ganze Team war besorgt, weil ihr südafrikanischer Felsen Mark B. nicht nach England fliegen durfte. Sogar Harbledowns Vorsitzender John war wegen eines nassen Spielfeldes besorgt gewesen, weil es in der Nacht vor dem Spiel stark geregnet hatte.
Aber die Sonne kam rechtzeitig hervor, zusammen mit einer milden Brise, um den Boden zu trocknen, die Pilgrims fanden den Weg den Hügel hinauf zum gepflegten Gelände hinter dem Rough Common Gemeindesaal, und ihre Gegner hatten ein 10-köpfiges Team aus Freunden und Familie zusammengestellt, mit ein paar talentierten U16-Spielern und ein paar Veteranen, die unter der Führung von Sam ein richtiges Spiel auflegten. Im nachhinein könnte man sagen, daß Harbledown das Spiel von Anfang bis Ende kontrollierte. Aber waren Heligoland Pilgrims nicht nur gekommen, um Cricket zu spielen – anstatt zu kämpfen oder zu gewinnen? Und das war genau das, was sie bekamen!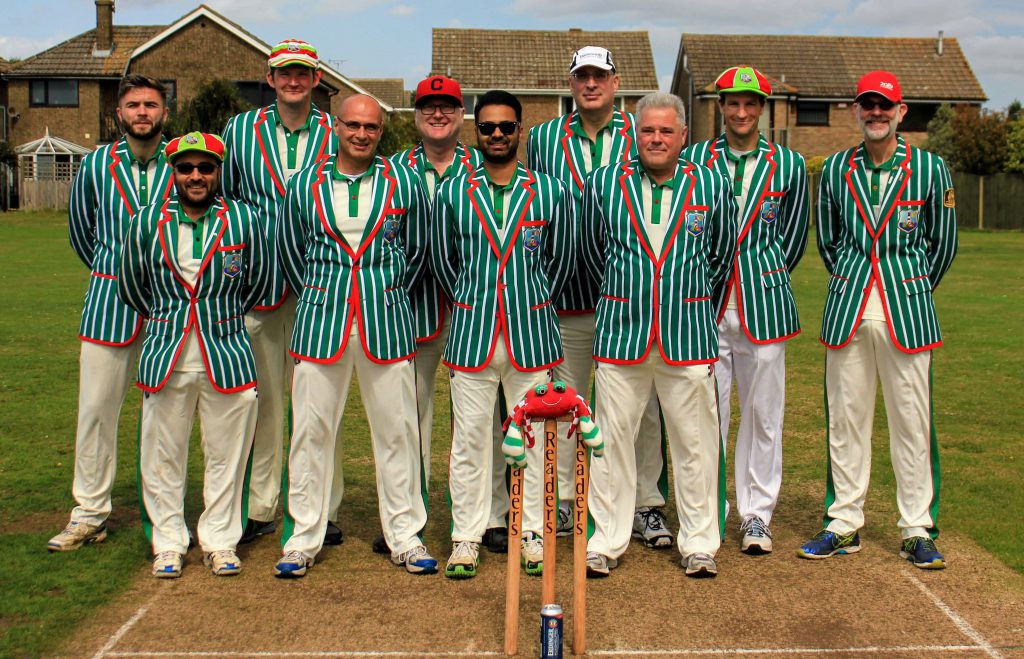 In 35 Overs konnte jeder Pilgrim schlagen; sie durften sogar dank freundlichen Bowlings 201 Runs erzielen, ihre bisher höchste Punktzahl im Ausland. Im Gegenzug preschte Harbledown nach 5 Overs auf 48/1 vor, mit dem Verlust allein von Charlie (35), sowie auf 80/1 nach 10ten Over. Dann zogen sie ihre stärksten Schläger zurück und Sam führte den Rest seines Teams durch weitere 22,5 Overs, so daß alle Pilgrims außer Wicketkeeper Adrian die Gelegenheit bekamen zu bowlen, ganz zu schweigen von ausgiebigem Fielding.

Für einen kurzen Moment, im vorletzten Over, stand das Spiel sogar auf des Messers Schneide. Nach dem Verlust von 7 Wickets war Karl (50) wieder aufs Feld zurückgekehrt, wurde aber zu seiner Überraschung durch einen von Nabeels a Spin-Bällen gebowlt, beim Spielstand von Harbledown auf 199/8. Das hieß 2 Runs für ein Unentschieden, 3 für einen Sieg – oder 1 Wicket zur Niederlage. Mit dem Novizen Oscar auf dem Feld sahen die Pilgrims ihre Chance, das Spiel zu drehen. Kapitän Sam (57*) wollte davon jedoch nichts wissen und erledigte die Sache, sein Team im 34sten Over zu einen wohlverdienten Sieg zu führen.

Einen großartigen Beitrag zum Einsatz der Pilgrims leistete Cam (67*, 6-0-28-2 und ein großer Fang auf Long On). Dev beeindruckte mit einem echten Captain's Innings von 34*, einschließlich 2 Boundary-Sixes. Leo wirkte etwas rostig, sammelt aber trotzdem 29 Rans zusammen und bekam ein Wicket (lbw). Mark R. schlug 9* von nur 9 Bällen am Ende des Innings und nahm 2 Wickets (4-0-15-2). Es gab auch einige Premieren für Pilgrims: Jürgen bowlte sein erstes Maiden-Over (3-1-6-0), Jörg nahm sein erstes Wicket (3-0-10-1) und Adrian erzielte sein erstes Stumping. Außerdem schlug Dom (10) eine Boundary-Six auf das Dach des Pavillons, nahm ein Wicket und hielt einen Fang, nachdem gerade vor seinem Jungfernspiel seine Pilgrims-Cap erhalten hatte. Und auch der konkurrenzlose King of Ducks der Pilgrims, dessen Name hier geheim bleiben muß, steigerte seine Bilanz.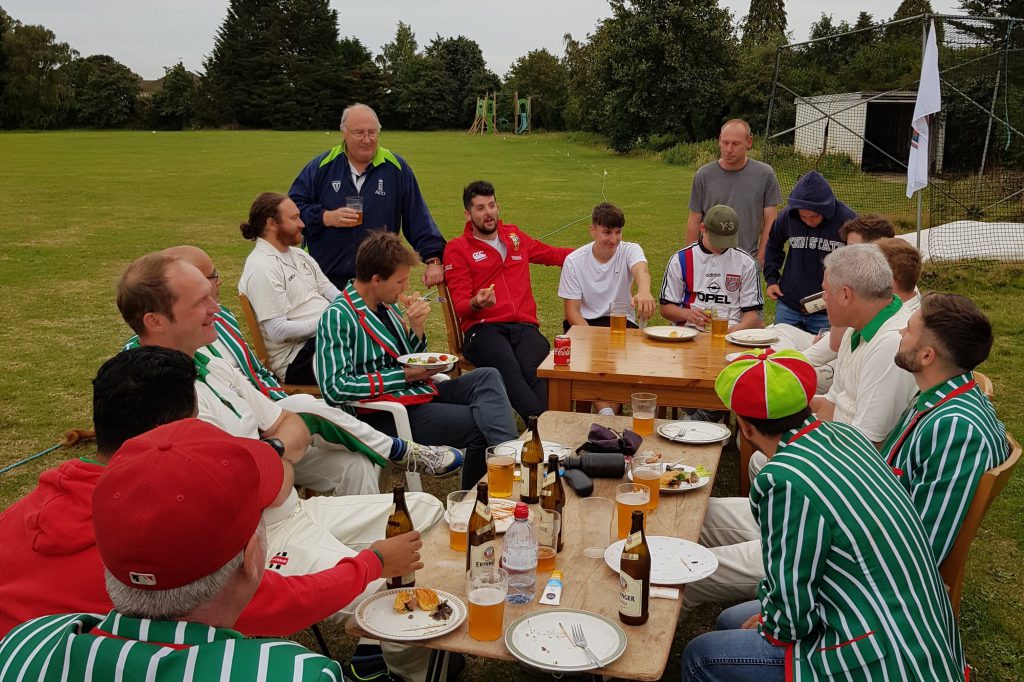 Unmittelbar nach dem Spiel warfen die Gastgeber ihren Grill für die hungrigen Spieler an, was mit reichlich ERDINGER-Bier und anderen Getränken aus der Googly Bar im kleinen Pavillon gut ankamen. Hier erkannten die Pilger, wie sehr sie von Harbledown willkommen geheißen worden waren. Sie fühlten sich wie ein Teil der Freunde und Familie, gegen die sie gespielt hatten. Karl freute sich über eine Flasche traditionellen Hamburger Kümmel als Mann des Spiels (50 Runs und 5-2-11-1) – ein klares Zeichen, daß der alte Knabe, eine lebende Legende aus Harbledowns Glanzzeiten im letzten Jahrtausend, wieder da war, wo er hingehört, nämlich auf dem Platz. Bestimmt wird sich auch der ehemalige Kapitän Charlie gerne an sein letztes Spiel in Canterbury erinnern, bevor er nach Norden zieht.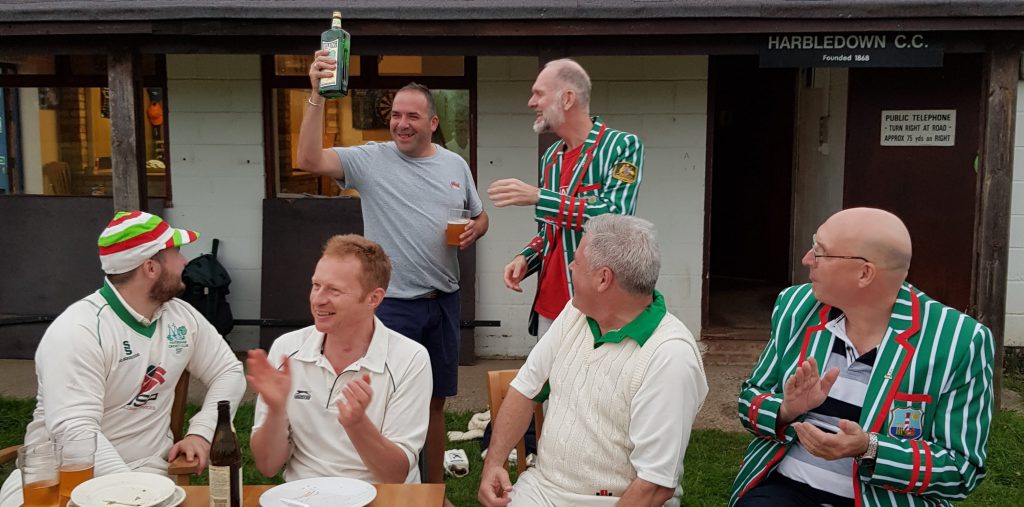 Harbledown-Präsident John, der freundlicherweise geschiedsrichtert hatte, überreichte dem Präsidenten der Pilgrims die Laws of Cricket – ein weiteres Gesetzesbuch für den alten Anwalt. Und alle waren dem Vorsitzenden John sehr dankbar, der fast alles organisiert hatte: Teamauswahl, seine Söhne zum Spielen mitbringen, drei scheinbar verlorene Pilger zu Platz dirigieren, die Vorbereitung des Spielfeldes organisieren, schiedsrichtern, coachen, das Grillen überwachen und sogar die Bar bis spät in die Nacht betreiben. Der Sonnenuntergang beschloß einen für alle Teilnehmer wunderbaren Cricket-Tag.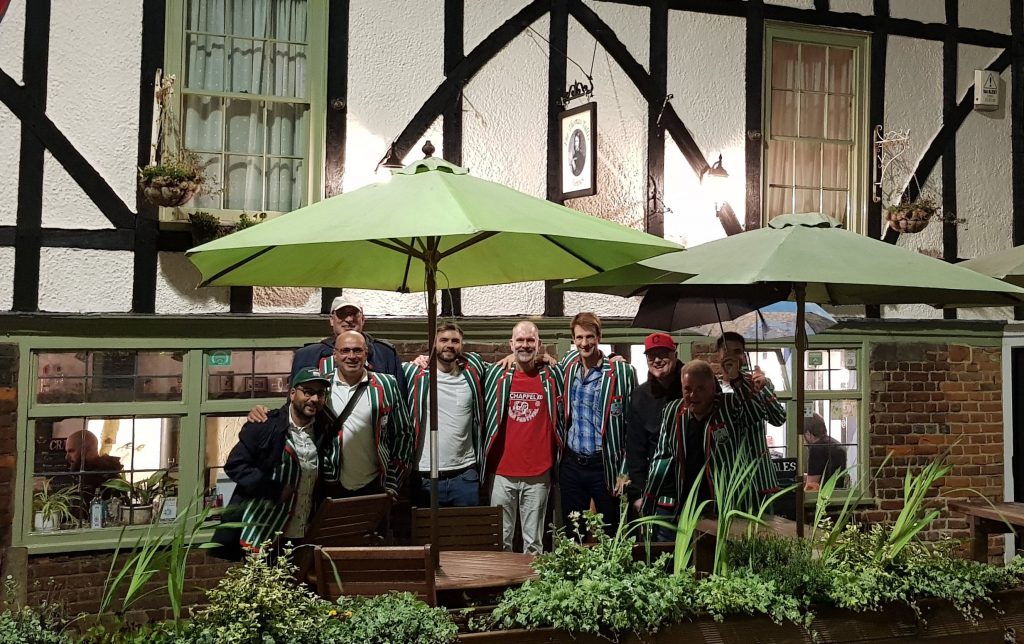 Damit endete der erste Teil der Canterbury-Tour von Heligoland Pilgrims. Es hatte bereits am Freitag begonnen, als der größte Teil der Mannschaft von Cam und Mark R. am Bahnhof abgeholt wurde, nur einen kurzen Spaziergang vom Victoria Hotel entfernt. Trotz einsetzendem Regen erwies sich der geplante Pubcrawl über eine überdachte Terrasse im Eight Bells und ein Abendessen im Foundry zweifellos als ein Abend voller Glücksmomente in einer der schönsten Altstädte Englands. Das breite Lächeln auf allen Gesichtern, selbst des eingefleischten Abstinenzlers des Teams, im alten Thomas Tallis Pub kurz vor den letzten Bestellungen sollte als Beweis ausreichen.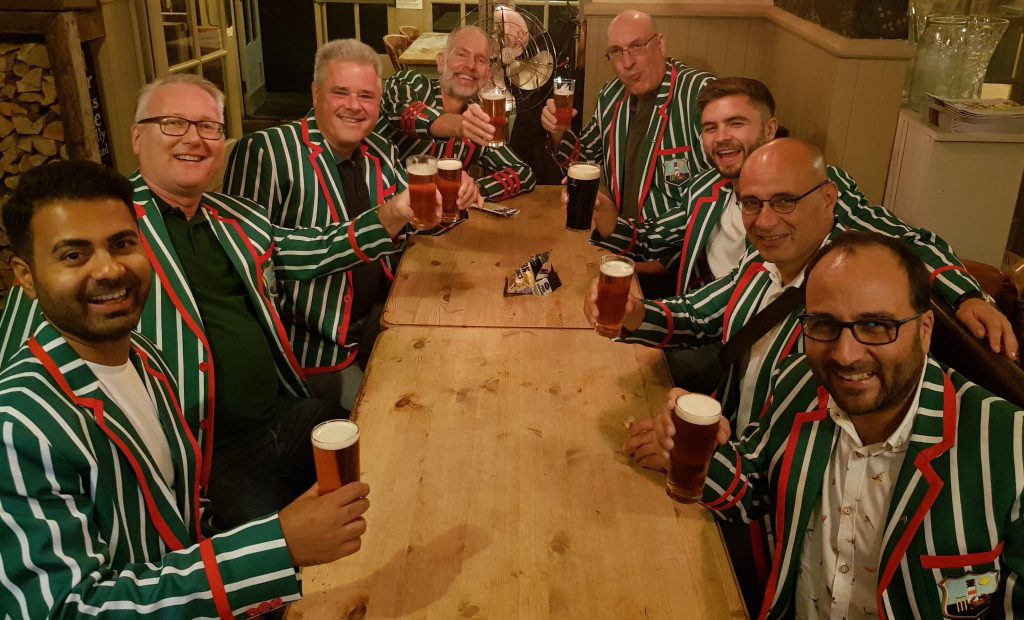 Heligoland Pilgrims: Dev (cpt.), Adrian (wk.), Cam, Dom, Jörg, Jürgen, Leo, Mark R., Moritz, Nabeel, (Mark. B hatte es nicht geschafft)
Harbledown: Sam (cpt.), Charlie (vcpt.), Greg, Jake Y., Karl, Martyn, Oscar, Steve, Stuart, Tom Y.
Umpires: John and John
Scorers: Mark R., Cam, Moritz
Bericht: Max Minor, Cricket-Korrespondent, Photos: Jessica Mancuso
Family and Friends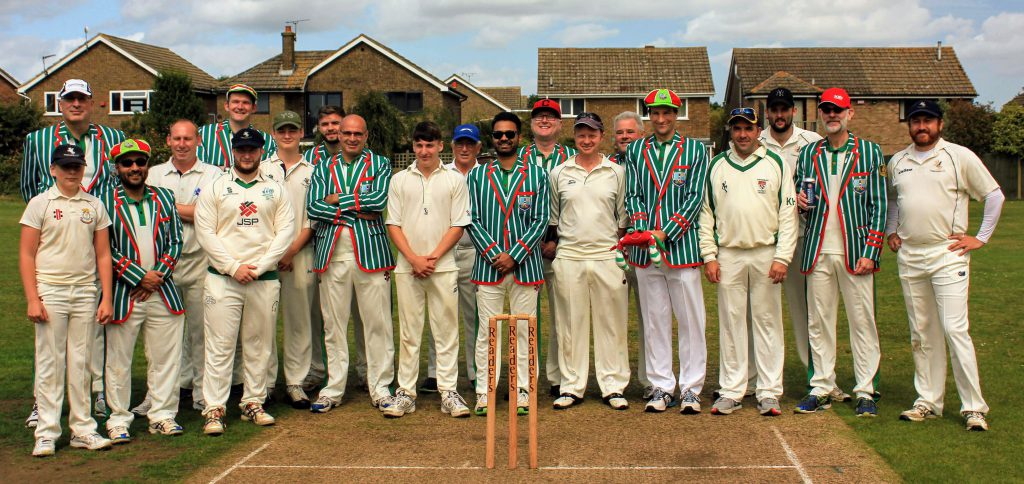 At close of play on Saturday, 17 August, all the Pilgrims' worries had vanished into thin air. Their tour organiser had worried whether they would be enough players as the strong Indian all-rounder Abhinand had been unable to travel due to a bicycle accident just a week before the tour. Captain Dev had worried about the feeble strength of his team – would they be able to live up to their hosts' expectations? After all Harbledown CC was leading the Kent village league at the time. The whole team had been worried because their South African stalwart Mark B. had not been allowed to fly to England. Even Harbledown's chairman John had been worried on account of a wet pitch as it had been raining heavily the night before the match.
But the sun came out in time with together with a balmy breeze to dry up the ground, the Pilgrims found the way up the hill to the well-kept ground behind Rough Common Village Hall and their opponents had put together a 10-man team of family and friends with a couple of talented U16 players and a couple of veterans who, under the captaincy of Sam, made proper a game of it. With hindsight you might say Harbledown controlled the match from start to finish. But hadn't Heligoland Pilgrims come just for playing cricket – rather than competing or winning? And that was exactly what they got!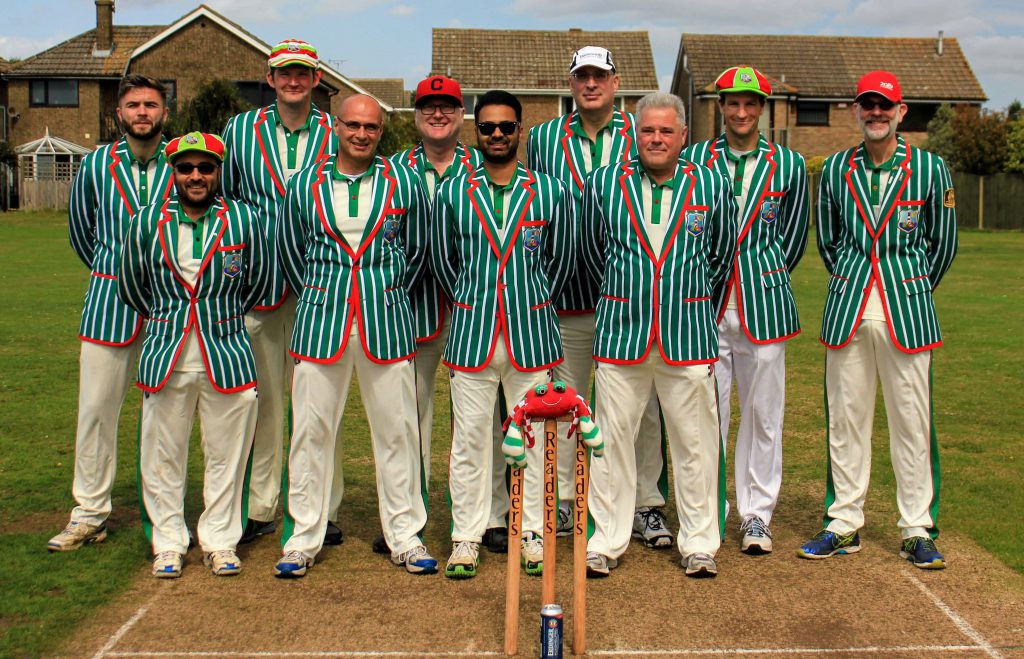 In 35 overs every Pilgrim could bat; they were even allowed by some non-hostile bowling to score 201 runs, their highest score abroad so far. In reply Harbledown raced to 48/1 after 5 overs, with the loss of Charlie only (35), and 80/1 after 10. Then they retired their strongest batsmen and Sam guided the rest of his team through another 22.5 overs so that all the Pilgrims except wicket-keeper Adrian got a chance to bowl, not to mention extensive fielding.

For a short moment, in the penultimate over, the game even stood on knife's edge. After the loss of 7 wickets opener Karl (50) had returned to the crease, but got bowled to his surprise by one of Nabeel's a spin-balls with Harbledown's score on 199/8. So it was 2 runs to tie, 3 to win – or 1 wicket to lose. Having novice Oscar at the crease the Pilgrims saw a chance to turn the match. However, Captain Sam (57*) would not have it and finished the job to secure a well-deserved victory for his team in the 34th over.

A superb contribution to the Pilgrims' efforts was supplied by Cam (67*, 6-0-28-2 and a great catch at long on). Dev impressed with a true captain's innings of 34*, including 2 boundary sixes. Leo seemed a bit rusty, but still assembled 29 runs and got a wicket (lbw). Mark R. struck 9* off only 9 balls at the end of the innings and took 2 wickets (4-0-15-2). There were also some premieres for Pilgrims: Jürgen bowled his first maiden over (3-1-6-0), Jörg took his first wicket (3-0-10-1) and Adrian achieved his first stumping. Moreover, having just received his Pilgrims-cap prior to his inaugural match, Dom (10) hit a boundary 6 onto the pavilion roof, took a wicket and held a catch. And the Pilgrims' unrivalled king of ducks, whose name must remain confidential here, also increased his tally.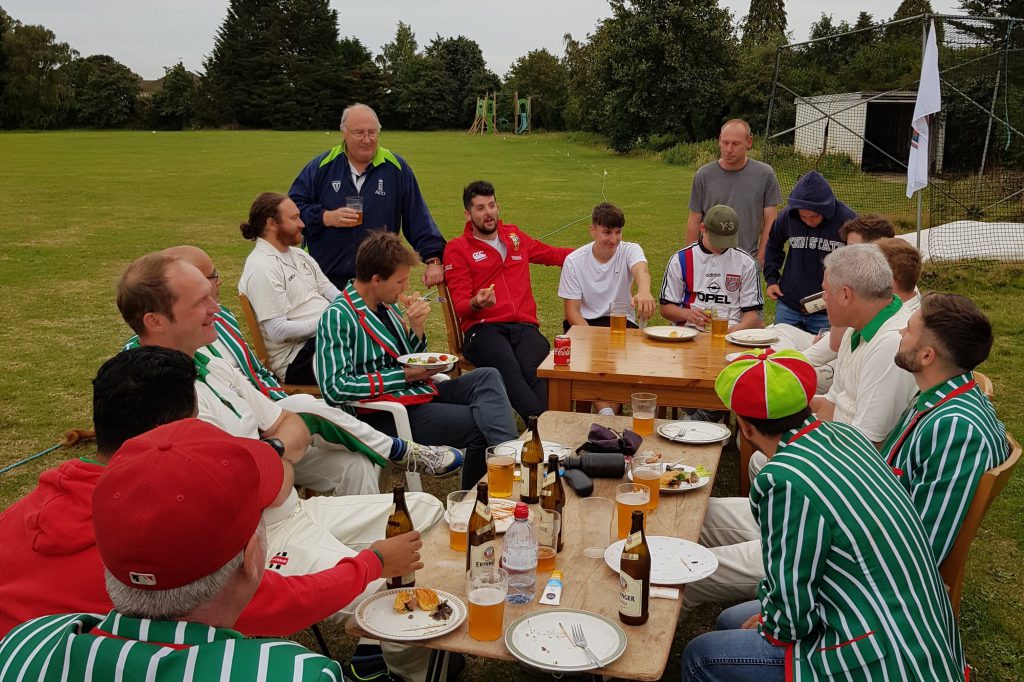 Immediately after the match the hosts put on a tasty barbecue for the hungry players which went down well with copious amounts of ERDINGER beer and other beverages supplied from the Googly Bar in the little pavilion. It was here that the Pilgrims realised how much they had been made welcome by Harbledown. They felt like part of the family and friends they had played. Karl was delighted to receive a bottle of traditional Hamburg caraway spirit as man of the match (50 runs and 5-2-11-1) – a clear sign the old boy, a living legend from Harbledown's heydays in the last millennium, was back where he belongs, namely a the crease. Surely former captain Charlie will also remember fondly his last game in Canterbury before moving north.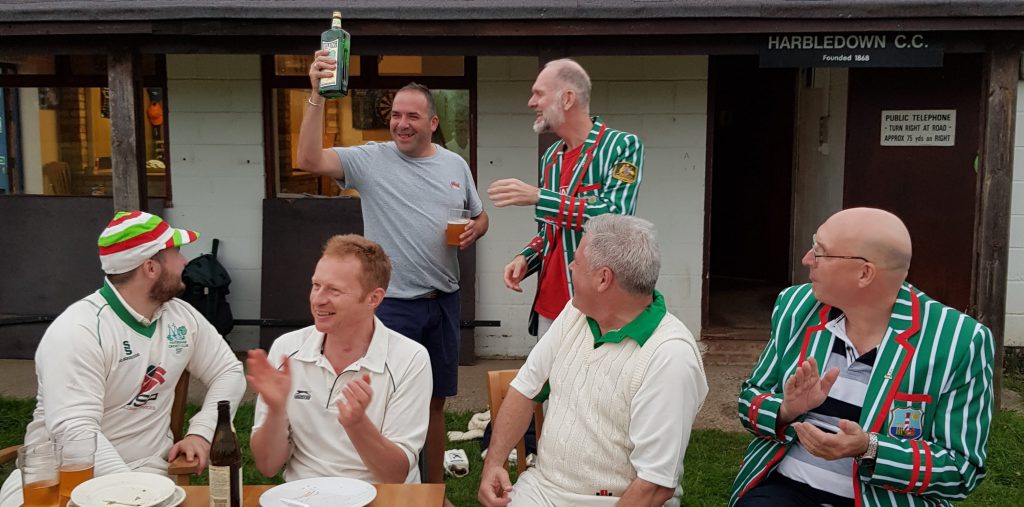 Harbledown President John, who had kindly umpired, presented the Pilgrims President with the Laws of Cricket – another law book for the old lawyer. And everyone was most grateful to Chairman John who had organised almost everything: team selection, bringing his sons along to play, guiding three seemingly lost Pilgrims to the ground, arranging preparation of the pitch, umpiring, coaching, overseeing the barbecue and even running the bar until late. The sunset phased out a wonderful day of cricket for all participants.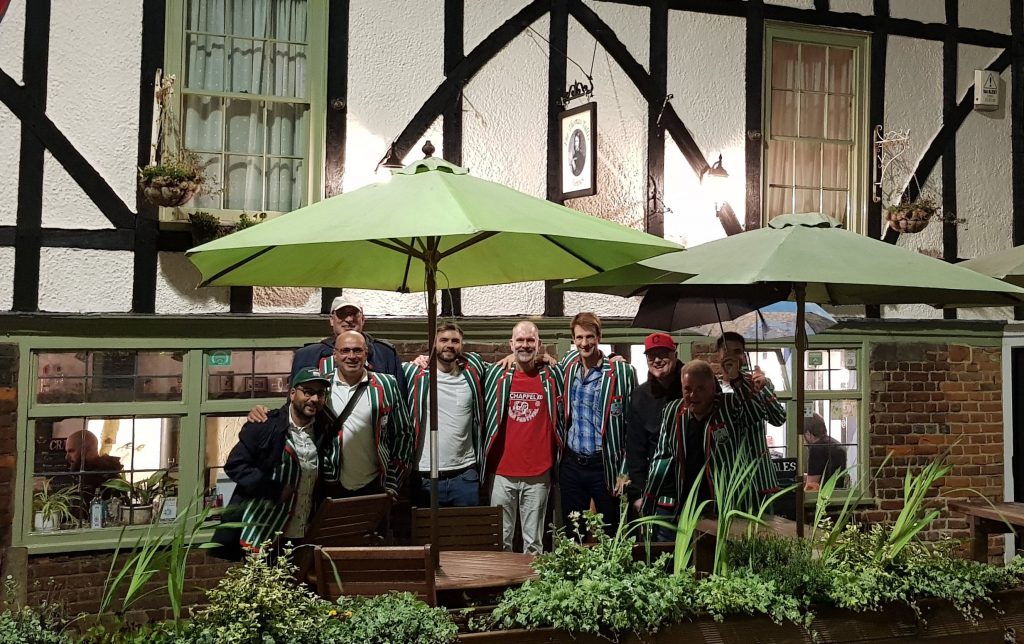 Thus ended the first part of Heligoland Pilgrims' Canterbury tour. It had already started on Friday when the main part of the team was collected by Cam and Mark R. at the railway station, just a short walk away from the Victoria Hotel. In spite of the onset of rain the scheduled pubcrawl via a roofed terrace of the Eight Bells and dinner at the Foundry undoubtedly turned out to be a blissful evening in one of England's most beautiful old towns. The broad smile on everyone's face, even the team's diehard teetotaller, in the ancient Thomas Tallis pub shortly before last orders should suffice as evidence.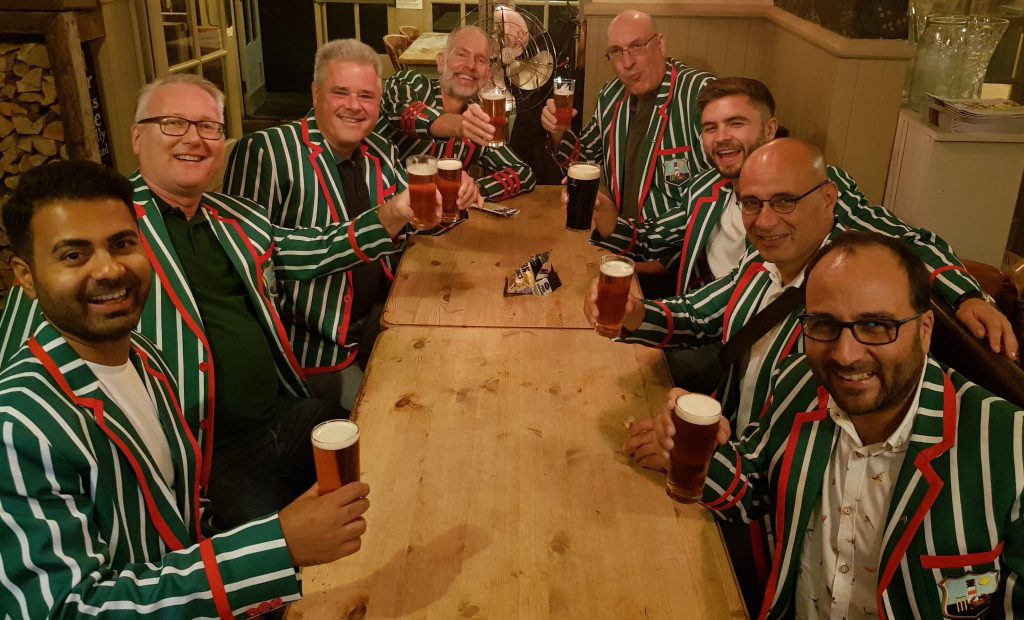 Heligoland Pilgrims: Dev (cpt.), Adrian (wk.), Cam, Dom, Jörg, Jürgen, Leo, Mark R., Moritz, Nabeel, (Mark. B did not make it)
Harbledown: Sam (cpt.), Charlie (vcpt.), Greg, Jake Y., Karl, Martyn, Oscar, Steve, Stuart, Tom Y.
Umpires: John and John
Scorers: Mark R., Cam, Moritz
Report: Max Minor, cricket-correspondent, Photography: Jessica Mancuso