Read the English version below.
Versteckte Catches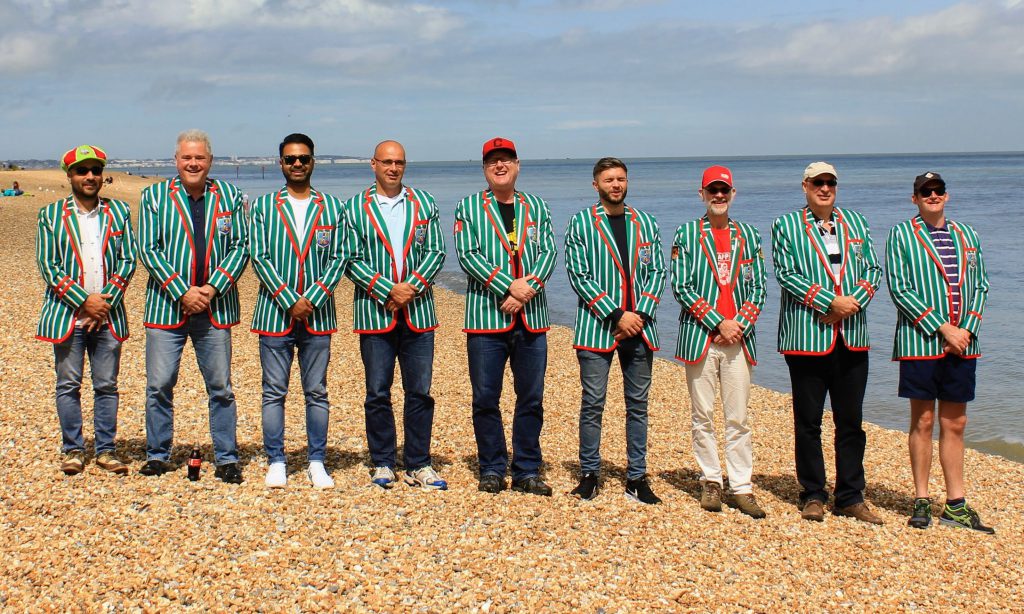 Um 11.38 Uhr am Sonntag, 18. August, nur 7 Minuten vor der geplanten Abreise der Pilgrims, unterbrach Regen das Spiel auf dem County Platz. Cam hatte Canterbury bereits davor mit einem Leihfahrrad verlassen. Mark R. und Leo fuhren den Rest des Teams durch sintflutartige Schauer, riesige Pfützen und schlechte Sicht zur Ostküste von Kent. Würden sie überhaupt spielen können? Jenseits von Sandwich und in Richtung Deal kam die Sonne heraus, die Straßen waren trocken – als ob nichts passiert sei. Der Fish and Chip Shop mit Blick auf den Strand versorgte die Touristen mit dem Fang des Tages. So gestärkt suchten sie in Updown/Betteshanger nach dem gut versteckten Cricketplatz von Eastry CC. Er liegt abseits einer Nebenstraße südlich des Dorfes und man kann leicht die Zufahrt entlang einer überwucherten, zerfurchten Piste verpassen, da der alte Wegweiser von seinem Pfosten gefallen ist.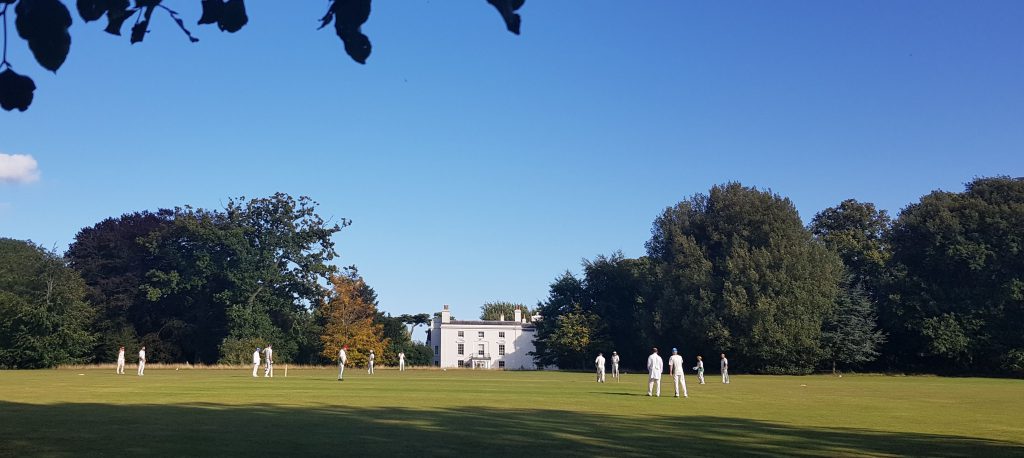 Aber wenn man es schafft, ihn zu finden, ist man von seiner Schönheit beeindruckt. Er ist von großen Bäumen umgeben, grenzt an ein Stück Wald und ein Kornfeld und liegt neben einem Herrenhaus. Nur über den Platz gelangt man zu einem verzauberten strohgedeckten Pavillon mit einem Anbau, der gleichzeitig als Anzeigetafel-Hütte mit Küche dient. Die Feldmarkierungen wurden gerade nachgezogen, als die Pilgrims ankamen. ERDINGER-Produkte lagen in einer Schubkarre vor dem Pavillon auf Eis. Kaptän Graham begrüßte die Pilgrims zusammen mit Paul und seinem Hund: Das Spiel konnte tatsächlich pünktlich beginnen.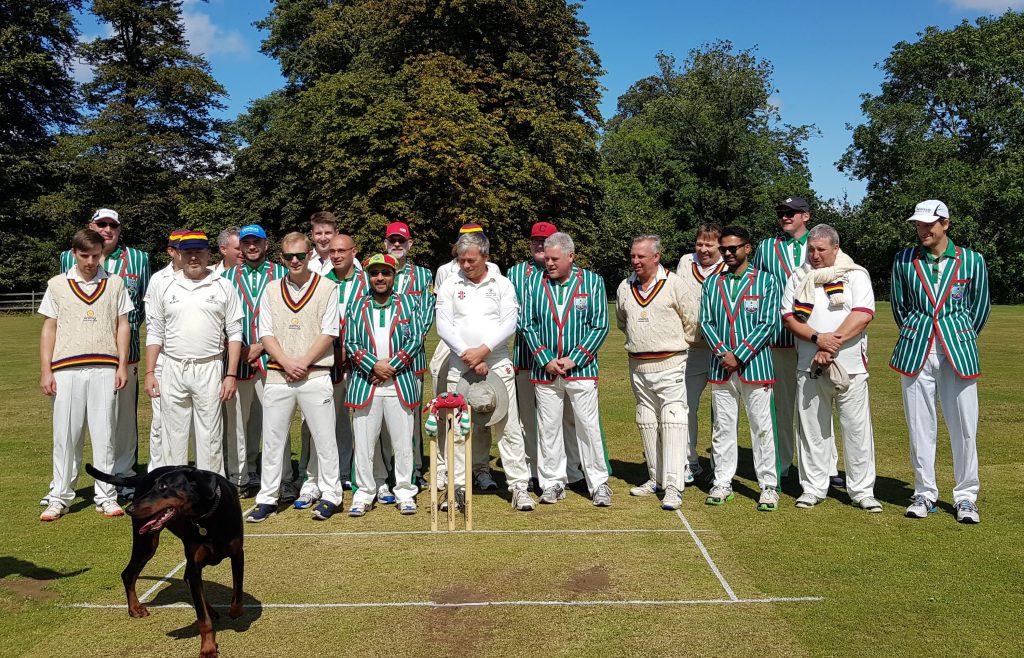 Erneut schlugen die Pilgrims zuerst, im Vergleich zum Vortag jedoch gegen einen stärkeren Gegner. Doch Eastry ist ein Club, der sich wunderbar darauf spezialisiert hat, Tourneemannschaften zu empfangen. Sie spielen in keiner Liga, sie spielen einfach nur Cricket – und sie wissen genau, wofür Touristen kommen. So passen sie ihr Spiel an das Niveau ihrer Gegner an und lassen jeden einen großartigen Cricket-Tag erleben. Sie erlaubten sogar einem der 10 Pilgrims zweimal zu schlagen, vorausgesetzt, er war Deutscher, eine Bedingung, die genau die Hälfte des Teams erfüllte.
Eastrys Bowling war beeindruckend, präzise und eng; ihre Bowler gaben nur 5 Extras (2 nb, 3 b). Joe ragte am Ende des Innings heraus mit Zahlen von 1,4-1-1-1-3, Gareth erzielte 2-0-6-2, Matt 5-1-15-2 und Dickie 5-2-10-1. Jeder der Pilgrims gab sein Bestes auf dem Platz, aber irgendwie wurden fast alle gefangen. Aaron allein hielt 4 Catches, darunter Cam (31), Leo (17) und Adrian (16), und erledigte damit die Angriffsabteilung der Pilgrims in den ersten 18 Overs (68/4). Gareth erwischte Dom (13) von seinem eigenen Bowling. Nachdem Dev (28) auf 123/8 im 33ste Over gebowlte wurde, konnten die letzten Schlagmänner nur noch 3 weitere Runs zu insgesamt 126 aus 34,4 Overs hinzufügen.

Natürlich war dieses Ergebnis gegen die erfahrene Eastry-Mannschaft nicht zu verteidigen. Dennoch ließen sich ihre Schlagmänner Zeit und gaben fast allen Pilgrims die Möglichkeit zu bowlen – und einigen von ihnen, ein paar Skalpe einzusammeln, insbesondere Kapitän Nabeel 6-0-11-3 und Dom 7-1-17-2; Dev erwischte auch ein Wicket und hielt einen Catch. Einen beeindruckenden Catch eines Balles, der in den Himmel stieg und zurück zur Erde eierte, zeigte Cam im Außenfeld; Dom fing einen von Eastrys Eröffnungsspielern von seinem eigenen Bowling; und Adrian hielt einen hinter den Stumps. Unbeirrt marschierte Dicke zu einer entspannten 47* durch, schlug geschickt die schwächeren Bowler und blockte die Stärkeren. Nach 10 Overs war Eastry auf 55, aber dann drosselten sie das Tempo und ließen weiteres Spiel bis zum 28sten Over zu, als alles vorbei war.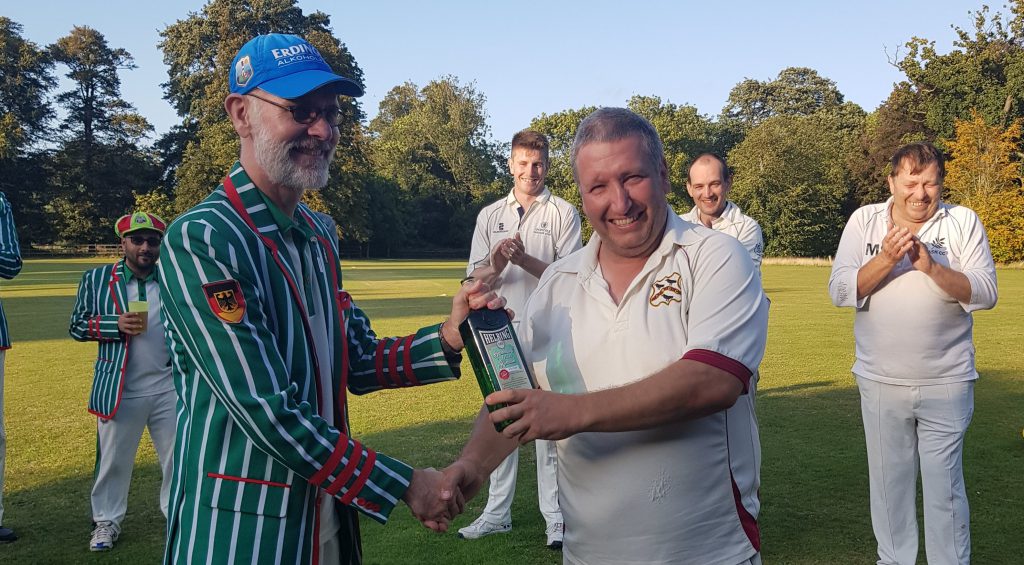 Die Spieler-des-Tages-Auszeichnung, eine Flasche traditionellen Hamburger Kümmels, ging an Dickie für seine fehlerfreie Allround-Vorstellung. Was die Pilgrims noch mehr beeindruckte als der makellose versteckte Platz, der herzliche Empfang ihrer Gastgeber und das wunderbare Cricket, war jedoch das Picknick, das von Eastry serviert wurde: Verschiedene Sandwiches, Kuchen, Wurst in Blätterteig, Kuchen, Scones und Tee wurden aus der kleinen Küche bereitgestellt. Ohne die Notwendigkeit des zweiten Innings würden die Spieler womöglich noch in der Sommersonne vor dem Pavillon schwelgen. Deshalb wurde einer sichtlich überraschten Claire, die die Verpflegung organisiert hatte, zu Recht eine Pilgrims-Cap überreicht. Nach dem Spiel zogen sich beide Teams in die Five Bells im Dorf zurück, um sich über das Spiel, Cricket im allgemeinen, Bier und andere Dinge auszutauschen, bis es dunkel wurde.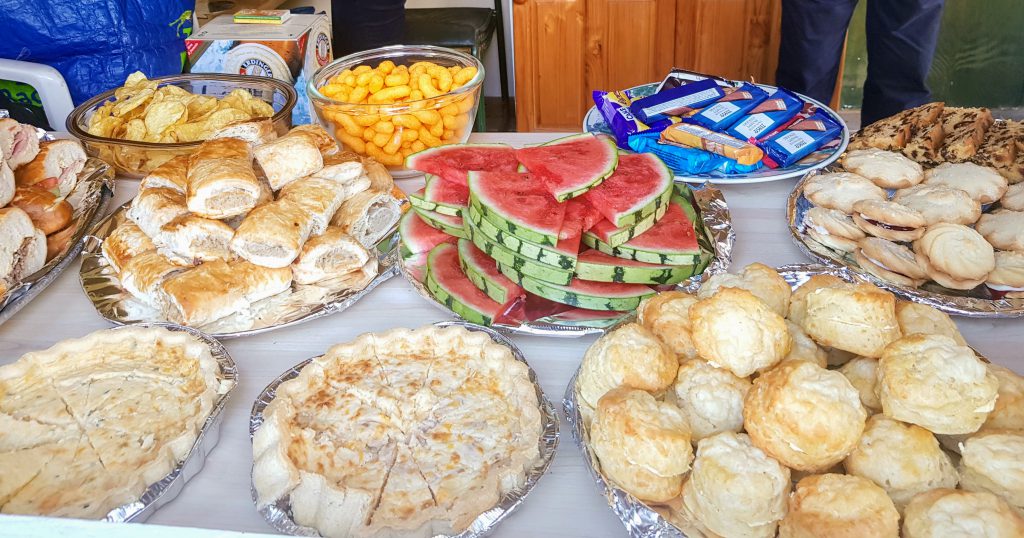 Die Pilgrims' Canterbury Tour wurde am Montag abgerundet, als alle außer Cam und Leo zum Kent County Platz gingen, um den zweiten Tag des Erstliga-Spiels zwischen Kent und Essex vom schönen CAMRA Zelt aus zu sehen. Das war der ideale Ort, um an der Veranstaltung teilzunehmen, direkt hinter Long Leg. Kent standen am Anfang auf 125/6, schafften es aber trotz M. Amirs Bowling immer noch, 226 zu erreichen, bevor Essex den Tag am 32/1 mit Sir A. Cook noch am Schlag beschloß. Immer wenn ein Schauer das Spiel unterbrach, konnten die Touristen in das Zelt zurückkehren, wo eine ständig wechselnde Auswahl an Real Ales als Ausgleich zum Regen diente. Hier trafen sie auch Barmy Army Offizier Matt, der sie freundlicherweise in den Kent Pavillon führte, wo sie sogar Spielern und Schiedsrichtern die Hand schütteln konnten.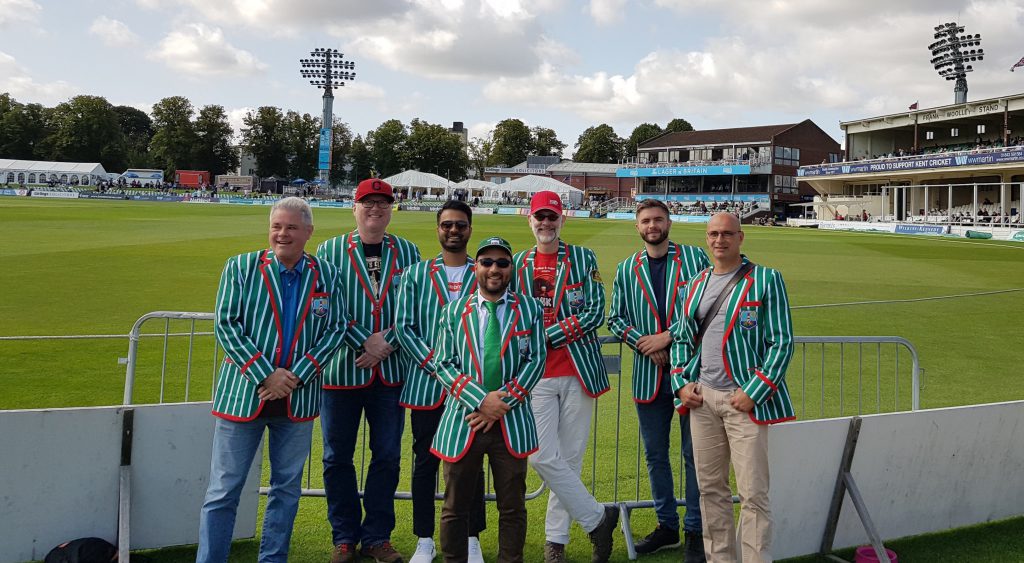 Eine Curry-Nacht im Ancient Raj und ein letzter obligatorischer Besuch im unvergleichlichen Thomas Tallis Pub schlossen den Tag ab. Was kann man mehr von einer Cricket-Tour erwarten? Eigentlich nicht viel. Das Glück soll angeblich eine Zigarre gewesen sein. Vielleicht ist es jetzt eine Tour mit Heligoland Pilgrims, die planmäßig verläuft oder sogar die Erwartungen übertrifft. Wer herausfinden will, wie es ist, und den einzigartigen Tourneegeist erleben will, sollte nächstes Jahr teilnehmen; Gerüchten zufolge hat die Planung bereits begonnen.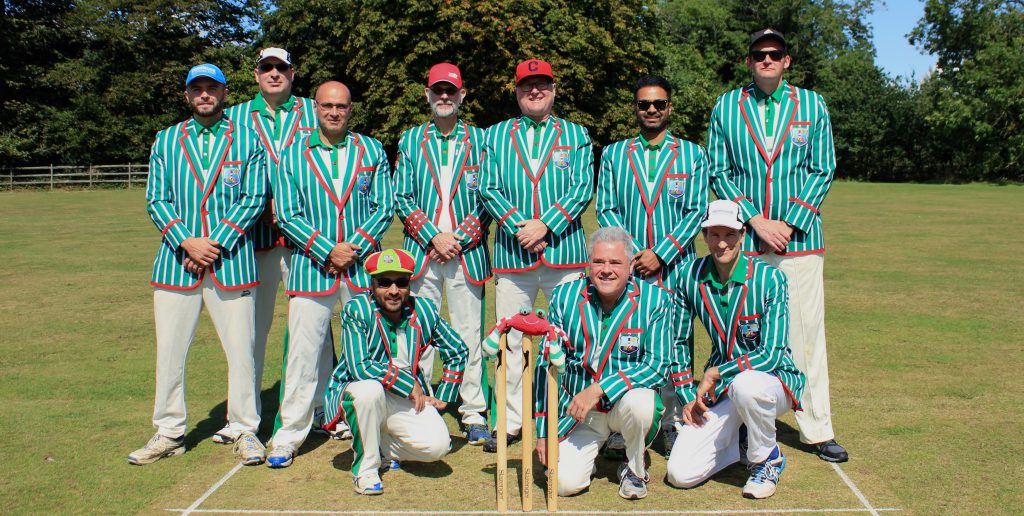 Heligoland Pilgrims: Nabeel (cpt.), Adrian (wk.), Cam, Dev, Dom, Jörg, Jürgen, Leo, Mark R., Moritz, (Mark. B did not make it)
Eastry: Graham (cpt./wk.), Aaron, Dave, Dave D. Dickie, Gareth, James, Joe, John, Matt, Roger
Scorers: Mark R. and Cam
Bericht: Max Minor, Cricket-Korrespondent, Photos: Jessica Mancuso
Hidden Catches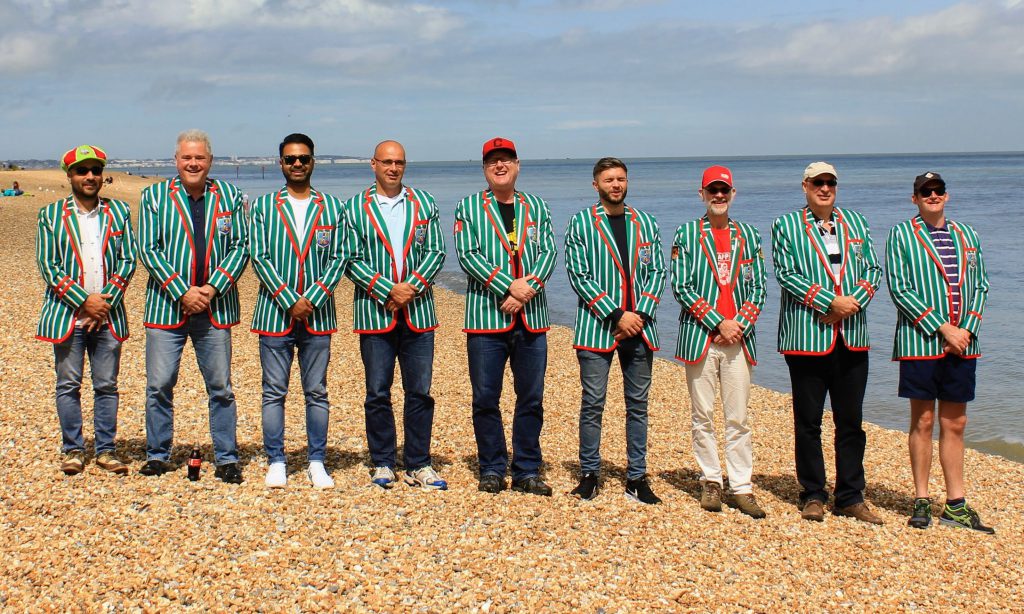 At 11.38 on Sunday, 18 August, just 7 minutes before the Pilgrims' scheduled departure, rain stopped play at the County Ground. Cam had already left Canterbury earlier on a hired bike. Mark R. and Leo drove the rest of the team through torrential showers, huge puddles and low visibility to the Kentish east coast. Would they be able to play? Beyond Sandwich and towards Deal the sun came out, the streets were dry – as if nothing had happened. The fish and chip shop overlooking the beach served its catch of the day to the tourists. Thus strengthened, they searched for Eastry CC's well-hidden cricket ground in Updown/Betteshanger. It is off a back road south of the village and you might easily miss the entrance along an overgrown rutted track as the old sign has come off its post.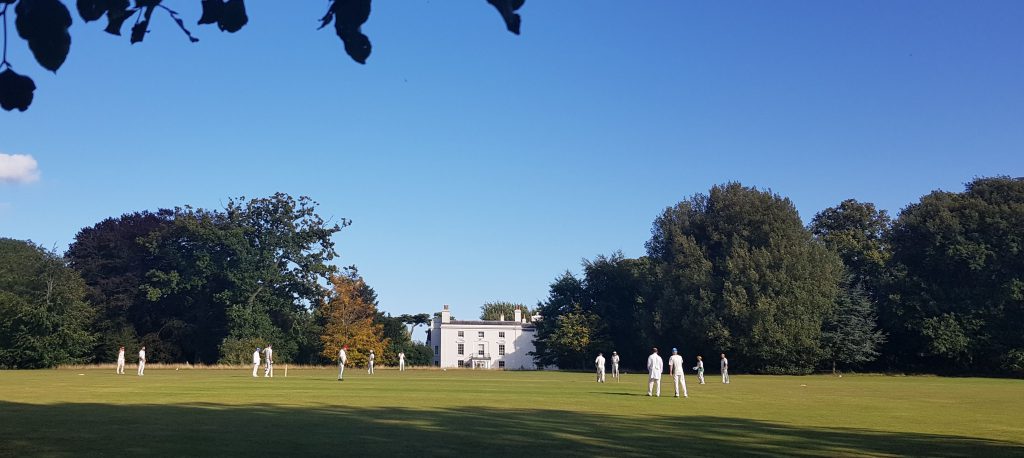 But if you manage to find it you will be struck by its beauty. It is surrounded by large trees, fringes on a piece of woodland and a corn-field, and has a stately house next to it. Accessible only across the ground is an enchanted thatched pavilion with an extension that doubles as a scoreboard-hut cum kitchen. The creases were just being marked when the Pilgrims arrived. ERDINGER supplies had been put on ice in a wheelbarrow outside the pavilion. Captain Graham together with Paul and his dog welcomed the Pilgrims: Yes the match could start on time.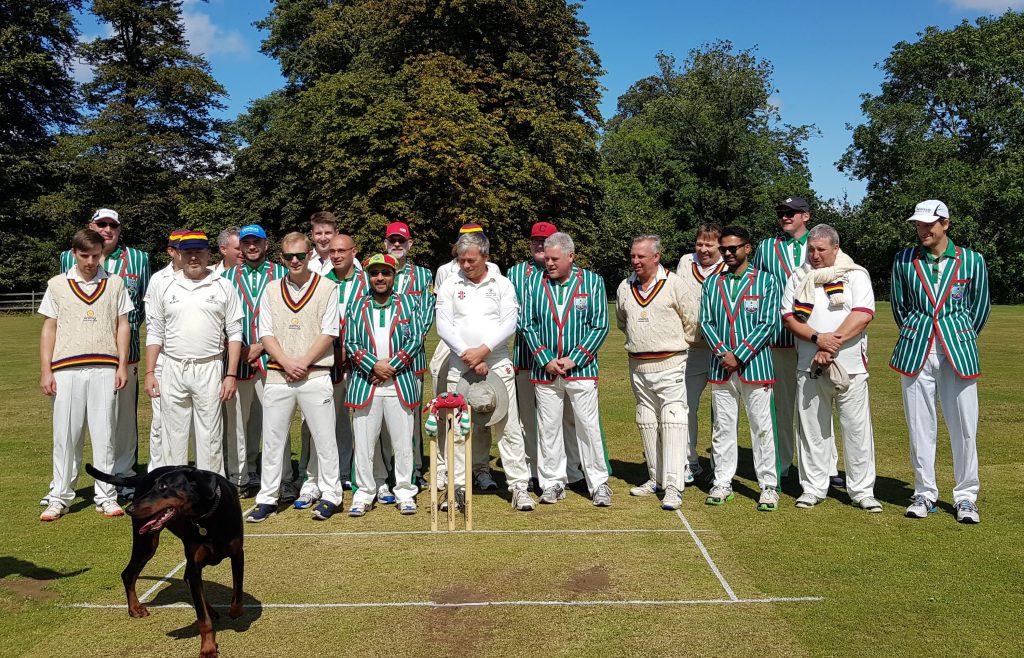 Once again the Pilgrims batted first, compared to the previous day, however, against a stronger opposition. But Eastry is a club wonderfully specialised in hosting touring teams. They do not play league, they just play cricket – and they know exactly what tourists have come for. So they adjust their game to the level of their opponents and let everyone have a great day of cricket. They even allowed one of the 10 Pilgrims to bat twice, provided he was a German, a condition exactly half of the team met.
Eastry's bowling was formidable, accurate and tight; their bowlers only conceded 5 extras (2 nb, 3 b). Joe excelled at the end of the innings with figures of 1.4-1-1-3, Gareth got 2-0-6-2, Matt 5-1-15-2 and Dickie 5-2-10-1. Every one of the Pilgrims gave their best at the crease, but somehow almost all of them got caught. Aaron alone took 4 catches, including Cam (31), Leo (17) and Adrian (16), thus removing the Pilgrims' top order in the first 18 overs (68/4). Gareth caught Dom (13) off his own bowling. Once Dev (28) was bowled on 123/8 in the 33rd over, the tail-enders could only add another 3 runs to a total tally of 126 all out from 34.4 overs.

Of course this was not defendable against the experienced Eastry side. Still, their batsmen took their time and gave almost all Pilgrims a chance to bowl – and a few of them to take some scalps, notably Captain Nabeel 6-0-11-3 and Dom 7-1-17-2; Dev also got a wicket and held a catch. An impressive catch of a ball skied and wobbling back down to earth was displayed by Cam in the outfield; Dom caught one of Eastry's openers off his own bowling; and Adrian caught one behind the stumps. Unperturbed, Dicke carried his bat to a relaxed 47*, cleverly hitting the weaker bowlers and blocking the stronger. After 10 overs Eastry were on 55, but then they slowed down and allowed some further play until the 28th over, when everything was over.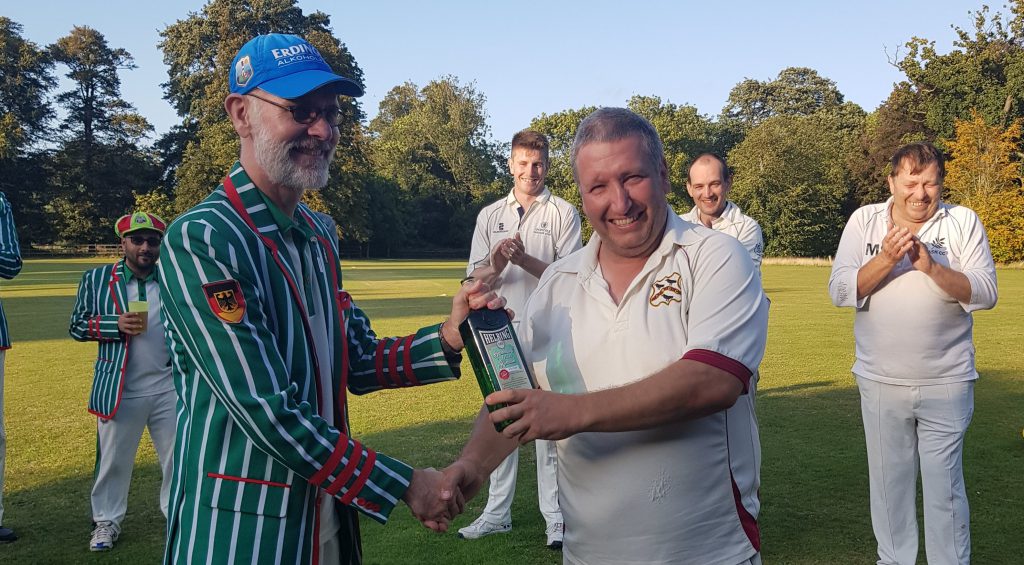 The man of the match award, a bottle of traditional Hamburg caraway spirit, went to Dickie for his spotless all-round performance. What had impressed the Pilgrims even more than the immaculate hidden ground, the warm welcome of their hosts and the wonderful cricket, however, was the tea served by Eastry: various sandwiches, pies, sausage-rolls, cakes, scones and tea were provided from the little kitchen. Had it not been for the necessity of the second innings, the players might still be indulging in the summer sun outside the pavilion. That is why a visibly surprised Claire, who had organised the tea, was deservedly presented with a Pilgrims cap. After the match both teams withdrew to the Five Bells in the village to exchange thoughts about the match, cricket in general, beer and other things until it got dark.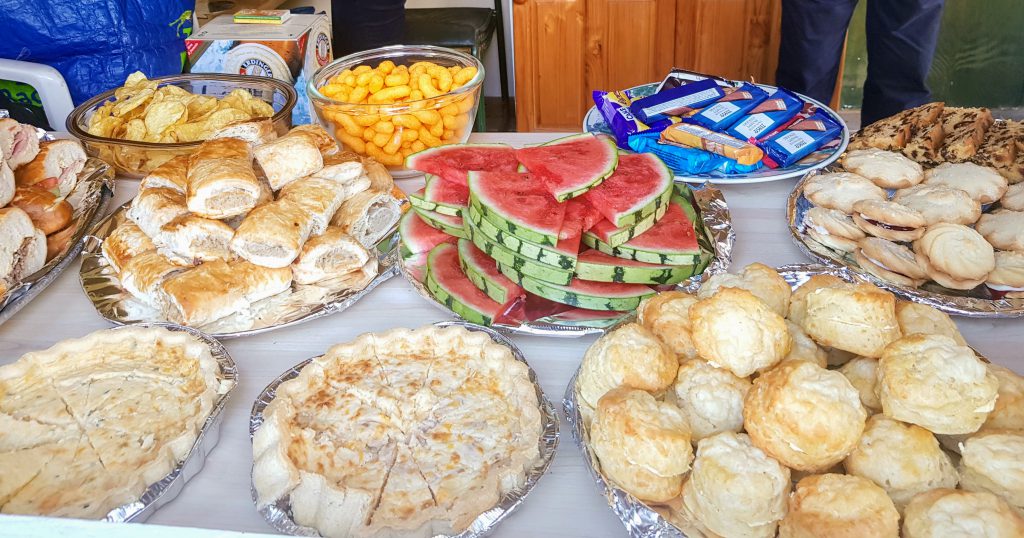 The Pilgrims' Canterbury Tour was rounded off on Monday when everyone but Cam and Leo walked to the Kent County Ground to watch the second day of the First Division match between Kent and Essex from the lovely CAMRA marquee. This was the ideal spot to participate in the event, just behind long leg. Kent were on 125/6 at the start, but in spite of M. Amir's bowling still managed to reach 226, before Essex closed the day on 32/1 with Sir. A. Cook still in. Whenever a shower interrupted play, the tourists could return into the tent where an ever-changing range of real ales worked as a balance to the rain. It was here they met Barmy Army officer Matt who kindly showed them into the Kent Pavilion where they could even shake hands with players and umpires.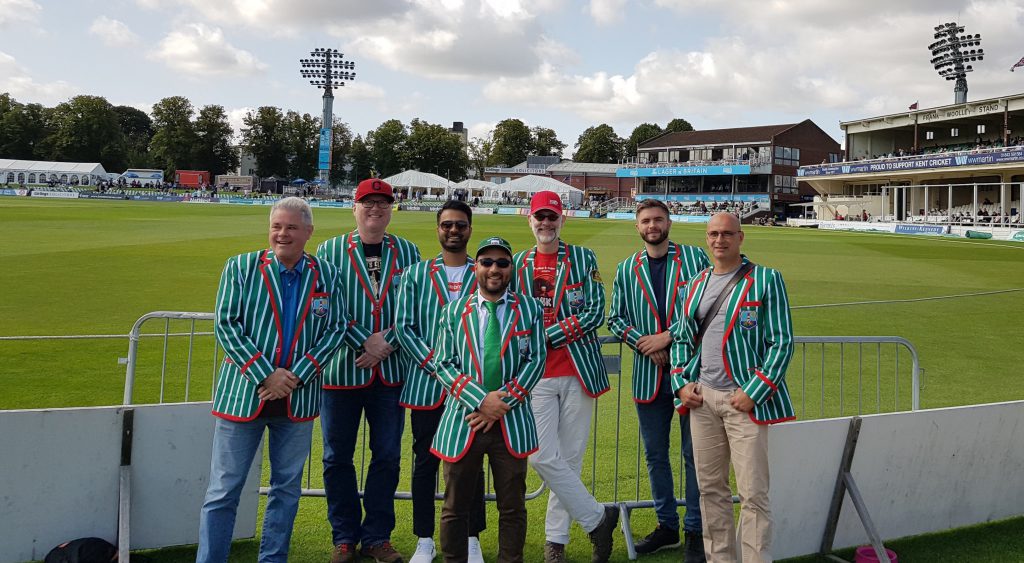 A curry night in the Ancient Raj and a final mandatory visit to the unrivalled Thomas Tallis pub closed the day. What more can you expect from a cricket tour? Not much really. Happiness allegedly used to be a cigar. Maybe it is now a tour with Heligoland Pilgrims that goes according to plan, or even beyond expectations. If you want to find out what it is like and experience the unique tour spirit, why not join them next year; rumours have it that planning has already begun.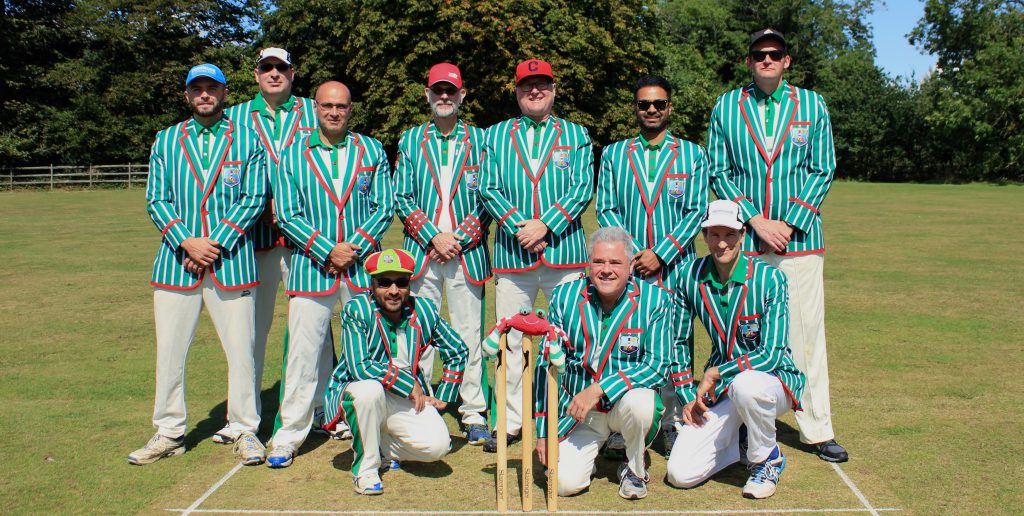 Heligoland Pilgrims: Nabeel (cpt.), Adrian (wk.), Cam, Dev, Dom, Jörg, Jürgen, Leo, Mark R., Moritz, (Mark. B did not make it)
Eastry: Graham (cpt./wk.), Aaron, Dave, Dave D., Dickie, Gareth, James, Joe, John, Matt, Roger
Scorers: Mark R. and Cam
Report: Max Minor, cricket-correspondent, Photography: Jessica Mancuso