Read the English version below.
Eine frostige Angelegenheit
Man stelle sich vor, man strandet auf einer verlassenen Insel im Nordatlantik, steht bei bedecktem Himmel auf einem ungeschützten Platz, Temperaturen im einstelligen Bereich und ein kühler Nordwind heult unerbittlich. Man trägt sechs Schichten Kleidung, im Grunde alles, was man hat: Unterwäsche, T-Shirt, Sporttrikot, Wollpullover, gestreifte Polyesterjacke und einen Wintermantel sowie einen Schal, eine Mütze und vielleicht von Zeit zu Zeit auch Handschuhe. Dennoch ist es einfach nicht genug. Man fühlt sich wie ein angewurzelter Eiszapfen und bemüht sich, irgendeine Art von Wärme zu erzeugen. Zumindest sehnt man sich danach, aus dem Wind zu kommen, aber es gibt keinen Schutz. Das ganze System konzentriert sich auf die Bekämpfung der Kälte und verbrennt alle Energie, die man noch hat. Man trinkt bleifreies Bier, um ausreichend mit Flüssigkeit versorgt zu bleiben, oder sogar bleihaltiges Zeug in der verzweifelten Hoffnung, daß einen der Alkohol aufheizen könnte. Wer sich gedanklich in diese Situation versetzen kann, ist den 26 Cricketern und ihrer Photographin ziemlich nahe, die am ersten Wochenende im Mai 2019 auf Helgoland gelandet waren.
Was sie von diesem frostigen Bild unterscheidet, ist, daß sie am Ende doch ein wirklich glücklicher Haufen waren – weil sie ihren Lieblingssport verfolgten, der zu Recht eher als Geisteshaltung denn als Sport bezeichnet wird. In ihrer bevorzugten Geisteshaltung widerstanden sie den Elementen, indem sie bewiesen, daß es weder zu kalt war, mit eisigen Fingern zu bowlen, noch rosa Bälle gegen den Wind zu schlagen; sie schafften es sogar, vereinzelte Fänge zu machen. Hätte die Reisegruppe schon lange im voraus über das Wetter Bescheid gewußt, dann hätte sie sich vielleicht für ein anderes Reiseziel entschieden, vielleicht in der Karibik? Doch wer hätte so ungünstige Bedingungen für den ERDINGER Alkoholfrei Atlantik Cup 2019 mehr als ein halbes Jahr zuvor voraussehen können, als er geplant wurde? Also beschlossen die Cricketer, das Beste aus ihrer mißlichen Lage zu machen. Folgendes ist in dieser frostigen Angelegenheit passiert: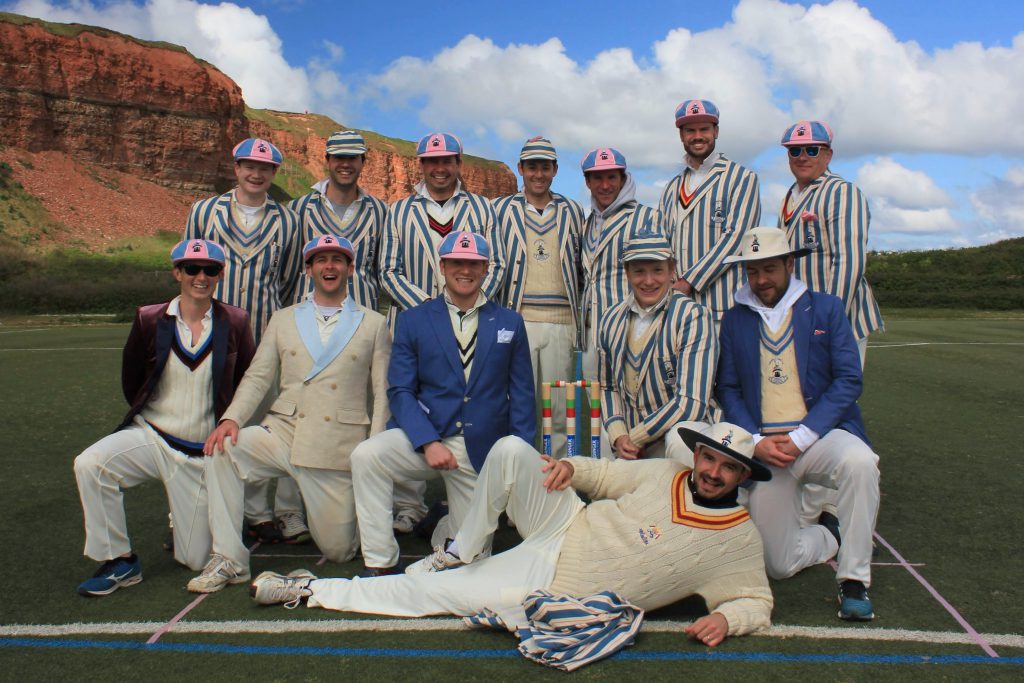 Aus ganz England, Schottland und sogar Schweden war der legendäre Mad Hatters Cricket Club mit 13 Spielern nach Hamburg geflogen, um am Freitagmorgen 13 Pilgrims zu treffen und nach Helgoland zu segeln. Gegen ihre prächtige Kleidung verblaßten die Insel-Farben der Pilgrims im Hintergrund. Blau, Rosa und Champagner waren nicht nur die Tour-Blazer, Mützen und Krawatten der Mad Hatters, sondern auch andere dekorierte Kleidungs- und Gepäckstücke. Die jungen Männer trugen ihre Outfits mit Charme und Lässigkeit und machten von Anfang an deutlich, daß sie unterwegs waren, um sich voll und ganz zu amüsieren.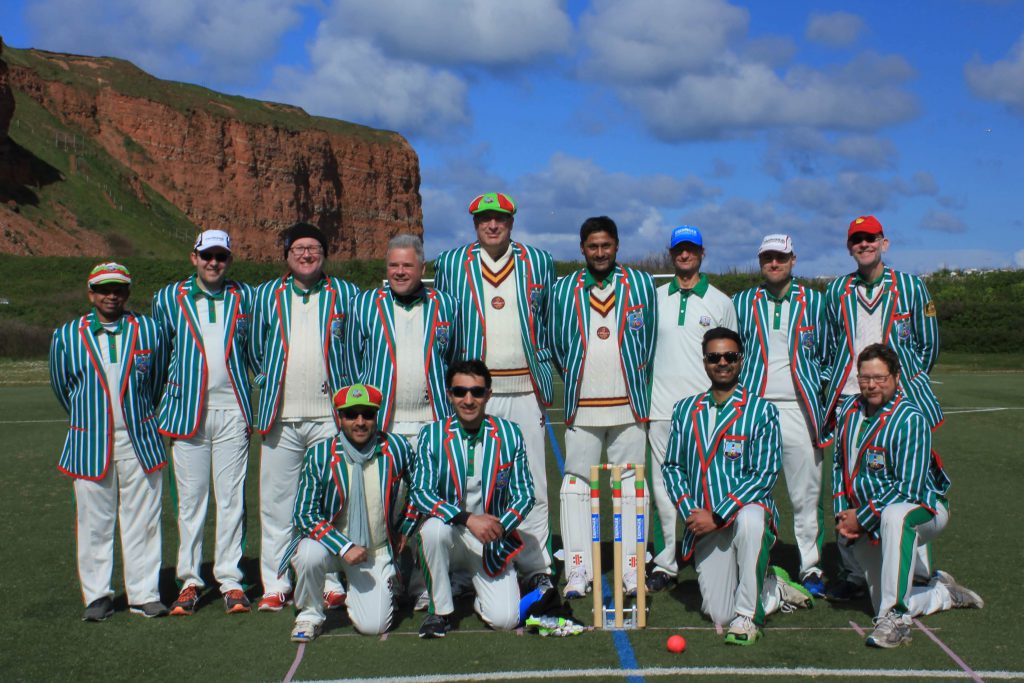 Zusätzlich zur kontinentalen Kälte begegneten den Reisenden starke Stürme und kalte Schauer auf der Nordsee; erst als sie von der Fähre stiegen, hörte es auf zu regnen, so daß jeder trocken in die Jugendherberge gelangen konnte. Das bedeutete natürlich nicht, daß auch der Freitagabend trocken bleiben mußte. Um die Frühstückszeit am Sonnabend ließen die Schauer nach, aber nicht die Stürme. Kurz nach 11 Uhr, als die Pilger ihre Ausrüstung und Anzeigetafel aus ihrer Inselhöhle geholt hatten und ihre Crew die Linien gezogene hatte, betraten die Hatters das kühle Feld zum Klang von "Soul Limbo" und Kapitän Adrian ging mit Bai hinaus in die Kälte, um das Batting zu eröffnen. Mit der Einsetzung der Pilger ins Feld hatten die Hatters einen strategischen Schritt getan, der erst später am Tag erkennbar wurde.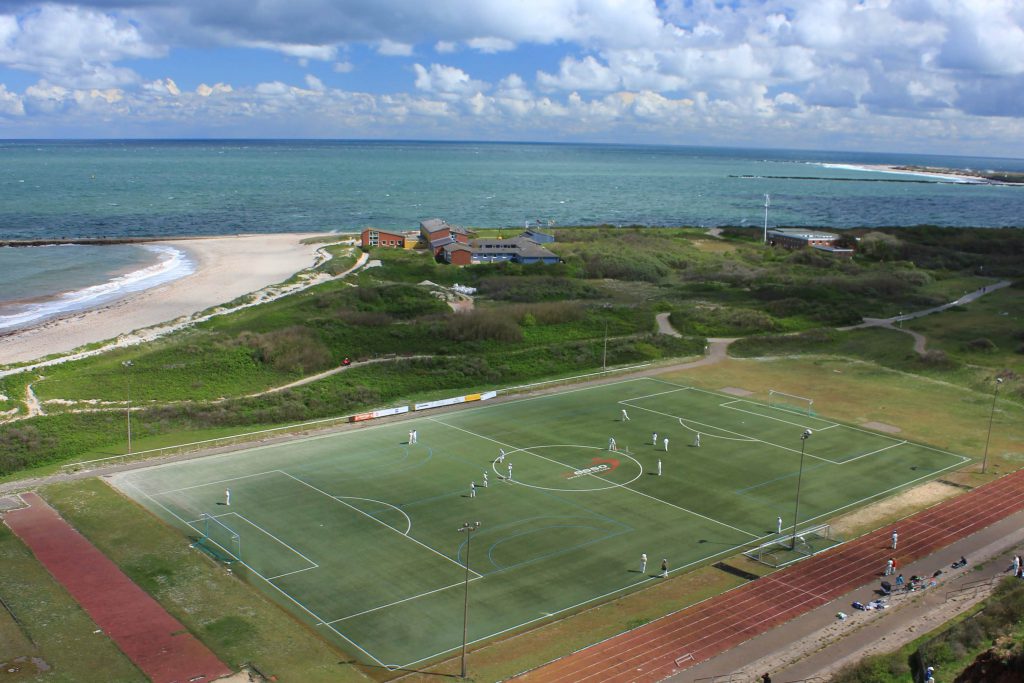 Die Pilgrims begannen langsam, versuchten, die Eröffnungs-Bowler der Hatters abzuwehren, und erreichten nach 10 Overs eine Punktzahl von 29/1, als das – unnötig gekühlte – ERDINGER-Bier am Platz ankam. Nachdem die ersten Wickets gefallen waren, gaben Nabeel (52*, 2×6, 7×4) und Surya (50*, 5×6, 4×4) den Hatters etwas zum Nachdenken; die Heimmannschaft lag nach 20 Overs bei 111/2. Aber um jedem Pilgrim die Chance zum Schlagen zu geben, zog Kapitän Adrian seine stärksten Kanonen bald darauf zurück. So konnte Mark zum rekordverdächtigen 7. Mal im Atlantik Cup schlagen, Jörg seinen ersten Run für die Pilgrims machen und Andreas seine ersten Runs auf Helgoland. Allerdings erreichten nur Bai und Thomas (je 12) zweistellige Zahlen. Als das 9. Wicket auf 194/9 fiel und nur noch 2 Bälle übrig waren, sorgte Satya mit einer riesigen 6 und einem einzelnen Run dafür, daß die Pilgrims ihren ersten Durchgang mit 201 beendeten. Die Wickets waren gleichmäßigen verteilt von Alex (3), Tom (2), Peter (1, gekonnt von seinem eigenen Bowling gefangen), Dan und Josh (je 1) eingesammelt worden; Henry hielt nicht nur einen Fang, sondern erzielte auch ein Run-Out. Ein paar köstliche Fischbrötchen sorgten für die nötige Energie während der Inningspause.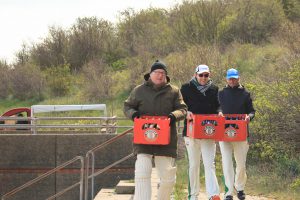 Die Strategie der Hatters wurde deutlich, sobald es sich ihre Batsmen an der Linie gemütlich gemacht hatten. Eröffner James (50*, 1×6, 6×4) konnte nicht entfernt und mußte von Captain Ed zurückgezogen werden, ebenso wie Henry, der mit seiner ersten halben Hundert für seinen Club (50*, 1×6, 8×4) brillierte. Auch Rorie (29), Cameron (21) und Ed (12) leisteten solide Beiträge zur Punktestand. Wickets wurden von Satya (2), Nabeel (1) und Surya (1, hervorragend von Satya gestumpt) genommen; Surya und Adrian bekamen auch jeweils ein Run-Out. Dennoch blieb die Run-Rate der Hatters immer ganz in der Nähe jener der Pilgrims und am Ende ihres Innings mit 202/6 war ihre Führung nur ein einziger Run. Das zeigt, daß die Hatters zu jeder Zeit die volle Kontrolle über ihre Gegner hatten. Mit 8 deutschen Spielern war die Pilgrims-Mannschaft einfach nicht stark genug für eine ernste Auseinandersetzung.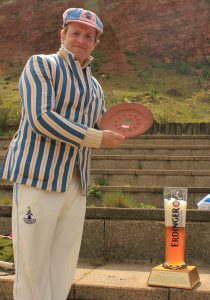 Andererseits, war das nicht der Sinn dieses Wettbewerbs? Zusammen Cricket spielen und Spaß haben, anstatt ohne besonderen Grund zu kämpfen? Offensichtlich waren die Hatters im richtigen Geist gekommen, und das war das Wichtigste. Alle Teilnehmer versuchten, sich beim anschließenden Grillen zu wärmen, auf Einladung der Pilgrims. Die Tourparty sang sogar gemeinsam ein Lied zum Lob von Cricket auf Helgoland und ERDINGER Weizenbier. Gerüchten zufolge endete die Nacht nicht an der Feuerstelle – aber alle Spieler kamen pünktlich zum zweiten Innings am Sonntagmorgen.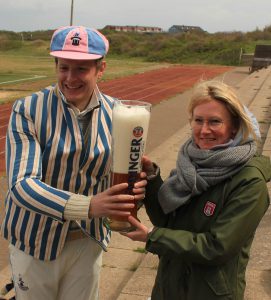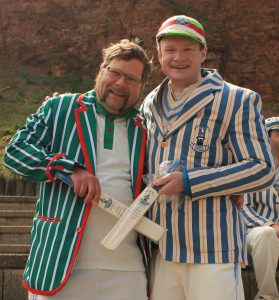 Das Muster des Spiels änderte sich dann nicht, ebensowenig wie das Wetter. Der Start der Pilger war unglücklich; sie verloren ihre Wickets früh und regelmäßig. Von den ersten Batsmen konnte nur Surya mit 35 (2×6, 4×4) überzeugen; Thomas 23 (4×4) und Jürgen 12 (2×4) erzielten neue persönliche Bestleistungen, und Adrian schlug 11* in einem Rückzugsangriff, bevor er das Inning am 144/10 schloß. Diesmal nahm Peter die meisten Wickets (6-0-19-3), während Al (2-0-9-2), Tom (3-1-10-2) und Rorie je 2 nahmen und Alex 1. Der Kuchen in der Mittagspause gab den Pilgern nicht genug Kraft, um ihre schwache Punktzahl zu verteidigen, obwohl ihre Angriffsbowler relativ stark waren, vor allem Bai (5-2-17-3) und Satya (4-1-21-0) vor Nabeel (2 Wickets), Surya und Adrian (je 1). Im Gegenteil: Die Hatters, offenbar wie geplant, erreichten 145/7 mit dem dritten Ball ihres letzten garantierten Overs – aber unter dem vereinbarten Zeitformat hätten ihre verbleibenden 6 Batsmen weitere 12 Minuten schlagen können. Star der Show war Top-Scorer Dan (70), gekonnt unterstützt von Will (25) und Tom (14*).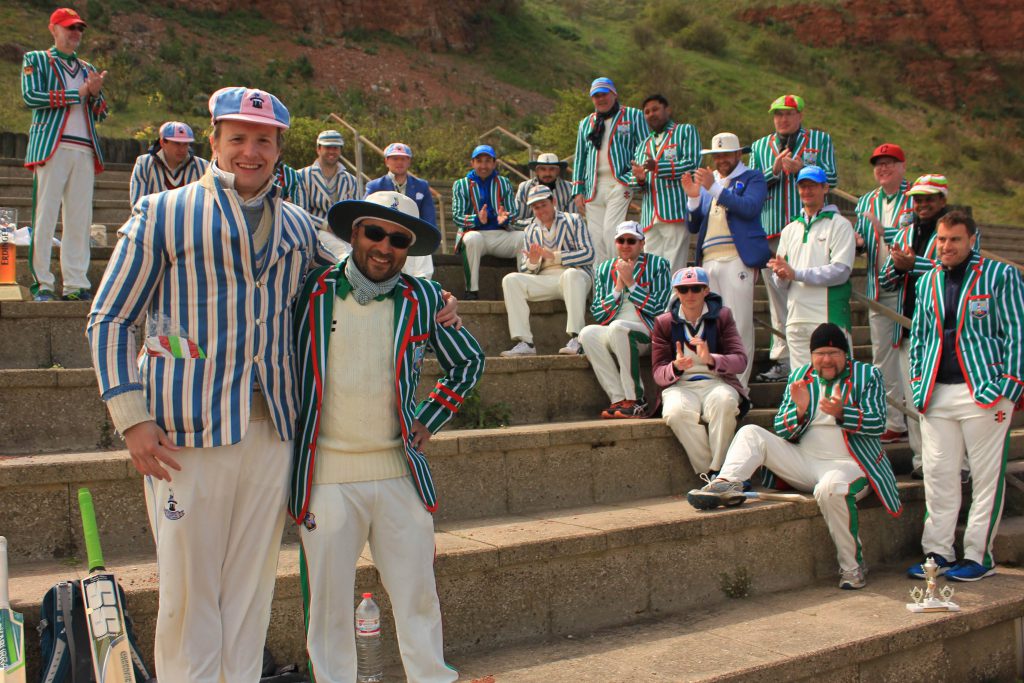 Reden und Auszeichnungen brauchten nicht viel Zeit, da alle Spieler aus der Kälte kommen wollten. Heimkapitän Adrian erinnerte die Teilnehmer daran, warum sie dort waren, und betonte, daß das Ziel des gemeinsamen Cricket-Spaßes vollständig verwirklicht worden war. Auswärtskapitän Ed gab zu erkennen, daß sein Team eine unvergeßliche Tour erlebt habe und sprach den Gastgebern den Dank seines Clubs aus. Der Pokal wurde Ed von Petra überreicht, der Frau von Pay, dem auf Helgoland geborenen Gründungsmitglied der Pilgrims. Und die beiden würdigen Gewinner der Spieler des Spiels Auszeichnungen, Henry und Thomas, die sich beide im Cricket individuell mehr als erwartet hervorgetan hatten, erhielten herzerwärmenden Applaus. Einmal aus dem Wind und der Kälte heraus, auf der Fähre zurück nach Hamburg, begannen die Erinnerungen zu wachsen. Hoffen wir, daß der Cup 2019 nicht so sehr wegen des Wetters in Erinnerung bleiben wird, sondern wegen der Stimmung, in der er gespielt wurde, denn letztere hat für kommende Jahre ganz bestimmt einen Maßstab gesetzt.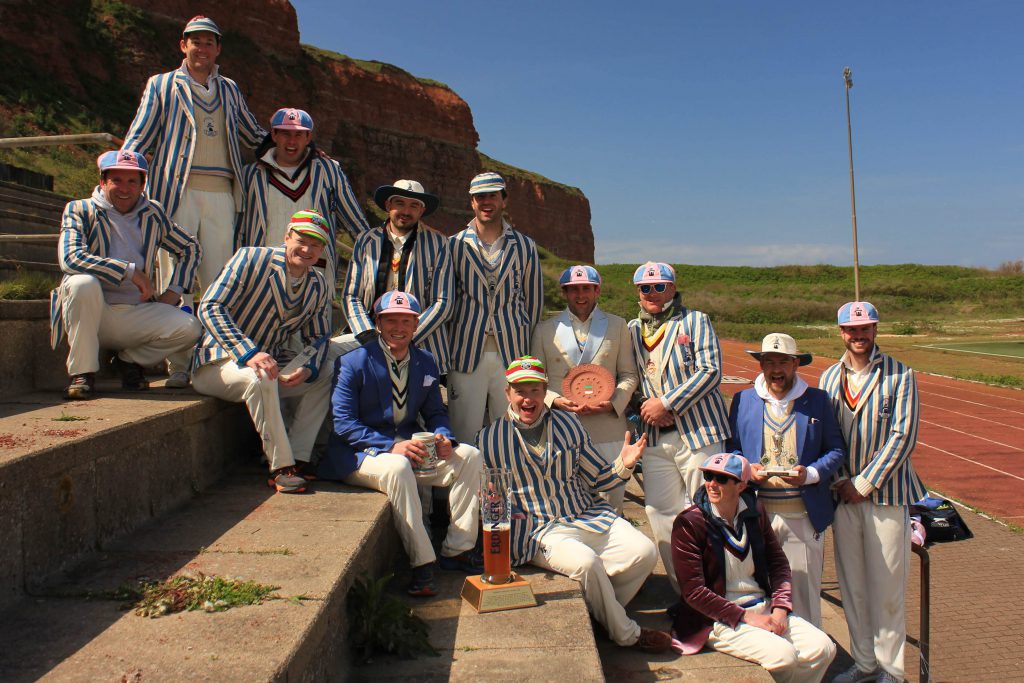 Heligoland Pilgrims: Adrian (cpt.), Andreas, Bai, Daniel (wkt. 3), Jörg, Jürgen, Laurence, Mark, Moritz, Nabeel, Satya (wkt. 2), Surya (wkt. 1) und Thomas
Mad Hatters: Ed (cpt.), Al, Alex, Cameron, Dan, Henry, James, Josh, Peter, Rorie, Sam, Tom und Will (wkt.)
Men of the Match: Thomas und Henry
Scorer: Ed, Moritz, Mark und Satya
Bericht: Max Minor, Cricketkorrespondent (Übersetzung: Max Minor/DeepL); Photographie: Jessica Mancuso
A chilly affair
Imagine yourself stranded on a desolated island in the North Atlantic Ocean, standing on an un-protected ground in overcast conditions, temperatures in single figures and a chilly north wind howling relentlessly. You wear six layers of clothing, basically everything you have: underwear, t-shirt, sports-jersey, wool-pullover, striped polyester-jacket and a winter coat plus a scarf, a cap and maybe also gloves from time to time. Still, it is just not enough. You feel like an icicle rooted to the spot and you are anxious to generate some kind of warmth. At the very least, you yearn to get out of the wind, but there is no shelter. Your whole system focuses on fighting the cold, burning all the energy you have left. You drink unleaded beer in order to stay hydrated, or even some leaded stuff in the desperate hope the alcohol might heat you up. If you can picture yourself in that situation you are pretty close to the 26 cricketers and their photographer who were adrift on Heligoland on the first weekend in May 2019.
What distinguishes them from your frosted image is that, after all, they were a truly happy bunch – because they were pursuing their favourite pastime which has rightly been termed rather more a state of mind than a sport. In their desired state of mind they were withstanding the elements by demonstrating that it was neither too cold to bowl with icy fingers, nor to bat pink balls against the wind; they even managed to take sporadic catches. Had the touring party known about the weather well in advance, they might have opted for an alternative destination, maybe in the Caribbean? However, who could have predicted such unfavourable conditions for the 2019 ERDINGER Alkoholfrei Atlantik Cup when it was planned, more than half a year before? So the cricketers resolved to make the most of their predicament. This is what happened in that chilly affair.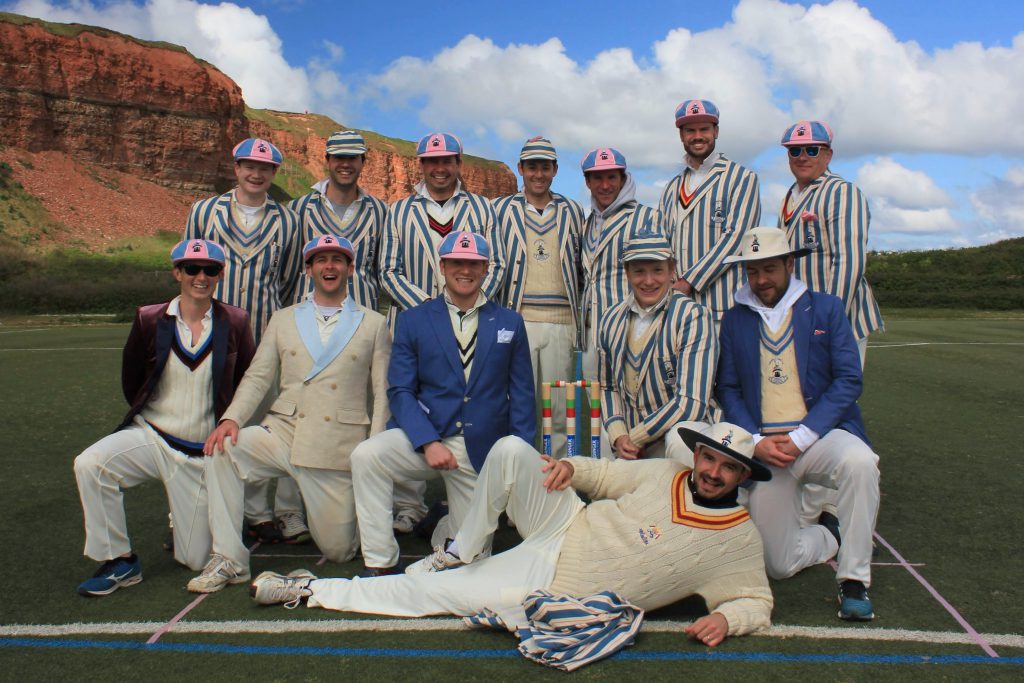 From all over England, Scotland and even Sweden, the legendary Mad Hatters Cricket Club had flown into Hamburg with 13 players to meet 13 Pilgrims on Friday morning in order to sail to Heligoland. Against their splendid attire the Pilgrims' island colours faded into the background. Blue, pink and champagne were not only the Mad Hatters' tour blazers, caps and ties, but also adorned other items of clothing and luggage. The young men wore their outfits with charm and nonchalance and made it implicitly clear from the outset that they had gone on tour to thoroughly enjoy themselves.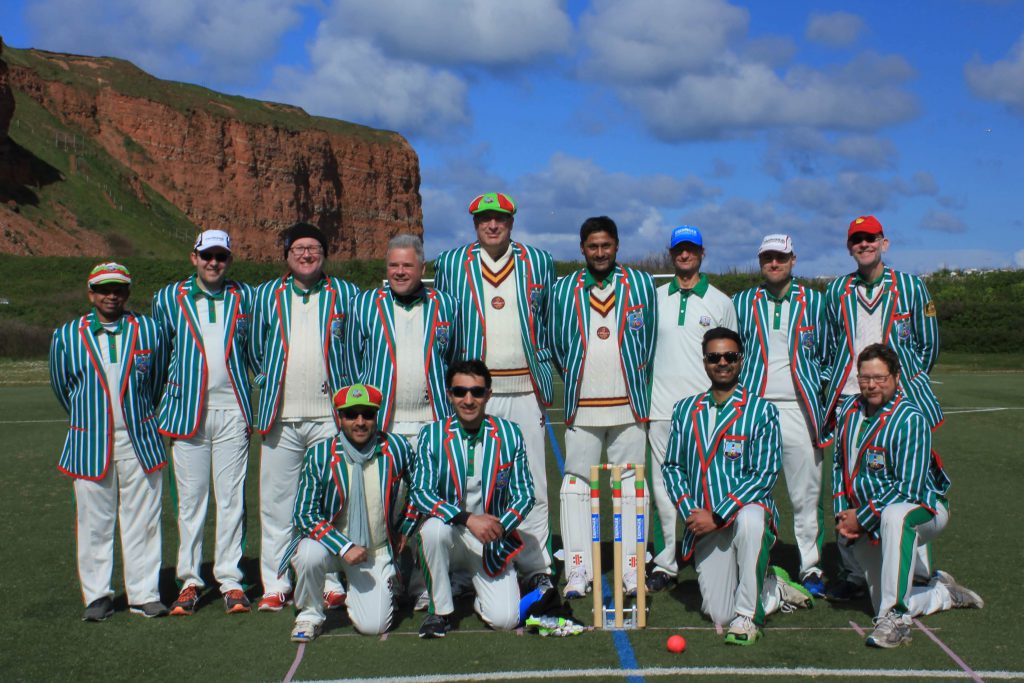 In addition to the continental cold the voyagers were met by strong gales and cold showers on the North Sea; only when they stepped off the ferry did the rain stop so everyone could get to the youth hostel in a dry manner. Of course, this did not mean Friday evening had to stay dry as well. Around breakfast time on Saturday the showers abated, but not the gales. Shortly after 11 o'clock, when the Pilgrims had retrieved their kit and scoreboard from their island den and their pitch preparation crew had marked the creases, the Hatters took the chilly field to the sound of "Soul Limbo" and Captain Adrian together with Bai went out into the cold to open the batting. By putting the Pilgrims in, the Hatters had made a strategic move which only became apparent later in the day.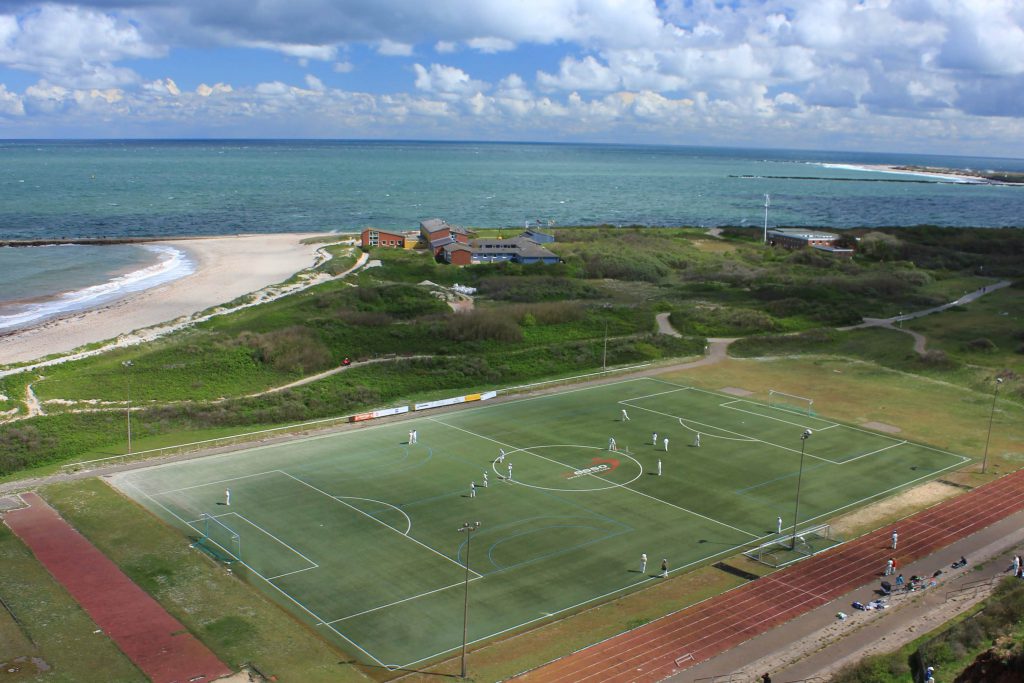 The Pilgrims got off to a slow start, trying to see off the Hatters' opening bowlers and reaching a score of 29/1 after 10 overs when the – unnecessarily chilled – ERDINGER beer arrived at the ground. Once the first wickets had fallen, Nabeel (52*, 2×6, 7×4) and Surya (50*, 5×6, 4×4) gave the Hatters something to think about; the home side was on 111/2 after 20 overs. But in order to give every Pilgrim a chance to bat, captain Adrian retired his strongest guns soon thereafter. This enabled Mark to bat in a record 7th Atlantik Cup match, Jörg to hit his very first run for the Pilgrims and Andreas to score his first runs on Heligoland. However, only Bai and Thomas (12 each) were able to reach double figures. When the 9th wicket went down at 194/9 with 2 balls to spare, Satya made sure with an enormous boundary 6 and a single run that the Pilgrims finished their first innings on 201. The wickets had been taken in an even distribution by Alex (3), Tom (2), Peter (1, expertly caught off his own bowling), Dan and Josh (1 each). Henry not only took a catch, but also achieved a run-out. A couple of delicious fish rolls provided some much needed energy during the innings break.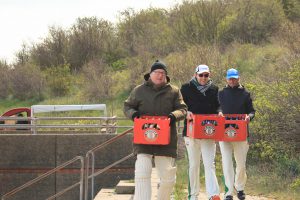 The Hatters strategy became apparent as soon as their batsmen made themselves comfortable at the crease. Opener James (50*, 1×6, 6×4) could not be removed and had to be retired by Captain Ed, as did Henry, who excelled with his first half century for his club (50*, 1×6, 8×4). Rorie (29), Cameron (21) and Ed (12) also made solid contributions to the tally. Wickets were taken by Satya (2), Nabeel (1) and Surya (1, excellently stumped by Satya). Surya and Adrian also got a run-out each. Still, the Hatters' run-rate always kept close to that of the Pilgrims and at the end of their innings with a score of 202/6, their lead was only a single run. This shows the Hatters were in full control of their opponents at all times. With 8 German players the Pilgrims' side was just not strong enough for a serious fight.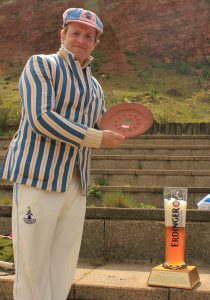 Then again, was that not the point of this competition? Playing cricket together and having fun, rather than competing for no particular reason? Clearly the Hatters had come in the right spirit and that was what mattered. All participants tried to warm themselves at the ensuing barbecue, courtesy of the Pilgrims. The tour party even sang a song together in praise of cricket on Heligoland and ERDINGER wheat beer. Rumour has it that the night did not end at the fireplace – but all players turned up on time for the second innings on Sunday morning.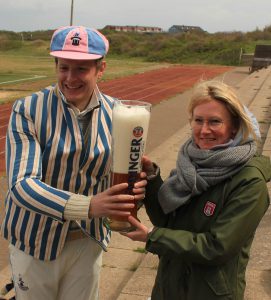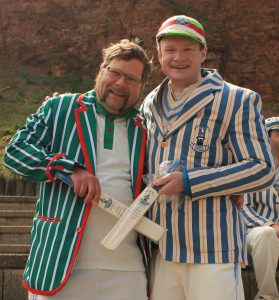 The pattern of the game did not change then, nor did the weather. The Pilgrims start was unlucky; they lost their wickets early and regularly. Of the top order only Surya could convince with a score of 35 (2×6, 4×4); Thomas 23 (4×4) and Jürgen 12 (2×4) posted new personal records, and Adrian hit 11* in a rear-guard attack before he declared the innings on 144/10. This time Peter took the most wickets (6-0-19-3), while Al (2-0-9-2), Tom (3-1-10-2) and Rorie took 2 each and Alex 1. The lunch break cake did not provide the Pilgrims with enough strength to defend their feeble score, although their strike-bowling was comparatively tight, especially Bai (5-2-17-3) and Satya (4-1-21-0), ahead of Nabeel (2 wickets), and Surya and Adrian (1 each). On the contrary: the Hatters, apparently as designed, reached 145/7 with the third ball of their last guaranteed over – but under the agreed time-format their remaining 6 batsmen could have batted another 12 minutes. Star of the show was top-scoring Dan (70), ably supported by Will (25) and Tom (14*).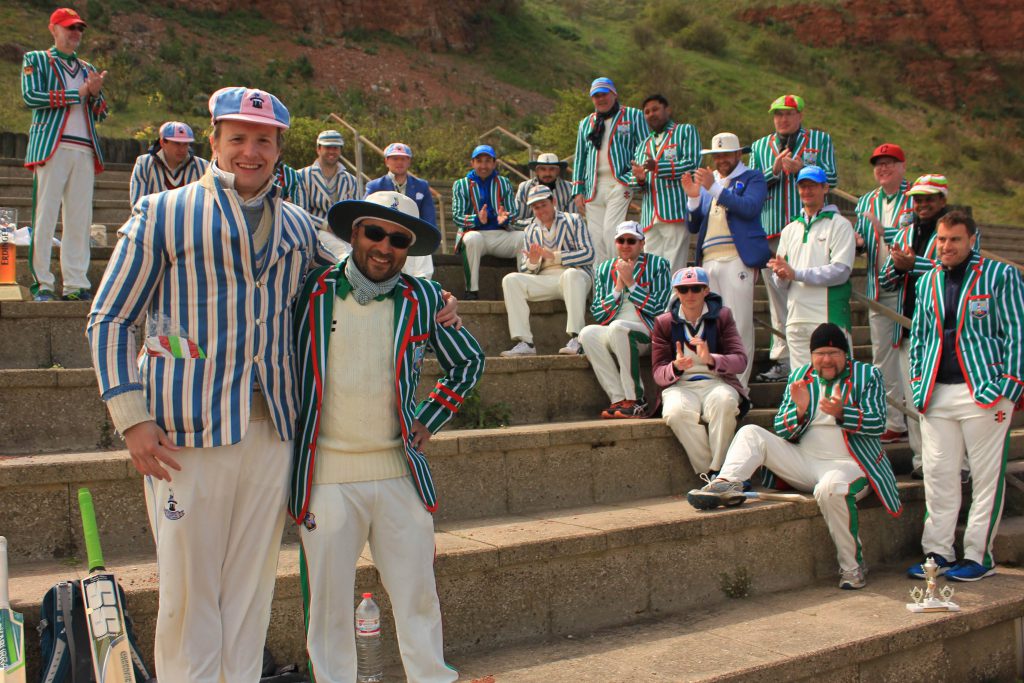 Speeches and awards did not consume much time as all players wanted to get out of the cold. Home Captain Adrian reminded the participants why they were there and emphasised that the goal of common cricketing enjoyment had been fully realised. Visiting Captain Ed intimated his team had experienced a memorable tour and expressed his club's gratitude to the hosts. The cup was presented to Ed by Petra, wife of Pay, the Heligoland-born founding member of the Pilgrims. And the two worthy winners of the men of the match awards, Henry and Thomas, who had both excelled individually in their cricket more than could be expected, received heart-warming applause. Once out of the wind and the chill, on the ferry back to Hamburg, the memories started to grow. Let us hope the 2019 cup will be remembered not so much for the weather but rather for the spirit in which it was played, because the latter has certainly set the standard for years to come.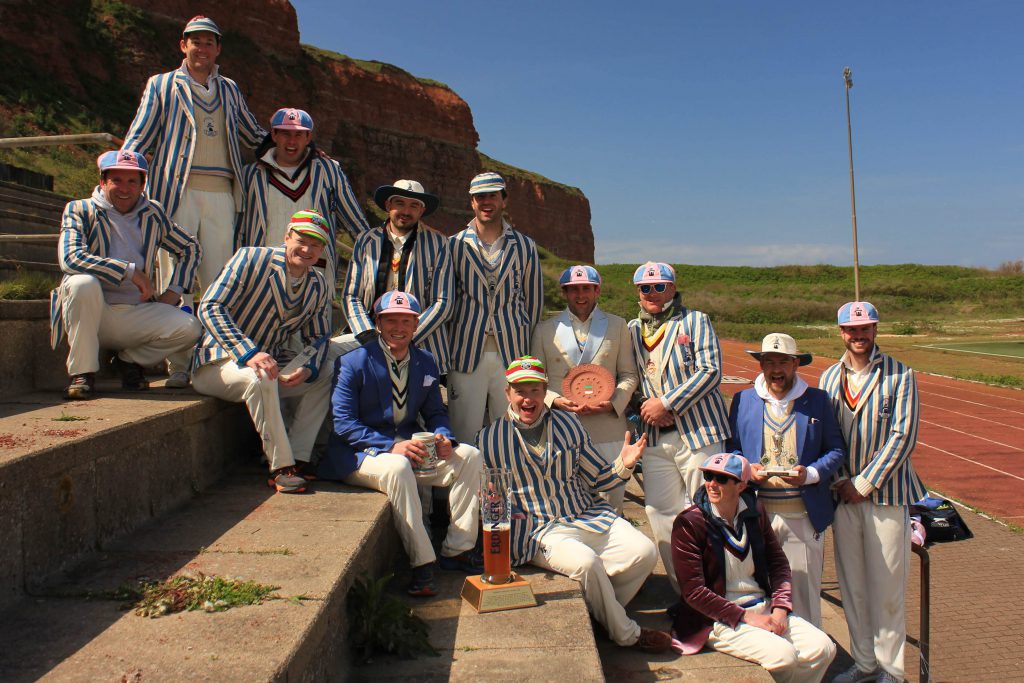 Heligoland Pilgrims: Adrian (cpt.), Andreas, Bai, Daniel (wkt. 3), Jörg, Jürgen, Laurence, Mark, Moritz, Nabeel, Satya (wkt. 2), Surya (wkt. 1) and Thomas
Mad Hatters: Ed (cpt.), Al, Alex, Cameron, Dan, Henry, James, Josh, Peter, Rorie, Sam, Tom and Will (wkt.)
Men of the Match: Henry and Thomas
Scorers: Ed, Moritz, Mark and Satya
Report: Max Minor, cricket correspondent; photography: Jessica Mancuso