Read the English version below.
Wieder zurück!
Cricket war wieder zurück auf Helgoland am 1. und 2. September 2018. Von den insgesamt 22 Spielern waren 16 wieder zurück, nachdem sie schon vorher um den ERDINGER Alkoholfrei Atlantik Cup gekämpft hatten, zumeist mehrfach. Die Gegner des Vorjahres waren wieder zurück und auch das Ergebnis des Vorjahres, das Unentschieden. Heligoland Pilgrims unter ihrem Kapitän Murali Krishna sowie THCC Rot-Gelb Hamburg Voyagers, angeführt von Bipin Chougule, erwiesen sich als für einander unbezwingbar. Auch die scheinbar endlosen Vorräte an ERDINGER-Getränken waren wieder zurück. Und auch Photographin Jess war auf die Insel zurückgekehrt und konnte so den erfreulichsten Moment des Wochenendes festhalten: Pilgrims-Ehrenvizepräsident Mark R. war wieder zurück auf dem Platz.
Jeder Teilnehmer der Helgoland-Tour erlebte ein rundum gelungenes Wochenende. Nach einer schnellen und sonnigen Fahrt über die Nordsee am Freitagmorgen machten sich die meisten Spieler am Nachmittag auf den Weg zur Düne, um Beachvolleyball zu spielen, und natürlich Strand-Cricket. Einige Touristen nahmen auch ein Bad im Wasser, wo Duncan, der den ganzen Weg aus London gekommen war, sogar Freundschaft mit den heimischen Robben schloß. Erneut hatten die Pilgrims keinen internationalen Gegner finden können und deswegen auf ihre Hamburger Freunde vom THCC zurückgegriffen, um den jährlichen ERDINGER Alkoholfrei Atlantik Cup am Leben zu erhalten. Mit der tatkräftigen Unterstützung des THCC-Bundesliga-Kapitäns Bipin war es gelungen, ein Kernteam von fähigen – und internationalen – Cricketern zusammenzustellen, überwiegend aus Indien. Fünf Pilgrims, nämlich Bai, Bianca, Daniel, Dev und Jon, waren als Freiwillige abgestellt worden, um den Gegner zu vervollständigen. So kannten sich fast alle Spieler, was der Tour beinahe den Charakter einer Familienfeier gab.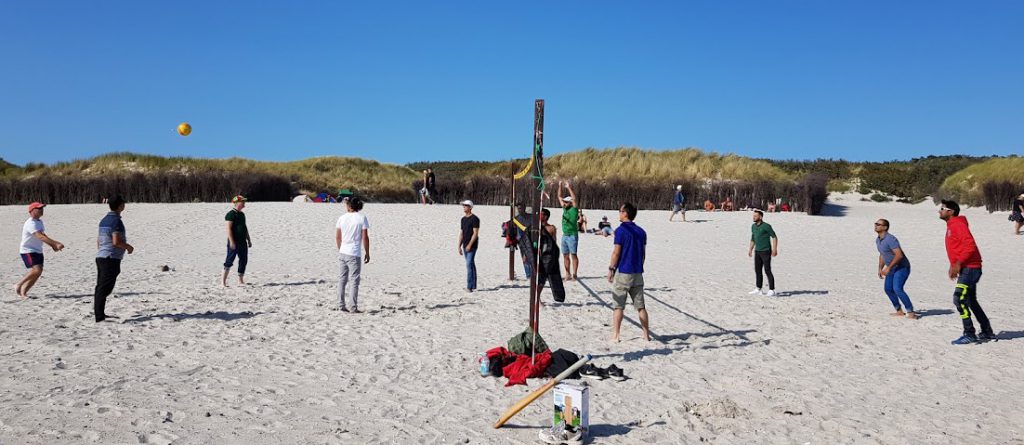 Sonnabend – das örtliche Tourismusbüro hatte das Pokalspiel als Tip des Tages empfohlen – erlebten zahlreiche Zuschauer zwei ansprechende erste Innings, die von beiden Teams über 40 Overs gespielt wurden. THCC Voyagers eröffneten das Batting vorsichtig mit Bai (9) und Ali (18), die einen soliden Start von 32 aus 5 Overs schafften, bevor sie beide von Helgoland Pilgrims' starkem Eröffnungspaar Tina (6-1-15-1) bzw. Surya (6-2-22-1) gebowlt wurden. Sandeep (19) und Jon (19) machten weiter bis 80 Off nach 15 Overs, bis sie beide von Keith (Bowler Surya) und Matthew (Bowler Steve, 6-2-29-1) gefangen wurden. Nach 20 von 40 Overs und einem Punkte-stand von 104/6 beschloß Kapitän Bipin, seine starken Spieler einzusetzen und die Run-Rate zu erhöhen. Siddarth erzielte mit funkelnden 62* (5×4, 6×6) die meisten Runs, der umsichtige Abhinand wurde auf 56* (9×4, 2×6) ausgewechselt, und Bipin selbst steuerte rasend schnelle 53* (7×4, 3×6) bei. Pilgrims Keith, Laurence, Jürgen und Moritz ernteten jeweils ein Wicket, Murali fing einen weiteren Ball und Keith zwei weitere. Mittags kam der "Schwanz" des Voyagers Teams an, der Hamburg erst am Sonnabendmorgen verlassen hatte, und brachte köstliche Fischbrötchen aus Grünewalds Fisch-Eck mit, um eine solide Basis für die allgegenwärtigen flüssigen Erfrischungen zu schaffen.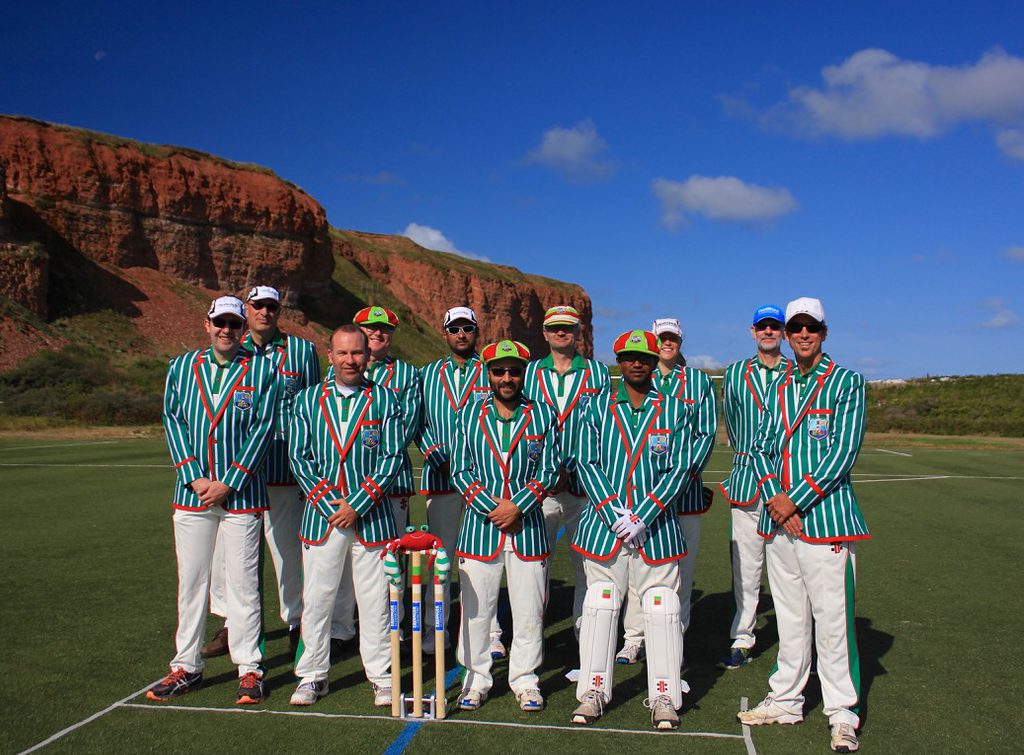 Am Ende ihres Innings hatten die Voyagers 284/8 erreicht. Würden die Pilgrims dieses Ziel erreichen können? Nun, nicht ganz. Trotz bemerkenswerter Bemühungen von Kapitän Murali (44, 6×4, 1×6), Satya (41, 3×4, 6×6), Matthew (28*) und Steve (28) kamen sie nur auf 224/9. So lagen sie genau 60 Runs hinter ihren Gegnern, aber zumindest standen sie noch, als der letzte Ball geworfen wurde. An der Spitze des Angriffs der Voyagers stand Bipin, der sich erst im 30. Over einsetzte und immer noch beeindruckende Zahlen von 4-0-12-3 erreicht; er fing auch noch einen Ball. Andere Wickets, eins je Bowler, wurden von Ali, Bianca, Chris, Daniel und Dev genommen. Theoretisch hätte die Führung von 60 Runs die Voyagers in eine komfortable Position bringen müssen, das Spiel zu gewinnen. In der Cricket-Praxis wie auch beim Pokern ist die Theorie jedoch keine harte Währung.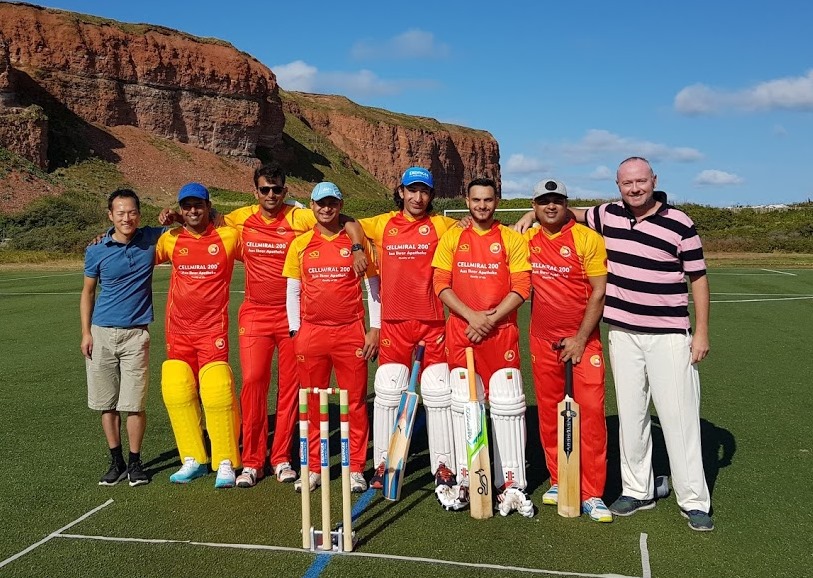 Vielleicht gab das traditionelle und ziemlich fröhliche Grillen mit Daniel am Grill die Richtung für die Entwicklung des Spiels am Sonntag an. Es gab nicht nur reichlich Würstchen und Gemüsebur-ger, sondern auch massenhaft ERDINGER-Produkte für alle, einschließlich Gäste. Doch wer mehr als nötig trank, ließ es sich nicht auf dem Feld am nächsten Morgen nicht anmerken. Nein, alle waren pünktlich zurück für einen frühen Start des zweiten Innings. Das besondere Format des Cups, das aus Limited-Overs-Cricket am ersten Tag und einem Zeitspiel am zweiten Tag besteht, war schon immer eine Herausforderung für Mannschaften, die mit dieser Kombination nicht vertraut sind. Obwohl es beiden Teams erlaubt, zweimal zu schlagen, verlangt es auch eine wohlüberlegte Entscheidung des zuerst schlagenden Teams, wann sie ihr Innings schließen wollen. Das ist wahrscheinlich der entscheidende Moment des Spiels.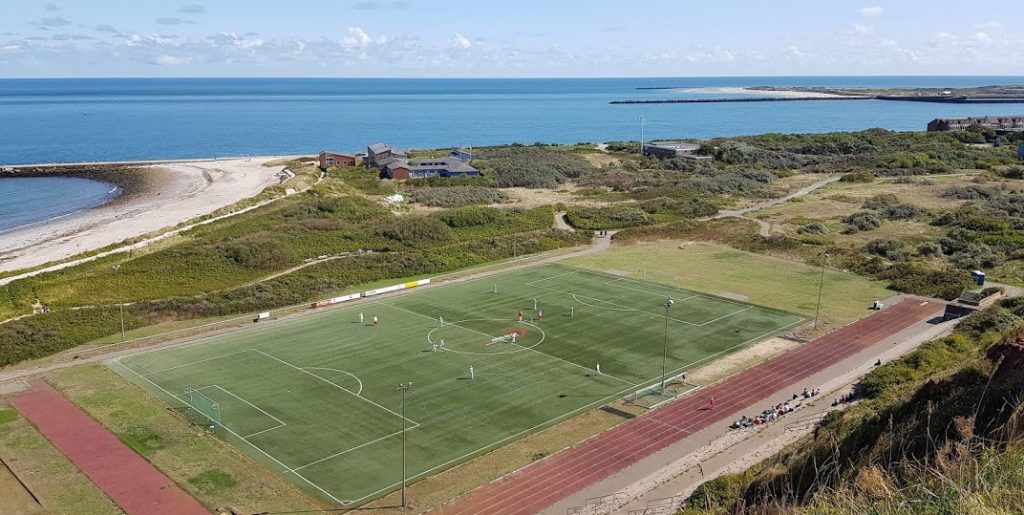 THCC Voyagers schlug 27 Overs, schlossen bei 190/9 und setzten den Pilgrims somit ein Ziel von 251 zum Sieg. Die Hauptbeiträge kamen wieder von Sid (44, 5×4, 2×6) und Bipin (43, 4×4, 4×6), diesmal gekonnt unterstützt von Ali (42, 4×4, 2×6). Satya ragte mit 6-1-23-3 unter den Pilgrims-Bowlern heraus, gefolgt von Surya (8-0-25-2) sowie Keith, Steve und Tina mit je einem Wicket. Kapitän Murali hielt einen Ball hinter den Stumps, machte ein Run-out und stumpte einen Batsman. Die Besucher konnten auch einige klassische lustige Cricket-Momente beobachten, wie z.B. steife Feldspieler, die den Ball unter ihren Körper durchrutschen lassen oder langsam zwischen On und Off humpeln, um für Links- und Rechtshänder-Batsmen an der richtigen Stelle zu stehen.
Es war immer unwahrscheinlich, daß die Pilgrims das Ziel in den verbleibenden 90 Minuten erreichen würden. Die entscheidende Frage war also nur: Würden die Voyagers es schaffen, die Pilgrims in dieser Zeit auszubowlen? Obwohl die Pilgrims zu Anfang versuchten, zumindest in die Nähe von 251 Runs gelangen, war bald klar, daß sie um ein Unentschieden spielen mußten, nach-dem Satya (26) und Surya (22) ihre Wickets verloren hatten und der Punktestand im 10. Over bei 56/3 lag. So verteidigten und blockierten Keith (9*), Laurence (1) und Moritz (7) die Bälle für etwa eine Stunde, während Steve (27*) es vorzog, sie ins Gebüsch zu hauen Die Haupt-Wickets wurden von Sandeep (2-1-3-2) genommen, je ein weiteres von Bianca, Daniel und Dev. Und als das erwartete Ergebnis in Sichtweite war, betrat Mark R. im vorletzten Over das Feld durch ein Spalier; seine schwungvoll geschlagenen 14* enthielten 3 knackige Boundary-4s.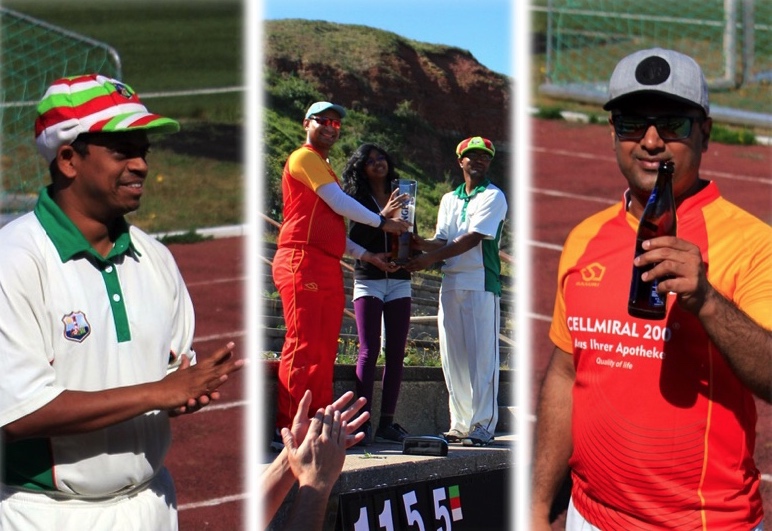 Der neue ERDINGER-Pokal wurde den Kapitänen Bipin und Murali von Devs Tochter Aneesha überreicht. Die Men of the Match-Awards gingen an Sid als einzigen Batsman, der insgesamt mehr als 100 Runs erzielt hatte, und Satya für eine Allround-Vorstellung mit den meisten Runs und dem effektivsten Bowling für die Pilgrims. Drei Stunden später waren alle wieder an Bord des Katamarans. Der Kuchen vom Inselbäcker war gegessen, das Bier des Sponsors war getrunken, das Feld geräumt, das Insel-Jugendherberge war anderen Gästen überlassen, Spirituosen waren beim Lieblingsverkäufer der Touristen gekauft, das kostbare Glas und die Ausrüstung der Pilgrims waren in ihre geheime Höhle zurückgebracht worden – keine Spur von Cricket mehr auf Helgoland. Dennoch kann man eines mit einiger Sicherheit annehmen: Im nächsten Jahr werden Heligoland Pilgrims und der ERDINGER Alkoholfrei Atlantik Cup wieder zurück sein.

Heligoland Pilgrims: Murali (cpt.), Adrian, Jürgen, Keith, Laurence, Mark R. (12th, 1st innings), Matthew (12th, 2nd innings), Moritz, Satya, Steve, Surya und Tina
THCC Voyagers: Bipin (cpt.), Abhinand (12th, 2nd innings), Ali, Bai, Bianca (12th, 1st innings), Chris, Daniel (12th, 1st innings), Dev (12th, 1st innings), Duncan, Jon, Sandeep und Siddarth
Men of the Match: Siddharth und Satya
Scorers: Mark R., Abhinand
Unterstützung: Aneesha und Heena
Bericht: Max Minor, Cricketkorrespondent (Übersetzung: Max Minor/DeepL)
Photographie: Jessica Mancuso
Cricket was back again on Heligoland on 1 and 2 September 2018. Of the altogether 22 players, 16 were back again, having competed for the ERDINGER Alkoholfrei Atlantik Cup before, most of them repeatedly. Last year's opponents were back again and so was last year's result, the draw. Heligoland Pilgrims under their captain Murali Krishna as well as THCC Rot-Gelb Hamburg Voyagers, led by Bipin Chougule, proved insurmountable to one-another. Seemingly endless supplies of ERDINGER beverages were back again, too. And photographer Jess had also returned to the island and was thus able to capture the happiest moment of the weekend: Pilgrims' Honorary Vice President Mark R. was back at the crease again.
Every participant in the Heligoland tour experienced a thoroughly enjoyable weekend. After a swift and sunny cruise across the North Sea on Friday morning most players headed towards the Dune in the afternoon to play beach volleyball and, of course, beach cricket. Some tourists also took a dip in the water where Duncan, who had come all the way from London, even made friends with the local seals. Once again the Pilgrims had not been able to find an international op-ponent and thus resorted to their Hamburg friends from THCC to keep the annual ERDINGER Alkoholfrei Atlantik Cup alive. With the dedicated support of THCC's Bundesliga team captain Bipin it had been possible to assemble a core team of capable – and international – cricketers, mainly from India. Five Pilgrims, namely Bai, Bianca, Daniel, Dev and Jon, had been delegated as volunteers to make up a complete opposition. Almost all players thus knew one another which gave the excursion something of a family party character.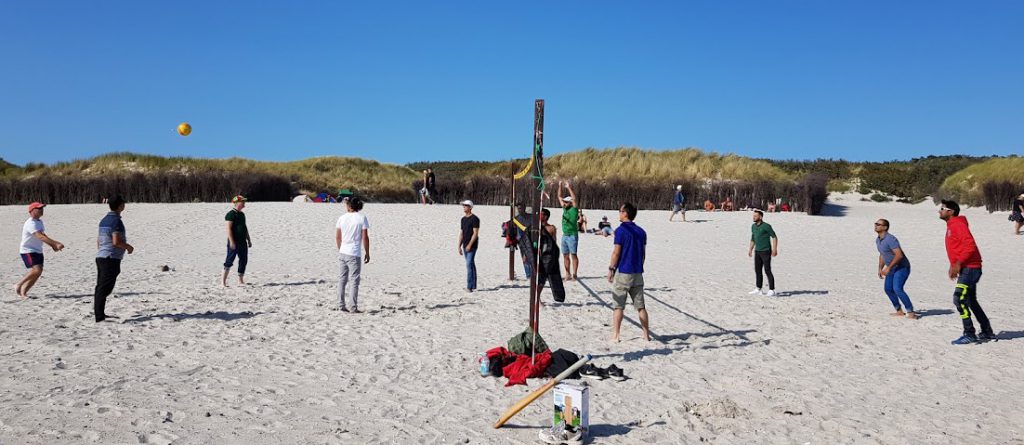 Saturday – the local tourist board had recommended the cup match as the event of the day – numerous spectators witnessed two quality first innings played over 40 overs by both teams. THCC Voyagers opened their batting carefully with Bai (9) and Ali (18) who managed a solid start of 32 off 5 overs before they were both bowled by Heligoland Pilgrims' strong opening pair Tina (6-1-15-1) and Surya (6-2-22-1), respectively. Sandeep (19) and Jon (19) proceeded to 80 off 15 overs until they were both caught by Keith (off Surya) and Matthew (off Steve, 6-2-29-1). With 20 of 40 overs gone and the score at 104/6 captain Bipin decided to bring his big guns on and accelerate the run-rate. Siddarth top-scored with a sparkling 62* (5×4, 6×6), circumspect Abhinand was retired on 56* (9×4, 2×6), and Bipin himself contributed a rapid-fire 53* (7×4, 3×6). Pilgrims Keith, Laurence, Jürgen and Moritz harvested a wicket each; Murali took another catch and Keith a further two. At lunch-time the "tail" of the Voyagers' team arrived, having left Ham-burg only on Saturday morning, and brought delicious fish rolls from Grünewald's Fisch-Eck to provide a solid base for the ever-present liquid refreshments.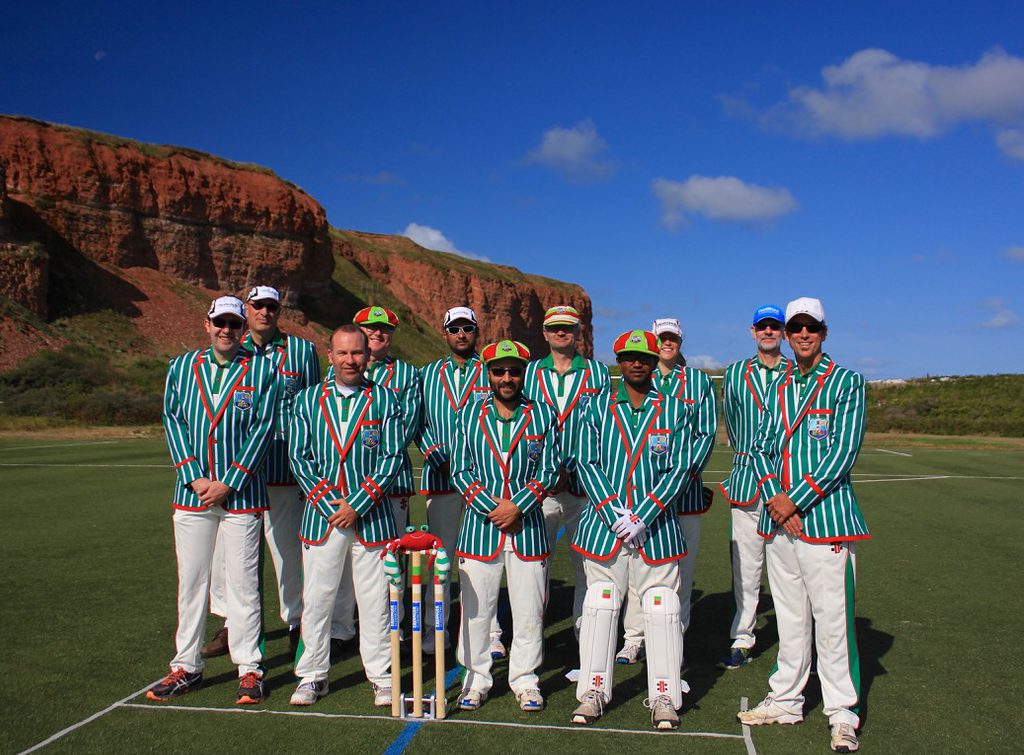 At the end of their innings the Voyagers had reached 284/8. Would the Pilgrims be able to match this total? Well, not quite. In spite of remarkable efforts by captain Murali (44, 6×4, 1×6), Satya (41, 3×4, 6×6), Matthew (28*) and Steve (28), they only got to 224/9. So they were exactly 60 runs behind their opponents, but at least they were still standing when the final ball was bowled. Top of the Voyagers' attack was Bipin who only brought himself on in the 30th over, and still achieved impressive figures of 4-0-12-3; he also took a catch. Other wickets, one per bowler, were taken by Ali, Bianca, Chris, Daniel and Dev. In theory the 60 runs lead should have put the Voyagers in a comfortable position to win the match. In cricket practice as well as poker, however, theory is no hard currency.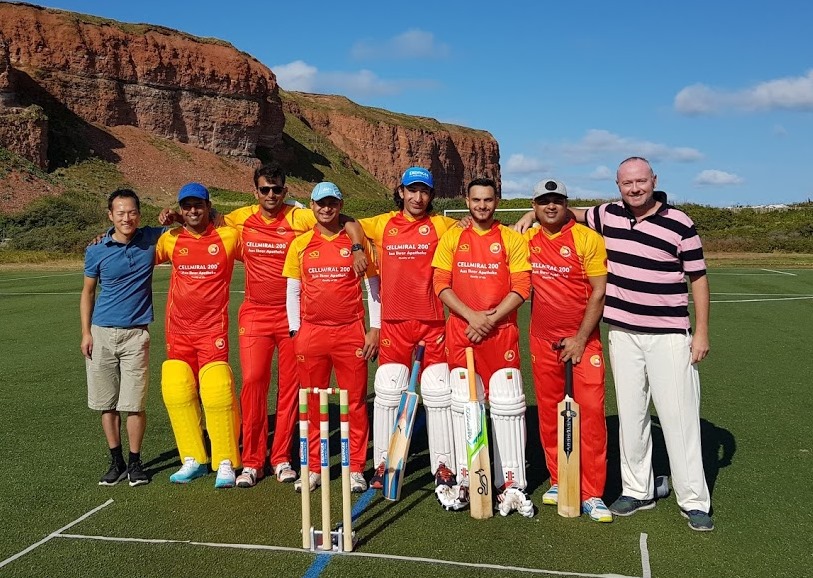 Maybe the traditional and rather jolly barbecue, with Daniel at the grill, paved the way for the development of the match on Sunday. There were not only plenty of sausages and veggie burgers, but also copious amounts of ERDINGER products for everyone including guests. Nevertheless, anyone who drank more than necessary did not let it show on the field next morning. No, everyone was back on time for an early start of the second innings. The Cup's peculiar format of lim-ited overs cricket on the first day and a time game on the second has always been a challenge for teams unfamiliar with this combination. Whilst it allows both teams to bat twice it also demands a well-considered decision of the team batting first when to declare their innings. This probably is the decisive moment of the match.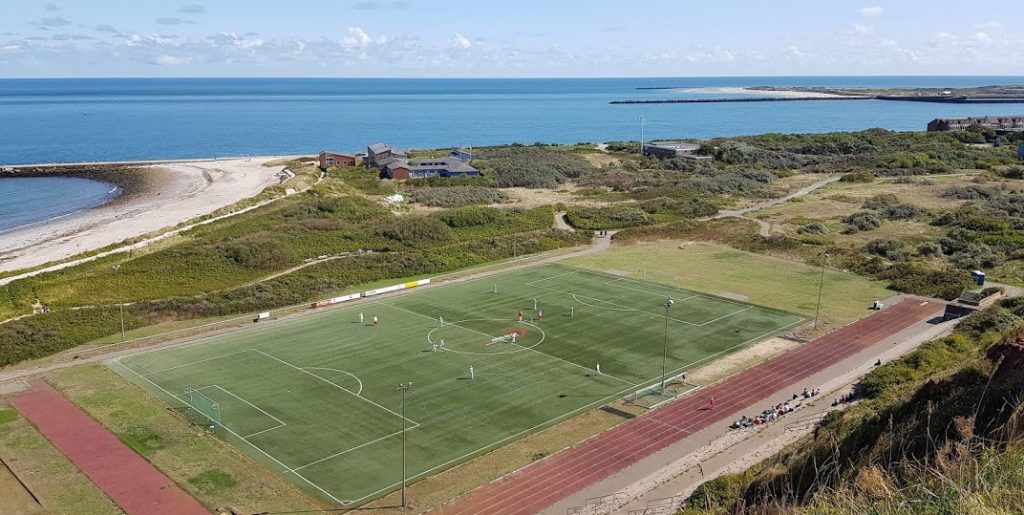 THCC Voyagers batted 27 overs, declared at 190/9, and thus set the Pilgrims a target of 251 to win. The main contributions came again from Sid (44, 5×4, 2×6) and Bipin (43, 4×4, 4×6), this time ably supported by Ali (42, 4×4, 2×6). Satya stood out amongst the Pilgrims bowlers with 6-1-23-3, followed by Surya (8-0-25-2) as well as Keith, Steve and Tina with one wicket each. Cap-tain Murali took a catch behind the stumps, effected a run-out and stumped on batsman. Visitors could also observe some classic funny cricket moments, like stiff fielders letting the ball slip under their bodies or slowly hobbling between on and off to accommodate left- and right-handed batsmen.
It was always unlikely that the Pilgrims would be able to reach the target in the remaining 90 minutes. The crucial question was therefore only: Would the Voyagers be able to bowl the Pilgrims out in that period? Although the Pilgrims initially tried to get at least close to 251 runs, it was soon clear once Satya (26) and Surya (22) had lost their wickets and the score was 56/3 in the 10th over that they would have to play for the draw. So Keith (9*), Laurence (1) and Moritz (7) stalled and blocked balls for about one hour, whilst Steve (27*) preferred to hit them into the shrubs. The main wickets were taken by Sandeep (2-1-3-2), one more each by Bianca, Daniel and Dev. And when the expected result was in sight, in the penultimate over, Mark R. entered the field through a guard of honour; his spirited 14*-knock included 3 cracking boundary 4s.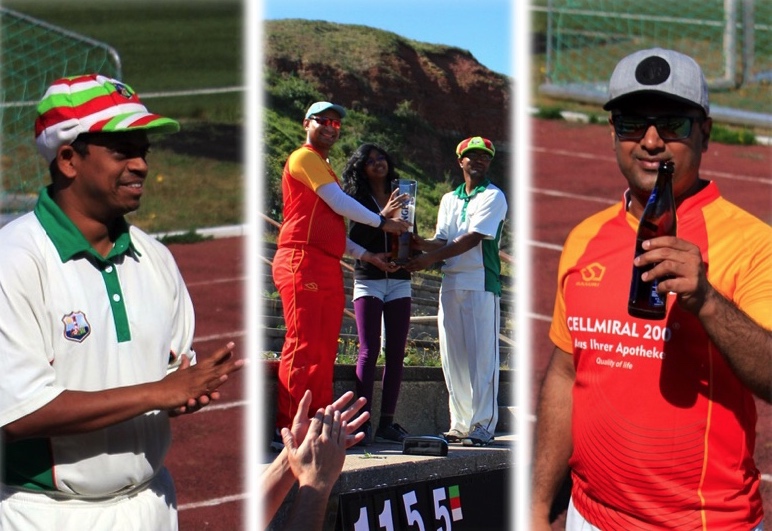 The new ERDINGER-cup was presented to captains Bipin and Murali by Dev's daughter Aneesha. Men of the match awards went to Sid as the only batsman to have scored more than 100 runs in total, and Satya for an all-round performance including most runs and most effective bowling for the Pilgrims. Three hours later everyone was back on board the catamaran ferry again. The island baker's cake had been eaten, the sponsor's beer had been consumed, the field had been cleared, the island youth-hostel had been left to other guests, spirits had been purchased from the tourists' favourite vendor, the precious glass and the Pilgrim's kit had been returned to their secret cave – no trace of cricket left on Heligoland. Still, one thing can be assumed with some certainty: Next year, Heligoland Pilgrims and the ERDINGER Alkoholfrei Atlantik Cup will be back again.

Heligoland Pilgrims: Murali (cpt.), Adrian, Jürgen, Keith, Laurence, Mark R. (12th, 1st innings), Matthew (12th, 2nd innings), Moritz, Satya, Steve, Surya and Tina
THCC Voyagers: Bipin (cpt.), Abhinand (12th, 2nd innings), Ali, Bai, Bianca (12th, 1st innings), Chris, Daniel (12th, 1st innings), Dev (12th, 1st innings), Duncan, Jon, Sandeep and Siddhartha
Men of the Match: Siddharth and Satya
Scorers: Mark R., Abhinand
Support: Aneesha and Heena
Report: Max Minor, cricket correspondent
Photography: Jessica Mancuso