Read the English version below.
Lockere Pilgrims verlieren ERDINGER Alkoholfrei Kontinental Cup gegen Gemischte Renegades
Man sagt bekanntlich, selbst das heißeste Spiel werde in den Analen auf kalte Zahlen eingedampft. Für dieses exklusive Pokalspiel gilt das allerdings nicht. Ja, es war ein sonniger Sommernachmittag auf Hamburgs Poloplatz. Die Zuschauer schwitzten bei drückendheißem Wetter, noch viel mehr die Cricketspieler, die den dritten Erdinger Alkoholfrei Kontinental Cup austrugen. Fast vergeblich versuchten die Spieler, ihren Durst mit den Getränken ihres Sponsors zu löschen, die wieder einmal im Überfluß vorhanden waren. Aber nein, das Scorebook zeigt keine kalten Zahlen. Eigentlich gibt es eine ganze Menge von Details, die im Buch nicht erkennbar sind. Schade, daß keine der beiden Mannschaften einen qualifizierten Chronisten hatte aufbieten können; deswegen sollte man aber den Freiwilligen gegenüber nicht undankbar sein, die sich um die Notierungen kümmerten. Die Bemerkung "Niemals!" neben einer lbw-Entscheidung sollte sich jedoch niemals in irgendeinem Scorebook finden, selbst dann nicht, wenn der Batsman von einem etwas kurzsichtigen und leicht berauschten Schiedsrichter ausgegeben wird. Trotzdem zeigt dieser Eintrag, wieviel es einigen Teilnehmern bedeutete, eine der meist begehrten Cricket-Trophäen auf dem europäischen Festland zu gewinnen.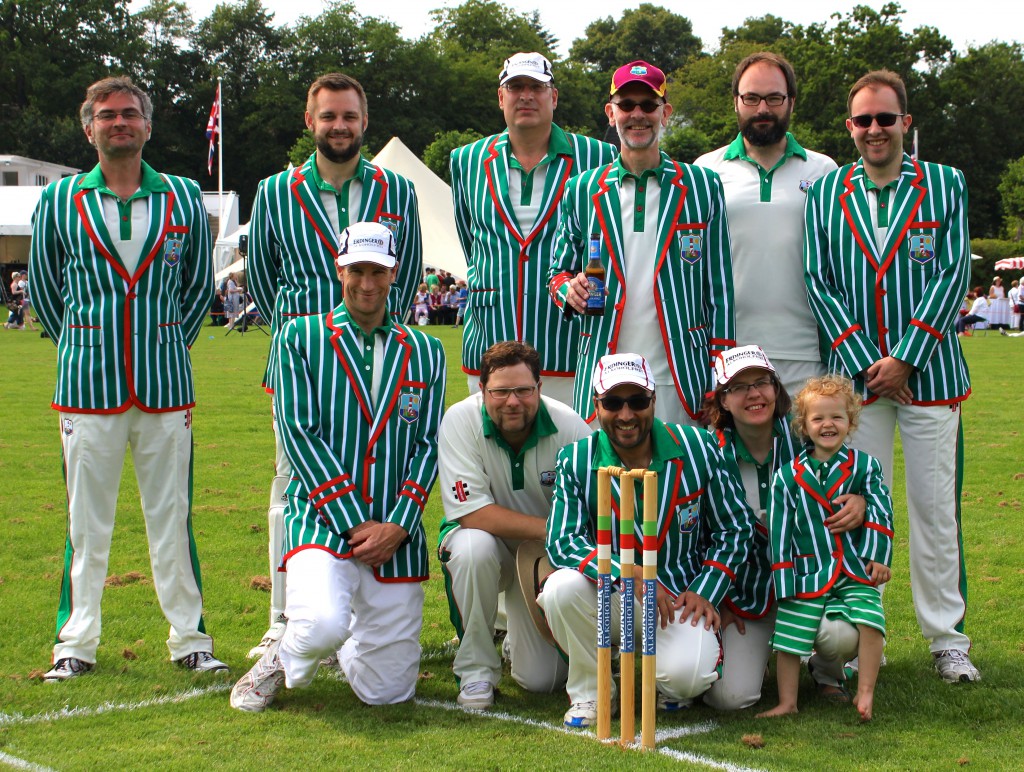 Was ihre Sport-Blazer angeht, standen die Heligoland Pilgrims gewiß schon von Anfang an als Sieger fest. Dieses Jahr hatten sie ein TCHH Rot-Gelb Renegades-Team herausgefordert, das aus sieben männlichen und vier weiblichen Spielern bestand. Die ersten zehn Overs wurden vor vollem Haus gespielt, um nicht zu sagen präsentiert, und mit einem Live-Kommentar eines unbekannten Möchtegern-Unterhalters. Auf dem zentralen Platz der British-Flair Lifestyle-Veranstaltung mußten die Mannschaften ein unangenehmes Pitch benutzen, das von Pferden schwer beschädigt worden war. Aswin, der fähige Kapitän der Renegades aus Indien, hatte das Los gewonnen und sich entschieden zu schlagen. Während Kamal aus Afghanistan mit mehreren Boundaries hintereinander und die einheimische Charlotte einen fliegenden Start hinlegten und in 2 Overs 24 Runs erreichten, geriet der Fortschritt der Renegades schnell ins Stocken. Sie wurden von exzellentem Bowling und Fielding der Pilgrims aufgehalten. Das war vor allem das Verdienst des australischen Allrounders Cam (3-1-3-2), der auch spektakulär zwei Bälle im Außenfeld fing (Kamal auf 21 und Raman ohne Runs), und von Nabeel (3-1-11-0), sowie von Mark (2-1-22-2), der in seinem zweiten Durchgang ein Wicket-Maiden bowlte. Ebenfalls Erwähnung verdienen Laurence und Thomas, die mehrere Bälle daran hinderten, die Feldgrenze zu überqueren. Charlottes und Avnis Wickets fielen schnell hintereinander, ebenso wie die von Raman und Katharina. Nur Galini, die jüngste Spielerin aus der Damenbundesliga, konnte sich ein wenig länger halten, aber nach 5 Overs hatte sich der Spielstand erst auf 26 erhöht, und nach 10 Overs hatte er lediglich 50 Runs erreicht. Das lag deutlich unter den Erwartungen der Renegades. Natürlich hatten sie beabsichtigt, zur Unterhaltung der Zuschauer beizutragen, aber nicht mit einer halben Mannschaft, die zu einem so frühen Zeitpunkt bereits wieder im Mannschaftszelt saß.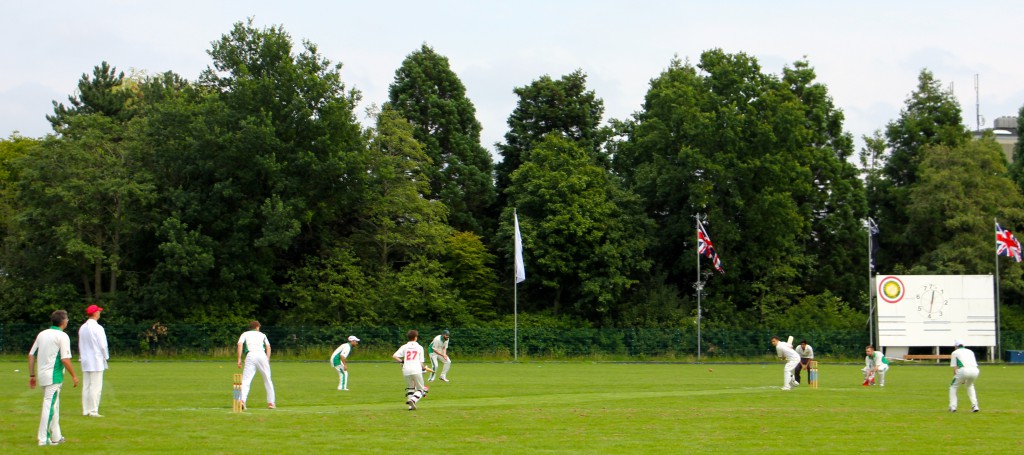 Dann betrat Shane, der furchtlose Südafrikaner, das Feld, der sein Wicket sehr gut verteidigte und gleichzeitig aus allen Rohren feuerte , wobei er insgesamt 10 Boundaries erzielte. Er mußte auf 67 ausgewechselt werden, als der Punktestand überraschend auf 124 aus 18 Overs angewachsen war. Es war schwierig für die Renegades, da sie sich nicht trauten, noch mehr Wickets zu verlieren, und deswegen etwas zögerten, den Ball in Richtung Feldgrenze zu schlagen, wo er gefangen werden konnte. Renegades Kapitän Aswin selbst hatte noch wertvolle 15 Runs beigesteuert, bevor sein Wicket perfekt von Matthew eingesammelt wurde, der einen ungewöhnlichen "Ball des Tages" bowlte (3-0-21-2). Imran bugsierte einen clever gebowlten schnellen Ball von Tim zu Liam, der mit seinen krebsartigen roten Handschuhen hinter dem Wicket beeindruckte. Jens auf 3 und Daniel auf 4 blieben solide not-out am Ende der verfügbaren 20 Overs. Schon war es Zeit für die Pause zwischen den Innings – und für Erdinger Bier. Wer hätte gedacht, daß die Renegades nach ihrem wackeligen Start 133 Runs erzielen würden?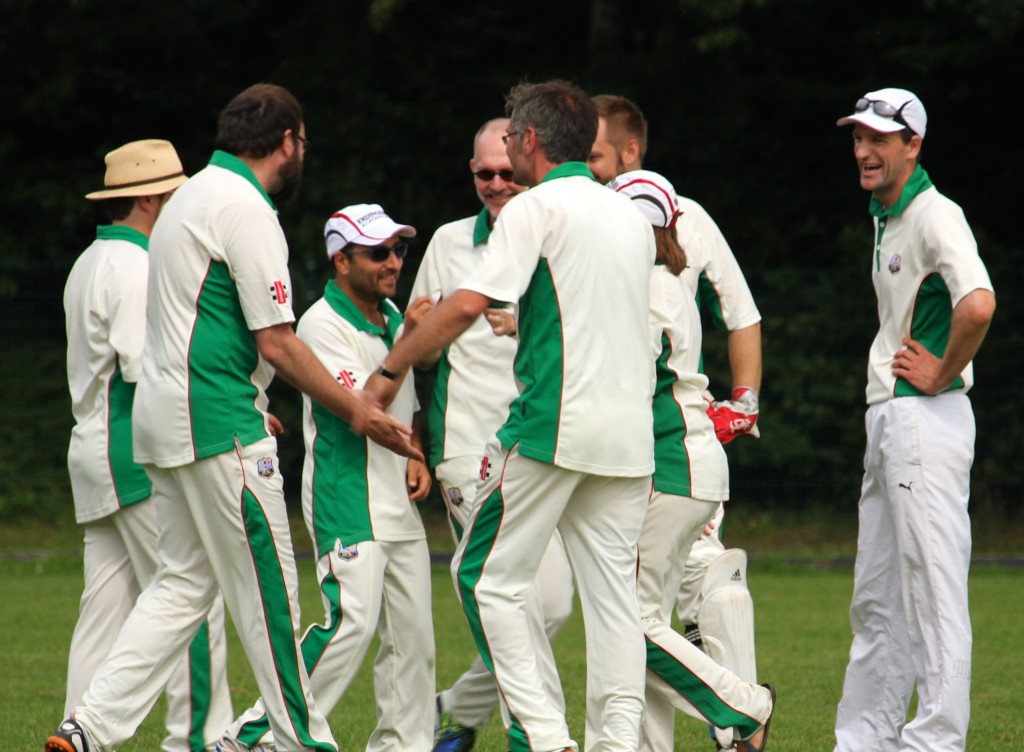 Adrian aus Australien, der umsichtige Kapitän der Pilgrims, bat Moritz, der nur eine Meile vom Platz entfernt aufwuchs, und Mark, ursprünglich aus England, das Batting zu eröffnen. Beide hatten einen erheblichen Trainingsrückstand; ersterer bewies, daß man Unfähigkeit damit nicht ausgleichen kann, letzterer zeigte sich dagegen in seiner Bestform der Saison – Mark drosch den Ball in alle Richtungen über den Platz und ließ sich nach 7 Boundaries auf 51 auswechseln. Wären nur alle Pilgrims seinem Beispiel gefolgt! Zu Anfang schritt der Spielstand schnell und vielversprechend voran: 42 nach 5 Overs, 66 nach 10 Overs, gut auf Kurs, und mit dem Verlust nur von ein paar Wickets. Die Pilgrims schienen sich auf einem Spaziergang zu ihrem zweiten Sieg in Folge zu befinden. Aber dann, ganz plötzlich, begannen Wickets zu fallen, und so ging es weiter auf dem nördlichen Spielfeld, insbesondere unter dem Bowling des jungen Inders Raman (4-0-15-4), der auch einen schönen Ball fing, Kamal (3-0-5-2) und Imran aus Pakistan (4-0-10-2); Shane hielt ebenfalls zwei Bälle (einschließlich Nabeel, der anscheinend darum gebeten hatte).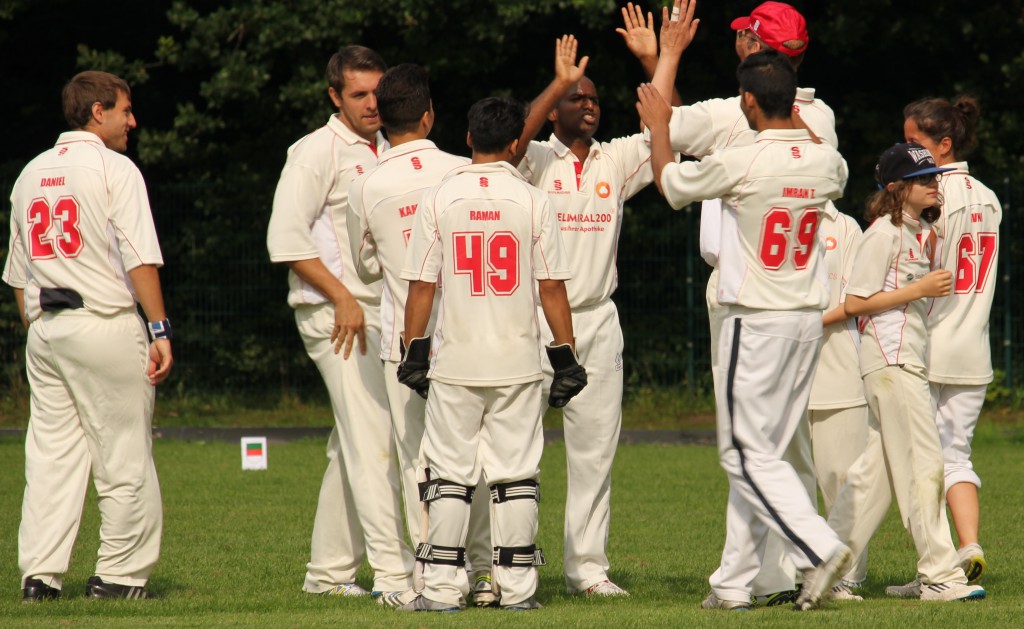 Der Niedergang der Pilgrims wurde begleitet von klassischen Titeln aus den 60er Jahren, die live auf der Bühne am südlichen Ende des Platzes von einer Coverband aus Liverpool gespielt wurden: "Let's twist again, like we did last summer". Können die Pilgrims das nicht hören, oder verstehen sie die Botschaft nicht? Matthew unterliegt Avni auf 4, Cam wird umstritten ausgegeben auf 4, Laurence erlebt einen Run-out auf 5, Tom bleibt lange im Spiel, nur um 7 zu erreichen, Nabeel, in seinem ersten Spiel für die Pilgrims, schafft sogar 8, aber Liam kann keine Runs machen, und Tim, Bianca und Adrian tragen jeder nur einen einzigen Run bei. Nach 18 Overs hat der Spielstand magere 108 erreicht. Nicht einmal Marks Kurzauftritt mit ein paar weiteren Boundaries kann die Niederlage der Pilgrims verhindern. Die Anzeige bleibt auf 125 stehen – die Renegades gewinnen mit 8 Runs. Die neuen Meister jubeln und heben ihren Erdinger Alkoholfrei Kontinental-Cup. Die geschlagenen Pilgrims ertränken ihren Kummer in Erdinger nicht-alkoholfrei. Und wieder einmal stimmen Spieler ebenso wie Zuschauer zu: Der wahre Sieger ist das Cricket.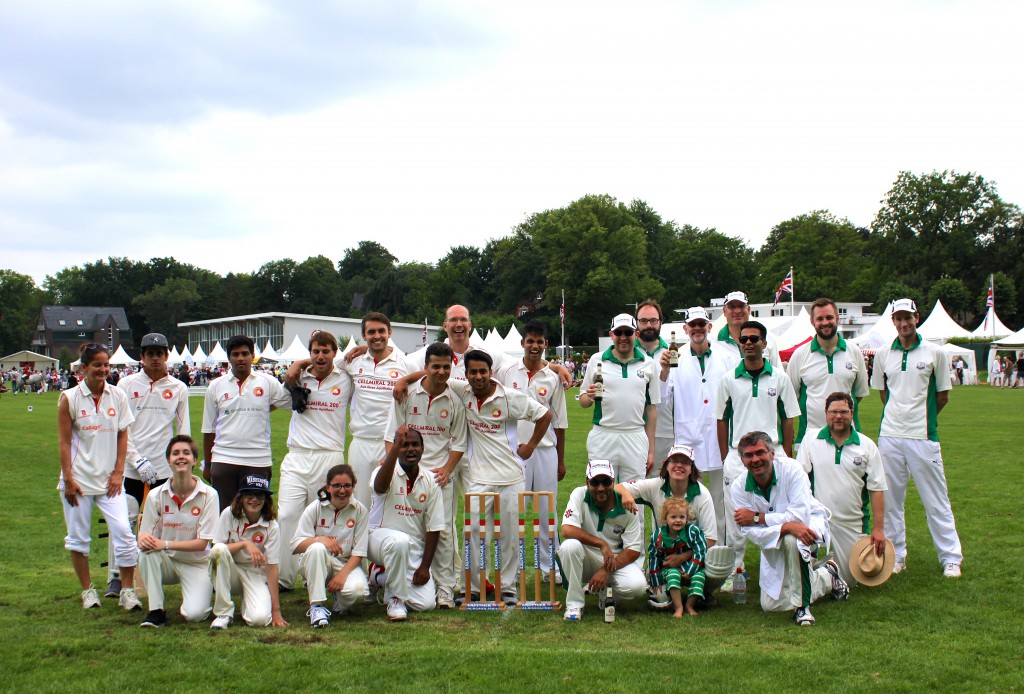 Aus der Perspektive des Kommentators seien noch folgende Beobachtungen erwähnt: Adrian gab allen Pilgrims mindestens ein Over zu bowlen, aber nicht alle Renegades bowlten. Außerdem waren die Pilgrims so großzügig, einem Ersatzspieler der Renegades das Batten zu gestatten. Und schließlich standen die Schiedsrichter im zweiten Innings zweifellos unter dem Einfluß alkoholischer Getränke. Das soll das Ergebnis des Spiels in keiner Weise abwerten. Aswins gemischte Renegades haben den Sieg verdient, nicht nur, weil Aswin selbst, Kamal und insbesondere Shane besser als ihre Gegner schlugen, mit der einzigen Ausnahme von Mark, sondern auch wegen ihres sichtbaren Mannschaftseinsatzes auf dem Feld. Mit der beachtenswerten Ausnahme von Cam zeigten die Heligoland Pilgrims an diesem Tag keine überzeugende Konzentration. Sie erschienen insgesamt ein wenig zu locker. Vielleicht liegt das daran, daß dieser Haufen mehr oder weniger exzentrischer Herren Cricket nicht so sehr als sportlichen Wettkampf ansieht – es scheint für sie eher eine Art von Lebensstil zu sein, völlig unabhängig von einer Trophäe.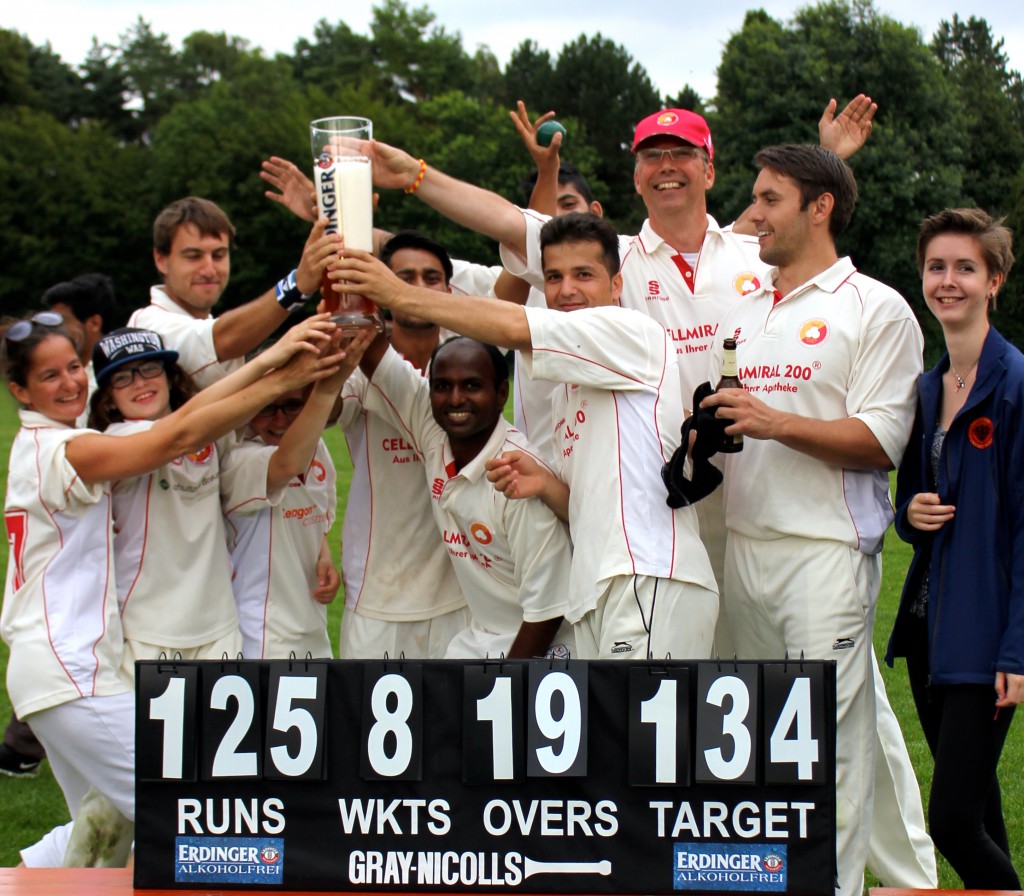 Heligoland Pilgrims: Adrian (cpt.), Bianca, Cam, Laurence, Liam, Mark R., Matthew, Moritz, Nabeel, Tim, Tom (wk)
THCC Renegades: Aswin (cpt.), Arslan, Avni, Charlotte, Daniel, Imran, Jens, Galini, Kamaladin, Raman (wk), Shane
Reporter: Max Minor, Cricketkorrespondent, Photographin: Jessica Mancuso
Relaxed Pilgrims lose ERDINGER Alkoholfrei Kontinental Cup to Mixed Renegades
They say even the hottest match boils down to cold figures in the book. Not so in this sizzling cup contest. Yes, it was a sunny summer afternoon on Hamburg's polo ground. Spectators were sweating under sweltering conditions, even more so the cricketers competing for the 3rd ERDINGER Alkoholfrei Kontinental Cup. Almost in vain the players tried to quench their thirst with their sponsor's beverages which once again were available in abundant supplies. But no, the scorebook does not show cold figures. Actually there is a lot it does not reveal. It is a pity that neither of the teams was able to supply a qualified scorer, so there is no need to be ungrateful to the volunteers who did the job. The remark "NO WAY!" scribbled next to an lbw decision, however, should never be found in any scorebook, not even if a batsman is given out by a slightly myopic and mildly intoxicated umpire. Still, this inscription shows how much it meant for some participants to win one of the most coveted cricket trophies on the European continent.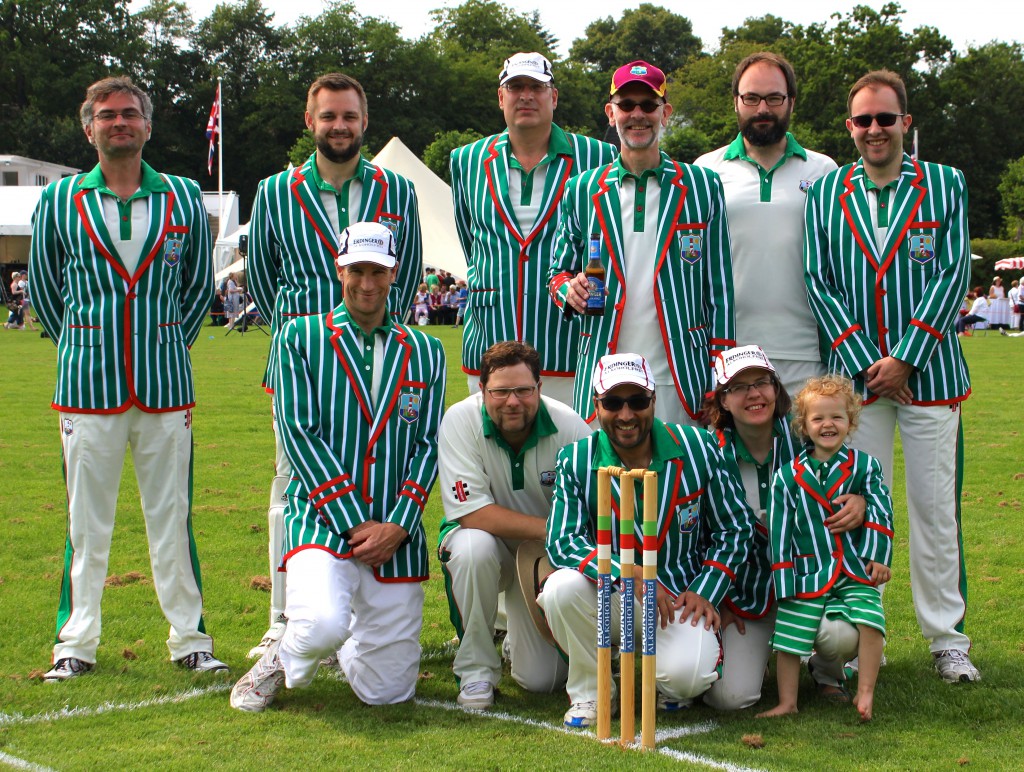 This year Heligoland Pilgrims, certainly an outright winner as regards sporting blazers, had challenged a THCC Rot-Gelb Renegades team made up of seven male and four female players. The first ten overs were played, or even displayed, before a capacity crowd with a live commentary by an unidentified would-be entertainer. In the central arena of the British Flair lifestyle event the teams had to use an awkward pitch severely damaged by horses. Renegades' competent captain Aswin from India had won the toss and elected to bat. Whilst Kamal from Afghanistan with several boundaries in succession and home grown Charlotte managed a flying start reaching 24 in 2 overs, the Renegades progress quickly got stuck. They were struck by some superb Pilgrims' bowling and fielding. This was notably the work of Australian all-rounder Cam (3-1-3-2), who also took two spectacular catches in the outfield (Kamal on 21 and Raman without score), and Nabeel (3-1-11-0), as well as Mark (2-1-22-2), who bowled a wicket-maiden in his second spell. Laurence and Thomas also deserve mentioning for saving several balls from passing the boundary. Charlotte's and Avni's wickets fell in rapid succession, so did Raman's and Katharina's. Only Galini, the youngest Damen-Bundesliga player, could cling on a bit longer, but after 5 overs the score had just crept to 26, and after 10 overs it had only reached 50 runs. This was well below par as regards the Renegades' expectations. Of course they had meant to contribute to the spectators' entertainment, but not with more than half of their team back in their tent at such an early stage.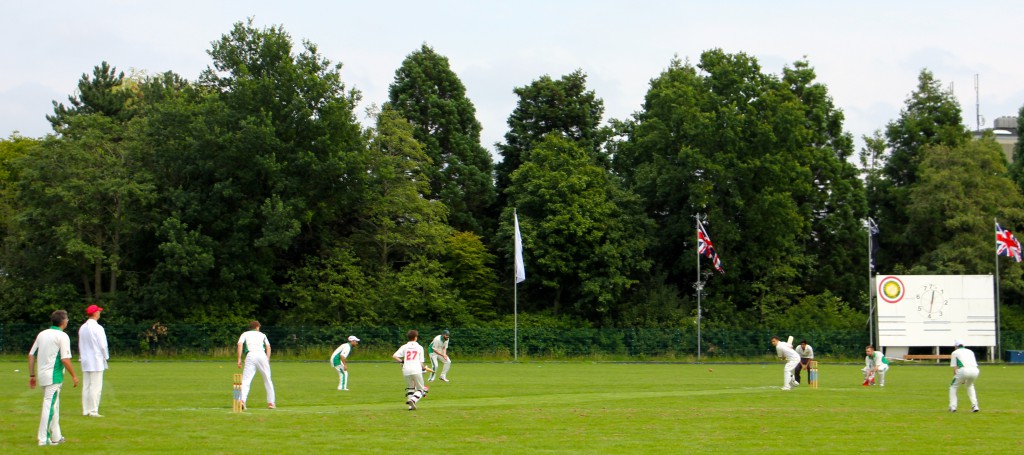 Enter Shane, the spunky South African, who defended his wicket extremely well, fired on all cylinders and hit altogether 10 boundaries. He had to be retired on 67 when the score had unexpectedly increased to 124 from 18 overs. It was tough for the Renegades as they did not dare to lose any more wickets quickly and thus were somewhat reluctant to go for potentially catchable boundaries. Renegades' captain Aswin himself had contributed another valuable 15 before his wicket was expertly taken by Matthew with an unusual "ball of the day" (3-0-21-2). Imran edged a fast ball cleverly bowled by Tim to Liam who impressed with crab-like red gloves behind the wicket. Jens on 3 and Daniel on 4 remained solidly not out at the end of the allotted 20 overs. Thus arrived the innings break – time for some ERDINGER beer. Who would have thought the Renegades might manage 133 runs after their shaky start?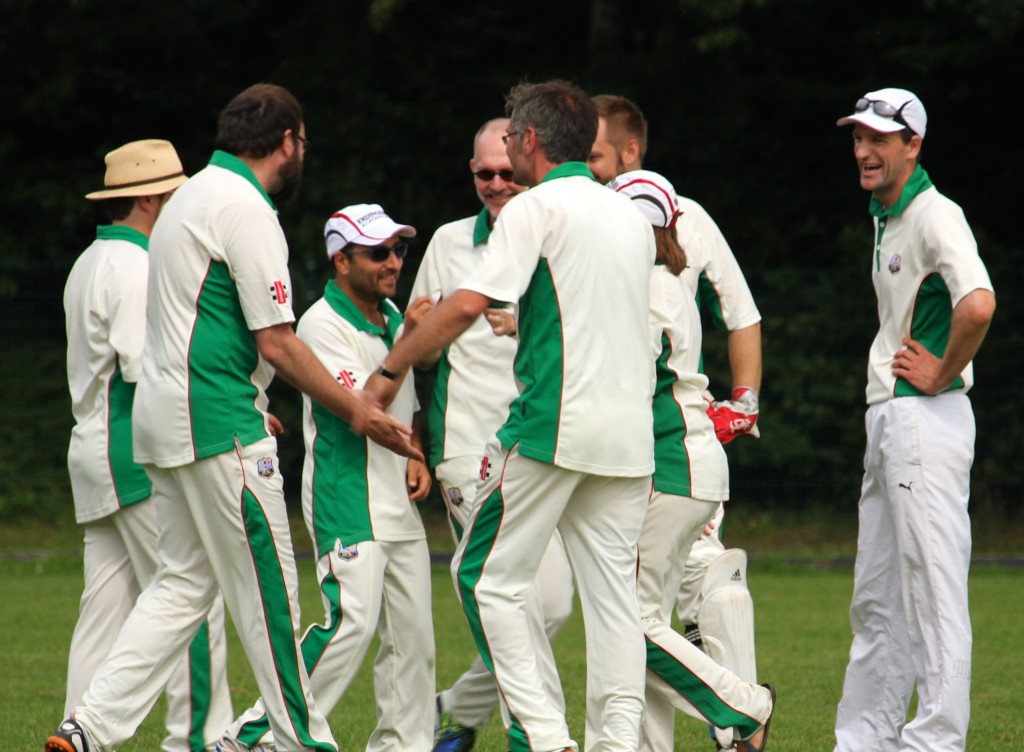 Adrian from Australia, the Pilgrims' circumspect captain, requested Moritz, who grew up a mere mile from the ground, and Mark, originally from England, to open the batting. Whilst both of them lacked training, the former proved this does not compensate incompetence, whereas the latter just exhibited his top form of the season – Mark pelted the ball all over the ground and voluntarily retired after 7 boundaries on 51. Had only all Pilgrims followed his example! Initially the progress of the score was speedy and promising: 42 after 5 overs, 66 after 10 overs, well on course, and with the loss of only a couple of wickets. The Pilgrims seemed to be cruising to their second consecutive victory. But then, all of a sudden, wickets started to fall and kept tumbling in the north arena, essentially to the bowling of young Indian Raman (4-0-15-4), who held a fine catch, too, Kamal (3-0-5-2) and Imran from Pakistan (4-0-10-2); Shane also took two catches (including Nabeel, whom he believed to have asked for it).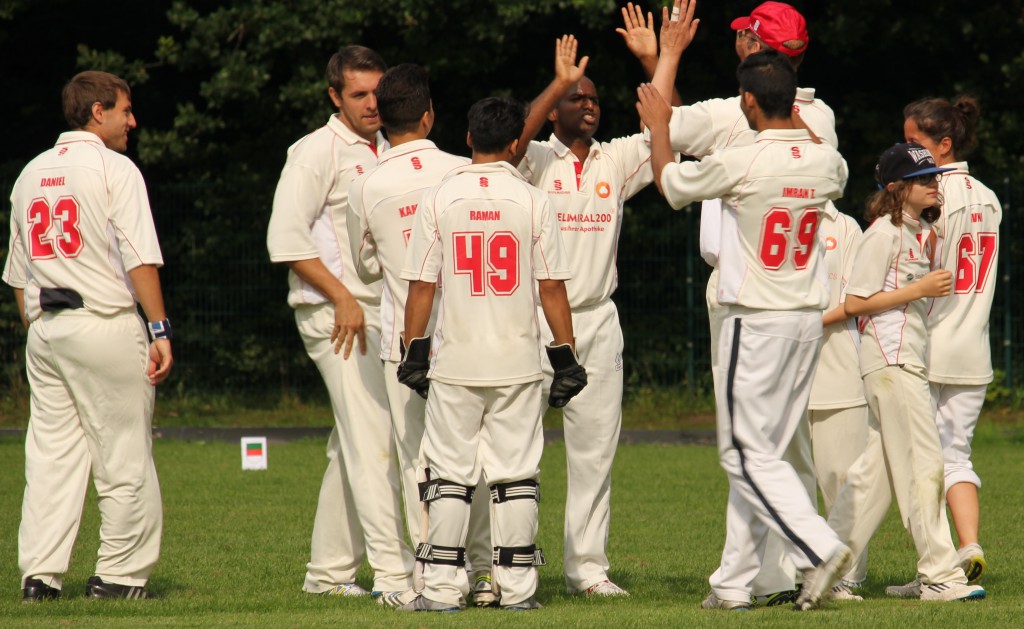 The demise of the Pilgrims was accompanied by classic titles from the 1960s played live from the stage at the southern end of the ground by a cover band from Liverpool: "Let's twist again, like we did last summer". Do the Pilgrims not hear it or can they not get the message? Matthew falls to Avni on 4, Cam is controversially given out on 4, Laurence run out on 5, Tom stays in long only to reach to 7, Nabeel, in his first match for the Pilgrims, even manages 8, but Liam is unable to score and Tim, Bianca and Adrian can only contribute a single run each. After 18 overs the score has risen to a paltry 108. Not even Mark's cameo return to the crease to add another couple of boundaries can avoid the Pilgrim's defeat. The scoreboard stops on 125 – the Renegades win by 8 runs. The new champions cheer and lift their ERDINGER Alkoholfrei Kontinental Cup. The beaten Pilgrims drown their sorrows with ERDINGER non-Alkoholfrei. And once again players as well as spectators have to agree: cricket is the winner.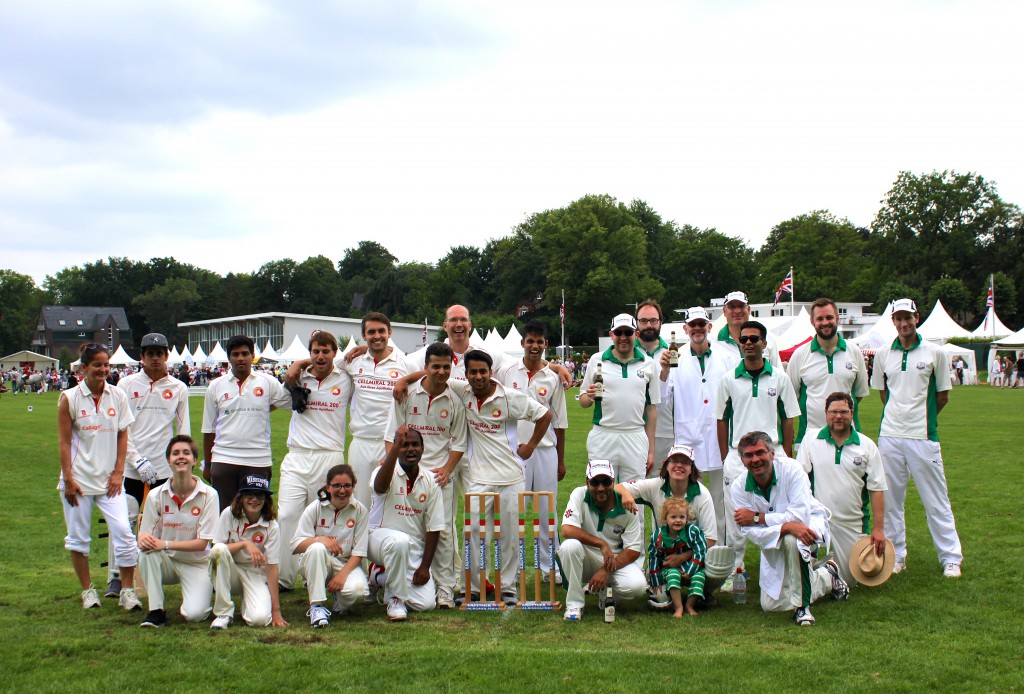 From a commentator's point of view, the following observations merit mentioning: Adrian gave all Pilgrims at least one over to bowl, but not all Renegades bowled. Furthermore, the Pilgrims were generous allowing a substitute of the Renegades to bat. And finally, the umpires in the second innings were undeniably under the influence of alcoholic beverages. This is not meant to qualify the result of the match. Aswin's mixed Renegades deserved the victory, not only because Aswin himself, Kamal and especially Shane batted better than their opponents, with the sole exception of Mark, but also because of their visible team efforts in the field. With the noteworthy exception of Cam, Heligoland Pilgrims did not demonstrate a convincing focus on the day, they showed up altogether slightly too relaxed. Perhaps it is because this bunch of more or less eccentric gentlemen perceive cricket not so much as a sporting competition – it appears to be rather a kind if lifestyle to them, regardless of a trophy.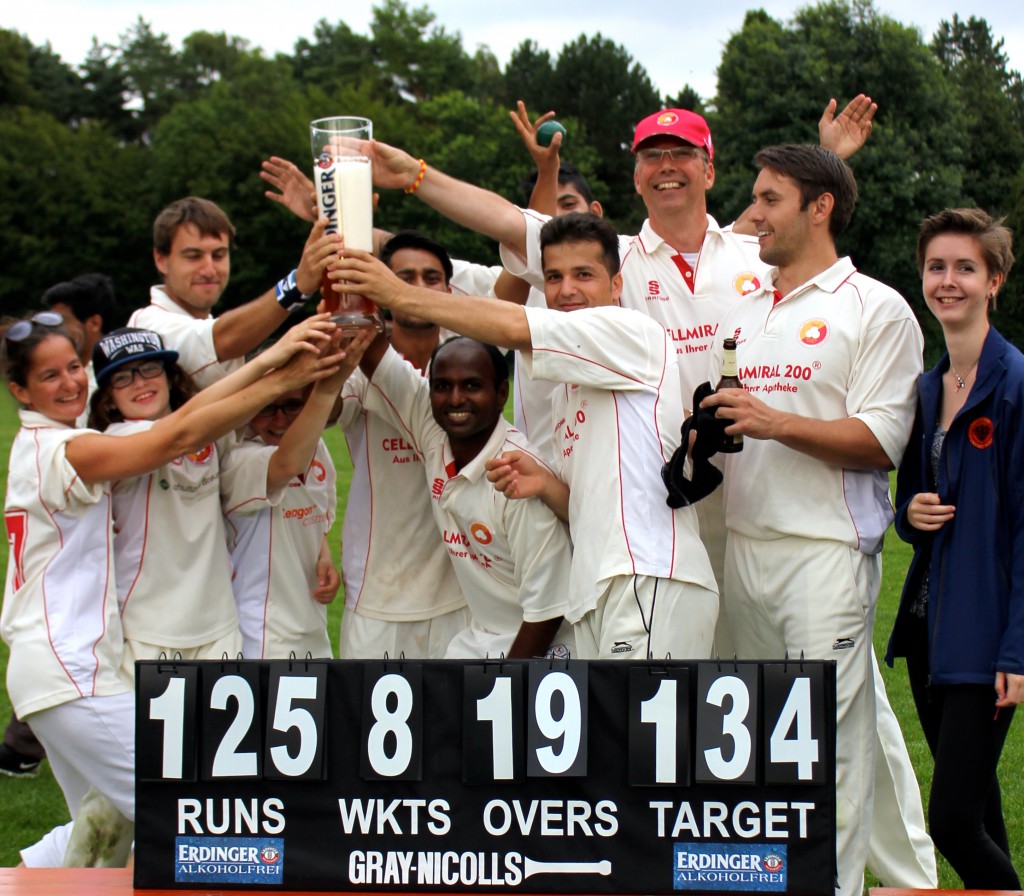 Heligoland Pilgrims: Adrian (cpt.), Bianca, Cam, Laurence, Liam, Mark R., Matthew, Moritz, Nabeel, Tim, Tom (wk)
THCC Renegades: Aswin (cpt.), Arslan, Avni, Charlotte, Daniel, Imran, Jens, Galini, Kamaladin, Raman (wk), Shane
Reporter: Max Minor, cricket correspondent, Photographer: Jessica Mancuso