Read the English version below.
Alle Jahre wieder: Heligoland Pilgrims ehrenvolle Zweite hinter den THCC Barbarians
Und, kommt es darauf an? Genauer gesagt: Kommt es irgend jemandem besonders auf das Ergebnis des zweiten Alan Jefferys Match im Jenisch Park am Sonntag, den 27.9.2015, an? Vielleicht kam es Kapitän Shane und dem einen oder anderen der eifrigeren THCC Barbarians darauf an. Natürlich konnte der fröhliche Südafrikaner stolz auf seine Mannschaft sein, weil sie das Spiel mit 39 Runs gewan: THCC Barbarians 207 für 9 schlagen Heligoland Pilgrims 168 für alle, nach je 21 Overs. Vielleicht kam es sogar einigen der Zuschauer darauf an, die Zeugen dieses unerwarteten Ereignisses vor dem herrschaftlichen Jenisch-Haus wurden. Wieder einmal wurden sie bei ihren Spaziergängen am Sonntagvormittag von einem Sport überrascht, den man sonst in Hamburg kaum zu sehen bekommt, jedenfalls nicht in diesem besonders schönen Park mit Blick über die Elbe. Einige von ihnen zückten ihre Kameras, um ein paar Eindrücke von Eleganz und Sport festzuhalten. Andere faßten sich ein Herz und fragten die Spieler, die unter den drei großen Eichen auf ihren Einsatz warteten, nach den Regeln ‒ ohne zu ahnen, daß keiner der Spieler alle Cricket-Gesetze kennt. Ob allerdings einer von denen, für die Cricket unbekannt war, tatsächlich mitbekam, wer das Spiel gewann, läßt sich nicht mehr feststellen. Die Show ist vorbei, die Zuschauer sind nach Hause gegangen, und alles, was bleibt, sind Erinnerungen.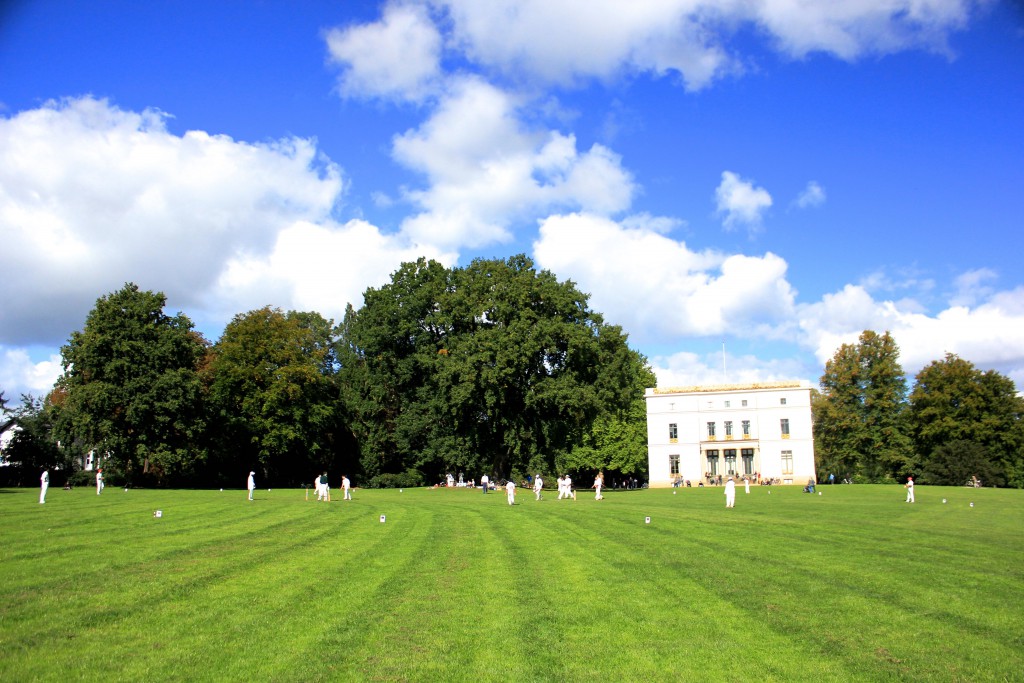 Worauf es wirklich ankam, waren gewiß andere Dinge als das Resultat. Worauf es wirklich ankam, war die großartige Show, welche die beiden Mannschaften veranstalteten, und natürlich der Spaß, den sie dabei hatten ‒ und den sie auf dem Feld und darüber hinaus verbreiteten. Alan Jefferys, der aufgrund von wichtigeren sportlichen Verpflichtungen in Australien nicht zugegen sein konnte, hätte von dieser Tag begeistert. Er wäre beeindruckt gewesen, die stark schlagende Jugend der THCC Barbarians zu sehen, namentlich Raman und Kamaladin, die Boundarys in Richtung Fluß droschen. Raman erreichte 52 Runs, einschließlich 5 Sechsen und 3 Vieren, bevor er von Jan eliminiert wurde, einem preisgekrönten Helgoland-Umsegler in seinem allerersten Spiel für die Pilgrims. Kamaladin schlug mit 71 die meisten Runs, einschließlich 9 Sechsen und 3 Vieren, bevor er einhändig von Cam gefangen und gebowlt wurde.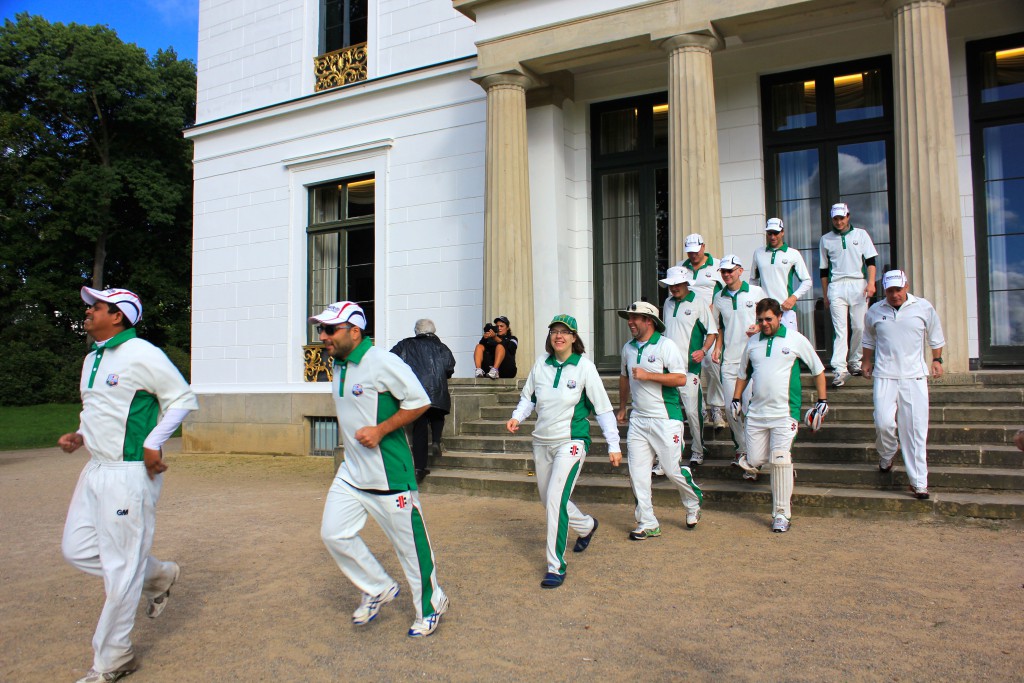 Alan hätte auch das zuverlässige Spiel von Björn gefallen, der 15 Runs erreichte, einschließlich 2 Sechsen in beide Richtungen. Und er hätte den glänzenden Kurzauftritt von Leo genossen, der auf 12 Runs not-out endete, einschließlich 2 Vieren, und mit seinem wuchtigen Schlagstil zeigte, warum die britische Armee ihn früher als Kanonier beschäftigte. Viele THCC Barbarians hätten Alan Jefferys auch mit ihrem Bowling beeindruckt. Jeder Spieler bekam nur 2 Overs. Raman zeigte sein All-Round-Talent, indem er einen Wicket-Maiden bowlte und auch einen Catch hielt. Daniel nahm sogar 2 Wickets, von denen das erste Steve gehörte, dem Vizekapitän der Pilgrims, der von Björn fachmännisch auf der Slip-Position gefangen wurde, und zwar für eine "goldene Ente" beim Spielstand von 1 für 1. Auch Luke, Leo, Safiullah, Kamaladin, Munir und Suhas nahmen je ein Wicket und trugen so zu einer sichtbaren Mannschaftsleistung bei!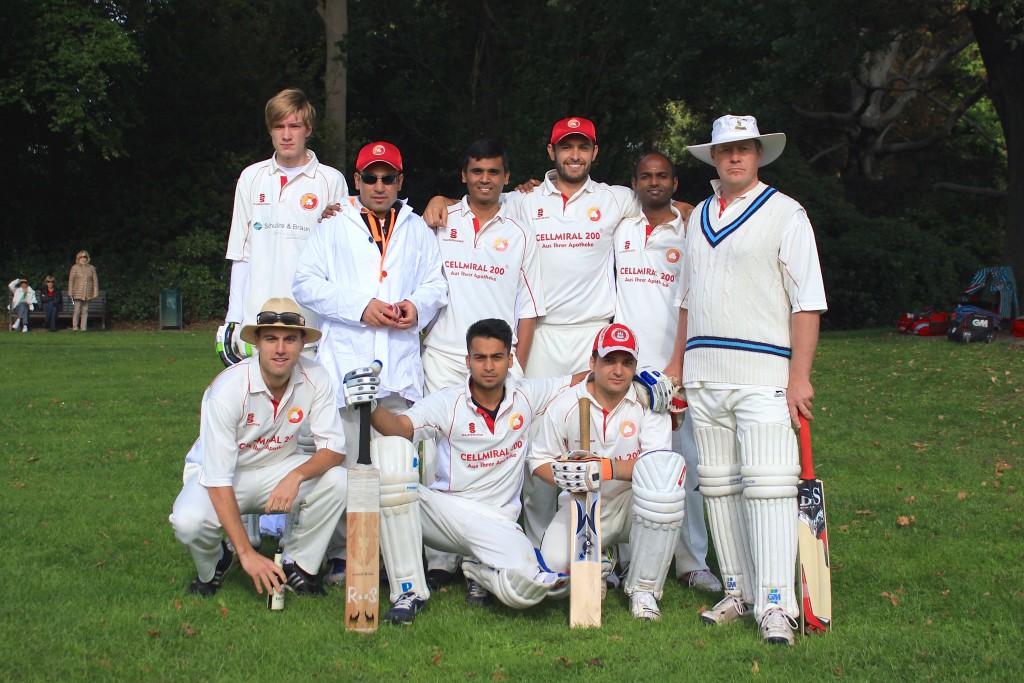 Allerdings kann angenommen werden, daß Alan Jefferys noch mehr von den Pilgrims eingenommen gewesen wäre, die immerhin sein Club in Europa sind. Die Erfinder des Alan Jefferys Matches hatten sich früh in ihren sportlichen Blazern versammelt und boten so den eindrucksvollen Rahmen. Sie hatten viel ERDINGER Bier mitgebracht, das nach der ersten Erfrischungspause auch eine sichtbar aufbauende Wirkung auf ihr Spiel zu haben schien. Sie hatten sich entschieden, 21 Overs zu spielen anstelle der üblichen 20, weil sie der Meinung sind, schräg sei gut und ein zusätzliches Over könne einen Riesenunterschied machen. Und sie hatten sich auch um ein südafrikanisches Grillfest gekümmert, so daß alle, Sieger und Besiegte, nach dem Spiel gemeinsam feiern konnten. Alan wäre begeistert gewesen, Cam zu erleben, der Heligoland Pilgrims im letzten Jahr als Kapitän angeführt hatte, und in diesem Jahr ‒ von der Kapitänsbürde befreit ‒ 65 Runs schlug, einschließlich 8 Sechsen und 3 Vieren, bevor Daniel ihn mit einem trügerisch langsamen Ball bowlte. Ja, es gab auch einen Ruf nach "lbw" von allen Seiten des Felds zu einem früheren Zeitpunkt. Aber nach einer speziellen Regel durfte Cam in diesem Spiel nicht "lbw" ausscheiden. Das hatten die Mannschaften vorher vereinbart, um Ärger größeren Ausmaßes zu vermeiden.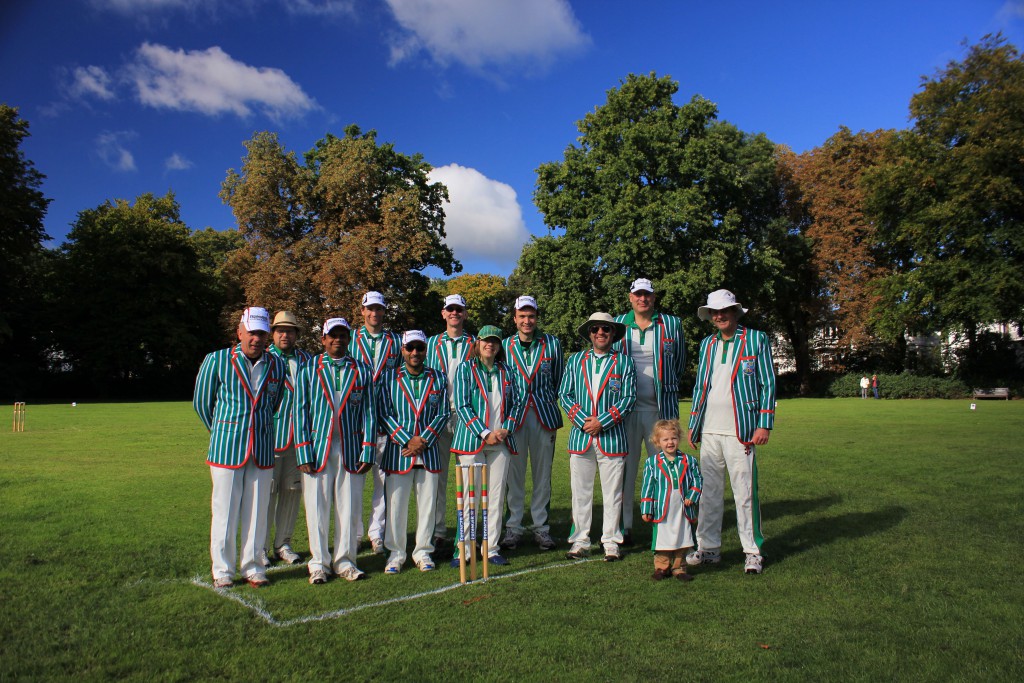 Sicher hätte es Alan gefallen, Mark B. zu sehen, der allen Arten von Bowling widerstand und 14 Runs erreichte, einschließlich 3 Vieren. Und er hätte Steves glitzernden Nachschlag mit 23 Runs not-out begrüßt, einschließlich 1 Sechs und 4 Vieren. Alan hätte auch Detlefs Spitzenbowling anerkannt; bei seinem Debut für die Pilgrims nahm der erfahrene Cricketer aus Schwerin 2 Wickets. Diese Leistung wurde nur von Jan aus Bremen übertroffen, der bei seinem Debüt als Cricketspieler 1 Wicket in seinem ersten und einzigen Over erreichte. Steve eliminierte Suhas, indem er einen von Moritz als Köder gebowlten Ball fing, und ihm ging auch Aswin in die Falle. Tatsächlich war Aswin der einzige Schlagmann, der "lbw" ausschied; vermutlich hätte er sich Alan Jefferys als Schiedsrichter gewünscht anstelle von einigen ungenannten Mitgliedern der Schlagmannschaft, denen eine Flasche ERDINGER aus der Kitteltasche schaute. Aber weder diese regelmäßige Besonderheit von Pilgrims-Spielen noch angeblich manipulierte Bälle noch letzte Anstrengungen der Pilgrims Mark R., Adrian und Bianca mit Schläger und Ball konnten die Niederlage der Heimmannschaft verhindern.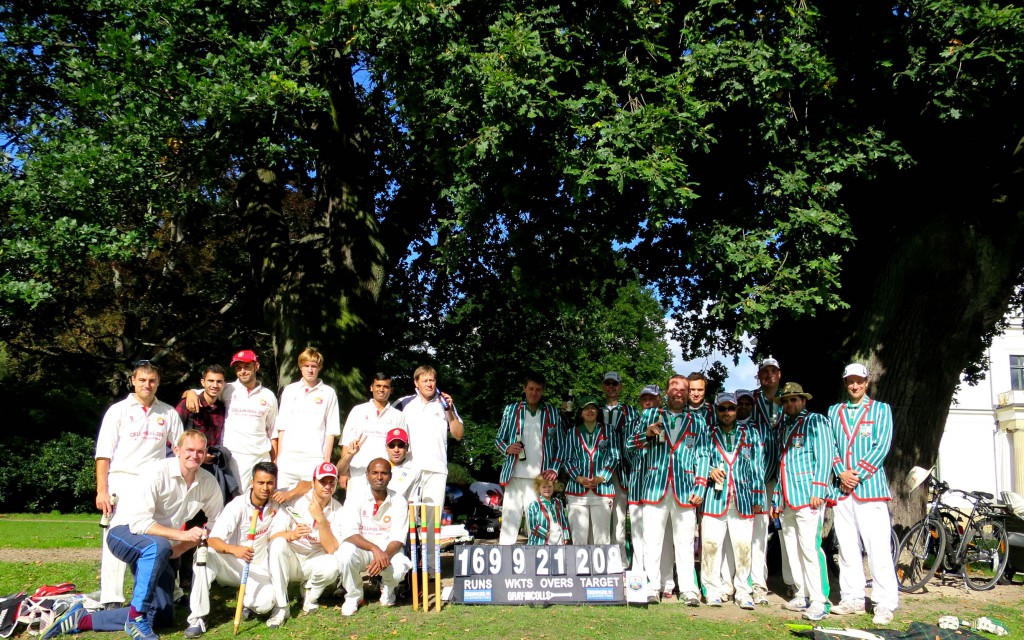 Trotzdem hätte Alan Satya für seine unaufdringliche Rolle als Kapitän beglückwünscht. Ja, im letzten Jahr hatte Satya noch die Barbarians angeführt. Aber als Ergebnis dieser Erfahrung hatte er sich klug entschieden, um Mitgliedschaft bei den Pilgrims nachzusuchen, und war von diesem höchst exklusiven Cricketverein gebührend aufgenommen worden. Jetzt war er den ganzen Weg von Koblenz angereist, um die Pilgrims anzuführen. Und obwohl er nicht so erfolgreich mit Schläger oder Ball war, wie er es sich vielleicht gewünscht hatte, war seine Leitung als Kapitän ausgezeichnet. Er ermutigte jeden zu bowlen, plazierte sein Feld optimal, hatte eine überzeugende Schlagreihenfolge aufgestellt und war immer führend, ohne als Belastung empfunden zu werden. Man stelle sich das typische Satya-Lächeln vor, dann weiß man, warum Alan Jefferys versucht gewesen wäre, lieber mitzuspielen als zu schiedsrichtern. Dieses Mal wurde er von seiner Landsmännin Barbara vertreten, die die Sieger-Trophäe an den Kapitän der Barbarians überreichte. Gerüchteweise wird die australische Legende selbst im nächsten Jahr wieder in Hamburg auftauchen.
THCC Rot-Gelb Barbarians
Shane (capt.), Aswin, Björn, Daniel, Kamaladin, Leo, Luke, Munir, Raman (wk), Safiullah, Suhas
Heligoland Pilgrims
Satya (capt.), Adrian, Bianca, Cam, Detlef, Jan, Mark B., Mark R., Moritz, Steve, Thomas (wk)
Report: Max Minor
Photography: Jessica Mancuso
Same procedure as last year: Heligoland Pilgrims come second to THCC Barbarians
So, does it matter? That is to say: Does the mere result of the second Alan Jefferys Match in Jenisch Park on Sunday 27.9.2015 matter to anyone in particular? Maybe it mattered to Captain Shane and one or two of the more eager THCC Barbarians. Of course the cheery South African could be proud of his team for winning the match by 39 runs: THCC Barbarians 207 for 9 beat Heligoland Pilgrims 168 all out, off 21 overs each. Maybe it even mattered to some of the spectators who witnessed the unexpected event in front of the stately Jenisch Haus on a spectacularly sunny day. Once again they were taken by surprise on their Sunday morning walks to come across a sport otherwise hardly seen in Hamburg, not to mention this particularly beautiful park overlooking the river Elbe. A few of them took out their cameras to save some impressions of style and sport. Others took courage and asked the non-strikers, who were waiting for their entry under the three huge oak-trees, about the rules – unaware of the fact that none of the players knows all the laws. Whether any of them new to the game actually realised who was winning can no longer be determined. The show has ended, the spectators have gone and only the memories linger on.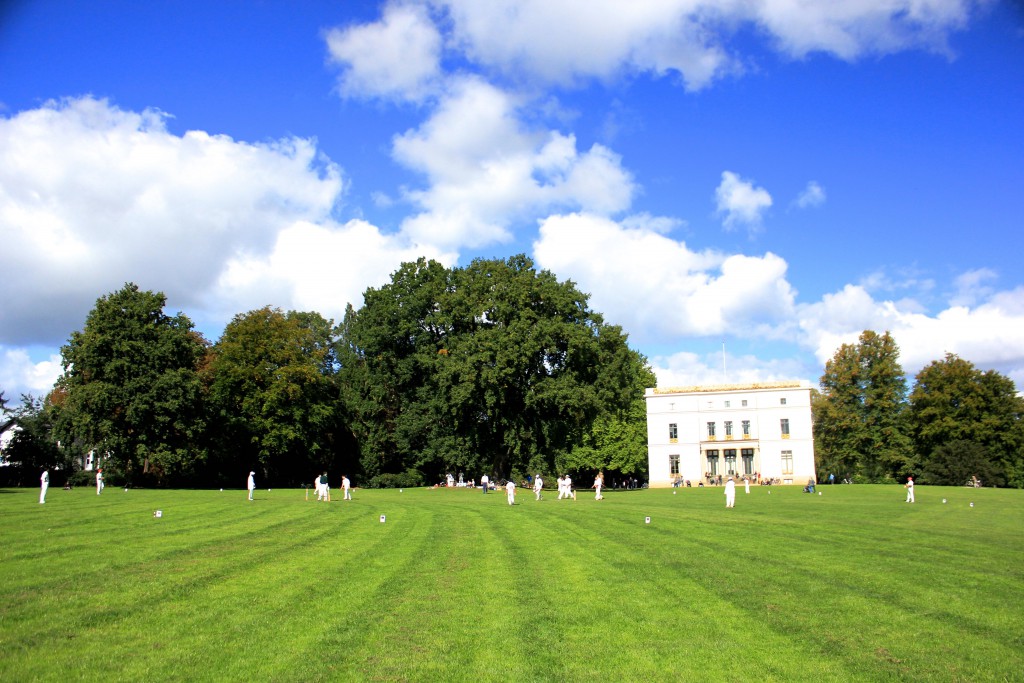 What really mattered, were certainly other things than the result. What really mattered was the splendid show the two teams put on and of course they joy the felt – and spread on as well as beyond the field. Alan Jefferys, who could not attend due to more important sporting engagements in Australia, would have loved the day! He would have been excited to see THCC Barbarians' big-hitting youngsters, namely Raman and Kamaladin, pelting boundaries in the direction of the river. Raman reached 52 runs, including 5 sixes and 3 fours, until he was run out by Jan, a cup winning Heligoland skipper of the maritime variety, in his very first match for the Pilgrims. Kamaladin top scored with 71 runs, including 9 sixes and 3 fours, before he was single-handedly caught and bowled by Cam.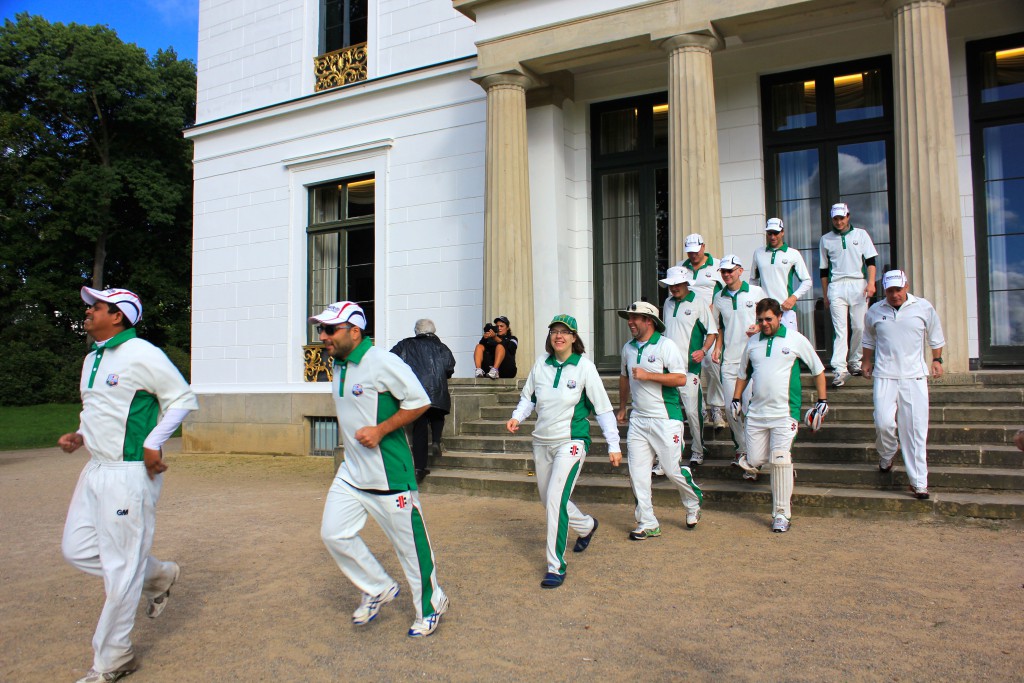 Alan would also have liked the reliable innings of Björn, who reached 15 runs, including 2 sixes either way. And he would have enjoyed the fulminant cameo by Leo, finishing on 12 runs not out, including 2 fours, who demonstrated with his powerful batting-style why the British Army formerly employed him as a gunner. Some of THCC Barbarians' bowling would also have impressed Alan Jefferys. Every player was allotted 2 overs only. Raman showed his all-round talent by bowling a wicket-maiden and taking a catch. Daniel even took 2 wickets, the first belonging to Pilgrims' vice-captain Steve, who was expertly caught by Björn at slip for a golden duck with the score on 1 for 1. And Luke, Leo, Safiullah, Kamaladin, Munir and Suhas took 1 wicket each, thus contributing to a visible team effort!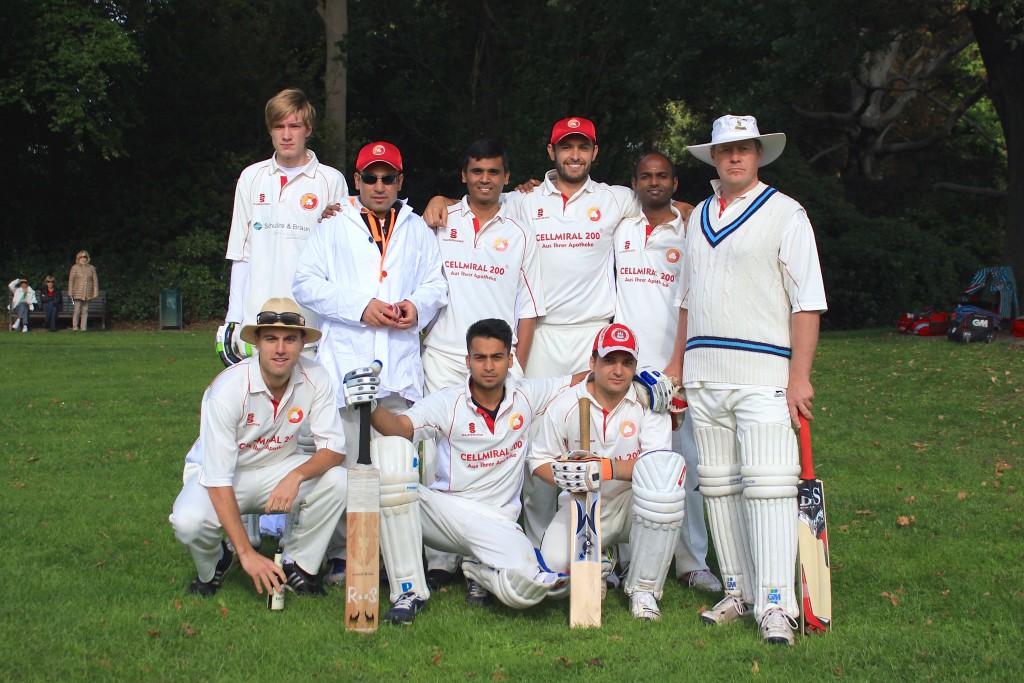 However, it may be assumed that Alan Jefferys would have been even more captured by the Pilgrims who are, after all, his club in Europe. The initiators of the Alan Jefferys match had gathered early in their sporting blazers and thus set the impressive scene. They had brought along plenty of ERDINGER beer which appeared to have a visibly uplifting effect on their game after the first drinks break. They had decided to play 21 overs rather than the traditional 20, because they believe odd is good and a spare over can make all the difference. And they had also staged a South African style braai after the match for everyone to celebrate, losers and winners alike. Alan would have been thrilled to witness Cam, who had captained Heligoland Pilgrims last year and, relieved of this burden this year, hit 65 runs, including 8 sixes and 3 fours, until Daniel had him bowled with a deceivingly slow ball. Yes, there was an appeal for lbw from all over the field at an earlier stage. But under a special caveat Cam could not be given out lbw in this match. This had been agreed by the teams in advance to avoid advanced aggravation.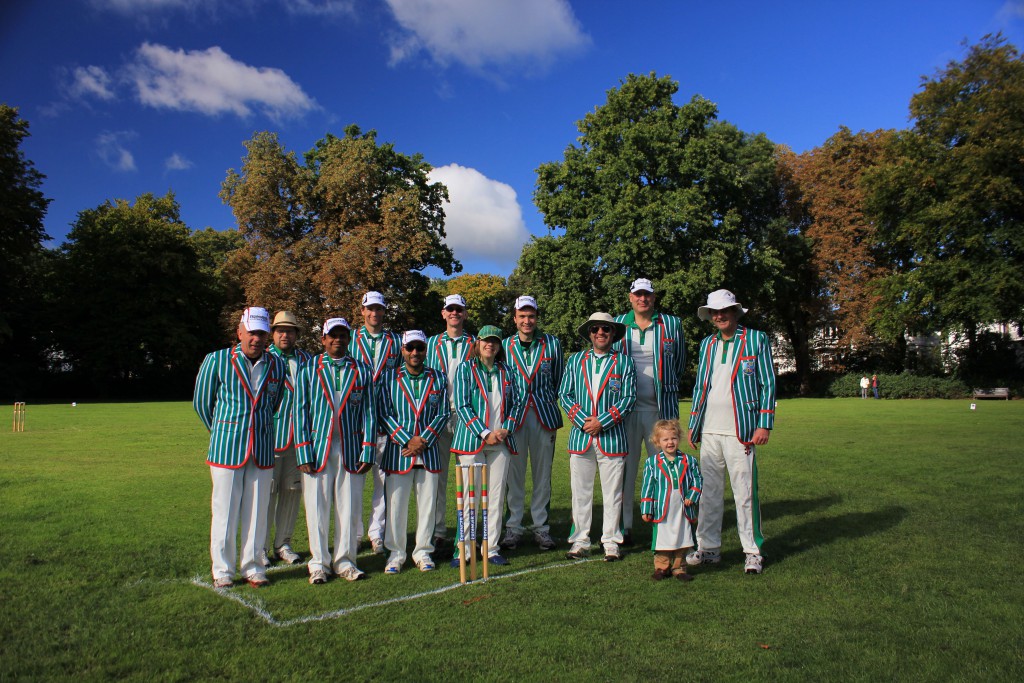 Surely Alan would also have been pleased to see Mark B. withstanding all types of bowling and reaching 14 runs, including 3 fours. And he would have appreciated Steve's sparkling second helping to 23 runs not out, including 1 six and 4 fours. Alan would also have acknowledged Detlef's spearhead bowling; upon debut for the Pilgrims the cricket stalwart from Schwerin took 2 wickets. This feat was only exceeded by Jan from Bremen who, upon debut as a cricket player, took 1 wicket in his first and only over. Steve dismissed Suhas, catching a ball bowled as bait by Moritz, and also trapped Aswin. Incidentally Aswin was the only batsman given out lbw; presumably he wished Alan Jefferys had been umpiring the match instead of some undisclosed member of the batting team with a bottle of ERDINGER poking out of his pocket. But neither this recurrent feature of Pilgrims' matches nor the allegedly tampered balls, nor last minute endeavours by Pilgrims Mark R., Adrian and Bianca with bat and ball could avoid the home side's defeat.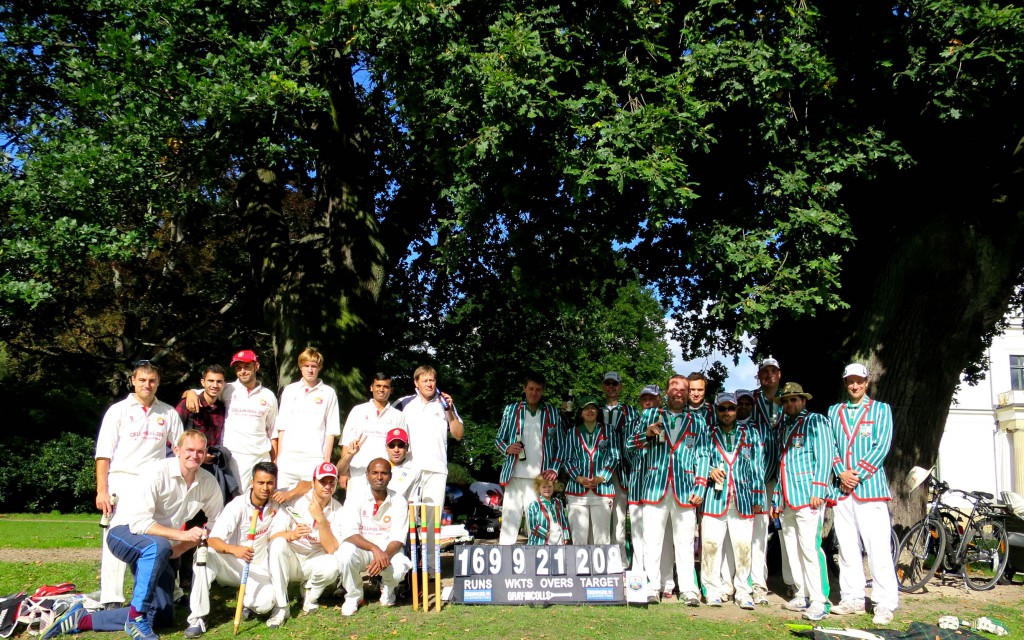 Still, Alan would have congratulated Satya on his sublime captaincy. Yes, Satya had captained the Barbarians last year. But as a result of this experience he had wisely decided to apply for membership with the Pilgrims and was duly accepted by this most exclusive of cricket clubs. Now he had travelled all the way from Koblenz to lead the Pilgrims. And although he was not as successful with bat or ball as he may have wished, his captaincy was excellent. He encouraged everyone to bowl, set ideal fields, came up with a convincing batting order and was always in charge without being felt as a burden. Imagine the typical Satya smile and you know why Alan Jefferys might have been tempted to play rather than umpire. This time he was represented by his compatriot Barbara who presented the winner's trophy to the Barbarians' captain. Rumour has it the Australian legend will resurface from down under in Hamburg next year.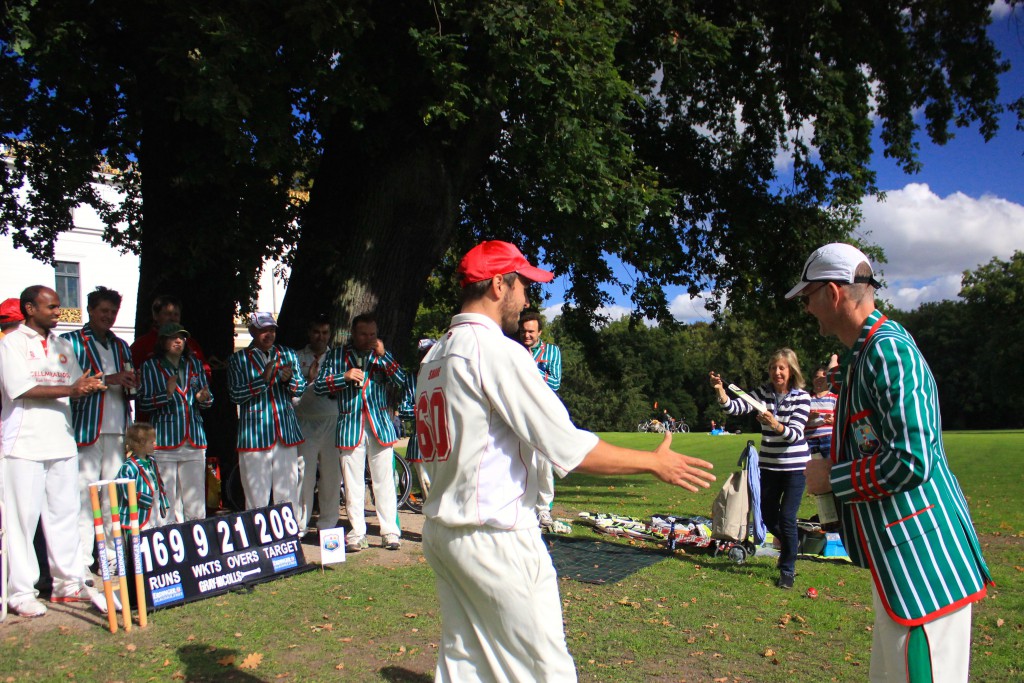 THCC Rot-Gelb Barbarians
Shane (capt.), Aswin, Björn, Daniel, Kamaladin, Leo, Luke, Munir, Raman (wk), Safiullah, Suhas
Heligoland Pilgrims
Satya (capt.), Adrian, Bianca, Cam, Detlef, Jan, Mark B., Mark R., Moritz, Steve, Thomas (wk)
Report: Max Minor
Photography: Jessica Mancuso