Read the English version below.
Pilgrims Erster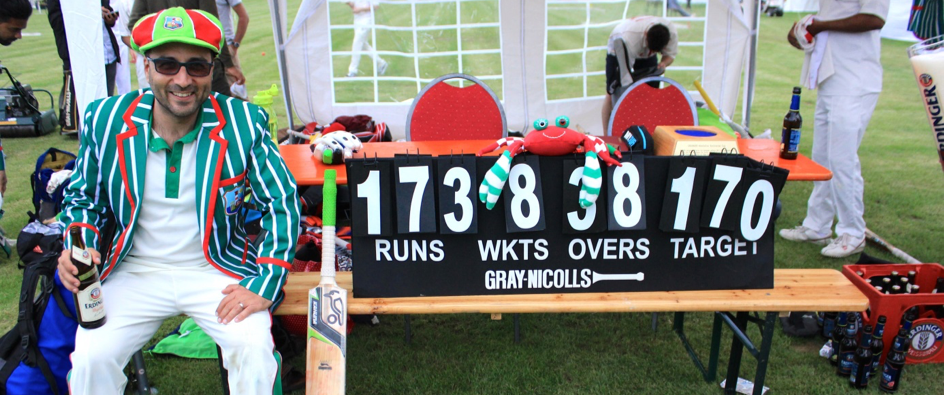 In Zeiten von Falschmeldungen erreichten Heligoland Pilgrims, die selbsternannten Fackelträger des Geists des Crickets, am 4. August 2017 eine beachtliche Zahl von Premieren. Man sollte nicht glauben, was man in der Presse liest, nur das hier ist wahr: Zum ersten Mal wurde der sehr begehrte ERDINGER Alkoholfrei Kontinental Cup an einem Freitag ausgetragen, zum ersten Mal dauerte die Show 40 Overs, zum ersten Mal wurde hier Cricket auf einem großen Feld (dem halben Poloplatz) und mit einem harten Ball gespielt. Die Hauptpremiere aber war natürlich das Resultat, es lautete tatsächlich "Pilgrims Erster".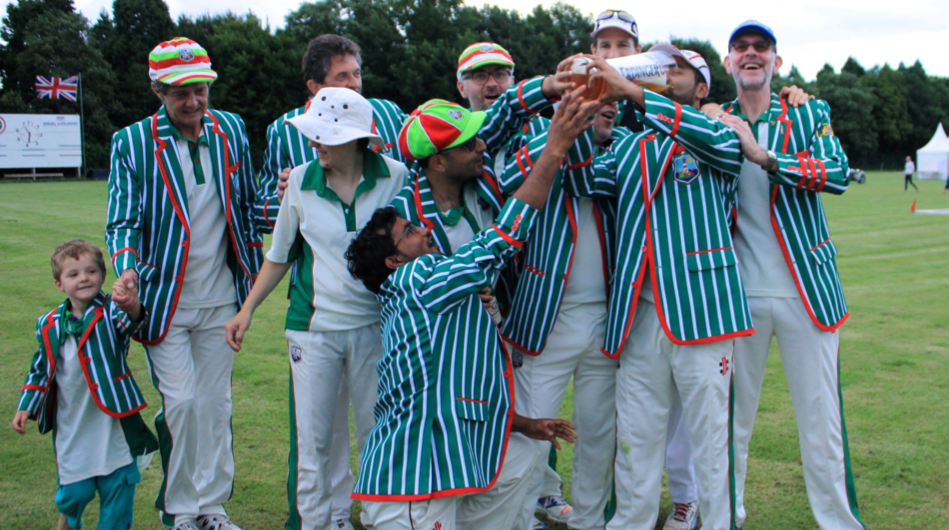 Das war eigentlich gar nicht die Absicht der Mannschaft aus Übersee gewesen, ihr Sieg passierte einfach im vorletzten Over als sie fröhlich vor sich hin spielten. Ein paar mögliche Erklärungen bieten sich für Spekulationen an: Vielleicht gewannen die Pilgrims zum ersten Mal, weil ihr Kapitän an diesem Tag, Nabeel, erst nach der Hälfte des ersten Innings erschien. Möglicherweise verloren THCC Renegades, weil sie ein paar zusätzliche Spieler einsetzten, die sich für das Spiel nicht gemeldet hatten. Womöglich schüchterten auch die stürmischen Winde, die am Nachmittag sehr dunkle Wolken über das Feld trieben die Gegner ein. Der erste Auftritt von Pfarrer Leslie könnte ebenfalls geholfen haben. Der Cricket-Fan aus Indien war gebeten worden, seine Soutane gegen den weißen Schiedsrichter-Kittel zu tauschen und nachdem er sich mit den irdischen Gesetzen der No-Balls vertraut gemacht hatte verbreitete sich himmlischer Segen über die Pilgrims.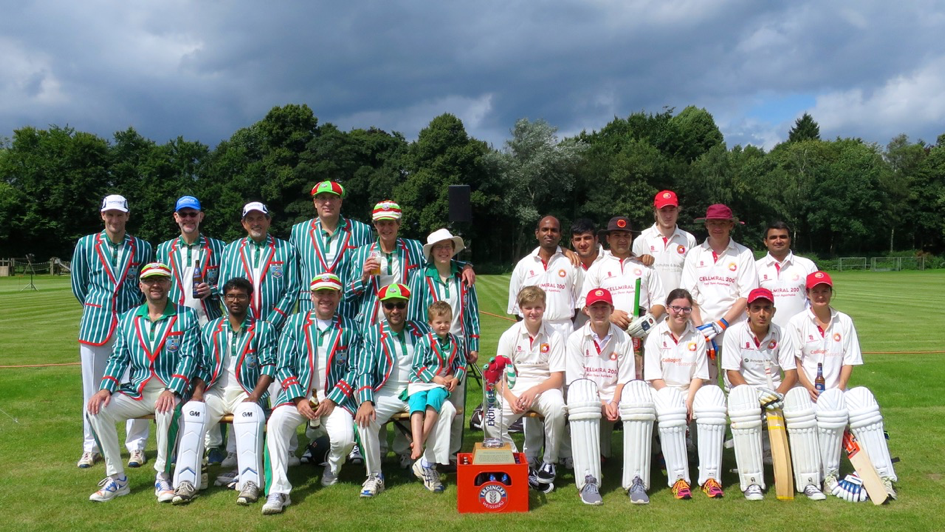 Was hätte Kapitän Prasad tun können, um das Spiel für die THCC Renegades zu retten? Vielleicht hätte er den englischen Bänkelsänger um Unterstützung bitten sollen, der im Hintergrund Billy Swans "I can help" dröhnte. Doch auch wenn sie nicht alle besonders musikalisch sin, waren die Crictspieler nicht überzeugt – nein, seien wir ehrlich, dieser Gesang hätte nicht helfen können. Nicht einmal die übliche Einladung von Zuschauern, in diesem Fall Terry aus Birmingham, konnte das Schicksal der Renegades ändern. Am Ende des Tages, als der Wind nachließ, der Barde an die Bar ging und die Sonne das Feld durchflutete, wurde ein unwahrscheinlicher Traum wahr: Die Pilgrims feierten einen seltenen Sieg.
Zu Anfang war den Gästen ein guter Start gelungen mit Kamaladin (48*, 5×6 und 3×4), der spielend beinahe eine Boundary nach der anderen schlug. Dann stellate Cam (5-1-26-2) Mohibullah (7) eine Falle, der schön von Steve auf Mid-On gefangen wurde. Und als Vizekapitän Steve weitere Bowler einsetzte, begannen die Runs einzutrocknen und Wickets fingen an zu fallen wie Dominosteine. Matthew (5-2-15-1) und Mark R. (5-1-14-0) erwiesen sich als sehr sparsam. Der beste Bowler der Pilgrims an diesem Tag aber war gewiß Mark B. (4-1-8-3) der, nach einem Schluck ERDINGER, nicht nur 3 Wickets nahm und ein Wicket-Maiden bowlte, sondern auch mit einer Hand einen seiner eigenen Bälle fing, für Null Runs – eine spektakuläre Vorstellung! Was das Fielding angeht, müssen Andrews abenteuerlich agile Stops auf Leg-Slip besonders erwähnt werden. Solide Batting-Beiträge für THCC lieferten Luke (7, 1×6), Pilgrim Frank T. (12), der in einem Anfall von Verwirrung zum ersten al gegen seinen eigenen Verein spielte, Khalil (18*) und Aswin (19, 1×6), der die Schlußoffensive am Ende des Innings anführte. Kapitan Prasad (0), der als letzter zusammen mit Johann (3) spielte, hatte nicht so viel Glück; die letzten Batsmen konnten den Punktestand nur noch auf 169 schieben.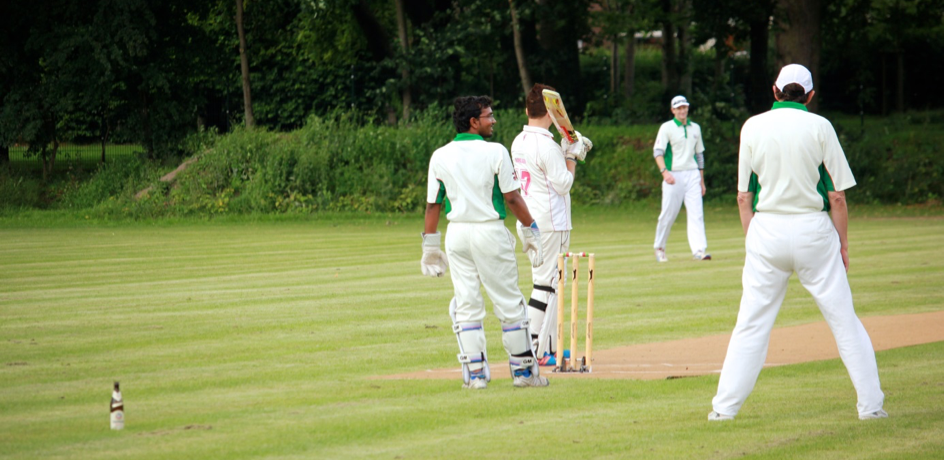 Das ist natürlich im Prinzip ein erreichbares Ziel in einem 40 Over-Spiel. Trotzdem, wenn man mehr daran interessiert ist zu spielen als zu gewinnen, kann das Spiel so oder so ausgehen. Mark R. (7*) mußte früh gehen und wurde deshalb ausgewechselt, bevor er auf große Schläge umschalten konnte. Dann kollabierten die oberen Schlagmänner der Pilgrims alle kläglich – es war offensichtlich, daß sie eher da waren, um sich zu amüsieren als um sich zu übertreffen. Nur Steve (49*, 1×6, 5×4), Kapitän Nabeel (38*, 2×6, 3×4), Mark B. (31, 5×4) und Moritz (15, in seinem Blazer) schafften beides. Anerkennung gebührt den THCC-Bowlern, allen voran Luke (4-0-12-3), unter dessen Wickets ein Fang von seinem eigenen Bowling war, und Katharina, die 2 Wickets nahm. Aber als Andrew das Feld anstelle von Mark R. im 37. Over zum zweiten Mal betrat, war das Ziel so nahe gerückt, daß der Sieg nahezu unvermeidbar geworden war. Bianca schlug das letzte Over zu Ende, obwohl das Spiel schon gewonnen war. Nach Umarmungen, Gratulationen und Hände-Schütteln eilten alle Spieler zur Übergabe des – bereits sorgfältig mit ERDINGER Bier gefüllten – Pokals vor ihrem kleinen Zelt. Hier wurde der ehrwürdige Kelch auch zum ersten Mal als Duschkopf mißbraucht. Aber dann, im Nachglühen der untergehenden Sonne und umgeben von grünen Weiden, kamen die Cricketspieler zur Ruhe; sie genossen die übrigen Vorräte an Getränken ihres großzügigen Sponsors zusammen mit etwas Curry und besprachen das Spiel, Sport und die Bedeutung des Lebens im allgemeinen.
| | | |
| --- | --- | --- |
| | | |
Hunderte Zuschauer von nah und fern hatten eine echte Cricketpartie beobachten können, die in freundschaftlicher Atmosphäre ausgetragen worden war und bei der jeder eine Chance bekommen hatte, zu schlagen, zu werfen und auf dem Feld zu sein. Spieler beider Mannschaften achteten und unterstützten einander und es gab keine Probleme mit Schiedsrichterentscheidungen. Moritz und – zum ersten Mal – Steve hatten die ersten halbe Stunde beider Innings kommentiert und den Zuschauern dabei einige Regeln erklärt, denjenigen, die sie noch nicht kannten, die beiden Vereine vorgestellt und einige typische Spielsituationen hervorgehoben während sich das Spiel entwickelte. Erneut war es ein Paradebeispiel eines Sports, der alle Aufmerksamkeit verdient, die er bekommen kann. THCC Renegades mögen anders darüber denken, aber alle Pilgrims sind sich einig: Egal wer den Pokal gewinnt, solange es soviel Spaß macht beweist es nur, daß diese Art von Cricket immer ein Gewinner ist. So kam es nicht überraschend, daß Prasad unmittelbar nach dem Spiel dem Heligoland Pilgrims Cricket Club beitrat.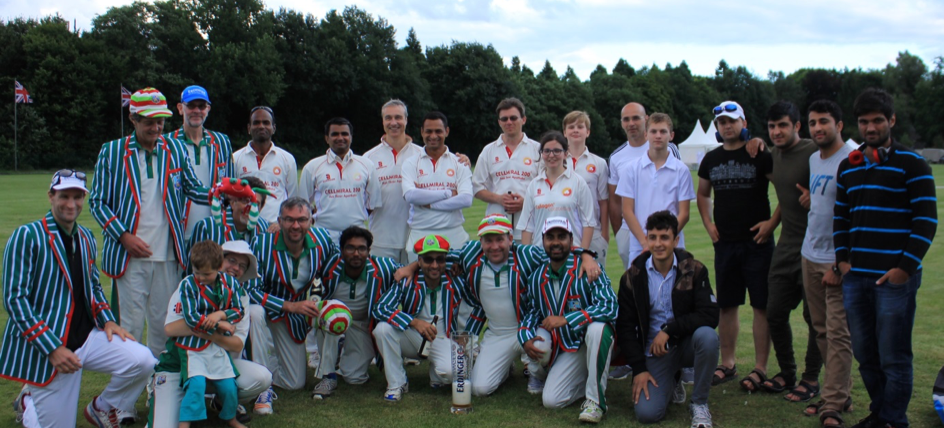 Helgoland Pilgrims: Nabeel (cpt – nach der ersten Getränkepause), Adrian (wk II), Andrew, Bianca, Cam, Mark B. Mark R., Matthew, Moritz (auch Kommentator), Murali (wk I), Steve (vc und ebenfalls Teilzeit-Kommentator)
THCC Renegades: Prasad (cpt), Aswin, Bipin, Avni, Dev, Frank T., Johann, Kamaladin, Katharina, Luke, Michael und Ari (12th) sowie Khalil and Mohibullah (beide unangemeldet) und Terry
Scorer: Prasad, Saied, Cam und andere
Umpires: verschiedene Spieler, einschließlich Dev mit Kaltstart, Aswin, der vor Lachen zusammenbrach, und Murali, der mit der Flasche tanzte, sowie Pfarrer Leslie
Report: Max Minor, Cricket Korrespondent, Photograpie: Jessica Mancuso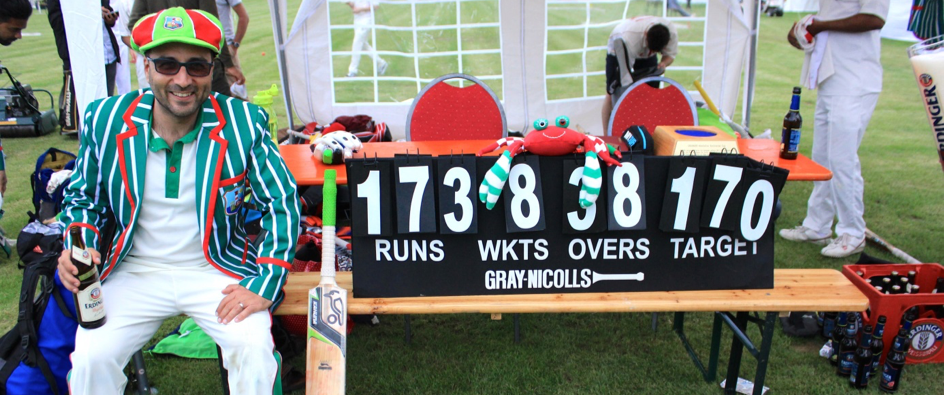 In times of fake news, Heligoland Pilgrims, the self-acclaimed torchbearers of the spirit of cricket, established a considerable number of firsts on 4 August 2017. Don't believe what you read in the press; only this here is true: For the first time the much coveted ERDINGER Alkoholfrei Kontinental Cup competition was held on a Friday, for the first time the show lasted 40 overs, for the first time cricket was played here on a large field (half of the Polo ground) and with a hard ball. But the main premiere was of course the result, it was actually "Pilgrims first".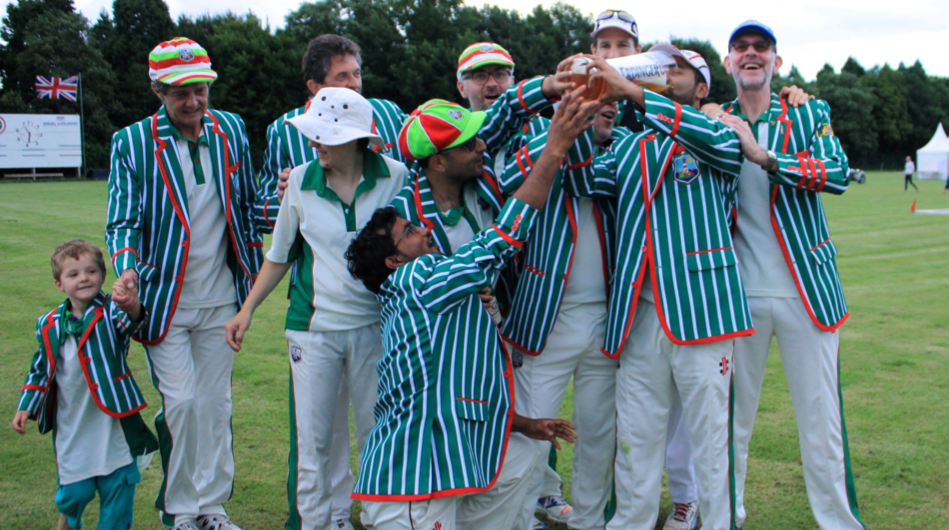 This had actually not been the overseas team's intention at all, their victory just happened in the penultimate over as they played merrily along. A number of possible explanations offer themselves for speculation: Maybe the Pilgrims won because for the first time their captain of the day, Nabeel, only appeared half way through the first innings. Perhaps THCC Renegades lost because for the first time they fielded a couple of additional players who had not registered for the match. Potentially the strong gales which pushed extremely dark clouds over the pitch during the afternoon intimidated the opposition. The very first appearance of Reverend Leslie may also have helped. The stalwart from India was invited to swap his cassock for the white umpire's coat and once he had acquainted himself with the earthly laws of no-balls heavenly blessings spread out for the Pilgrims.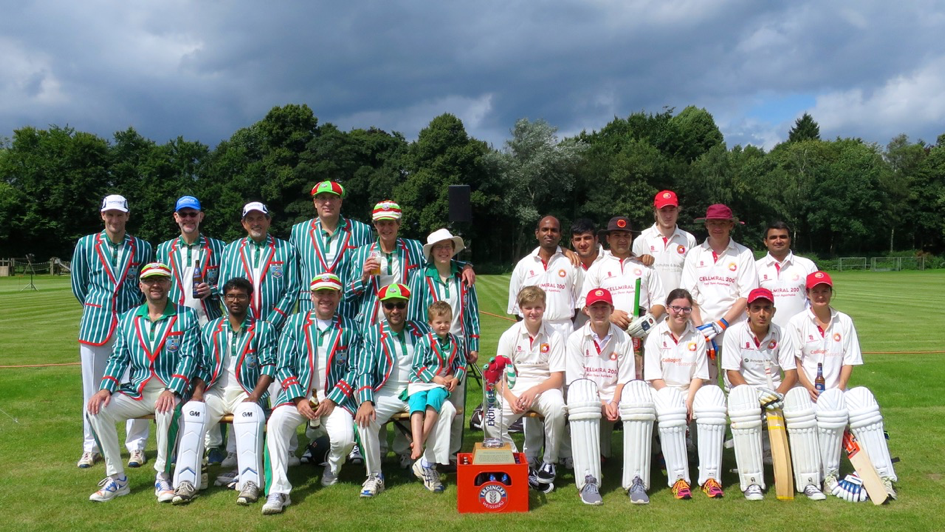 What could captain Prasad have done to salvage the match for THCC Renegades? Perhaps he should have sought support from the English ballard-monger who blasted Billy Swan's "I can help" in the background. The cricketers, albeit not all of them very musical, were not convinced – no, let us be honest, this singing could not have helped. Not even the customary invitation of spectators, in this case Terry from Birmingham, could change the Renegades' fate. At the end of the day, when the wind abated, the bard went to the bar and the sun flooded the field, an unlikely dream came true: The Pilgrims celebrated a rare win.
Initially the guests had got off to a quick start with Kamaladin (48*, 5×6 and 3×4) hitting effortless boundaries almost in succession. Then Cam (5-1-26-2) set a trap for Mohibullah (7) who was nicely caught by Steve at mid-on. And once vice-captain Steve put on further bowlers, runs began drying out and wickets started falling like dominoes. Matthew (5-2-15-1) and Mark R. (5-1-14-0) proved very economical. The Pilgrims' best bowler on this day, however, was certainly Mark B. (4-1-8-3) who, after a sip of ERDINGER, not only took 3 wickets and bowled a wicket-maiden, but also caught one of his own balls single-handedly for a duck – a spectacular performance! As regards fielding, special mention must be made of Andrew's astonishingly agile stops at leg slip. Solid batting contributions for THCC were made by Luke (7, 1×6), Pilgrim Frank T. (12) who in a fit of confusion played against his own club for the first time, Khalil (18*), and Aswin (19, 1×6) who led the offensive at the end of the innings. Captain Prasad (0) who came in at last together with Johann (3), was not so lucky; the tail enders could only shift the total to 169.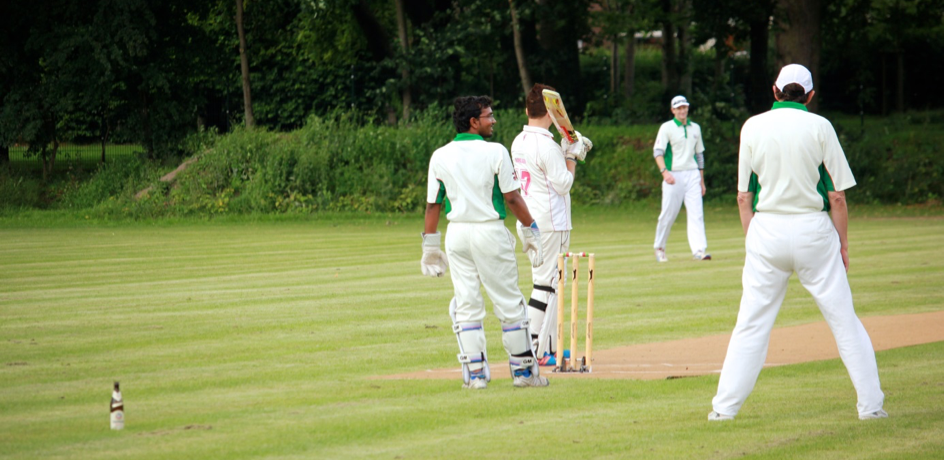 This is of course a gettable target in a 40 overs-game in principle. Still, if you are more interested in playing than in winning, the match can go either way. Mark R. (7*) had to leave early and was thus retired before he could reach his big-hitting-mode. The Pilgrims top-order batsmen then all plummeted more or less abysmally – it was obvious they were present to enjoy themselves rather than to excel. Only Steve (49*, 1×6, 5×4), captain Nabeel (38*, 2×6, 3×4), Mark B. (31, 5×4) and Moritz (15, in his blazer) managed to do both. Credit has to be given to THCC's bowlers, most notably Luke (4-0-12-3) whose wickets included a catch off his own bowling, and Katharina who took 2 wickets. But when Andrew entered the crease for the second time in lieu of Mark R. in the 37th over, the target had moved so close, a first Pilgrims' victory had become virtually unavoidable. Bianca batted out the last over although the match had already been won. After hugs, congratulations and shake hands, all players headed off to the presentation of the cup, tidily filled with ERDINGER beer, outside their little marquee. It was here that the venerable chalice was abused as a showerhead for the first time, too. But then, in the afterglow of the setting sun and surrounded by green pastures, the cricketers wound down, enjoyed the remaining supplies of their generous sponsor's beverages together with some curry and discussed the match, sports and the meaning of life general.
| | | |
| --- | --- | --- |
| | | |
Hundreds of spectators from near and far had been able to observe a proper game of cricket, performed in an amicable spirit with everyone getting a chance to bat or bowl and field. Players of both teams respected and supported one-another and there were no issues about umpires' decisions. Moritz and – for the first time – Steve had commentated the first half hour of each innings explaining some of the laws to the audience, introducing the two clubs to those who did not know them and highlighting some of the salient features of the match as it developed. Once again this was an excellent showpiece of a sport that deserves all the attention it can get. THCC Renegades may think differently, but all Pilgrims agree: Whoever gains the cup, as long as it is so much fun it merely proves this type of cricket is always a winner. So it did not come as a surprise that Prasad joined Heligoland Pilgrims Cricket Club immediately after the event.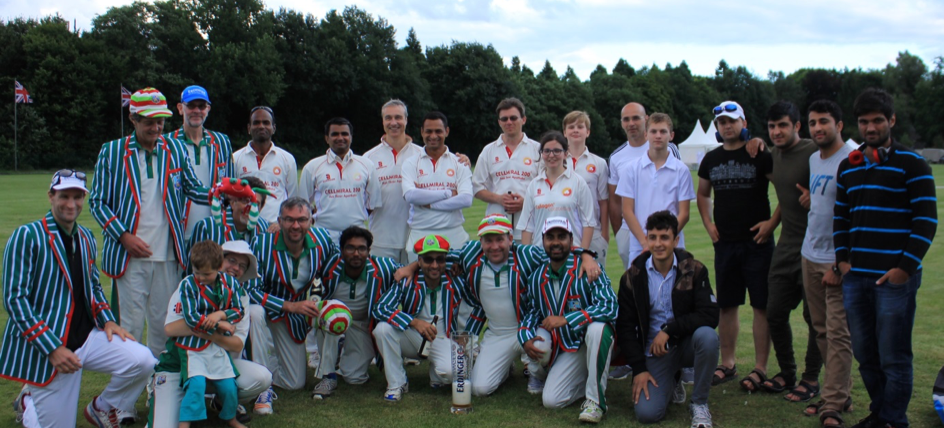 Heligoland Pilgrims: Nabeel (cpt – after the first drinks break), Adrian (wk II), Andrew, Bianca, Cam, Mark B. Mark R., Matthew, Moritz (also commentator), Murali (wk I), Steve (vc and also part-time commentator)
THCC Renegades: Prasad (cpt), Aswin, Bipin, Avni, Dev, Frank T., Johann, Kamaladin, Katharina, Luke, Michael and Ari (12th) as well as Khalil and Mohibullah (both unregistered) plus Terry
Scorer: Prasad, Saied, Cam and others
Umpires: several players, including Dev with a cold boot, Aswin collapsing with laughter and Murali dancing with a bottle, plus Reverend Leslie
Report: Max Minor, cricket correspondent, Photography: Jessica Mancuso