Read the English version below.
THCC Rot-Gelb Renegades gewinnen ERDINGER Alkoholfrei Kontinental Cup 2013
gegen Heligoland Pilgrims in Hamburg
"British Flair" 2013 auf dem Hamburger Polo Platz! In diesem Jahr sah die traditionelle "Lifestyle"-Veranstaltung neue Besucher. Zum allerersten Mal hatten sich die Heligoland Pilgrims auf dem Festland versammelt, um Cricket zu spielen. Die internationale Truppe hochmotivierter Gentlemen – aus Australien, Neuseeland, Südafrika, England und Deutschland – hatte ihren Erzrivalen THCC Rot-Gelb Renegades zum ERDINGER Alkoholfrei Kontinental Cup herausgefordert. Natürlich hatte der großzügige Sponsor der Pilgrims wieder einmal ausreichende Mengen seines köstlichen Getränks zur Verfügung gestellt, um jeden möglichen Durst nicht nur nach dem Spiel zu löschen, sondern schon währenddessen.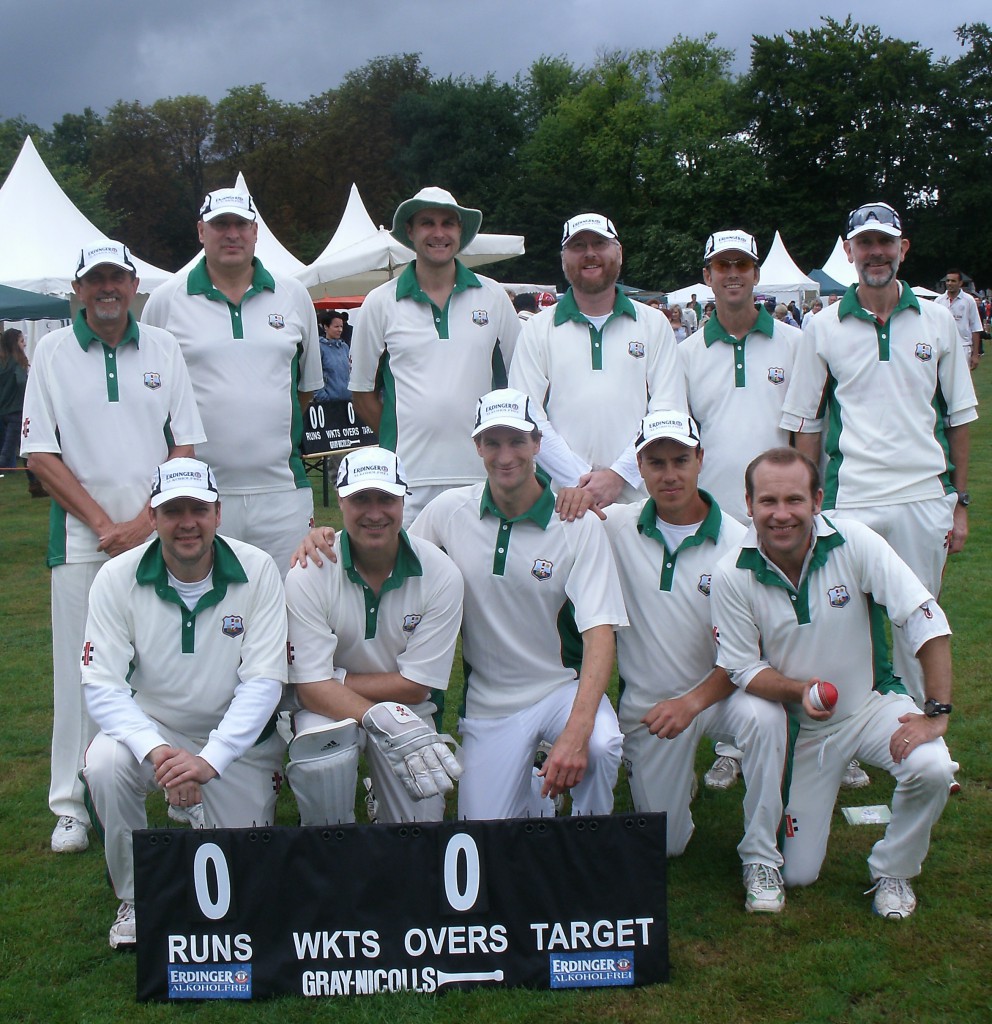 Das Wetter paßte zum Anlaß. Am Vormittag hatte es heftig geregnet, aber irgendwo hinter den dunklen Wolken lag ein Silberstreifen; und während das Spiel in leichtem Nieselregen begann, endete es in strahlendem Sonnenschein. Heligoland Pilgrims hatten das Los gewonnen und sich im ersten Durchgang für das Fielden entschieden – nicht so sehr, weil die Bedingungen günstig für Bowler waren, was der Fall war, sondern eher, weil die 11 stolzen Männer ihre schmucken grün-rot-weißen Hemden und die Mützen ihres Sponsors präsentieren wollten. Immerhin war dies ein Vorführungsspiel, eine Cricket-Demonstration. Vor ausverkauftem Platz mit vielleicht 1.000 Zuschauern begann das Spiel in der mittleren Show-Arena. Die Pilgrims hatten sogar für eine Live-Kommentierung über die Lautsprecheranlage gesorgt; zwei Möchtegern-Reporter behaupteten, sie müßten sich beeilen, weil gleich der Seewetterbericht folgen würde. Alle Teilnehmer führten eine großartige Schau auf einem der anspruchsvollsten Plätze Deutschlands auf: nasses, lückenhaftes Gras mit großen Narben aus der Polosaison und zusätzlichen Löchern von dem vorangegangenen schottischen Baumstammwerfen und der Damensattel-Reitvorführung – von Pferdeäpfeln am Spielfeldrand ganz zu schweigen.
Unmittelbar nach dem Verklingen der BBC Erkennungsmelodie Soul Limbo eröffnete der sportliche Steve mit einem breiten Grinsen auf seinem Gesicht das Bowling von der Pavillon-Seite – und nahm, zur Freude der Pilgrims, das erste Wicket auf 1/1. Vorsichtig arbeiteten sich die THCC Renegades auf 2/2 vor. Vom Botanischen Garten her hatte der legendäre Mark (rechts abgebildet) nachgezogen und ein weiteres Wicket eingesammelt. Wenn dieser Getreue, der angeblich schon seit mehr als einem halben Jahrhundert in Hamburg Cricket spielt, in seinem letzten Over nicht mit drei Boundaries bestraft worden wäre, hätte er eine rekordverdächtige Spielstatistik von 3-0-16-4 erzielt. Im vierten Over schaffte Laser-Line-Keith es sogar, ein Wicket mit dem ersten Ball zu erobern, was THCC bei 27/3 ließ. Aber das erlaubte es Kamaladin, die Bühne zu betreten; ohne zu zögern zielte er über die unsichtbare Spielfeldgrenze. Schiedsrichter Alan, der aus Perth angereist war, nur um dieses Spiel zu leiten, zeigte gleich "Boundary 6" an. Die Partnerschaft mit dem verbliebenen Eröffnungsspieler Liam verdoppelte die Punktzahl in nur zwei Overs.
Nach dieser kurzen Vorstellung mußte das Spiel in die nördliche Arena umziehen, nahe dem Wendepunkt der Dudelsack-Band. Hier nahm Campbell (links abgebildet), Universalsportler und purer Athlet, der stolz war, an diesem Tag Kapitän der Pilgrims zu sein, zwei Wickets und erzielte ein Maiden-Over, bis der grantige Gareth die Renegades mit dem letzten Ball des 18ten Overs ausbowlte. THCC erreichte 141 für alle mit den höchten Beiträgen von Kamaladin (39, einschließlich 5×6), Liam (27) und Vinay (27*), der zum x-ten Mal bewies, daß sein Wicket so gut wie unzerstörbar ist.
Eine erste Runde ERDINGER Alkoholfrei sollte die Pause zwischen den beiden Durchgängen beleben. Einige der Pilgrims scheinen dabei aber zu den falschen Flaschen gegriffen zu haben. Obwohl es ihnen gelang, ihre zur Verfügung stehenden 20 Overs zu batten und dabei nicht mehr als sieben Wickets zu verlieren, waren ihre 116/7 am Ende nicht genug um das Spiel zu gewinnen. Nur der sportliche Steve (13) und Frank (19*), der Tank, erreichten zweistellige Zahlen. Verdient machten sich auch die Eröffnungsspieler, Laser-Line-Keith und Andrew, der elegante Bariton, die die THCC-Bowler an den Rand des Wahnsinns trieben, indem sie den Ball wie in einem fünftägigen Länderspiel abblockten und eimerweise Wides in Ruhe an sich vorbeiziehen ließen. Kamaladin nahm zwei Wickets für die Renegades und je eines ging an Satya, der auch das einzige Wicket-Maiden des Tages bowlte, Vinay, und Komal, der sich mit einer exzellenten Statistik von 2-0-4-1 auszeichnete.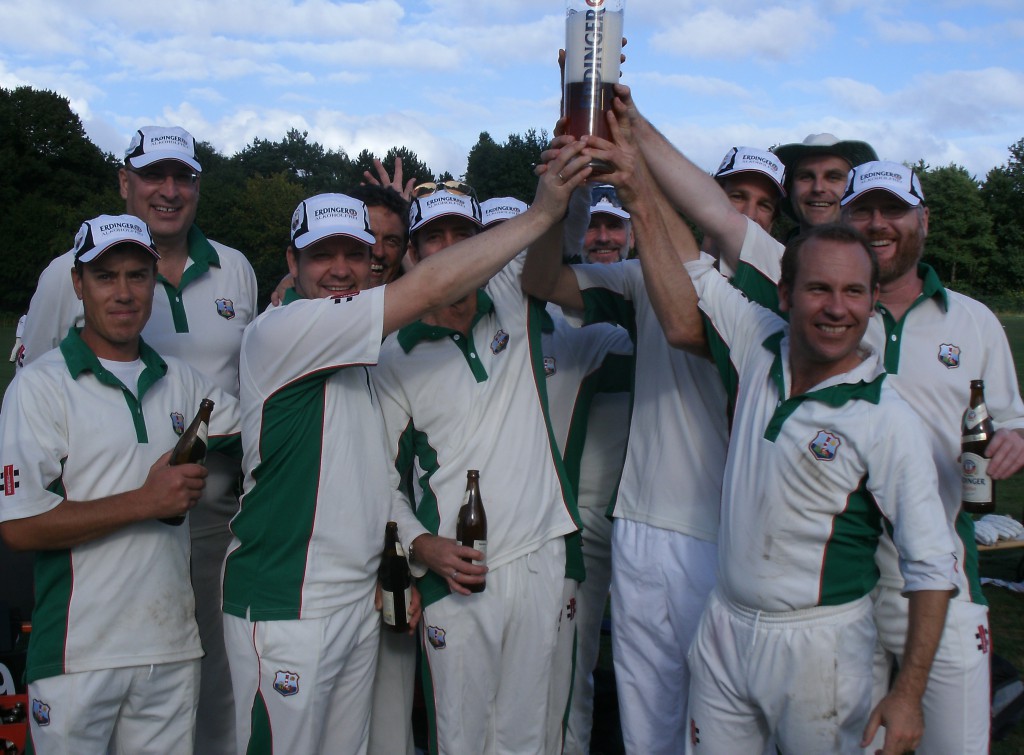 Am Ende des Durchgangs begann die Anzeigetafel zu versagen. Wie eine Fata-Morgana im Abendlicht zeigte sie mit 30 Runs mehr einen Sieg in Reichweite der Heligoland Pilgrims an. Diese Illusion könnte von einem der bereits lbw-ausgeschiedenen Batsmen unter Einfluß von ERDINGER Weißbier verursacht worden sein. Tatsächlich konnten weder der holprige Platz noch die Extras die THCC Renegades von einem komfortablen Sieg mit 25 Runs Vorsprung abhalten. Die Heligoland Pilgrims störte ihre Niederlage überhaupt nicht. Sie luden die Sieger ein, aus dem Kontinental Cup zu trinken. Alle, einschließlich der Grazien unter den Zuschauern, genossen den äußerst fröhlichen Nachmittag. Und zwei der Renegades machten ihrem Namen Ehre, indem sie, ebenso wie Schiedsrichter Alan, um Aufnahme im Kreis der Pilgrims baten. Da sie ihre Eignung durch echte Cricket-Verrücktheit nachgewiesen hatten, wurden sie mit einstimmigem Beschluß aufgenommen.
THCC Rot-Gelb Renegades: Komal S. (*), Ather A., Hasibullah A., Jeya K., Kamaladin K., Kevin R. (+), Liam C., Maher A., Satya S., Vinay V.
Heligoland Pilgrims: Campbell J. (*), Andrew C., Christian H., Frank T. (+), Gareth D., Jürgen R., Keith M., Mark R., Moritz H., Steve A., Sven P.
Schiedsrichter: Alan J.
Unterstützung: mehrere Grazien
Reporter: Geoff M. und Max M.
THCC Rot-Gelb Renegades win ERDINGER Alkoholfrei Kontinental Cup 2013
from Heligoland Pilgrims in Hamburg
"British Flair" 2013 on the Hamburg Polo Ground! This year, the traditional lifestyle event saw unusual new visitors. For the very first time ever, Heligoland Pilgrims had convened on the continent to play cricket. The international bunch of highly motivated gentlemen – from Australia, New-Zealand, South-Africa, England and Germany – had challenged their arch rivals THCC Rot-Gelb Renegades for the ERDINGER Alkoholfrei Kontinental Cup. Needless to say that the Pilgrims' generous sponsors had once again released sufficient quantities of their delectable beverage to quench any potential thirst not only after, but already during the game.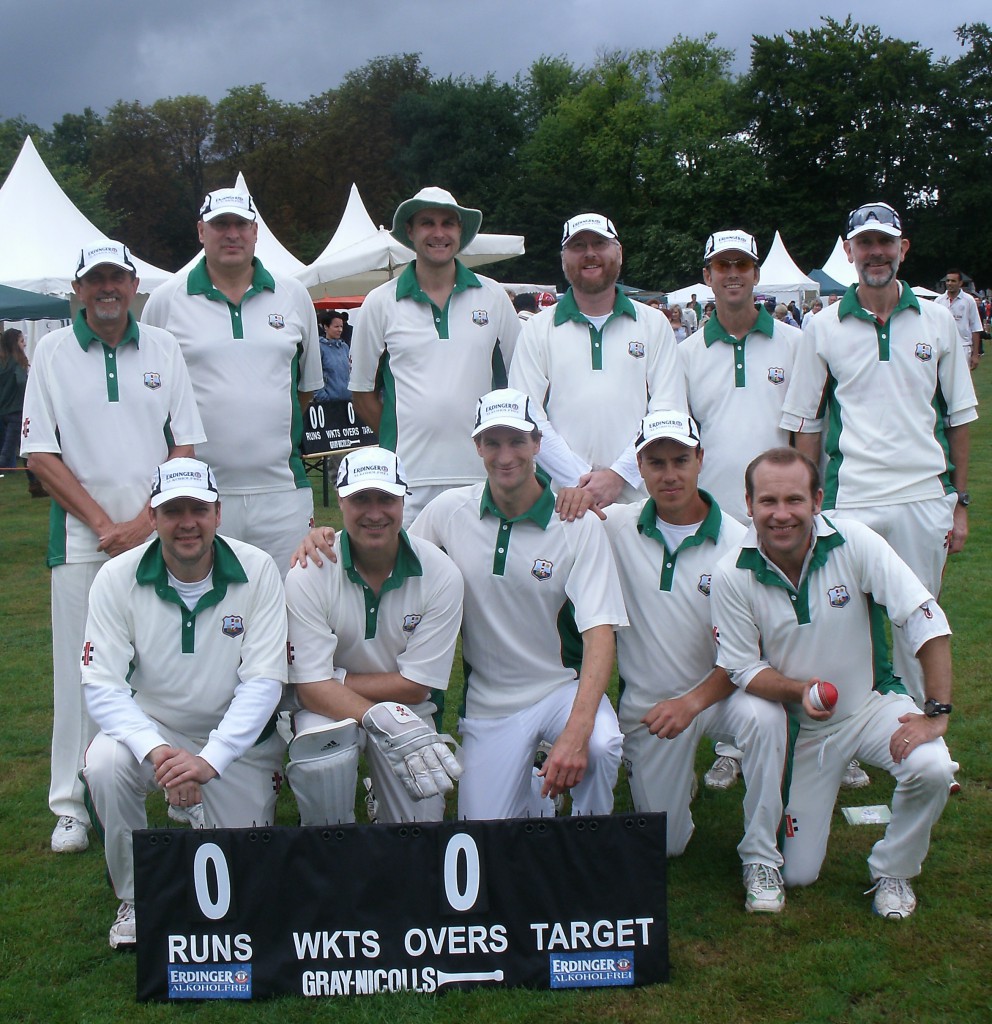 The weather suited the occasion. It had rained heavily earlier in the day, but there was a silver lining somewhere beyond the dark clouds; whilst the match started in slight drizzle it ended in glorious sunshine. Heligoland Pilgrims had won the toss and decided to field – not so much because the conditions favoured the bowlers, which they did, but rather because 11 proud men wanted to be seen sporting their handsome green-red-white club shirts and their sponsor's caps. After all, this was an exhibition game, a demonstration of cricket. In front of a capacity crowd of perhaps one thousand spectators the match commenced in the central show arena. The Pilgrims had even organised live commentary over the PA system by two TMS imposters who claimed they had to hurry in view of an imminent shipping forecast. All participants staged a great show on one of the most challenging pitches in Germany: wet patchy grass, showing severe scars from the polo season, with additional holes caused by the preceding Scottish Highlanders' caber tossing and the side-saddle riding performance – not to mention horse droppings on the outfield.
Immediately after the BBC's signature tune Soul Limbo had signalled the start, with a broad grin on his face, sprite Steve opened the bowling from the pavilion end – and to the Pilgrims' delight took the first wicket at 1/1. Carefully THCC Renegades crawled to 2/2. From the botanical garden end, Mark, the legend, had followed suit and got another wicket. Actually, had this stalwart, who is suspected to have been playing cricket in Hamburg for almost half a century, not been hit for three boundaries in his fourth and final over, he would have finished with record breaking figures of 3-0-16-4. In the fourth over, laser-line Keith even managed a wicket with his first ball, leaving THCC on 27/3. However, this allowed Kamaladin to enter the stage; without hesitation he aimed for the imaginary boundary, duly signalled by umpire Alan, who had travelled all the way from Perth only to conduct this game. The partnership with the surviving opener Liam doubled the score in only two overs.
After this short presentation the match had to relocate onto the north arena, close to the bag-pipers' parade. Here, universal sportsman and pure athlete Campbell, who took special pride in captaining the Pilgrims, took two wickets and achieved a maiden over, until gritty Gareth bowled the Renegades out with the last ball of their 18th over. THCC finished on 141 all out, with top contributions from by Kamaladin (39, including 5×6), Liam (27) and Vinay (27*) who proved for the umpteenth time that his wicket is virtually indestructible.
A first round of ERDINGER Alkoholfrei was meant to spice the innings break. Some of the Pilgrims, however, seem to have grabbed the wrong bottles. Although they managed to battle their allocated 20 overs and to lose no more than seven wickets, their final score of 116/7 was not enough to win the match. Only sprite Steve (13) and Frank (19*), the tank, reached double figures. Credit must go especially to the openers, laser-line Keith and Andrew, the elegant baritone, who drove THCC's bowlers crazy by blocking balls test-match style and leaving buckets full of wayward wides alone. Kamaladin took two wickets for the Renegades and one each went to Satya, who bowled the only wicket-maiden of the day, Vinay and captain Komal, who excelled with tidy figures of 2-0-4-1.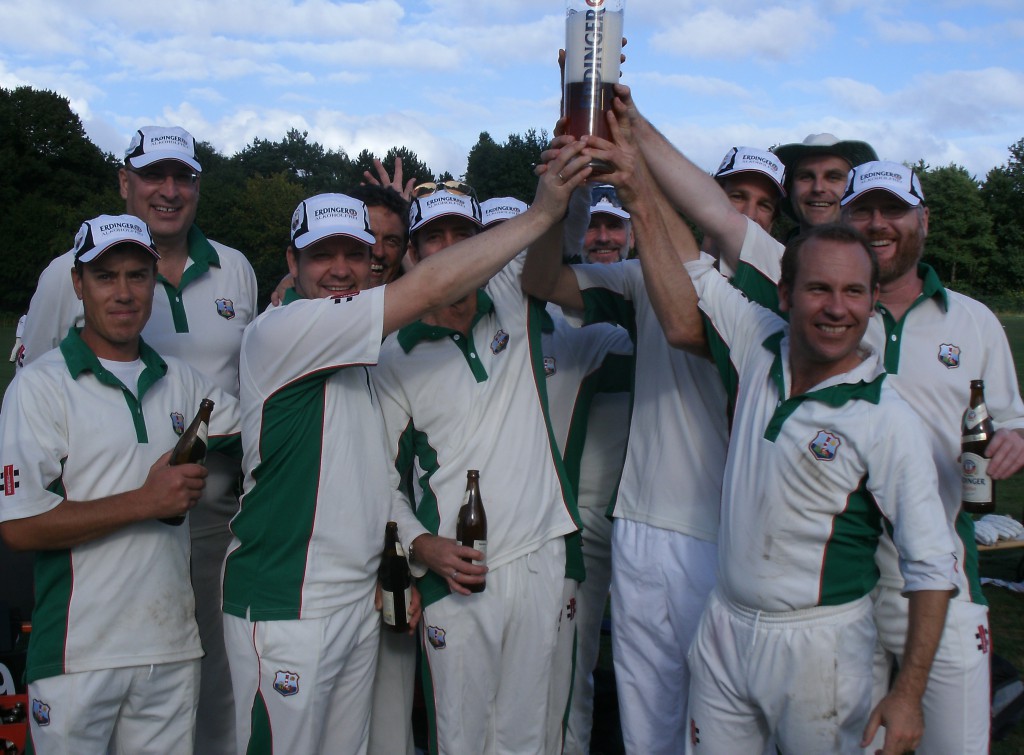 At the end of the innings the scoreboard started malfunctioning. Like a mirage against the evening sunlight, having skipped some 30 runs, it indicated a win within reach for Heligoland Pilgrims. This illusion may have been caused by one of the lbw batsmen under the influence of ERDINGER Weißbier. Actually, neither the bumpy pitch, nor the extras could stop THCC Renegades from winning by 25 runs. Heligoland Pilgrims were not bothered by their defeat at all, but invited the winners to drink from the Kontinental Cup. Everyone, including the fairies amongst the spectators, thoroughly enjoyed the afternoon. And true to their name, two of the Renegades as well as umpire Alan himself asked to join the Pilgrims. Having proved their eligibility by demonstrating true cricket madness, they were accepted by unanimous vote.
THCC Rot-Gelb Renegades: Komal S. (*), Ather A., Hasibullah A., Jeya K., Kamaladin K., Kevin R. (+), Liam C., Maher A., Satya S., Vinay V.
Heligoland Pilgrims: Campbell J. (*), Andrew C., Christian H., Frank T. (+), Gareth D., Jürgen R., Keith M., Mark R., Moritz H., Steve A., Sven P.
Umpire: Alan J.
Support: various fairies
Reporters: Geoff M. and Max M.