Read the English version below.
THCC Rot-Gelb Voyagers erobern ERDINGER Alkoholfrei Atlantik Cup 2013 von Heligoland Pilgrims auf Helgoland
Cricket auf Helgoland? Unvorstellbar? Zwischen Kliffs und Kratern? Man weiß nicht, ob die Insulaner je Cricket gespielt oder auch nur ein Cricket-Spiel auf ihrem kleinen Felsen in der Nordsee gesehen haben, obwohl einige von ihnen seit Königin Viktorias Zeit britische Vorfahren für sich in Anspruch nehmen können. Heligoland Pilgrims CC, Deutschlands jüngster und angeblich exklusivster Cricket Verein, wies am heutigen Sonntag seine Existenzberechtigung nach. Gesponsert von ERDINGER Alkoholfrei präsentierte der Club den allerersten Atlantik Cup auf der Insel seiner Wahl, wo die Veranstaltung von der Tourismusverwaltung überall plakatiert worden war. Gemeinsam mit ihren Rivalen THCC Rot-Gelb Voyagers aus Hamburg fuhren die Pilgrims auf das ehemalige Schmugglerparadies, verzehrten die isotonischen Getränke ihres Sponsors auf dem Sportplatz, stellten in einer beachtlichen Mannschaftsleistung ein Target von 99 für 6 aus 15 Overs auf, erlaubten ihren Gegnern, im vorletzten Over 101 für 5 zu erzielen, und schafften es sogar, die Fähre zurück zum Ausgangspunkt zu erreichen. Also ist der Beweis erbracht: Es ist möglich, auf Helgoland Cricket zu spielen!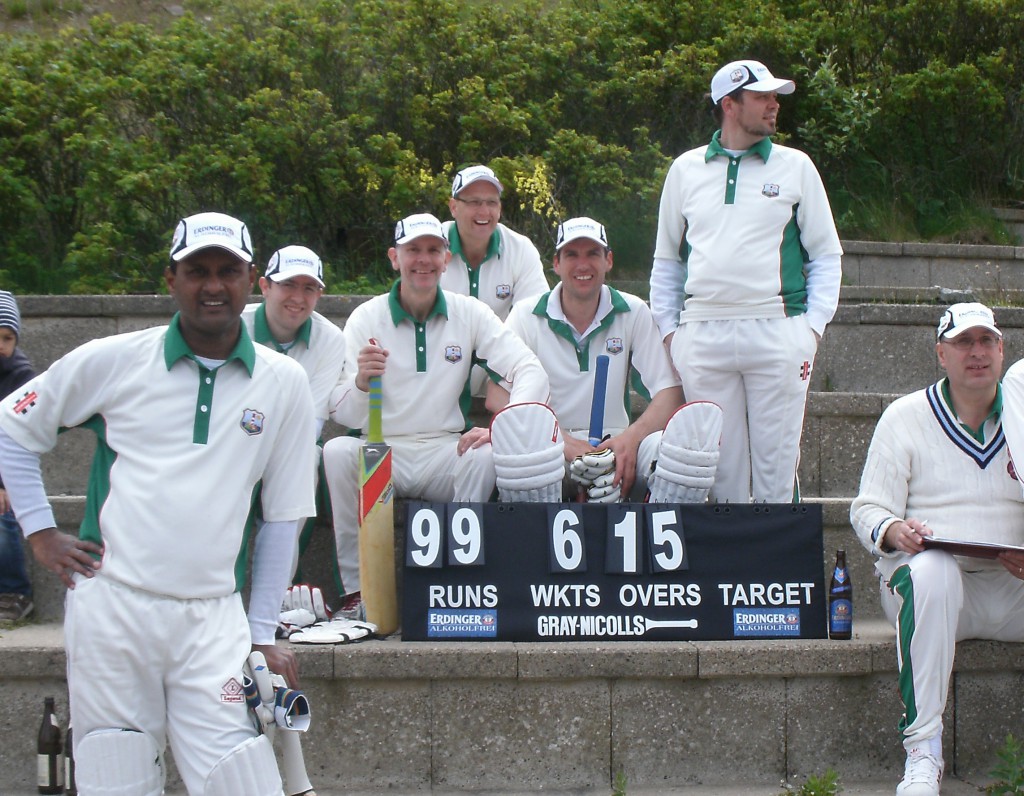 Andere Passagiere, die meisten von ihnen ebenfalls auf einer Tagestour, waren einigermaßen überrascht, als sie beide Mannschaften in ihrer weißen Sportkleidung an Bord des schnellen Schiffs antrafen. HPCC-Präsident Moritz H. erklärte diesen Umstand – und eine Reihe anderer Besonderheiten – mit dem Mangel an Zeit, man wollte nicht in einem endlosen Spiel stranden. Der Insel-Verbindungsoffizier des Vereins, Kapitän O., hatte bereits das Feld vorbereitet, die Anzeigetafel aufgebaut und das Bier bereitgestellt, als die beiden Mannschaften ankamen – durch idyllische Dünen, unter einem bewölkten Himmel, vor den Wellen am Strand, und begleitet von dem BBC Cricket-Titel "Soul Limbo", der über den Platz schallte. Vor diesem malerischen Hintergrund erhielten alle Novizen der Pilgrims in einer kurzen Zeremonie ihre Spielermützen aus der Hand ihres Kapitäns, des ehemaligen deutschen Nationalspielers Surya N.
Gelost worden war schon auf der rauhen See, die Voyagers hatten den Pilgrims aufgegeben zu batten, und Batsmen unterschiedlichster Erfahrung ließen die Anzeigetafel kontinuierlich ticken; der junge Ryan R. versuchte sogar, den kostbaren Spielball ins Meer zu schlagen. Aber vor allem die Junioren aus der THCC U15 hatten andere Pläne, nahmen ein Wicket nach dem anderen, Gregory M. (2-25), Luke R. (2-23), Torben P. (1-8), oder bowlten geizig, Charlotte H. (1-0-3-0), alle angefeuert von ihrem umsichtigen und routinierten Vizekapitän und Wicketkeeper Rick B. Heligoland Pilgrims' Kapitän Surya N. (17*) kam als letzter Batsman auf den Platz, schlug sofort ein paar glänzende Boundaries gegen die Felsen und schloß den Durchgang ab. In der kurzen Pause wurden Knieper-Brötchen, eine Spezialität der Insel, mit ERDINGER Alkoholfrei unter riesigen Sonnenschirmen serviert.
THCC eröffneten ihre Antwort mit U-19 Spielern Nasrat K. (10) und Subair R. (16*), der ausgewechselt werden mußte, um auch andere Batsmen spielen zu lassen. Sowohl Sven P. als auch Götz M. nahmen je 2 Wickets für die Pilgrims, aber ihre gut gelaunte Mannschaft konnte der unvermeidlichen Niederlage nicht entkommen. Unter den Augen von ungezählten Zu-schauern, am Spielfeld wie auf dem Kliff, und unterstützt von seinem jüngsten U-11 Talent Johann H. (2*), schlug Voyagers' kluger Kapitän Sam H. selbst (11*) die siegreichen Runs, stilecht mit einer fulminanten Boundary 6 auf die Cover-Seite. Dann mußte alles ganz schnell eingepackt werden, und während die Spieler und ihr Anhang zurück zur Fähre eilten, wurde der reizvolle Platz wieder friedlich den Seemöwen überlassen.
Der Atlantik Cup wurde THCC Rot-Gelb Voyagers an Bord des Schiffes auf der Elbe überreicht. Die Sieger benutzten ihn in der strahlenden Abendsonne zweckentsprechend als Trinkgefäß für die letzten Flaschen ERDINGER Alkoholfrei. Wie der erfahrenste THCC-Spieler richtig bemerkte, war es "ein großartiger Tagesausflug" gewesen. HPCC-Ehrenvizepräsident Mark R. ist zuversichtlich, daß die Pilgrims nächstes Jahr nach Helgoland zurückkehren und wieder um ihren Cup spielen werden. Die faszinierende Veranstaltung, ausgetragen im echten Geist des traditionellen Village-Crickets, könnte dann sogar auf zwei Tage verlängert werden. Wer daran teilnehmen möchte, sollte es die Pilgrims wissen lassen.
THCC Rot-Gelb Voyagers: Sam H. (*), Rick B. (+), Nasrat K., Subair R., Charlotte H., Torben P., Luke R., Gregory M., Johann H.
Heligoland Pilgrims: Surya N. (*/+), Mark R., Ryan R., Laurence O., Kapitän O., Götz M., Sven P., Moritz H.
Schiedrichter: Superintendent Mark B.
Photograph: Bianca B.
Platzbetreuung: Petra O., Bjarne O., Moni und Chrischi
Unterstützung: Constanze P., Heike H., Philine H., Amrit N., Emilie B. und Steffie
Berichterstatter: Max M.
THCC Rot-Gelb Voyagers clinch 2013 ERDINGER Alkoholfrei Atlantik Cup
from Heligoland Pilgrims on Heligoland
Cricket on Heligoland? Unimaginable? Between cliffs and craters? It is unknown whether the islanders have played or even witnessed a cricket match on their small rock in the North Sea, although some of them claim British ancestors since Queen Victoria's rule. Heligoland Pilgrims CC, Germany's youngest and allegedly most exclusive cricket club, proved their right to exist earlier this Sunday. Sponsored by ERDINGER Alkoholfrei they presented the first ever Atlantik Cup on their chosen resort, where it had been widely advertised by the local tourist board. Together with their Hamburg rivals THCC Rot-Gelb Voyagers, the Pilgrims sailed out to the former smugglers' haven, consumed their sponsor's isotonic beverages on the sports field, posted a target of 99 for 6 off 15 overs in a commendable team effort, allowed their opponents to reach 101 for 5 in the penultimate over, and even managed to catch the boat to return from where they had come from. So the evidence has been produced: It is possible to play cricket on Heligoland!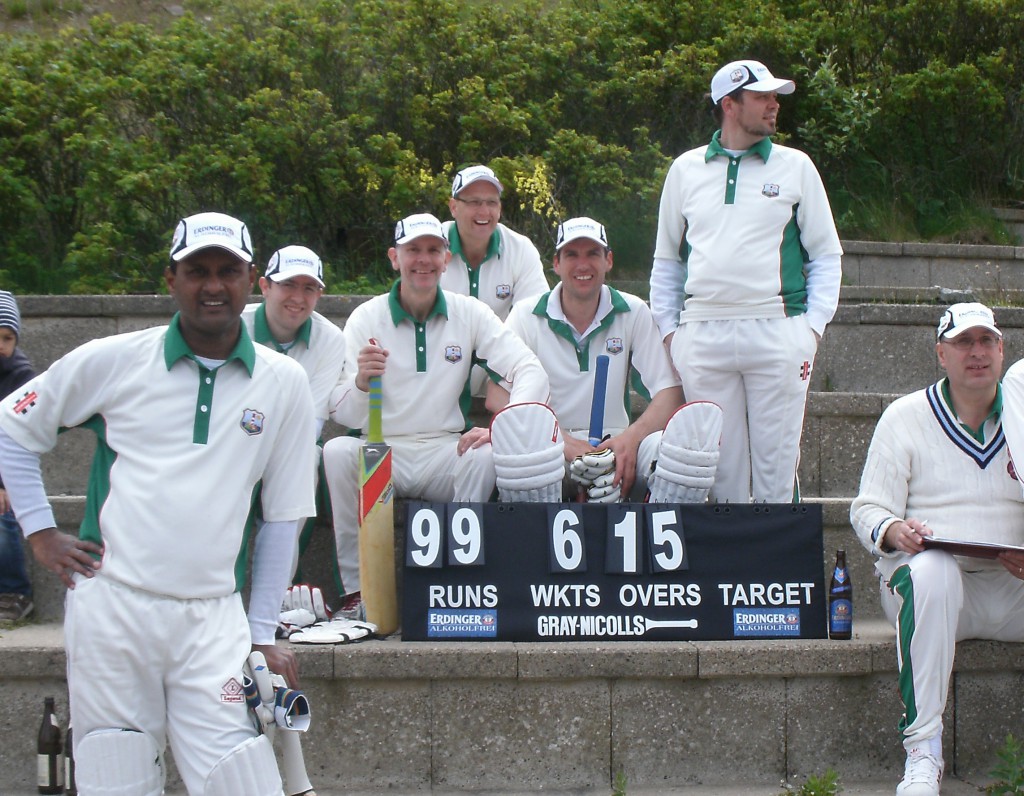 Other ferry passengers, most of them on a day trip as well, were quite surprised when meeting both teams in their sporting whites on board the fast ship. HPCC president Moritz H. explained this – and a lot of other peculiarities – with lack of time, eager to avoid being stranded in a timeless test. The club's island liaison officer Captain O. had already prepared the pitch, set up the scoreboard and laid on the beer when the two teams arrived through idyllic dunes under an overcast sky, waves in the background and BBC's signature tune Soul Limbo resounding over the ground. In this delightful scenery all uncapped Pilgrims received their players' caps in a brief ceremony from their captain, former German international Surya N.
The toss had taken place on the choppy sea, Voyagers put the Pilgrims in, and batsmen of varying experience kept the scoreboard ticking steadily; young Ryan R. even tried to hit a precious ball into the sea. But especially THCC's U15-colts had other things in mind, taking one wicket after another, Gregory M. (2-25), Luke R. (2-23), Torben P. (1-8), or bowling miserly, Charlotte H. (1-0-3-0), all of them encouraged by their vice-captain and circumspect stalwart wicket-keeper Rick B. Heligoland Pilgrims' captain Surya N. (17*) came in last and instantly hit a couple of glamorous boundaries against the rocks to close the innings. Knieper (crab) sandwiches, an island speciality, were served under huge parasols with ERDINGER Alkoholfrei in the short break.
THCC opened their reply with U-19 players Nasrat K. (10) and Subair R. (16*), who had to be retired to give other batsmen a chance to play. Both Sven P. and Götz M. took 2 wickets for the Pilgrims, but their jolly team could not escape the inevitable defeat. Under the eyes of countless spectators, on the ground as well as on top of the cliffs, and supported by his most junior U-11 talent Johann H. (2*), Voyagers' prudent captain Sam H. himself (11*) hit the winning runs in style with a flashy boundary 6 into the covers. Then everything had to be packed very quickly, and whilst all players and their supporters hurried back to the ferry, the charming ground was once again left peacefully to the seagulls.
The Atlantik Cup was presented on board the ship on the river Elbe to THCC Rot-Gelb Voyagers. The winners put it to its intended use as a drinking vessel for the last bottles of ERDINGER Alkoholfrei in glorious evening sunshine. As THCC's most experienced player fittingly remarked, it had been "a cracking day out". HPCC honorary vice president Mark R. is confident that the Pilgrims will return to Heligoland next year and compete for their cup again. The challenging event, played in the true spirit of traditional village cricket, may even be extended to two days. Anyone interested in participating should let the Pilgrims know.
THCC Rot-Gelb Voyagers: Sam H. (*), Rick B. (+), Nasrat K., Subair R., Charlotte H., Torben P., Luke R., Gregory M., Johann H.
Heligoland Pilgrims: Surya N. (*/+), Mark R., Ryan R., Laurence O.,
Captain O., Götz M., Sven P., Moritz H.
Umpire: Superintendent Mark B.
Photographer: Bianca B.
Groundstaff: Petra O., Bjarne O., Moni and Chrischi
Support: Constanze P., Heike H., Philine H., Amrit N., Emilie B. and Steffie
Reporter: Max M.