Read the English version below.
Heißes Spiel – und ein cleverer Kapitän

Nicht nur das Wetter war heiß – mit Temperaturen von über 30°C und sengendem Sonnenschein. Nein, es war auch Sids brodelndes Bowling, das die Pilgrims das erste einer Serie von drei Spielen um den ERDINGER Alkoholfrei Pandemia Cup gegen den THCC Pandemics gewinnen ließ. In seiner Premiere für den Club erzielte der quirlige Bowler 5 für 30 (7-0-30-5), nachdem er die zweithöchste Punktzahl für sein Team als Batsman beigesteuert hatte – eine Allrounder-Leistung, welche die Auszeichnung als "Man of the Match" verdiente. Seine Eröffnungs-Bowling-Partnerschaft mit dem anderen Pilgrims-Neuling Abhi (7-0-39-3) hatte die starken Gegner überraschenderweise auf 36 für 6 eingeschmolzen, auf der Jagd nach 177. Ohne den talentierten Bakhtiar (36*), den erfahrenen Aswin (26) und eine großzügige Anzahl von Extras hätte der THCC wohl nicht lange ausgehalten.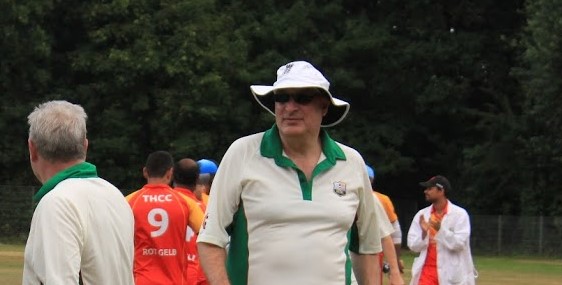 Die Tatsache, daß beide Mannschaften über insgesamt 69 Overs kämpften und der Ausgang bis zum Schluß ungewiß blieb, war sicherlich Mark R. zu verdanken, der erneut bewies, welchen Einfluß ein cleverer Kapitän auf ein Cricketspiel haben kann. Nicht nur, daß    er bei der letzten Wicket-Partnerschaft der Pilgrims zusammen mit Moritz not out geblieben war, er tauschte auch seine starken Eröffnungs-Bowler nach 12 Overs aus und gab damit jedem Pandemic-Spieler eine faire Chance zu batten. Doch als der THCC im vorletzten Over 168 für 9 Punkte erreicht hatte und die Gleichung "10 Runs zum Sieg, ein Wicket zur Niederlage, alles andere ein Unentschieden" lautete, warf Kapitän Mark R. noch einmal Sid den Ball zu, um das letzte Over zu bowlen. Sid bowlt, Pilgrims-Söldner Su versucht für THCC zu schlagen, aber der schwierige Ball prallt von der Schlägerkante zu Mark B., der ihn fängt, mit einem breiten Grinsen im Gesicht – und Mark R. und die Pilgrims liegen in der Serie ein Spiel vorne.

Zu Beginn, nach einer soliden Eröffnungspartnerschaft von 49 aus 10 Overs, die durch den umsichtigen Cam (43) und seinen lebhaften Streitgenossen Adrian (12) zustande kam, trugen nur Sid (34) und der kämpferische Dev (23) eine nennenswerte Zahl von Runs für die Pilgrims bei. Das straffe Bowling vor allem von Asad (5-0-19-3), Abhik, Aswin, Karthik (je 2 Wickets) und Chandan (1 Wicket), aber auch die knauserigen Su (4-0-9-0), Jasveer (4-0-12-0) und Bai (4-0-16-0) machten das Batten unter der glühenden Sonne schwer. Asad gelangen auch 2 Catches, je einer wurde von Abhik, Bai und Chandan sowie von Rahul hinter den Stumps gehalten. Dennoch schaffte es die eher große als starke Nachhut der Pilgrims, den Punktestand in den letzten 15 Overs von 142 für 5 auf unwahrscheinliche 177 all out zu schieben.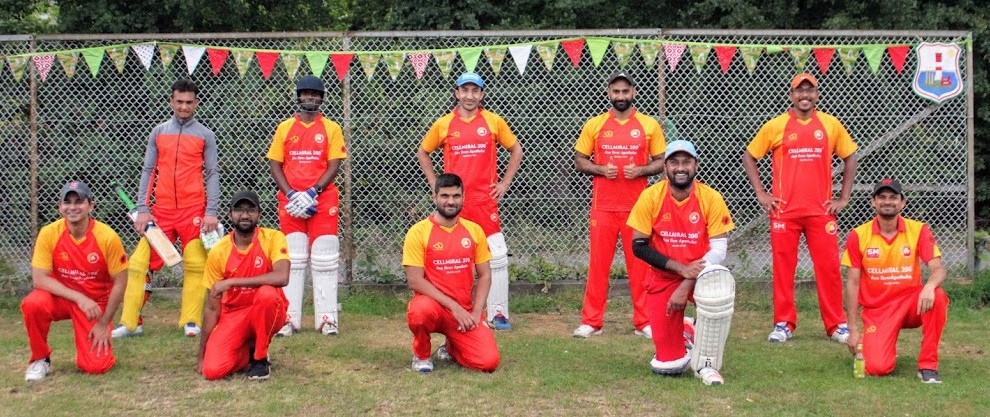 Das sah zunächst wie ein nicht haltbares Ergebnis aus, aber es stellte sich heraus, daß es für einen überraschenden Sieg mit 9 Runs reichte. Weitere Wickets der Pilgrims gingen in erster Linie auf das Konto von Jon, der 3 solide Catches auf kurze Distanz einsammelte, sowie von Cam und Mark B. (je 1 Wicket und 1 Catch). Der Hauptgrund für den Sieg der Pilgrims war jedoch ihr großartiger Teamgeist und ihr effektives Fielding – vor allem mit Bianca, die zahlreiche Boundaries auf Fine Leg verhinderte, und auch mit Jörg auf der Cover-Position. Dieser Geist wurde von Kapitän Mark R. beschworen, der daran glaubte, seine Mannschaft könne das Spiel gewinnen, der seinen Spielern sagte, sie könnten es schaffen, und der zu Recht belohnt wurde. Selbst als Moritz einen Ball fing, der anschließend vom Schiedsrichter zum No-Ball erklärt wurde, konnte Mark die Hitze entschärfen, indem er gleich den Appeal zurücknahm – eine wirklich coole Cricket-Geste.
Abschließend sollten noch folgende Umstände erwähnt werden: Der neue Rasen des THCC war staubig, aber ausgezeichnet, wahrscheinlich einer der besten Beläge, auf dem die Pilgrims je gespielt haben. ERDINGER-Getränke waren reichlich vorhanden, freundlicherweise von Dev und der Frau des Präsidenten in zwei gekühlten Chargen angeliefert. Spieler, die nicht aufgelaufen waren, konnten kurzfristig ersetzt werden, nicht zuletzt, weil die Pilgrims dem THCC Söldner abstellten. Thomas erschien in Vereinskleidung, um seinen Club zu unterstützen. Und Cricket spielen kann man auch unter den geltenden Hamburger Corona-Gesetzen; ein ausgeklügeltes Sicherheitskonzept des THCC war vorhanden und wurde von den Spielern beachtet – sie hielten Abstand, sie feierten nicht, sie tanzten nicht, sie ließen ihre Kontaktdaten erfassen und Chris verzichtete sogar aufs Mitspielen aus gesundheitlichen Gründen. Es wird interessant sein zu sehen, wie das zweite Spiel der Serie ausgeht – heißer kann es jedenfalls kaum werden.

Heligoland Pilgrims: Abhi, Adrian (wk), Bianca, Cam, Dev, Jon, Jörg, Mark B., Mark R. (c), Moritz, Sid
THCC Pandemics: Abhik, Asad, Aswin, Bai (P), Bakhtiar, Chandan, Jasveer (c), Karthik, Rahul (wk), Surya (P) – (P = Pilgrims Söldner)
Report: Max Minor, Cricket-Korrespondent, Übersetzung: Max Minor (with DeepL)
Photographie: Jessica Mancuso

Hot stuff – and a cunning captain

Not only the weather was hot – with temperatures above 30°C and the sun singeing. No, it was also Sid's sizzling bowling that made the Pilgrims win the first leg of a series of three ERDINGER Alkoholfrei Pandemia Cup matches against THCC Pandemics. In his premiere for the club, the mercurial bowler took 5 for 30 (7-0-30-5) after having contributed the second highest score for his team with the bat – an all-round performance deserving the man of the match award. His opening bowling partnership with fellow Pilgrims rookie Abhi (7-0-39-3) had surprisingly melted the strong opponents down to 36 for 6 chasing merely 177. Had it not been for talented Bakhtiar (36*), experienced Aswin (26) and a generous amount of extras, THCC might not have survived long.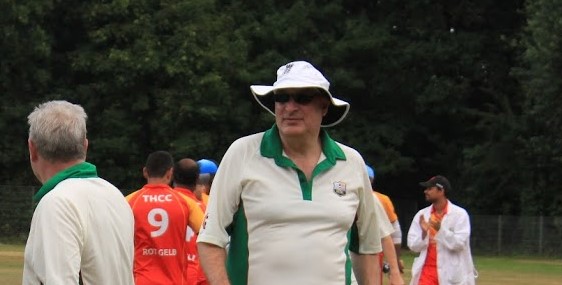 The fact that both teams battled for 69 overs altogether and the contest went right to the wire was certainly owed to Mark R. who proved once again the influence a cunning captain can have on a game of cricket. Not only had he remained not out in the Pilgrims' last wicket partnership together with Moritz, he also replaced his forceful opening bowlers after 12 overs and thus gave every Pandemic player a fair chance to bat. However, when THCC's score had reached 168 for 9 in the penultimate over and the equation read "10 to win, one wicket to lose, anything else a draw", captain Mark R. threw Sid the ball once again, to bowl the last over. Sid bowls, Pilgrims-mercenary Su tries to hit for THCC but edges the awkward ball to Mark B. who takes the catch with a broad grin on his face – and Mark R. and the Pilgrims go one up in the series.


Initially, after a solid opening partnership of 49 off 10 overs, established by circumspect Cam (43) and his lively side-kick Adrian (12), only Sid (34) and gladiatorial Dev (23) contributed substantial numbers of runs for the Pilgrims. The tight bowling of especially Asad (5-0-19-3), Abhik, Aswin, Karthik (2 wickets each) and Chandan (1 wicket), but also the miserly Su (4-0-9-0), Jasveer (4-0-12-0) and Bai (4-0-16-0) had made batting difficult under the scorching sun. Asad also took 2 catches, one each was held by Abhik, Bai and Chandan as well as by Rahul behind the stumps. Still, the tail of the Pilgrims, which was more long than strong, managed to shift the score from 142 for 5 to an unlikely 177 all out in the last 15 overs.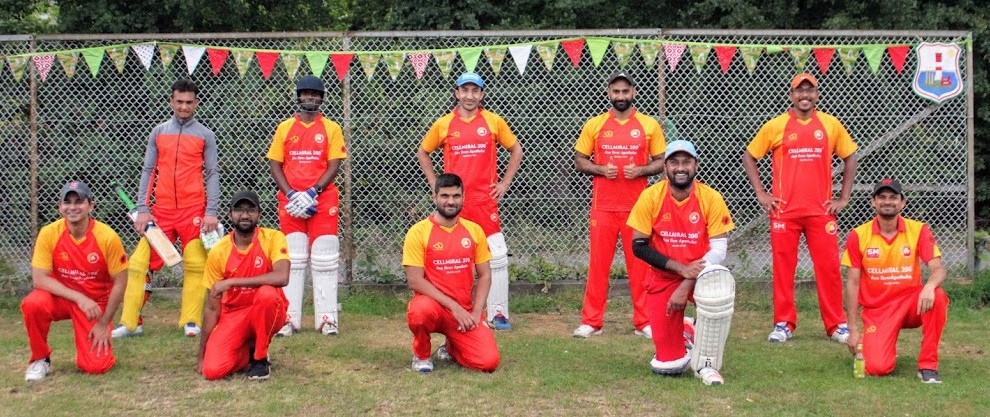 This looked like an undefendable target at first, but turned out to suffice for a surprising win by 9 runs. Credit for further wickets taken by the Pilgrims go primarily to Jon who took 3 solid in-field catches as well as Cam and Mark B. (1 wicket and 1 catch each). The main reason for the Pilgrims' victory, however, was their great team spirit and their effective fielding – particularly with Bianca averting numerous boundaries at fine leg and also Jörg in the covers. This spirit was invoked by captain Mark R. who believed his team could win the match, who told his players they could do it and who was justifiably rewarded. Even when Moritz caught a ball that was subsequently declared a no-ball by the umpire, Mark was able to defuse the heat by promptly revoking the appeal – a really cool cricketing gesture.

Finally, the following circumstances should be mentioned: THCC's new turf was dusty but excellent, probably one of the best surfaces the Pilgrims have ever played on. ERDINGER beverages were in copious supply, kindly delivered by Dev and the president's wife in two chilled instalments. Players who had not turned up could be replaced at short notice, not least because the Pilgrims assigned mercenaries to THCC. Thomas appeared fully kitted to support his club. And it is possible to play cricket even under the applicable Hamburg Corona laws; THCC's elaborate safety concept was in place and observed by players – they kept their distance, they did not celebrate, they did not dance, they had their contact details recorded and Chris even abstained from playing for health reasons. It will be interesting to see how the second leg of the series will pan out – it can hardly get hotter at any rate.

Heligoland Pilgrims: Abhi, Adrian (wk), Bianca, Cam, Dev, Jon, Jörg, Mark B., Mark R. (c), Moritz, Sid
THCC Pandemics: Abhik, Asad, Aswin, Bai (P), Bakhtiar, Chandan, Jasveer (c), Karthik, Rahul (wk), Surya (P) – (P = Pilgrims mercenary)
Report: Max Minor, Cricket Correspondent
Photography: Jessica Mancuso