Read the English version below.
Weniger ist mehr

Cricket, die schillernde Kreatur, kann viele Gestalten annehmen: Fünf-Tage-Test, Vier-Tage-Spiel, Zwei-Tage-Spiel, Limited Overs an einem Tag und T20 in drei Stunden. Dann gibt es noch das weniger bekannte Zeitspielformat, ein neuartiges Konzept, das die Fähigkeit der Spieler als Gemeinschaft testet, vorausschauend zu planen und Strategien zu entwickeln, ohne sich zu sehr in dem zu verfangen, was man als die normalen Anforderungen des Spiels bezeichnen könnte. Im wesentlichen sollte bei einem Zeitspiel die Mannschaft, die als erste schlägt, ein Ziel setzen, das hoch genug ist, daß die Mannschaft, die als zweite schlägt, es nicht erreichen kann, aber auch genug Zeit läßt, um diese Mannschaft auszubowlen, damit das Spiel nicht unentschieden endet.

Ah, ein Unentschieden. Es gibt noch eine andere Form, die die schillernde Kreatur des Cricketsports annehmen kann, und zwar vom Ergebnis her: Ein Tag (oder fünf) voller Mühe, Kampf und Ringen, an dem keine der beiden Mannschaften als Sieger hervorgeht. Aber die Pilgrims wissen, daß ein Unentschieden in der Tat eine sehr ehrenvolle Art sein kann, ein Spiel zu beenden. Nach einem unerwarteten Sieg in der ersten Partie des ERDINGER Alkoholfrei Pandemia-Cups erwartete kaum jemand, daß die Pilgrims in der zweiten Partie ein weiteres Kaninchen aus dem Hut zaubern würden. Der Präsident hatte natürlich andere Vorstellungen. Mehr zu seiner Mauertaktik später.

Zum zweiten Spiel war das ERDINGER Bier wieder da, die Fahne der Pilger wehte und die Blazer zeigten sich, aber es war ganz anders als im ersten Spiel. Das Wetter war bedeckt. Regen hatte die Spieler vom Rasenwicket auf eine schlagfreundliche Flix-Kokosnuß-Matte verdrängt. Das Außenfeld war rutschig und schlammig. Es gab andere Kapitäne und auch ein paar neue Spieler. Die THCC-Pandemics schienen auch ein Maß an Entschlossenheit und Elan zu haben, das zwei Wochen zuvor ein bißchen gefehlt hatte.
Der frisch gebackene Kapitän des THCC, Karthik, gewann sein erstes Toss und entschied sich für das Batten. Die Pilgrims hießen Andy neu in ihrer Mannschaft willkommen, und er nahm seine Position hinter den Stumps ein, wo er als Wicket-Keeper über 45 Overs eine fantastische Leistung ablieferte. Über diese Overs verteilt bowlten alle Pilgrims. Abhi nahm ein frühes Wicket, sicher gefangen von Cam. Tom bowlte gut, um das andere Wicket zu bekommen, und hätte ein paar mehr verdient gehabt.

Und das war alles. 45 Overs und nur zwei Wickets. Als ein Verein, der eher für Zusammenbrüche des Mittelfelds bekannt ist, häufte der THCC fröhlich Runs an, angeführt von Jasveer (64*), Abhik (60*) und Keith (55*), die alle retired werden mußten. Aber die Pilgrims waren mehr als zufrieden damit weiterzubowlen, denn je mehr Overs sie bowlten, desto weniger hätten sie später beim Batting durchzustehen. Der THCC erklärte sein Innings schließlich 20 Minuten nach dem Mittagessen für beendet, beim Stand von 296 für 2.

Nachdem sie sich die Zeit genommen hatten, ihre Schienbeinschoner anzulegen, brachten Moritz und Cam das Spiel in Gang – wobei der stoische Erste Bälle blockierte oder vorbeiließ, während der ehrgeizige Letztere das Ziel noch für erreichbar hielt. Cam schlug einige Vierer. Moritz grub sich ein. Zehn Overs gingen vorbei. Dann, um 14.30 Uhr, änderten sich die Dinge plötzlich, als das Zeitspielformat eingriff. Es wurden 22 Overs auf der Tafel angezeigt, die für den Rest des Spiels übrigblieben, und die benötigte Run-Rate katapultierte sich auf etwa 12 unerreichbare Runs pro Over. Die Pilgrims, mit immer noch zehn Wickets, mußten 90 Minuten überleben, und es war überhaupt nicht mehr nötig, dem Ziel nachzujagen. Sie konnten fröhlich auf ein Unentschieden spielen.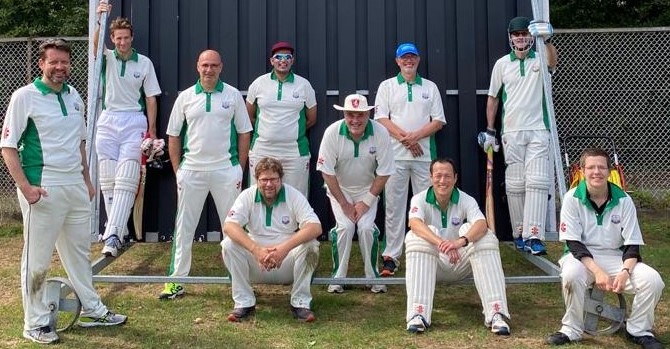 Cam lief immer noch auf Runs und, anders als geplant, verschenkte sein Wicket, gut gefangen von Karthik auf Mithuns Bowling. Doch Chris machte sich zusammen mit Moritz daran, genau das zu tun, was erforderlich war: ein Schlag nach dem anderen, um die Pilgrims immer näher an das gewünschte Remis heranzuführen. Währenddessen zogen die THCC-Feldspieler sich immer näher an das Pitch, um Moritz vollständig zu umzingeln – stets unter der sorgfältigen Aufsicht der Schiedsrichter Dev und Abhi.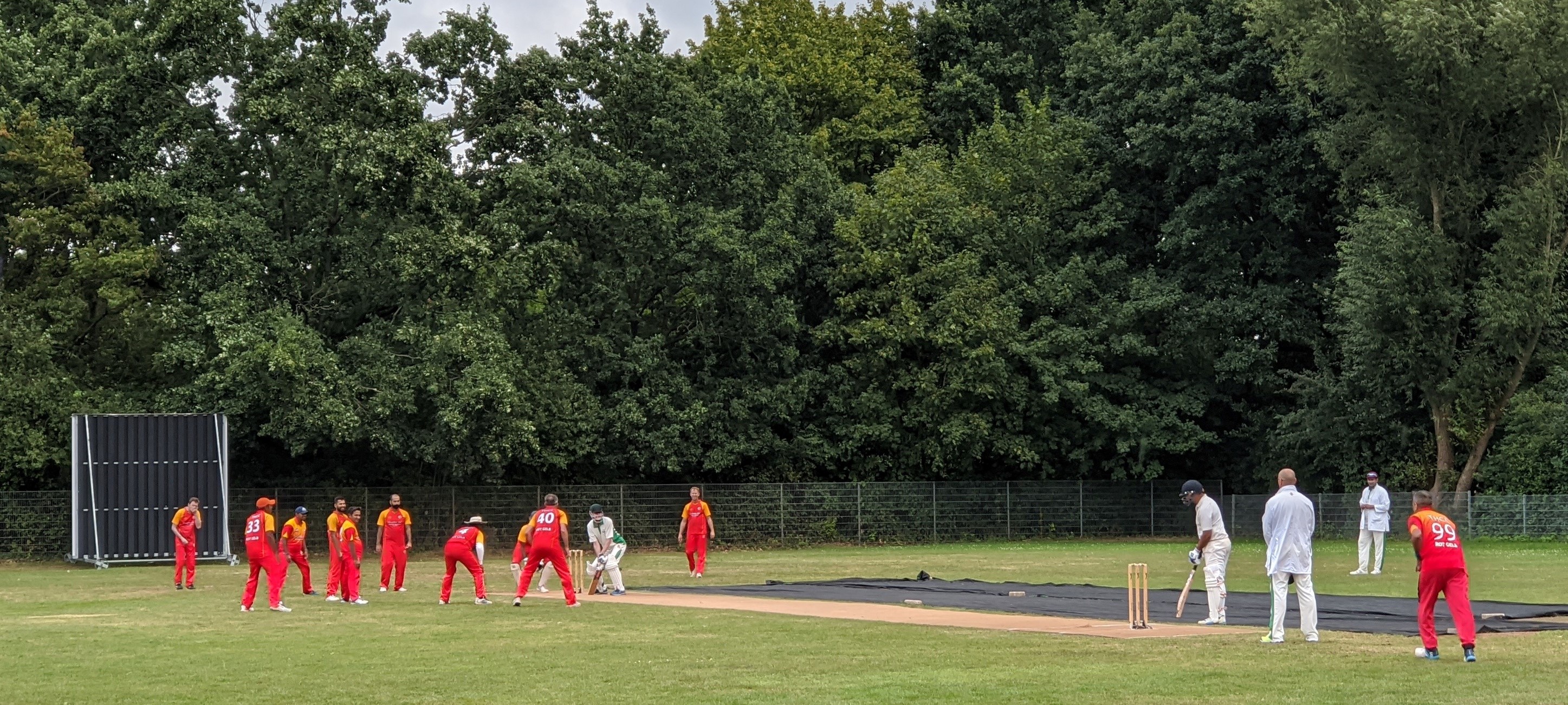 Chris schied schließlich nach wertvolle 10 Runs aus (von 41 Bällen), LBW für Jasveer. Aber Moritz, der behauptete, es sei wohl sein Glückstag gewesen, gab nicht nach. Er betrachtete seinen Schläger weiterhin als breite Schaufel und grub einen Ball nach dem anderen aus, während er auf alles außerhalb des Off-Stumps absolut gar nicht reagierte. Sein neuer Partner Sid war eher geneigt, ein paar Bälle zu schlagen und kam auf 17 (aus 28 Bällen). Aber Moritz war der Held des Tages, der für die Pilgrims bis zum Ende im Nieselregen und bei trübem Licht schlug, als die Zeit für den THCC ablief. Er endete 8* not out (aus unglaublichen 89 Bällen). Das Endergebnis der Pilgrims war 107 für 2 aus 33 Overs, mit 53 Extras.
In der gesamten Geschichte des Cricket wird man kaum jemanden finden, der als Spieler des Tages ausgezeichnet wird, weil er 8 Runs erzielt hat, besonders wenn andere Spieler an diesem Tag weit mehr Runs gemacht haben. Aber im zweiten Spiel des Pandemia-Pokals war weniger wirklich mehr. Bravo, Moritz. Das Ergebnis läßt die Pilgrims in der Drei-Spiele-Serie weiter ein Spiel vorn, mit der letzten Begegnung am 6. September.

Für seinen unerschütterlichen Widerstand gegen den unablässigen gegnerischen Angriff wurde Moritz ausgezeichnet mit dem "Pilgrims' Grace Award 2020".
Heligoland Pilgrims: Abhi, Andy (wk), Bianca, Cam (c), Chris, Dev, Jörg, Mark B., Moritz, Sid, Sven, Thomas
THCC Pandemics: Abhik, Aswin, Harsha, Jasveer, Karthik (c, wk), Keith (P), Matthew (P), Michael, Mithun, Rohan, Sudhir – (P = Pilgrims Söldner)
Bericht: Royce Leville (Übersetzung Max Minor mit DeepL)
Photographie: Kerstin Jefferys, Chris Hong, Thomas Marciniak, Moritz Hagenmeyer

Less is more

The fickle beast that is cricket can take many forms: five-day test, four-day game, two-day game, limited overs in one-day, and T20 in three hours. Then, there is the lesser-known time game format, a novel concept that tests the players' collective ability to plan ahead and strategize without getting too caught up in what might be considered the normal requirements of the game. Essentially, a time game should see the team batting first set a target high enough that the team batting second won't pass, but also leaving enough time to bowl that team out, lest the game finish in a draw.

Ah, a draw. There's another form the fickle beast of cricket can take, result-wise: A day (or five) of toil, struggle and fight, with neither team walking away the winner. But the Pilgrims know that a draw can indeed be a very honourable way to finish a match. Following an unexpected win in game one of the ERDINGER Alkoholfrei Pandemia Cup, barely anyone expected the Pilgrims to pull another rabbit out of the hat in game two. The President, of course, had other ideas. More on his stonewalling later.

For game two, the ERDINGER beer was back again, the Pilgrims flag was flying and the blazers were on, but things were decidedly different to game one. The weather was overcast. Rain had forced the players off the turf wicket and onto a batting-friendly flix-coconut pitch. The outfield was slippery and muddy. There were different captains, plus a few different players. The THCC-Pandemics also seemed to have a sense of determination and vigour that was lacking somewhat two weeks prior.
Newly-minted THCC captain Karthik won his first toss and chose to bat. The Pilgrims welcomed Andy into the fold, and he took his position behind the stumps, where he did a fantastic job as wicket-keeper through 45 overs. To complete those overs, all the Pilgrims had a go. Abhi took an early wicket, safely caught by Cam. Tom bowled well to take the other wicket, and deserved a few more.

And that was it. 45 overs and just two wickets. As a club more known for middle-order collapses, THCC happily piled on the runs, led by Jasveer (64*), Abhik (60*) and Keith (55*), who all had to be retired. But the Pilgrims were more than content to keep on bowling, as the more overs they bowled, the less they would have to face. THCC eventually declared 20 minutes after lunch, on 296 for 2.

After taking their time to pad up, Moritz and Cam got things started – with the stoic former blocking and leaving, and the competitive latter still thinking the target was reachable. Cam hit some fours. Moritz dug in. Ten overs passed. Then, at 2:30pm, things suddenly changed, as the time game format came into play. 22 overs were put on the scoreboard, as remaining in the day, and the required run-rate ballooned to around 12 unachievable runs an over. The Pilgrims, still with ten wickets left, had 90 minutes to survive, and absolutely no need to chase the runs. They could happily play for a draw.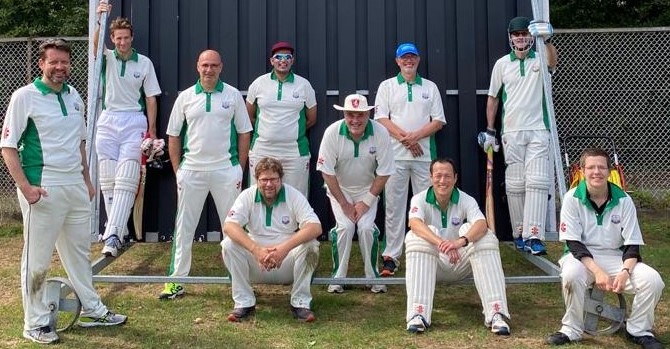 Cam still went for runs and, differently than planned, gave his wicket away, well caught behind by Karthik off Mithun. However, Chris together with Moritz set about doing exactly what was required: batting one over after another to edge the Pilgrims ever closer to the desired draw. Meanwhile the THCC fielders crept ever closer towards the pitch to completely surround Moritz – always under the careful supervision of umpires Dev and Abhi.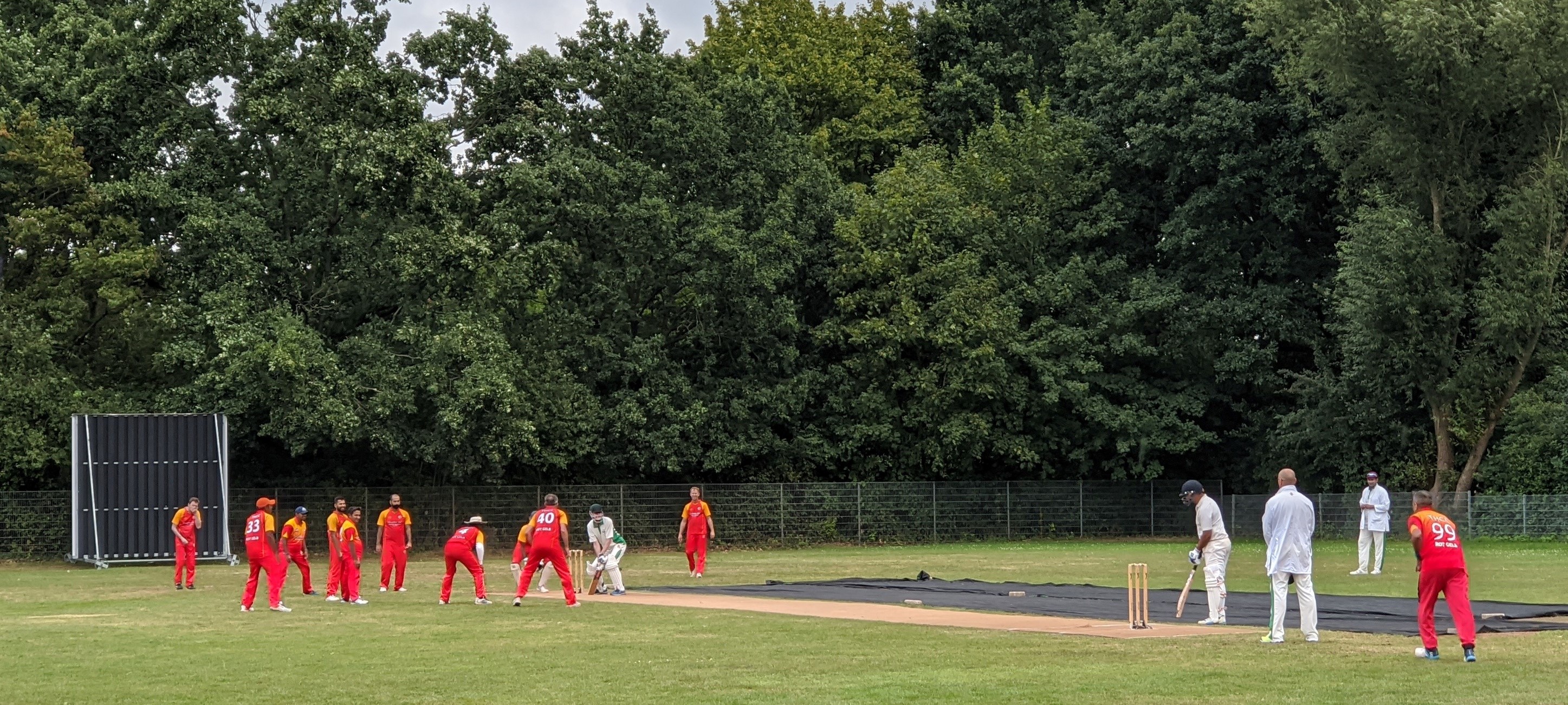 Chris was eventually out for a valuable 10 (off 41 balls), LBW to Jasveer. But Moritz, who claimed it may well have been his lucky day, was not to be denied. He continued to think of his bat as a broad shovel and dug out ball after ball, while staying absolutely unmoved to anything outside off-stump. His new partner Sid was more inclined to hit a few balls, finishing on 17 (off 28 balls). But Moritz was the hero of the day, batting the Pilgrims right to the end in drizzle and dull light, when time ran out for THCC. He ended not out on 8* (off an incredible 89 balls). The Pilgrims final score was 107 for 2 off 33 overs, with 53 extras.
You'll be hard-pressed in the entire history of cricket to find someone named man-of-the-match for making 8 runs, especially when other players made far more runs on the day. But in game two of the Pandemia Cup, less really was more. Bravo, Moritz. The result leaves the Pilgrims one-up in the three-game series, with the final match on September 6.

For his unwavering resistance to the unrelenting attack by the opposition, Moritz was granted the "Pilgrims' Grace Award 2020".
Heligoland Pilgrims: Abhi, Andy (wk), Bianca, Cam (c), Chris, Dev, Jörg, Mark B., Moritz, Sid, Sven, Thomas
THCC Pandemics: Abhik, Aswin, Harsha, Jasveer, Karthik (c, wk), Keith (P), Matthew (P), Michael, Mithun, Rohan, Sudhir – (P = Pilgrims mercenary)
Report: Royce Leville
Photography: Kerstin Jefferys, Chris Hong, Thomas Marciniak, Moritz Hagenmeyer