Read the English version below.
Der Streßtest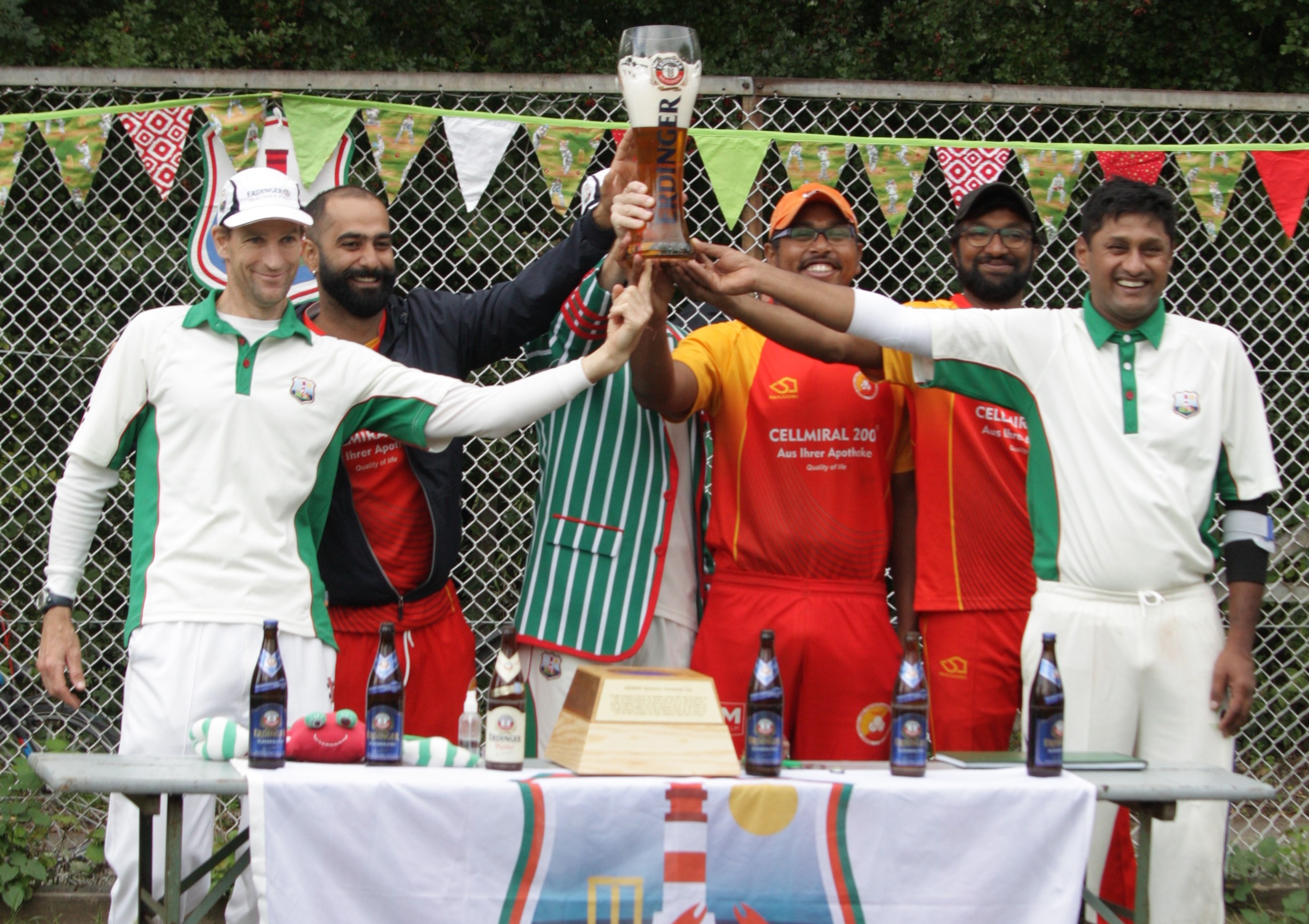 Endlich! Verdientermaßen gewinnt der THCC sein erstes Spiel im ERDINGER Alkohlfrei-Pandemia-Cup – nach einem harten Streßtest durch Heilgoland Pilgrims. Nach drei Sonntagen endete die Serie unentschieden. Sechs verschiedene Kapitäne, insgesamt 36 Spieler, 18 auf jeder Seite, hatten um den Pokal gekämpft. Jedes Spiel war anders, alle zeigten unterschiedliche Besonderheiten des Cricketsports. Der letzte Wettkampf verlief spannend, zumindest bis eine halbe Stunde vor Ablauf der vorgesehenen Zeit. Die Pilgrims gaben sich alle Mühe, der Niederlage gegen das stärkere THCC-Team zu entgehen. Ihr Kapitän Abhik hatte jedoch herausgefunden, was nötig war, um ein Zeitspiel mit Batting im zweiten Innings zu bewältigen. Und er hatte Glück: Als die Pilgrims seine einzige Bogenlampe nicht fangen konnten, war klar, daß sich der THCC durchsetzen würde – endlich.

Heligoland Pilgrims hatten das Los gewonnen, und ihr Kapitän Su hatte sich klugerweise dafür entschieden, auf dem noch trockenen und staubigen Rasen zu batten. Im Wissen um die Stärke der Gegner an diesem Tage wies er seine Spieler an, so lange wie möglich drinnen zu bleiben. So gingen die Pilgrims von Anfang an in die Defensive. Die Anzeigetafel schien in Zeitlupe zu kriechen, mit einer Run-Rate von anfangs weniger als 2 pro Over (17 nach 10, 33 nach 20, 50 nach 30). Die Wickets fielen früh, und mit 40 für 8 im 24. Over schienen die Insulaner auf völlig verlorenem Kurs. Zwei "Ducks", dreimal nur 1 Run und zweimal 2 zeugen von ihrem Elend.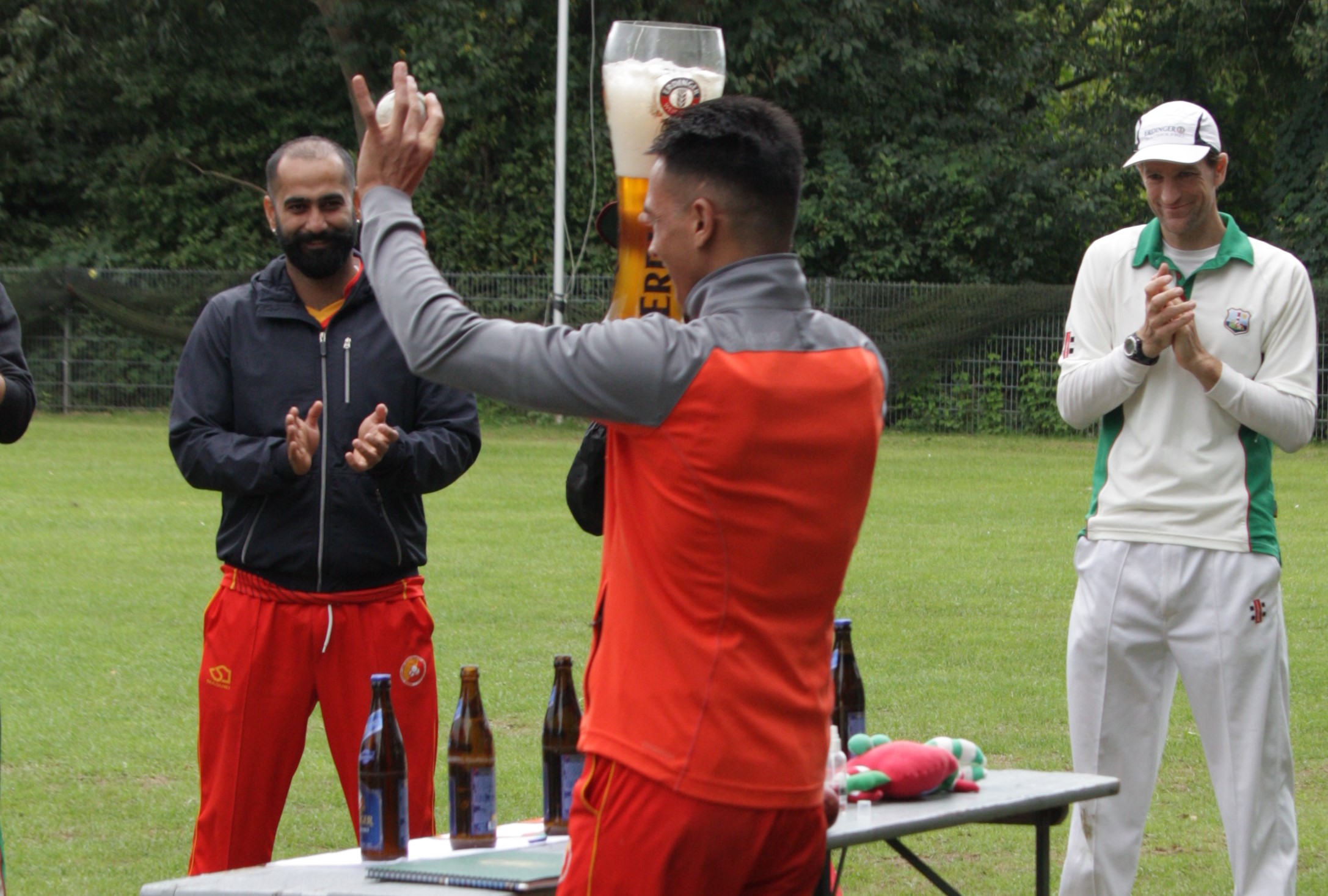 Dieses Kunststück war dem gnadenlosen und äußerst präzisen Angriff des THCC zu verdanken – neun Bowler, die nur 11 Wides zuließen und insgesamt 14 Maidens erzielten (Rohan, Ali und Bakhtiar je 3, Bipin und Abhik je 2 und Jasveer 1). Die besten Zahlen, nämlich 9-3-22-5, erzielte das junge Talent Bakhtiar, der ebenfalls einen Fang machte und sich mit seinem "5-for" als Mann des Spiels auszeichnete. Jeweils zwei Wickets gingen an Abhik (8-2-10-2) und Ali (10.3-3-21-2), je eines an Jasveer, der ebenfalls zwei Bälle fing, und Sudhir, der einen Ball von seinem eigenen Bowling hielt. Rohan und Torhüter Rahul fingen ebenfalls je einen Ball.
Nach etwa 90 Minuten war das Innings der Pilgrims jedoch noch nicht zu Ende. Auftritt der Nachhut. In weiteren 15 Overs legte Bai (31), der als Nr. 9 ins Spiel kam, zusammen mit Moritz (1) 34 Runs auf. Und Abhi (37*) auf Nr. 11 konnte zusammen mit Dev (8) in einer Partnerschaft von 45 Runs das Ergebnis auf bis dahin unerwartete 122 aus 51,3 Overs verschieben. Damit hatte sich die Punktzahl im zweiten Teil des Innings sogar verdreifacht. Zudem blieben dem THCC nur noch 100 Minuten oder etwa 24 Overs, um das Ziel zu erreichen. Und es hatte zu regnen begonnen. Ein paar Schauer verlangten zweimal danach, die Covers auf- und wieder abzuziehen, es war lautes Donnern zu hören, Niesel lag in der Luft, und das Licht wurde dunkel. Konnten die Pilgrims noch mit einem Unentschieden entkommen?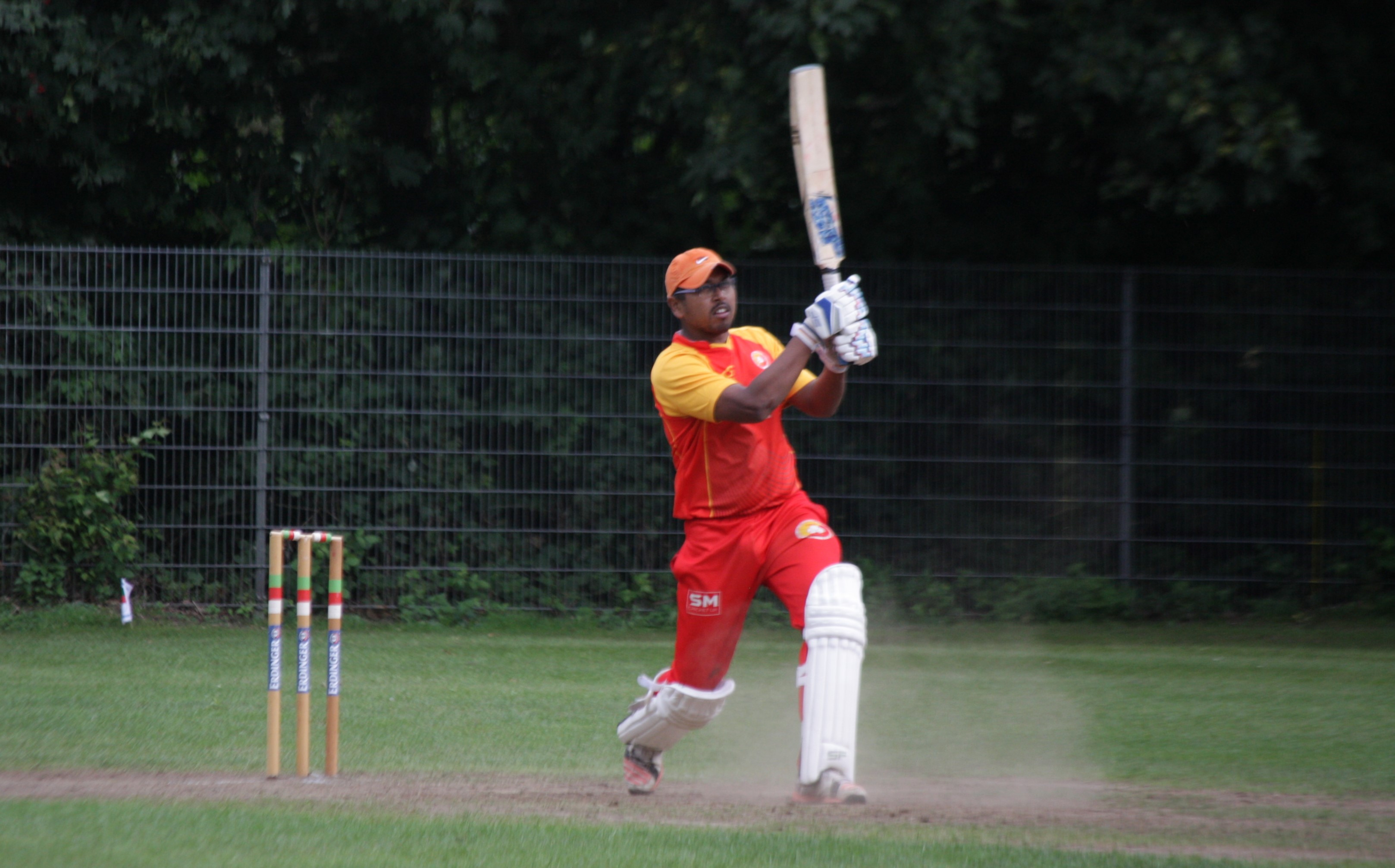 Man konnte die Spannung auf dem Feld spüren, als der THCC seine Innings begann. Die Konzentration war zum Greifen. Diesmal hat es bei der Heimmannschaft geklappt. Obwohl Sid sein ganzes Können gegen die Eröffnungsspieler Dan und Mithun (27) unter Beweis stellte und auch Ali mit einer "Duck" ausschaltete (gefangen von Dev), reichte sein Einsatz mit 6-1-13-2 nicht aus. Sein Hattrick-Ball wurde zunächst durch einen kurzen Schauer und dann durch einen trotzigen Abhik vereitelt. Weder Su (4:0-16:0) noch Bai (3:0-25-0) noch irgendein anderer Bowler der Pilgrims konnte Dan (51*) und Abhik (44*) daran hindern, den THCC 10 Minuten vor Schluß über die Ziellinie zu bringen. Dan beendete seine Innings passenderweise ungeschlagen mit einer Boundary 4, um das einzige "Half Century" des Spiels zu erreichen.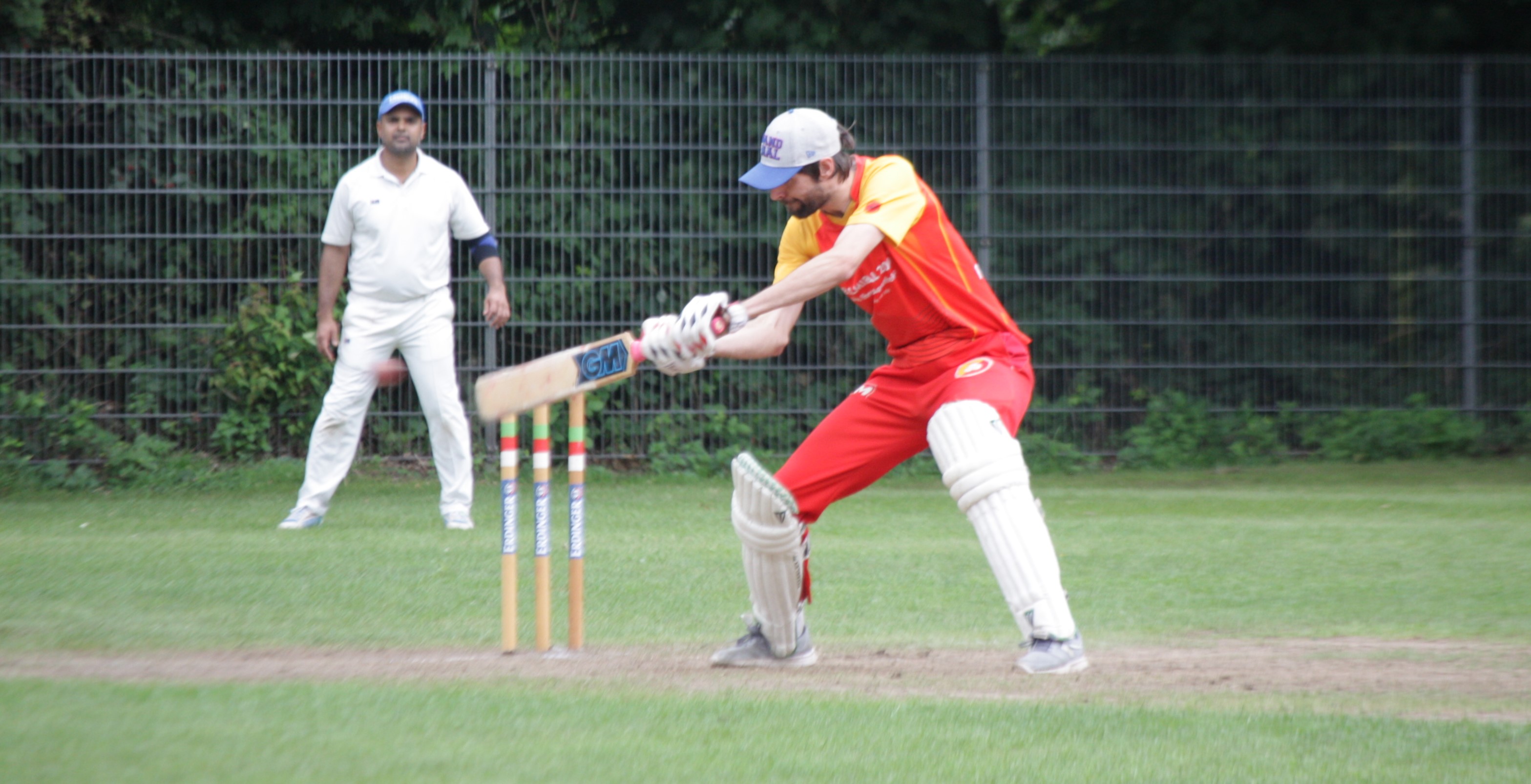 Der Befund zeigt, daß die Pilgrims Einschläge kassieren mußten, doch sie haben die Serie nicht verloren. Rückblickend könnte man eher behaupten, daß die Amateure von der Insel den heimischen Liga-Spielern in den drei Partien eine Lektion erteilt haben: Für ein Zeitspiel muß man sich konzentrieren, die richtigen Entscheidungen zum richtigen Zeitpunkt treffen und immer mit dem möglichen dritten Ergebnis rechnen, dem Unentschieden. Und wenn man den Gegner nicht rechtzeitig besiegen kann, dann kann man das Spiel nicht gewinnen. Es scheint, daß die THCC-Spieler ihre Lektion gelernt haben. Unter der Führung ihres Kapitäns Abhik haben sie das Unentschieden vermieden und haben es diesmal richtig gemacht – Streßtest bestanden.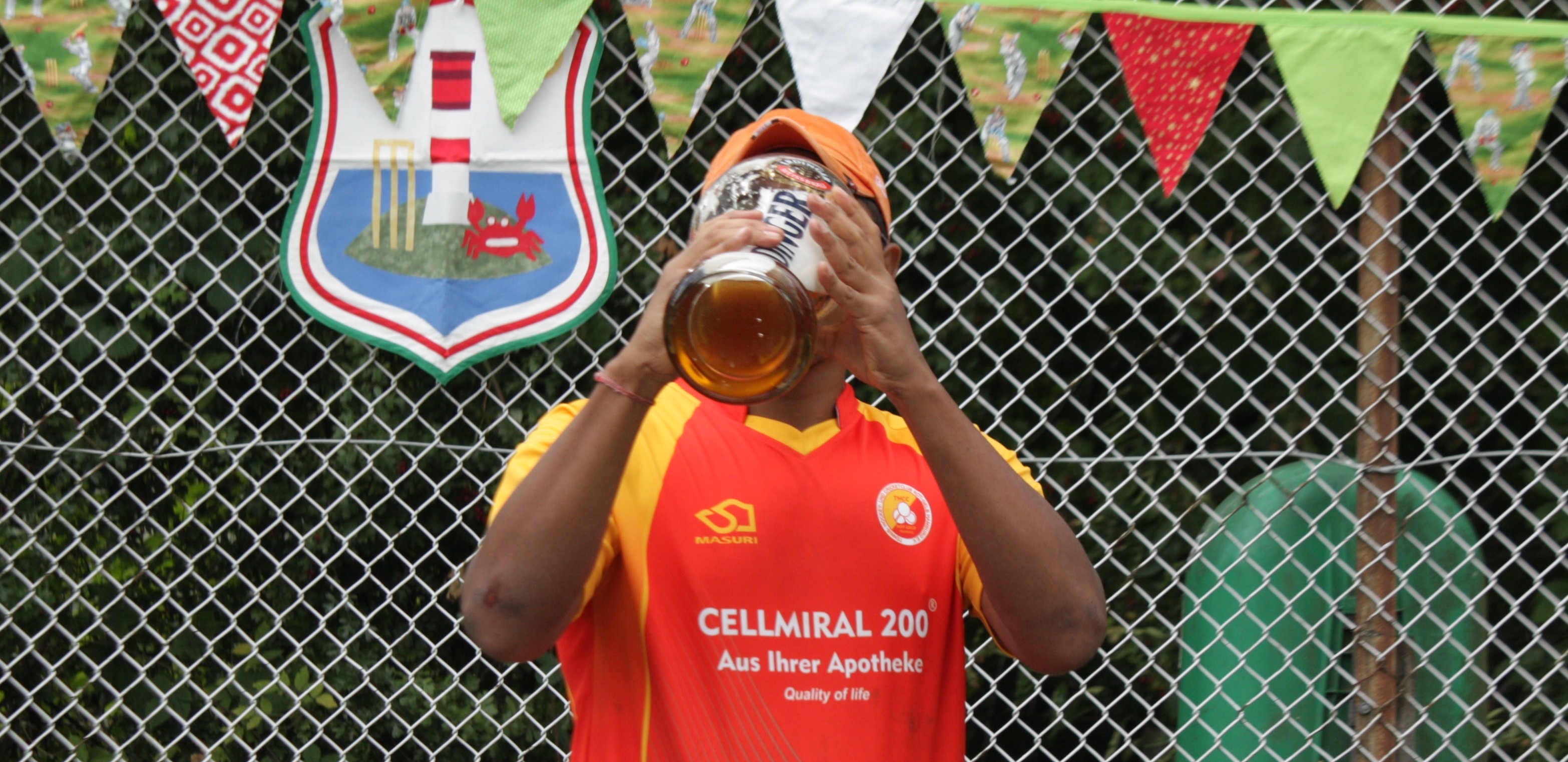 Heligoland Pilgrims:Abhi, Adrian (wk I), Bai, Bianca, Cam, Dev, Jon, Mark B., Matthew, Moritz, Sid, Su (cpt, wk II)
THCC Pandemics:Abhik (cpt), Ali, Bakhtiar, Bipin, Dan, Jasveer, Karthik, Mithun, Rahul (wk), Rohan, Sudhir, Suraj
Report: Max Minor, Cricket-Korrespondent, Übersetzung: Max Minor (mit DeepL)
Photographie: Bianca Lamfried
The stress test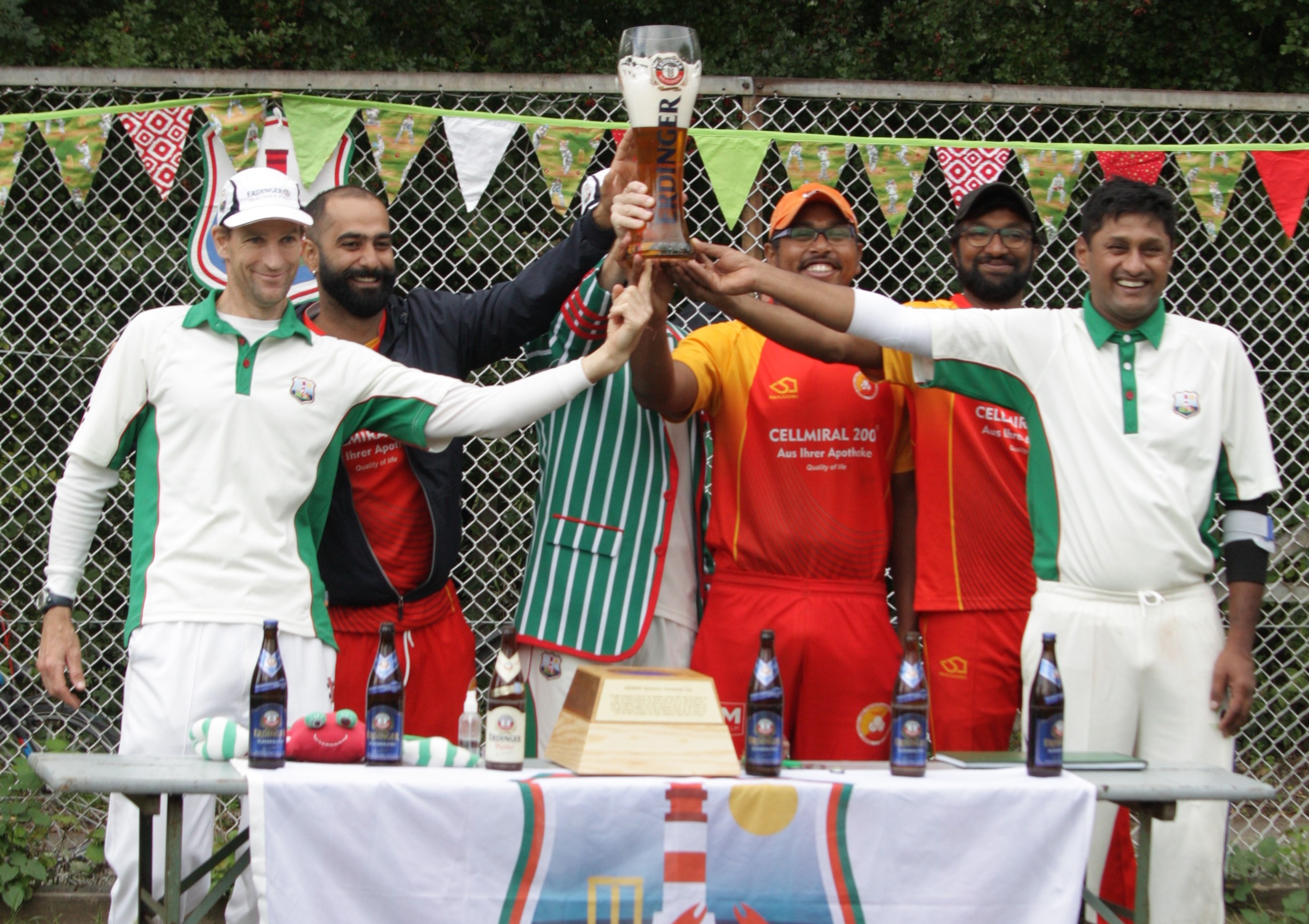 At last! Deservedly THCC won their first match in the ERDINGER Alkohlfrei Pandemia Cup – having undergone an arduous stress test by Heligoland Pilgrims. After three Sundays the series was drawn. Six different captains, altogether 36 players, 18 on each side, had battled it out. Every game was different, all showing varying features of cricket. The last contest went for an exciting finish, at least until half an hour before the allotted time was up. The Pilgrims tried hard to escape defeat against a stronger THCC team. However, their captain Abhik had worked out what was necessary to juggle a time game batting second. And he was lucky: once he was dropped it became clear THCC would prevail – at last.

Heligoland Pilgrims had won the toss and their captain Su had prudently elected to bat on the still dry and dusty turf. Knowing about the strength of the opponents of the day he instructed his players to stay in as long as possible. So the Pilgrims went into defensive mode right from the start. The scoreboard seemed to be creeping in slow-motion, with a run-rate of initially less than 2 per over (17 after 10, 33 after 20, 50 after 30). Wickets fell early, and at 40 for 8 in the 24th over, the islanders appeared on a singularly lost cause. Two ducks, three scores of 1 run and two of 2 are evidence of their misery.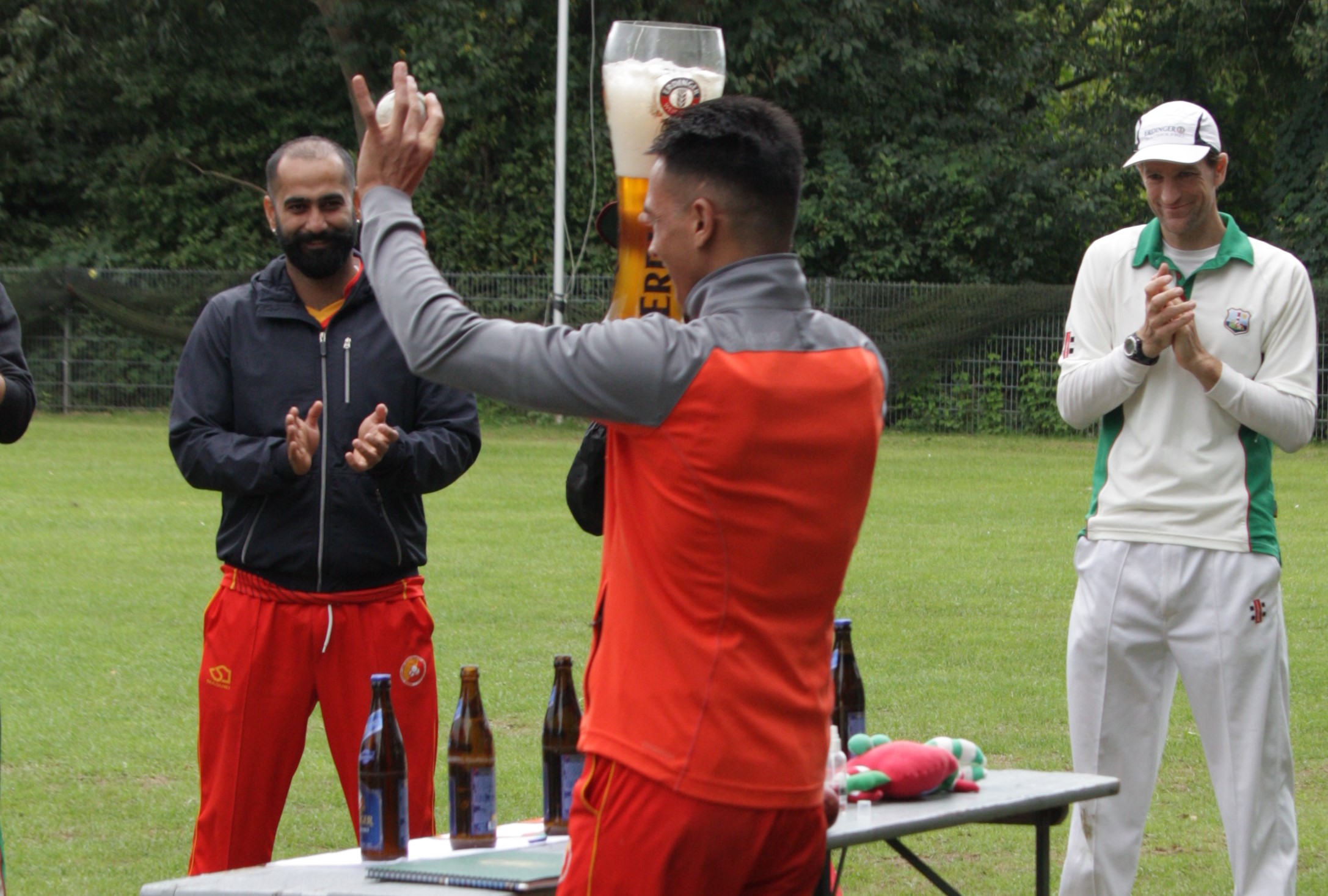 Credit for this feat must be given to THCC's merciless and highly accurate attack – nine bowlers conceding only 11 wides and claiming altogether 14 maidens (Rohan, Ali and Bakhtiar 3 each, Bipin and Abhik 2 each and Jasveer 1). The best figures, namely 9-3-22-5, were achieved by young talent Bakhtiar who also took a catch and stood out with his 5-for as man of the match. Two wickets each were taken by Abhik (8-2-10-2) and Ali (10.3-3-21-2), one each by Jasveer, who also caught two balls, and Sudhir, who caught a ball off his own bowling. Rohan and keeper Rahul also took a catch each.
After about 90 minutes, however, the Pilgrims innings was not over yet. Enter the tail-enders. In another 15 overs Bai (31), who came in at no. 9, put on 34 runs together with Moritz (1). And Abhi (37*) at no. 11 together with Dev (8) were able to shift the total in a partnership of 45 runs to a previously unexpected 122 off 51.3 overs. So the score had actually trebled over the second part of the innings. Moreover, there were only 100 minutes or about 24 overs left for THCC to reach the target. And it had started to rain. A couple of showers caused the covers to come on and off twice, you could hear loud thunder, there was drizzle in the air, and the light got dark. Could the Pilgrims still escape with a draw?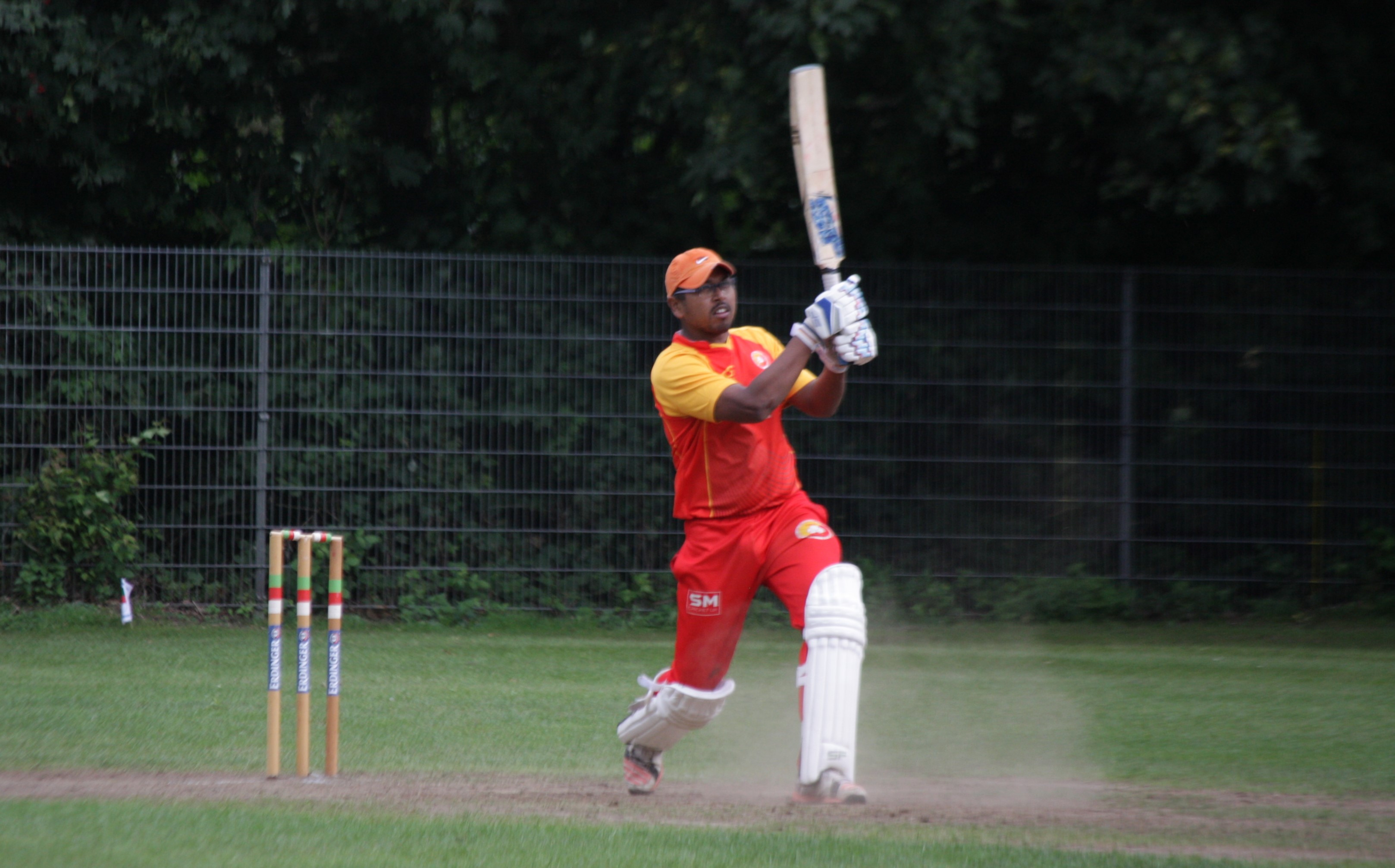 You could feel the tension on the field when THCC started their innings. Concentration was palpable. This time it worked for the home team. Although Sid thrust all his skills against openers Dan and Mithun (27) and also eliminated Ali for a duck (caught by Dev), his efforts of 6-1-13-2 were not enough. His hattrick ball was first thwarted by a brief shower and then by a defiant Abhik. Neither Su (4-0-16-0) nor Bai (3-0-25-0) nor any other Pilgrims bowler could stop Dan (51*) and Abhik (44*) from seeing THCC over the line with about 10 minutes to spare. Dan fittingly finished his unbeaten innings with a boundary 4 to reach the only half century of the game.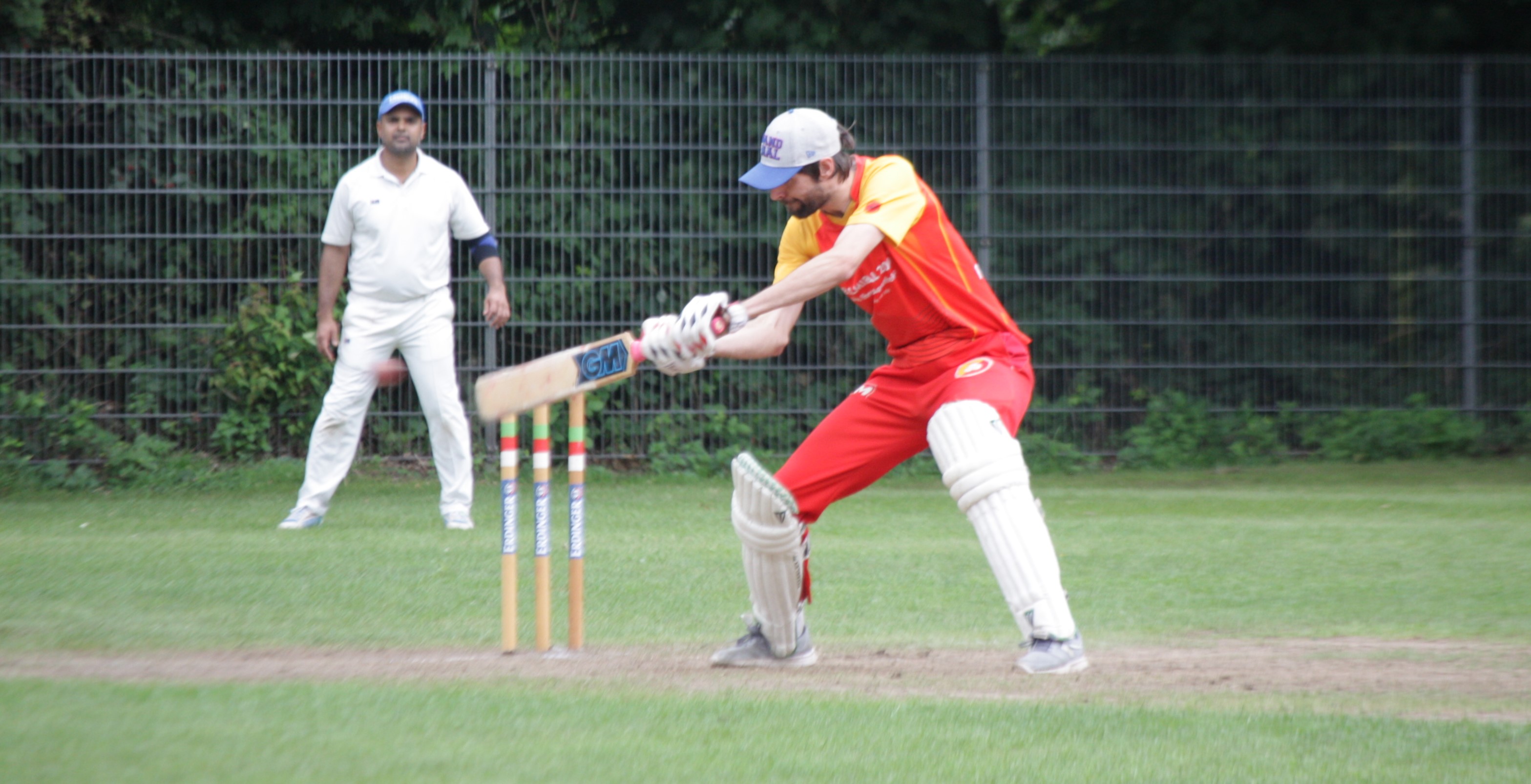 The wreckage shows the Pilgrims took the blows, but they did not lose the series. Looking back, you could rather claim the island amateurs taught the local league players a lesson over the three matches: For a time game you have to focus, you have to make the right decisions at the right time and you are always faced with the possible third result, the draw. And if you cannot defeat your opponent in time, you cannot win the match. It appears THCC have learnt their lesson. Under the guidance of their captain Abhik they avoided the draw and got it right this time – stress test passed.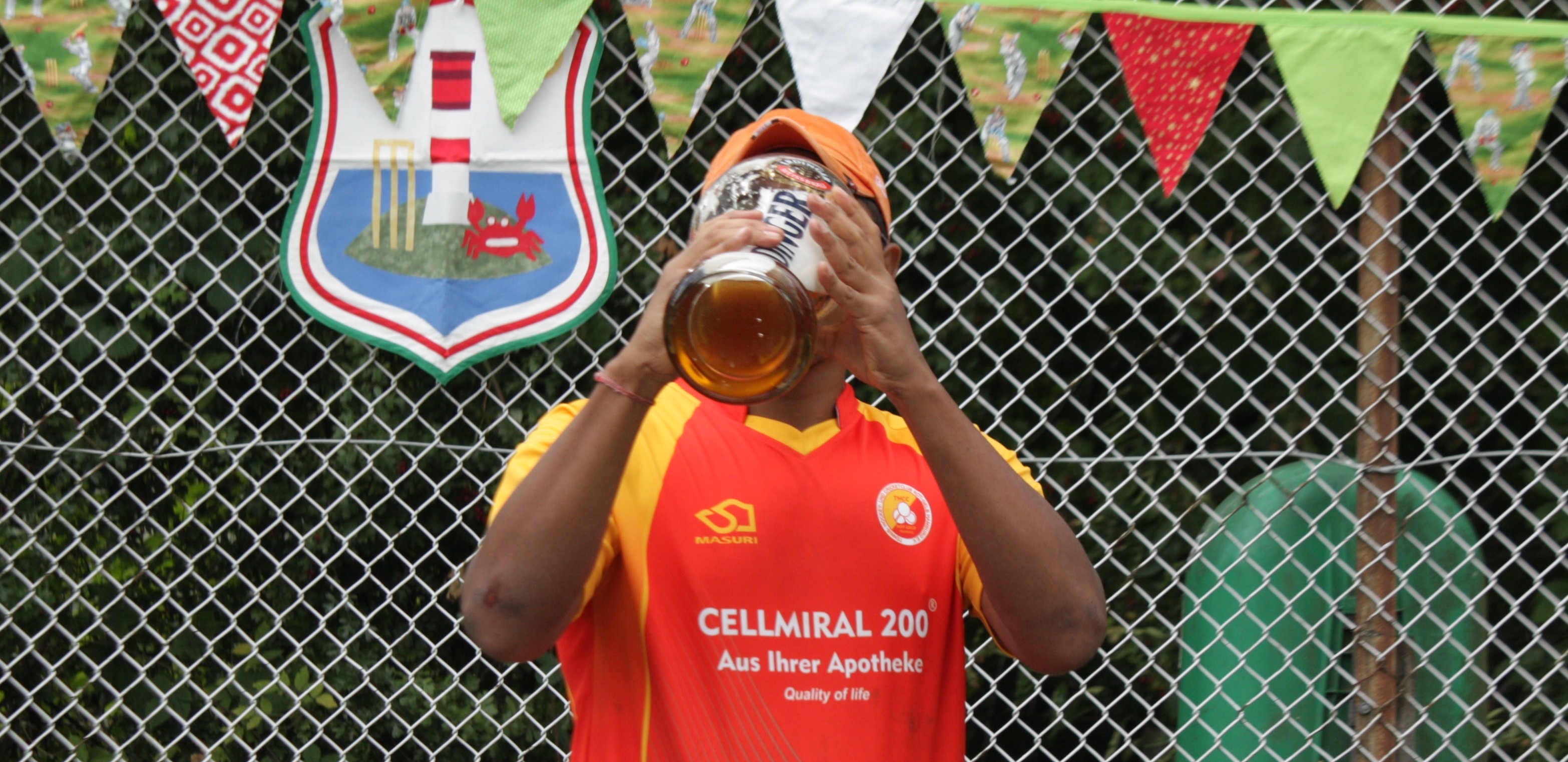 Heligoland Pilgrims:Abhi, Adrian (wk I), Bai, Bianca, Cam, Dev, Jon, Mark B., Matthew, Moritz, Sid, Su (cpt, wk II)
THCC Pandemics:Abhik (cpt), Ali, Bakhtiar, Bipin, Dan, Jasveer, Karthik, Mithun, Rahul (wk), Rohan, Sudhir, Suraj
Report:Max Minor, Cricket Correspondent
Photography: Bianca Lamfried