Read the English version below.
Der Untergang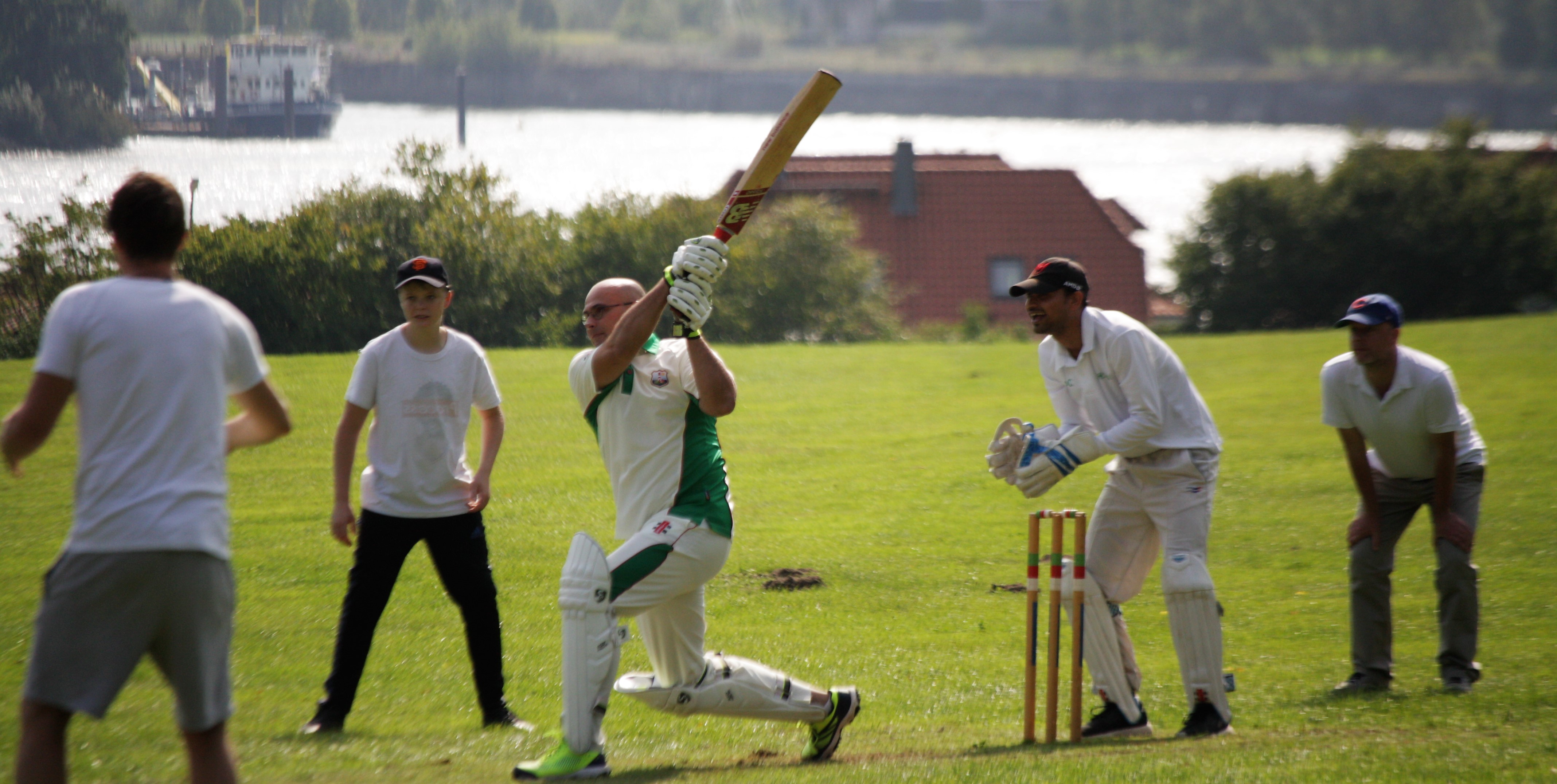 Alan Jefferys sollte froh sein, daß er beim letzten Spiel der Pilgrims in der Saison 2020 nicht dabei sein konnte. Es war sicher eines, das sie so schnell wie möglich vergessen wollen. Ihr Schiff sank wie die Titanic nach der Kollision mit dem berüchtigten Eisberg. Ähnlich wie das Orchester auf dem Ozeanriesen spielten sie bis zum Ende fröhlich weiter. Aber wenn Schiedsrichter auf dem Spielfeld alberne Signale geben, wenn sie die Batsmen unterstützen, indem sie für sie rufen, und wenn der Sqare-Leg-Schiedsrichter einen Ball fängt, um dem Square-Leg-Feldspieler zuvorzukommen, dann weiß man, daß der Hafen des Sieges weit entfernt ist. So gingen die Pilgrims mit wehenden Fahnen unter, mit 74 für 9 auf der Jagd nach 131 für 7 – und niemand kann ihnen verdenken, daß sie nach kurzen Schlußworten schnell aus dem Jenischpark verschwanden.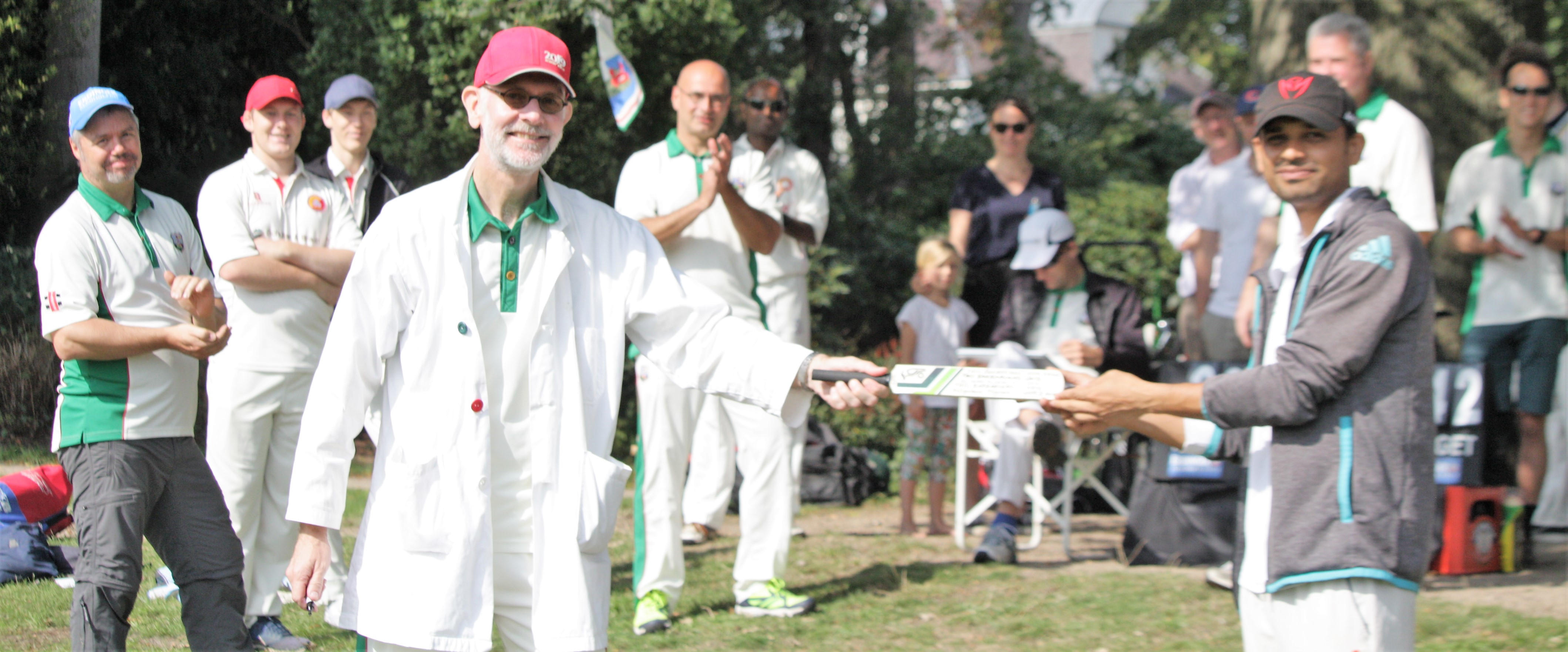 Das traditionelle 25-Overs-Match hatte bei strahlendem Sonnenschein an einem Sonntagmorgen im September südlich des stattlichen Jenischhauses begonnen. Die THCC-Barbarians, die sich als Eisberg des Tages entpuppten, waren ein ziemlich gemischter Haufen: vier Jugendspieler, drei fremde Akademiker fortgeschrittenen Alters, zwei Klubveteranen und zwei neue Spieler aus dem Ausland. Einer der letzteren war Kapitän Rahul, dem ein Kompliment für seine hervorragende Arbeit bei der Führung einer Mannschaft gemacht werden muß, die er kaum kannte. Auf die Frage nach dem Geheimnis seines Erfolgs lächelte der schüchterne indische Softwarespezialist und verriet: "Es ist ganz einfach, ich lasse sie einfach spielen" Tatsächlich brauchte Rahul weder zu schlagen noch zu bowlen, um zu gewinnen. Er ermutigte seine coolen Spieler nur und vertraute ihnen, Runs zu holen und die Wickets einzusammeln.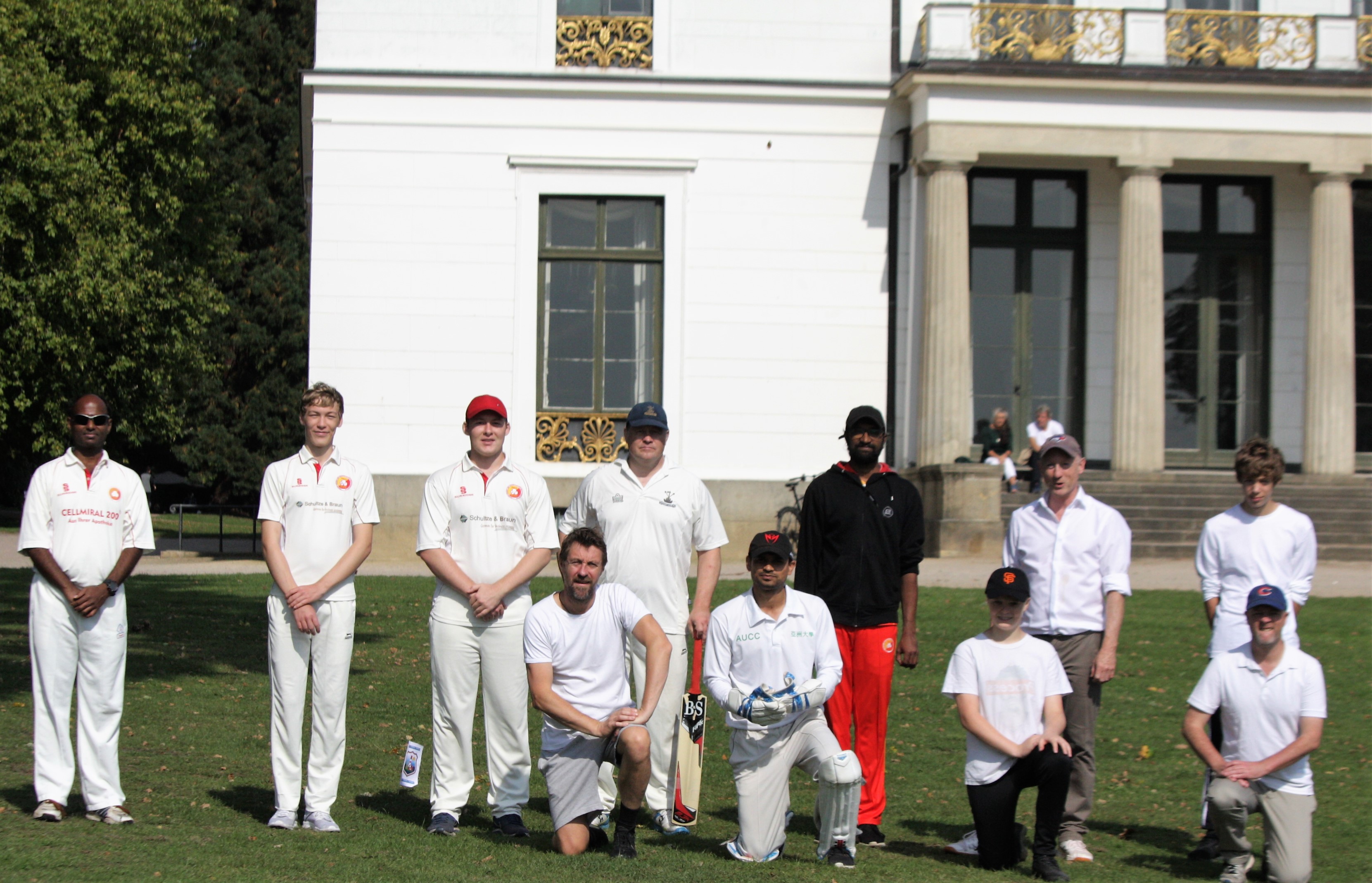 Die jungen Spieler Jan (21) und Dan (20) erzielten die höchsten Punktzahlen für die Barbarians; Aswin wurde ausgewechselt (17*), Björn und Karthik blieben ungeschlagen. Pilgrims-Kapitän Dev ließ jeden Spieler bowlen und wurde gleichmäßig belohnt. Star des Angriffs war Mark R., der – mit einem breiten Lächeln im Gesicht – den allerersten Hattrick für die Pilgrims erzielte, darunter auch einen, den er von seinem eigenen Bowling hielt. Auch Moritz fing und bowlte einen Gegner, Cam bekam einen von Keeper Prasad gefangen, Dev schaffte ein Run-Out, und der junge Johann, der die Pilgrims wieder einmal unterstützte, sammelte zwei Wickets, gefangen von Chris und von Bai.
Das Batting der Pilgrims an diesem Tag waren jedoch so zuverlässig wie der Rumpf der Titanic. Dev führte die Wertung vom Ruder aus mit 9 Läufen an! Zwei "Ducks" und dreimal ein Run beschleunigten den Untergang. Es waren wieder die jungen Barbarinas, die die meisten Wickets einsammelten: Jan und Dan jeweils zwei und Matt und Till jeweils eins; Veteran Björn nahm ebenfalls zwei und Aswin und Jason jeweils eins. Fänge wurden von Jan, Matt, Jason und Rahul hinter den Stumps gehalten; Jan erzielte Run-Out. Anerkennung verdienen nur Nigel, in seinem ersten Spiel für die Pilgrims, Jörg und Bianca dafür, daß sie länger als drei Overs auf dem Platz geblieben sind. Doch ohne Erfolg. Bei 27 für 4 nach 10 Overs, 41 für 5 nach 15 und 56 für 7 nach 20 war klar, daß die Insulaner nie in die Nähe des Ziels kommen würden. Passend lieben Bianca und Kapitän Dev am Ende des Innings gestrandet.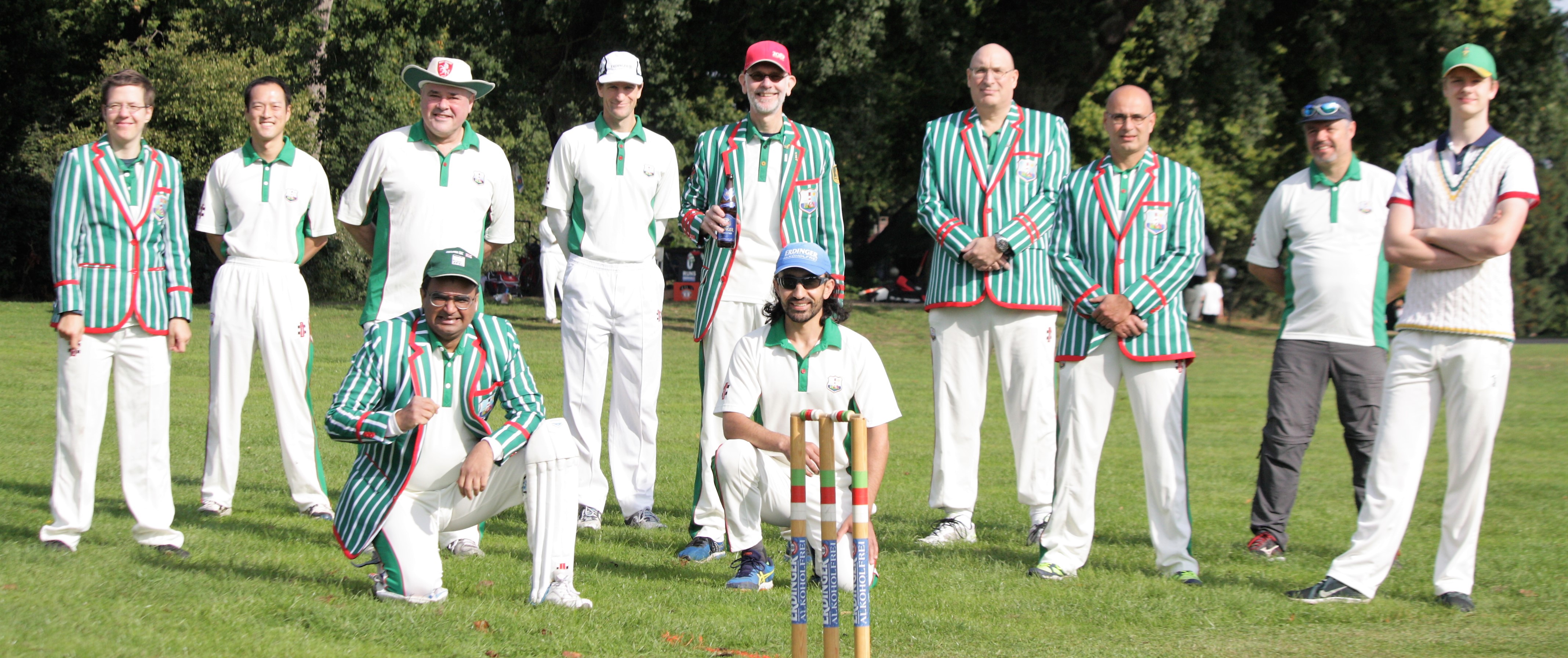 Das Fazit: Es war ein harter Wettkampf für die Pilgrims nur eine Woche nach ihrem letzten Spiel in der Pandemia-Cup-Serie. Die Saison war zu kurz und die Spieler schienen schon vor Spielbeginn erschöpft. Auch die Produkte von ERDINGER konnten diesmal nicht die gewünschte Wirkung erzielen. So kann man nur festhalten, daß alle zum Spiel kamen und der übliche Spaßfaktor der Pilgrims spürbar war, zumindest als Prasad und Moritz schiedsrichterten. Und anders als die Titanic und ihre bemitleidenswerten Passagiere dürften die Pilgrims noch die Chance haben, in der nächsten Saison wieder aufzutauchen. Es bleibt zu hoffen, daß sie es können und werden; schließlich müssen sie sich vor Alan Jefferys rehabilitieren. Ihr Sponsorenvertrag mit der Brauerei ERDINGER wurde verlängert – man sollte erwarten, daß sie irgendwann erneut spielen.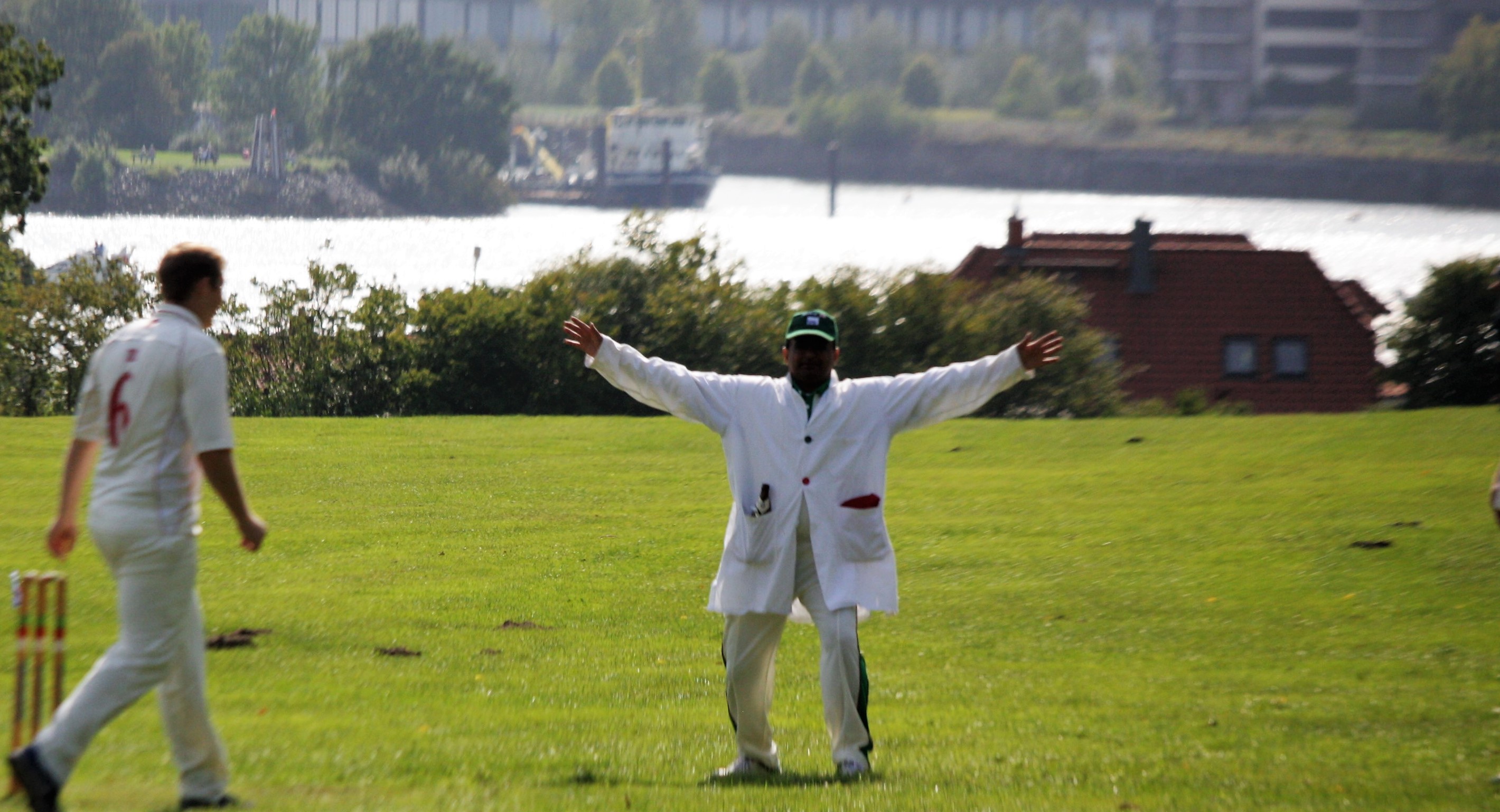 Heligoland Pilgrims: Bai, Bianca, Cam, Chris, Dev (c), Johann, Jörg, Mark R. Moritz, Nigel, Prasad (wk)
THCC Barbarians: Aswin, Björn, Dan, Jan, Jason, Jeff, Harry, Karthik, Matt, Rahul (c, wk), Till
Report: Max Minor, Cricket-Korrespondent, Übersetzung: Max Minor (mit DeepL)
Photographie: Bianca Lamfried
The sinking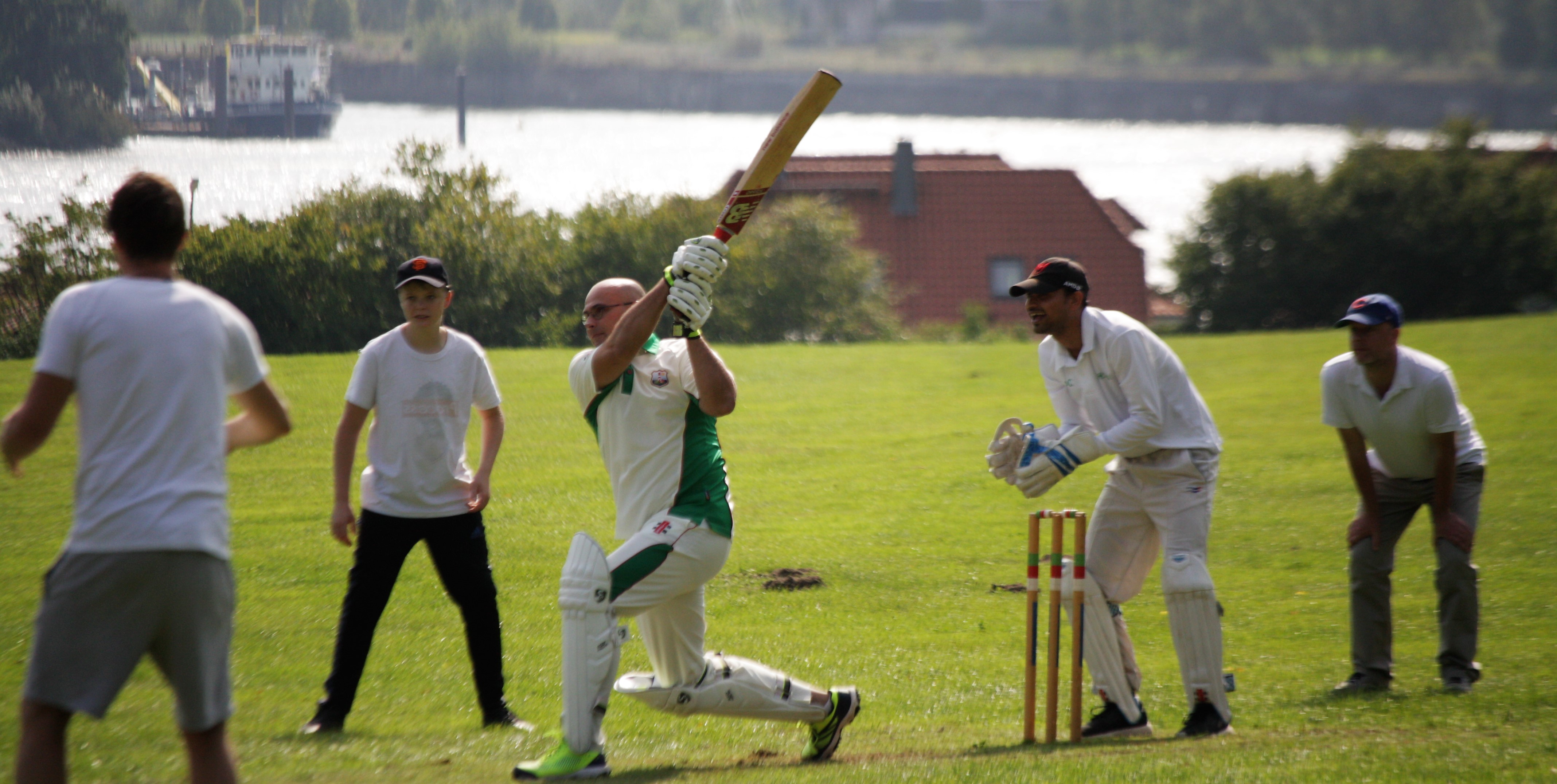 Alan Jefferys should be glad he could not be present to witness the Pilgrims' last game of the 2020 season. It was surely one they will want to forget as soon as possible. Their ship was sinking like the Titanic after the collision with the notorious iceberg. Similar to the orchestra on the ocean liner, they kept playing in jolly spirits right to the end. But when umpires show silly signals in the field, when they support the batsmen by calling for them, and when the square-leg umpire catches a ball to deny the square leg fielder, you know the port of victory is far away. So the Pilgrims went down with flying flags scoring 74 for 9 in pursuit of 131 for 7 – and no-one can blame them for disappearing quickly from the Jenischpark after the brief closing ceremony.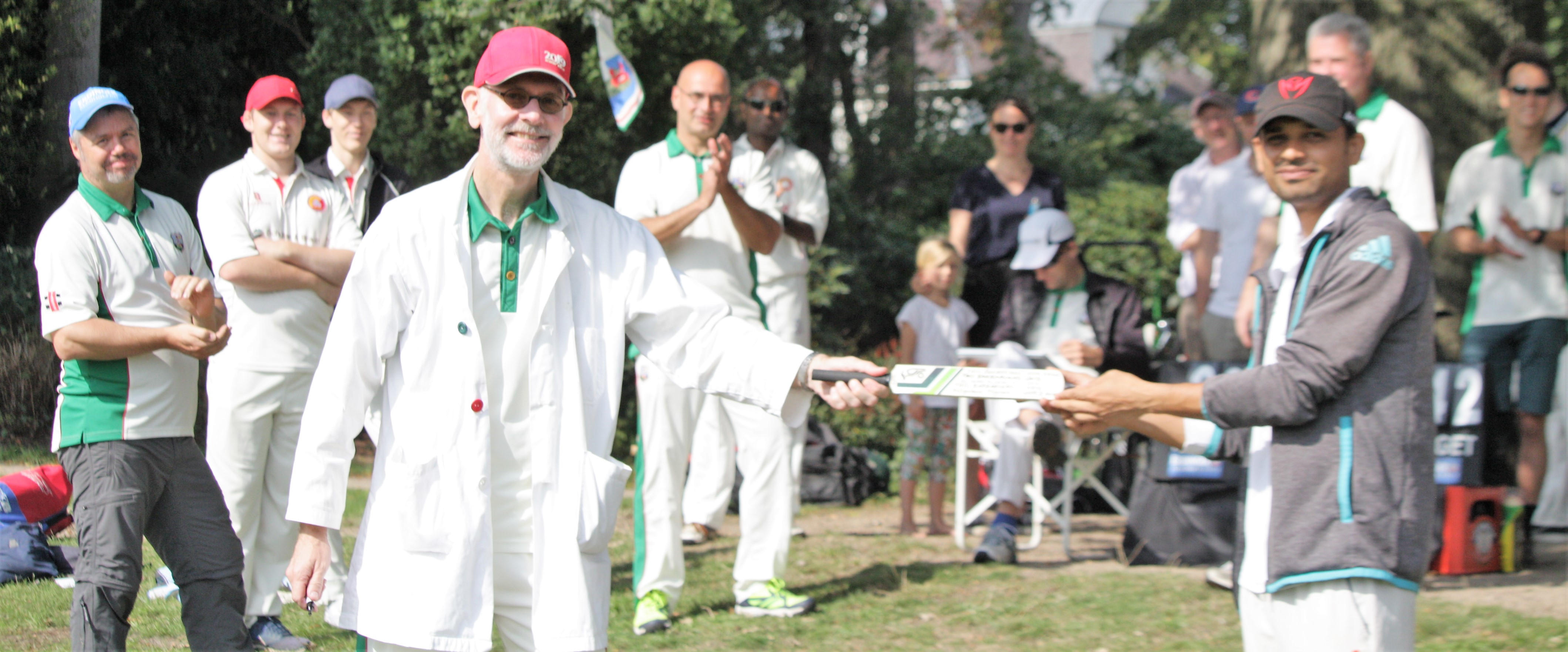 The traditional 25 overs match had started in the best of sunshine on a September Sunday morning just south of the stately Jenischhaus. THCC Barbarians, who turned out to be the iceberg of the day were a rather mixed bunch: four youth players, three ageing barbarian academics, two club stalwarts and two new internationals. One of the latter was captain Rahul who must be complimented on an excellent job leading a team he hardly knew. Asked about the secret of his success the shy Indian software specialist smiled and revealed: "It is easy, I just let them play." Indeed, Rahul did neither need to bat nor bowl in order to win. He just encouraged his cool players and trusted them to get runs and collect the wickets.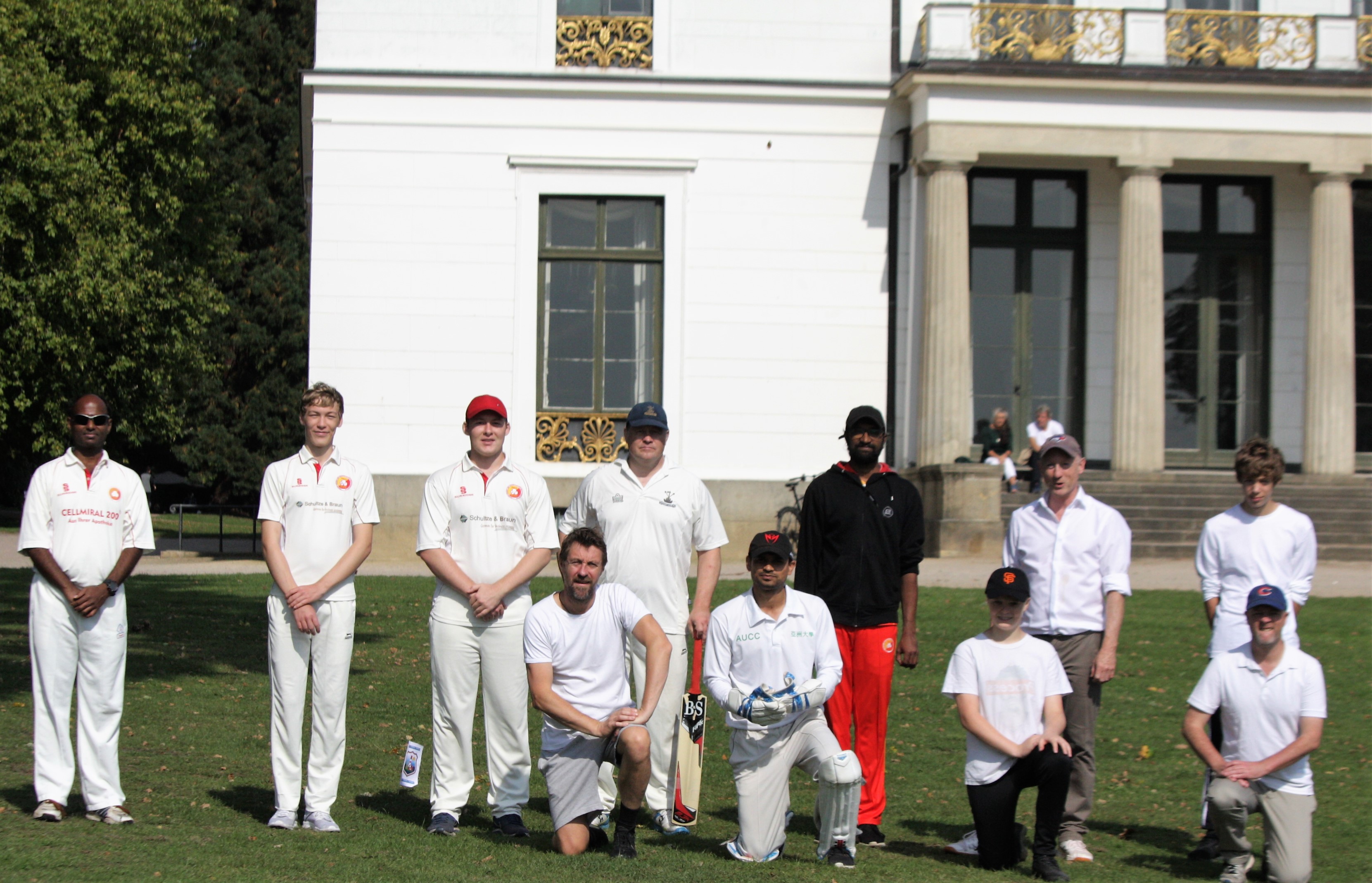 The youngsters Jan (21) and Dan (20) achieved the highest scores for the Barbarians; Aswin was retired (17*) while Björn and Karthik remained not out. Pilgrims' captain Dev let every player bowl and was evenly rewarded. Star of the attack was Mark R. who – with a broad smile on his face – took the very first hattrick for the Pilgrims, including one caught off his own bowling. Moritz also caught and bowled a barbarian, Cam got one stumped by keeper Prasad, Dev ran one out, and young Johann, who supported the Pilgrims once again, got two wickets, one caught by Chris, one caught by Bai.
However, the Pilgrims' batting on the day was as reliable as the Titanic's hull. Dev led the scores from the helm with 9 runs! Two ducks and three singles accelerated the demise. It was again the young Barbarians who took most of the wickets: Jan and Dan two each, and Matt and Till one each; stalwart Björn took also two and Aswin and Jason one each. Catches were held by Jan, Matt, Jason and Rahul behind the stumps; Jan got a run-out. Credit can only be given to Nigel, in his first match for the Pilgrims, Jörg and Bianca for staying at the crease longer than three overs. But to no avail. At 27 for 4 after 10 overs, 41 for 5 after 15 and 56 for 7 after 20 it was clear that the islanders were never going to get close to the target. Fittingly the innings closed with Bianca and captain Dev stranded at the crease.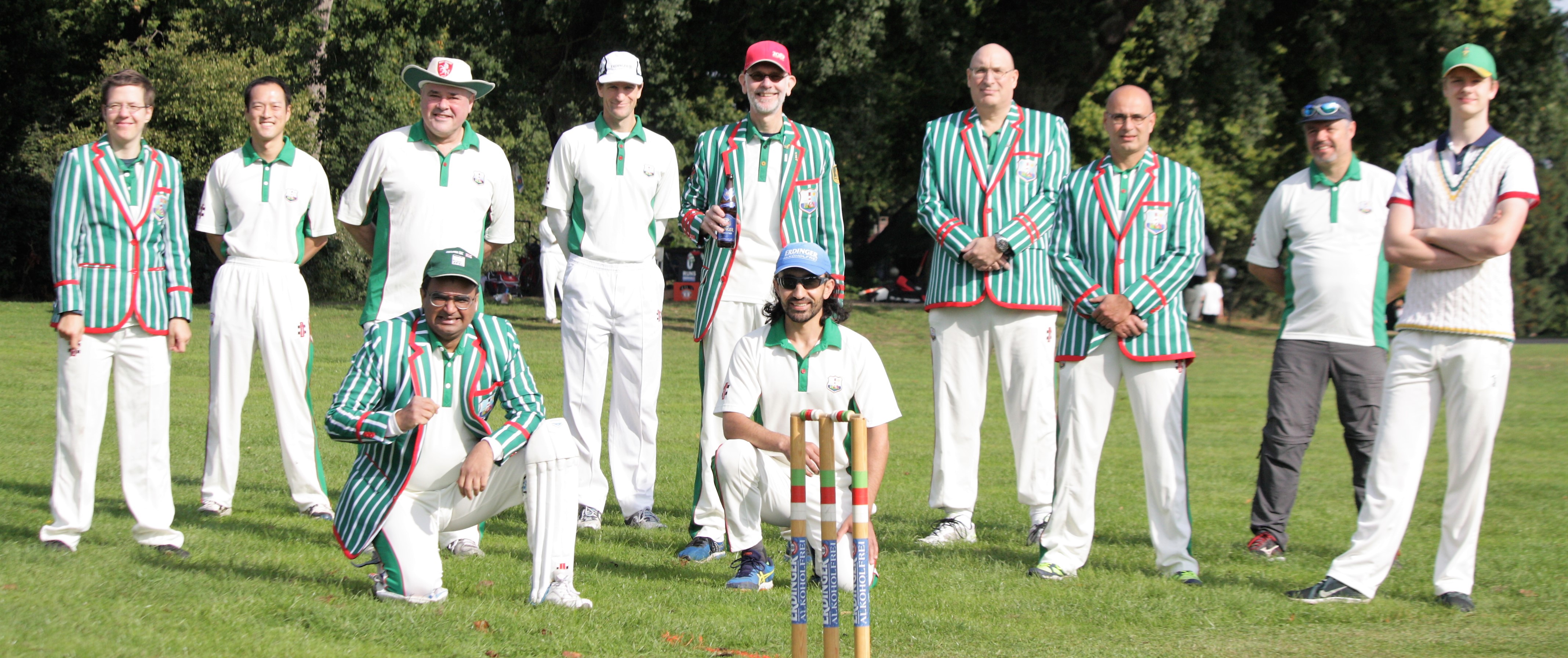 Conclusion: It was a tough contest for the Pilgrims just one week after their last match in the Pandemia Cup series. The season was too short and the players seemed exhausted even before the start of the game. ERDINGER products could not foster the desired effect this time either. Suffice it to say that everyone got to play and the standard Pilgrims' fun factor was noticeable, at least when Prasad and Moritz were umpiring. And unlike the Titanic and its pitiful passengers the Pilgrims may yet have a chance to resurface next season. Let us hope they can and they will; after all they have to redeem themselves for Alan Jefferys. Their sponsorship contract with the ERDINGER brewery has been extended – expect them back in play at some stage.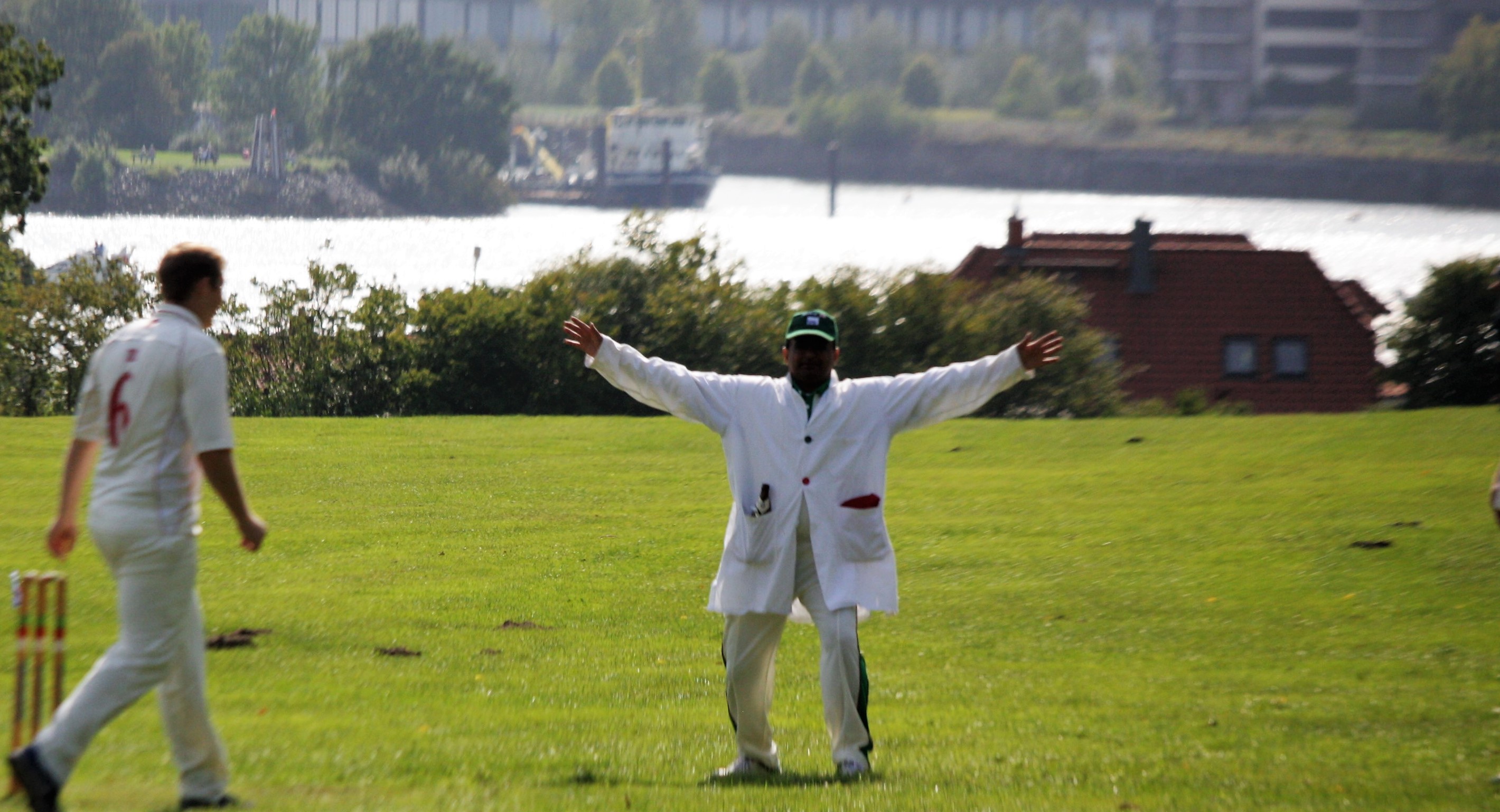 Heligoland Pilgrims: Bai, Bianca, Cam, Chris, Dev (c), Johann, Jörg, Mark R. Moritz, Nigel, Prasad (wk)
THCC Barbarians: Aswin, Björn, Dan, Jan, Jason, Jeff, Harry, Karthik, Matt, Rahul (c, wk), Till
Report:Max Minor, Cricket Correspondent
Photography: Bianca Lamfried