Read the English version below.
Khalil singt Sams Song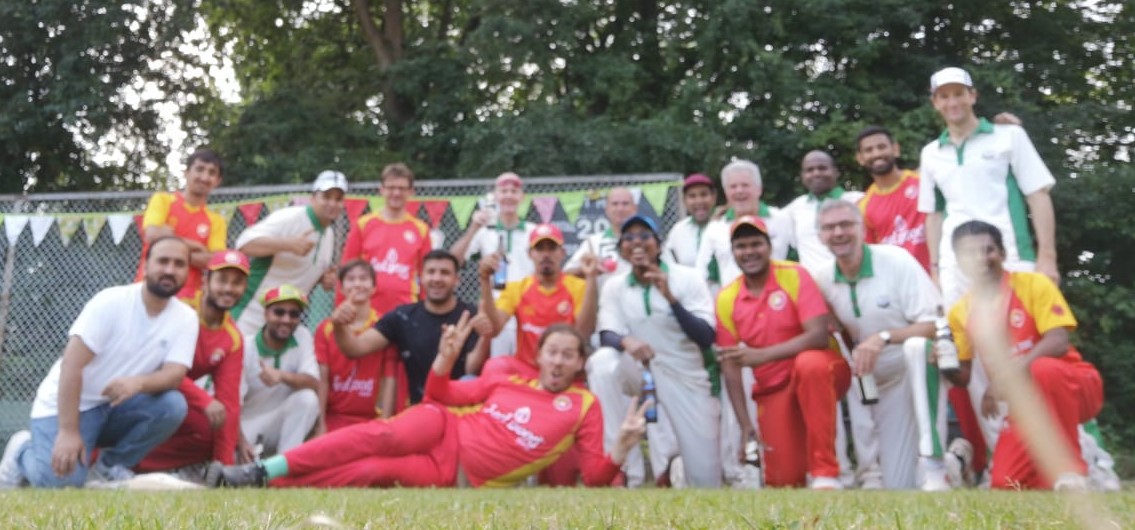 Cricket und Musik haben mehr gemeinsam, als man auf den ersten Blick sieht – oder auf den ersten Ton hört. Am 30. Juli 2022 mußte dieser Vergleich gezogen werden. Im ersten Spiel des neuen Hammonia Cups, dem Nachfolger des beliebten Pandemia Cups, wurden die THCC Metropolitans von Sam angeführt, von Beruf Komponist und Musiker. Obwohl er zum Kapitän ernannt worden war, ohne zu wissen, wer in seiner Mannschaft sein würde, hatte er sich eine passende Melodie samt passendem Arrangement ausgedacht, ganz im Sinne der Hamburger Göttin, die unter anderem Frieden und Harmonie verkörpert. Seine Spieler spielten kompetent vom Blatt, vor allem die Solisten, angeführt von dem kraftvollen Khalil. Dirigiert vom Komponisten selbst, wurde Sams Song nicht nur von den Metropolitans vorgetragen. Am Ende des Tages mußten auch Heligoland Pilgrims nach Sams Pfeife tanzen.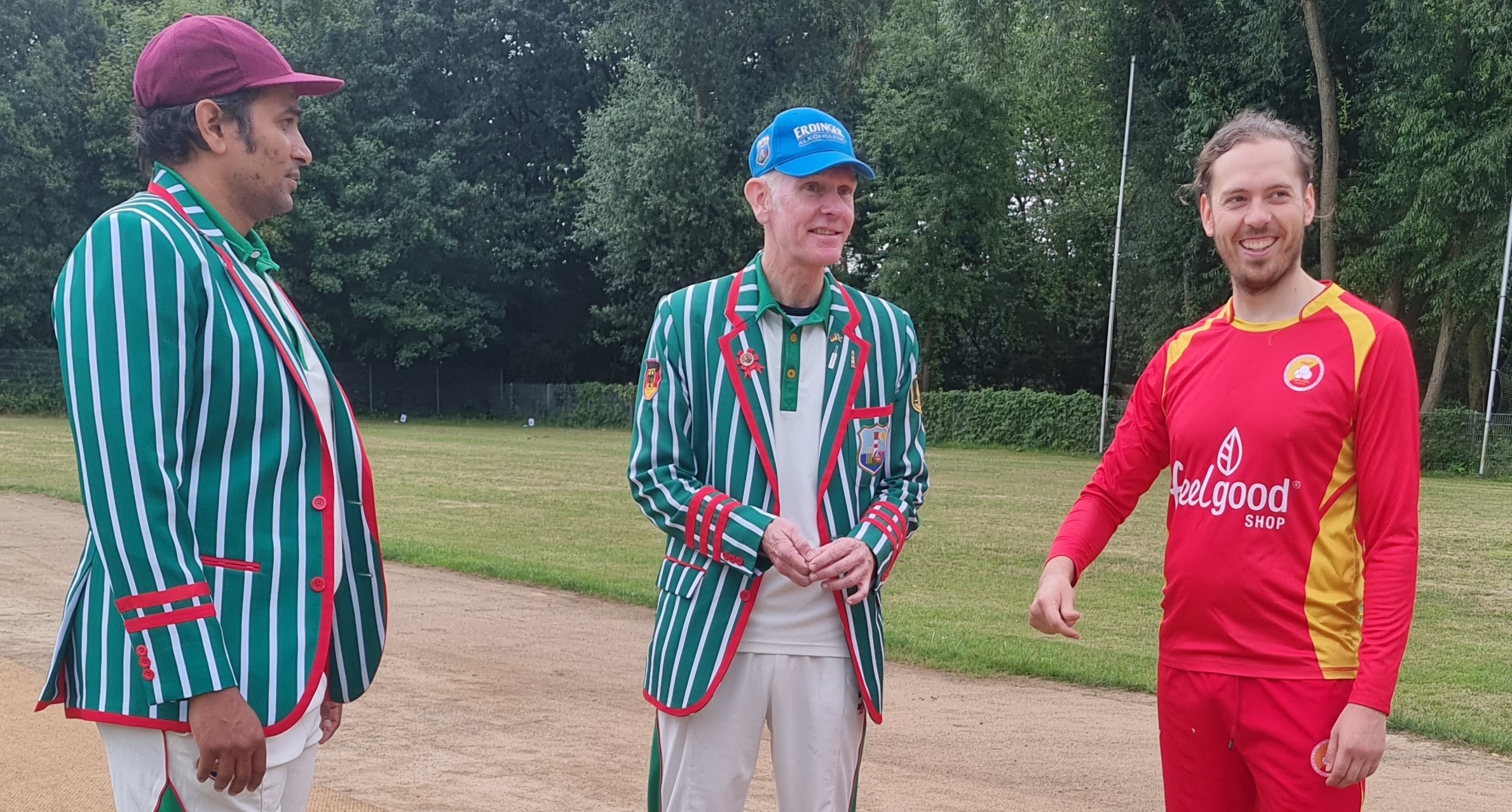 In echter Pastorale-Umgebung hatte Sam als Ouvertüre das Los gewonnen und die Pilgrims unter Kapitän Abhi ins Feld geschickt. Oh je: Es waren nur 9 Pilgrims erschienen. Cam zauberte eine gute Lösung herbei: Kamal wurde als neues Vereinsmitglied rekrutiert – schließlich hatte der zuverlässige Allrounder fast seit der Gründung des Vereins vor einem Jahrzehnt gegen die Insulaner gespielt. So begrüßten die Pilgrims an diesem Tag nicht nur einen, sondern gleich zwei neue Spieler, nämlich Abhik und Kamal. In scheinbarer Meeresstille versuchten die Pilgrims, mit Adrian und Matthew eine glückliche Fahrt zu beginnen. Adrian beschränkte sich auf Andante, setzte jedoch einen hartnäckigen Kontrapunkt und blieb fast 10 Overs lang im Spiel, Matthew hatte weniger Glück.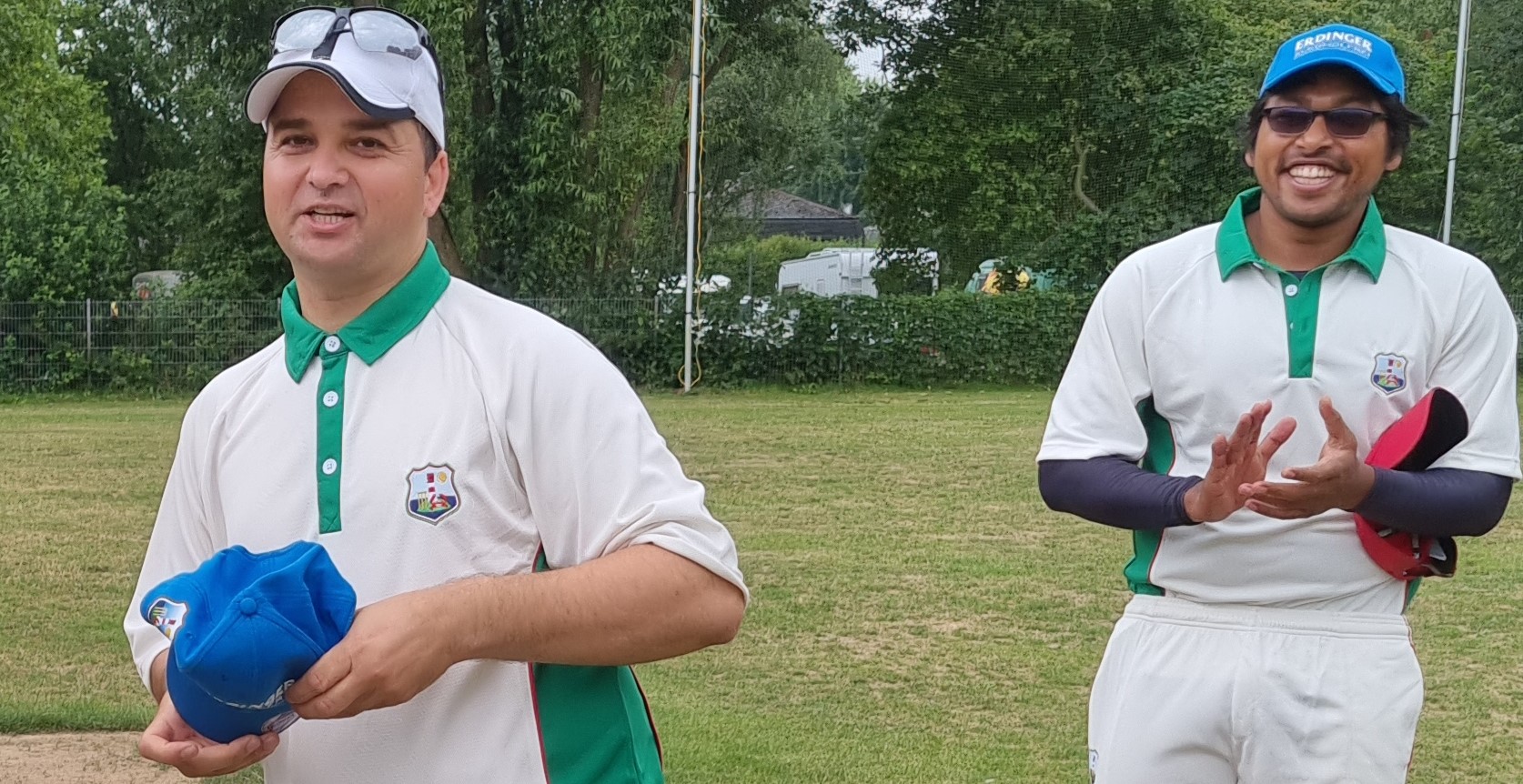 Der Grund dafür: Sam hatte andere, umfangreichere Ensemblepläne. Nachdem er selbst Matthew in seinem ersten Over aus dem Spiel gezogen hatte, dirigierte er sechs andere Bowler, in gleichmäßigem Rhythmus je ein Wicket zu nehmen: Nitin, Baheer, Ramatullah, Buddhika und Rohit schlugen zu – und Khalil. Hätte Buddhika nicht einen Doppelgriff gespielt, indem er 2 Wickets in 2 Bällen holte, wäre diese Orchestrierung vielleicht noch größer ausgefallen. Lodhi, der kein Wicket bekam, fing stattdessen 2 Bälle – und Khalil ebenfalls. Weitere Fänge gingen auf das Konto von Rishab, Buddhika und Ramtullah.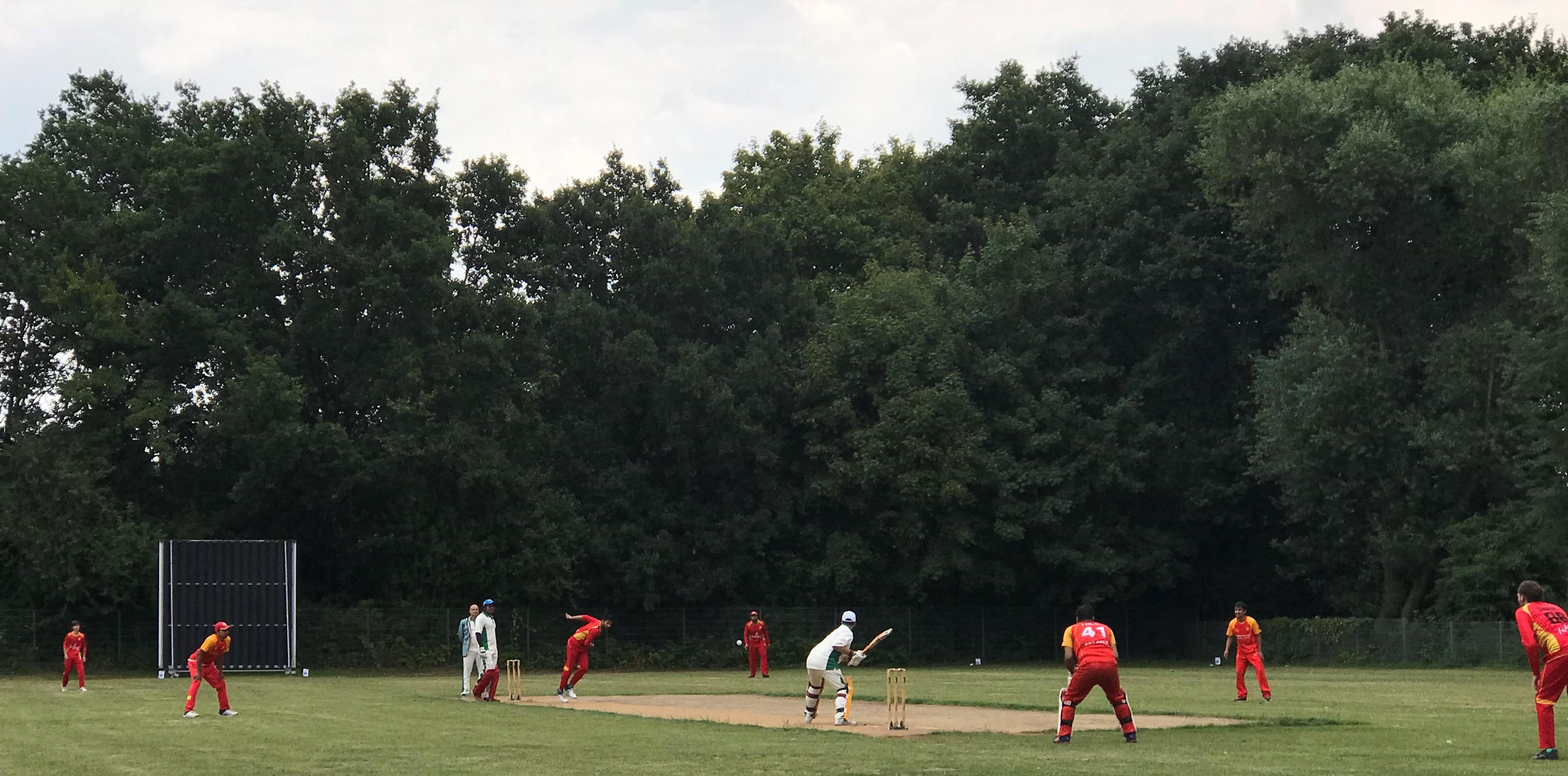 Kamal kam an Nummer 3. Der neue Pilgrim, der später nur von einem weiteren Spieler übertroffen wurde, erzielte bei seiner Premiere 43 Runs, die meisten davon zusammen mit dem anderen Novizen Abhik, der 34 Runs als Linkshänder erreichte. Diese Werte wurden in einer 72-Runs-Partnerschaft in den Schatten gestellt von Cam, der sein Wicket auf 51 Runs an keinen Geringeren als Khalil verlor, und Dev, der bei 19* blieb. In der Zwischenzeit hatte auch Moritz 19 Runs beigesteuert, indem er die Tonart wechselte. Dann gab Kapitän Abhi bei 200 Runs die Declaration ab, nur 8 Minuten vor der Halbzeitpause. Wieder einmal ist es fraglich, ob die sportliche Erklärung der Pilgrims zu früh kam. Abhi hätte vielleicht lieber weitergemacht, aber angeblich hat Cam ihn zum Aufhören gedrängt. Vielleicht brauchen die beiden noch etwas Kompositionsunterricht.

Gerade in dieser Phase hätten die Heligoland Pilgrims ein Fortissimo anschlagen müssen, vor allem mit ihren neuen Spielern Abhik und Kamal, die das Bowling eröffneten. Aber Sams Song sagte Allegro Presto für THCC Metropolitans. Seine Eröffnungs-Spieler kletterten die Tonleiter in 12 Overs bis auf 100 Punkte hinauf, Khalil völlig kontrolliert auf 59, Rishab nicht weniger effizient auf 41. Matthew und Cam verdienten sich Anerkennung dafür, daß sie den Topscorer aufhielten, wobei ersterer den Ball warf und letzterer den wertvollen Fang hielt. Dann unterhielt Ramatullah mit einem kleinen 29-Runs Menuett. Nach und nach nahm die Lautstärke der Pilgrims ab, bis sie den Sound of Silence erreichte. Sie wurde regelmäßig durch kurzen Einwürfen von lautem Jubel für Dev unterbrochen, der ohne die Hilfe eines Feldspielers 5 für 31 erzielte (4 bowled, 1 lbw). Allerdings gab es auch unterhaltsames Fielding, insbesondere von Jörg, der den Ball mehrmals im Ninja-Stil stoppte.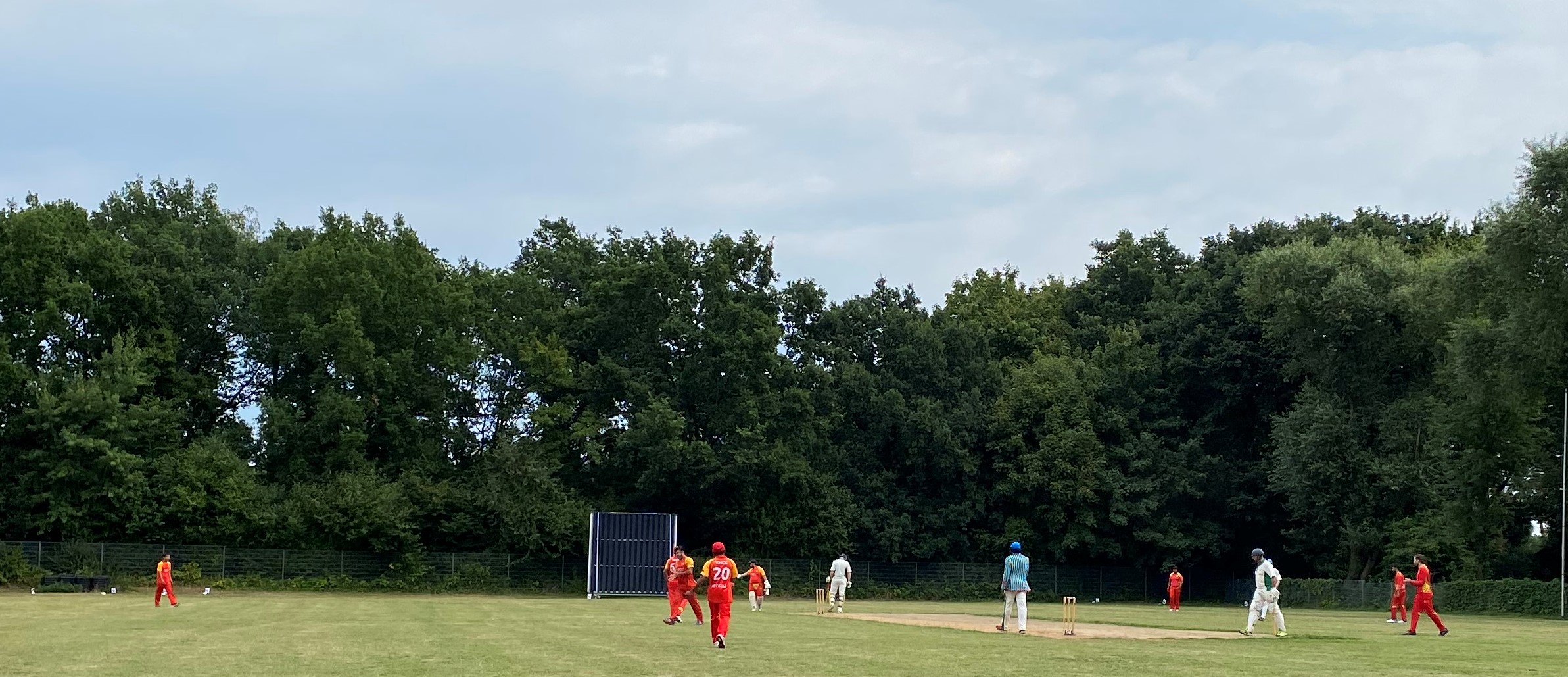 Vier Overs verbleiben, der Spielstand ist 174 für 6, d.h. noch 25 Runs zum Sieg für THCC. Sam befürchtet ein Unentschieden. Dev holt sein fünftes Wicket. Aber weder er noch Kamal können den lautstarken Ansturm der Metropolitans verhindern. Bei 189, mit 12 zum Sieg für THCC, übergibt Abhi, vom Glück seiner anderen Bowler verlassen, den Ball erneut an Abhik. Der neue Schlagmann an der Crease ist Buddhika, der seine Stimme mit ERDINGER Freibier geölt hat, wie immer zur Verfügung gestellt von den Sponsoren der Pilgrims. Und er spielt genau das, was Sam als finalen Dreiklang komponiert hat: drei extravagante Boundaries in verschiedene Richtungen.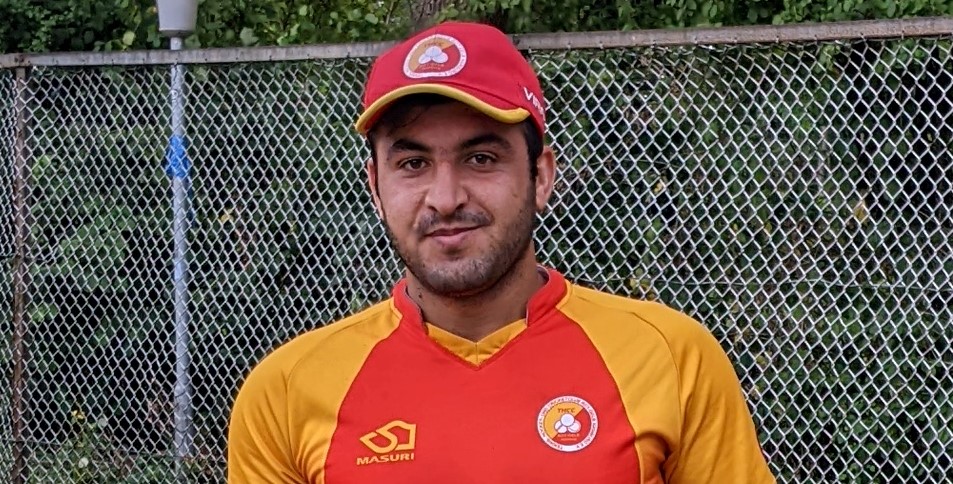 Applaus, Händeschütteln rundum. Ein großartiges Spiel, wunderbares Cricket für alle, friedliches Wetter, perfekte Harmonie auf und neben dem Spielfeld. Sams Song endete vielleicht nicht so, wie die Pilgrims es sich gewünscht hätten. Aber mit Solisten wie Buddhika, Rishab und "Man of the Match" Khalil wurden die Stimmen der Pilgrims einfach übertönt. Das sollte sie aber nicht zu sehr enttäuschen. Schließlich stehen noch zwei weitere Spiele in dieser Serie an. Und wer weiß, was die nächste Komposition für die Musiker bringen wird, die dann auftreten.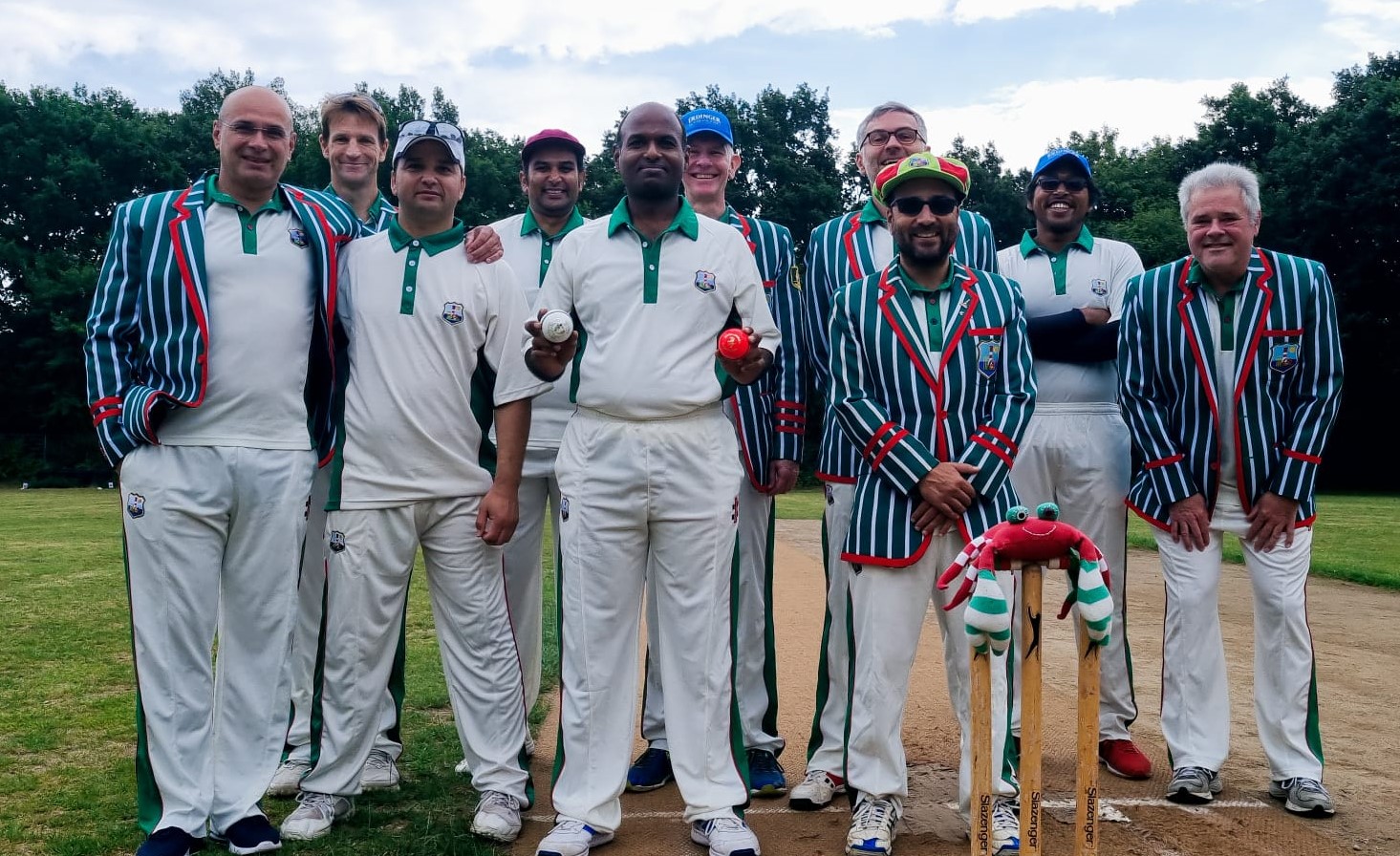 Heligoland Pilgrims: Abhi (cpt.), Abhik, Adrian (wk.), Aswin, Cam, Dev, Jörg, Kamal, Matthew, Moritz
THCC Metropolitans: Sam (cpt.), Baheer, Buddhika, Khalil, Lodhi, Oscar, Michael, Nitin, Ramatullah, Rishab, Rohit
Zuschauer: Chris
Report: Max Minor, Cricket-Korrespondent, Übersetzung: Max Minor (with DeepL)
Photographie: Samuel Penderbayne, Campbell Jefferys, Devadas Mundhra, Adrian Mancuso
Khalil sings Sam's song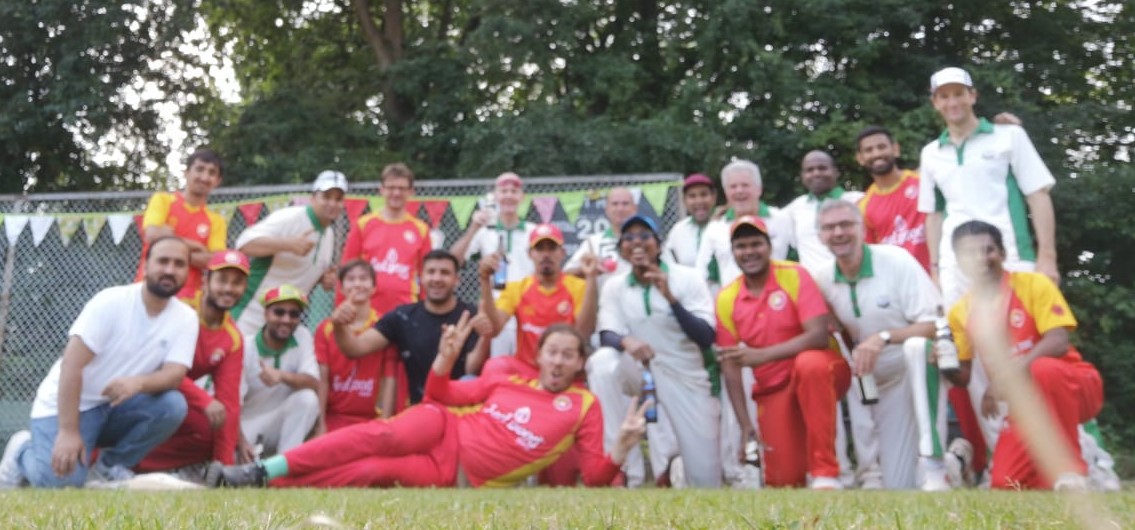 Cricket and music have more in common than meets the eye at first sight – or the ear at first sound. On 30 July 2022, however, this comparison had to be drawn. In the first match of the new Hammonia Cup, successor of the popular Pandemia Cup, THCC Metropolitans were captained by Sam, a composer and musician by profession. Although he had been appointed without knowing who would be in his company, he came up with a fitting tune and arrangement, quite in the spirit of Hamburg's goddess, embodying inter alia peace and harmony. His players proved to be a team of competent sight readers, especially the soloists, led by punchy Khalil. Conducted by the composer himself, Sam's song was performed not only by the Metropolitans. At the end of the day, Heligoland Pilgrims had to dance after Sam's pipe, too.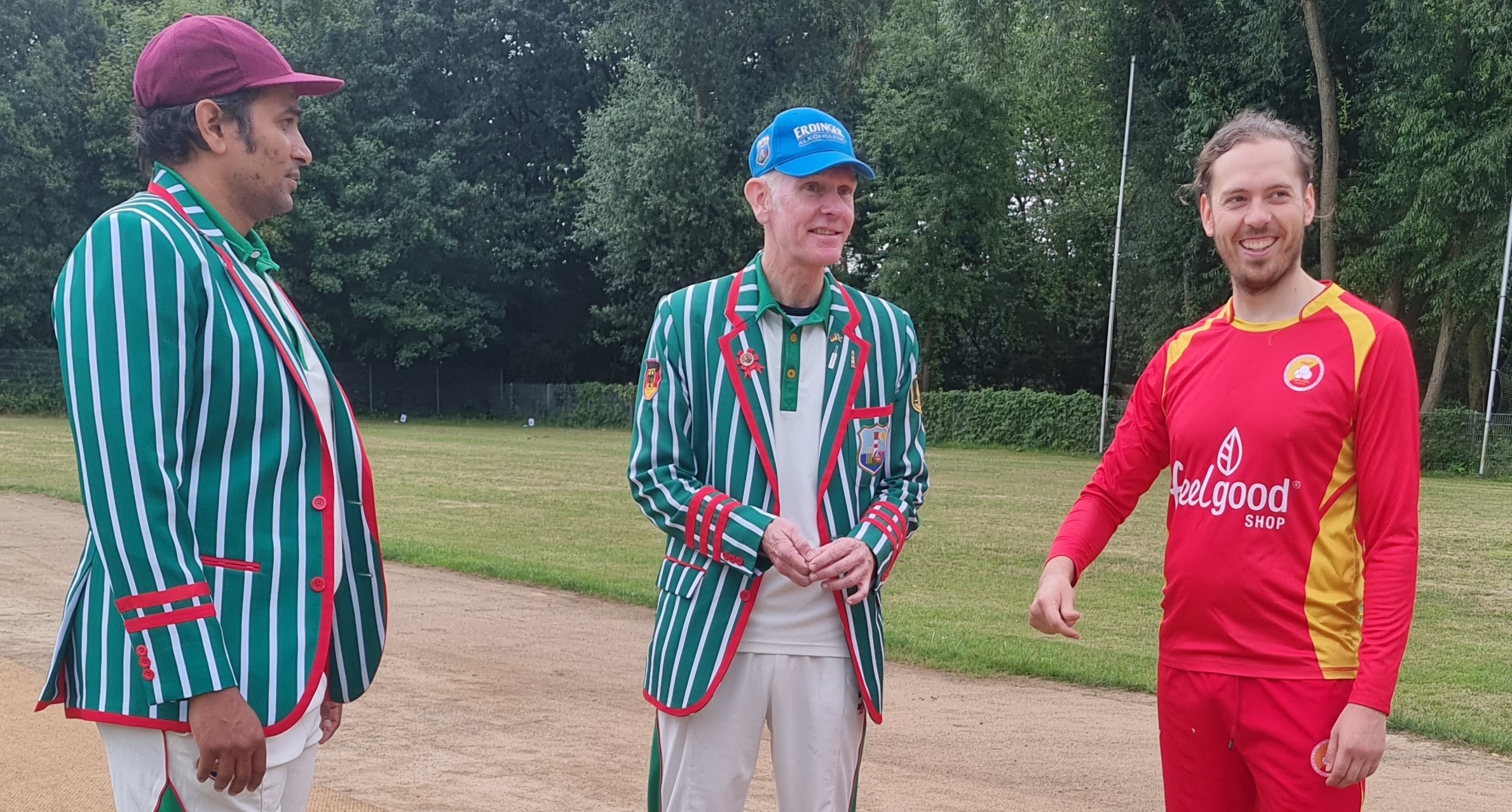 In truly pastoral settings, by way of overture, Sam had won the toss and put the Pilgrims under captain Abhi in to bat. Alas, only 9 Pilgrims had turned up. Cam conjured up a sound solution: Kamal was recruited as a new club member – after all, the dependable all-rounder had been playing against the islanders almost since their foundation a decade ago. So the Pilgrims welcomed not one, but two new players on this day, namely Abhik and Kamal. In what seemed like a calm sea, the Pilgrims tried to commence a prosperous voyage with Adrian and Matthew. Adrian was restricted to andante, nonetheless providing an obdurate counterpoint, and stuck in for almost 10 overs, Matthew was less lucky.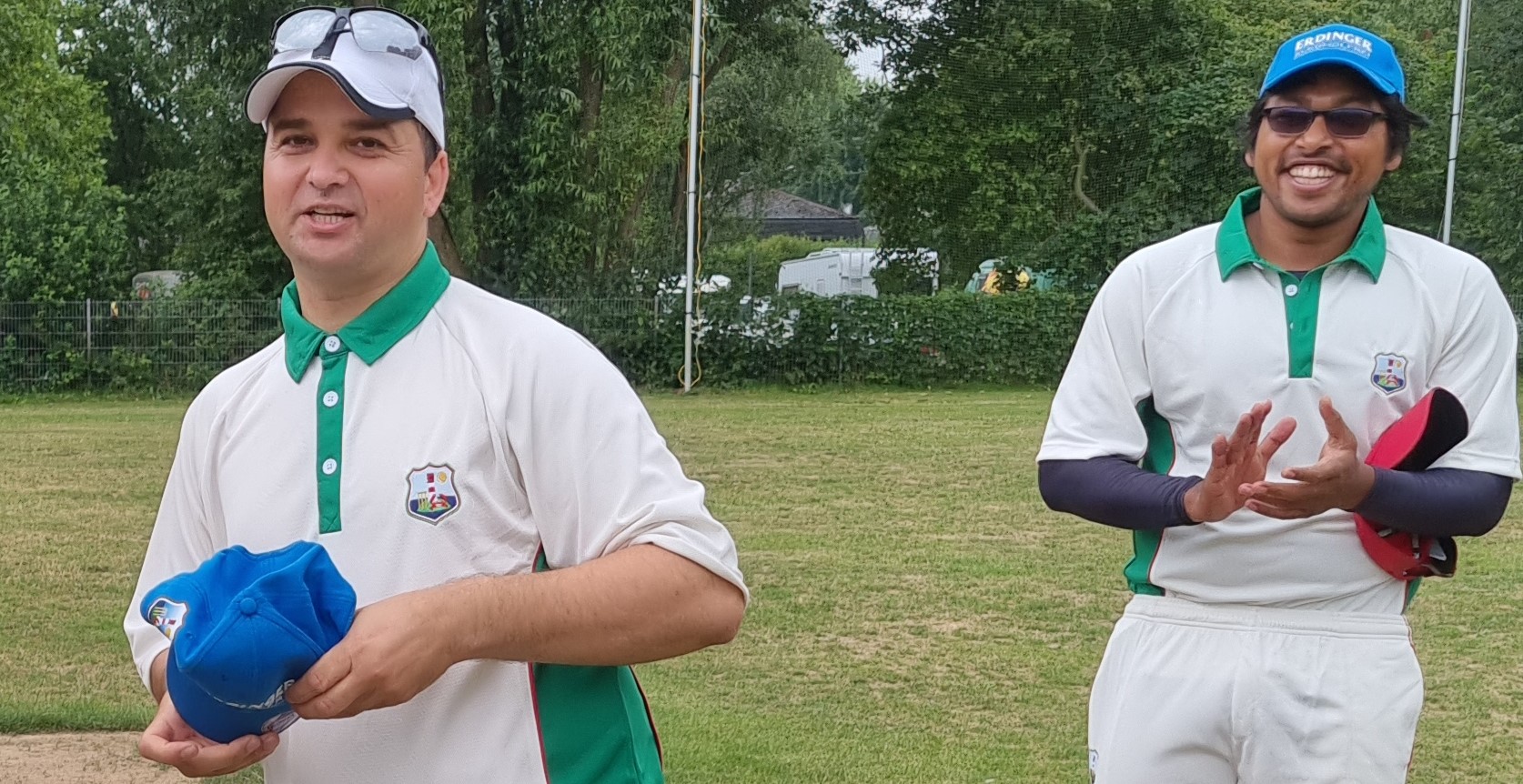 The reason: Sam had other, more full ensemble plans. After he himself had removed Matthew in his first over, he directed six other bowlers to take a wicket each in a steady rhythm: Nitin, Baheer, Ramatullah, Buddhika and Rohit banged – and Khalil. Had Buddhika not resorted to a double stop by taking 2 in 2 balls, this orchestration might have been even bigger. Lodhi, who got no wicket, held 2 catches instead – and so did Khalil. Other catches were taken by Rishab, Buddhika and Ramtullah.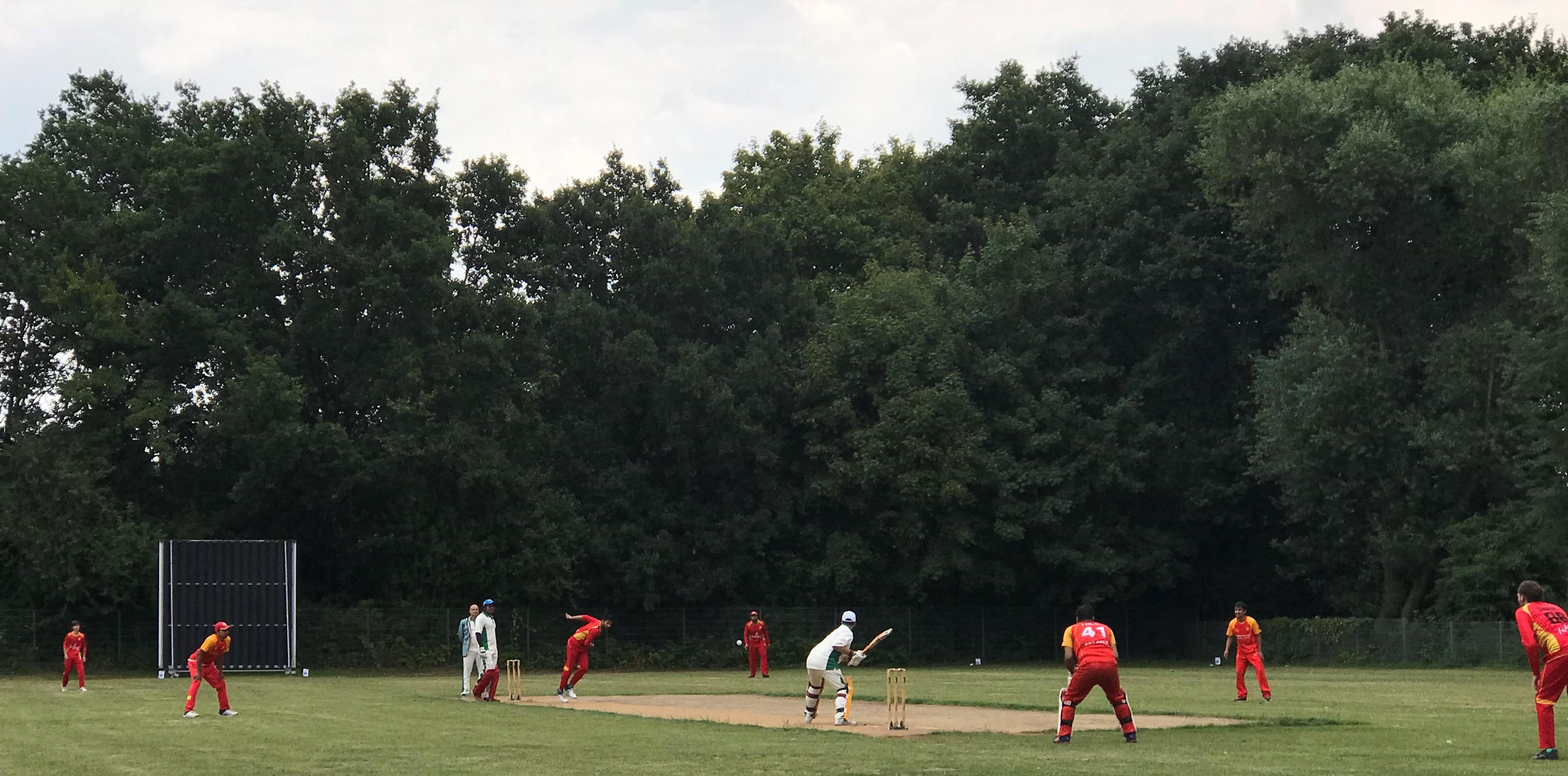 Enter Kamal at no. 3. Surpassed later merely by one other, the new Pilgrim scored an inaugural 43 runs, most of them together with his fellow-novice, Abhik, who reached 34 as left-hander. Theses scores were eclipsed in a 72-runs partnership by Cam, who lost his wicket to none other than Khalil on 51, and Dev, who remained 19*. In the meantime, Moritz had also contributed 19 runs in a change of key. Then captain Abhi declared on 200, just 8 minutes before the innings break. Once again it is debatable if the Pilgrims' sporting declaration came too early. Abhi might have preferred to go on, allegedly Cam prompted him to stop. Maybe they both need another lesson in composition.

Just at that stage Heligoland Pilgrims should have struck fortissimo, especially with their new players Abhik and Kamal opening the bowling. But Sam's song said allegro presto for THCC Metropolitans. His openers climbed the scales melodically to a century in 12 overs, Khalil 59 in total control, Rishab 41 no less efficient. Matthew and Cam deserve credit for pausing the top-scorer, the former bowling, the latter holding the precious catch. Then Ramatullah entertained with a little 29 runs menuetto. Progressively, the Pilgrim's volume decreased, until it reached the sound of silence. This was regularly interrupted by short bursts of loud cheers for Dev who took 5 for 31 without any fielder's help (4 bowled, 1 lbw). Mind you, there was entertaining fielding, especially by Jörg, who stopped the ball in Ninja-style on a number of occasions.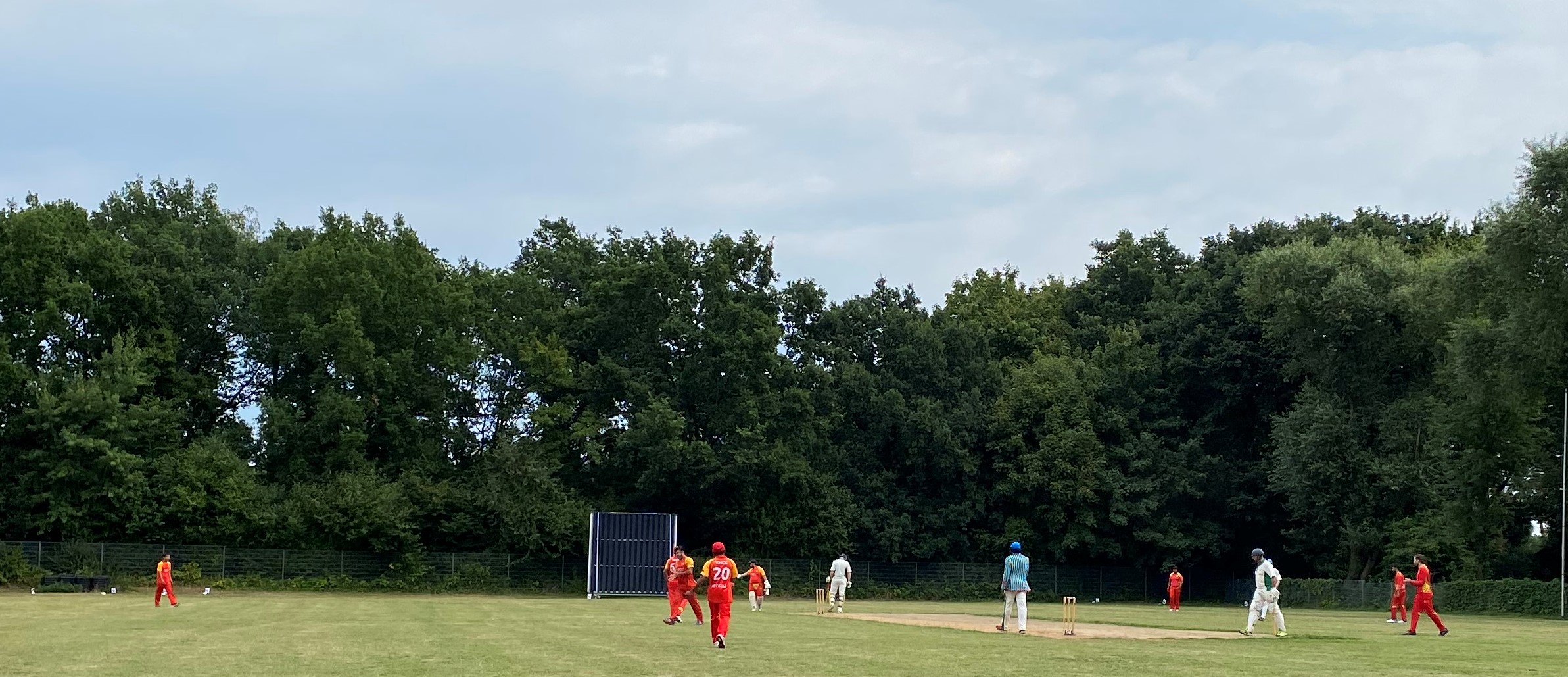 Four overs left, the score is 174 for 6, i.e. 25 more runs to win for THCC. Sam is afraid of a draw. Dev takes his 5th wicket. But neither he nor Kamal can impede the noisy Metropolitan onslaught. At 189, with 12 to win for THCC, Abhi, deserted by his other bowlers' luck, has given the ball once again to Abhik. The new batsman at the crease is Buddhika, who has lubricated his voice with free ERDINGER beer, as usual provided by the Pilgrims' sponsors. And he plays just what Sam has composed as the final triad: three flamboyant boundaries in different directions.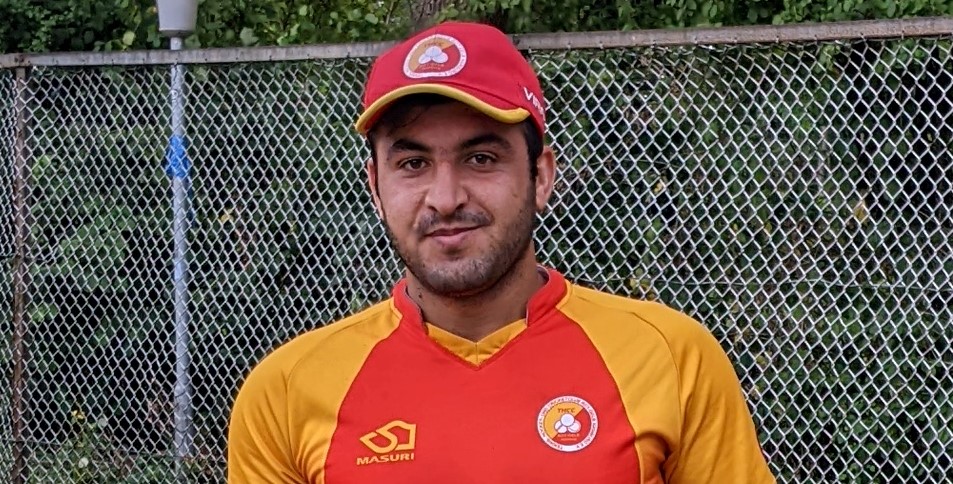 Applause, shake hands all round. Great match, wonderful cricket for everyone, peaceful weather, perfect harmony on and off the field. Sam's song may not have ended as the Pilgrims would have liked it. But with soloists like Buddhika, Rishab and Man of the Match Khalil, the Pilgrims voices were just drowned. This should not disappoint them too much. After all, there are two more matches to come in the series. And who knows what the next composition will bring for the musicians who will perform then.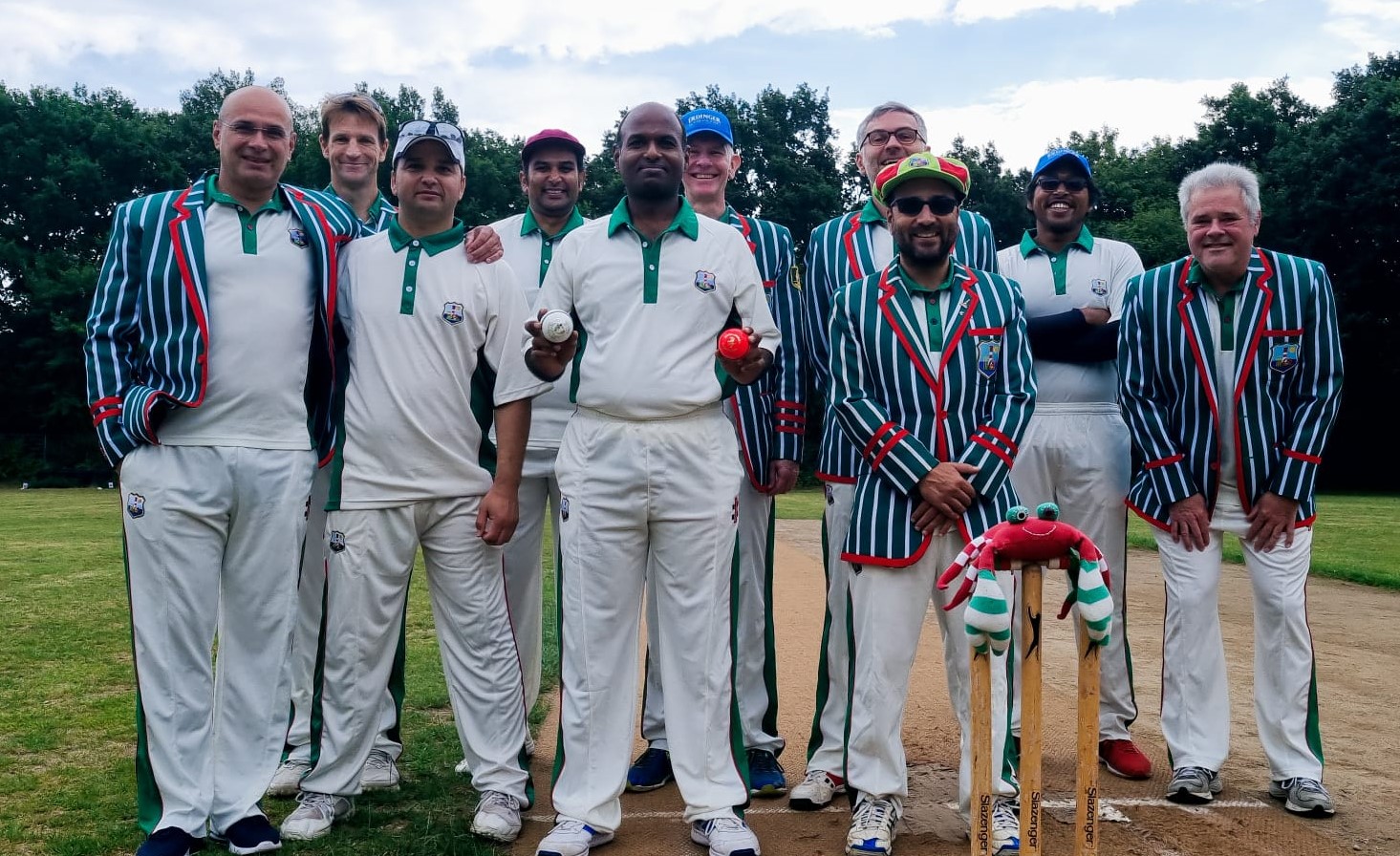 Heligoland Pilgrims: Abhi (cpt.), Abhik, Adrian (wk.), Aswin, Cam, Dev, Jörg, Kamal, Matthew, Moritz
THCC Metropolitans: Sam (cpt.), Baheer, Buddhika, Khalil, Lodhi, Oscar, Michael, Nitin, Ramatullah, Rishab, Rohit
Spectator: Chris
Report: Max Minor, Cricket-Correspondent
Photography: Samuel Penderbayne, Campbell Jefferys, Devadas Mundhra, Adrian Mancuso