Read the English version below.
Mach keinen Fehler!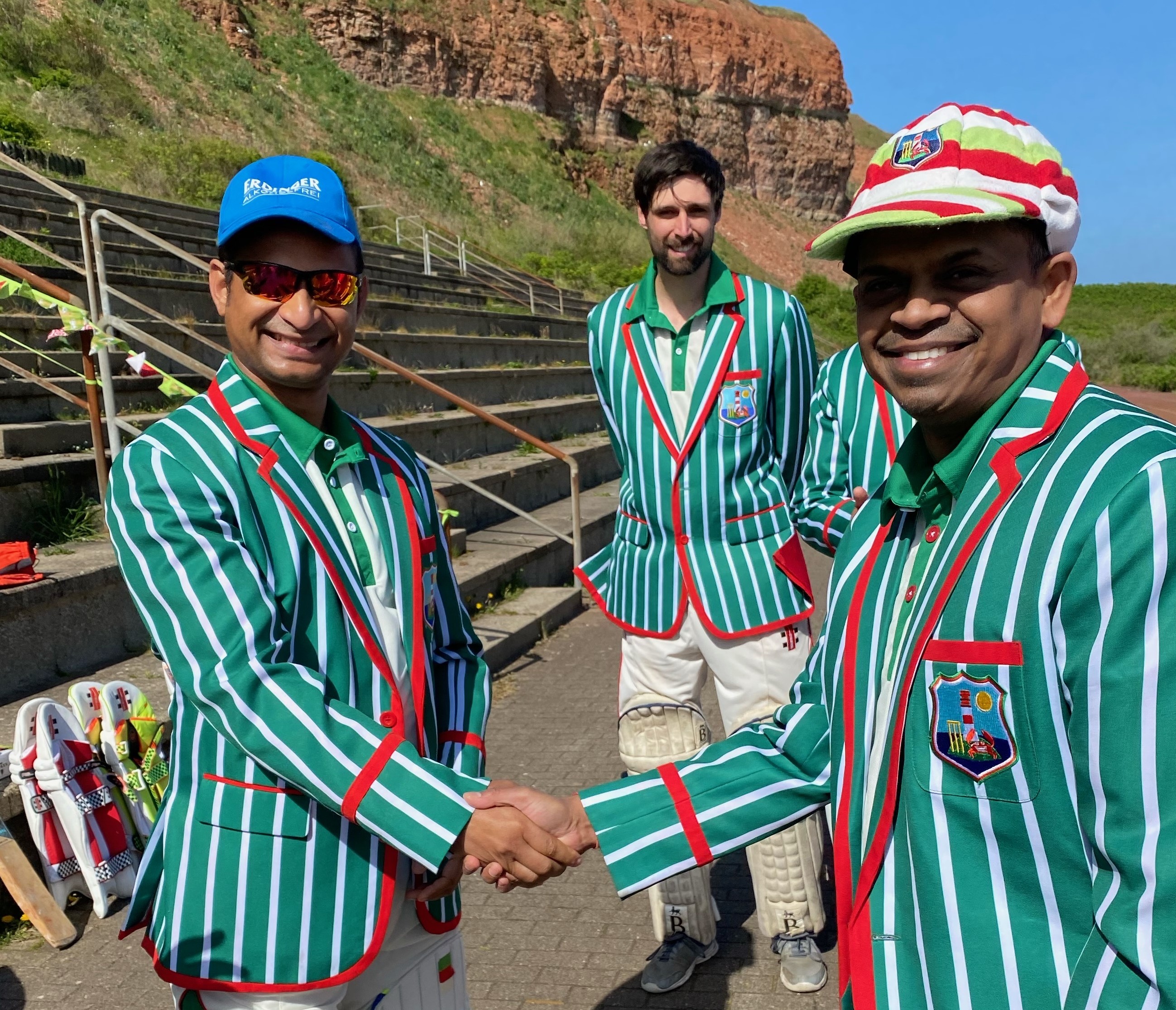 Heligoland Pilgrims Neuzugang Bipin machte keinen Fehler. Obwohl er bereits dreimal auf der Insel gespielt hatte, war es sein erstes Spiel für seinen neuen Verein. Und was für ein Debüt es war! In beiden Innings holte er mit seinem allerersten Ball ein Wicket, im ersten Innings holte er zum Auftakt sogar ein Wicket Maiden (7-3-22-1), und im zweiten Innings holte er die meisten Wickets beider Teams (6-0-36-3). Mit einem zusätzlichen Topscore von 74* aus nur 41 Bällen, darunter 8 Boundary Sixes, war Bipin ein würdiger Gewinner der Auszeichnung "Man of the Match" der Pilgrims. Und dann machte er doch einen Fehler – im ersten Innings ließ er sich am Spielfeldrand fangen.
Ob Satya einen Fehler gemacht hat, ist umstritten. Der Pilgrims-Kapitän hat beim 9. ERDINGER Alkoholfrei Atlantik Cup, der am 14. und 15. Mai 2022 ausgetragen wurde, das Spiel nicht gewonnen. Aber er hat es auch nicht verloren. Die entscheidende Frage ist, ob seine Declaration zu spät kam. War es ein Fehler, mehr Runs als nötig zu erzielen, und hätten die Pilgrims mit einer früheren Declaration Putney CC aus London auskegeln können? Allerdings hätten die Gäste dann eine bessere Chance gehabt, das Spiel zu gewinnen, und die Pilgrims hätten es vielleicht verloren. Werfen wir einen Blick auf die Details des sportlichen Wettkampfs.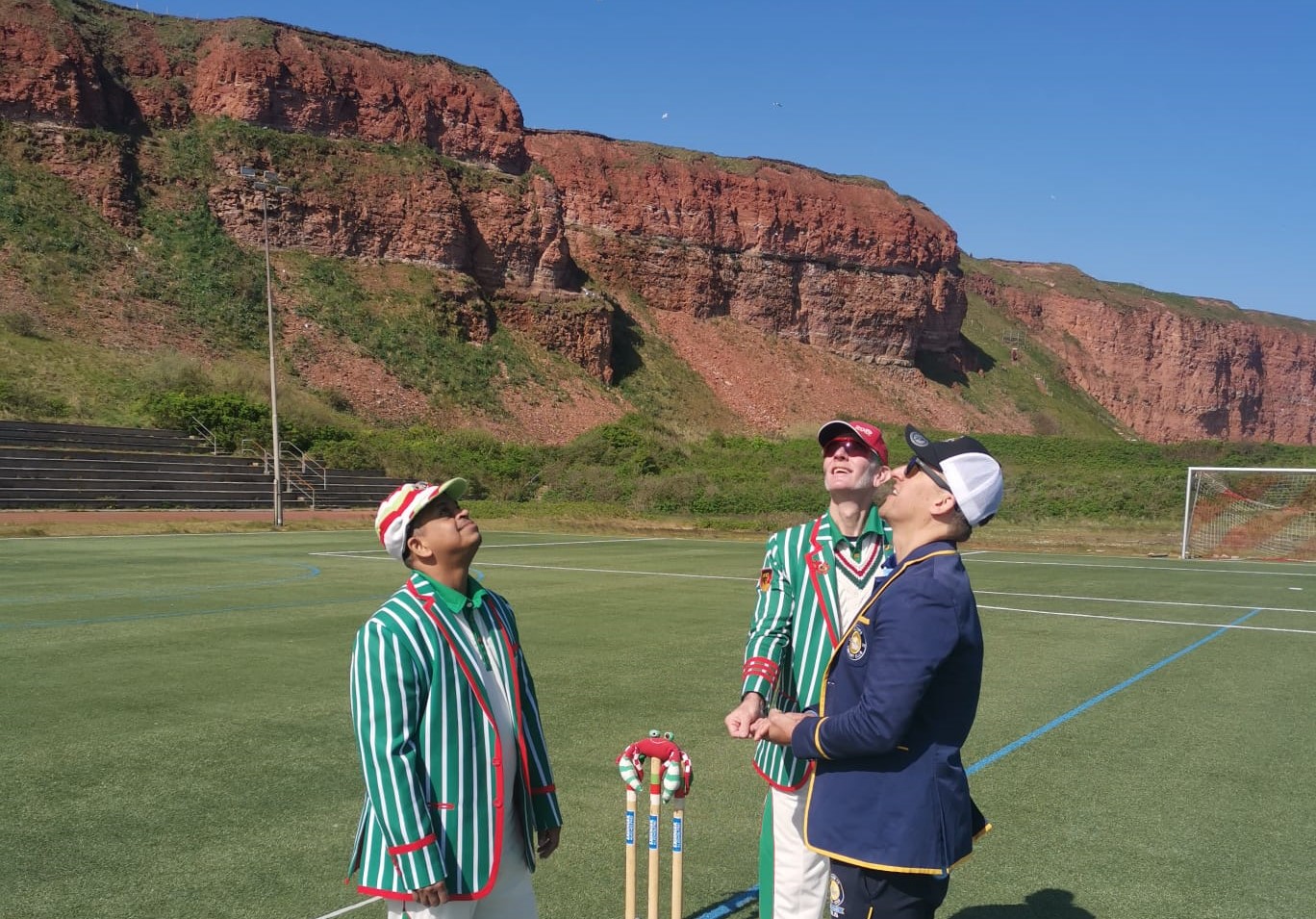 Nachdem Heligoland Pilgrims-Kapitän Satya das Los gewonnen hatte, fragte er Putneys Kapitän Ben nach seiner Wahl, und auf Bens Wunsch hin begannen die Gäste im Feld. Die unerschütterlichen Eröffnungsspieler Mithun (38) und Dan (50*) legten in 15 Overs einen soliden Hunderter vor und ermöglichten es den Pilgrims, von da an entspannt zu punkten. Sie erreichten ein starkes Ergebnis von 264/6, wobei der treue Surya (53*) in seiner gewohnt eleganten Art die meisten Runs erzielte. Nur Chris machte einen nennenswerten Fehler, als er sich die Achillessehne riß – und damit Luke die Möglichkeit als 12. Mann zu spielen gab. Wie immer gab es Kuchen aus der Inselbäckerei und kalte ERDINGER-Getränke, die Amandus Hamel in der Spielpause lieferte.

Man darf sich nicht täuschen: Putney hatte sich von Anfang an Sorgen um die Stärke ihrer Mannschaft gemacht. Und in der Tat, als sie sich nach 15 Overs auf 50/3 herankämpften, sah es nach einem unausgeglichenen Spiel aus. Doch ein Wechsel im Bowling, der allen Pilgrims außer Mithun hinter den Stumps eine Chance gab, ließ die Run-Rate der Gäste in die Höhe schnellen. Mit wertvollen Beiträgen von Ritwik (58*) und Matt (50*) endete Putney schließlich auf 251 Punkten, nur 13 Runs hinter den Pilgrims. Im Angriff der Pilgrims verdient Anerkennung neben Bipin (7-3-22-1) vor allem Surya (7-1-24-1), der Star des letztjährigen Spiels Rick (4-1-18-1) und vor allem Bai (6-2-12-2), der auch einen schwierigen Fang auf Square Leg hielt.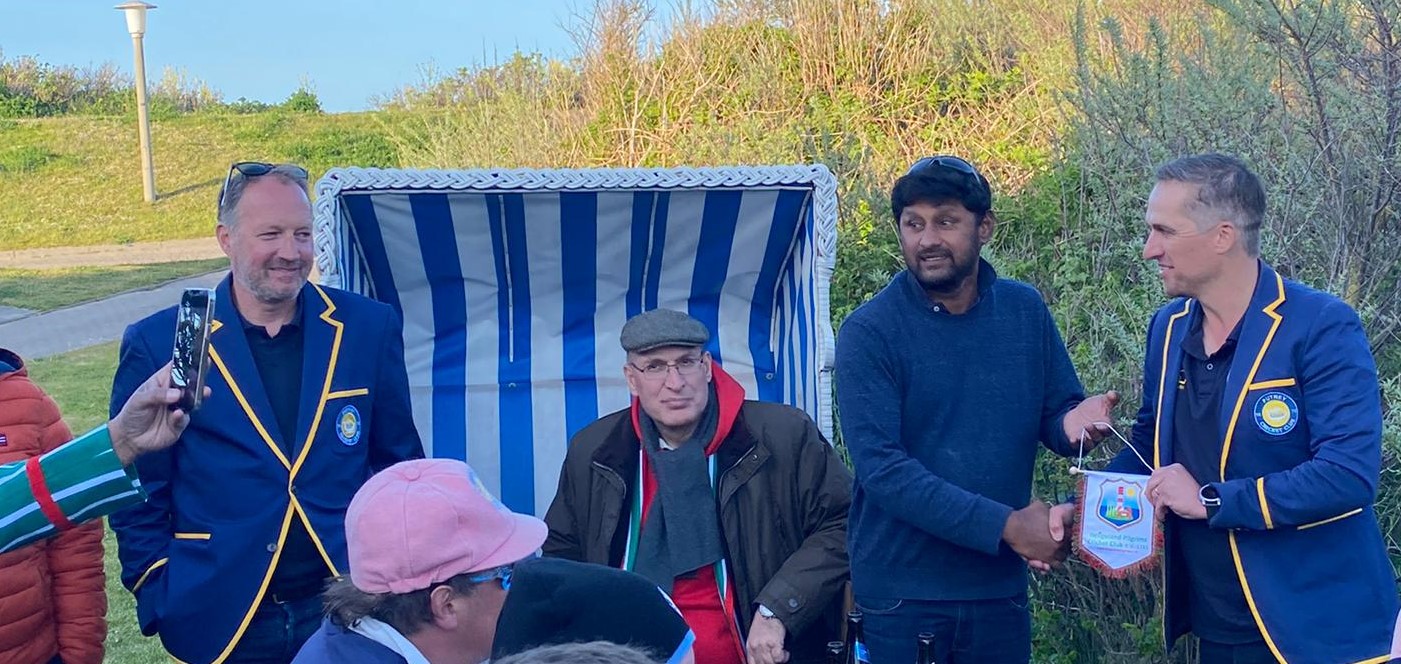 Wieviele Punkte nötig sein würden, um Putney am zweiten Tag aus dem Spiel zu werfen, war der strittige Punkt unter den Pilgrims beim traditionellen, mit ERDINGER angereicherten Grillen vor der Jugendherberge, zu dem die Gastgeber ihre Gäste am Ende des ersten Tages eingeladen hatten. Einige waren der Meinung, 160 würden genügen, 180 wurde von den meisten als ausreichend empfunden, 190 von fast allen als komfortabel – aber Satya gab Vollgas. Von 63/2 nach acht Overs kamen die Pilgrims auf 224/3 nach 21 Overs, wobei die meisten Runs von Bipin und Nabeel (58*) erzielt wurden. War diese späte Declaration ein Fehler?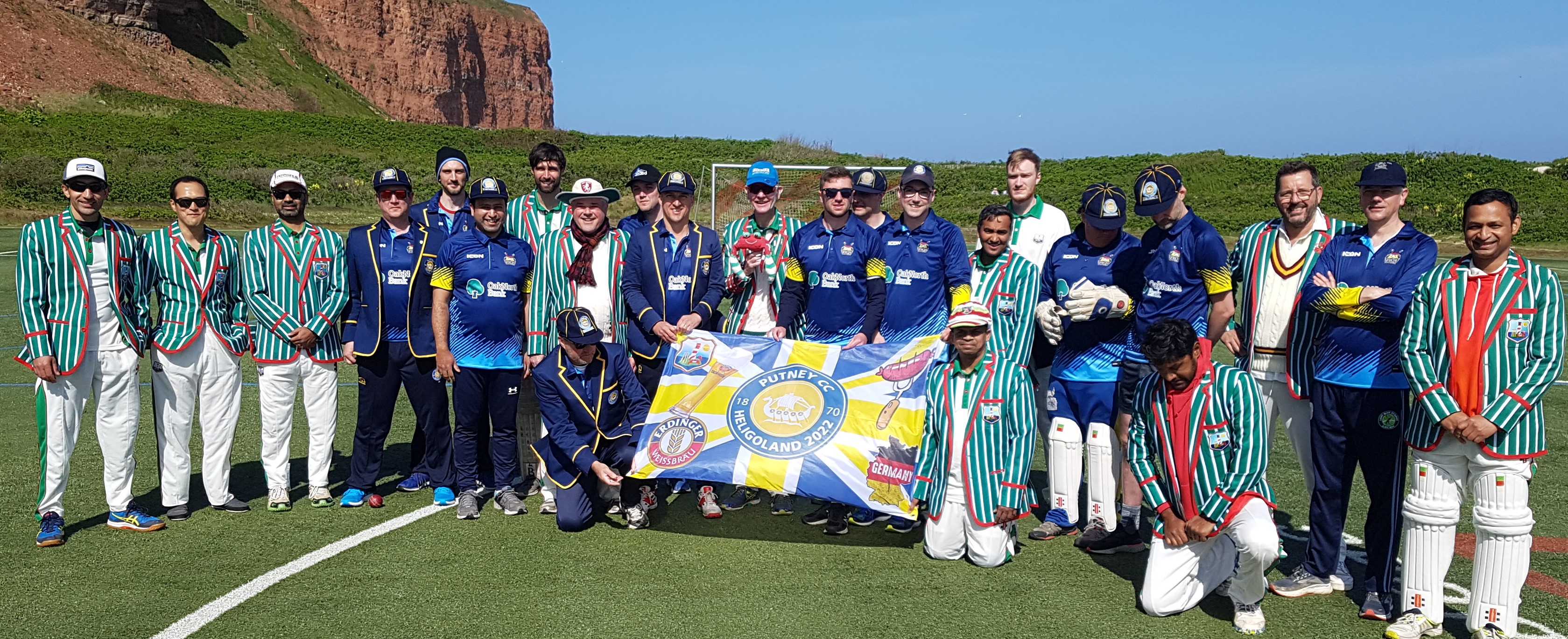 Mehr als die meisten anderen Sportarten lebt Cricket von Fehlern – und deren Folgen. Manche kann man vorhersehen, bevor man sie macht, manche werden unverschuldet gemacht, manche kann man entschuldigen, manche nicht. Der Geist des Spiels sollte jedoch niemals durch Fehler beeinträchtigt werden. Denn wenn man sich anstrengt, kann man einiges wieder gutmachen, sei es auf oder neben dem Spielfeld. Wides und No-Balls, Fehler der Bowler, werden der schlagenden Mannschaft gutgeschrieben. Fehler der Schlagleute werden regelmäßig mit dem Verlust eines Wickets bestraft. Fehler der Feldspieler können zu Boundaries oder zu fallengelassenen Fängen führen. Putney machte solche Fehler sichtbar, indem es dem Spieler, der für den letzten Drop verantwortlich war, eine rosa Mütze verlieh. Dan – mit der rosa Mütze auf dem Kopf – schlug vor, daß die Pilgrims diese charmante Tradition übernehmen sollten. Ob der Zeitpunkt einer Declaration ein Fehler ist, läßt sich jedoch nur im nachhinein erkennen. Daher darf Satya keine Schuld gegeben werden. Tatsächlich räumte jedenfalls einer von Putneys Spielern ein, sie hätten normalerweise erwartet besser abzuschneiden.

Die Declaration der Pilgrims ließ Putney ein Ziel von 238 zum Sieg in etwa 80 Minuten, unterbrochen vor der letzten Stunde durch köstliche Fischbrötchen vom Bielefelder Hof, die wieder mit reichlich ERDINGER Produkten heruntergespült wurden. Obwohl die Pilgrims schnell und effektiv bowlten und sechs ihrer Bowler in 25 Overs mindestens ein Wicket holten, konnten sie nur acht Schläger von Putney für insgesamt 122 Runs ausschalten. Keeper Mithun fing zu Beginn des Innings einen Ball, und Jörg erwischte den letzten Gegner lbw mit dem letzten Ball. Es fehlten noch drei Wickets (von 11), doch die Zeit war abgelaufen.

So mußte der Pokal geteilt werden. Das war aus der Sicht beider Seiten wahrscheinlich kein Fehler. Schließlich waren alle gekommen, um zwischen den imposanten Klippen und dem belebenden Meer etwas Frühsommer-Cricket zu genießen. Das Wetter war trocken und mild und wurde am Sonntag noch wärmer, die Insel begrüßte die Besucher der Vorsaison und die Jugendherberge bot allen Spielern ideale Gastfreundschaft – unter der Flagge der Pilgrims, welche die Herberge gehißt hatte. Was hätte man sich also mehr wünschen können?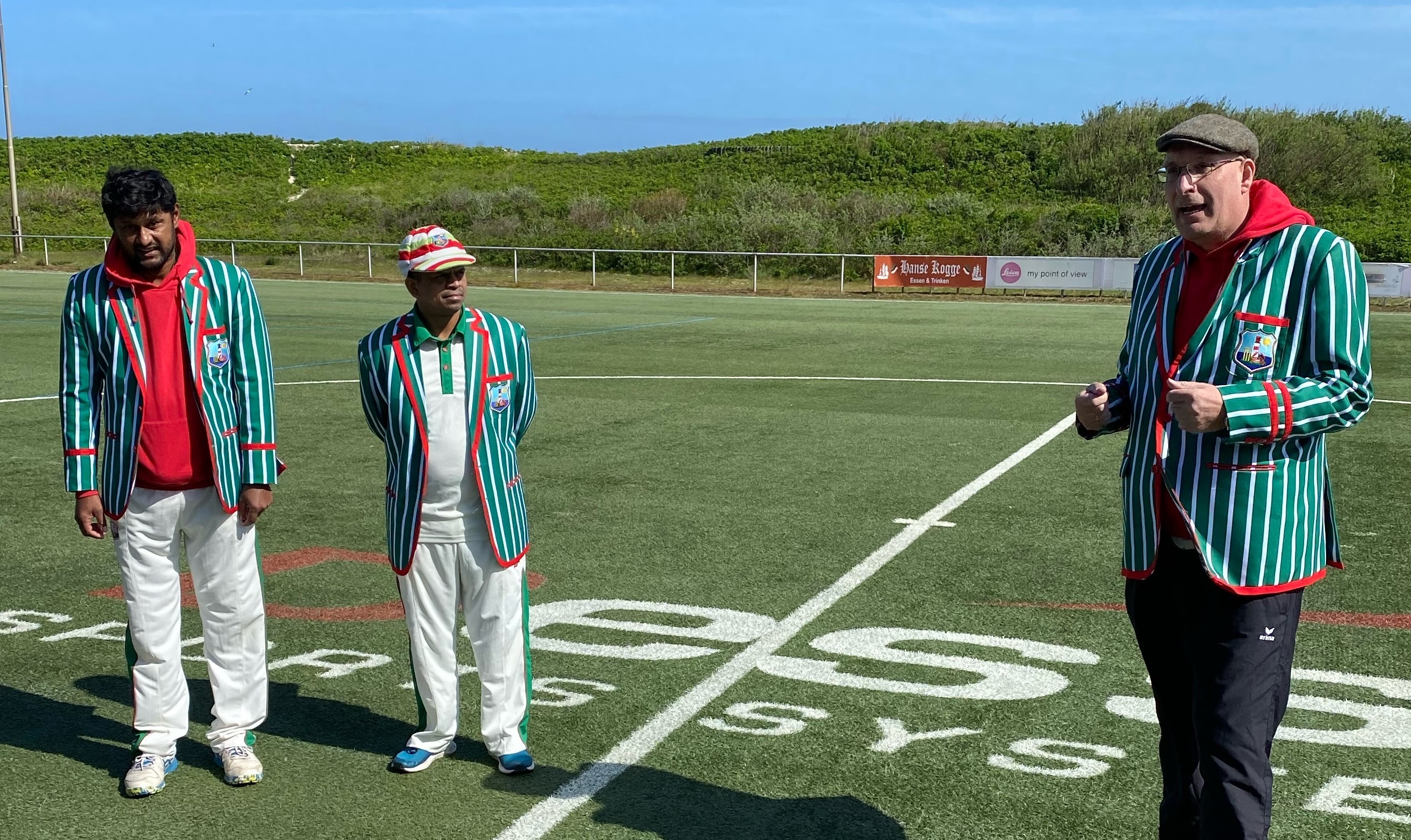 Zumindest die Mannschaft der Heligoland Pilgrims schien mit ihrem jüngsten Ausflug auf die Insel zufrieden zu sein. Ihr Präsident konnte sich auf die Unterstützung aller seiner Mitstreiter verlassen. Kapitän Satya hatte eine echte Teamleistung geschmiedet. Ehrenvizepräsident Mark, der zum neunten Mal auf Helgoland war, hatte eine inspirierende Begrüßungsrede gehalten, in der er den Atlantik Cup mit einem Berggipfel gleichsetzte. Ehrenmitglied Surya hatte die Ansprache des Gastkapitäns beim Grillen erwidert und auch den Pokal und die Auszeichnungen für die besten Spieler des Spiels überreicht. Diese Trophäe ging nicht nur an Bipin, sondern auch an Marks Bruder Matt, der für Putney spielte, aber seit langem Mitglied im Pilgrims Club ist. Dan vermißte das traditionellen Singen, aber die Trompete des Präsidenten blieb stumm. Das sollte man nicht falsch verstehen: Seine akribische Organisation der Veranstaltung wurde als tadellos gelobt. Auf der Rückfahrt mit der Fähre überreichten seine Mitspieler ihm eine Flasche "Mineralwasser" mit dem passenden Namen "The Quest". Er hat unserem Reporter versichert, daß die Suche im September fortgesetzt wird.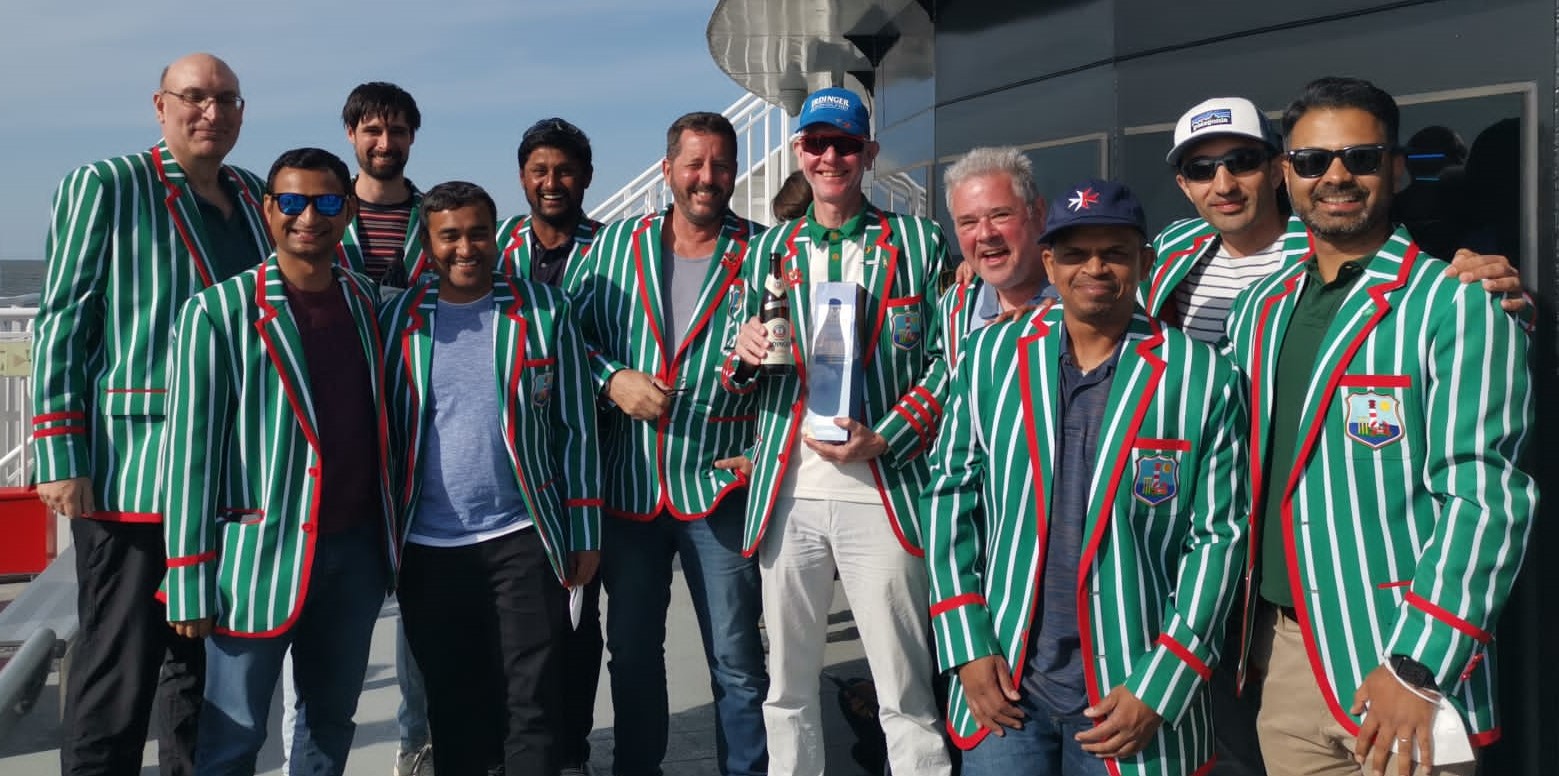 Heligoland Pilgrims: Bai, Bipin, Chris, Dan, Jörg, Luke, Mithun (wk), Moritz, Nabeel, Rick, Satya (c), Surya
Putney CC: Alexander, Ben (c), Callum, Devon, James H. (wk), James R., Mark, Matt, Ritwik, Samuel, Sebastian, Stephen
Schirmherr: Mark R.
Report: Max Minor, Cricket-Korrespondent, Übersetzung: Max Minor (with DeepL)
Photographie: Nabeel Iqbal, Mark Richardson

Make no mistake!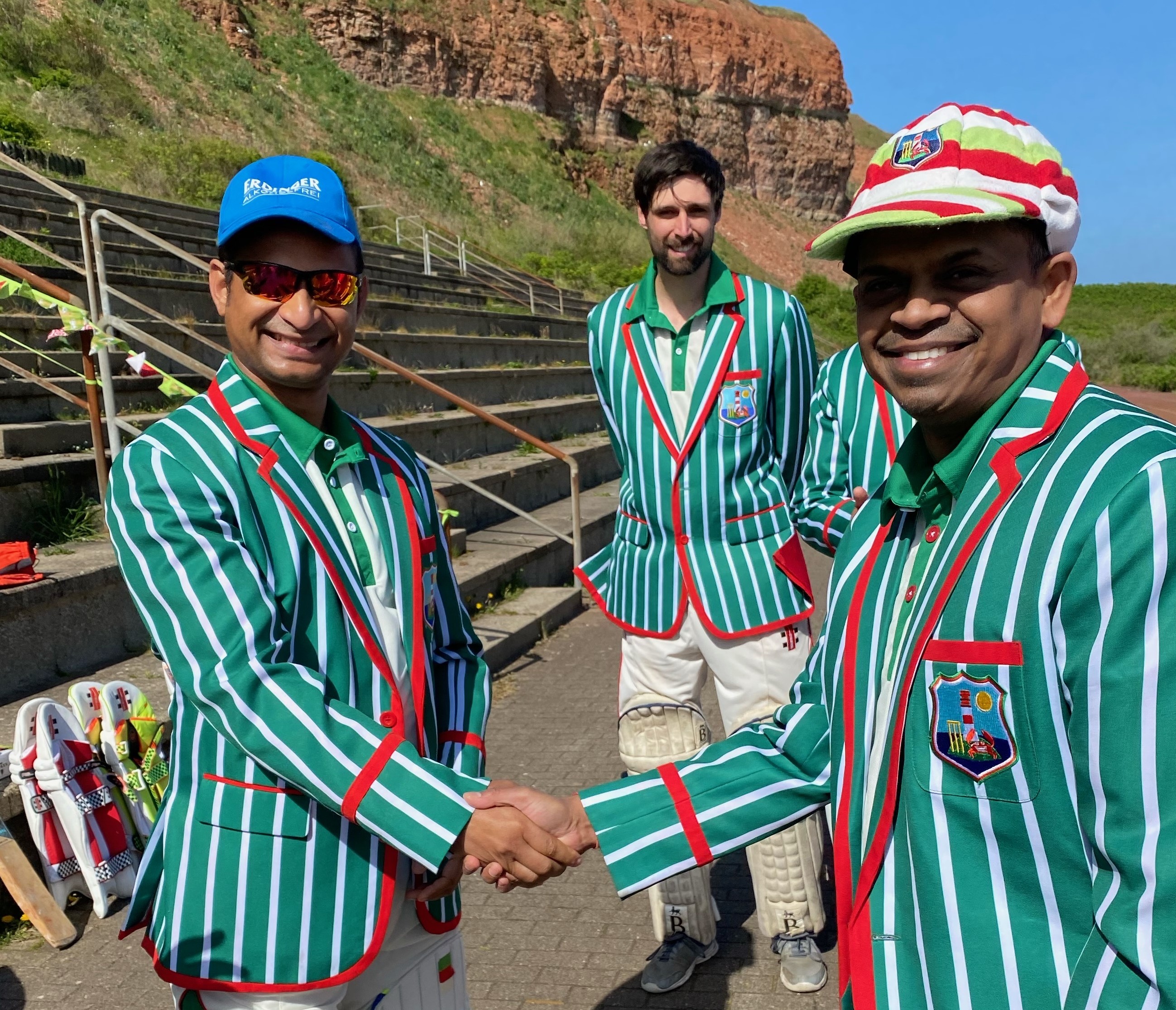 New Heligoland Pilgrim Bipin made no mistake. Although he had already played on the island three times, this was his first match for his new club. And what a debut it was! In both innings he took a wicket with his very first ball, in the first innings he even took off with a wicket maiden (7-3-22-1), and in the second innings he took down most wickets of both teams (6-0-36-3). With an additional top score of 74* off only 41 balls, which included 8 boundary sixes, Bipin was a worthy winner of the Pilgrims' Man of the Match award. And then again, he made a mistake after all – in the first innings he got himself caught on the boundary.
Whether Satya made a mistake is debatable. The Pilgrims captain in the 9th ERDINGER Alkoholfrei Atlantik Cup, played on 14 and 15 May 2022, did not win the match. But he did not lose it either. The crucial question is whether his declaration came too late. Was it a mistake to score more runs than necessary, and could the Pilgrims have bowled out Putney CC from London with an earlier declaration? Mind you, the guests would then have had a better chance to win the tie, and the Pilgrims might have lost it. Let us have a look at the details of the sporting contest.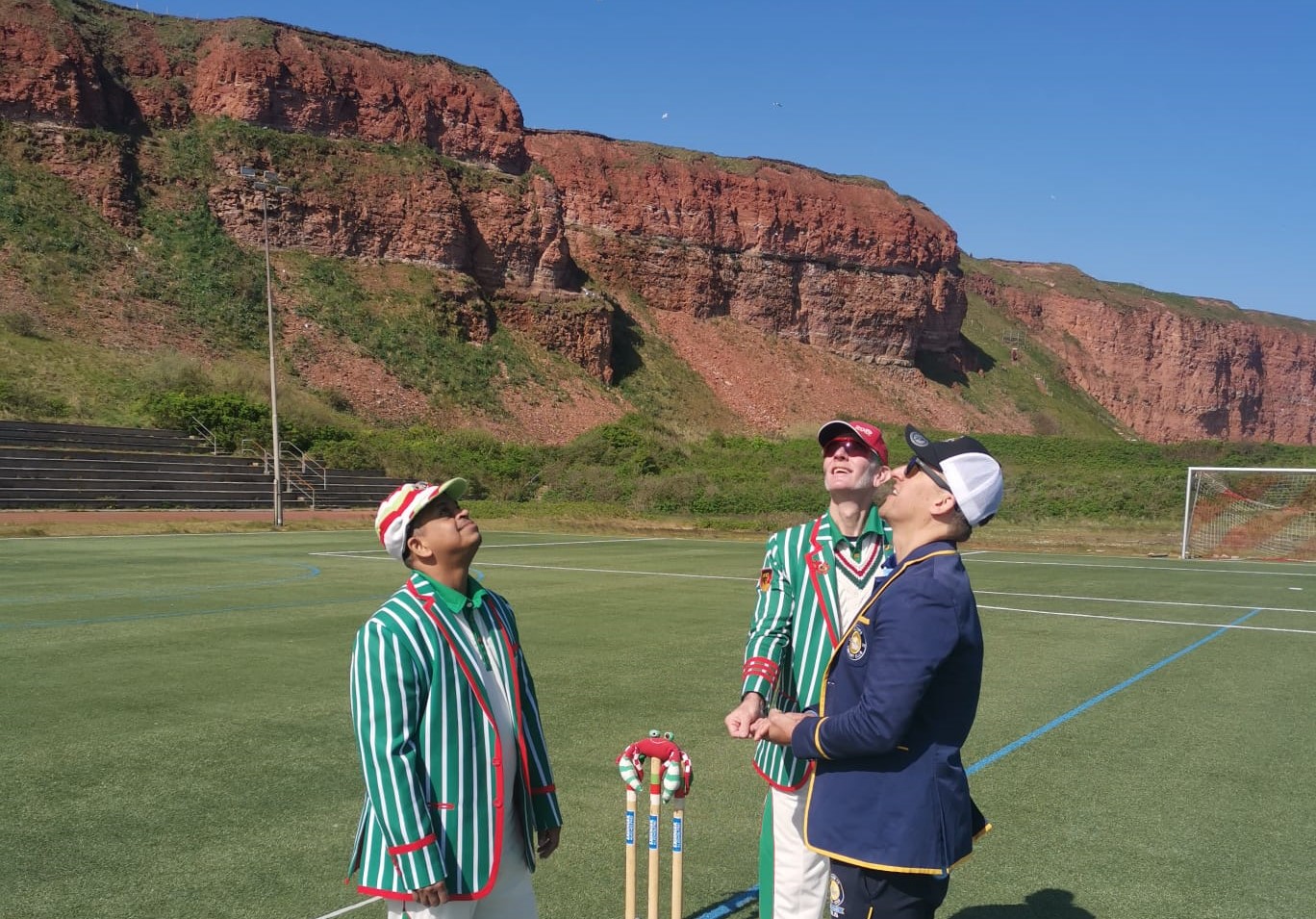 Upon winning the toss, Heligoland Pilgrims' Captain Satya had asked Putney's captain Ben for his choice and pursuant to Ben's request the guests fielded first. Fearless openers Mithun (38) and Dan (50*) established a solid century partnership in 15 overs and allowed the Pilgrims to score freely from thereon. They reached a competitive total of 264/6 with stalwart Surya (53*) achieving most runs in his regular elegant manner. Only Chris made a mistake worth mentioning by tearing his Achilles tendon – thus giving 12th man Luke a chance to take his place. As usual, there was cake from the island bakery and cold ERDINGER beverages which Amandus Hamel supplied during the innings break.

Make no mistake: Putney had been worried about the strength of their team from the outset. And indeed, when they just managed to creep to 50/3 after 15 overs, the match looked unevenly balanced. A change of bowling, however, which gave every Pilgrim a chance except Mithun behind the stumps, got up the guests' run-rate. Finally, with valuable contributions by Ritwik (58*) and Matt (50*), Putney finished on 251, only 13 runs behind the Pilgrims. Credit has to be given to the Pilgrims' attack, apart from Bipin (7-3-22-1), mainly to Surya (7-1-24-1), star of last year's match Rick (4-1-18-1), and especially to Bai (6-2-12-2) who also held a difficult catch at square leg.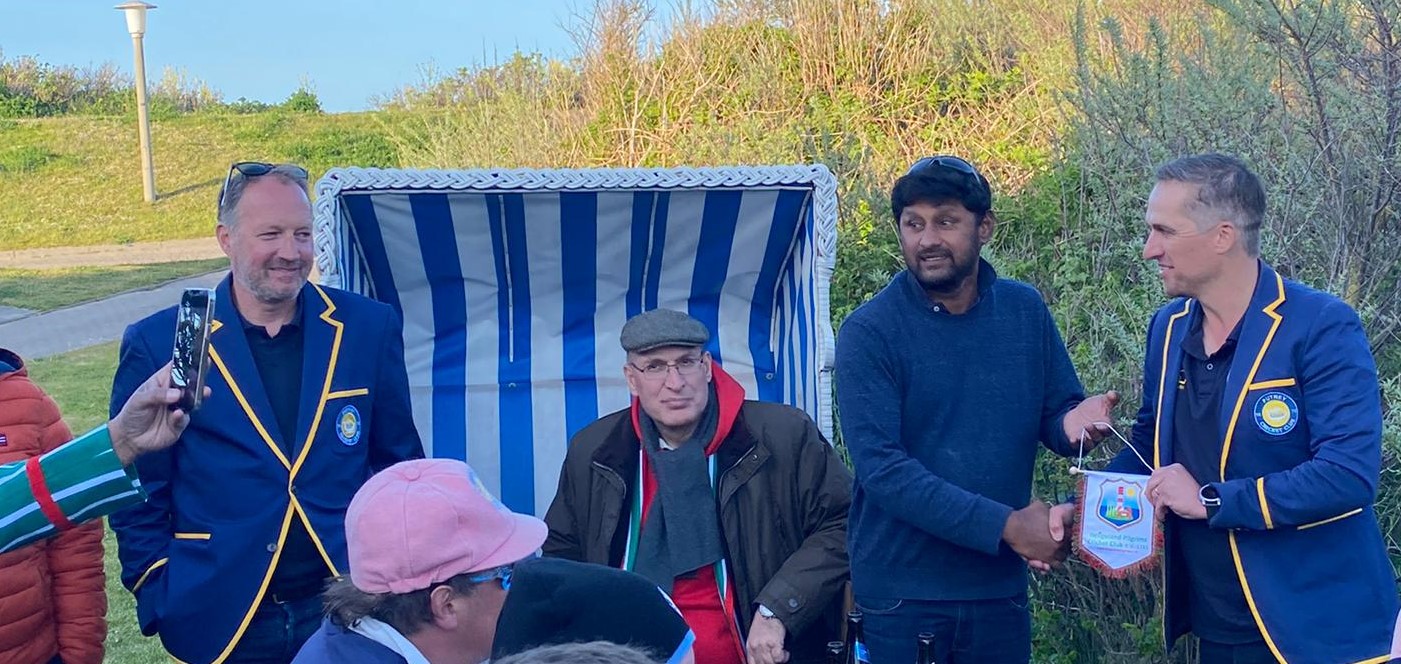 Naturally, the score needed for being able to bowl Putney out on the second day was the moot point amongst the Pilgrims at the traditional, ERDINGER infused barbecue outside the youth hostel, to which the hosts had invited their guests at the end of the first day. Some thought 160 might suffice, 180 was perceived as enough by most, 190 as comfortable by almost everyone – but Satya went for full throttle. From 63/2 after eight overs, the Pilgrims accelerated to 224/3 after 21, most runs being scored by Bipin and Nabeel (58*). Was this late declaration a mistake?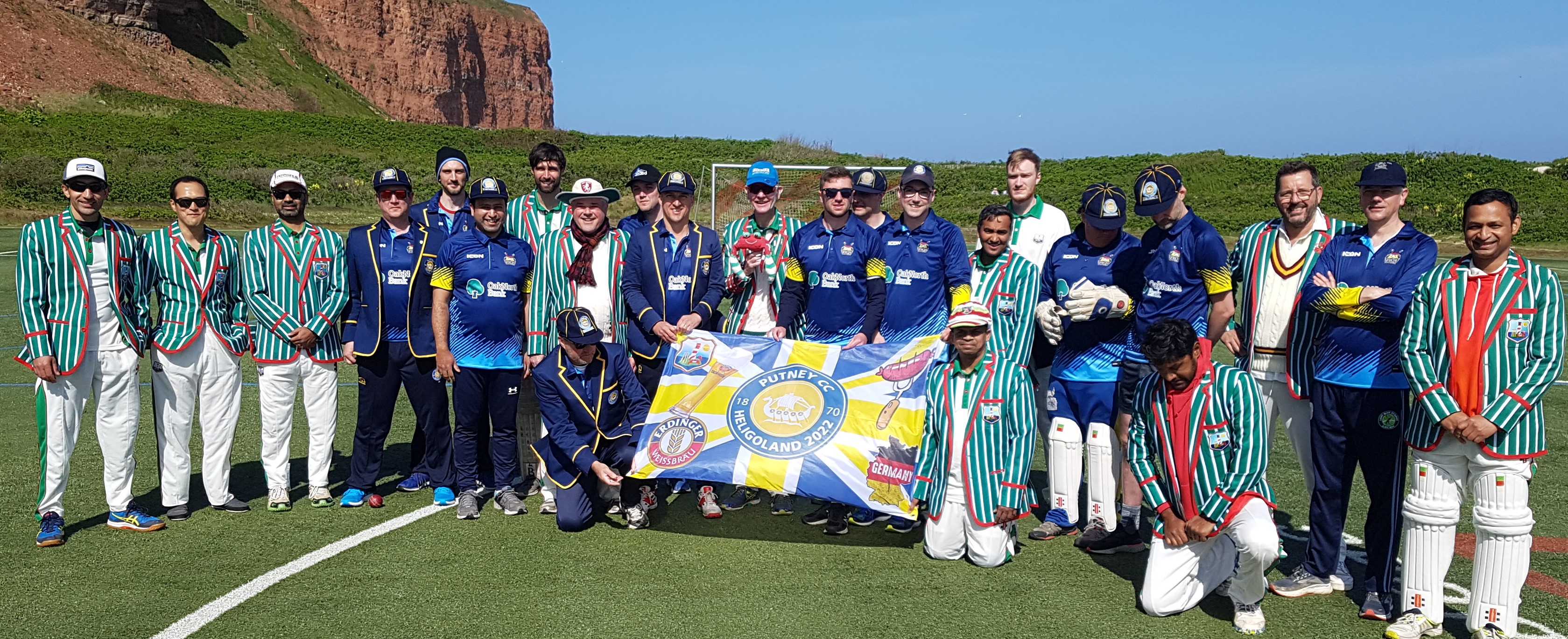 Cricket, more than most sports, lives on mistakes – and their consequences. Some can be anticipated before they are made, some are made without fault, some can be remedied, some cannot. The spirit of the game, however, should never be affected by mistakes. After all, if you try hard, you may redeem yourself, be it on or off the field. Wides and no-balls, mistakes of bowlers, are credited to the batting team. Batters' mistakes are regularly punished with the loss of a wicket. Fielders' mistakes may result in boundaries or in dropped catches. Putney made such mistakes visible by awarding a pink cap to the player responsible for the most recent drop. Dan – with the pink cap on his head – suggested the Pilgrims should adopt this charming tradition. However, whether the time of a declaration is a mistake, can only be recognised with hindsight. Hence Satya must not be blamed. Indeed, at least one of Putney's players admitted they would normally have expected to make a better job of chasing the total.

The Pilgrims' declaration left Putney a target of 238 to win in about 80 minutes, interrupted before the last hour by delicious fish rolls from Bielefelder Hof, washed down once again with copious amounts of ERDINGER products. Although the Pilgrims bowled quickly and effectively, six of their bowlers taking at least one wicket in 25 overs, they could eliminate merely eight of Putney's batters for altogether 122 runs. Keeper Mithun took a catch early in the innings, and Jörg trapped the last opponent lbw with the last ball. Three more wickets to go (of 11), but time was up.

As a result, the cup had to be shared. This was probably no mistake from the perspective of either side. After all, everyone had come to enjoy some early season cricket between the imposing cliffs and the invigoration seaside. The weather had been dry and clement, getting warmer on Sunday, the island embracing early season visitors and the youth hostel providing ideal hospitality for all players alike – a under the Pilgrims' flag which the hostel had hoisted. So, what more could have been asked for?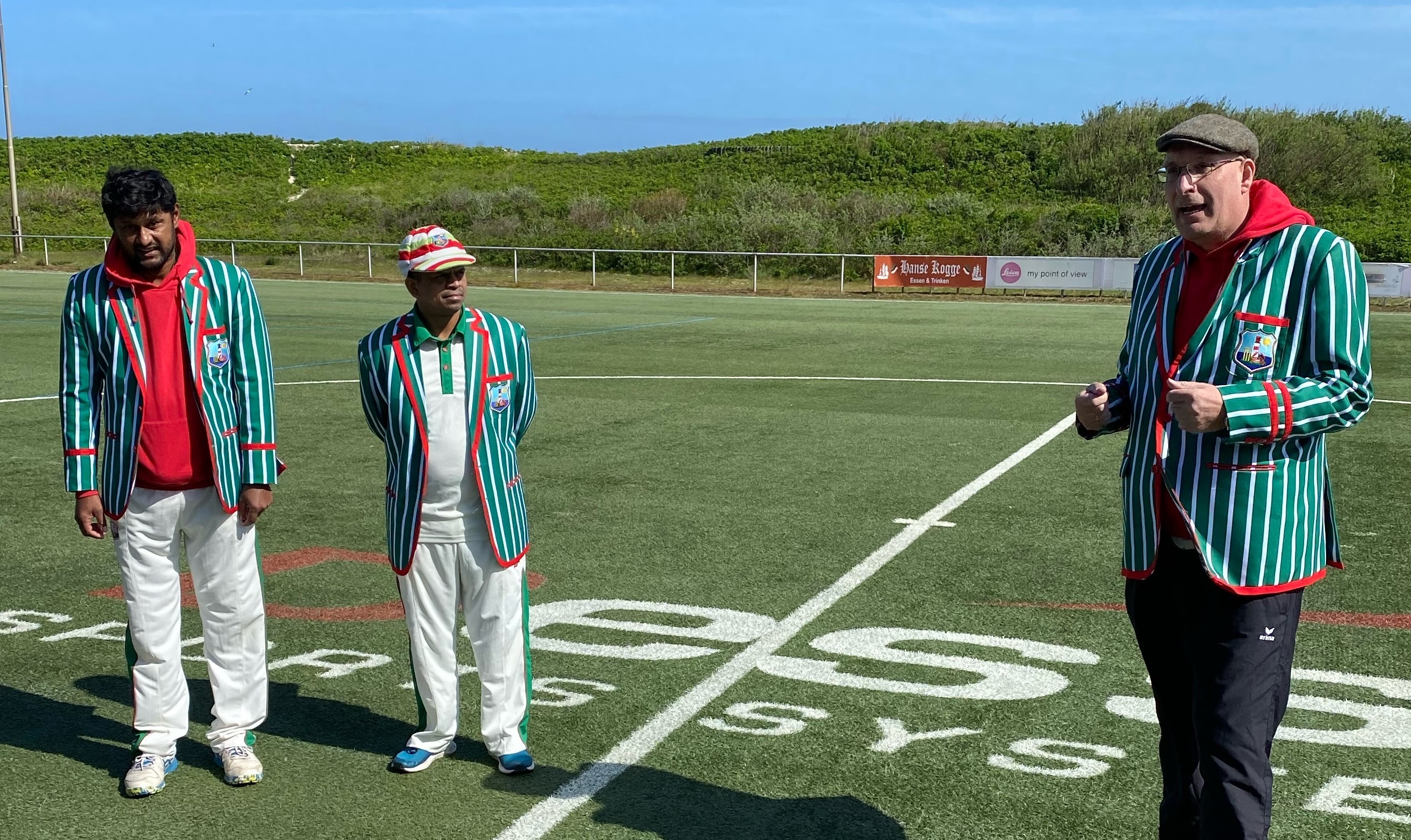 At least Heligoland Pilgrims' team seemed to be satisfied with their latest expedition to the island. Their president had been able to rely on the support of all his companions. Captain Satya had forged a true team effort. Honorary Vice President Mark, on his 9th tour to Heligoland, had presented an inspiring welcome equating the Atlantik Cup with a mountain peak. Honorary member Surya had reciprocated the visiting captain's speech at the barbecue and also presented the Cup and the Man of the Match awards. This trophy not only went to Bipin, but also to Mark's brother Matt who played for Putney, but has long been enrolled as a Pilgrims' club member. Dan missed the traditional singing, but the President's trumpet remained silent. Make no mistake: His meticulous organisation of the event was praised as faultless. On the return ferry his teammates presented him with a bottle of "mineral water" fittingly called "The Quest". He has assured our reporter the quest will continue in September.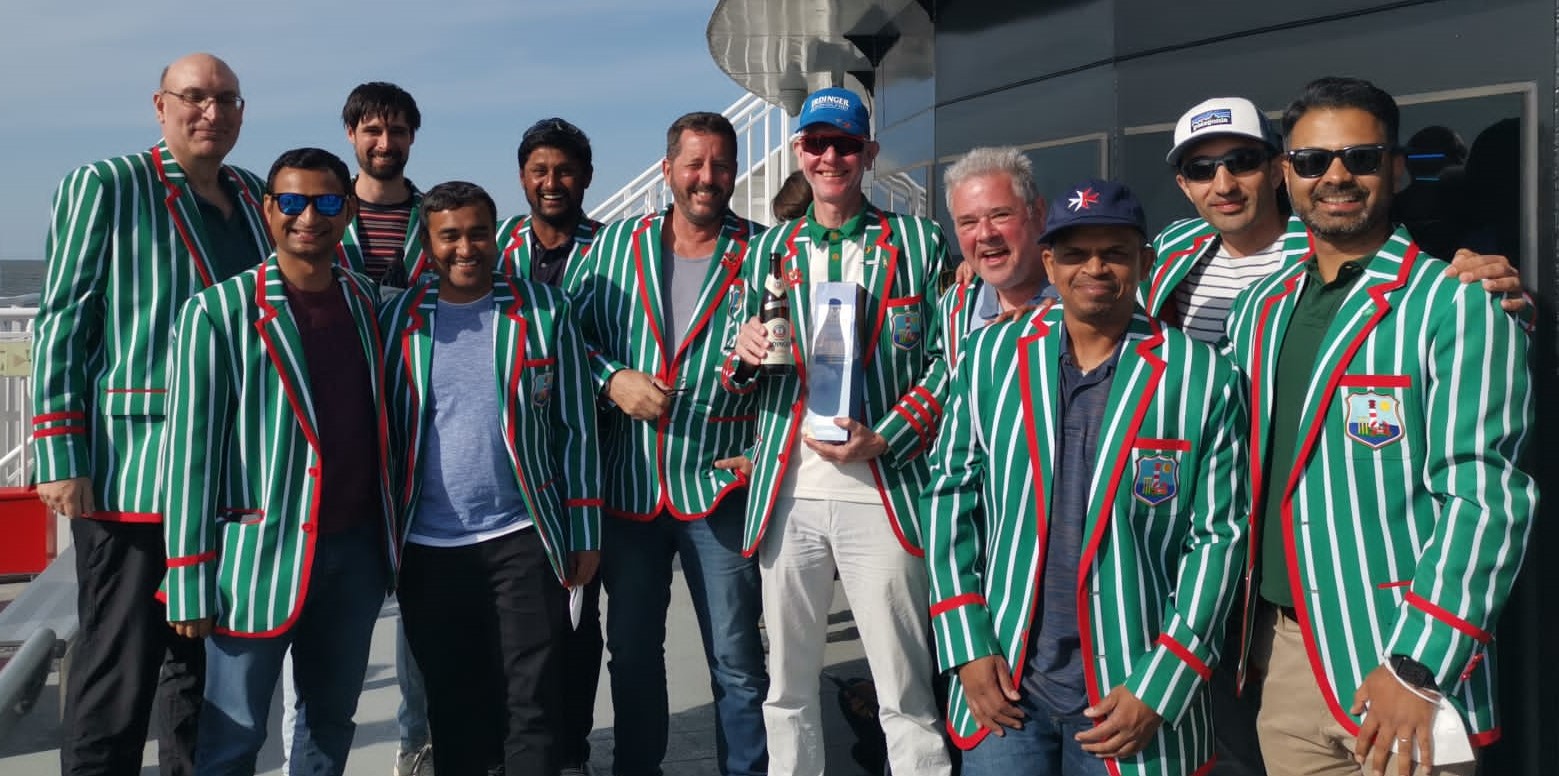 Heligoland Pilgrims: Bai, Bipin, Chris, Dan, Jörg, Luke, Mithun (wk), Moritz, Nabeel, Rick, Satya (c), Surya
Putney CC: Alexander, Ben (c), Callum, Devon, James H. (wk), James R., Mark, Matt, Ritwik, Samuel, Sebastian, Stephen
Patron: Mark R.
Report: Max Minor, Cricket-Correspondent
Photography: Nabeel Iqbal, Mark Richardson