Read the English version below.
Die Jubiläumstour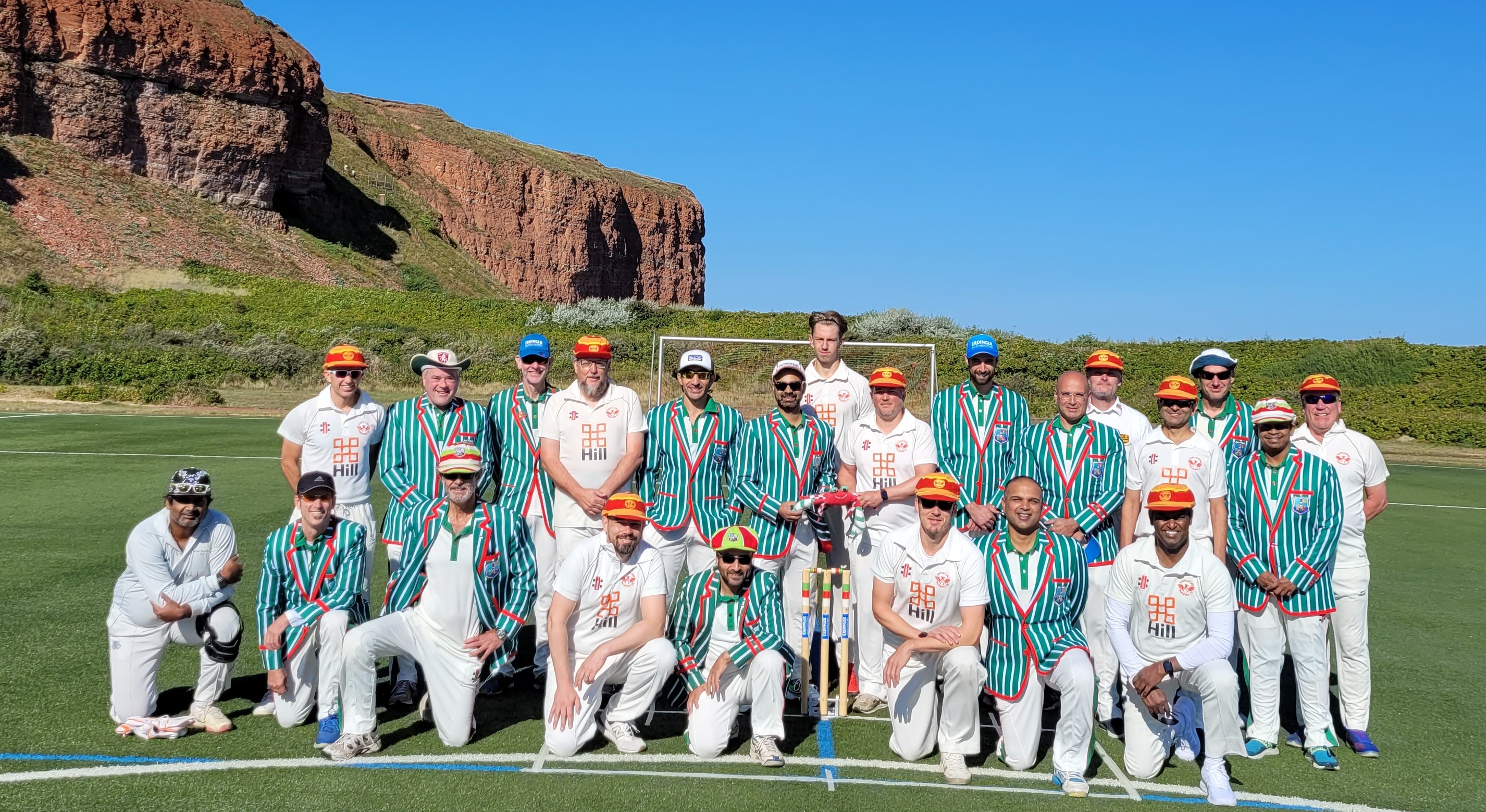 "Ich bin sehr froh, daß ich auf die Jubiläumstour mitfahren konnte". Obwohl nur ein Mitglied der Heimmannschaft diesen Kommentar abgab, schienen alle Teilnehmer der 10. Reise der Heligoland Pilgrims zu ihrer Insel diese Ansicht zu teilen, einschließlich der Gegner, Stapleford Phoenix. Die Besucher aus einem kleinen Dorf in Cambridgeshire hatten nicht gewußt, was sie erwarten würde. Sie kehrten hochzufrieden und voller Freude zurück. Die Pilgrims hatten ihre Kontrahenten vorher nicht gekannt. Sie zählen sie zu den gleichgesinntesten, sportlichsten und sympathischsten Spielern, denen sie in den ersten zehn Jahren ihres Vereinsbestehens begegnet sind. Die beiden Teams, die um den 10. ERDINGER Alkoholfrei Atlantik Cup kämpften, waren also eine perfekte Partie. Und sie spielten eine perfekte Partie, Cricket, wie es sein sollte, voller individueller Leistungen, Teamgeist, allerlei Wendungen, lustiger Situationen, Kameradschaft, Sportlichkeit und dem passenden Jubiläumsresultat: ein knappes Unentschieden.
Dieses Ergebnis war nicht immer absehbar, vor allem nicht nach dem ersten Tag mit limited Overs. Phoenix hatte sich einen Vorsprung von 51 Runs gegenüber den Pilgrims erarbeitet. Kapitän Nabeel hatte Zweifel, ob sein Team eine Niederlage abwenden konnte. Nachdem er das Los verloren hatte, durfte der Gastkapitän Gareth sportlich wählen und entschied sich für das Feld. Die Pilgrims hatten nicht mit einem starken Angriff einer Mannschaft mit einem Durchschnittsalter von fast 50 Jahren gerechnet, deren jamaikanischer Fast Bowler fehlte, weil die deutsche Botschaft ihm nicht rechtzeitig ein Visum ausgestellt hatte. Doch was den Briten an Jugend fehlte, machten sie durch Erfahrung wett. Jon (5-0-16-4) und sein Sohn Alex (5-1-16-1), ihr einziger jüngerer Spieler, warfen eine saubere "line and length", pflügten durch die Schlagabteilung der Pilgrims und drosselten sie auf 63 für 5 nach 15 Overs.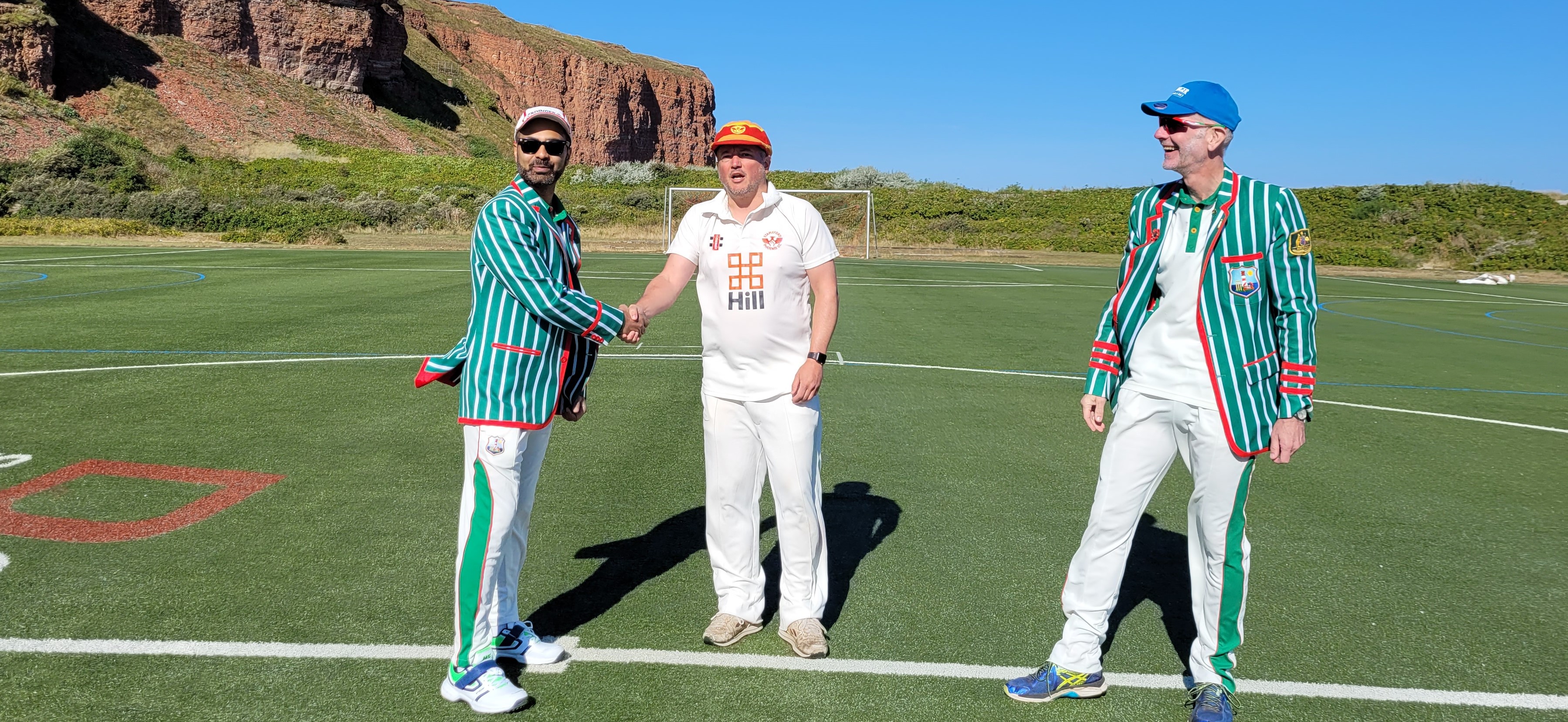 Also mußte Kapitän Nabeel das Schiff selbst stabilisieren, was er auch tat, indem er meisterhaft und umsichtig 58* erzielte (einschließlich 9×4 und 1×6), im wesentlichen unterstützt von seinem felsenfesten Keeper Adrian, der 26* von insgesamt 78 Bällen erzielte. Mit ein wenig Hilfe von Dev und Satya (beide 15), Sid (12) und Bai (10) hielten die Pilgrims durch und überlebten die ihnen zugewiesenen 40 Overs mit einem Resultat von 190 für 9. Der beste Fang des Tages gelang Jeff, der mit einem spektakulären Hechtsprung nach seinem eigenen Wurf mit einer Hand Dev eliminierte.

Stapleford erreichte 190 Runs in ihrem 33. Over und kam auf 241 für 8. Wie es sich für den Atlantik Cup gehört, wurden ihre drei besten Schlagmänner mit jeweils 51* aus dem Spiel genommen, namentlich Gareth, Jeff und Ralph. Keeper Val steuerte weitere wertvolle 36 Runs bei. Satya (7-2-22-3) war der beste Bowler der Pilgrims, unterstützt von Nabeel (2) und Dev (1), der auch einen Ball fing. Das eindrucksvollste 39. Over der Heimmannschaft, mit einem Durchschnitt von nur 3 Runs, wurde aber von Götz abgeliefert (1-0-6-2), der behauptete, er habe seinen Anlauf auf Anraten eines Facharztes geändert (die Spezialisierung darf hier nicht verraten werden).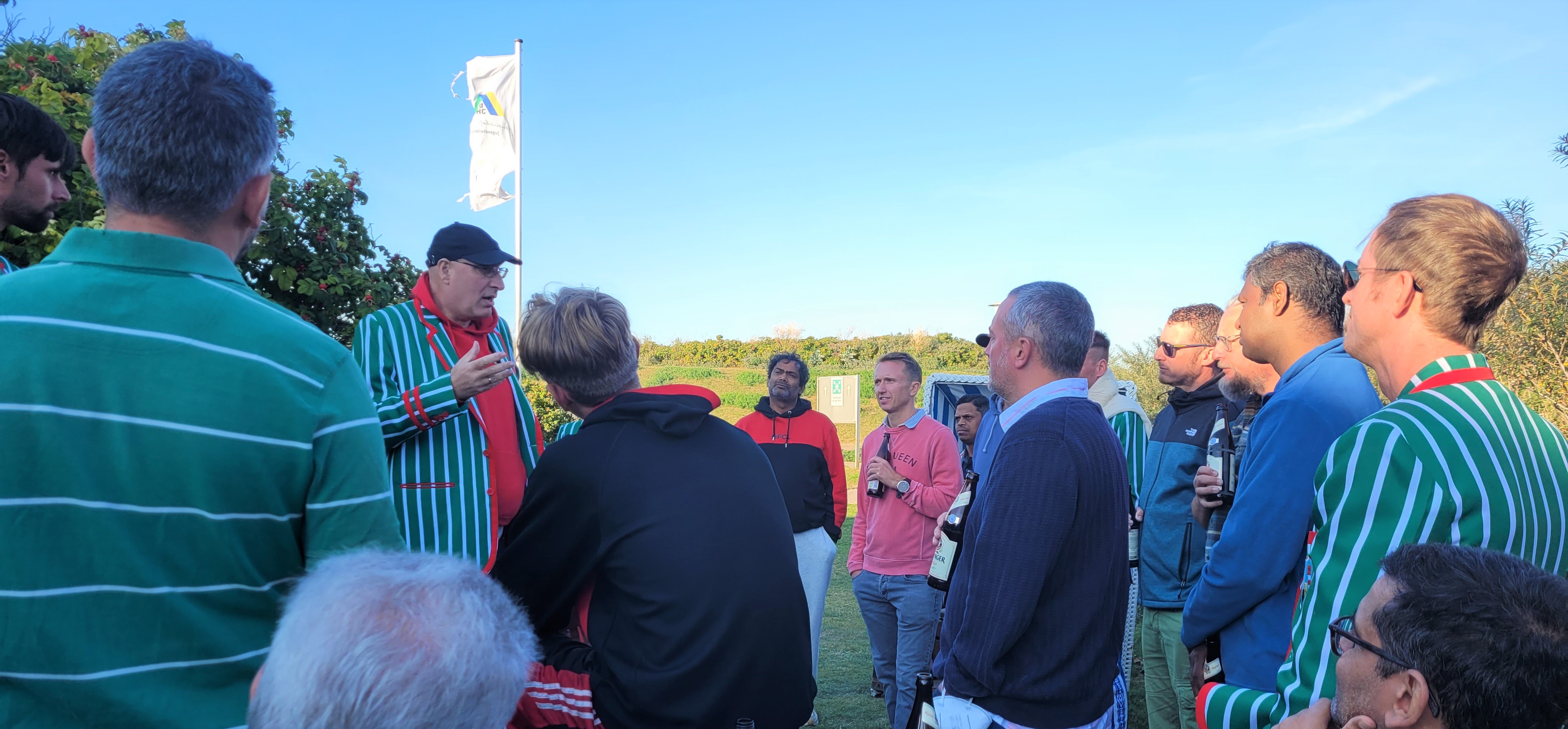 Den Abend füllte das traditionelle Grillen vor der Insel-Jugendherberge mit reichlich ERDINGER Produkten. Hier sangen die Pilgrims mit ihren Besuchern ihr altes Tourlied – a und stellten fest, daß sie im nächsten Jahr etwas Aktuelleres brauchen. Hier veranstaltete Phoenix-Manager Jon ein unterhaltsames Cricket-Pub-Quiz für alle. Und hier hielt der Ehren-Vizepräsident der Pilgrims, Mark R., der an allen 10 Atlantik Cups teilgenommen hat, eine denkwürdige Rede, in der er sich auf den geheimnisvollen Ursprung des von ihm in einem Pub gegründeten Clubs konzentrierte, und die ereignisreiche Geschichte der Inseltouren. Er vermutet, daß Reiseleiter Moritz einen Pakt mit dem Teufel geschlossen hat, denn anders läßt sich der Erfolg des Atlantik Cups und das herrliche Wetter, mit dem er seit Jahren gesegnet ist, nicht erklären.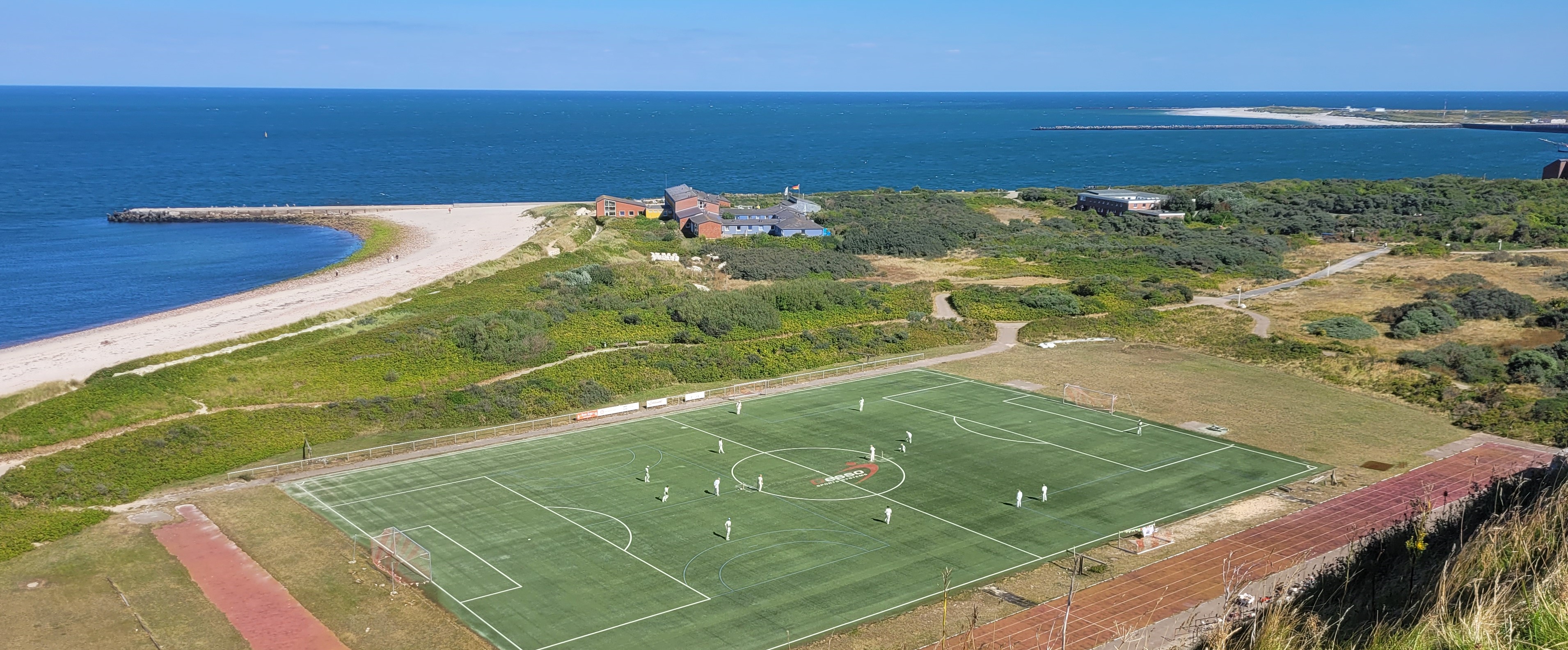 Aber wie tritt man am zweiten Spieltag mit einem Rückstand von 51 Runs an, in einem Zeitformat, gegen einen Gegner mit drei scheinbar unbesiegbaren Batsmen? Nabeel wies seine Batsmen zunächst an, so lange wie möglich im Spiel zu bleiben. Und das taten sie auch, obwohl regelmäßig Wickets fielen, darunter drei "Ducks", die sich Nusrat und Jeff (2) sowie Alex, Jon, Stuart und Graham (je 1) gleichmäßig teilten. Die hartnäckigen Pilgrims blieben für 41 Overs in 2,5 Stunden auf dem Platz und sammelten 193 Runs. Den größten Beitrag dazu leisteten Satya mit 60 Runs und Sid mit unglücklichen 49. Kleinere Beiträge kamen von Mark B. (17), Moritz (10*) und Keith (9).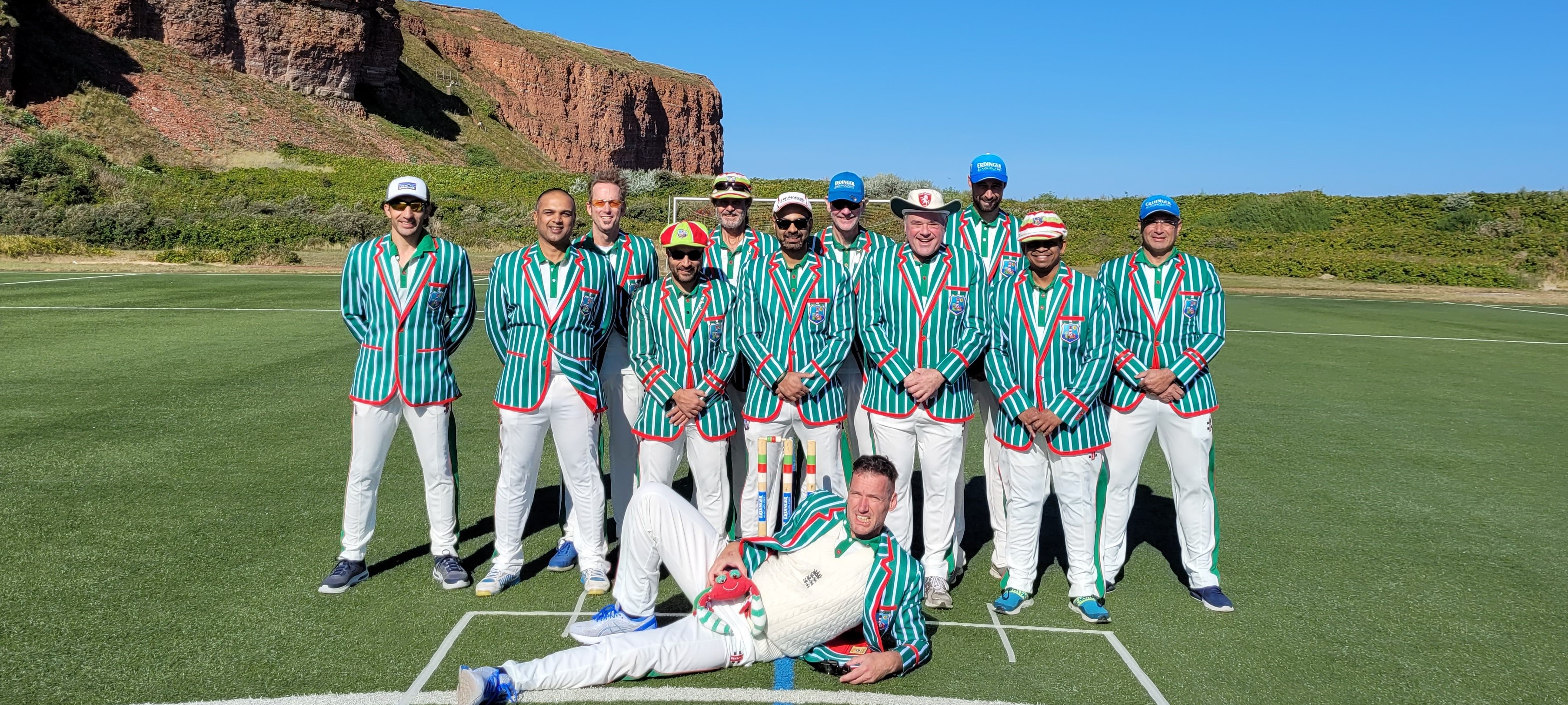 Daraus ergab sich die folgende Gleichung: Phoenix mußte 143 Runs erzielen, um in einer Stunde oder in mindestens 15 Overs zu gewinnen. Nach den Maßstäben des ersten Tages war dies sicherlich zu erwarten. Doch dann muß Kapitän Nabeel Bai etwas ins Ohr geflüstert haben, das den schnellen Bowler aus dem Himalaya in Brand setzte (4-0-21-3). Er fegte durch die Spitzengruppe von Phoenix und beschränkte sie nach nur 5 Overs auf 25 für 4. Dazu gehörte auch ein blitzschneller Run-Out von Deep Fine Leg. Plötzlich hatte sich das Blatt gewendet mit einem eher unwahrscheinlichen Ziel von 118 Runs in 10 Overs bei 4 verlorenen Wickets. Es schien, als hätte Bai den Gästen das Rückgrat gebrochen.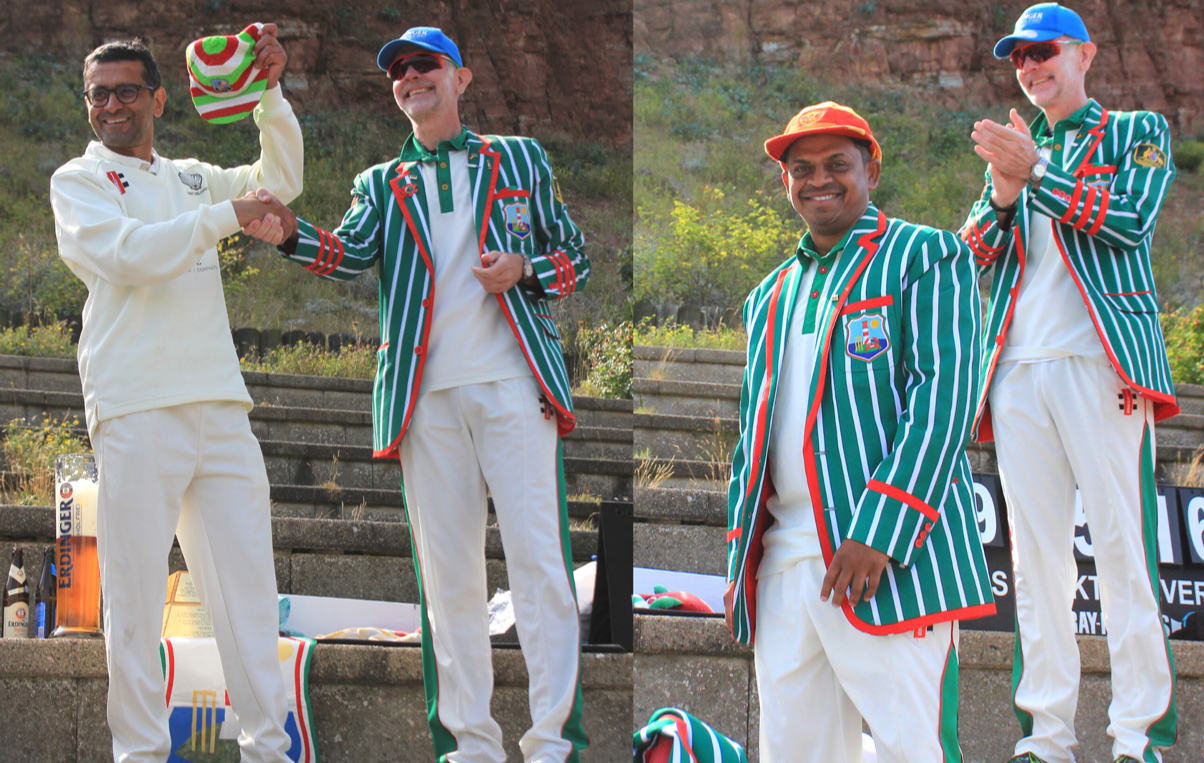 Die Run-Rate sank, die Batsmen gingen in die Defensive und nun versuchte Phoenix, eine Niederlage abzuwenden. Zu allem Überfluß mußte auch noch Val verletzt aufgeben. Nabeel kassierte ein weiteres Wicket, ebenso wie Satya. Nur Nusrat genoß es ersichtlich, an der "Crease" zu stehen, und schlug zum ersten Mal in seiner langen Karriere eine 6 über die Feldgrenze. Von dieser Freude angesteckt, brachten die Pilgrims in den letzten 3 Overs bei einem Spielstand von 70 für 5 ihre weniger starken Bowler ins Spiel. Nusrat nutzte seine Chance und beendete das Spiel auf 55* mit einer weiteren 6. Da Ergebnis betrug 119 für 5 und das Spiel war unentschieden.
Alle jubelten und waren sich einig, daß alle auf und neben dem Spielfeld viel Spaß gehabt hatten. Die Sonne schien und jeder hatte ein Lächeln im Gesicht. Die beiden siegreichen Kapitäne hoben gemeinsam den Pokal in die Höhe. Satya und Nusrat wurden für ihre All-Round-Leistungen zu Männern des Spiels erklärt. Phönix-Kapitän Gareth bedankte sich bei den Pilgrims dafür, daß sie auf ihrer Insel so herzlich empfangen wurden. Präsident Moritz erwiderte den Dank der Pilgrims an die Gäste, die diese Tour in einem so traumhaften Geist bereichert hatten. Beide Teams fuhren mit der Fähre zurück nach Hamburg. Phoenix schaffte es von dort nach Stapleford. Doch die Pilgrims werden im nächsten Jahr wieder nach Helgoland zurückkehren.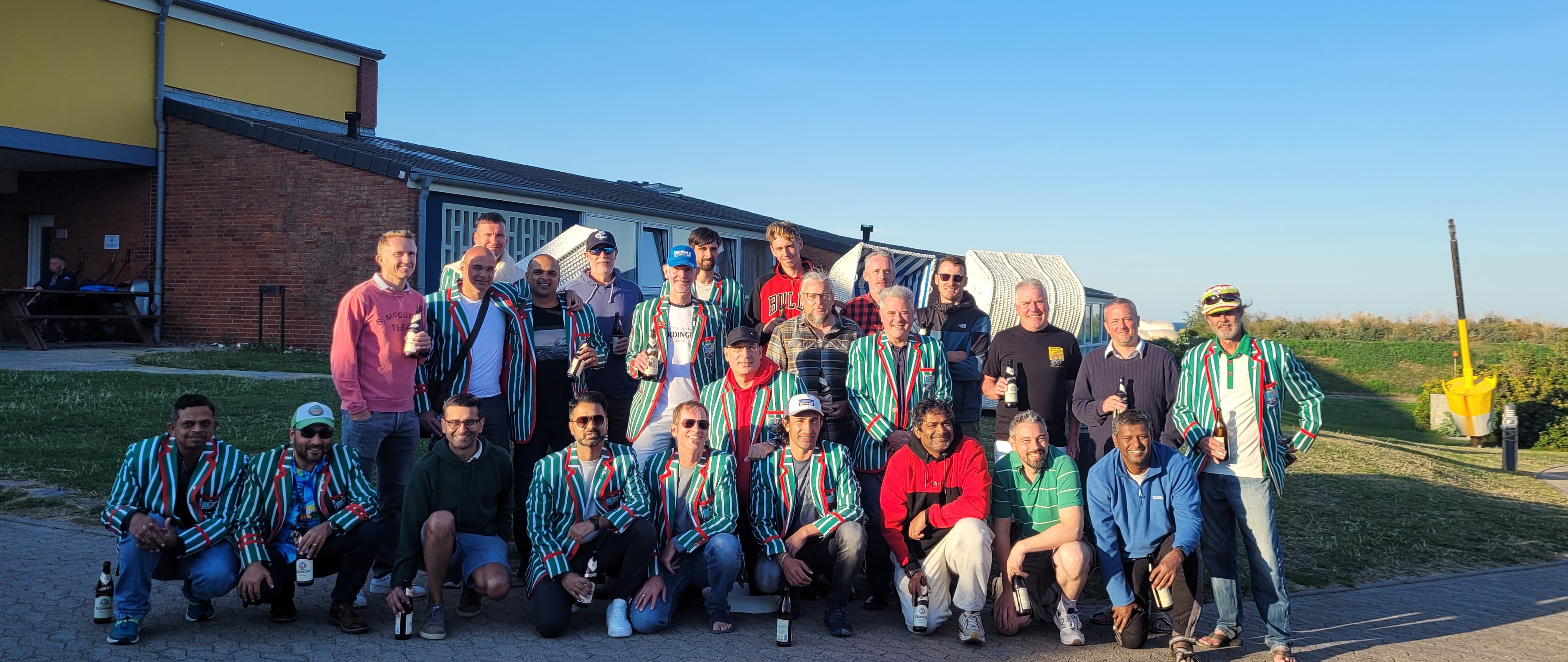 Heligoland Pilgrims: Nabeel (c.), Adrian (wk.), Bai, Dan, Dev, Götz, Jörg, Keith, Mark B., Moritz, Satya, Sid
Stapleford Phoenix: Gareth (c.), Aidan, Alex, Graham, Jeff, Jon, Nusrat, Ralph, Simon, Stuart, Val (wk.), Venky
Scorer: Mark R.
Bericht: Max Minor, Cricket-Korrespondent (Übersetzung: Max Minor mit DeepL)
Photographie: Jessica Mancuso
The Jubilee Tour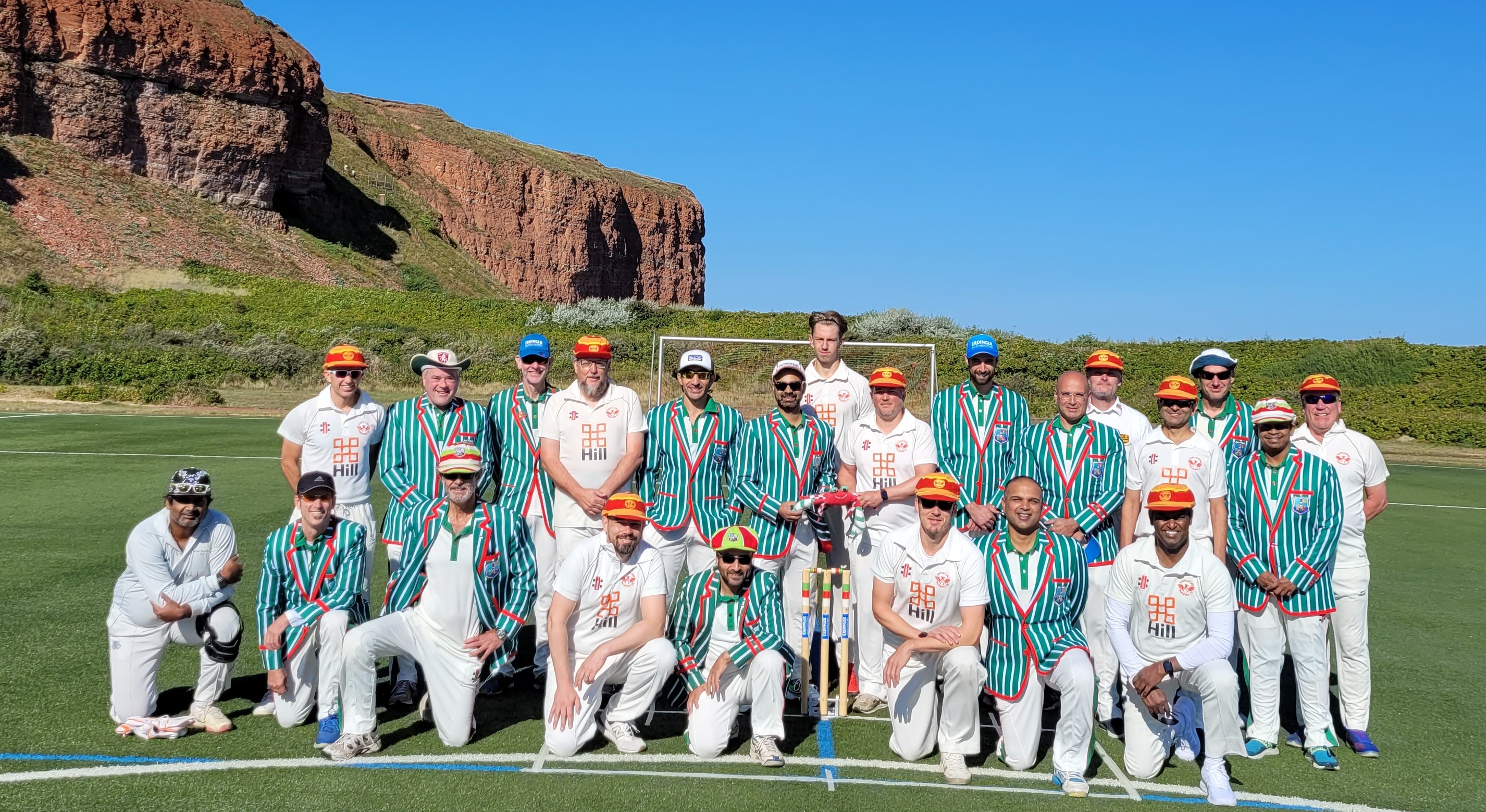 "I am very happy to have been part of the Jubilee Tour". Although only one home team member made this comment, it appears all participants of Heligoland Pilgrims' 10th voyage to their island shared that view, including the opposition, Stapleford Phoenix. The visitors from a little Cambridgeshire village had not known what to expect. They returned highly contented and exhilarated. The Pilgrims had not known their adversaries before. They rate them amongst the most like-minded, sporting and congenial players they have met during the first decade of their club's existence. So the two teams competing for the 10th ERDINGER Alkoholfrei Atlantik Cup were a perfect match. And they played a perfect match, cricket as it should be, full of individual achievements, team spirit, twists and turns, funny situations, camaraderie, sportsmanship and the most fitting jubilee result: a close draw.
This outcome had not always looked likely, especially after the first day of limited overs. Phoenix had amassed a 51 runs lead over the Pilgrims. Captain Nabeel was in doubt if his team could avoid defeat. Having lost the toss, visiting captain Gareth was sportingly allowed to choose and opted to field. The Pilgrims had not expected a fierce attack from a team with an average age of almost 50, whose Jamaican fast bowler was missing, not having been issued a visa by the German embassy in time. But what the British may have lacked in youth they made up in experience. Jon (5-0-16-4) and his son Alex (5-1-16-1), their only junior player, bowled a clean line and length, ploughed through the Pilgrims batting line and restricted them to 63 for 5 after 15 overs.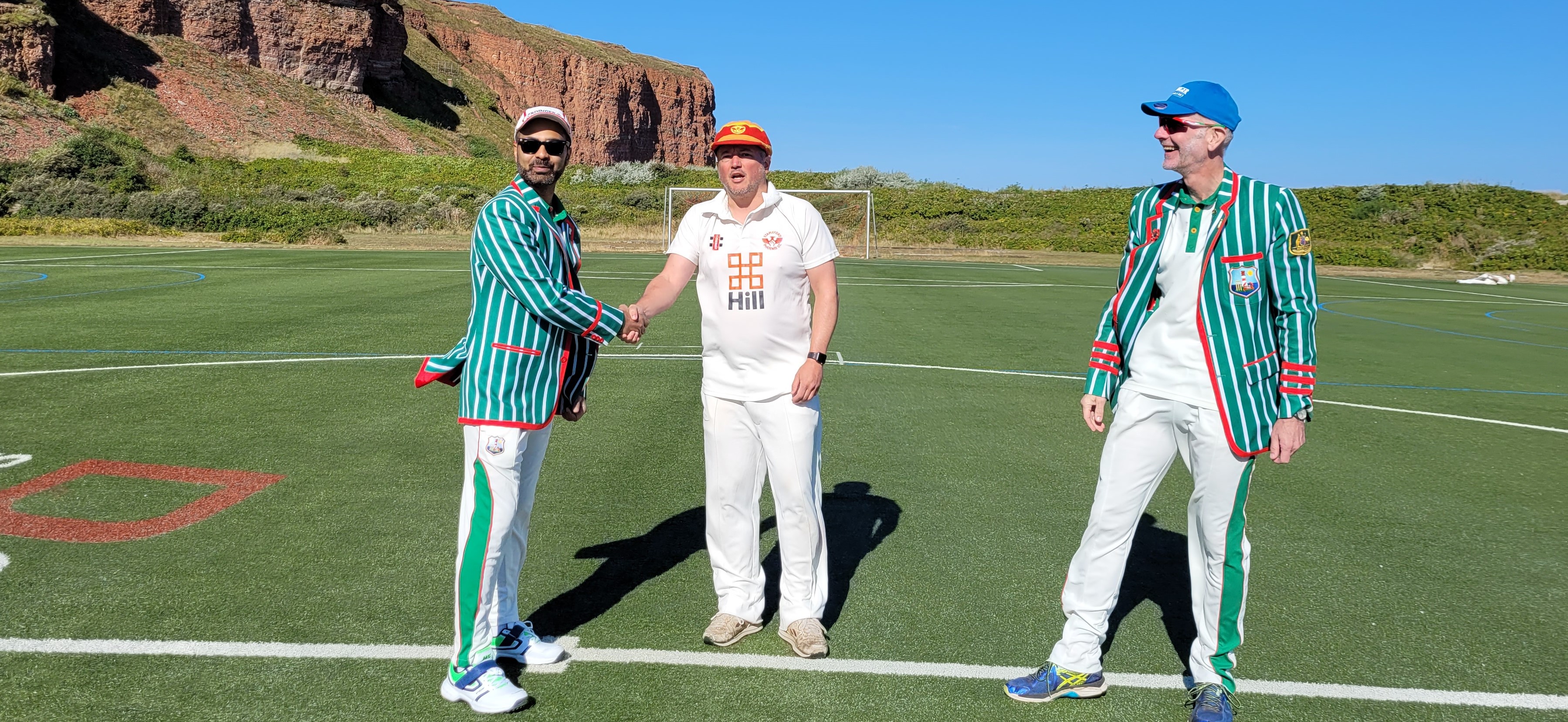 So captain Nabeel had to steady the ship himself, which he did, masterly and circumspectly top scoring 58* (including 9×4 and 1×6), essentially supported by his rock solid keeper Adrian, who assembled 26* off altogether 78 balls. With a little help from Dev and Satya (both 15), Sid (12) and Bai (10), the Pilgrims clung on and survived their allocated 40 overs scoring 190 for 9. The catch of the day was held by Jeff who eliminated Dev single-handedly with a spectacular dive off his own bowling.


Stapleford reached 190 runs in their 33rd over and went on to 241 for 8. In the true spirit of the Atlantik Cup, they retired three of their leading batsmen on 51*, namely Gareth, Jeff and Ralph. Keeper Val contributed another valuable 36. The Pilgrims' main wicket-taker was Satya (7-2-22-3), ably supported by Nabeel who took 2 and Dev who took 1 and held a catch. The home side's most impressive 39th over, however, with an average of only 3, was delivered by Götz (1-0-6-2), who claimed to have changed his action on account of medical specialist advice (the specialisation must not be revealed here).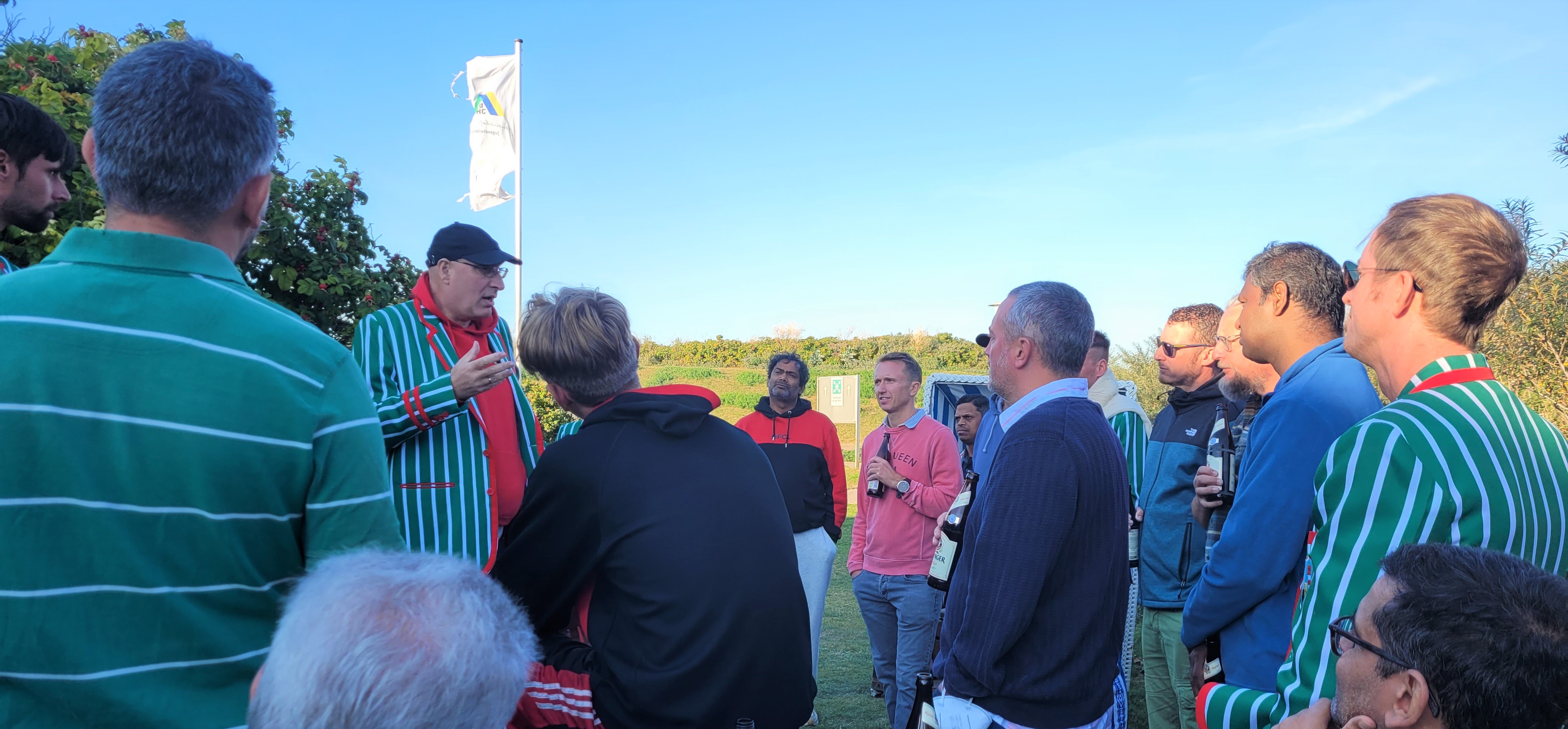 The evening was absorbed by the traditional barbecue outside the island youth hostel with copious amounts of ERDINGER products. This is where the Pilgrims sang their dated tour song with their visitors – and found out they need something more up to date next year. This is where Phoenix manager Jon staged an entertaining cricket pub quiz for everyone. And this is where the Pilgrims' honorary vice president, Mark R., who has been participating in all 10 Atlantik Cups, gave a memorable speech, focusing on the mysterious origin of the club which he founded in a pub and the eventful history of the island tours. He suspects tour operator Moritz has made a deal with the devil; otherwise there was no convincing explanation for the success of the Atlantik Cup and the glorious weather it has been blessed with over the years.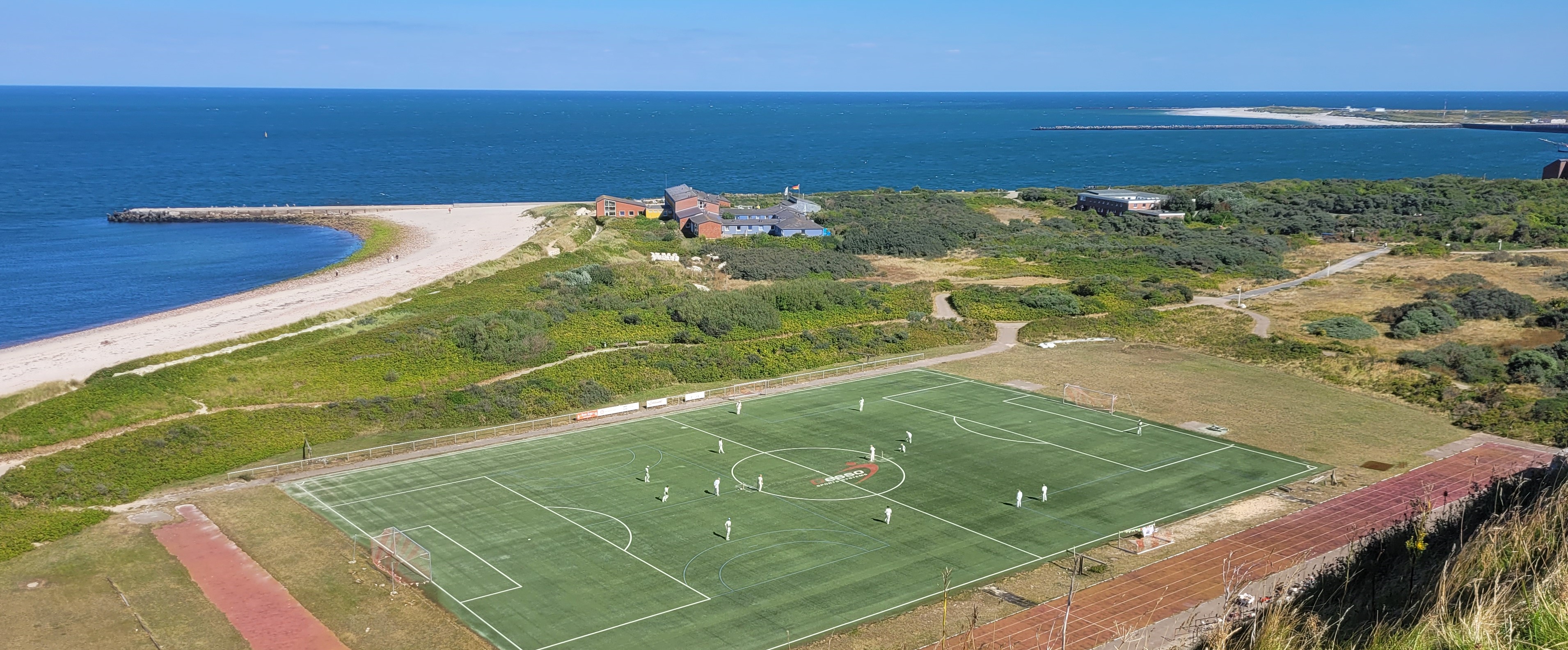 But how do you compete on a second match day against a challenging 51 runs lead, in a time format, against an opposition with three seemingly irremovable batsmen? Nabeel first instructed his batsmen to stay in for as long as possible. And they did, in spite of wickets falling regularly, including three ducks, evenly shared by Nusrat and Jeff taking 2 as well as Alex, Jon, Stuart and Graham 1 each. The obstinate Pilgrims remained for 41 overs in 2.5 hours and accumulated 193 runs. The bulk was supplied by Satya with 60 runs and Sid with an unlucky 49. Smaller contributions were owed to Mark B. (17), Moritz (10*) and Keith (9).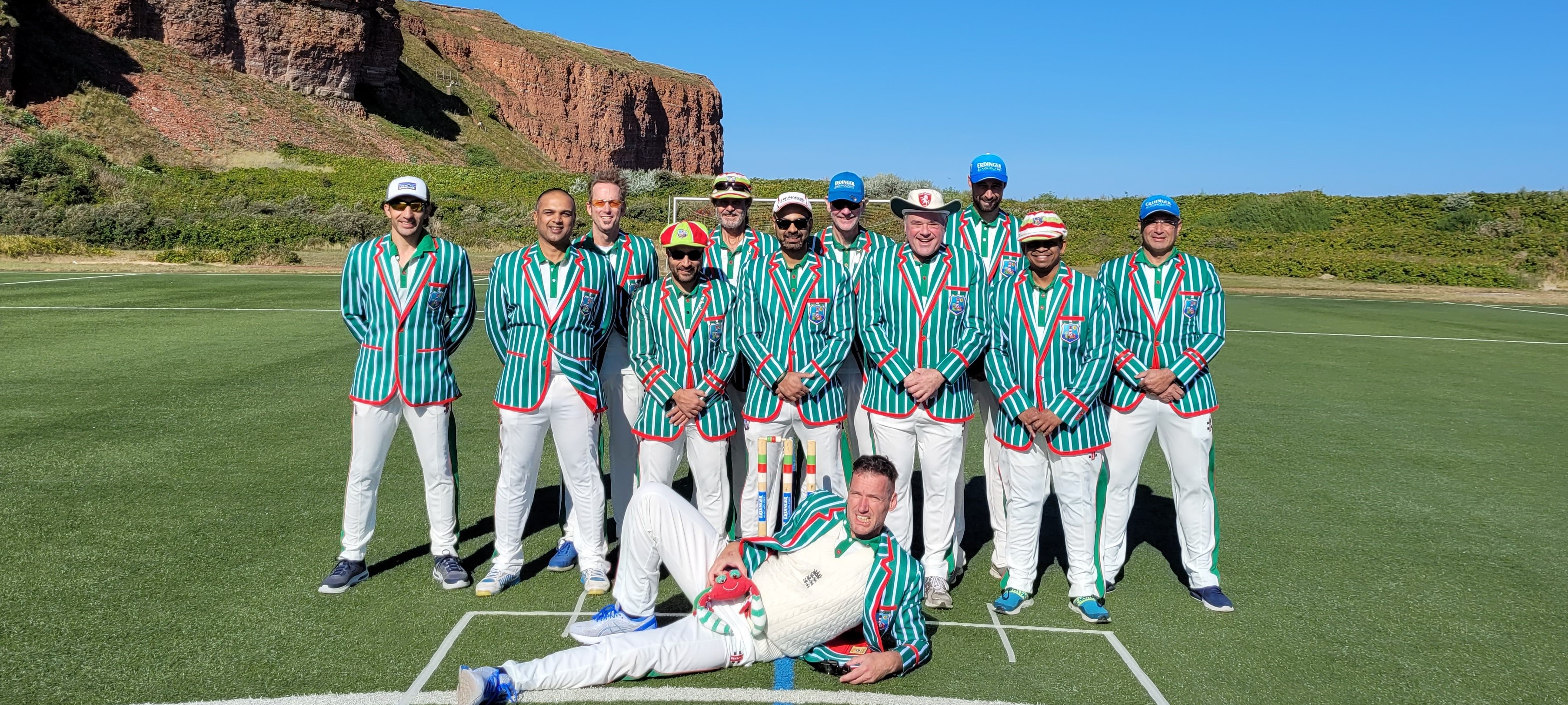 This left the following equation: Phoenix would need to score 143 runs to win in one hour or at least 15 overs. By the standards of the first day, this was certainly on the cards. But captain Nabeel must then have whispered something into Bai's ears that set the Himalayan fast bowler on fire (4-0-21-3). He blazed through Phoenix' top order and restricted them to 25 for 4 after only 5 overs. This included a thunderbolt run out from deep fine leg. Suddenly the tides had turned to an unlikely target of another 118 off 10 overs with 4 wickets down.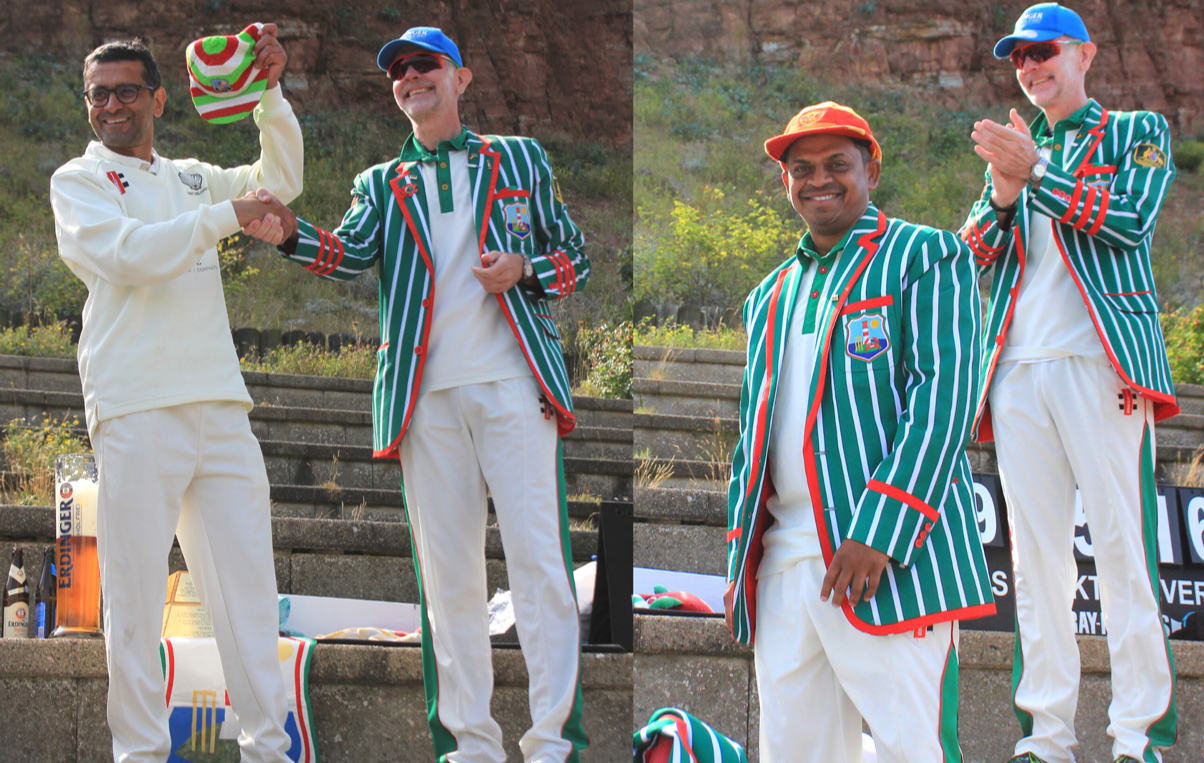 It seemed as if Bai had broken the visitors' spine. The run-rate went down, the batsmen changed into defensive mode, now Phoenix tried to avoid defeat. To make matters worse, Val had to retire hurt. Nabeel took another wicket and so did Satya. Only Nusrat thoroughly enjoyed himself at the crease, hitting a first boundary 6 in his long career. Inspired by this joy, the Pilgrims brought on their less forceful bowlers in the last 3 overs at a score of 70 for 5. Nusrat grabbed his chance and went on to finish on 55* with another 6. The total score was 119 for 5 and the match was drawn.
Everyone cheered and agreed that everyone had had a great time, on and off the field. The sun shone and smiles were on all faces. The two winning captains raised the cup together. Satya and Nusrat were proclaimed men of the match for their all-round performances. Phoenix' captain Gareth thanked the Pilgrims for welcoming them so cordially on their island. President Moritz reciprocated by expressing the Pilgrims' gratitude to the visitors for enhancing this tour in such a wonderful spirit. Both teams caught the ferry back to Hamburg. Phoenix made it to Stapleford from there. The Pilgrims, however, will return to Heligoland next year.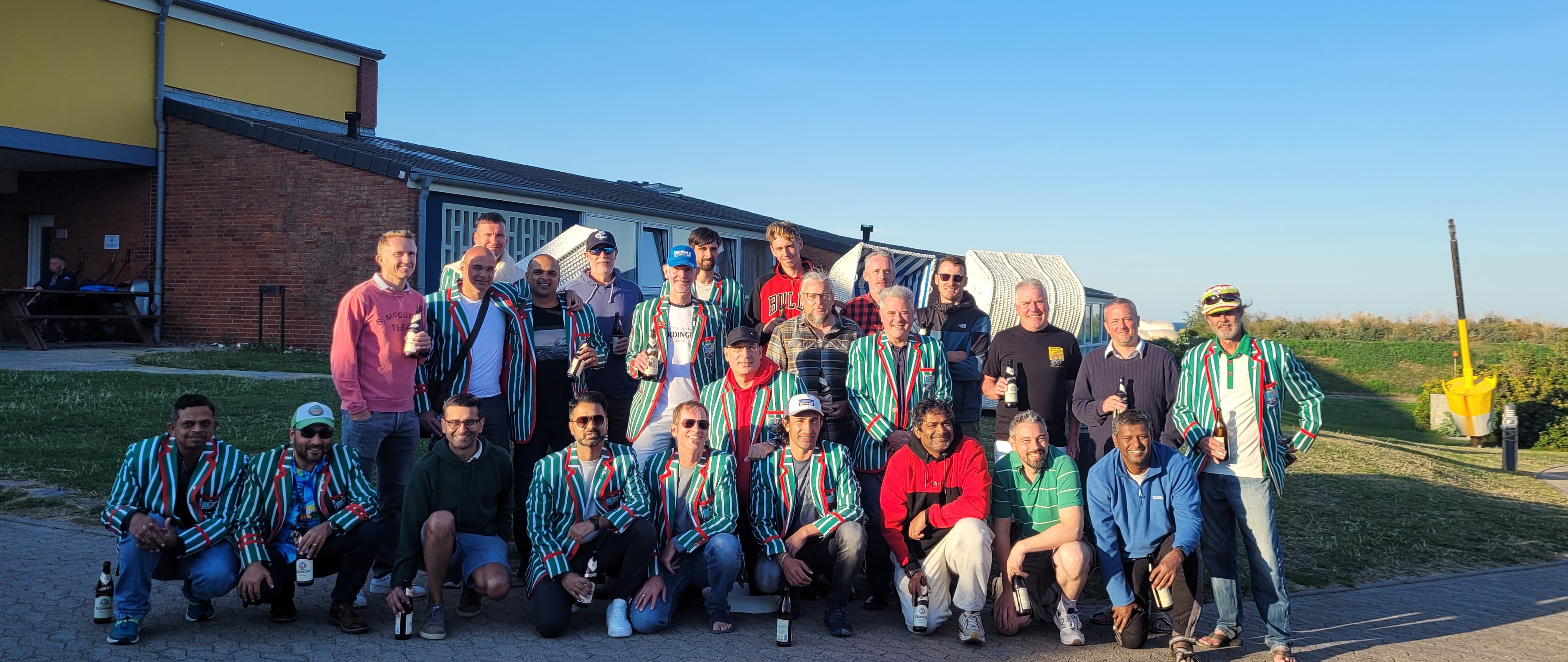 Heligoland Pilgrims: Nabeel (c.), Adrian (wk.), Bai, Dan, Dev, Götz, Jörg, Keith, Mark B., Moritz, Satya, Sid
Stapleford Phoenix: Gareth (c.), Aidan, Alex, Graham, Jeff, Jon, Nusrat, Ralph, Simon, Stuart, Val (wk.), Venky
Scorer: Mark R.
Report: Max Minor, Cricket-Correspondent
Photography: Jessica Mancuso