Read the English version below.
Erstes Alan Jefferys Match (AJM) im Jenisch Park großer Erfolg: 10 Heligoland Pilgrims unterliegen 8 THCC Barbarians
Satya lächelte. Ahnte der indische Routinier, daß die Pilgrims seiner Barbarians-Mannschaft vor dem vornehmen Jenisch-Haus im Jenisch Park unterliegen würden? Niemand kann das mit Sicherheit sagen. Was aber sicher ist, ist daß er beim Münzwurf nicht einmal die Hälfte seiner Mannschaft kannte – nur vier THCC-Mitglieder einschließlich einer Spielerin aus dem Ladies Team, das junge Talent Charlotte, und vier echte Barbaren, nur einer von ihnen ein Freund von Satya, der launenhafte Allrounder Zeeshan. Vielleicht spürte der Kapitän der Barbarians, daß Jeff und Richie aus Neuseeland sowie Rupert aus Wales auf Bestellung liefern würden, was benötigt war. Und in der Tat haben sie ihn nicht enttäuscht.
Richie hatte sich schon früh am Morgen mit dem Pitch vertraut gemacht, indem er den Rasen an einer Stelle gemäht hatte, die Cam, der Kapitän der Pilgrims, zusammen mit dem Präsidenten der Pilgrims sorgfältig ausgesucht hatte. Liam hatte die auffälligen neuen Feldmarkierer um den Platz gestellt, und Christian hatte dem Präsidenten dabei geholfen, das Pitch in Clubfarben zu markieren – rote Farbe auf grünem Rasen. Eine zunehmend heiße Sonne stieg auf und trocknete schnell das feuchte Gras – ausgenommen an genau den Stellen, wo der neue Pilgrim Thomas und der altgediente Pilgrim Jon später im Feld standen. Ein spezieller Stuhl war auf eine Aussichtsposition für Anne Jefferys gestellt worden, die nach 30 Jahren Abwesenheit vom Bleistift die Aufgabe übernommen hatte, das Protokoll zu führen. Einer nach dem andern trafen die Spieler beider Seiten ein, so wie auch – dank Heikes Expreßzustellung – das gekühlte Bier des Sponsors, und schließlich kam der große Mann selbst – direkt aus Perth, West-Australien: Alan Jefferys. Ohne sein Wissen hatte Hamburgs Erster Bürgermeister dem Verein geschrieben und Alans Leistungen im Cricket gewürdigt. So waren alle geehrt durch seine Anwesenheit und Leitung des allerersten AJM.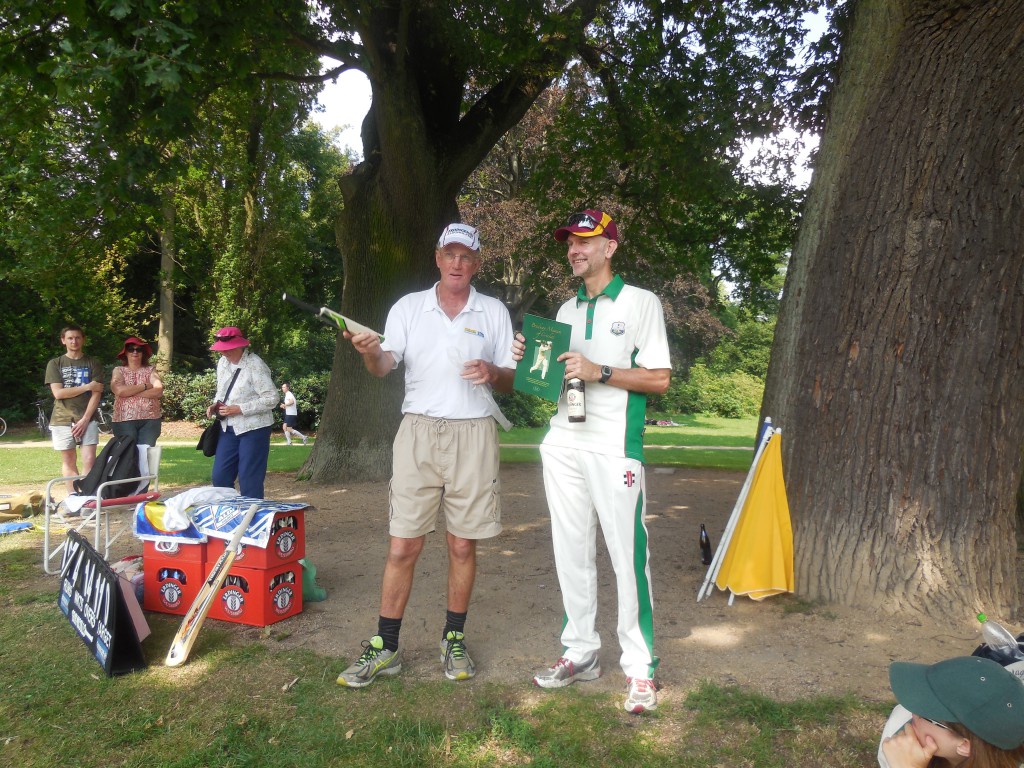 Zuerst wurden drei neuen Pilgrims von Kapitän Cam ihre Spielermützen überreicht: THCC-Desperados Komal und Liam sowie Thomas, der nur wenige Minuten vor dem Spiel rekrutiert worden war, um die Mannschaft zu vervollständigen. Dann, kurz nach 10 Uhr, warfen Cam und Satya eine Münze, Cam gewann und entschied sich zu schlagen – und Satya lächelte. Der nostalgische bandagierte Tennisball flog überall über den Platz, so daß Eröffnungsspieler Liam und Moritz ihn kaum treffen konnten. Beim Stand von 21 für 2 nach 5 Overs begann Cam nervös zu werden. Das wäre nicht einmal ein guter Spielstand in einem Länderspiel, dachte er, aber hier wurde doch ein T20-Spiel ausgetragen, oder nicht? Christian und Jon konnten auch nichts Wesentliches zum Ergebnis beitragen, und bald hatten die Pilgrims 4 Wickets verloren. Da betrat der Kapitän selbst das Feld und zeigte den anderen Spielern, wohin man Sechsen plaziert. Nur blieben seine 33 Runs leider die einzige zweistellige Punktzahl für seine fröhliche Mannschaft – sieht man einmal von Extras ab. Weder Komal, noch Mark, Götz, Tom oder Bianca hatten Glück mit dem Schläger. Anerkennung verdienen dagegen die Bowler und Fielder der Barbarians: Aswin und Richie fingen je 3 Bälle, und Jeff (4-0-17-4) und Charlotte (3-0-11-4) nahmen je 4 Wickets – sehr zur Überraschung des versierten Spinbowlers George, dessen eindrucksvollen Bemühungen ohne Erfolg blieben. Charlotte stand sogar vor einem Hattrick in ihrem allerersten Over, aber Komal bewahrte die Nerven beim Hattrick-Ball.
Also gab ihr lächelnder Kapitän ihr den Ball noch einmal. Am Ende des Innings zeigte die Anzeigetafel 109 für 10 – nicht ganz, was die Pilgrims erwartet hatten. Ob sich dieses mittelmäßige Ergebnis verteidigen lassen würde?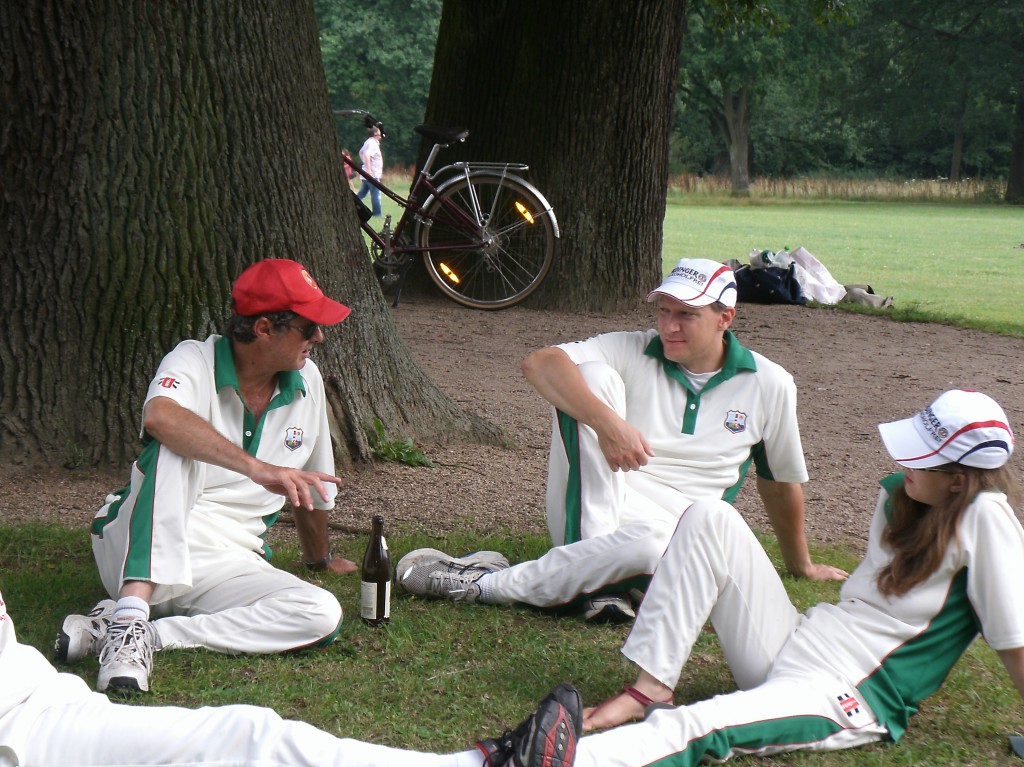 Während der Pause, unter der jetzt brennenden Sonne, bedienten sich die Spieler beim ERDINGER Alkoholfrei Bier. Und dann, aufgetankt, starteten die Barbarians die Aufholjagd. Jeder Pilgrim, der erwartet hatte, daß diese Spieler sich selbst aus dem Spiel werfen würden, hatte falsch gewettet. Es fielen nur 4 Wickets, wobei Moritz zwei Bälle fing, einen davon seine eigene Tochter caught & bowled, kann man das glauben? Richie wurde umstritten nach einem völlig vertikalen Ball leg-before-wicket ausgegeben – allerdings nicht von Oberschiedsrichter Alan Jefferys. Fast jeder Pilgrim bekam eine Chance zu bowlen, aber keiner konnte durchschlagen. Die Barbarians waren vor ihrem heimischen Publikum von morgendlichen Spaziergängern im Park nicht zu stoppen. Richie erzielte mit 30 die meisten Runs. Aswin (28* einschließlich 3 Sechsen) und George (21*) mußten sogar ausgewechselt werden, Satya selbst
trug wertvolle 16 Runs bei mit einem Lächeln auf seinem Gesicht. Als wahrer Gentleman überließ er es Rupert, die siegreichen Runs zu erzielen, passend mit einer Boundary nach 3 Long-On in Richtung Jenisch-Haus. Es waren zwar noch 5 Overs übrig, aber das Spiel war verloren, jedenfalls für die Pilgrims.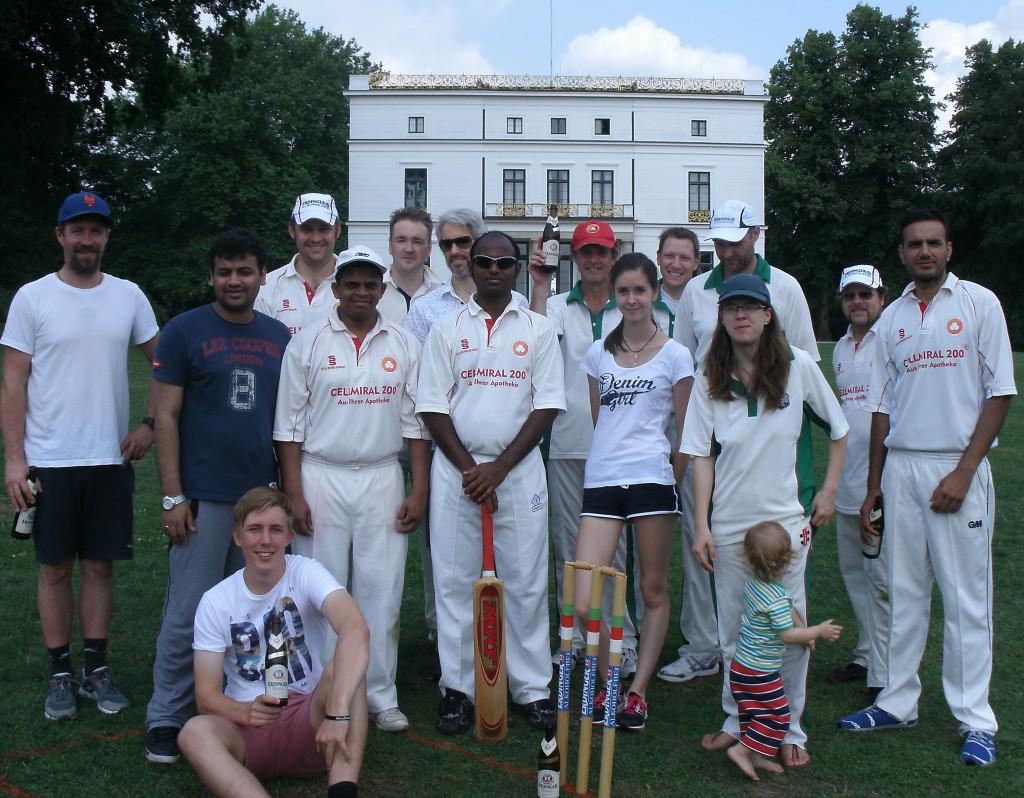 Nachdem der Pilgrims-Präsident allen für ihren großartigen Einsatz gedankt hatte, insbesondere der Scorerin und dem Oberschiedsrichter, dankte Alan Jefferys den Spielern für seine Einladung nach Hamburg und überreichte ihnen einen Erinnerungsschläger, zwei Original-Zähler Made in Taiwan und Devotionalien aus dem Museum seines Weggefährten, Don Bradman. Da noch erhebliche Mengen an Erdinger-Getränken übrig waren, nicht nur alkoholfrei, zogen die Spieler und ihre Gäste sich an den Grill zurück und tranken noch mehr Bier. Das Picknick dauerte ungefähr eine Stunde bis die meisten Teilnehmer sich zerstreuten und den Park verließen wie sie ihn vorgefunden hatten – mit Ausnahme eines kleinen abgemähten Stücks Rasen mit roten Linien südlich des Jenisch-Hauses. Jedermann wird zustimmen, daß der Jenisch-Park sich als idealer Veranstaltungsort für ein kleines Sonntags-Cricketspiel erwiesen hatte. Einer der letzten, die gingen, war der siegreiche Kapitän Satya. Und ja – er lächelte.
THCC Rot-Gelb Barbarians
Satya S.*+, George F., Charlie H., Aswin S. superbly supported by Jeff, Richie+, Rupert and Zeeshan
Heligoland Pilgrims
Campbell J.*, Mark B., Jon and Liam C.+, Christian H., Bianca L., Thomas and Götz M., Komal
S., Moritz H.
Oberschiedsrichter: Alan Jefferys;
Scorer: Anne Jefferys;
Bericht und Photos: Max Minor
First Alan Jefferys Match (AJM) in Jenisch Park great success: 10 Heligoland Pilgrims succumb to 8 THCC Barbarians
Satya smiled. Did the Indian routinier divine the Pilgrims would succumb to his Barbarian team in front of the stately Jenisch House in Jenisch Park? Nobody can say for certain. What is sure, however, is that at the toss he did not even know half of his team – only four THCC members including one from the Ladies Team, namely young talent Charlotte, and four genuine barbarians, only one of them a friend of Satya's, the mercurial all-rounder Zeeshan. Perhaps the captain of the Barbarians sensed that Jeff and Richie from New Zealand and Rupert from Wales would deliver what was required upon request. And indeed, they did not disappoint him. Richie had already acquainted himself with the pitch early in the morning by way of mowing the lawn on a stretch carefully selected by Pilgrims captain Cam together with the Pilgrims' president. Liam had placed the flash new boundary markers around the outfield and Christian had assisted the president with marking the pitch in club colours – red paint on green lawn. An increasingly hot sun was out and quickly dried up the damp grass – except in those particular spots where new Pilgrim Thomas and stalwart Pilgrim Jon were to field later on. A special chair had been put in a vantage position for Anne Jefferys who, after a 30 years absence from the pencil, had undertaken to record the proceedings. One after another, players from both sides turned up, so did the sponsor's chilled beer thanks to Heike's express delivery, and finally the big man himself arrived – straight from Perth, Western Australia: Alan Jefferys. Unbeknownst to him, the mayor of Hamburg had written to the club appreciating of Alan's achievements in cricket. So everyone was honoured by his presence and conduct of the inaugural AJM.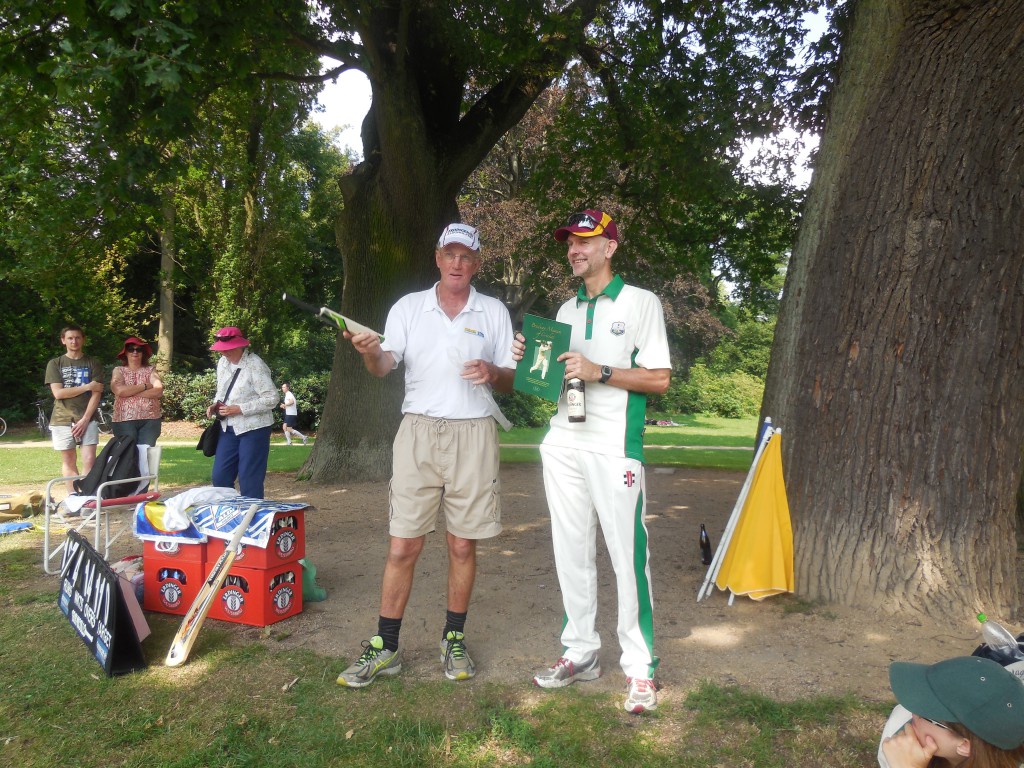 First caps were awarded by captain Cam to three Pilgrims new at the crease: THCC desperadoes Komal and Liam as well as Thomas, who had been recruited just minutes before in order to complete the team. Then, shortly after 10 a.m., Cam and Satya threw a coin, Cam w on the toss and decided to bat – and Satya smiled. The nostalgic taped tennis ball went all over the place and was thus difficult for openers Liam and Moritz to hit. At 21 for 2 after 5 overs, Cam began to get nervous. This would not even be a good score in a test match, he thought, but weren't they playing a T20-game here? Christian and Jon could not add anything substantial to the score either and soon the Pilgrims were 4 wickets down. In stepped the captain himself and showed the other players where to hit the sixes. Alas, his 33 runs remained the only score in double figures for his jolly team – contributions from extras aside. Neither Komal, nor Mark, Götz, Tom or Bianca were lucky with the bat. Credit, however, must go to the Barbarian's bowlers and fielders: Aswin and Richie held 3 catches each, and Jeff (4-0-17-4) and Charlotte (3-0-11-4) took 4 wickets each – much to the surprise of accomplished spinner George whose impressive efforts remained unrewarded. Charlotte was even on a hat-trick in her very first over, but Komal kept his nerves facing the hat-trick ball. So her smiling captain gave her the ball again. At the end of the innings the scoreboard showed 109 for 10 – not quite what the Pilgrims had expected. Was this mediocre tally going to be defendable?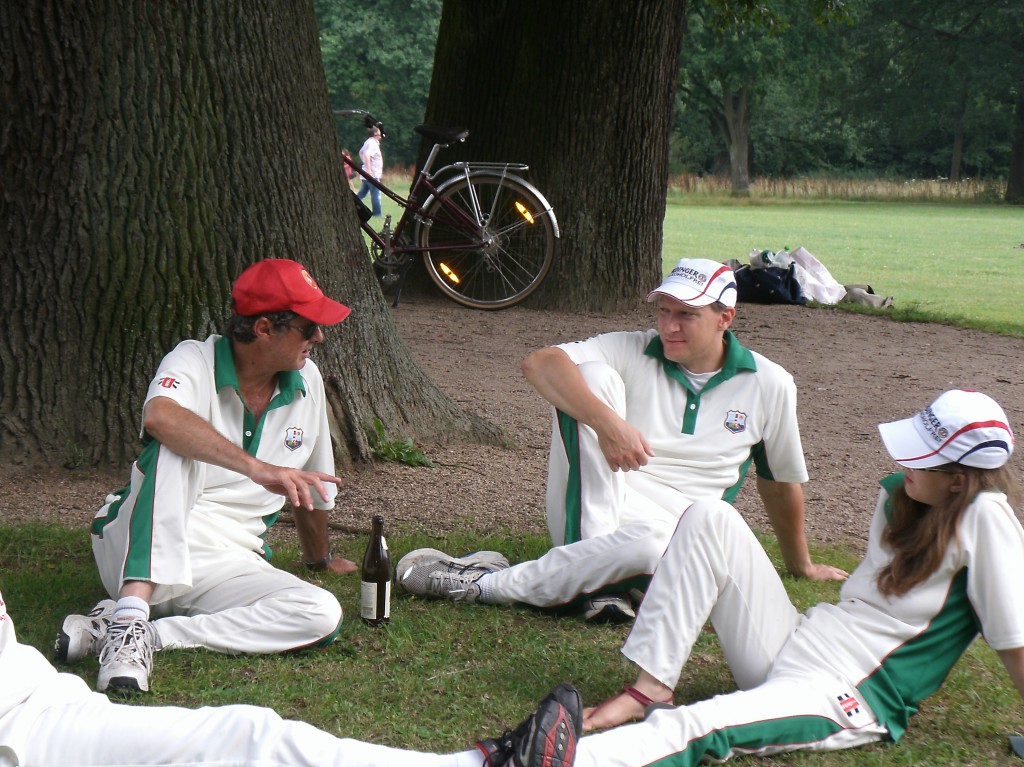 During the interval, under the now scorching sun, the players helped themselves to some free ERDINGER Alkoholfrei. And then, refuelled, the Barbarians started their chase. Any Pilgrim who had expected these players to get themselves out had got it wrong. Only 4 wicktes fell, with Moritz taking 2 catches, one his own daughter caught and bowled, can you believe it? Richie was controversially given out lbw off a totally plumb ball – not by head umpire Alan Jefferys, though. Almost every Pilgrim got a chance to bowl, but none of them could strike home. The Barbarians were unstoppable before their home crowd of morning promenaders in the park. Richie top scored with 30 runs. Aswin (28*, including 3 sixes) and George (21*) even had to be retired, Satya himself contributed a valuable 16 with a smile on his face. A true gentleman, he left it to Rupert to hit the winning runs, fittingly with a boundary towards long-on in the direction of the Jenisch House. There were still more than 5 overs left, but the match was lost, at least for the Pilgrims.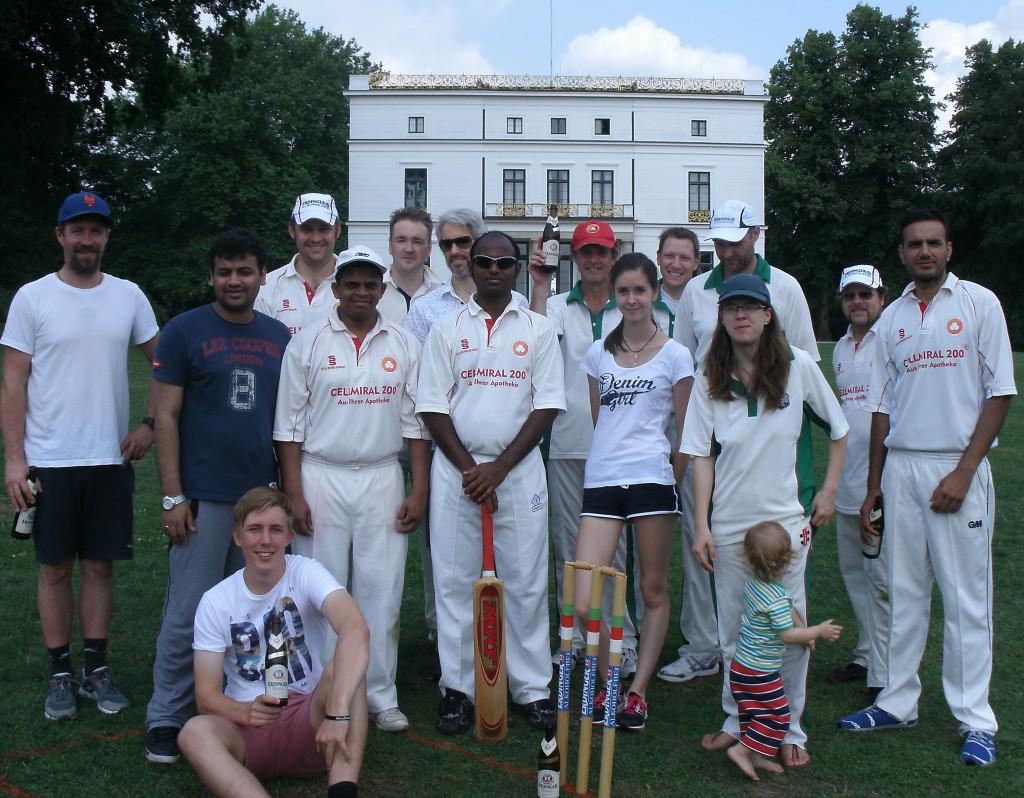 After the Pilgrims' president had congratulated everyone for their splendid efforts, especially the scorer and the head umpire, Alan Jefferys thanked the players for inviting him to Hamburg and presented them with a commemorative bat, two original counters made in Taiwan and memorabilia from the museum of his contemporary, Don Bradman. As there were still considerable amounts of ERDINGER beverages left, not only Alkoholfrei, players and their guests withdrew to the barbecue and had some more beer. The picnic went on for about an hour until most participants dispersed and left the park as they had found it – but for a little mown pitch with red creases south of Jenisch House. Everyone will agree that Jenisch Park proved to be an ideal venue for a little Sunday cricket match. One of the last to go was winning captain Satya. And yes – he smiled.
THCC Rot-Gelb Barbarians
Satya S.*+, George F., Charlie H., Aswin S. superbly supported by Jeff, Richie+, Rupert and Zeeshan
Heligoland Pilgrims
Campbell J.*, Mark B., Jon and Liam C.+, Christian H., Bianca L., Thomas and Götz M., Komal S., Moritz H.
Head Umpire: Alan Jefferys;
Scorer: Anne Jefferys;
Report and Photography: Max Minor