Read the English version below.
Super Insel, super Spieler, super Cricket Heligoland Pilgrims gewinnen 2. ERDINGER Alkoholfrei Atlantik Cup in "Cliffhanger"-Spiel
"Klar kenne ich euch – ihr kommt doch jedes Jahr hierher!" begrüßte VfL Fosites Präsident den Präsidenten der Pilgrims am südlichen Rand von Helgolands einsamem Sportplatz. "Ja und nein" wäre eine richtige Antwort gewesen. Nein, die Pilgrims haben ihre überraschenden Besuche des grün-weiß-roten Nordseefelsens erst im letzten Jahr begonnen. Und ja, sie sind auf einem guten Weg zur Begründung einer jährlichen Tradition. Ob sie Spaß und Freude, Unterhaltung und Drama, Cricket und Grillen aus diesem Jahr noch übertreffen können, muß allerdings für mindestens 12 Monate eine offene Frage bleiben. Man stelle sich vor: In einem Zwei-Innings-Spiel über zwei Tage mit einem geplanten Ende um 2 Uhr schlugen alle Spieler zweimal, fielen alle Wickets zweimal und Heligoland Pilgrims besiegten THCC Voyagers mit nur 9 Runs. Zur Überraschung fast aller fing Kapitän Steve Kapitän Ather an der Long-on Grenze und vereitelte den Versuch des jungen Batsman, eine weitere Boundary auf dem Weg zu einem eigentlich einfachen Sieg zu schlagen. Da die Voyagers noch mehr als vier Overs zu spielen hatten, hätten sie ihren wertvollen Pokal verteidigen müssen. Aber im Cricket kann alles passieren, und deshalb haben es die Pilgrims verdient, ihr erstes Spiel mit einem großartigen Catch zu gewinnen. So hat es sich zugetragen:
Insgesamt 34 Reisende trafen sich an einem sonnigen Sonnabend Morgen in Hamburg, nahmen den Zug nach Cuxhaven, begaben sich auf die MS Atlantis und fuhren durch einen heulenden Sturm mit Windstärken bis zu 6 nach Helgoland. Auf hoher See wurde eine Münze geworfen. Die Pilgrims gewannen und entschieden sich zu batten. Von der Rede des Südhafens wurden alle von Nachfahren echter Piraten in kleinen Börtebooten ausgebotet.
Froh, wieder festen Boden unter den Füßen zu haben, marschierten die Reisenden direkt zur Jugendherberge. Ihr großzügiger Sponsor hatte zahlreiche Kisten ERDINGER Alkoholfrei im Kühlschrank der Herberge deponiert, die sie schnell auf den Sportplatz transportierten – niemand mußte dehydriert spielen. Die Anzeigetafel wurde aufgestellt, die internationalen Schiedsrichter aus Südafrika und Mecklenburg zogen ihre Kittel an, Stumps wurden auf das Spielfeld gestellt, und die Cricketer machten sich bereit. Leider war der Nordwind unerbittlich und blies die Stumps gleich um. Glücklicherweise konnte man sie mit Ziegelsteinen beschweren. Kurz nach 2 Uhr erhielten drei Novizen ihre Spielermützen von Kapitän Steve, wobei sich ein Problem ergab: Der schusselige Vereinspräsident hatte nur noch zwei Mützen übrig. Aber echte Pilgrims teilen nicht nur Bier, Geplänkel und Wickets; wenn es nötig ist, teilen sie auch ihre Mützen!
Meister Matthew (RH) und der Heilige Christian (LH) begeben sich an die Linien für Heligoland Pilgrims. Während der Rechtshänder schnell ein paar Boundarys schlägt, buddelt der Linkshänder sich ein und überlebt fünf Partnerschaften. Der getreue Jon und der quirlige Steve sorgen vorübergehend für einen leicht komischen Zusammenbruch der Führungsspielerriege, der im wesentlichen auf das Konto der Jugend geht, namentlich U-15-Spieler Gregory und Torben (der auch einen Catch macht), und Anfänger "Struppi" Thomas. Der athletische Gareth und Götz der Stilist funkeln jeder mit einer Sechs, können aber beide keine zweistelligen Zahlen erreichen, auch nicht der coole Kevin und "Smoking Gun" Sven, obwohl Kevin und Götz wenigstens für eine 24-Runs-Partnerschaft auf dem Platz bleiben. Beim Stand von 98 für 8 nach 18 Overs sieht es nicht so aus, als ob die Pilgrims ihre geplanten 30 Overs überleben können. Aber Überraschung: Legende Mark mit der höchsten Punktzahl und Moritz, der älteste und gegenwärtig bärtigste Pilgrim, tragen noch einmal umsichtig 34 Runs in ungefähr sieben Overs bei. Jetzt hat Voyagers Kapitän Ather genug gesehen; er schaltet sich selbst in den Angriff ein, und die Batsmen brechen ein. Der heitere Laurence und der fröhliche Jürgen erreichen das letzte Over, und die Tafel zeigt 140 Runs. Zeit für Knieper-Brötchen, die Matthew und Gareth inzwischen freundlicherweise von der Inselbäckerei abgeholt haben – und noch ein ERDINGER Alkoholfrei.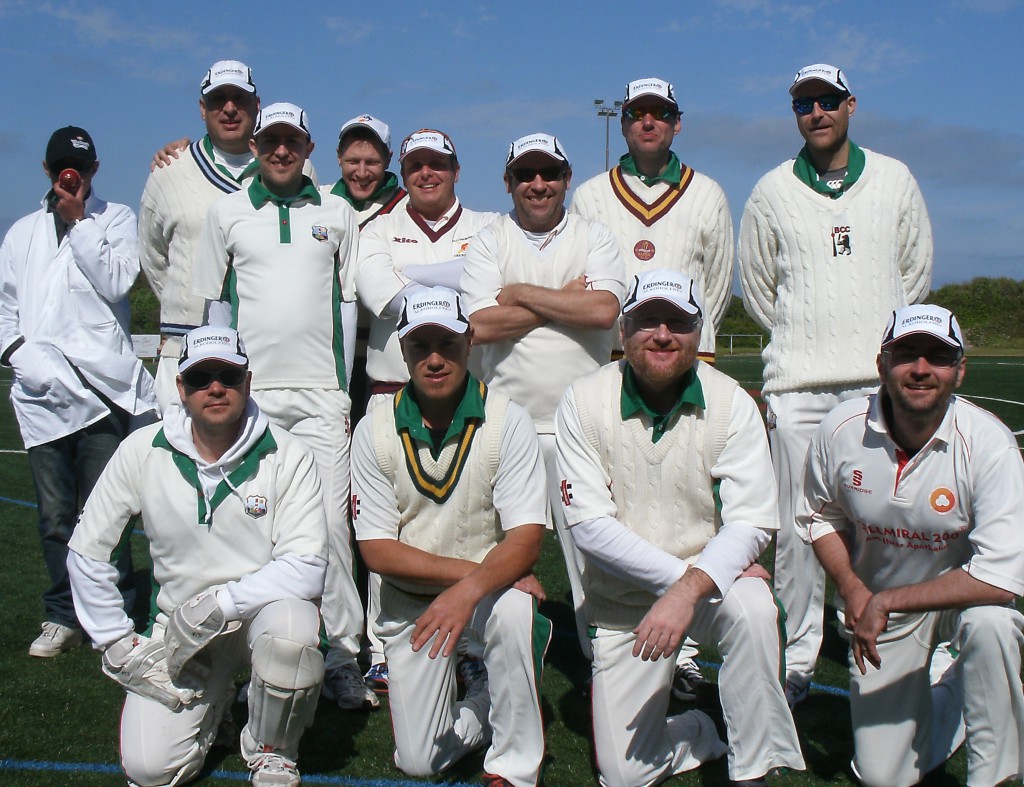 Gestärkt gehen die Pilgrims aufs Feld und fräsen sich früh durch die Reihe der THCC Voyagers Batsmen. Geschickt erreicht Eröffnungsspieler Trived zweistellige Zahlen. Aber nach 10 Overs haben die Gäste schon sechs Wickets verloren, hauptsächlich durch Gareths gefährliches Swing-Bowling, dazu gehören Maher, Kamaladin, Ather, Luke und Torben. Chris dagegen zeigt kein Interesse, den Platz zu verlassen, und beginnt, Ruhe ins Spiel zu bringen. Er wird von Gregory, Thomas und Tim unterstützt, vor allem aber von Bipin und Maher, der noch einmal schlagen darf. Zur Begeisterung ihrer Mitspieler haut der erfahrene Allrounder zwei Sechsen, und der talentierte U-15-Spieler prügelt sogar drei davon in das rote Cliff. So erreichen die Voyager endlich den Stand der Pilgrims und dehnen ihren Vorsprung mit 165 auf 25 Runs aus. Während eine Fußballmannschaft aus Hessen im Abendlicht erscheint, um gegen den ältesten Sportverein der Insel anzutreten, VfL Fosite, ist es völlig unklar, ob die Pilgrims am nächsten Tag so viele Runs werden machen können.
Klar war zu der Zeit jedoch, daß alle hungrig waren. Und die blauen ERDINGER hatten sicher ihren Zweck erfüllt, aber wo waren die goldenen? Die Reisenden zogen sich in ihr nahes Quartier zurück, und ihr Koch, Sven, zauberte ein köstliches Grillmenü für Fleischesser ebenso wie für Vegetarier. Wenn es nicht so windig und kalt gewesen wäre, hätte man auch mehr ERDINGER Weizenbier trinken können. Die meisten Teilnehmer waren müde und ließen es gut sein. Nur die zähesten Männer gingen noch auf eine Insel-Kneipen-Tour, die in der Bunten Kuh endete, einer berüchtigten Hafenspelunke, wo sie ihre Gläser um Mitternacht erhoben, um Chris' Geburtstag zu feiern.
Sonntag Morgen auf der schönen Insel war friedlich und ruhig, nur der Himmel war bewölkt, und die Temperaturen waren noch kälter. Nach einem kräftigen Frühstück in der Jugendherberge zogen Spieler und Zuschauer sich alle ihre Kleidungsstücke an, manche trugen sogar Kapuzen auf dem Feld, insbesondere Sven hinter seinem Wicket. Um pünktlich aufzuhören, wurde der Spielmodus auf ein Zeit-Spiel angepaßt.
Kapitän Ater will das Spiel gewinnen. Er tauscht seine Bowler, diesmal setzt er auf Erfahrung und Geschwindigkeit. Und Wickets fallen, Kamaladin verursacht den größten Schaden. Nach 8 Overs stehen die Pilgrims bei 16 für 5, sie haben noch nicht einmal die 25-Runs-Lücke geschlossen. Aber Gareth und Mark haben andere Vorstellungen, sie häufen 72 Runs an und übernehmen die Führung. Nachdem Gareth einem guten Ball von Trived zum Opfer fällt, muß Mark sich nach einem neuen Partner umsehen. Unglücklicherweise kann Steve ihn nicht unterstützen; er scheidet "leg before wicket" aus aufgrund einer Entscheidung, die die Pilgrims liebend gerne hätten überprüfen lassen. Zusammen mit John trägt Mark weitere 64 Runs bei. Als der Ehren-Vizepräsident des Vereins, der auch in Wisden 2014 erwähnt wird, das allererste Half-Century eines Pilgrims auf der Insel erreicht, erheben sich seine Mitspieler auf dem Balkon der Terrasse, und ihr nicht abflauender Applaus hallt wieder von den Cliffs. Selbst wenn die Pilgrims jetzt verlieren, wird es keine Rolle spielen. Das muß der Höhepunkt des Spiels sein! Marks Wicket fällt erst im 30. Over beim Stand von 162 für 9. Die Voyager Bowler sind frustriert. Fast jeder hat inzwischen schon einen Versuch unternommen. Ather gibt Luke den Ball. Der U-15-Junior braucht nur einen einzigen Ball, um Jon auf 173 zu eliminieren, was mit Kapitän Steves gefälschter Declaration zusammenfällt. Die Pilgrims führen mit ordentlichen 148 Runs.
Diesmal eröffnet Chris unbeirrt das Schlagen und gönnt sich ein Half-Century als eigenes Geburtstagsgeschenk. Beim Stand von 78 für 5 nach 17 Overs befinden sich die Voyagers auf Kurs zu einem einfachen Sieg. Steve bowlt sich die Seele aus – ohne Glück und Erfolg. Aber er kann sich auf Gareth von der Strandseite wie auch von der Hafenseite verlassen, und auf Jon, der kurz vor Ende mit seinen teuflischen Spin- Bällen auftritt. Kamaladin schiebt den Stand der Voyagers in Reichweite der benötigten 149 Runs, wobei er ein paar glitzernde Sechsen schlägt, Chris ermahnt ihn, es ruhig angehen zu lassen, aber Jon beseitigt ihn. Und dann ist die Zeit auch für Chris abgelaufen, brillant gefangen und gebowlt von Gareth. Nun kommt Trived, stolzer letzter Mann, aber nicht am Schlag. Mutig hat Ather sich schon mit einer Sechs bedient. Der Spiel stand steht jetzt auf 139. Man kann die Spannung auf dem Feld spüren. Noch vier Overs zu spielen. Nur zehn Runs zum Sieg. Die Voyagers sind aufgesprungen. Und dann, auf Gareths Ball, der tödliche Schuß auf Long On, wo Steve wartet: "Catches win Matches", und Steve hält! Jubelnd umarmen sich die Pilgrims. Welch ein knappes Ergebnis, welch ein ausgeglichenes Spiel über zwei Tage mit einem pünktlichen Ende kurz vor 2 Uhr! Das ist allerbestes Cricket – und es gibt keinen besseren Grund zu feiern.
Ja, THCC Voyagers waren enttäuscht – aber nicht lange. Immerhin spielten sie das längste bekannte Cricket-Match auf Helgoland, hatten einen Vorsprung von 25 Runs nach den ersten Innings und stellten auch den Man of the Match. Zusammen mit ihren Pilgrims-Freunden verbrachten sie zwei Tage auf einer bezaubernden Insel, wurden nie durstig und hatten viel Spaß, auf dem Feld und auch außerhalb. Am Ende, wie Kevin völlig richtig bemerkte, war der wahre Sieger Cricket. Heligoland Pilgrims' jüngste Reise zum Spielort ihrer Wahl war ein voller Erfolg. Sie können stolz darauf sein, eine Veranstaltung etabliert zu haben, die wunderbare Erinnerungen für alle Teilnehmer schafft.
Und natürlich nahmen sie ihren ERDINGER-Alkoholfrei-Atlantik-Cup als Sieger mit. Die Auszeichnungen wurden an Board der MS Atlantis vom Präsidenten verliehen. Er überreichte allen Clubmitgliedern, die am Spiel teilgenommen hatten, einschließlich Schiedsrichter Mark B., den begehrten roten Hemdknopf, der diejenigen, die auf Helgoland gespielt haben, von denjenigen unterscheidet, die das (noch) nicht getan haben. So weiß man, was man tun muß, wenn man selber einen haben möchte. Nächstes Jahr beabsichtigen Heligoland Pilgrims, einen internationalen Gegner zum 3. ERDINGER-Alkoholfrei-Atlantik-Cup herauszufordern, und das Spiel ist vorläufig auf den 6. und 7. Juni 2015 angesetzt worden.
Als Anerkennung für seine Tour-Organisation wurde dem Präsidenten der Pilgrims eine Flasche Whisky von Kapitän Steve überreicht. Angeblich, jedenfalls heißt es so auf dem Etikett, ist das Getränk unvergeßlich. Das mag davon abhängen, wieviel man von der Spirituose trinkt. Aber jeder Teilnehmer wird zustimmen: Die 2. Tour der Pilgrims nach Helgoland bleibt unvergeßlich.
Statistik und Auszeichnungen
HPCC 140 (Mark 21, Götz 14, Matthew 13, Ather 3-1-5-3, Chris 6-1-22-2, Gregory 4-0-22-2, Torben 4-0-26-2, Bipin 3-1-5-0, Kamaladin 2-1-1-0, Thomas 2-0-10-1) und 173 (Mark 69, Gareth 28, Jon 20, Götz 10, Kamaladin 6-0-24-3, Trived 6-0-39-2, Ather 6-1-21-1, Maher 4-1-14-1, Luke 0.1-0.1-0-1) besiegen THCC 165 (Chris 41*, Maher 34*, Bipin 24, Trived 16, Gareth 6-0-34-4, Kevin 6-0-32-2, Moritz 3-0-6-1, Jon 1-0-6-1) und 139 (Chris 61, Ather 15, Gareth 9.2-0-35-5, Jon 5-0-36-3, Steve 9-1-37-0) mit 9 Runs und gewinnen den Cup.
Beste Schiedsrichter: Andre und Mark B.
Bester Koch: Sven
Bester Batsman: Mark R.,
Bester Bowler: Gareth
Bestes Bowling: Luke
Man of the Match: Chris (102 r., 2 w., 1 ct.)
Mannschaften und Unterstützung
THCC Rot-Gelb Voyagers: Ather A. (*), Maher A., Bipin C., Chris F. (2nd +), Kamaladin K., Thomas und Gregory M., Torben P., Luke R., Kevin R., Tim and Trived T. (1st +)
Heligoland Pilgrims: Steve A. (*), Jon C., Gareth D., Christian H., Götz M., Laurence O., Sven P. (+), Jürgen, Mark und Kevin R., Matthew W., Moritz H.
Schiris: Andre und Superintendent Mark B.;
Troß: Bianca und Emilie B., Simone, Tara und Marisa C., Kanika J., Vera S., Deepa und Vedansh T.;
Reporter: Max M
Super island, super players, super cricket
Heligoland Pilgrims claim 2nd ERDINGER Alkoholfrei Atlantik Cup in cliffhanger game
"Of course I know you – you are coming here every year!" VfL Fosite's president greeted the Pilgrim's president on the southern fringe of Heligoland's isolated sports field. "Yes and no" would have been a correct answer. No, the Pilgrims only started their mercurial visits to the green-red-white North Sea rock last year. And yes, they are well on course to founding an annual tradition.
Whether they can improve on this year's fun and joy, entertainment and drama, cricket and barbecue, however, must remain an open question for at least 12 months. Just imagine: In a two-innings match over two days with a scheduled finish at 2 o'clock, all players batted twice, all wickets fell twice and Heligoland Pilgrims beat THCC Voyagers by just 9 runs. To almost everyone's surprise, captain Steve caught captain Ather on the long-on boundary, confounding the young batsman's attempt to hit another boundary en route to what should have been a straightforward victory. As the Voyagers still had more than four overs to play, they should have defended their precious cup. But anything can happen in cricket, and that is why the Pilgrims deserved to win their first ever match with a great catch. This is how the story unfolds:
Altogether 34 tourists gathered on a sunny Saturday morning in Hamburg, took the train to Cuxhaven, shuttled to MS Atlantis and sailed to Heligoland through a blustering gale with forces up to 6. The toss was made on the high seas. The Pilgrims won and elected to bat. From the south harbour roadstead everyone was unshipped on shore in little open boats by what must have been descendants of real pirates. Glad to find their feet again, the tourists marched straight to the youth hostel. Their generous sponsor had deposited numerous crates of ERDINGER Alkoholfrei in the hostel's fridge which they quickly ferried to the sports field – nobody had to play dehydrated. Up went the scoreboard, the international umpires from South Africa and Mecklenburg donned their coats, stumps were placed on the field and the cricketers got themselves ready. Alas, the north wind was unrelenting, it blew the stumps over. Fortunately some bricks were found to secure them. Just after 2 o'clock three uncapped players received their caps from captain Steve, the essential problem being that the scatty club president had only two caps left. But true pilgrims do not only share beer, banter and wickets, they also share their caps if need be!
Matthew the brain (RH) and Christian the saint (LH) take the crease for Heligoland Pilgrims. Whilst the right hander quickly scores a couple of boundaries, the left hander digs himself in and survives five partnerships. Stalwart Jon and sprightly Steve join in temporarily with the slightly comical middle order collapse, caused mainly by youth, namely U 15 players Gregory and Torben (who also takes a catch), and newcomer "Struppi" Thomas. Athletic Gareth and stylist Götz sparkle with a boundary six each, but cannot reach double figures either, nor can calm Kevin and smoking (gun) Sven, although Kevin and Götz at least stay in for a 24-runs partnership. At 98 for 8 after 18 overs it does not look like the Pilgrims can survive their scheduled 30 overs. But surprise, surprise, top scoring legend Mark and Moritz, the oldest and currently most bearded pilgrim, carefully add another 34 runs in roughly seven overs. Now Voyagers captain Ather has seen enough; he brings himself into the attack and the batsmen have to cave in. Lucky Laurence and jolly Jürgen reach the last over and the scoreboard shows 140 runs. Time for Knieper sandwiches which Matthew and Gareth have kindly collected from the island bakery in the meantime – and another ERDINGER Alkoholfrei.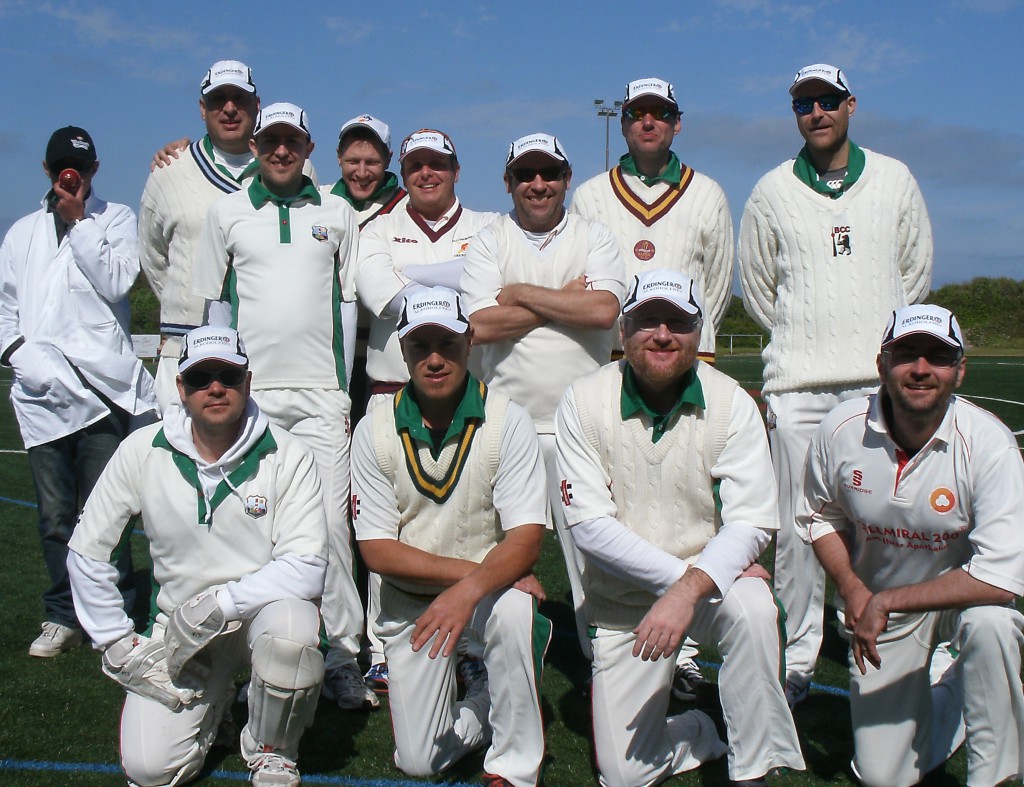 Invigorated, the Pilgrims take the field and make early inroads into THCC Voyagers batting line-up. Skilfully, opener Trived reaches double figures. But after 10 overs the guests have already lost six wickets, mainly through Gareth's dangerous swing bowling, including Maher, Kamaladin, Ather, Luke and Torben. However, Chris shows no interest in leaving the crease and begins to steady the ship. He is supported by Gregory, Thomas and Tim, but especially by Bipin and Maher, who is allowed to bat twice. To the excitement of their team mates the experienced allrounder hits two boundary sixes and the talented U 15 player also knocks three of them into the red cliffs. Thus, the Voyagers reach the Pilgrims' score at last and on 165 extend their lead to 25 runs. Whilst a soccer team from Hesse turn up in the sunset to play against the island's oldest sports club, VfL Fosite, it is still far from clear whether the Pilgrims will be able to match this tally on the next day.
What was clear at the time, however, was that every one was hungry. And ERDINGER blue label had certainly served its purpose, but where w as the gold label? The tourists resorted to their nearby quarters and their chef, Sven, conjured up a delicious barbecue, catering for carnivores and vegetarians alike. Had it not been so windy and cold, more ERDINGER wheat beer could have been consumed. Most participants were tired and called it a day. Only the toughest men ventured on an island pub-crawl, ending in the Speckled Cow, a notorious harbour inn, where they raised their glasses at midnight to celebrate Chris' birthday.
Sunday morning on the beautiful island was peaceful and quiet, only the sky was overcast and temperatures were even chillier. After a hearty breakfast in the youth hostel, players and spectators put on all their clothes, some of them wearing hoods on the field, notably Sven keeping wicket. In order to finish punctually, the playing mode was adjusted to a time-game.
Captain Ather wants to win the match. He changes his bowlers, this time banking on experience and speed. And wickets tumble, Kamaladin causing most of the damage. After 8 overs the Pilgrims are 16 for 5, they have not even closed the 25-runs gap. But Gareth and Mark have other ideas, they put on 72, taking the lead. Once Gareth is out to a good ball by Trived, Mark has to look for a new partner. Unfortunately Steve cannot provide any support; he is given out lbw in a decision the Pilgrims would love to have referred. Together with Jon, Mark adds another 64 runs. When the club's honorary vice-president, mentioned in Wisden 2014, reaches the first ever half-century of a Pilgrim on the island, his team mates rise on the balcony terrace and their non-ebbing standing ovations resound from the cliffs. Even if the Pilgrims lose the game now, it will not matter. This must be the highlight of the match! Mark's wicket only falls in the 30th over at 162 for 9. The Voyagers' bowlers are frustrated. Almost everyone has had a go in the meantime. Ather gives the ball to Luke. The U 15 youngster only needs a single ball to remove Jon on 173, coinciding with captain Steve's mock declaration. The Pilgrims' lead is a fair 148.
This time Chris opens the batting unperturbed and indulges himself with a half-century as his own birthday present. At 78 for 5 after 17 overs, the Voyagers look on course to an easy win. Steve bowls his heart out – unluckily and without reward. However, he can rely on Gareth from the beach end as well as from the harbour end, and on Jon who comes in shortly before the death with his vicious spin balls. Kamaladin shifts the Voyagers' tally within reach of the required 149 runs, hitting a couple of flashy sixes, Chris reminds him to take it easy, but Jon gets him out. And then time is up for Chris as well, brilliantly caught and bowled by Gareth. Enter Trived, proud last man, but not on strike. Courageously, Ather has already helped himself to a six, too. The score is now 139. You can feel the tension on the field. Still four overs to play. Only ten runs to win. The Voyagers are on their feet. And then, off Gareth's bowling, the fatal shot to long on where Steve is waiting: catches win matches, and Steve holds on! The Pilgrims are hugging one another in jubilation. Such a close finish, such an evenly balanced match over two days, finishing on time, shortly before 2 o'clock! This is cricket at its very best – and there is no better reason to celebrate.
Yes, THCC Voyagers were disappointed – but not for long. After all, they played in the longest known cricket match on Heligoland, they held a first innings lead of 25 runs and they had the man of the match. Together with their pilgrim friends they spent two days on a charming island, never got thirsty and had lots of fun, on and off the field. After all, as Kevin quite rightly commented, the actual winner was cricket.
Heligoland Pilgrims' recent journey to their chosen resort was a complete success. They can pride themselves in having established an event that provides wonderful memories for all participants. And of course, they took home their ERDINGER Alkoholfrei Atlantik Cup as winners. Presentations were conducted on board MS Atlantis by the president. He awarded all club members who took part in the game, including umpire Mark B., the prestigious red shirt button which distinguishes those who have played on Heligoland from those who have not (yet). So you know what you have to do, if you want to get one yourself. Next year Heligoland Pilgrims intend to challenge an international opponent for the 3rd ERDINGER Alkoholfrei Atlantik Cup and the match has been scheduled provisionally for 6th and 7th June 2015.
As an appreciation of his tour organisation, the Pilgrims' president was given a bottle of whisky by captain Steve. Allegedly, or so it reads on the label, the beverage is unforgettable. That may depend of the amount of spirit you consume. Still, every participant will agree: The Pilgrims 2nd tour to Heligoland remains unforgettable!
Statistics and awards
HPCC 140 (Mark 21, Götz 14, Matthew 13, Ather 3-1-5-3, Chris 6-1-22-2, Gregory 4-0-22-2, Torben 4-0-26-2, Bipin 3-1-5-0, Kamaladin 2-1-1-0, Thomas 2-0-10-1) and 173 (Mark 69, Gareth 28, Jon 20, Götz 10, Kamaladin 6-0-24-3, Trived 6-0-39-2, Ather 6-1-21-1, Maher 4-1-14-1, Luke 0.1-0.1-0-1) beat THCC 165 (Chris 41*, Maher 34*, Bipin 24, Trived 16, Gareth 6-0-34-4, Kevin 6-0-32-2, Moritz 3-0-6-1, Jon 1-0-6-1) and 139 (Chris 61, Ather 15, Gareth 9.2-0-35-5, Jon 5-0-36-3, Steve 9-1-37-0) by 9 runs and win the cup.
Best Umpires: Andre and Mark B.
Best Chef: Sven
Best Batsman: Mark R.
Best Bowler: Gareth
Best bowling figures: Luke
Man of the Match: Chris (102 runs, 2 wickets, 1 catch)
Teams and support
THCC Rot-Gelb Voyagers: Ather A. (*), Maher A., Bipin C., Chris F. (2nd +), Kamaladin K., Thomas and Gregory M., Torben P., Luke R., Kevin R. Tim and Trived T. (1st +)
Heligoland Pilgrims: Steve A. (*), Jon C., Gareth D., Christian H., Götz M., Laurence O., Sven P. (+), Jürgen, Mark and Kevin R., Matthew W., Moritz H.
Umpires: Andre and Superintendent Mark B.;
Support: Bianca and Emilie B., Simone, Tara and Marisa C., Kanika J., Vera S., Deepa and Vedansh T.;
Reporter: Max Minor, THCC-Cricket Correspondent