Read the English version below.
Die Pilgrims gewinnen das AJM – na und?
Ja, Heligoland Pilgrims haben das renommierte AJM gewonnen. Zum ersten Mal. Vor den Augen des berühmten australischen Cricketspielers Alan Jefferys persönlich. Im schönen Jenischpark. An einem sonnigen Sonntag, 10. Juli 2016. Gegen starke THCC Barbarians. Nein, das muß gestrichen werden, sie waren nicht so richtig stark. Mit 18 Runs. Dennoch schien niemand wirklich daran interessiert zu sein. Immerhin ist das Alan Jefferys Match eher eine Cricket Demonstration als ein Wettstreit. Zwei Mannschaften begeisterter Cricketspieler freuen sich, ihren Sport zu treiben vor nichtsahnenden Zuschauern, einige aus der Nachbarschaft, einige von weit her aus Indien. Alle tragen etwas bei, keiner beschwert sich. Ganz im wahren Geist des Cricktsports.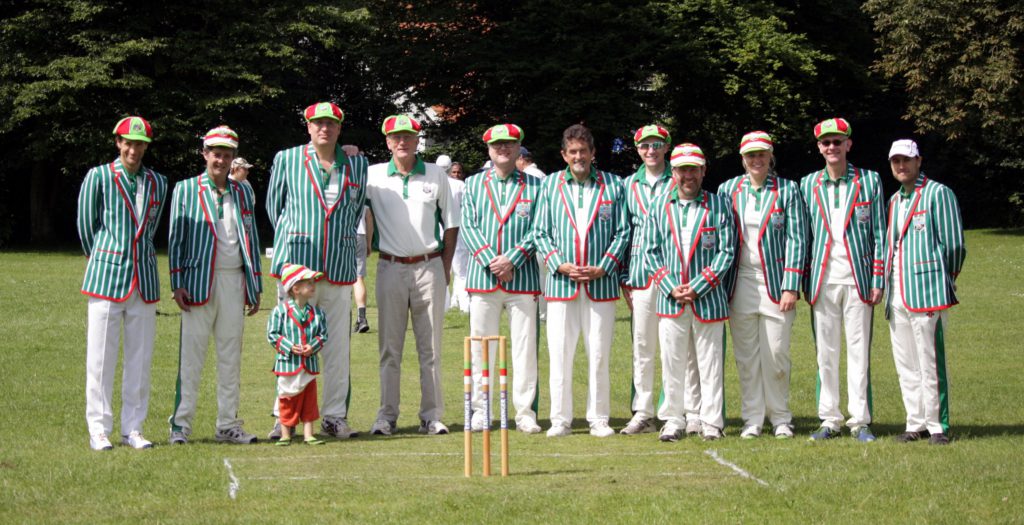 Worauf es wirklich ankam, war die wunderbare Atmosphäre der Veranstaltung. So beschrieb ein kundiger Novize bei AJM seine Eindrücke am Tag danach: "Was für ein schöner Tag im Jenischpark! Die schöne Umgebung, das tolle Wetter, die nette Gesellschaft und ein Spiel, das richtig Spaß machte. Ich habe das sehr genossen. Heute kommt die Quittung in Form von starkem Muskelkater, aber was soll's. Der Körper verlangt seinen Tribut. Ist so im Alter."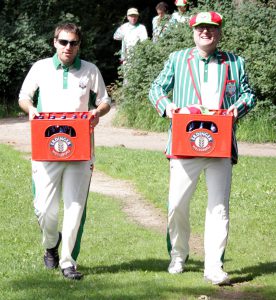 Und man kann annehmen, daß alle das so empfanden – abgesehen von den Jugendlichen, deren Muskeln wohl nur stärker geworden sind. Natürlich ist die Kulisse zwischen dem herrschaftlichen Anwesen und dem vielbefahrenen Fluß unter einem blauen Himmel einmalig. Und die Pilgrims bringen allen erdenklichen Stil mit auf den Platz. Ihre eleganten Blazer und die mehr oder weniger dazu passenden neuen Mützen dienen nur dazu, ihre sportliche Haltung zu unterstreichen. Sie vertrauen auch auf ihren großzügigen Sponsor, ERDINGER, der wieder einmal ausreichende Mengen an alkoholfreiem Bier geliefert hatte. Die beiden Kapitäne dehnten sogar das Spiel von 21 auf 25 Overs aus und gaben so allen eine Chance, ihre Fähigkeiten zu zeigen, Anfängern ebenso wie Altgedienten. Und so spielte sich das Cricket ab: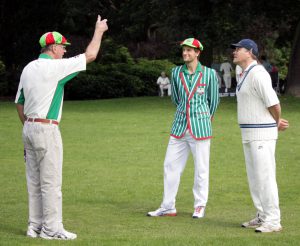 Barbarian Kapitän Björn gewann das Los und entschied, daß die Pilgrims schlagen sollten. Eröffnungsspieler Daniel und Andrew legten einen guten Start vor und versuchten nach Kräften, die jungen Bowler Luke und Till zu ermüden. Dann erhöhten Mark B. (33*) und Jon (16*) die Schlagzahl. Plötzlich schien sich das Blatt zu wenden: Till gelang es, Jürgen mit seinen großen Schlägen und Cam, den Kapitän der Pilgrims, im selben Over auszubowlen. Katja hielt ordentlich das Wicket für die Barbarians. Tina (15) gelang es ruhig, die Wogen zu glätten; aber dann schlug Jeff zurück, nahm noch 2 Wickets und bewirkte ein spektakuläres Run-Out im Alleingang. Rupert zeigte einen guten Catch. Steve erlebte eine überraschende Begnadigung nach seinem ersten Ball durch Björn, der keinen Appeal einlegte als eine Duck Steves Wicket bedrohte. Star der Pilgrims war gewiß Mark R. (48*), der am unteren Ender der Schlagmänner die höchste Punktzahl des Tages erzielte. Mit 157 für 8 hofften die Pilgrims einen Punktestand erreicht zu haben, der verteidigt werden konnte.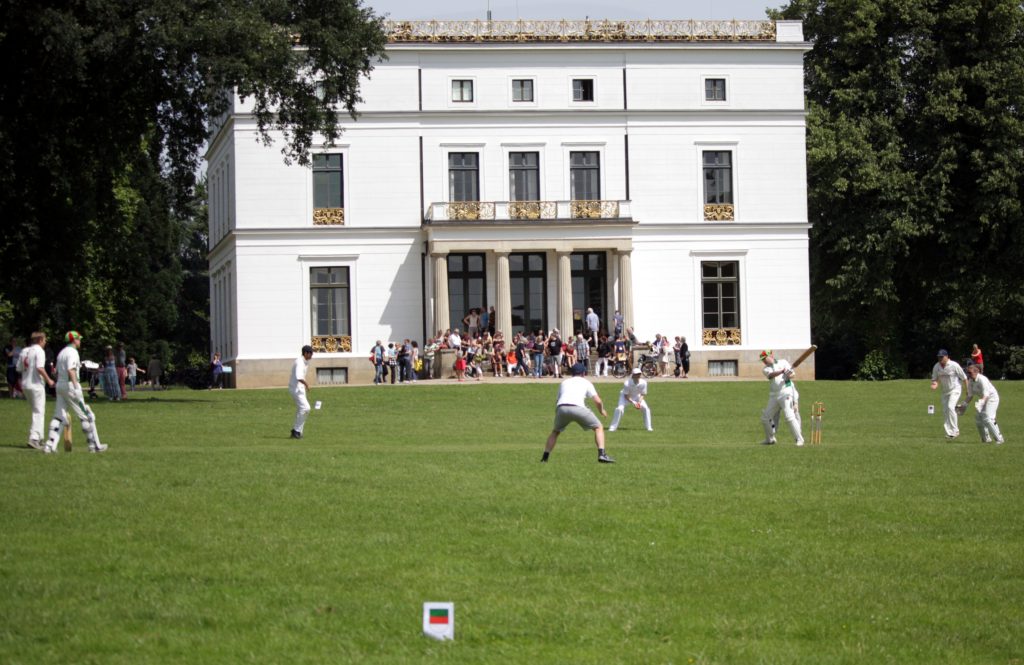 Der Durchgang der Barbarians war etwas davon beeinträchtigt, daß sie nur 9 Spieler waren, einschließlich Saieds Freund Matthias, der sich spontan bereiterklärt hatte, sein erstes Cricketspiel als Ersatzspieler zu bestreiten. Eigentlich hatte der Vizepräsident der Pilgrims für diesen mangelnden Nachschub an Spielern verursacht; er hatte heimlich dafür gesorgt, daß einer der besten THCC-Schlagmänner zum Schiedsrichtern nach Göttingen geschickt worden war. Trotzdem ließ keiner der Barbarians ihren Kapitän im Stich, die meisten von ihnen erreichten zweistellige Punktzahlen. Die Bowler der Pilgrims hielten sie aber in Schach, in ganz besonderem Maße Cam, der 4 für 11 erzielte. Daniel hielt 2 Bälle hinter dem Wicket in seinem ersten Spiel für die Pilgrims. Saied (38) ragte in der Aufstellung der Barbarians-Schlagmänner als bester Mann hervor. Aber als dieser gefährliche Angreifer von Bianca beseitigt worden war, konnten weder Aswin (14*) noch Björn (16*), umgeben von der einfallsreichen "Vertrauenskreis"-Feld-Strategie der Pilgrims, die verbleibende Lücke zum Ziel schließen. Allerdings waren 139 Runs auf dem unbeständigen Pitch ein ehrenwertes Ergebnis.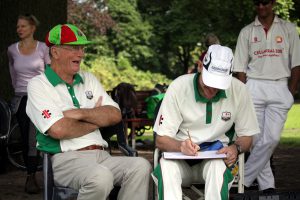 Alan Jefferys führte  meisterhaft die Schiedsrichter an und zeichnete Mark R. als Spieler des Tages aus.. Anne Jefferys überreichte den Pilgrims einen wunderschönen, handgemachten Wimpel mit ihrem Vereinswappen, den sie vielleicht auf eine Reise nach Barbados mitnehmen werden. Das anschließende Grillen gab allen die Gelegenheit, sich zu erholen, ERDINGER nachzufüllen und sich über die Magie des Cricket auszutauschen. Besonderer Dank muß an Kerstin gehen, die Pilgrims-Flugblätter an zahllose Zuschauer verteilte, ohne deren Fragen beantworten zu können. Keine Sorge, Kerstin, wer den Geist des Crickets im Park nicht bemerkt hat, hätte sowieso keine Antwort verstanden.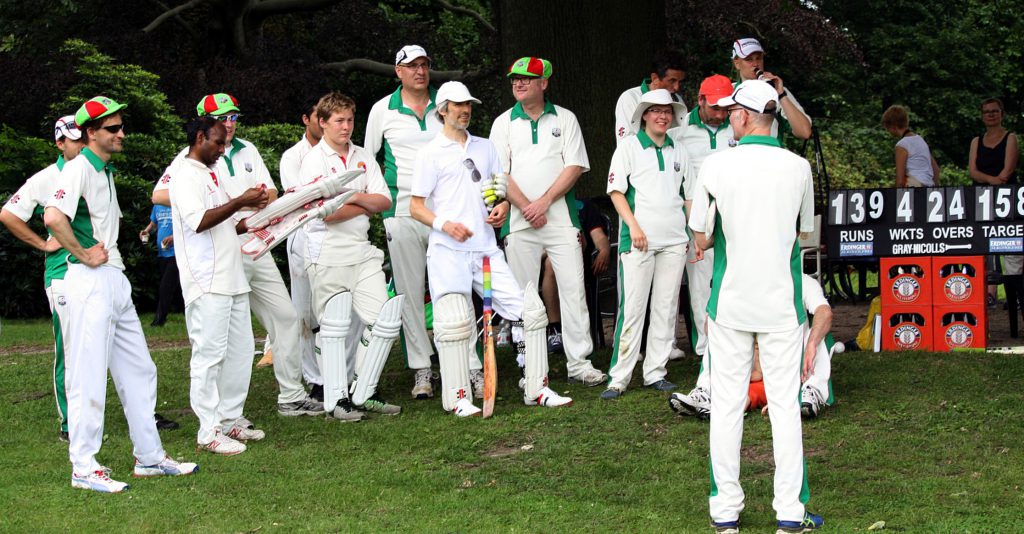 THCC Barbarians: Björn (capt.), Aswin, Jeff, Katja (wk), Luke, Matthias, Rupert, Saied, Till
Heligoland Pilgrims: Cam (capt.), Andrew, Bianca, Daniel (wk), Jon, Jürgen, Mark B., Mark R., Moritz, Steve, Tina
Text: Max Minor, cricket correspondent, Photographie: Bianca
Yes, Heligoland Pilgrims really won the prestigious AJM. For the very first time. Under the eyes of the famous Australian cricketer Alan Jefferys himself. In the beautiful Jenischpark. On a sunny Sunday, 10 July 2016. Against strong THCC Barbarians. No, delete that, they were not so strong, actually. By 18 runs. Still, it seemed no-one was really interested in the result. After all, the Alan Jefferys Match is rather a cricket demonstration than a competition. Two teams of cricket enthusiasts enjoying to play their game before an unsuspecting audience, some from the neighbourhood, and some from as far as India. Everyone contributing, no-one complaining. In the true spirit of cricket.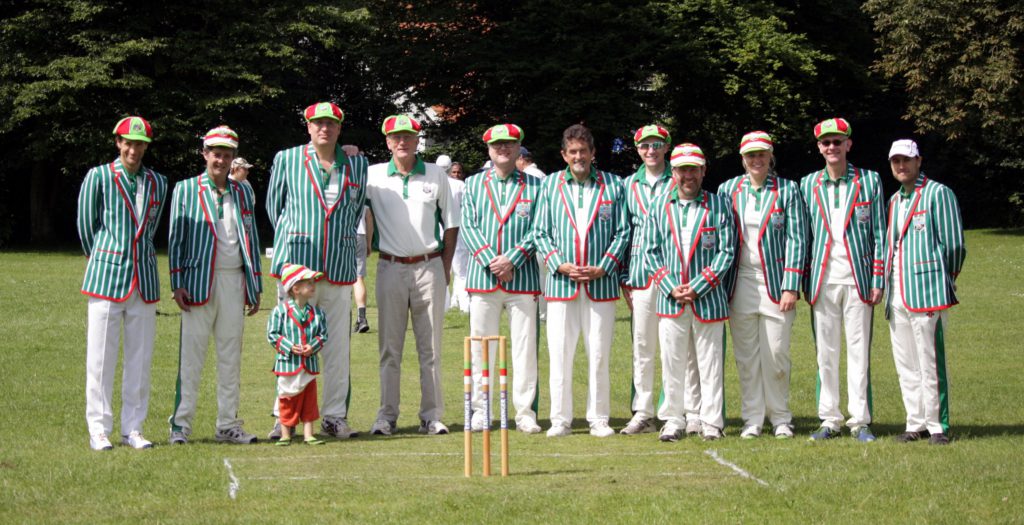 What really mattered was the inimitable atmosphere of the marvellous event. This is how a learned novice to the AJM commented the morning after: "What a wonderful day in Jenischpark! The beautiful surroundings, the great weather, the nice company and a game that was really fun. I thoroughly enjoyed it. Today I have sore muscles, but so what? The body demands tribute. That comes with age."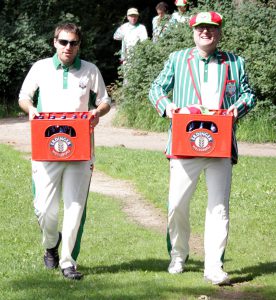 It is a fair guess everybody felt like this – with the exception of the juniors whose muscles will only have got stronger. Of course the setting between the stately house and the busy river under a blue sky is unique. And the Pilgrims bring all the style to the crease they can muster. Their dapper blazers and the more or less matching new caps merely serve to emphasize their sporting attitude. They also rely on their generous sponsors, ERDINGER, who once again supplied sufficient quantities of alcohol-free beer. The two captains even extended play from 21 to 25 overs thus giving everyone a chance to show their skills, beginners and stalwarts alike. Now, this is how the cricket unfolded: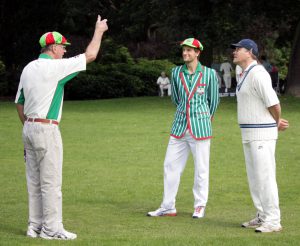 Barbarian's captain Björn won the toss and decided to put the Pilgrims in to bat. Openers Daniel and Andrew got off to a solid start trying hard to tire young bowlers Luke and Till out. Then Mark B. (33*) and Jon (16*) increased the run-rate. Suddenly the tide seemed to change: Till manged to bowl big-hitting Jürgen and Cam, the Pilgrims' captain, in the same over. Katja kept a tidy wicket for the Barbarians. Tina (15) calmly steadied the Pilgrims' ship, but Jeff struck back, taking another 2 wickets and effecting a spectacular run-out single-handedly. Rupert displayed a good catch. Steve experienced a surprise first ball grace by Björn who did not appeal when a golden duck threatened to graze his wicket. Star of the Pilgrims was certainly Mark R. (48*) who, batting down the order, achieved the highest score of the day. At 157 for 8 the Pilgrims hoped to have reached a defendable tally.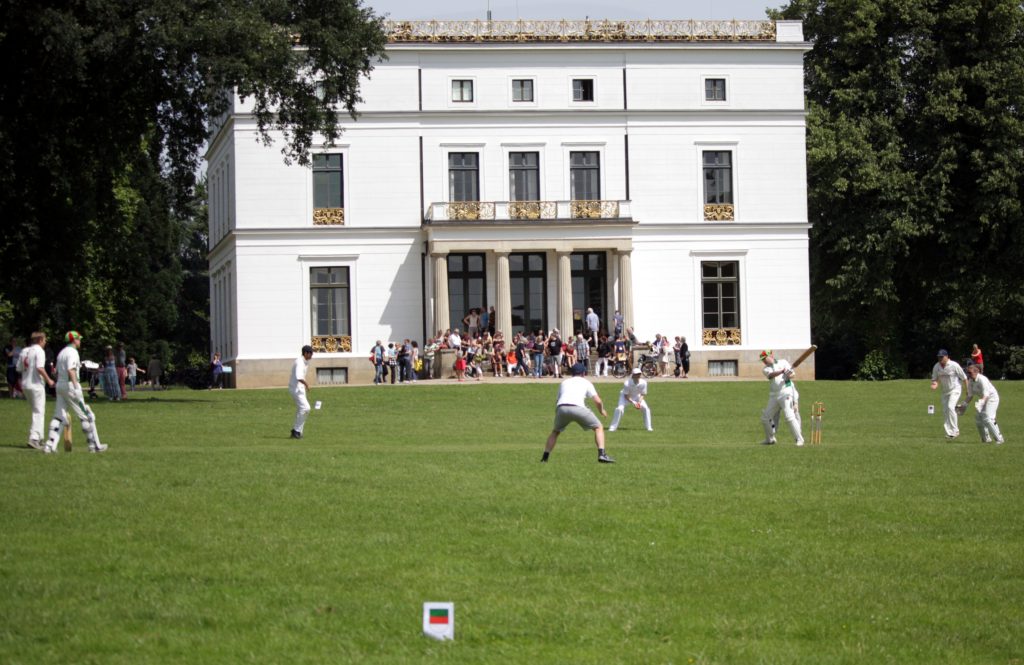 The Barbarian's innings was slightly marred by the fact they were only 9 players including Saied's friend Matthias, who had spontaneously volunteered to play his maiden cricket as a substitute. Actually, the short supply of players had been caused by the Pilgrims' Vice President; he had surreptitiously arranged for one of THCC's strongest batsmen to be sent away for umpiring duties to Göttingen. Nevertheless, none of the Barbarians let their captain down, with most of them reaching double figures. The Pilgrims' bowlers kept them at bay, most notably Cam who took 4 for 11. Daniel held 2 catches behind the wicket in his first game for the Pilgrims. Saied (38) stood out amongst the Barbarians' batting line as top-scorer. But when this danger-man had been removed by Bianca, neither Aswin (14*) nor Björn (16*), surrounded by the Pilgrims' imaginative "circle of trust" fielding strategy, managed to close the gap to the target. Admittedly, 139 runs on the variable pitch was an honourable score.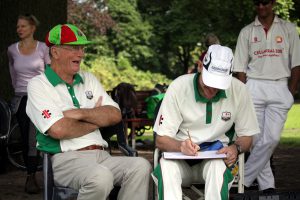 Alan Jefferys masterly oversaw the umpiring and presented the man of the match award to Mark R. Anne Jefferys gave the Pilgrims a lovely hand-made pennant with their club logo which they may take on tour to Barbados. The subsequent barbecue gave everyone an opportunity to restore, to refuel with some ERDINGER beer, and to reconsider the magic of cricket. Special thanks must go to Kerstin who handed out Pilgrims' advertising flyers to numerous spectators without being able to respond to their questions. Please don't worry Kerstin, anyone who did not sense the spirit of cricket in the park would not have understood any answer anyway.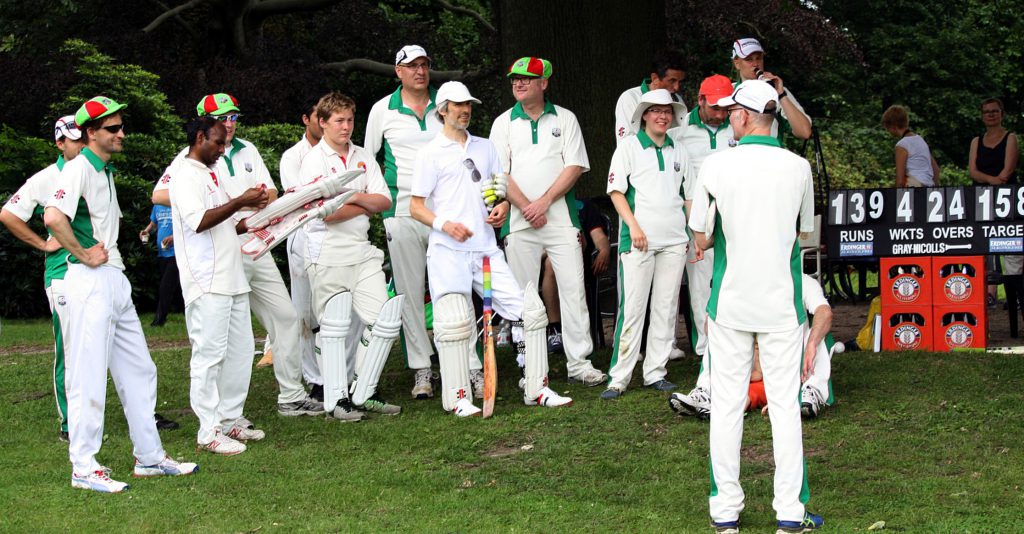 THCC Barbarians: Björn (capt.), Aswin, Jeff, Katja (wk), Luke, Matthias, Rupert, Saied, Till
Heligoland Pilgrims: Cam (capt.), Andrew, Bianca, Daniel (wk), Jon, Jürgen, Mark B., Mark R., Moritz, Steve, Tina
Text: Max Minor, cricket correspondent, Photography: Bianca