Read the English version below.
Pilgrims unterhalten das Volk
"Ihr wart fantastisch!" So bewertete Organisatorin Jo Dawes die Cricket-Show, die von Heligoland Pilgrims gemeinsam mit THCC Renegades auf der diesjährigen British-Flair-Veranstaltung unter blauem Himmel am 6. August 2016 auf dem Hamburger Poloplatz präsentiert wurde. Vielleicht hatte sie weder die hohe Zahl von Extras bemerkt, welche die Renegades bowlten, noch die lächerlich kleine Zahl von Runs, welche die Pilgrims mit dem Schläger erzielten. Möglicherweise war ihre überschäumende Bemerkung auch ihrer Getränkeauswahl geschuldet – als ihr von den üppigen ERDINGER-Vorräten angeboten wurde, wählte sie kein Alkoholfrei. Aber, um fair zu sein: Die Pilgrims waren nicht gebeten worden, dieses T21 zu gewinnen, sie waren eingeladen worden, um das Volk zu unterhalten (oder die Krauts, wie manche argwöhnen), und das haben sie zweifelsohne getan.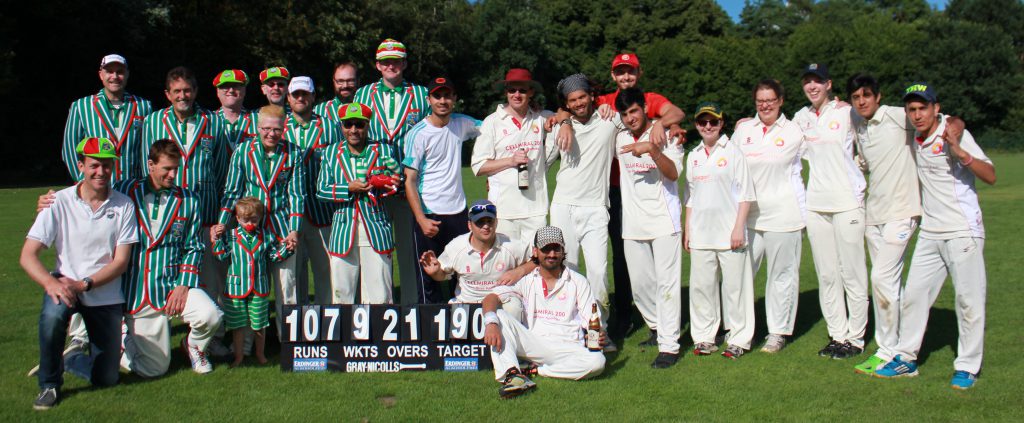 Während das Spiel als solches sich kaum von den drei vorangegangenen ERDINGER-Alkoholfrei-Kontinental-Cup-Spielen unterschied – die Pilgrims spielen erst im Feld, bowlen viele schlappe Bälle, bewundern das große Schlagvermögen ihrer Gegner, ermuntern einander fröhlich, schlagen einige mehr oder weniger lustlose Runs, versuchen den Spielstand zu manipulieren, unterhalten sich während des Spiels mit Zuschauern, trinken eine ansehnliche Menge Bier auf oder neben dem Platz, verlieren das Spiel (offiziell: Renegades 187/5, Pilgrims 107/9), und amüsieren sich köstlich – gab es eine neue Besonderheit.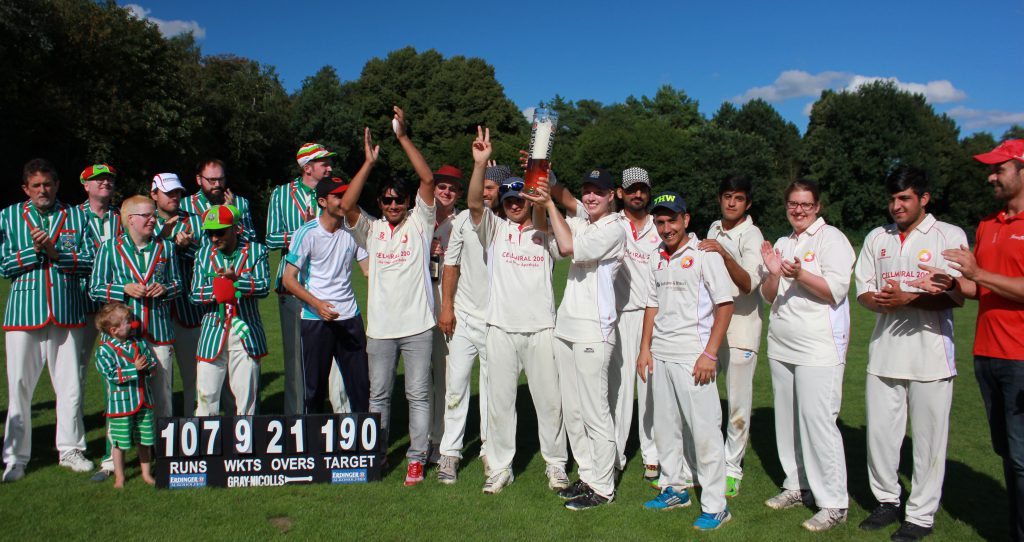 Unmittelbar nachdem ihre Erkennungsmelodie "Soul Limbo" verklungen war, lud der Reporter der Pilgrims die Zuschauer ein, seine Mannschaft zu unterstützen. Er bot Freiwilligen sogar Freibier (ERDINGER Alkoholfrei) als Belohnung für ihren Einsatz an. So viel zum Thema Korruption im Amateursport.
Tatsächlich fehlten den Pilgrims zu Beginn der Begegnung drei Spieler. Zwei mutige junge Sportler traten vor, ein weiterer wurde sanft zur Long-Off-Position gestupst, und so konnte das Volk einige Volksvertreter auf dem Feld beobachten – hauptsächlich beim Einsammeln des Balls von jenseits der Feldgrenze. Man stelle sich den Jubel der Zuschauer vor, als Kapitän Leo in seinem Antrittsspiel für die Pilgrims jeden von ihnen ein Over bowlen ließ. Hätte nur jemand Asad gesagt, der – angeblich auch gegen Getränke des Sponsors – schiedsrichterte, daß Wides und No-Balls nicht hätten wiederholt werden sollen. Die beste Vorstellung der drei Gäste lieferte gewiß Harold ab, der sich als äußerst netter Cricket-Spieler aus Neuseeland entpuppte. Er konnte auch noch dazu überredet werden, für die Pilgrims zu schlagen, und hinterließ einen bleibenden Eindruck auf beide Mannschaften.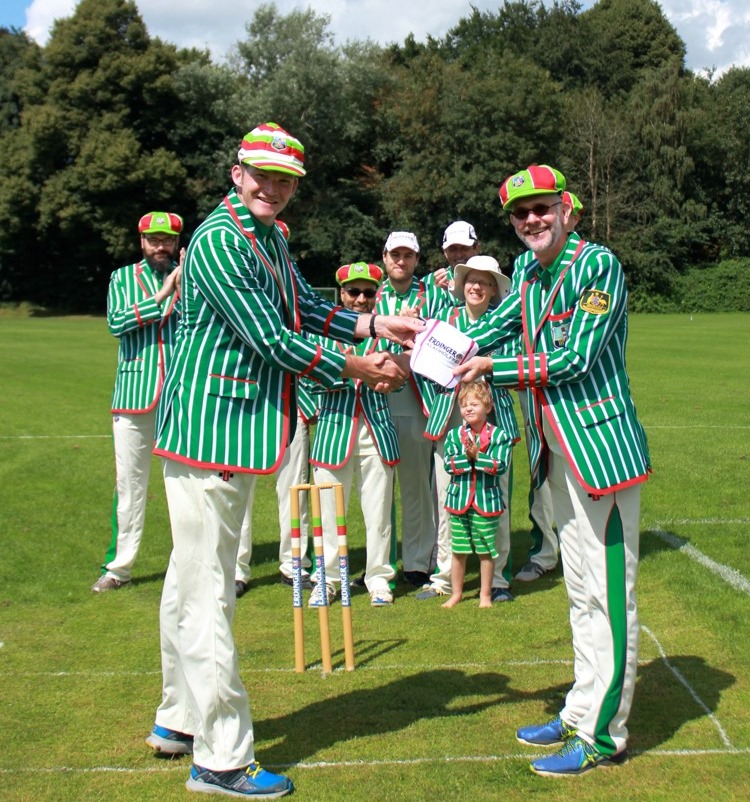 Was kann man sonst über die Pilgrims berichten? Leo kassierte eine Duck und führt deswegen jetzt die Batting-Statistik der Pilgrims von hinten an. Adrian gewann auch seine erste Duck für die Pilgrims. Daniel bewachte erneut das Wicket, und es gelang ihm, vier Catches zu halten. Cam blieb nüchtern und erzielte mit 10 Runs die meisten Punkte. Er nahm auch 3 Wickets für 15 Runs und liegt damit bei der Anzahl der Wickets nur noch hinter Gareth. Jürgen nahm sein allererstes Wicket für die Pilgrims und erreichte dadurch den bisher höchsten Bowling-Average. Tim verdoppelte seine gesamte Anzahl von Runs in der Statistik der Pilgrims von 1 auf 2, aber sein Bowling-Average stieg von 3 auf 6,5. Bianca konnte ihren Highscore von 1* auf 4 verschieben. Und Andrew hätte niemals mit einem Run-Out ausscheiden dürfen, hätte der Schiedsrichter nicht unter dem Einfluß von ERDINGER Weißbier gestanden. Das unterhaltsamste Ereignis waren jedoch ein paar skurrile Overthrows, die den Gegnern kostenlose Runs ermöglichten, die niemals hätten passieren dürfen.
Und THCC Renegades? Das war gewiß die seltsamste Mannschaft, die der Schwesterclub der Pilgrims jemals in den ERDINGER-Alkoholfrei-Kontinental-Cup-Wettbewerb geschickt hatte. Drei Damen, fünf Jugendliche, zwei Altgediente und ein Neuling bildeten einen ziemlich heterogenen Haufen. Kapitän Verena mit wenig Erfahrung stützte sich stark auf Silva (25*), der nicht nur erhebliche Reife und seinen getreuen Kumpel Hardeep mitgebracht hatte, sondern auch den Geist dieses Show-Kampfs richtig verstanden hatte. Sie schickten Kamal (41), Khalil (37) und Saffiullah (24) ins Spiel, um die notwendigen Runs zu erzielen und das Volk mit zahlreichen Boundaries zu erfreuen. Fast alle ihrer Spieler bekamen eine Chance zu bowlen. Katharina, Katja und Silva nahmen je ein, Khalil und Hardeep jeweils je zwei Wickets.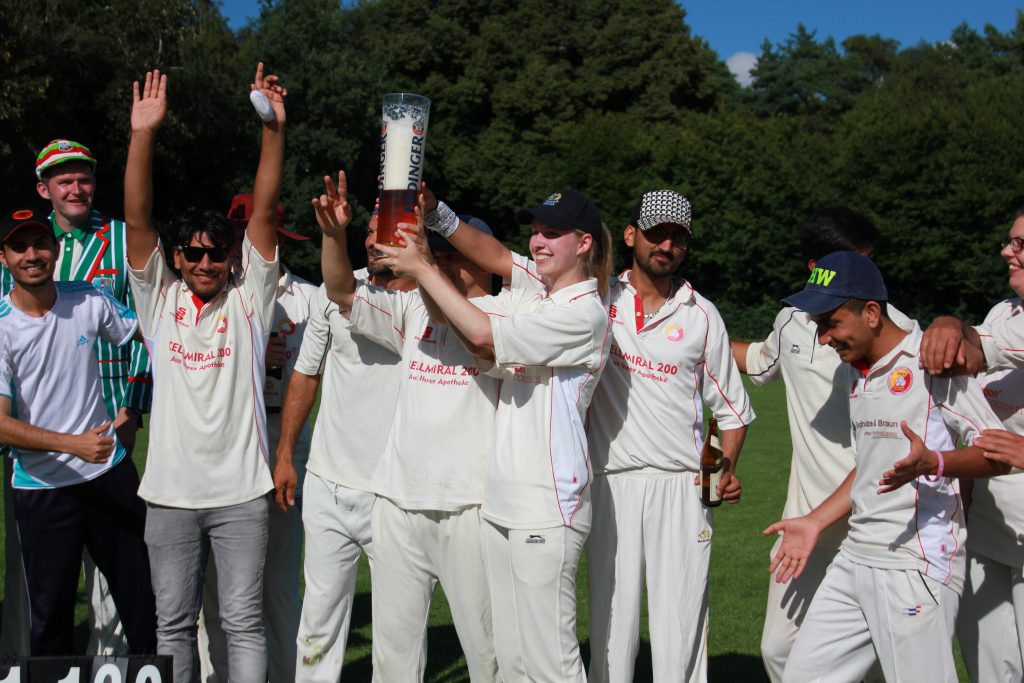 THCCs Shane versuchte sein Glück beim Aufschreiben und schien erleichtert, als Pilgrims-Ehrenmitglied Alan ihn entlastete. Sobald die Pilgrims, die bis zum letzten Mann und letzten Ball schlugen, am Ende ihre Niederlage eingestanden hatten, überreichte Anne Jefferys den Pokal an Verena – in Anwesenheit von Jeeepers, des neuen Maskottchens der Pilgrims,. Natürlich bekamen alle Sieger einen Schluck ERDINGER Alkoholfrei, aber die anschließenden Feiern wurden mit dem echten Gebräu geölt. Gut gemacht, THCC Renegades! Und vielen Dank den Pilgrims, daß sie diese Art von fröhlicher Unterhaltung präsentieren für das Volk der Krauts.
THCC Renegades: Verena (c), Hanan, Hardeep, Kamaladin, Katharina, Katja, Khalil, Michael, Mohibullah (wk), Safiullah and Silva (vc)
Heligoland Pilgrims: Leo (c), Adrian, Andrew, Bianca, Cam, Christian, Daniel (wk), Jürgen, Moritz and Tim; special guest: Harold
Offizielle: Asad (Umpire), Shane and Alan (Scorer), Anne Jefferys (Pokalübergabe)
Text: Max Minor, Cricketkorrespondent, Photographie: Jessica Mancuso
"You were fantastic!" This is how organiser Jo Dawes commented on the cricket show displayed by Heligoland Pilgrims together with THCC Renegades at this year's British Flair event under sunny skies at the Hamburg Poloplatz on 6 August 2016. Perhaps she had neither noticed the high number of extras bowled by the Renegades nor the ridiculously low number of runs scored by the Pilgrims off the bat. Maybe her exuberant remark was also prompted by her choice of beverage – when offered from the ample ERDINGER supplies she did not opt for Alkoholfrei. But to be fair, the Pilgrims had not been asked to win this T21, they had been invited to entertain the crowds (or Krauts as some suspect) and undeniably that is what they did.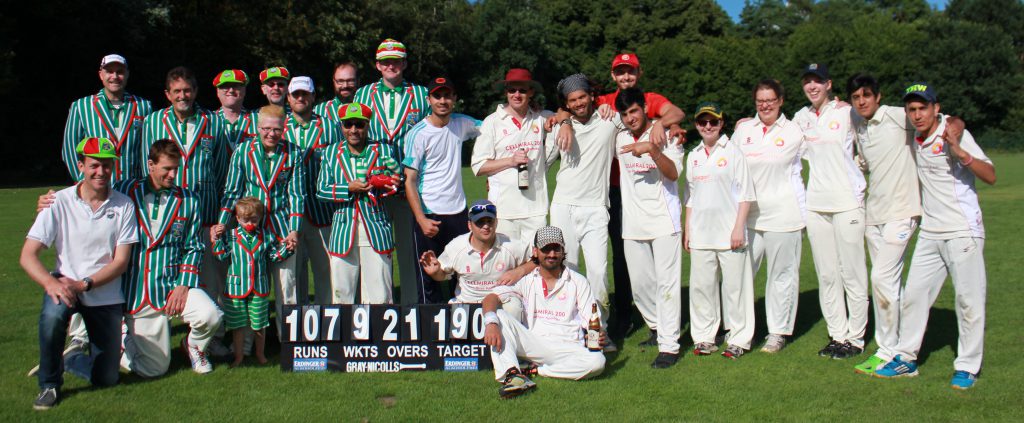 Whilst the match as such hardly differed from the preceding three ERDINGER Alkoholfrei Kontinental Cup matches – Pilgrims field first, bowl a lot of lollies, marvel at their opponents big hitting capacities, cheerfully encourage one another, hit some more or less lacklustre runs, try to fiddle with the scoreboard, talk to spectators during their innings, drink a considerable amount of beer on and off the field, lose the match (for the record: Renegades 187/5, Pilgrims 107/9), and generally have a great time – there was one new element.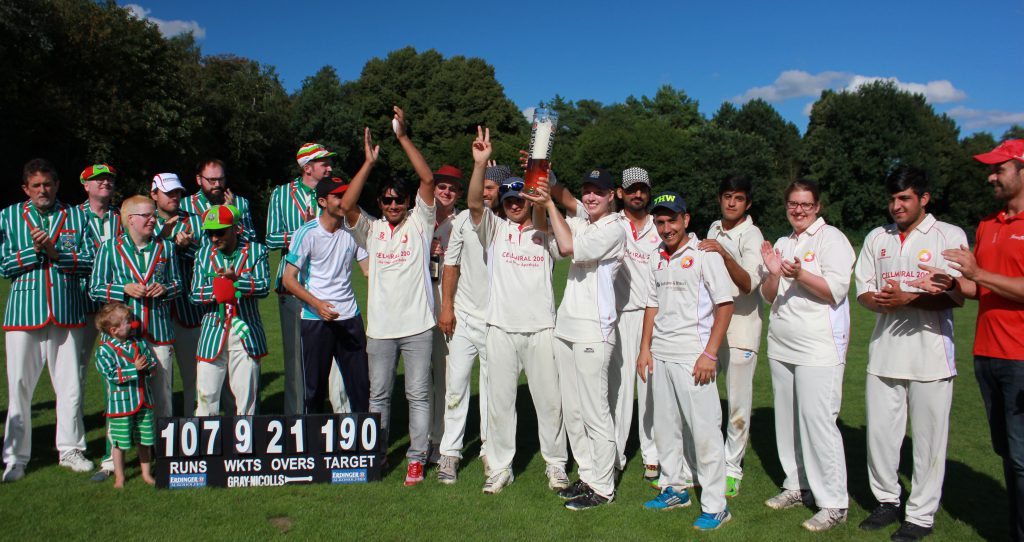 Immediately after their signature tune "Soul Limbo" had faded away, the Pilgrims' commentator invited the public to support his team. He even offered the volunteers a free bottle of ERDINGER Alkoholfrei as a reward for their efforts. So much for corruption in amateur sports.
Indeed the Pilgrims were three players short at the start of the game. Two courageous young sportsmen stepped forward, another was gently nudged towards long off, and thus the crowds were able to observe some of their own kind in the field – mainly collecting balls from beyond the boundaries. Imagine the spectators' cheers when captain Leo in his inaugural game for the Pilgrims gave each of them an over to bowl. If only someone had told Asad, who was umpiring, allegedly also in exchange for sponsor's beverages, that wides and no balls should not have been repeated. The best performance of the three guests was certainly delivered by Harold who turned out to be an extremely nice cricketer from New Zealand. He could be persuaded to also bat for the Pilgrims and left a memorable impression on both teams.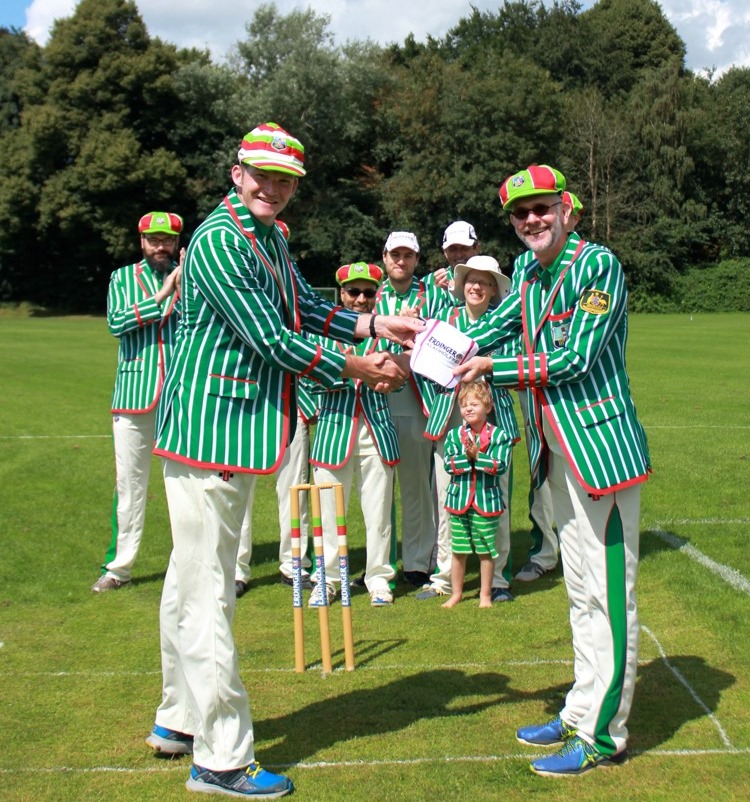 What else can we report about the Pilgrims? Leo collected a duck and therefore now leads the Pilgrims' inverted batting statistics. Adrian also gained his first duck for the Pilgrims. Daniel kept the wicket once again and was able to hold four catches. Cam remained sober and top scored with 10 runs. He also took 3 wickets for 15 runs and is now second only to Gareth regarding numbers of wickets. Jürgen got his very first wicket for the Pilgrims and thereby reached the highest bowling average yet. Tim doubled his total runs in the Pilgrims statistics from 1 to 2, but his bowling average went up from 3 to 6.5. Bianca could shift her high score from 1* to 4. And Andrew should never have been given run out, had not the umpire been under the influence of ERDINGER Weißbier. The most entertaining feature, however, were a couple of comical overthrows causing free runs for the opponents that should never have occurred.
And THCC Renegades? This was the most curious team the Pilgrims' sister club had ever sent into the ERDINGER Alkoholfrei Kontinental Cup competition. Three ladies, five youth players, two stalwarts and a newcomer made up a rather inhomogeneous bunch. Captain Verena with little experience relied heavily on Silva (25*) who had not only brought vast maturity and his trusted sidekick Hardeep, but also fully understood the spirit of this exhibition game. They put in Kamal (41), Khalil (37) and Saffiullah (24) to score the necessary runs and please the crowds with numerous boundaries. Almost all of their players got a chance to bowl. Katharina, Katja and Silva took one, Khalil and Hardeep claimed two wickets each.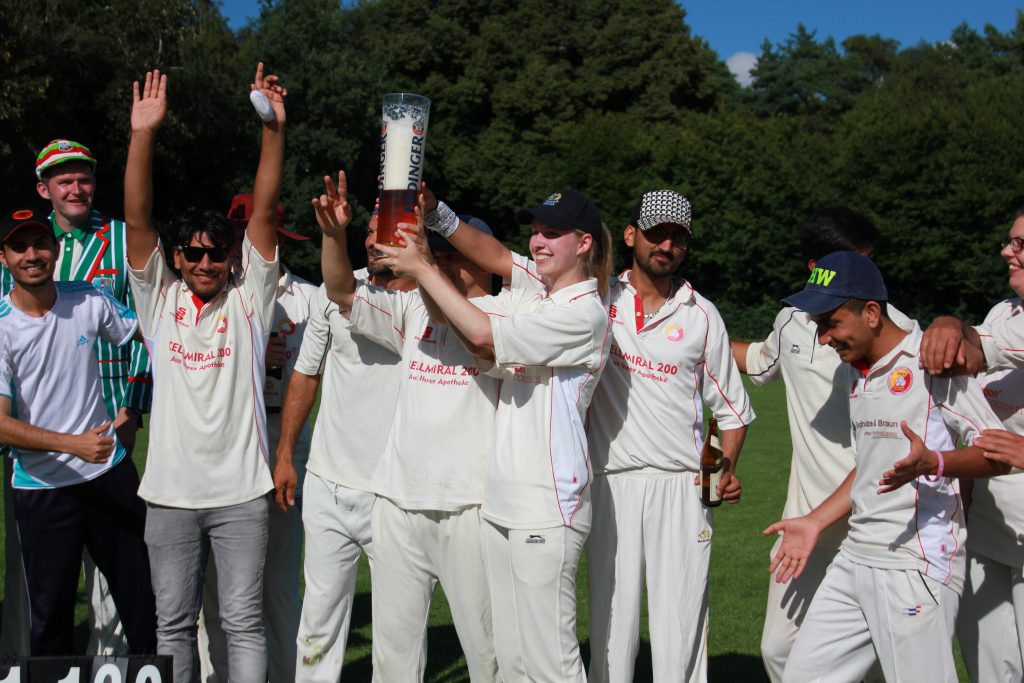 THCC's Shane tried his luck with scoring and appeared to be relieved when Pilgrims honorary member Alan came to his relief. As soon as the Pilgrims, who batted right to the last man and the last ball, finally conceded defeat, Anne Jefferys presented Verena with the cup – in the presence of the Pilgrims' new mascot Jeeepers. Needless to say that all winners got a sip of ERDINGER Alkoholfrei, but the subsequent celebrations were lubricated with the real stuff. Well done THCC Renegades! And thank you Pilgrims for bringing this type of joyous entertainment to the crowds of Krauts.
THCC Renegades: Verena (c), Hanan, Hardeep, Kamaladin, Katharina, Katja, Khalil, Michael, Mohibullah (wk), Safiullah and Silva (vc)
Heligoland Pilgrims: Leo (c), Adrian, Andrew, Bianca, Cam, Christian, Daniel (wk), Jürgen, Moritz and Tim; special guest: Harold
Officials: Asad (umpire), Shane and Alan (scorers), Anne Jefferys (cup presenter)
Text: Max Minor, cricket correspondent, Photography: Jessica Mancuso