Read the English version below.
Phantastisch, spektakulär: Heligoland Pilgrims verlieren den Kopf
In einer Hinsicht stimmten beide Mannschaften überein bei ihrem Rückblick  auf den 4. ERDINGER Alkoholfrei Atlantik Cup, der am 3 und 4 September 2016 auf Helgoland ausgespielt wurde: "Es waren drei phantastische Cricket-Tage," sagte Cam, der Heligoland Pilgrims' Kampf gegen den siegreichen Andorra Cricket Club tapfer angeführt hatte. Steve, der Manager der Gäste antwortet: "Kannst Du bitte unseren herzlichen Dank an Dich und den Rest Deiner Mannschaft ausrichten für die Einladung zu einem solch wunderbaren, einmaligen Erlebnis und auch für ein spektakuläres Cricket-Wochenende." Was also war so phantastisch, so spektakulär? Nun ja, es war nicht nur das Cricket und das spannende Spiel, es war die ganze Veranstaltung, die gesellschaftlich Sport, Spaß und Freude für alle Teilnehmer auf einer einsamen Insel einschloß. Im einzelnen:

Ja, die Pilgrims verloren ihren Pokal wieder, aber sie taten das als Mannschaft, und sie machten es ganz gewiß mit Stil. Der Ausgang der zunehmend dramatischen Begegnung blieb bis ganz zum Schluß ungewiß, bis zum allerletzten Over. Was sich als spielentscheidend herausstellen sollte war der Umstand, daß im ersten Innings keiner der Bowler der Pilgrims und auch kein Fielder Mike S. erledigen konnte. Andorras Kraftpaket erzielte am Sonnabend 125 not out – übrigens die bisher höchste Punktezahl für einen einzelnen Spieler auf Helgoland.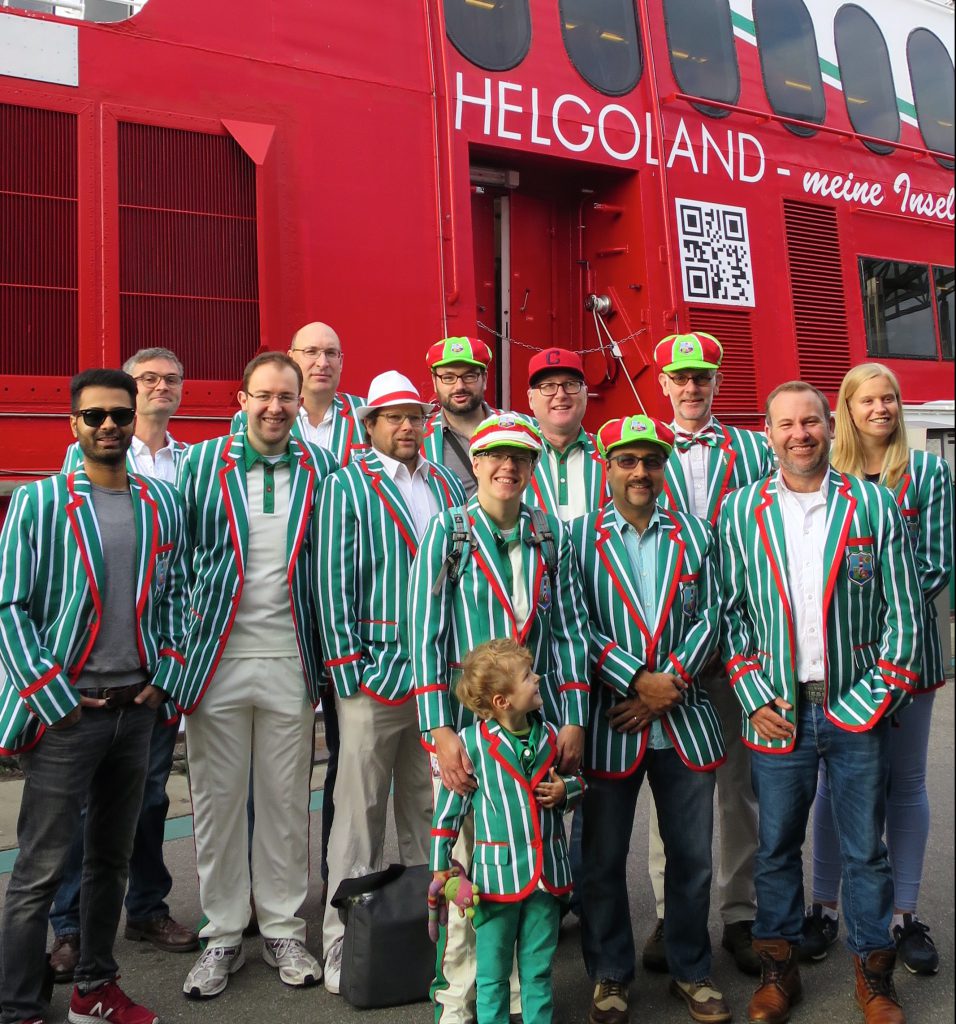 Satya nahm 4 für 26, Mark R. gelangen 3 für 32, alle sauber gebowlt, und Cam und Steve gelang gemeinsam ein cleverer Run-out. Aber Mike S. blieb auf dem Platz, schlug den Ball überlegt bis er schließlich das Tempo erhöhte, als es darauf ankam, nämlich am Ende seines Einsatzes als er sogar 5 Boundaries in einem Over schlug. Nicht alle Spieler aus Andorra erreichten jedoch zweistellige Ergebnisse. Die wertvollsten Beiträge kamen von Ian (32) und seinem Sohn Daniel (31). Trotzdem hätten 207 für 8 nach 40 Overs an einem Tag ein erreichbares Ziel für die selbsternannten Insulaner sein sollen.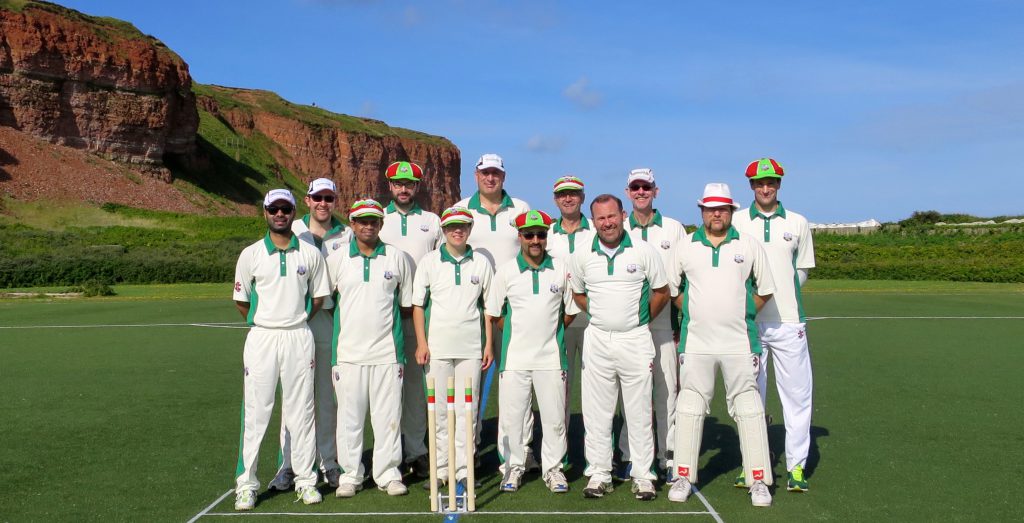 Bei deer Erwiderung der Pilgrims konnten nur Cam (57), Satya (38), Steve (33) und Nabeel (21) mit den Zahlen der Spieler aus Andorra mithalten. Wickets wurden jedoch in fahrlässiger Weise verloren – fünf Fänge der Gegner sprechen für sich selbst. Anerkennung gebührt auch dem Bowling von Mike S.: er nahm 4 für 26, tüchtig unterstützt vom jungen Daniel (3 für 46), Peter (2 für 26) und Nick (1 für 33). Mit 181 all out nach 32,3 Overs mögen die Pilgrims die bessere Run-Rate gehabt haben, aber sie hatten mehr als 7 wertvolle Over vergeudet und lagen 26 entscheidende Runs zurück; dieser Rückstand sollte sich am nächsten Tag als verhängnisvoll erweisen.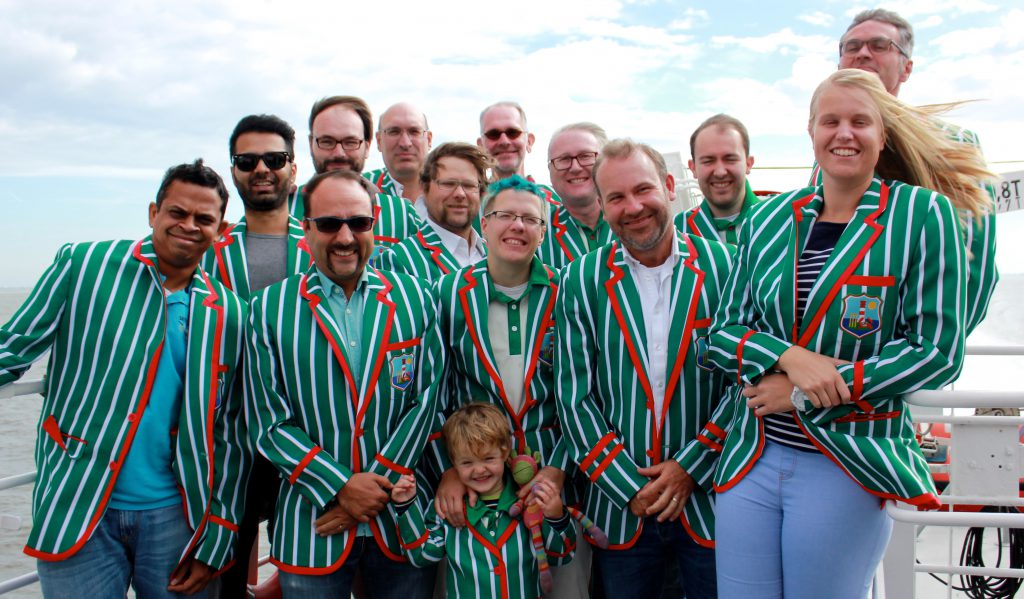 Wer weiß, was passiert wäre, wenn der zweite Durchgang des Pokalspiels am Sonntag rechtzeitig begonnen hätte? Wäre Mike S. am frühen Morgen in der Lage gewesen zu spielen? Regen aus Nordwesten unterbrach das Spiel für 2,5 Stunden. Die Mannschaften verständigten sich darauf, noch weiter 30 Minuten Spielzeit zu erlauben, bevor alle zurück eilen mußten, um die Fähre zu erreichen. Nach dem Zeitformat, in dem das Spiel fortgesetzt wurde, blieb den Gästen danach nur noch eine Stunde, um ihren Vorsprung zu vergrößern.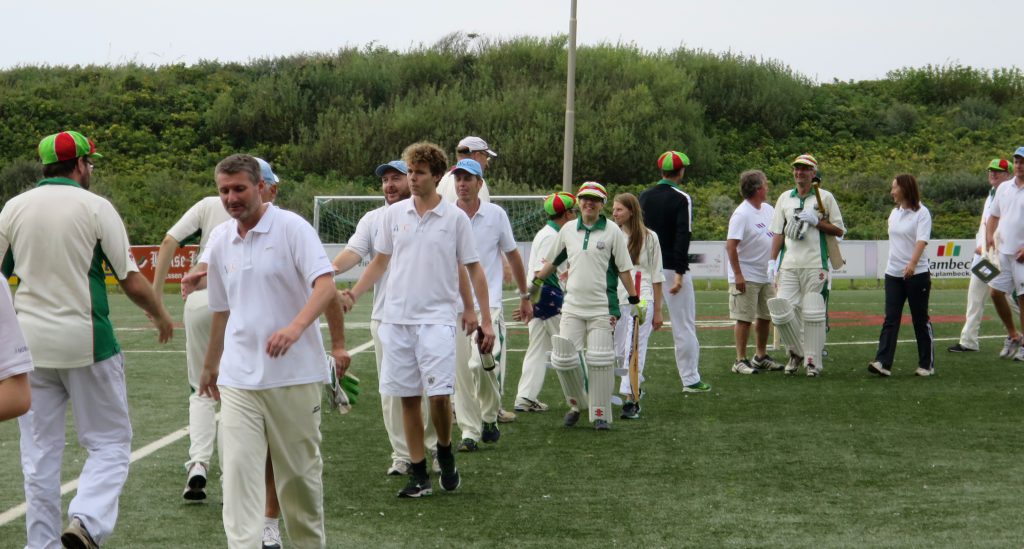 Als die Wickets von Andorra schnell zu fallen begannen, konnte man spüren daß die Pilgrims glaubten, sie könnten das Spiel noch gewinnen. Die Bowler jagten durch ihre Overs, Mark R. (3 for 9) beseitigte Andorras Eröffnungsspieler und ihre Nr. 4, wodurch er die Gäste auf einen Spielstand von 10 für 3 nach nur dem dritten Over eindampfte. Cam erledigte endlich den gefährlichen Mike S., der auf 38 nach einer zweifelhaften lbw-Entscheidung von seinem eigenen Manager aus gegeben wurde. Der Kapitän der Pilgrims spuckte weiter Feuer und sammelte noch 4 Wickets ein; so erzielte er die erste 5 Wickets in einem Innings Beute auf Helgoland mit einer eindrucksvoller Statistik von 7-3-22-5. Steve räumte den mutagen Rest der Andorraner mit 2 für 10 ab. Fänge wurden gehalten von Steve an seiner Lieblingsposition an der Feldgrenze, in Zeitlupe von Laurence, von Mark und von Adrian. In einer atemberaubenden Stunde und 19,4 Over hatten die Pilgrims Andorra für eirstaunlich wenige 78 ausgebowlt.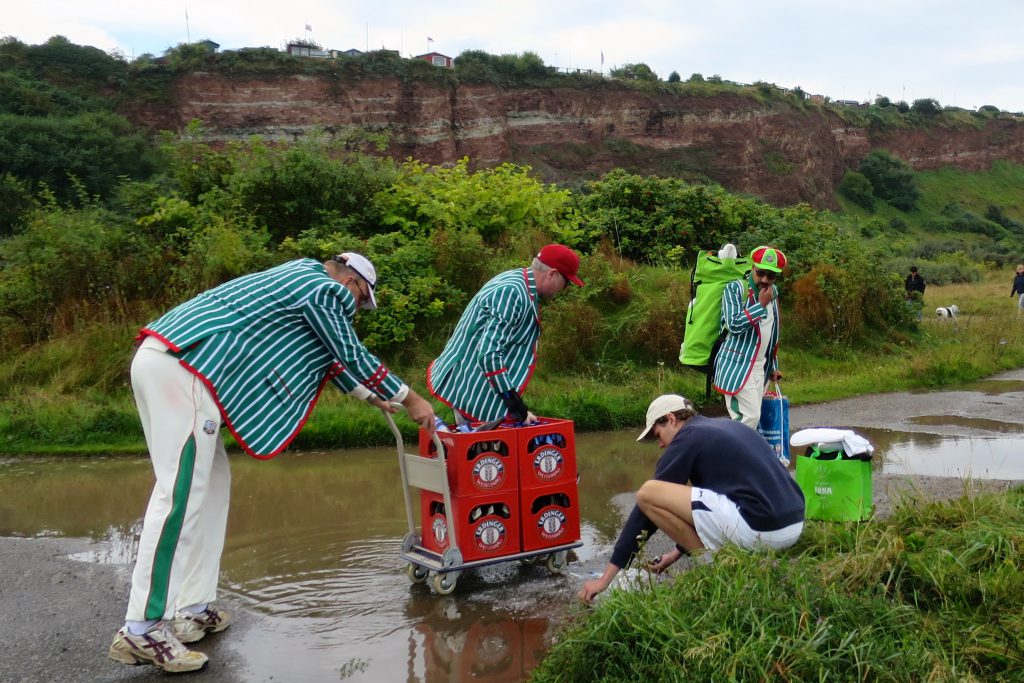 So stand das endgültige Ziel bei 104 und die Pilgrims hatten 60 Minuten oder 15 Overs, es zu erreichen. Mit vereinten Kräften legten Sie sich alle stark ins Zeug – und verloren das Spiel gemeinsam. Erst punktetn die Eröffnungsspieler zu langsam, einer von ihnen vermied eine goldene Ente bei gerade einmal einem Ball. Matthew fand sich eingekeilt lbw auf 13. Nabeel erhöhte die Runn-Rate, schlug sieben elegante Boundaries, nur um am Ende eine Bogenlampe auf Ian zu zielen und sich auf 35 fangen zu lassen. Trotzdem standen die Pilgrims nach 12 Over auf 80 für 4 und waren damit einem möglichen Sieg in Sichtweite gerückt. Nur 24 Runs, um Andorra zu schlagen, und noch 6 Wickets vorhanden! Cam gab alles, lief schnell, nutzte sogar die Verwirrung der Gegener, um Punkte aus einem Overthrow zu schlagen, wurde aber auf 24 sauber gebowlt.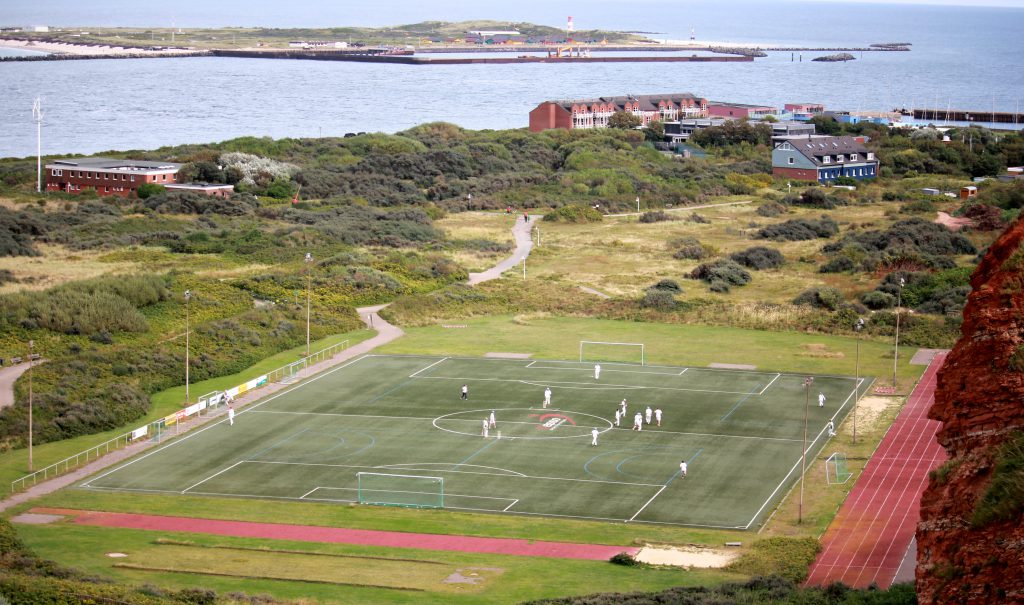 Und dann verlieren es die Pilgrim. Wickets fallen und fallen: 83 für 5, 84 für 6, 84 für 7. Dann ein markerschütternder Appeal von allen Seiten des Feldes. Heldenhaft wendet Schiedsrichter Jürgen Schaden von den Pilgrims ab. Aber es nützt nichts. Der Dominoeffekt halt an: 88 für 8, 89 für 9. Die Aufzeichnung der Punkte sieht aus wie ein Ententeich: Zwei Batsmen haben je einen, vier haben keinen Run erzielt. Aber spielt nicht die Uhr jetzt zu ihren Gunsten? Dies ist ein Zeit-Spiel. Können sie ein Unentschieden retten? Stoisch betritt Tim den Platz als Nr. 11, als nur noch 5 Minuten zu spielen sind, nicht mehr als 2 Overs. Er blockt den Ball ab – einmal, zweimal, dreimal. Die Pilgrims feuern ihn an.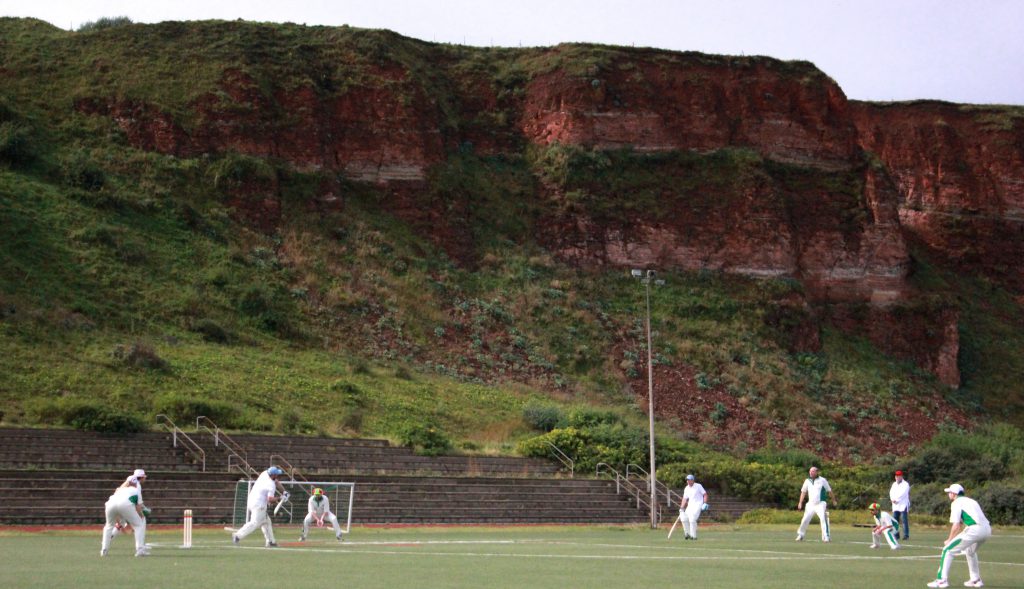 Jetzt beginnt das 18. und ganz bestimmt letzte Over. Muß Tim als Gegenüber wirklich noch laufen? "Setz Dich hin," schreit Nabeel, der weiß, daß das Spiel nicht mehr gewonnen werden kann, aber ein Unentschieden noch möglich ist. Der erste Ball wird abgewehrt, auch der zweite und der dritte. Nur noch drei Bälle! Keiner der Zuschauer sitzt mehr. Der Ball schwirrt vom Südende des Pitches heran. Nr. 10 lenkt ihn in Richtung Third Man ab. Es gibt da keine Slips. Er ruft. Aber das ist doch gar nicht seine Aufgabe! Er läuft. Aber da ist kein Lauf! Nick ist schneller, packt den Ball und schleudert ihn zum Wicketkeeper Dave. Nr. 10 is aus. Die Pilgrims sind alle aus! Aber warum in aller Welt bist Du bloß gelaufen, junger Mann? "Ich hab' den Kopf verloren," sagt Nr. 10. In der Tat, die Pilgrims verlieren den Kopf und so verlieren sie das Spiel.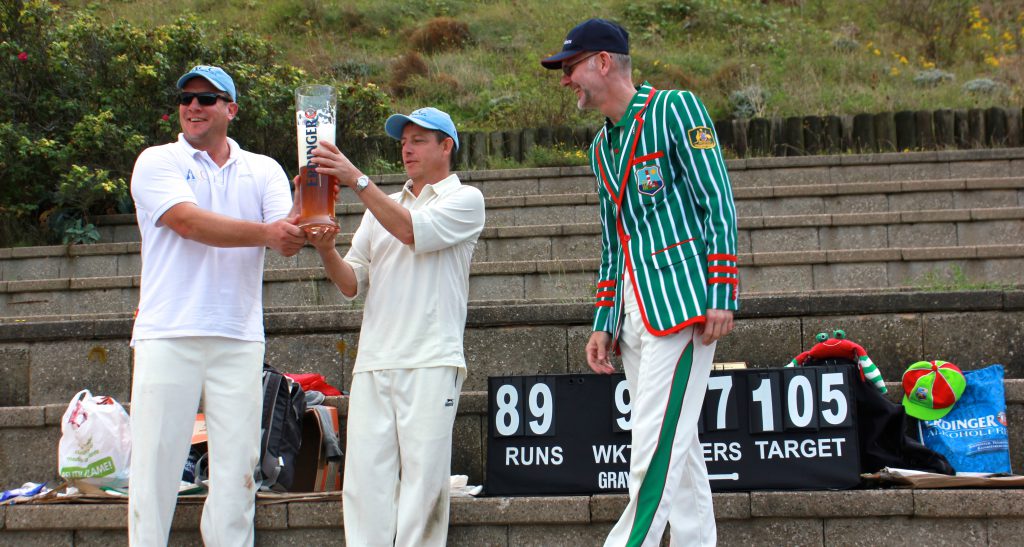 Kann man sich einen spannenderen Schluß einer zweitägigen Begegnung vorstellen, bei der alle Spieler beider Mannschaften zum Einsatz kommen? Die Spieler aus Andorra strahlen übers ganze Gesicht. Sie erhalten den wertvollen Pokal und trinken ein bißchen ERDINGER Bier als Lohn für ihre unglaubliche Leistung. Was für eine großartige Wende! Die Pilgrims fassen sich, gratulieren den Siegern und danken ihnen für Ihren Besuch von mehr als 1.000 Meilen entfernt und das aufregende Spiel. Andorra zeichnen Cam als Man of the Match für seinen Allround-Einsatz aus. Die Pilgrims ernennen den 100-Punkte Mann Mike S. als Man of the Match. Mützen werden überreicht und Champagnerflaschen wechseln den Eigentümer. Ein letzter Blick auf das rote Kliff und dann eilen alle zurück nach Hamburg, wo sich ihre Wege trennen.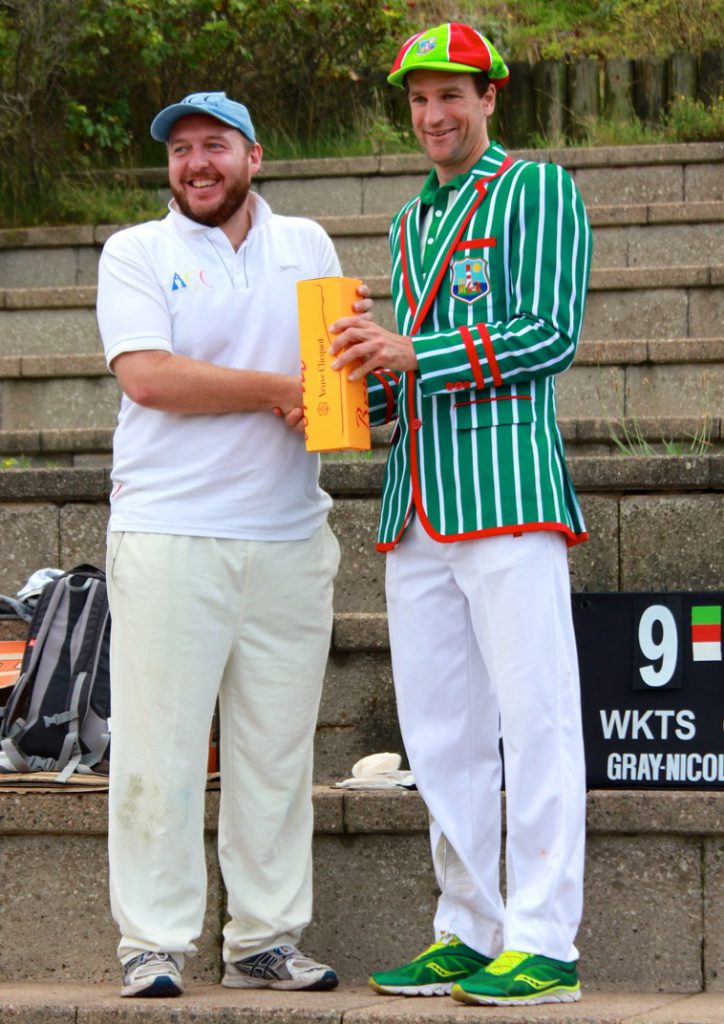 Die Erinnerungen an ihre gemeinsame Fahrt nach Helgoland wird aber noch lange Zeit anhalten. Zumindest einige der folgenden Ereignisse sind des Andenkens wert: die Pilgrims in ihren fröhlichen Blazern, wie sie ihre noch unbekannten Gäste an den Landungsbrücken begrüßen, und Jim, der erst in letzter Minute erscheint, wenn auch ohne Gepäck und Brille. Die schnelle Überfahrt die Elbe hinab und über die rauhe See gen Helgoland. Ein Freundschaftsspiel zum Aufwärmen für alle am Freitag nachmittag, in dem Nick 27 not out von nur 12 Bällen erzielte, Tim 2 Wickets in einem Over, Adrian 8 von 29 Bällen, Thomas 22 not out erreicht, Tina sechs Boundaries hintereinander schlug, Steve J. auch 2 Wickets bekam und nicht zuletzt Rebecca und Samantha für Andorra bowlten.
Erinnerungen an die Erkundung der Unterhaltungsmöglichkeiten auf der Insel mögen je nach individueller Wahrnehmung unterschiedlich sein. Eine wiederkehrende Besonderheit: ERDINGER Bierkästen stets griffbereit am Sportplatz, wann immer die Spieler eintrafen. Das muntere Grillen für alle im Sonnenuntergang über dem Kliff am Sonnabend abend. Die komischen Andorranischen Strampelanzüge, die zwei anscheinend nüchterne Australier zum Frühstück am Sonntag trugen. Der wetterwendische Regen am Sonntag morgen. Der Kuchen und die leckeren Fischbrötchen – Pfeffermakrele, geräucherter Lachs, Matjes. Das ganze Wochenende war geprägt von einem wesensverwandten Geist der beiden Mannschaften; eher wie ein Wiedersehen von Freunden als zwei Mannschaften von Fremden, die sich zum ersten Mal begegneten. All dies zusammen kombiniert mit dem spannenden Pokal-Cricket und noch ein paar Einzelheiten ergaben ein Wochenende, das man nur als phantastisch und spektakulär bezeichnen kann.
Heligoland Pilgrims: Cam (cpt.), Adrian, Bianca (1), Laurence, Mark R., Matthew, Moritz (2), Nabeel, Satya (1), Steve (wk1), Tim, Tina (2), Thomas (wk2)
Andorra Cricket Club: Adrienne, Daniel, Dave, Ian, Jim, Mike H., Mike S., Nick, Peter, Rebecca, Samantha, Steve
Schiedsrichter: Jürgen
Scorer: Vikki
Men of the Match: Mike S. and Cam
Report: Max Minor, Cricketkorrespondent, Photographie: Jessica Mancuso
Fantastic, spectacular: Heligoland Pilgrims lose their head
In one respect both teams concurred when looking back at the 4th ERDINGER Alkoholfrei Atlantik Cup, played on Heligoland on 3 and 4 September 2016: "It was a fantastic three days of cricket," voiced Cam, who had valiantly led Heligoland Pilgrims' campaign against the victorious Andorra Cricket Club. The guests' team manager Steve replied: "Can you please pass on our heartfelt thanks to you and the rest of your team for hosting such a wonderful, once in a lifetime experience and also a spectacular weekend of cricket." So, what was so fantastic, so spectacular? Well, it was not only the cricket and the exciting match; it was the whole event socially enshrouding sport, fun and happiness for all participants on a remote island. Let us expand:

Yes, the Pilgrims lost their cup once again, but they accomplished it as a team, and they certainly did it in style. The increasingly dramatic match went down to the wire, right to the very last over. What turned out to be crucial was that in the first innings none of the Pilgrims' bowlers nor their fielders could get Mike S. out. Andorra's power pack achieved 125* on Saturday – incidentally the highest recorded individual score on Heligoland so far.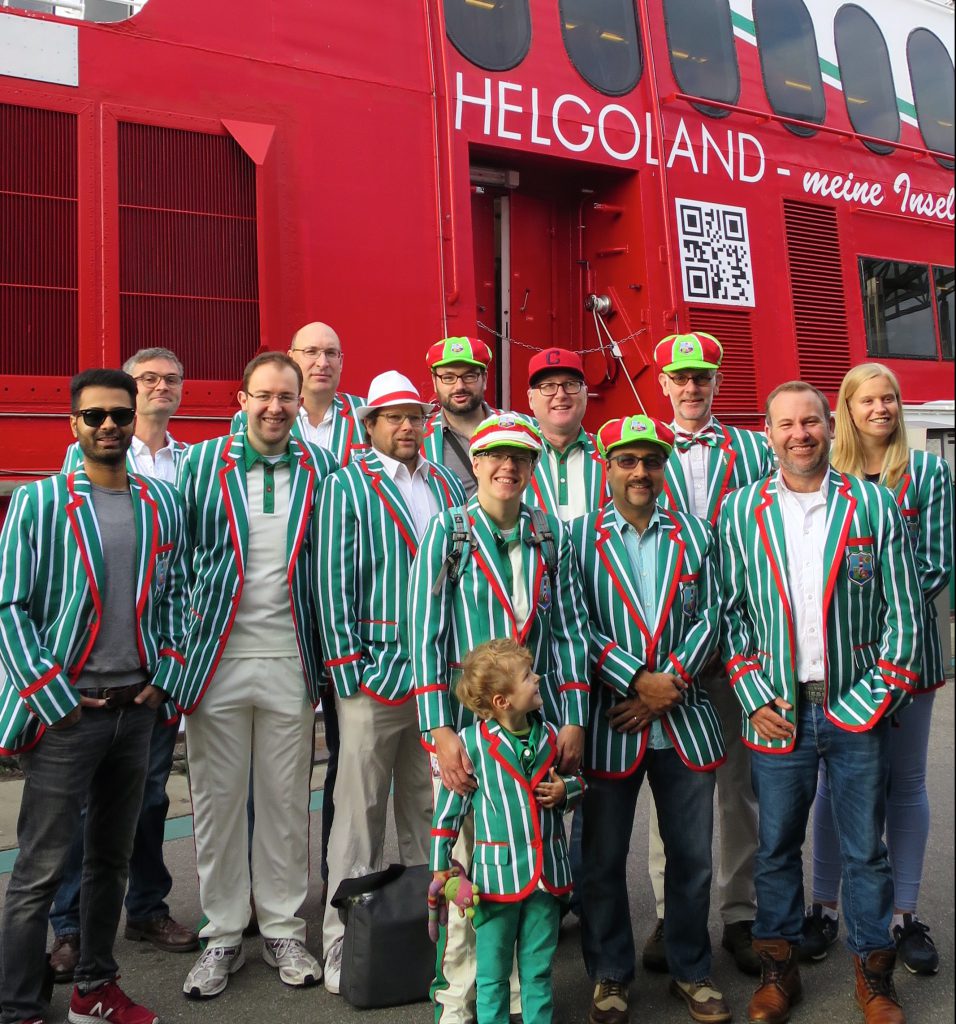 Satya took 4 for 26, Mark R. got 3 for 32, all neatly bowled, and Cam and Steve managed a clever run-out together. But Mike S. stayed in, carefully selecting his shots until he accelerated when it mattered, namely at the end of his stint where he even hit 5 boundaries in one over. Not all of the Andorran players reached double figures, though. The most valuable contributions came from Ian (32) and his son Daniel (31). Still, 207 for 8 after 40 overs on day one should have been an achievable target for the self-proclaimed islanders.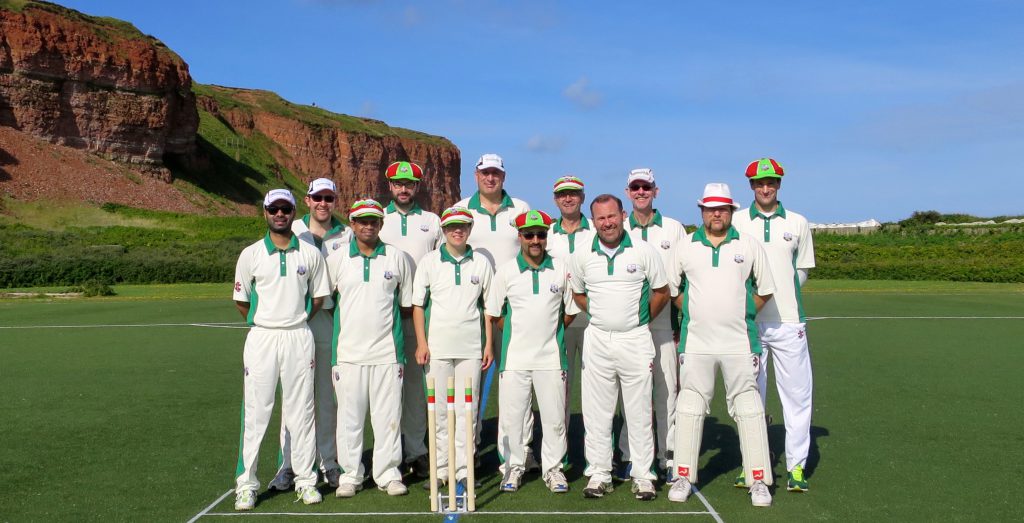 In the Pilgrims' reply only Cam (57), Satya (38), Steve (33) and Nabeel (21) could match the Andorran players' figures. Wickets, however, were lost in a careless manner – five catches by the opposition tell the tale. Credit must go to Mike S.'s bowling, too: he took 4 for 26, ably supported by young Daniel (3 for 46), Peter (2 for 26) and Nick (1 for 33). With 181 all out after 32.3 overs the Pilgrims may have had the better run-rate, but they had wasted more than 7 valuable overs and were 26 decisive runs behind; this debit would prove fatal on the next day.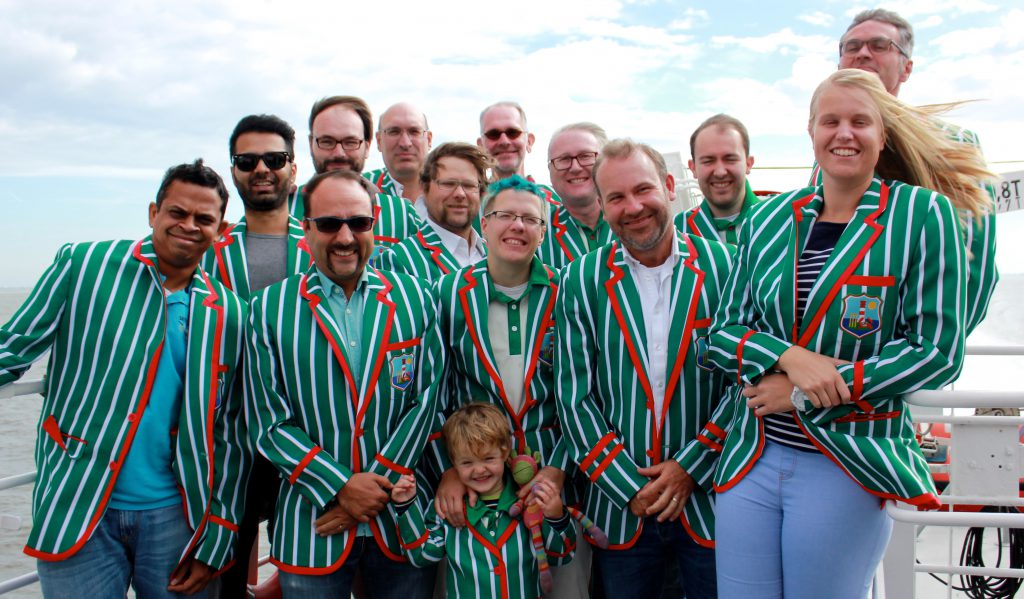 Who knows what might have happened had the cup's second innings started on time on Sunday? Would Mike S. have been able to play early in the morning? Rain from northwest stopped play for 2.5 hours. The teams agreed to allow an additional 30 minutes of play before everyone had to rush back to catch the ferry. Under the time game format in which the match continued this left the guests merely one hour to increase their lead.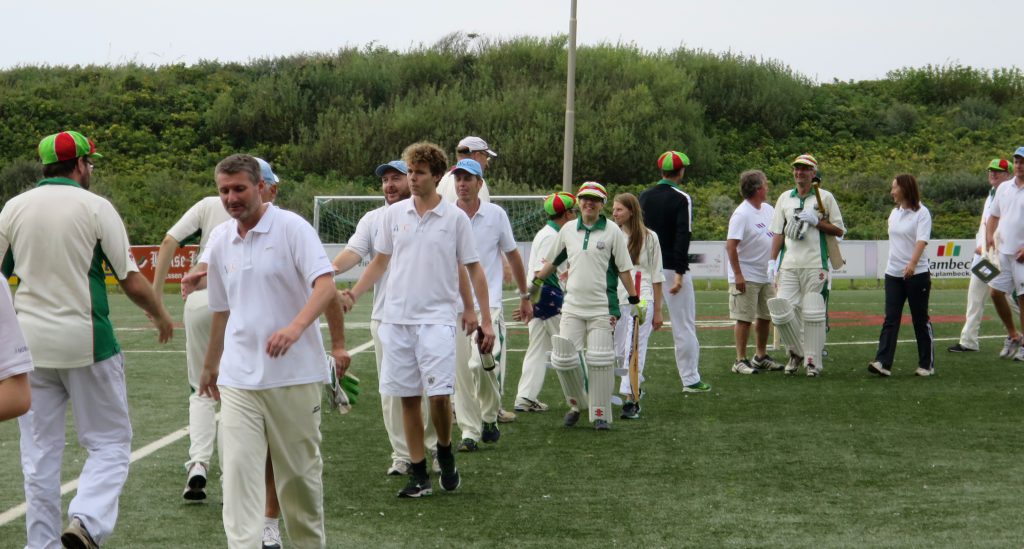 When Andorran wickets started falling quickly you could sense the Pilgrims felt they might still win the game. The bowlers rushed through their overs, Mark R. (3 for 9) removed Andorra's openers and their no. 4, thereby reducing the guests to a score of 10 for 3 in only the third over. Cam at last eliminated Mike S., the danger man, who was given out on 38 to a dubious lbw decision by his own team manager. The Pilgrims' captain continued spitting fire and collected 4 wickets more, thus achieving the first 5 wickets in an innings haul on Heligoland with impressive figures of 7-3-22-5. Steve tidied up the courageous Andorran tail-enders with 2 for 10. Catches were held by Steve in his favourite spot on the boundary, in slow motion by Laurence, by Mark R. and by Adrian. In a breath-taking hour and 19.4 overs the Pilgrims had bowled Andorra out for a stunningly low 78.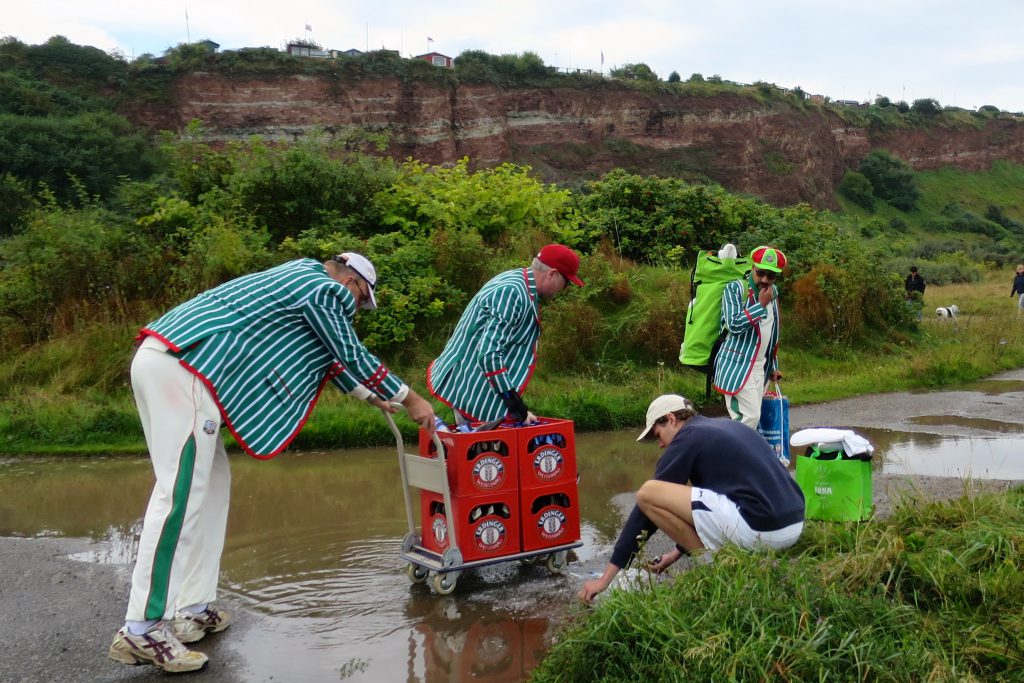 So the final target was 104 and the Pilgrims had 60 minutes or 15 overs to reach it. In a combined team effort they all tried hard – and lost the match together. First the openers scored too slowly, one of them avoiding a golden duck by just one ball. Matthew found himself trapped lbw on 13. Nabeel increased the run-rate, hit seven stylish boundaries only to sky one to Ian and get caught on 35. Nevertheless, after 12 overs the Pilgrims were 80 for 4 and thus in sight of a potential victory. Only 24 runs to beat Andorra and still 6 wickets in hand! Cam gave everything to win, ran hard, even used the opposition's confusions to score on an overthrow, but fell clean bowled on 24.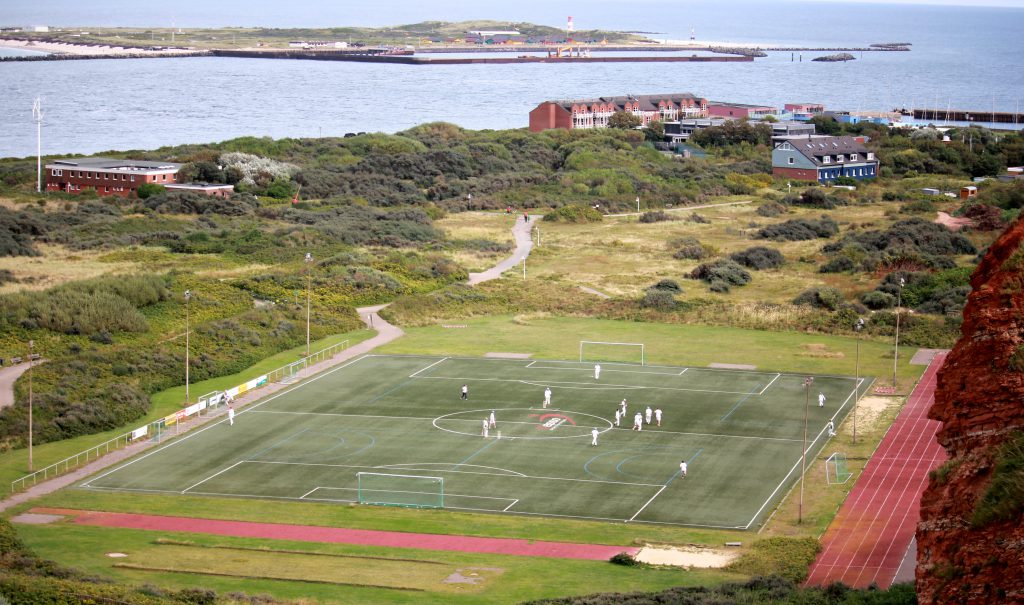 And then the Pilgrims lose it. Wickets keep tumbling: 83 for 5, 84 for 6, 84 for 7. Then a bloodcurdling appeal from all over the field. Umpire Jürgen heroically resists harming the Pilgrims. But to no avail. The domino-effect continues: 88 for 8, 89 for 9. The scoresheet is looking like a duck pond: Two batsmen have scored one, four have scored none. But isn't the clock running in their favour now? This is a time game. Can they save the draw? Tim stoically enters the crease as no. 11 with less than 5 minutes to play, no more than 2 overs. He blocks the ball – again, and again, and again. The Pilgrims cheer him on.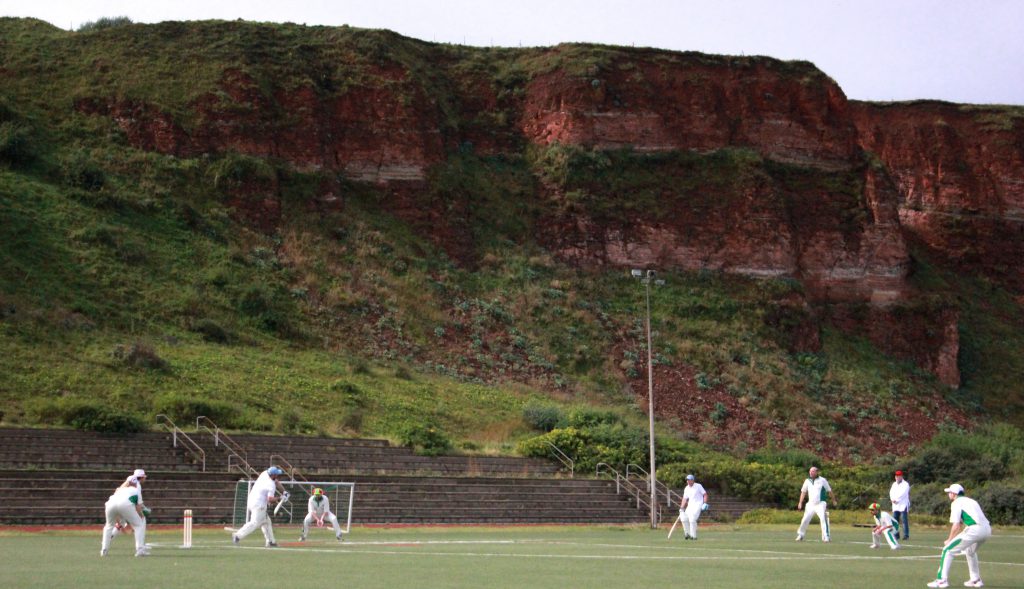 Now the 18th and definitely last over begins. Does Tim really need to back up at the non-striker's end? "Sit down," shouts Nabeel, knowing the match can no longer be won, but a draw is still possible. The first ball is defended, so is the second, and the third. Only three balls to go! None of the spectators is sitting any more. The ball zooms in from the southern end of the pitch. No. 10 deflects it towards third man. No slip there. He calls. But it is not his call! He runs. But there is no run! Nick is faster, picks up the ball and hurls it to the keeper Dave. No. 10 is out. The Pilgrims are all out! But why on earth did you run, young man? "I lost my head," says no. 10. Indeed, the Pilgrims lose their head and thus they lose the match.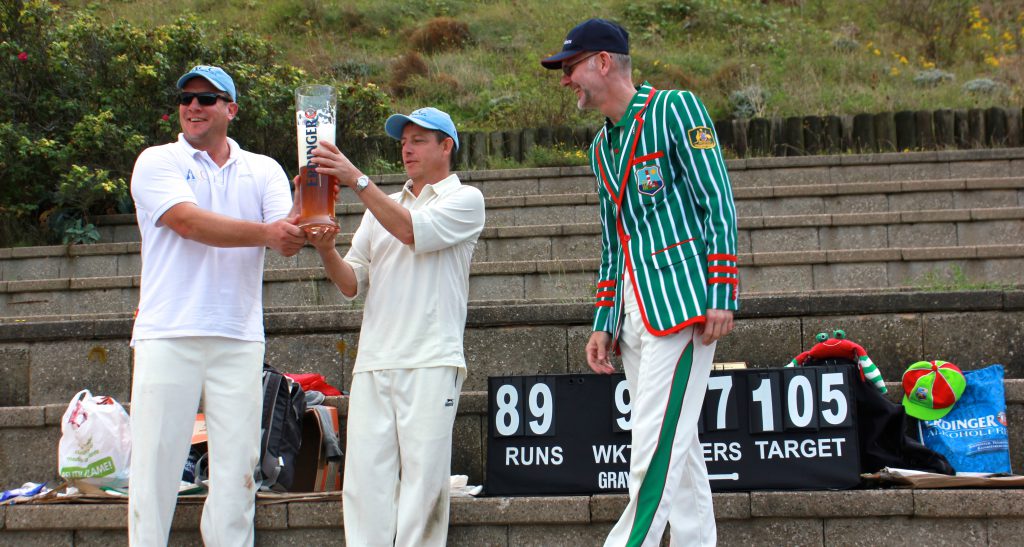 Can you imagine a more exciting finish to a two-day cup match with all players from both teams involved in the action? Andorra's players are all smiles. They receive the precious cup and have some ERDINGER beer as a reward for their incredible efforts. What a great turn around! The Pilgrims compose themselves, congratulate the winners and thank them for their visit from more than 1,000 miles away and the thrilling game. Andorra endows Cam with a Man of the Match award for his all-round efforts. The Pilgrims nominate centurion Mike S. as Man of the Match. Caps are presented and bottles of champagne change ownership. A last look at the red cliffs and then everybody heads back to Hamburg from where they go their separate ways.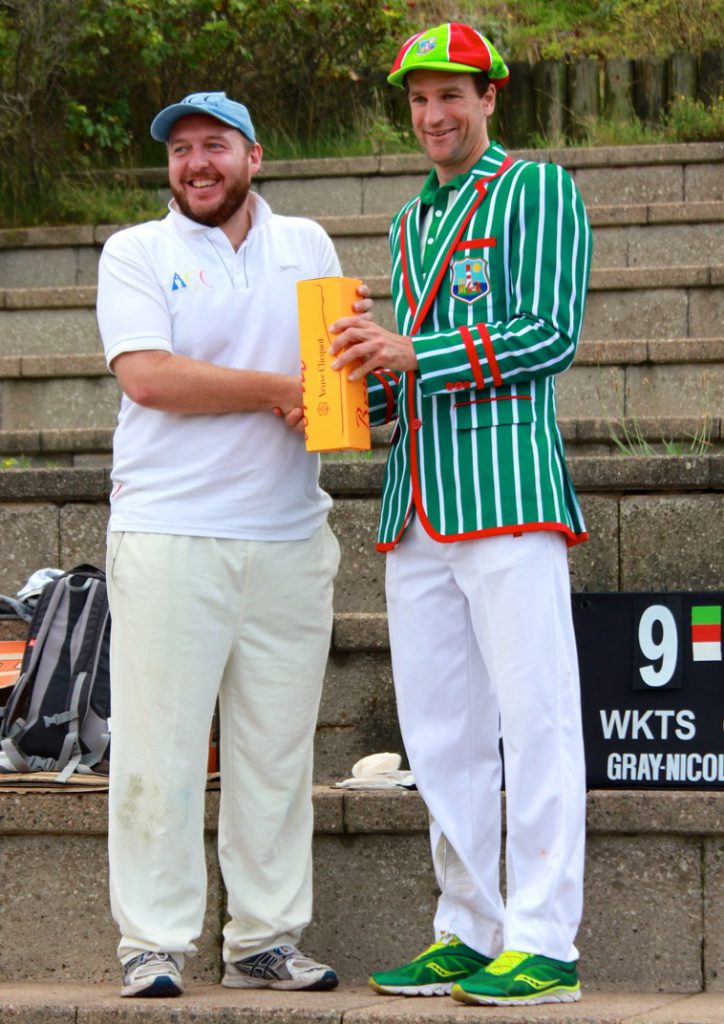 The memories of their joint tour to Heligoland, however, will linger for a long time. Worth remembering are at least some of the following occurrences: the Pilgrims in their jolly blazers welcoming their still unknown guests at Landungsbrücken, and Jim turning up at the last minute, albeit without his luggage or glasses. The fast jet cruise down the river Elbe and through a choppy sea towards Heligoland. A friendly warm up T21 for everyone on Friday afternoon with Nick scoring 27* off only 12 balls, Tim taking 2 wickets in one over, Adrian scoring 8 off 29 balls, Thomas reaching 22*, Tina hitting six boundaries in succession, Steve J. also claiming 2 wickets and last, but not least, Rebecca and Samantha bowling for Andorra.
Memories of exploring the island's entertainment facilities in the evening may vary according to individual perceptions. A string feature: ERDINGER beer crates always ready at the sports field whenever players arrived. The lively barbecue for everyone in the sunset over the cliffs on Saturday evening. The hilarious Andorran romper suits worn by two seemingly sober Australians for breakfast on Sunday. The unpredictable rain on Sunday morning. The cakes and the delicious fish rolls – peppered mackerel, smoked salmon, marinated herring. Throughout the weekend there was such a congenial spirit between the two teams; more like friends reuniting than two teams of strangers meeting for the first time. All of this combined with the tense cup cricket and some finer details made up a weekend that can only be summarised as fantastic and spectacular.
Heligoland Pilgrims: Cam (cpt.), Adrian, Bianca (1), Laurence, Mark R., Matthew, Moritz (2), Nabeel, Satya (1), Steve (wk1), Tim, Tina (2), Thomas (wk2)
Andorra Cricket Club: Adrienne, Daniel, Dave, Ian, Jim, Mike H., Mike S., Nick, Peter, Rebecca, Samantha, Steve
Umpire: Jürgen
Scorer: Vikki
Men of the Match: Mike S. and Cam
Report: Max Minor, cricket correspondent, Photographer: Jessica Mancuso