Read the English version below.
Grantchesters neue Covers retten die Pilgrims
Viele Personen trugen zum großartigen Erfolg der ersten Tour von Heligoland Pilgrims in das Mutterland des Crickets bei, nicht zuletzt Grantchester Cricket Clubs Spielkoordinator Sam, Geschäftsführer Steve, Präsident Ben und Kapitän Dan. Sie hatten alles organisiert: Ein perfekt vorbereitetes Pitch und ein Zelt für die Teepause am Spielfeldrand, einen herzlichen Empfang vor dem örtlichen Dorf-Pub, dem Green Man, wo traditionell gebrautes Bier aus den Zapfhähnen floß und es ein herzhaftes Mittagessen für die Mannschaften gab, eine gute Cricketbegegnung, die im wahren Geist des Sports ausgetragen wurde, zwei versierte und charmante Schiedsrichter, von denen einer sogar Deutsch sprechen konnte, und, vor allem anderen, sie hatten neue Covers gekauft. Stürmische Schauer waren vorhergesagt. Und in der Tat wurde Grantchesters Innings am frühen Nachmittag von einem davon unterbrochen. Da wurden einfach die Covers aufs Feld gerollt. Sobald der Regen aufgehört hatte, konnte das Spiel wiederaufgenommen werden. Hätte es die neuen Covers nicht gegeben, dann hätten die Pilgrims die weite Reise aus Hamburg und Brüssel unternommen, nur um einen Schlag ins Wasser zu erleben.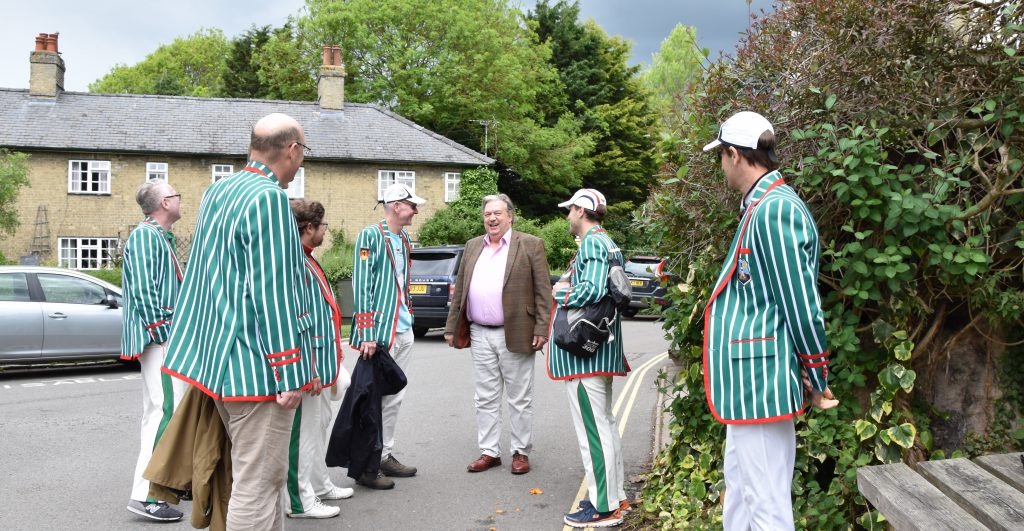 Tina eröffnete das Bowling der Pilgrims mit einem Maiden Over, aber erst Cam gelang es nach dem ersten Wechsel, einen der Eröffnungsspieler von Grantchester zu beseitigen. Anderson bevorzugte es, im Spiel zu bleiben, bis er ausgewechselt wurde (52*), wacker unterstützt zuerst von Farman (32) und dann von Menzies (53*). Cam zeigte sich an diesem Tag als stärkster Bowler der Pilgrims (7‑3‑11‑2). Kapitän Steve verließ sich aber nicht nur auf seine erfahrenen Spieler, sondern auch auf Bianca (2‑0‑8‑1) und insbesondere Jürgen, den er lautstark dazu antrieb, nach dem Schauer länger zu bowlen. Und die unbarmherzige Ermunterung hatte Erfolg: Im vorletzten Over des Innings nahm Jürgen stolz sein erstes Wicket überhaupt für die Pilgrims mit einem täuschend langsamen Wurf; er durfte den Ball als Souvenir behalten. Scones, Gurkensandwiches, Tee und das unvermeidbare ERDINGER Bier der Pilgrims (das Sam freundlicherweise vor dem Spiel von der Jugendherberge in Cambridge abgeholt hatte) stärkten Spieler, Scorer, Schiedsrichter und Zuschauer während der anschließenden Pause.
Die Summe von 200 Runs aus 35 Overs hätte innerhalb der Reichweite der Pilgrims liegen sollen, wenn ihre vollwertigen Batsmen ihre Wickets nicht zu früh verloren hätten. Morrison (4‑2‑5‑2) und Jones (5‑1‑8‑2) übertrafen sich eng mit dem Ball, gekonnt unterstützt von Kennedy (5‑0‑39‑2). Cam (26) und Steve (19, einschließlich einer vereinzelten Boundary 6) ragten aus der eher schwachen Reihe der Pilgrims Batsmen heraus. Aber wer weiß, was geschehen wäre, wenn die Schauer nicht zurückgekehrt wären? Gegen 18 Uhr zogen dunkle Wolken von Südwesten auf. Vom Spielfeldrand konnte man den Ball nicht mehr sehen, und es wird Leos (19*) und Tinas (8*) Geheimnis bleiben, wie es ihnen gelang, ihn in der Dunkelheit immer wieder in Richtung Flußufer zu schießen. Um 18:28 Uhr, als die Pilgrims darum kämpften, beim Stand von 116 für 7 eine Niederlage zu vermeiden, hatten die Schiedsrichter Mitleid mit den Spielern und riefen alle vom Feld. Diesmal wurden die Covers nicht zurückgerollt ‒ bei nur noch 8 verbleibenden Overs wurde das Spiel abgebrochen und endete als ehrenwertes Unentschieden. Sobald das Pitch wieder eingezäunt war, zogen sich die Spieler für flüssige Erfrischungen in den Blue Ball zurück.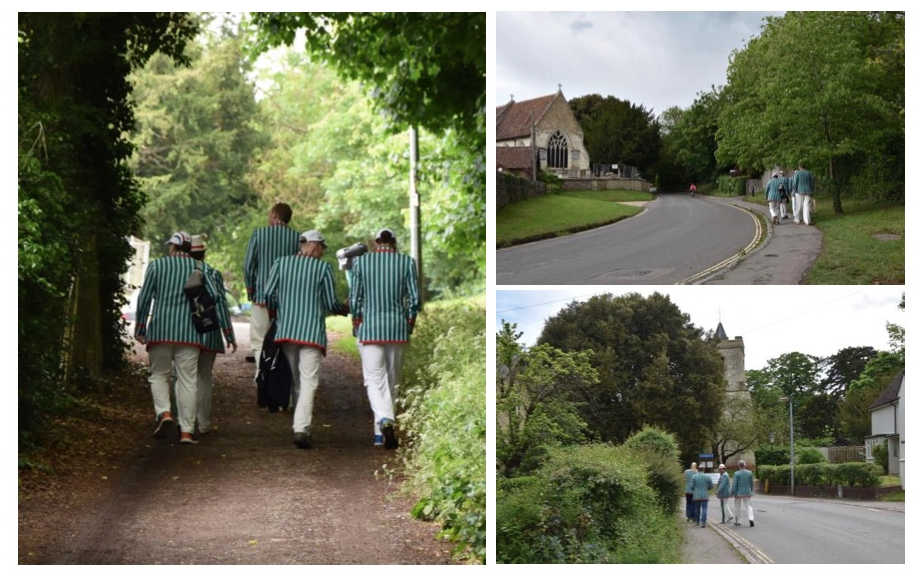 Dort endete ein wunderschöner Tag mit viel mehr als Cricket. Er hatte am Morgen begonnen mit einem entspannten Spaziergang über die idyllischen Grantchester Meadows an dem friedlichen Fluß Cam entlang. Nach ungefähr einer Stunde waren die Pilgrims in ihren schmucken Blazern um eine Kurve gebogen und waren von dem wunderschönen Platz überrascht worden, der vor ihnen lag. Dort waren sie von einigen ihrer Gastgeber schon auf dem Pitch begrüßt worden. Dann waren sie an dem berühmten Obstgarten und der Dorfkirche vorbei zum Pub geschlendert, wo sie mit Bianca, Mark B. und Emilie zusammentrafen, die für die Cricketausrüstung verantwortlich waren. Die überaus freundliche Atmosphäre hielt über das gesamte Spiel an und auch danach. Am Ende dankte der Präsident der Pilgrims allen anwesenden Mitgliedern des Grantchester CC für ihren Einsatz, diese Reise zu solch einer besonderen Erfahrung zu machen. Er überreichte Kapitän Dan und Organisator Sam Heligoland Pilgrims' einzigartige Cambridge-Tour-2017-Badetücher, die freundlicherweise von Nabeel und Henrik gesponsert worden waren. Im Gegenzug erhielt er eine mit Rupert Brooks berühmter Uhr bestickte Grantchester-CC-Mütze. Vielleicht fühlte jeder, daß die Zeit für einen Augenblick stillzustehen schien ‒ die Erinnerung dauert an.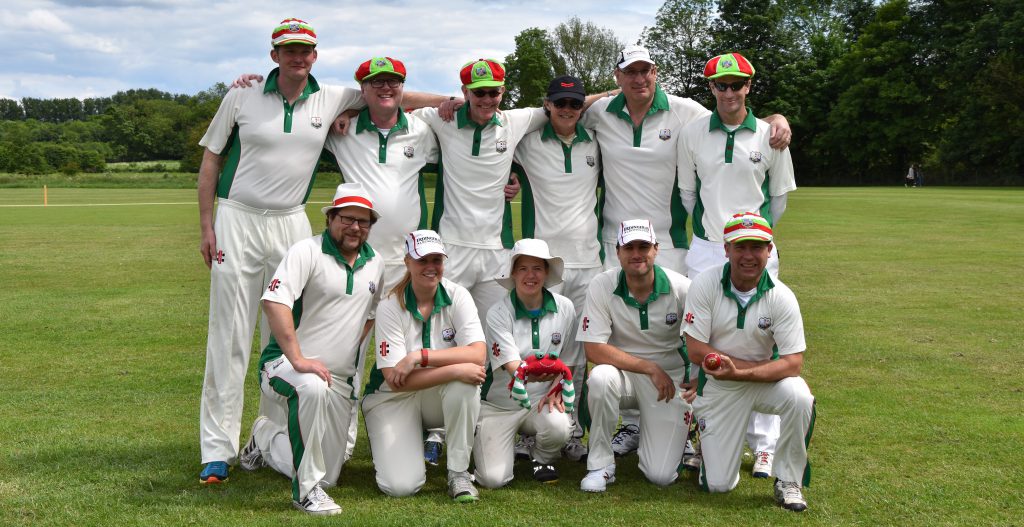 Heligoland Pilgrims: Steve (cpt.), Bianca, Cam, Daniel (wk), Jürgen, Leo, Mark B., Mark R., Moritz, Nabeel (abwesend, kein Visum), Satya (abwesend, Familienangelegenheiten), Tina, Thomas, unterstützt von W. Wray – und Emilie
Grantchester CC: A. Kennedy, C. Morrison, D. Belman, D. Farman, F. Wilson, J. Anderson, J. Jones, J. Menzies, M. Carrick, S. Ludford, T. Kennedy und Tobias
Scorer: Anja G.
Untertützung: Keith A.
Bericht: Max Minor, Cricket-Korrespondent, Photos: Kerstin Saure, Bianca Lamfried
Grantchester's new covers save the Pilgrims
Many individuals contributed to the great success of Heligoland Pilgrims' first ever tour to the motherland of cricket, not least Grantchester Cricket Club's fixture secretary Sam, chairman Steve, president Ben and captain Dan. They had everything organised: a perfectly prepared pitch and a marquee for tea on the boundary, a cordial reception outside the local village pub, the Green Man, with real ales flowing from the taps and a hearty team lunch, a good match of cricket played in the true spirit of the game, two competent and charming umpires, one of whom who could even speak German, and, most important, they had bought new covers! Blustery showers had been predicted. And indeed Grantchester's innings was interrupted by one of them in the early afternoon. So, on came the covers. Once the rain had abated the match could be resumed. Had it not been for the new covers, the Pilgrims would have travelled all the way from Hamburg and Brussels only to experience a wash-out.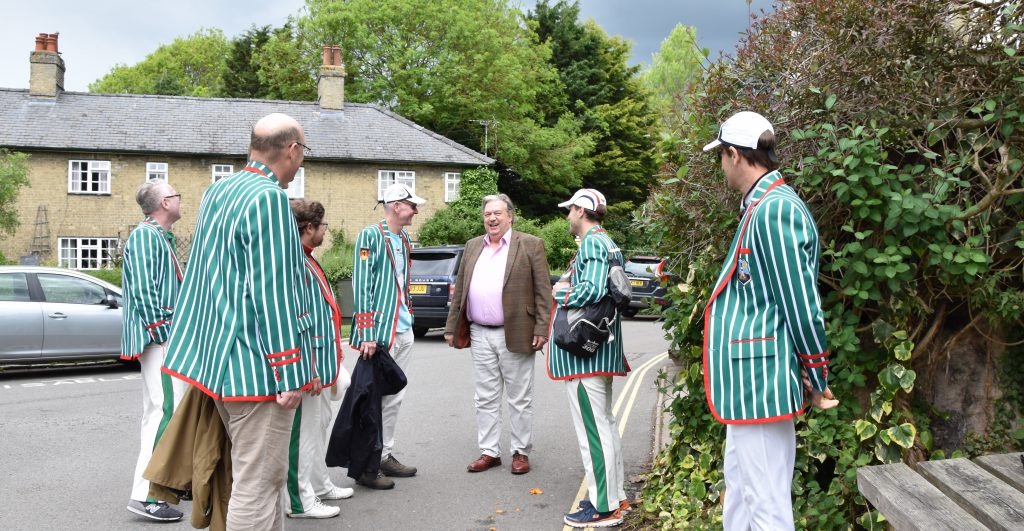 Tina opened the Pilgrims' bowling with a maiden over, but only Cam as a first change could remove one of Grantchester's openers. Anderson preferred to stay in until he was retired (52*), valiantly supported first by Farman (32) and then by Menzies (53*). Cam proved to be the Pilgrims' strongest bowler (7-3-11-2) of the day. Captain Steve, however, not only relied on his experienced players, but also on Bianca (2-0-8-1) and especially Jürgen whom he vociferously powered to bowl a longer spell after the shower. And the relentless encouragement worked: In the penultimate over of the innings Jürgen proudly claimed his first ever wicket for the Pilgrims with a deceptively slow delivery; he was awarded the ball as a souvenir. Scones, cucumber sandwiches, tea and the Pilgrims' inevitable ERDINGER beer (which had kindly been collected by Sam from the Cambridge youth hostel ahead of the match) invigorated players, scorers, umpires and spectators during the subsequent interval.
A total of 200 runs off 35 overs should have been within reach of the Pilgrims, had their fully-fledged batsmen not lost their wickets too early. Morrison (4-2-5-2) and Jones (5-1-8-2) excelled tightly with the ball, ably supported by Kennedy (5-0-39-2). Cam (26) and Steve (19, including a singular boundary 6) stood out amongst the Pilgrims' rather feeble batting line. But who knows what would have happened had the showers not returned? Around 6 p.m. heavy clouds moved in from the south-west. From the boundary you could not see the ball any more, and it will remain Leo's (19*) and Tina's (8*) secret how they managed to gun it down towards the river-banks again and again in the dark. At 6.28 p.m., when the Pilgrims were struggling to avoid a defeat on 116 for 7, the umpires had pity with the players and called everyone off the pitch. This time the covers did not come on again – with only 8 overs to play the match was rained out and ended as an honourable draw. Once the pitch had been fenced in again, the players receded to the Blue Ball for some liquid refreshments.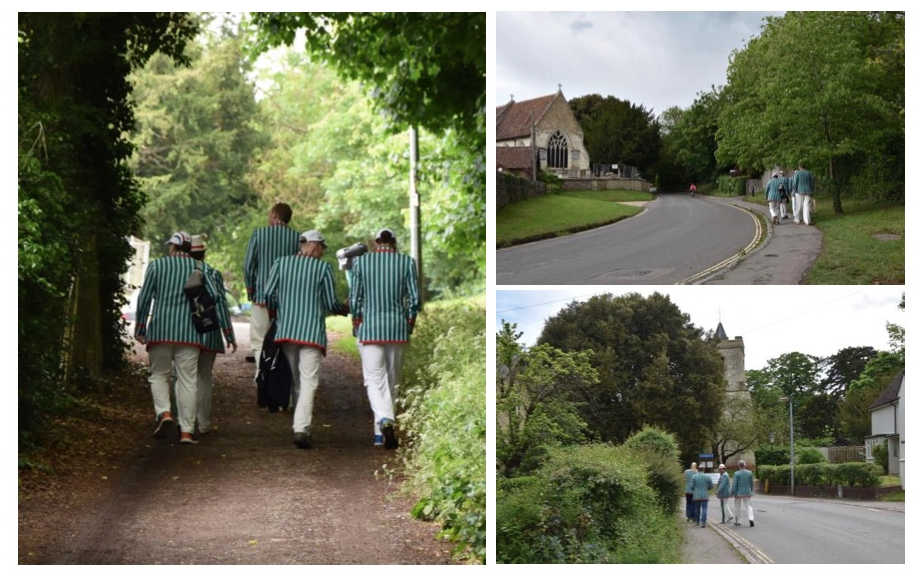 This is where a wonderful day of much more than cricket ended. It had begun with a leisurely walk across the idyllic Grantchester Meadows in the morning, in perfect sunshine along the peaceful river Cam. After about an hour the Pilgrims, sporting their dandy blazers, had turned around a bend and been taken in surprise by the beautiful ground that lay before them. There they had been welcomed by some of the hosts already on the pitch. Then they had ambled past the famous orchard and the village church up to the pub where Bianca, Mark B. and Emilie, in charge of the cricket kit, teamed up with them. The very friendly atmosphere continued throughout the match and thereafter. Finally, the Pilgrims' president thanked all present members of Grantchester CC for their efforts in making the journey such a special experience. He presented captain Dan and organizer Sam with Heligoland Pilgrims' unique Cambridge Tour 2017 towels, which had been kindly sponsored by Nabeel and Henrik. In return he was awarded a Grantchester CC cap embroidered with Rupert Brook's famous clock. Perhaps everyone felt that time seemed to have stood still for moment – the memory lingers on.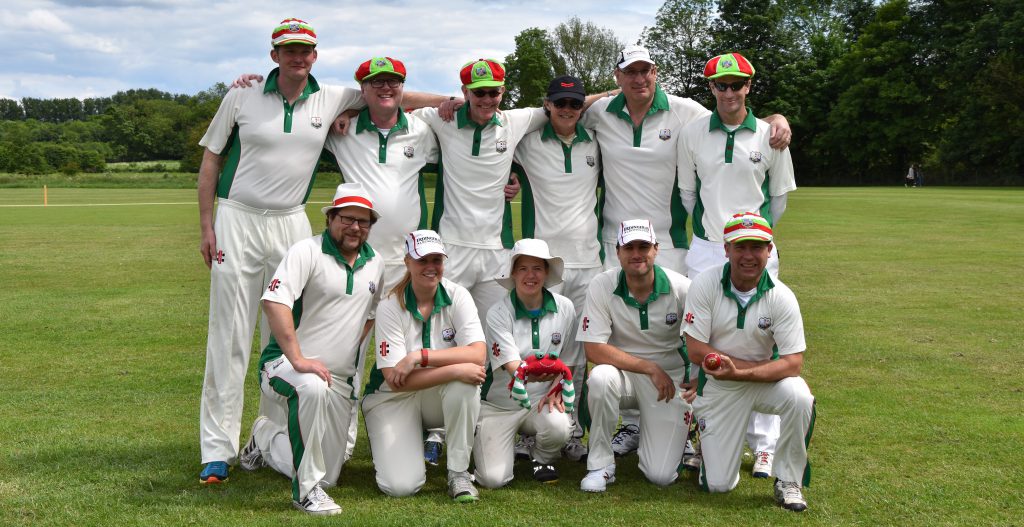 Heligoland Pilgrims: Steve (cpt), Bianca, Cam, Daniel (wk), Jürgen, Leo, Mark B., Mark R., Moritz, Nabeel (absent, no visa), Satya (absent, family matters), Tina, Thomas, supported by W. Wray – and Emilie
Grantchester CC: A. Kennedy, C. Morrison, D. Belman, D. Farman, F. Wilson, J. Anderson, J. Jones, J. Menzies, M. Carrick, S. Ludford, T. Kennedy and Tobias
Scorer: Anja G.
Support: Keith A.
Report: Max Minor, cricket correspondent, Photography: Kerstin Saure, Bianca Lamfried