Read the English version below.
Eine königliche Erfahrung für die Pilgrims
Camden CC, Cambridges ältester Cricketclub, hatte das Spiel kurzfristig verschoben ‒ vom Queens' College Cricketplatz zum King's College Cricketplatz. Den Pilgrims, passend unter ihrer Oxford-Absolventin Tina als Kapitän, war es egal, wo sie gegen ihre Freizeitgegner antraten. Es würde in jedem Fall eine königliche Erfahrung werden. Nicht an eindrucksvoll gut gepflegte Rasenpitches, endlose Spielfelder, herrlichen Nachmittagssonnenschein und Gegner gewöhnt, die weder von Square Leg noch von Point einen "Appeal" vorbringen, genoß die deutsche Mannschaft ihr Spiel auf englischem Boden durch und durch. Das Ergebnis, Camden gewann mit 42 Runs, spielte keine echte Rolle. Jeder Pilgrim, außer Keeper Daniel, bekam mindestens ein Over zu bowlen; die Spieler durften solange schlagen, wie sie sich auf dem Platz halten konnten ‒ was mehr kann man von einem Cricketspiel verlangen?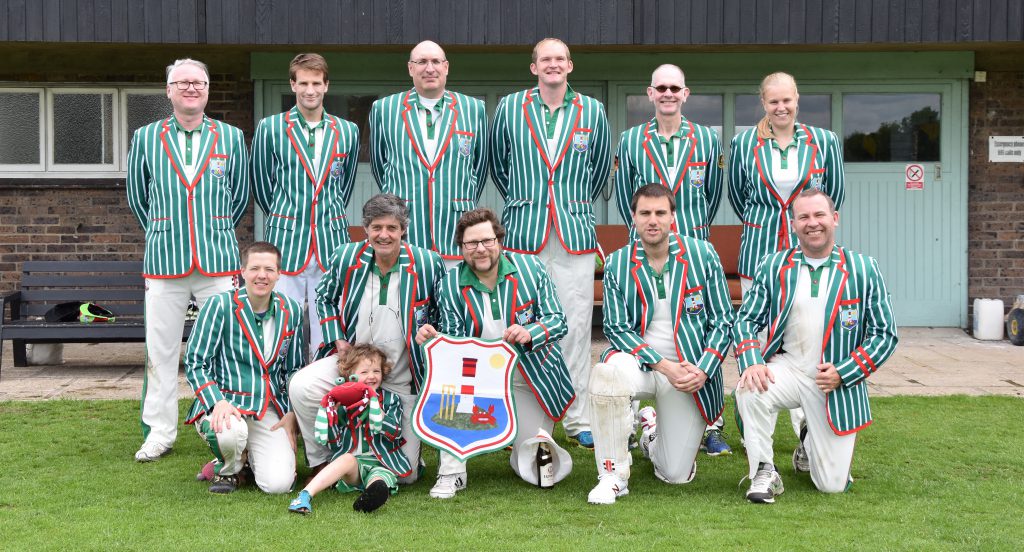 Die Pilgrims bowlten zuerst und ihnen gelang ein eindrucksvoller Start: Nach 3 Overs hatten Tina (4‑1‑13‑2) und Steve (7‑1‑37‑2) beide Eröffnungsspieler beseitigt, und Camden standen auf 3 für 2. Würden die Gegner hier überrollt? Nein, Camden Casuals Kapitän Hugo hatte nur die normale Battingreihenfolge verändert; das nächste Paar, H. Bately (50*) und S. Robinson (52*) wollte nicht weichen. Und obwohl die Pilgrims sich viel Mühe gaben, insbesondere im Feld, wo sie vielen Bällen nachrannten, Jürgen beinahe phänomenal einen Ball fing und Thomas stilvoll mit Hut auf dem Kopf zum Ball glitt, fiel das nächste Wicket erst im 30. Over. Mark R. hielt sicher eine Bogenlampe auf Square Leg, die von Moritz' allererstem Ball in England kam, und Daniel fand überrascht einen abgefälschten Ball von Tinas Bowling in seinen Keeper-Handschuhen. Am Ende erreichte Camden einen soliden Punktestand von 182 für 5. Dann war es Zeit für Tee, Sandwiches und etwas ERDINGER Bier, das Nick freundlicherweise vor dem Spiel von der Jugendherberge in Cambridge abgeholt hatte.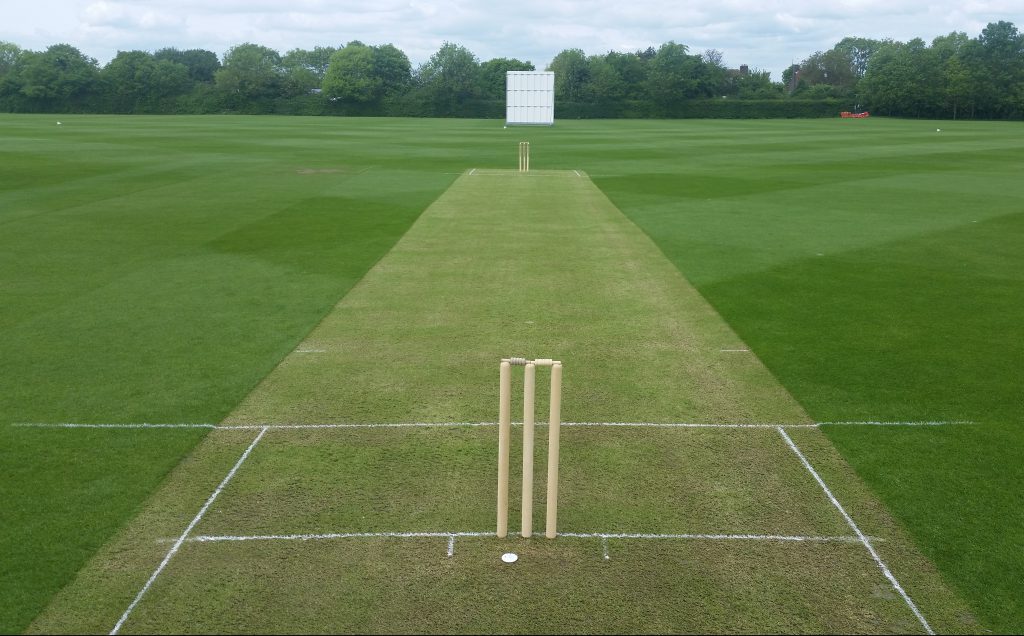 Die Eröffnungsspieler der Pilgrims, Cam und Moritz, begannen ihr Innings wie Feuer und Eis. Nach 11 Overs, als ihre Partnerschaft 50 Runs erreichte, hatte Cam lässig 48 beigetragen, während Moritz immer noch auf 2 mauerte, allerdings in der prächtigeren Kleidung ‒ er spielte in seiner Clubjacke. Ein Wechsel der Bowler hatte schließlich Erfolg, und V. Chandrasakaran (7‑2‑23 2) ergatterte den ersten Scalp der Pilgrims. Nur Cam (56*) und Steve (52*) schafften es, zweistellige Zahlen zu erreichen. Ein unglücklicher Run-Out trug zum Niedergang der Pilgrims bei. Wären da noch 5 Overs für Cam und Steve gewesen, und hätten Bianca und Tom nicht ihren Zug erreichen müssen, dann hätten die Gäste das Ziel vielleicht erreicht. So blieben sie auf 140 für 7, aber alle waren sich einig: Es war ein äußerst angenehmer und zufriedenstellender, wenn nicht königlicher Cricket-Nachmittag gewesen.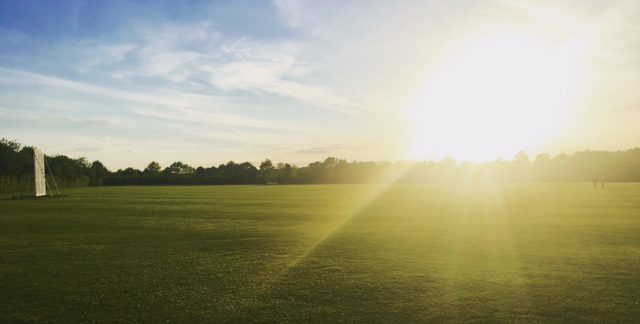 Die Spieler zogen sich um und kamen mit Zuschauern und Anhang in der Abendsonne vor dem Clubhaus zusammen, wo man sich freundlich unterhielt und noch ein ERDINGER Bier verzehrte. Am Ende dankte der Präsident der Pilgrims allen anwesenden Mitgliedern des Camden CC für ihren Einsatz, den Besuch in Cambridge zu solch einer besonderen Erfahrung zu machen. Er überreichte Kapitän Hugo und Organisator Nick Heligoland Pilgrims' einzigartige Cambridge-Tour-2017-Badetücher, die freundlicherweise von Nabeel und Henrik gesponsert worden waren. Im Gegenzug erhielt er die alte Mütze des ehemaligen Kapitäns der ersten Mannschaft, die inzwischen desinfiziert wurde und für die Nachwelt eingerahmt werden wird. Einige der Pilgrims fuhren glücklich heim. Die übrigen Pilgrims blieben, um das 44. Cambridge Bierfestival zu besuchen. Und es war keine echte Überraschung, daß sie einige ihrer Gegner auf dem Festival wiedertrafen ‒ besser hätte man die großartige Tour nicht feiern können, prost!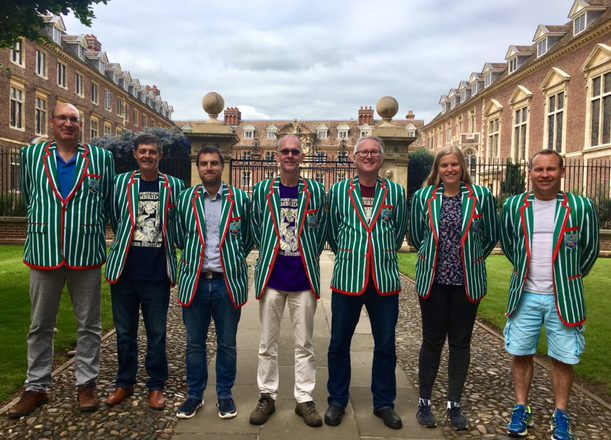 Heligoland Pilgrims: Tina (cpt.), Bianca, Cam, Daniel (wk), Jürgen, Leo, Mark B. Mark R., Moritz, Nabeel (abwesend, kein Visum), Satya (abwesend, Familienangelegenheiten), Steve, Thomas
Camden Casuals: A. Nash, A. Redfern, D. Gibson, H. Bateley, J. Finchem, J. Wheatly, M. Baker, M. Fox-Teece, N. Austin, S. Robinson, V. Chandrasakaran
Scorer: Camdens beste und Tina
Anhang: The A. und P. clan, Emilie, Karen, Philine, Sally und Andrew
Bericht: Max Minor, Cricket-Korrespondent, Photos: Kerstin Saure, Tina Gough, Mark Richardson


A royal experience for the Pilgrims

Camden CC, Cambridge's oldest cricket club, had shifted the match at short notice – from Queens' College cricket ground to King's College cricket ground. The Pilgrims, fittingly captained by their Oxford graduate Tina, did not mind where they played their casual opponents. It was going to be a royal experience in any event. Not used to remarkably well-kept turf pitches, endless outfields, glorious afternoon sunshine and opponents who neither appeal from square leg nor from point, the German team thoroughly enjoyed cricket on English soil. The result, Camden won by 42 runs, did not really matter. Every Pilgrim, apart from keeper Daniel, got to bowl at least one over; the players could bat as long as they would stay at the crease – what more can you ask from a cricket match?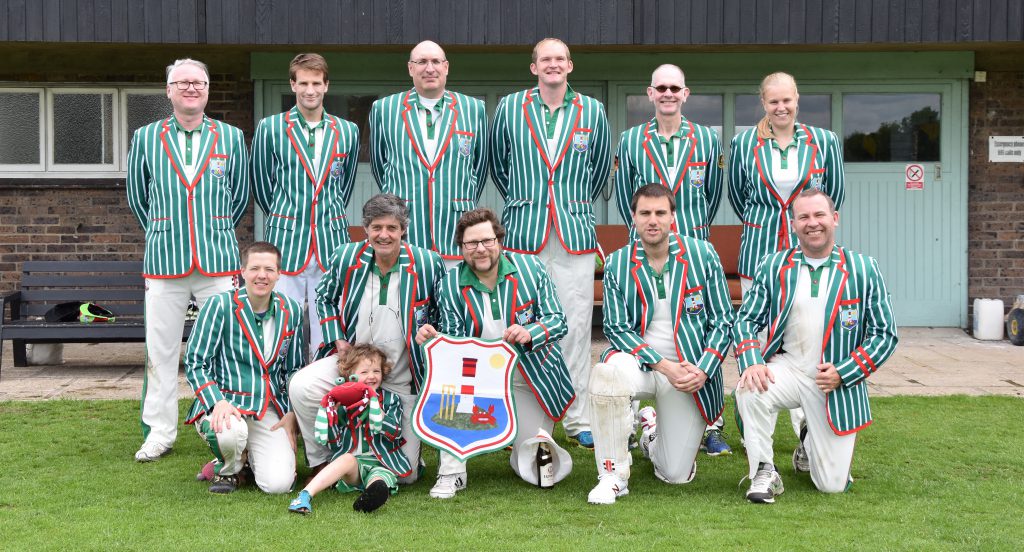 The Pilgrims bowled first and got off to a spectacular start: After 3 overs Tina (4-1-13-2) and Steve (7-1-37-2) had removed both openers and Camden were 3 for 2. Would this be a roll-over? No, Camden Casuals captain Hugo had just changed their regular batting order; the next pair, H. Bately (50*) and S. Robinson (52*) would not budge. And although the Pilgrims tried hard, especially in the field where they chased many a ball, Jürgen almost held a phenomenal catch and Thomas slid for the ball in style with his hat on, the next wicket only fell in the 30th over. Mark R. safely caught a skier at square leg off Moritz's very first ball in England, and Daniel was surprised to find an edged ball off Tina's bowling in his keeping gloves. At last Camden reached a solid total of 182 for 5. Then it was time for tea, sandwiches and some ERDINGER beer which Nick had kindly collected from the Cambridge youth hostel ahead of the match.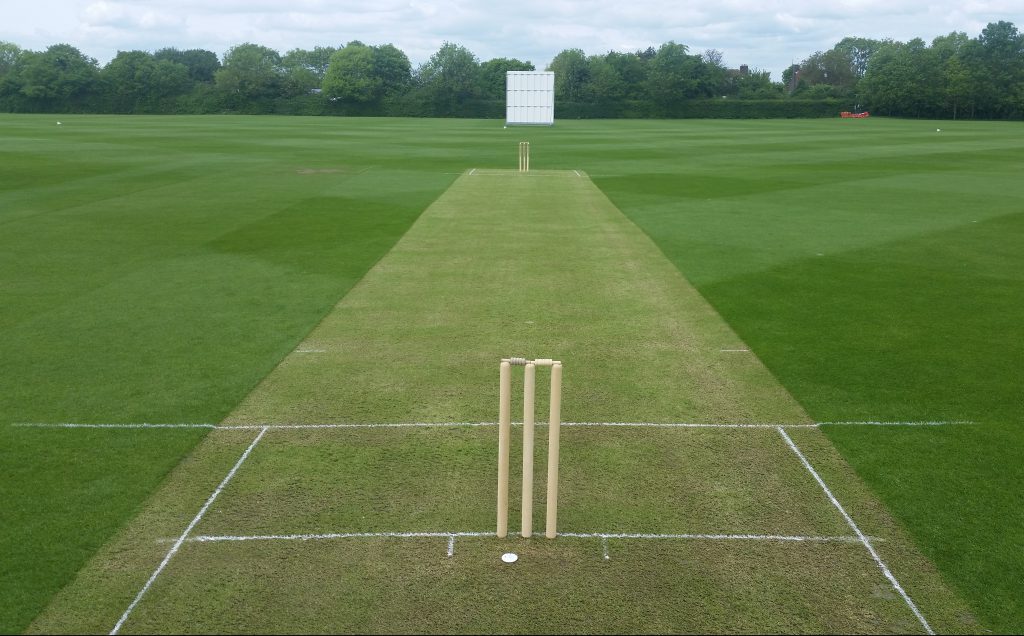 The Pilgrims' openers, Cam and Moritz, started their innings like fire and ice. After 11 overs, when their partnership reached 50 runs, Cam had contributed an easy-going 48, whilst Moritz was still stonewalling on 2, albeit sporting more flamboyant attire – he was batting in his club blazer. A change of bowling did the trick at last and V. Chandrasakaran (7-2-23-2) got the Pilgrims' first scalp. Only Cam (56*) and Steve (52*) managed to reach double figures. An unlucky run-out contributed to the Pilgrims demise. Had there been another 5 overs for Cam and Steve, and had Bianca and Tom not had to catch the train, the visitors might have reached the target. So on 140 for 7 they fell short, but everyone agreed: It had been a delightful and satisfying, if not royal afternoon of cricket.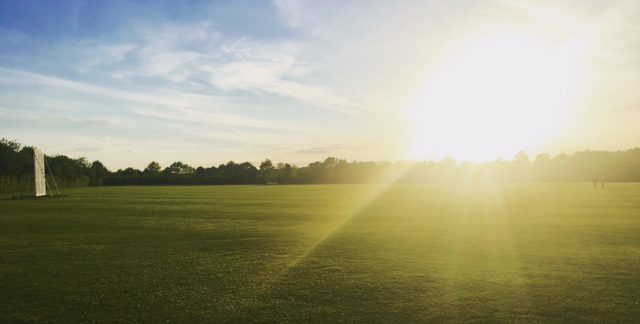 Players got changed and convened with spectators and supporters in the evening sun outside the club house for an amicable chat and another ERDINGER beer. Finally, the Pilgrims' president thanked all present members of Camden CC for their efforts in making their visit to Cambridge such a special experience. He presented captain Hugo and organizer Nick with Heligoland Pilgrims' unique Cambridge Tour 2017 towels, which had been kindly sponsored by Nabeel and Henrik. In return he was awarded the former captain of the first team's old cap which has now been fumigated and will be framed for posterity. Some of the Pilgrims departed home happily. The remaining Pilgrims went on to visit the 44th Cambridge Beer Festival. And it was no real surprise that they met some of their opponents at the festival again – what better way to celebrate a marvellous tour, cheers!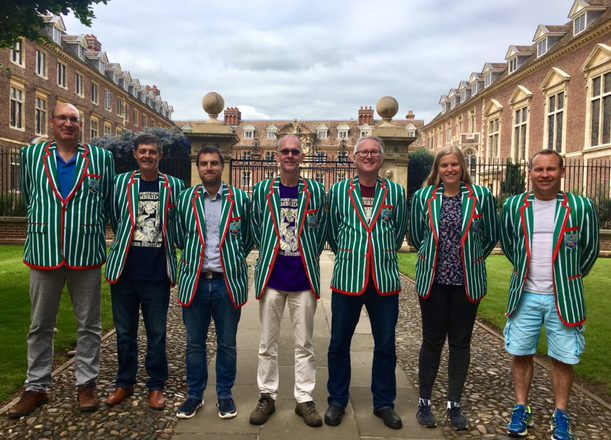 Heligoland Pilgrims: Tina (cpt), Bianca, Cam, Daniel (wk), Jürgen, Leo, Mark B. Mark R., Moritz, Nabeel (absent, no visa), Satya (absent, family matters), Steve, Thomas
Camden Casuals: A. Nash, A. Redfern, D. Gibson, H. Bateley, J. Finchem, J. Wheatly, M. Baker, M. Fox-Teece, N. Austin, S. Robinson, V. Chandrasakaran
Scorer: Camden's finest and Tina
Support: The A. and P. clan, Emilie, Karen, Philine, Sally and Andrew
Report: Max Minor, cricket correspondent, Photography: Kerstin Saure, Tina Gough, Mark Richardson