Read the English version below.
Makiḻtschi (ein Zustand von Glück)
Bei ihrer Abreise waren die Pilgrims sich einig: "Es war ein großartige Tour". Wer hätte das vorher ahnen können? Keiner der Touristen war schon einmal in Barnsley in Süd-Yorkshire gewesen. Keiner von ihnen wußte, was zu erwarten war: Gegner, Wetter, Platz, Unterkunft, Verpflegung, Transport – ob alles so klappen würde wie von ihrem leicht nervösen Reiseleiter geplant? Die Stimmung bei der Ankunft in Manchester war ein bißchen gedrückt. Der getreue Mark R., immer eine sichere Bank für ein solides Schlagergebnis, hatte seine Teilnahme absagen müssen, ebenso wie sein Bruder Matt. Mark R. hatte Lloyd als Ersatz geschickt, aber Lloyd, für die meisten Pilgrims ein Unbekannter, wollte nur schiedsrichtern. Außerdem war das Sonnabend-Spiel ein paar Tage zuvor abgesagt worden, weil das Netherton CC Spielfeld noch unter Wasser stand. Der Bus, der die Touristen abholen sollte, war am Flughafen auch nicht zu finden. Und würde Steve es rechtzeitig von Chicago nach Barnsley schaffen, um die Peinlichkeit einer unvollständigen Mannschaft verhindern?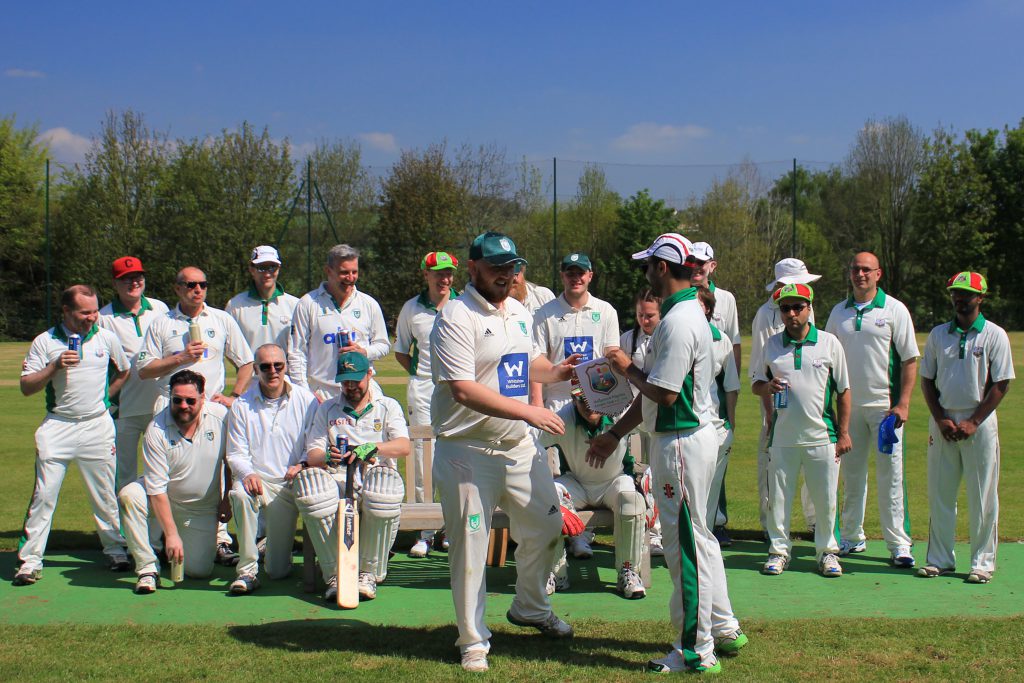 Ja, er schaffte es! Am Sonntag pünktlich um 12 Uhr Mittag lief eine fröhliche Tourmannschaft aus 11 Heligoland Pilgrims vom Stainborough CC-Pavillon auf einen perfekt gemähten Cricketplatz mit einem echten Rasenpitch. Unter dem sonnigsten Himmel, den Süd-Yorkshire an einem 6. Mai jemals gesehen haben mag, so lange die Einheimischen zurückdenken können, ließen sie sich von der deutschen Hymne inspirieren, die ihre Gegner über die Lautsprecheranlage schallen ließen. Die Pilgrims trafen auf einen sehr facettenreichen Gegner, mit Spielern aus der 1. und 2. Mannschaft, halb-pensionierten Veteranen, Familienmitgliedern der Spieler, einer weiblichen Grafschafts-Jugendspielerin und einem örtlichen Taxifahrer mit italienischer Abstammung. Den ganzen Tag angetrieben von kostenlosen ERDINGER Getränken gelang es den 22 Spielern, bis kurz vor 18.00 Uhr ein umkämpftes 40-Over Cricketspiel auszufechten. Und obwohl sich die Partie zeitweilig in eine goldene Ananas zu entwickeln schien, wurde es in der letzten Stunde noch einmal richtig spannend.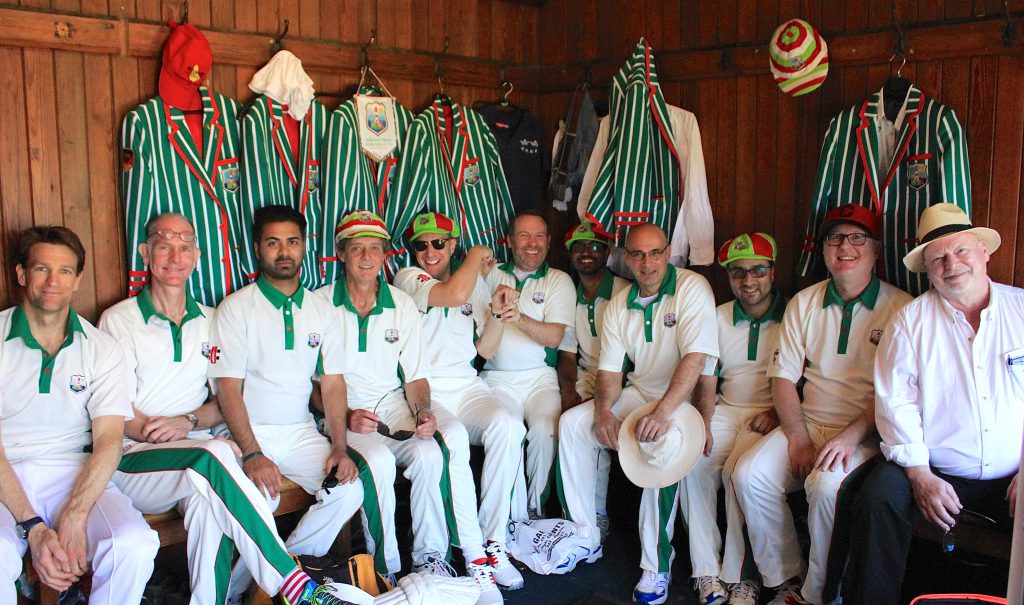 Das lag vor allem an dem geradezu übermenschlichen Einsatz von Murali, dem unumstrittenen Spieler des Tages. Unterstützt von einer Handvoll Partnern versuchte er sein Äußerstes, um einen Sieg der Pilgrims zu erzielen, indem er seine Run-Rate von einem Stand von 15 von 29 Bällen auf zuletzt 82 von 81 Bällen hochtrieb (einschließlich sieben Boundary 4 und den zwei einzigen Boundary 6 der Pilgrims hoch über den nördlichen Grenzzaun). So war es bis zum vorletzten Over immer noch für beide Mannschaften möglich zu gewinnen. Erst als Murali schließlich vom gegnerischen Kapitän Josh Abson gebowlt wurde, schwanden die Chancen der Pilgrims ihre Gegner zu überwinden.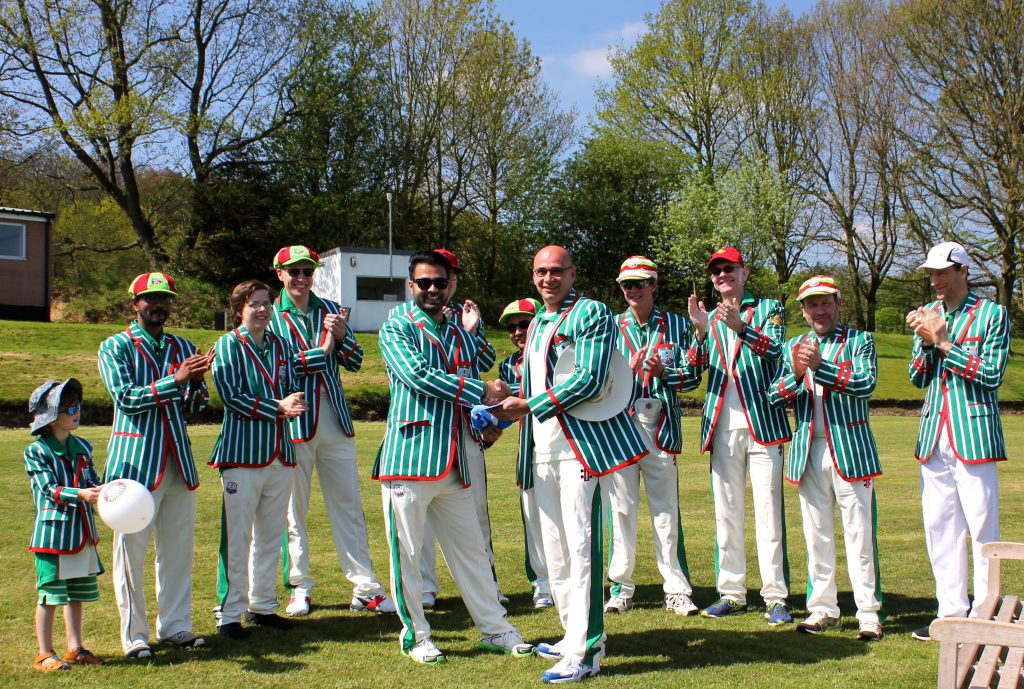 Stainborough hatte 198 von 35 Overs erreicht mit ihrem besten Spieler John Baughan auf umsichtig erarbeiteten 50*. Andere nennenswerte Punkte kamen von Wicket-Keeper und Eröffnungsschlagmann Paul Brown (42), dem W.G.-bärtigen Richard Mills (33), Alan Crutch (20) und Murray Raw (16). Der beste Angreifer der Pilgrims an diesem Tag war erneut ihr Schatzmeister Cam, der ein unglaublich gemischtes Lakritzkonfekt um sich warf, um mit Zahlen von 3-0-11-3 drei der vier ersten gegnerischen Schlagmänner zu beseitigen. Nur Neuling Dev war noch ökonomischer (4-1-11-0), er trug das einzige Maiden-Over der Pilgrims bei. Kapitän Nabeel nahm 3 für 28 einschließlich des Wickets des anderen Eröffnungsschlagmanns mit dem ersten Ball, den er bowlte, und einem spektaculären caught and bowled von Stainboroughs Kapitän für eine einstellige Punktezahl. Je ein weiteres Wicket holten sich Mark B., Bianca und Jürgen. Außerdem wurden Bälle gefangen von Mark B. hinter den Stumps mit Innenhandschuhen, Adrian einhändig mit einem umwerfenden Hechtsprung an Short Extra-Cover, Moritz, eine Bogenlampe auf Mid-On, und Bianca, die den springenden Ball gerade noch zwischen rechter Hand und linker Schulter einklemmen konnte.
Den Pilgrims gelang ein sicherer, wenn auch nicht besonders schneller Start mit Mark B. (23) und Jon (22), die das Innings eröffneten und zusammen 49 erreichten. Bei 50/1 nach 15 Overs war die benötigte Run-Rate weiter angestiegen als erwünscht. Und während Cam schnelle 16 von gerade einmal 10 Bällen schlug, konnte von den anderen Pilgrims nur Dev (12) eine zweistellige Punktzahl erreichen, allerdings mit einer niedrigeren Schlagzahl. Aber wie heißt noch gleich das alte Cricket Sprichwort: "It is not over until it is over". Murali hatte andere Pläne. Auf seiner allerersten Englandreise war der junge indische Physiker entschlossen, das Spiel zu gewinnen. Und als er bemerkte, daß seine Partner an diesem Tag nicht so stark waren wie er, riß er den Schlag an sich und zwang sie zu laufen. Murali legte 27 auf mit Dev, 22 mit Nabeel, noch einmal 27 mit Adrian und schließlich 45 mit Jürgen bis sein eigenes Wicket fiel, nur 12 Punkte entfernt von einem Unentschieden. Jürgen leistete hervorragende Unterstützung mit 9 von 8 Bällen (einschließlich zwei 4s hintereinander zur Fine Leg Boundary) und war völlig außer Atem als er im vorletzten Over einem Run-Out erlag. Leider konnten der Pilgrims Präsident (in seinem Blazer) und seine letzten Männer nur noch ein Bye von den letzten 6 Bällen erzielen. Stainborough's beste Bowler waren ihr Kapitän Josh Abson (3 für 36) und der W.G.-bärtige Richard Mills (2 für 5), von denen beide auch je einen Ball fingen. Weitere Wickets holten sich Alan Fletcher, John Baughan und Alan Crutch, außerdem wurden Bälle gefangen von Wicket-Keeper Paul Brown, Alan Fletcher und Lewis Shepherd.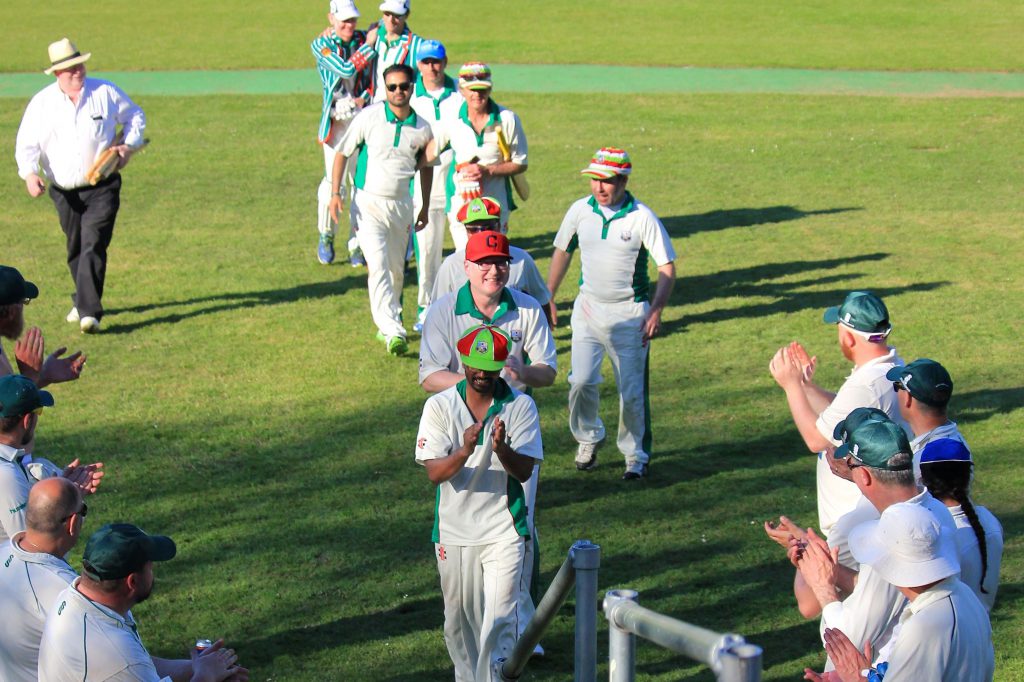 Anerkennung gebührt Kapitän Nabeel, der die eleganten roten Tour-Hoodies der Mannschaft sponserte, jedem die Chance zu bowlen gab, wobei fünf Bowler erfolgreich Skalps einsammelten und fünf Feldspieler einen Ball fingen, jeden in passenden Partnerschaften schlagen ließ, ein knappes Ergebnis erreichte und durchweg für einen großartigen Mannschaftsgeist sorgte. Besondere Erwähnung verdient auch Lloyd; er schiedsrichterte meisterhaft sechs Stundenlang unter wolkenlosem Himmel und war zudem noch als unermüdlicher Shuttle-Fahrer zwischen Hotel und Pavillon tätig. Grenzenlose Dankbarkeit schulden alle Pilgrims auf Tour Ian Fletcher, Leib und Seele von Stainborough CC, der sich nicht nur um eine geeignete Unterkunft, schellen Transport, ausreichende Verpflegung und elektronisches Ball-für-Ball-Scoring kümmerte, ganz abgesehen vom freundlichen Empfang im Tour Hotel und einer örtlichen Curry-Nacht vor dem Spiel, sondern auch die fröhlichste und ausgelassenste Party nach dem Spiel im Clubhaus organisierte, wo der örtliche Unterhalter Simon Whiteley auftrat. Dort konnten die Pilgrims spät in der Nacht Kapitän Josh Abson und Organisator Ian Fletcher ein paar verdiente Tour-Hoodies überreichen und ihren überraschten Gastgebern ihre Anerkennung ausdrücken, indem sie "Barmy Barnsley Tour" sangen, ihren offiziellen Tour Song (mit ihrem eigenen Text zu Lennon & McCartneys "Yellow Submarine").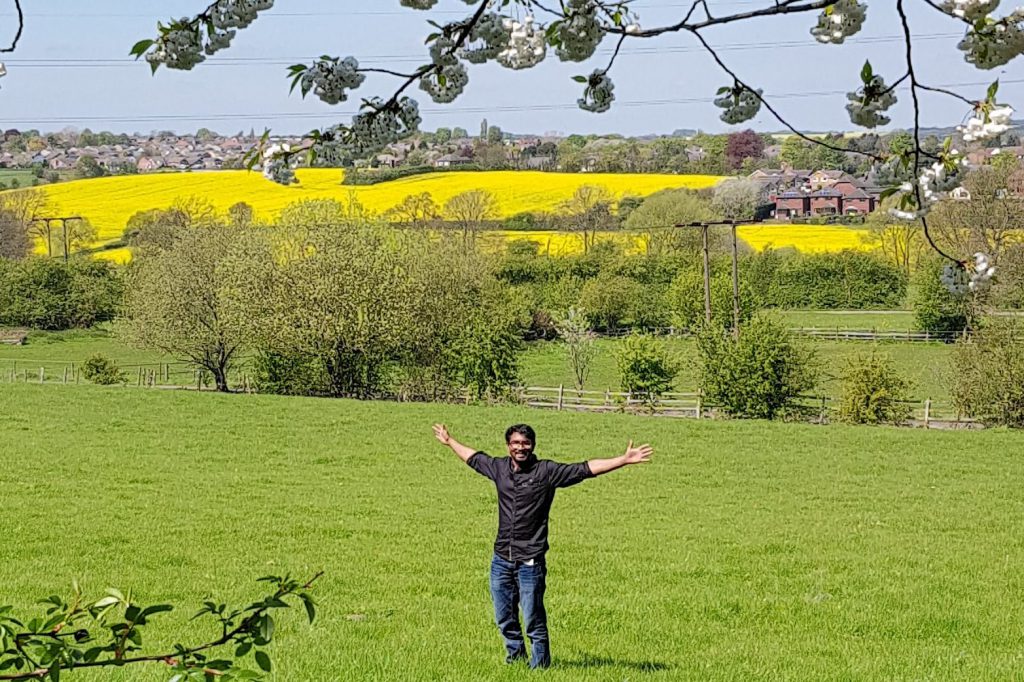 Und wenn man nun auf die zweite Tour der Pilgrims zurückschaut, was wird man am meisten in Erinnerung behalten: Die lehrreiche Pub-Tour in Sheffield am Freitag nachmittag, den gemächlichen Spaziergang am schönen Golfplatz vorbei zum idyllischen Garten des Crown & Anchor zum Mittagessen am Sonnabend, Stainboroughs tapfere Verteidigung gegen Bentley Colliery am Sonnabend nachmittag, das improvisierte Ersatz-Cricket der Pilgrims am Sonnabend abend, DAS Spiel am Sonntag, die anschließende Party oder der Abstecher zum Barnsley & Elsecar CAMRA Beer Festival beim örtlichen Heimatmuseum mit anschließendem Eis (mit Busfahrer Simon) an der Straße über den Peak District am Montag? Vielleicht ein bißchen vom allem. Aber ganz bestimmt das strahlende Lächeln auf Muralis Gesicht. Es faßte alles zusammen, das es wert ist, von dieser Tour in Erinnerung zu bleiben, nämlich "makiḻcci", was Tamil ist und im wesentlichen ein Zustand von Glück bedeutet.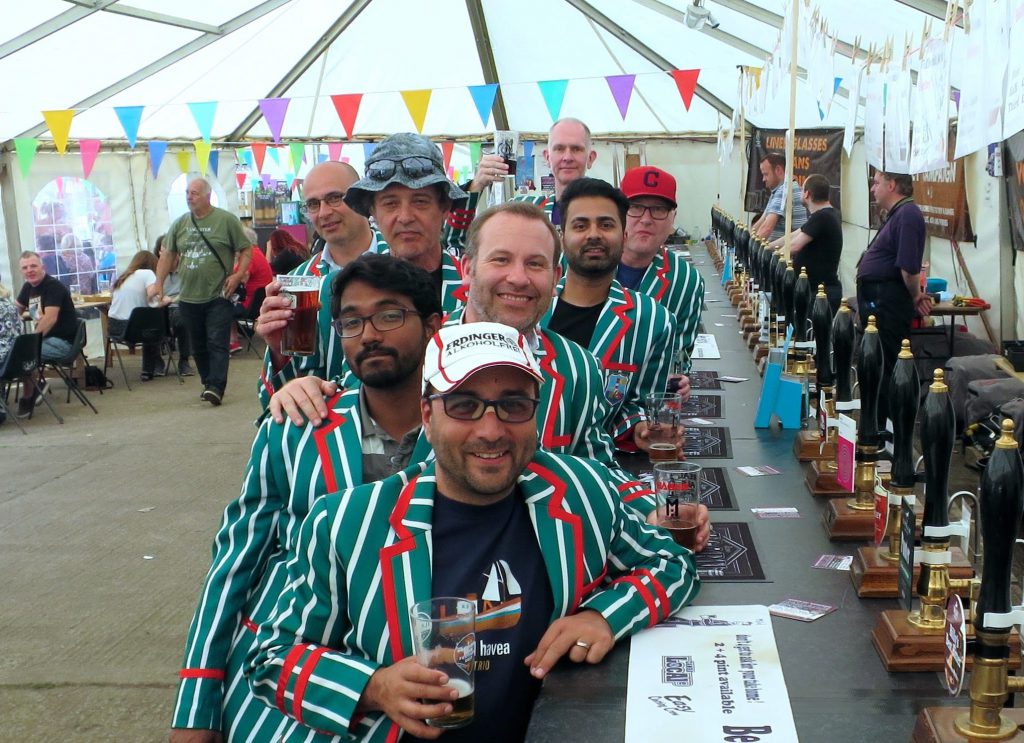 Heligoland Pilgrims: Nabeel (cpt.), Adrian, Bianca, Cam, Dev, Jon, Jürgen, Mark B. (wk 1), Mark R. (nur im Geist), Moritz, Murali (wk 2) und "Double-0" Steve, begleitet von Emilie, Anisha und Heena
Stainborough CC: Josh Abson (cpt.), Alan Crutch, Paul Brown (wk), Alan Fletcher, John Baughan, Emilia Rossi, Murray Raw, Lewis Shepherd, Chris Thomas, Richard Mills und Rosanno Rossi
Umpire: Lloyd Taylor
Scorer: Ian Fletcher
Support: Keith und seine Frau
Bericht: Max Minor, Cricket-Korrespondent, Photos: Jessica Mancuso
Makiḻcci (a state of happiness)
Upon departure the Pilgrims unanimously agreed: "It was a great tour". Who could have anticipated this in advance? None of the tourists had been to Barnsley in South Yorkshire before. None of them knew what to expect: opponents, weather, ground, accommodation, catering, transport – would everything work out as planned by their slightly anxious tour operator? Spirits were mildly subdued upon arrival in Manchester. Stalwart Mark R., always a safe bet for a solid knock, had had to cancel his participation, as had his brother Matt. Mark R. had sent Lloyd as a back-up, but Lloyd, unfamiliar to most Pilgrims, only wanted to umpire. Moreover, the Saturday game had been called off a couple of days before because the Netherton CC field was still waterlogged. Contingency plans were still in limbo. The bus to collect the tourists could not be found at the airport either. And would Steve make it to Barnsley in time from Chicago to avoid the embarrassment of an incomplete team?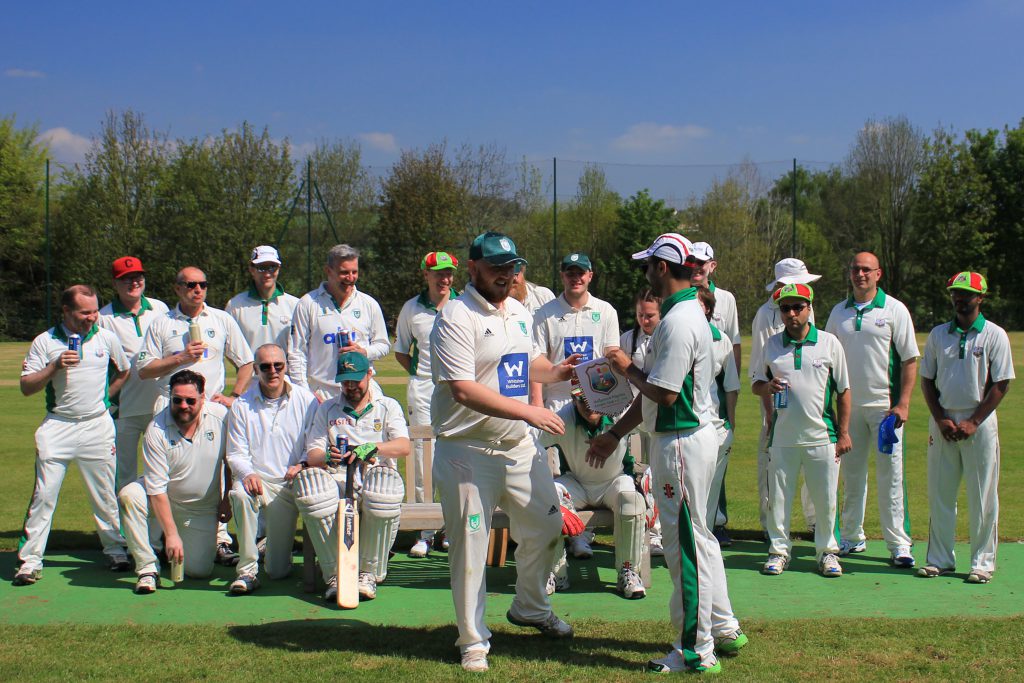 Yes, he made it! On Sunday at high noon a cheerful touring side of 11 Heligoland Pilgrims descended from Stainborough CC's pavilion onto an immaculately mown cricket ground with a real turf pitch. Under the sunniest of skies South Yorkshire may ever have seen on a 6th May for as long as locals can remember they drew inspiration from the German anthem which their hosts blasted over the tannoy. The Pilgrims met a most diverse opposition, including 1st and 2nd XI players, semi-retired veterans, players' family members, a lady youth county-player and a local taxi driver of Italian extraction. Fuelled on free ERDINGER beverages throughout the day, the 22 players managed to battle out a competitive 40 overs per side cricket match until shortly before 6 p.m. And although the game had looked like turning into a dead rubber at some stage, it became rather exciting again during the last hour.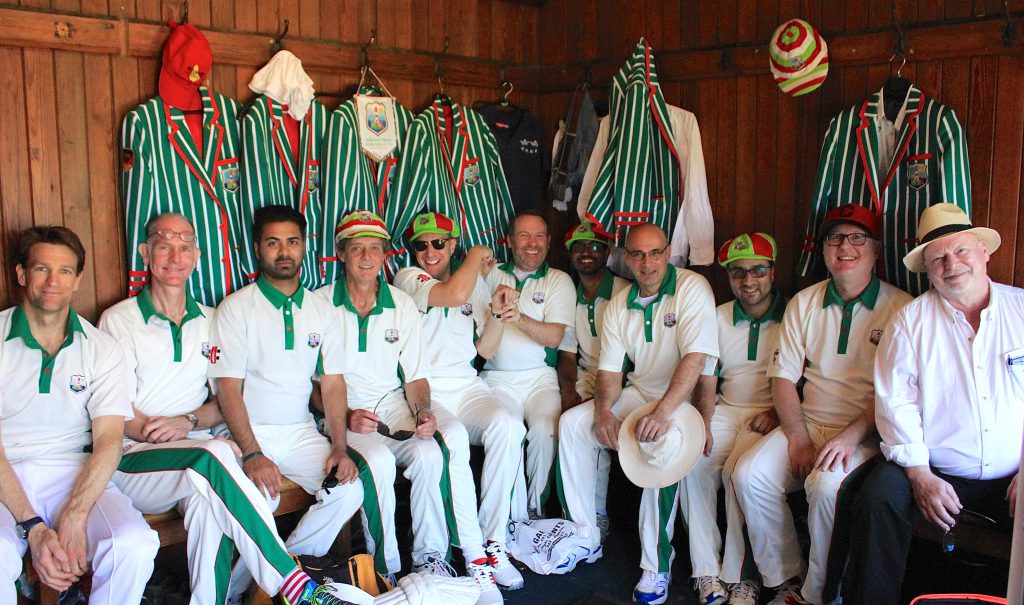 This was primarily due to the Herculean efforts of Murali, the undisputed man of the match. Supported by a handful of partners he tried his utmost to achieve victory for the Pilgrims, accelerating his run-rate from a score of 15 off 29 balls to what became finally 82 off 81 balls (including seven boundary 4s and the Pilgrims' only two huge boundary 6s over the northern perimeter fence). A win for both teams thus became possible until the penultimate over. Only when Murali finally got bowled by the opposing captain Josh Abson did the Pilgrims' chances of overcoming their opponents dwindle.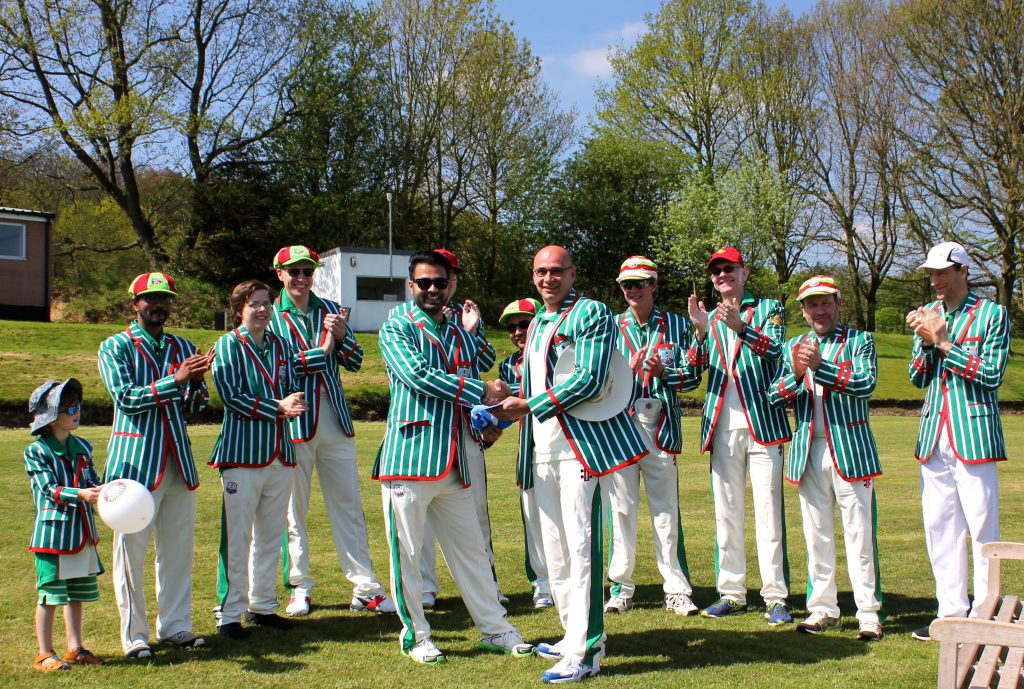 Stainborough had achieved 198 off 35 overs with their top scorer John Baughan retiring on a circumspectly crafted 50*. Other notable scores came from wicket-keeper and opener Paul Brown (42), W.G.-bearded Richard Mills (33), Alan Crutch (20) and Murray Raw (16). The Pilgrims' best attacker of the day was once again their treasurer Cam who bowled incredible liquorice allsorts to remove three of the top four opposition batsmen with figures of 3-0-11-3. Only rookie Dev was more economical (4-1-11-0), contributing the Pilgrims' only maiden. Captain Nabeel took 3 for 28 including the wicket of the other opener off the first ball he bowled and a spectacular caught and bowled of Stainborough's captain for single figures. One further wicket each was collected by Mark B., Bianca and Jürgen. Other catches were held by Mark B. behind the stumps with inner gloves, Adrian with a stunning single handed dive at short extra cover, Moritz a skier at mid-on, and Bianca in a juggling hug between right hand and left shoulder.
The Pilgrims got off to a safe, albeit not very quick start with Mark B. (23) and Jon (22) opening the innings and reaching 49 together. At 50/1 after 15 overs the required run-rate had gone up further than desired. And whilst Cam hit a quick 16 off merely 10 balls, of the other Pilgrims only Dev (12) could reach double figures, although at a slower rate. But as the old cricket adage goes: It is not over until it is over. Murali had other plans. On his first ever visit to England, the young Indian physicist was determined to win the match. And when he realised his partners were not as strong on this day as he was, he farmed the strike and made them run. Murali put on 27 with Dev, 22 with Nabeel, another 27 with Adrian and finally 45 with Jürgen until his own wicket fell just 12 short of a tie. Jürgen offered excellent support with 9 off 8 balls (including successive 4s to the fine leg boundary) and was completely out of breath when he was run out in the penultimate over. Regrettably, the Pilgrims President (in his blazer) and his last men achieved only one more bye off the last 6 balls. Stainborough's top wicket takers were their captain Josh Abson (3 for 36) and W.G.-bearded Richard Mills (2 for 5), both of whom also took a catch. Further wickets were taken by Alan Fletcher, John Baughan and Alan Crutch, additional catches were held by wicket-keeper Paul Brown, Alan Fletcher and Lewis Shepherd.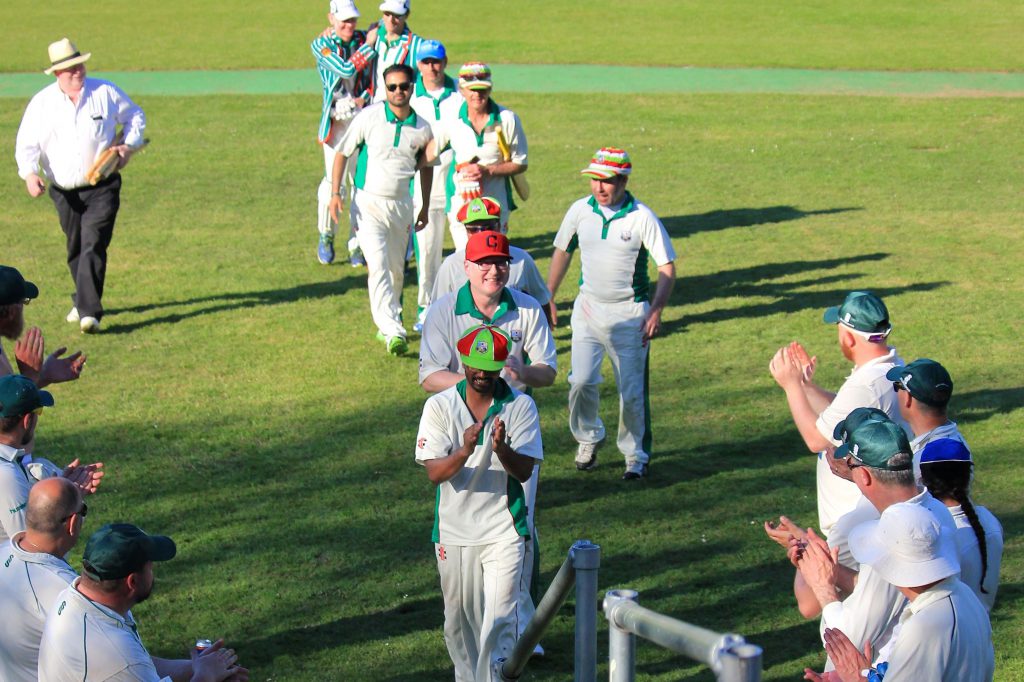 Credit has to be given to captain Nabeel who sponsored the team's fashionable red tour-hoodies, gave everyone a chance to bowl with five bowlers claiming scalps and five fielders achieving catches, let everyone bat in suitable partnerships, reached a close result, and took care of a great team spirit throughout. Special mention must be made of Lloyd as well; he umpired masterfully for six hours under a cloudless sky and also functioned as a tireless shuttle operator between hotel and pavilion. Unlimited gratitude is owed by all touring Pilgrims to Ian Fletcher, the heart and soul of Stainborough CC, who not only arranged for suitable accommodation, swift transport, sufficient catering and electronic online ball-by-ball scoring, not to mention a warm welcome at the tour hotel and a local curry night before the match, but also organised the most cheery and jolly party after the match in the club house staging local entertainer Simon Whiteley. This is where late at night the Pilgrims were able to present captain Josh Abson and organiser Ian Fletcher with a couple of well-deserved tour hoodies and show their appreciation to their surprised hosts by singing "Barmy Barnsley Tour", their official tour song (with their own verses to Lennon & McCartney's "Yellow Submarine").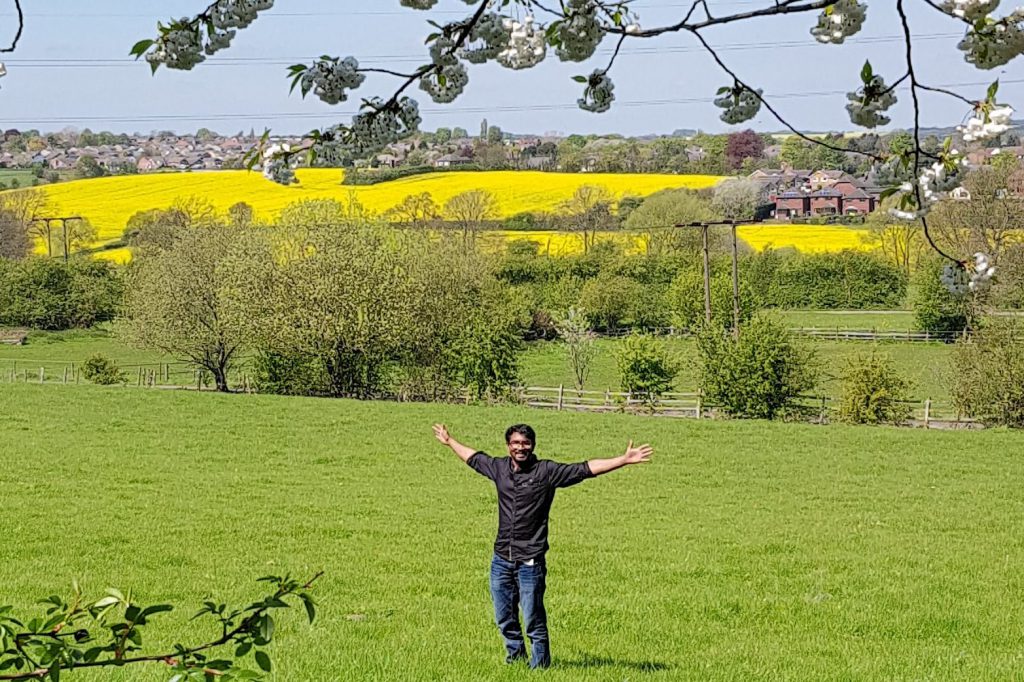 So when looking back at the Pilgrims' second tour, what will be remembered most of all: The instructive Sheffield pub crawl on Friday afternoon, the leisurely walk past the beautiful golf-course to the idyllic garden of the Crown & Anchor for lunch on Saturday, Stainborough's valiant defence against Bentley Colliery on Saturday afternoon, the Pilgrims' impromptu cricket-relief on Saturday evening, THE match on Sunday, the subsequent party or the detour to the Barnsley & Elsecar CAMRA Beer Festival at the local heritage site followed by an ice-cream (with bus driver Simon) on the road across the Peak District on Monday? Maybe a little bit of everything. But certainly the big smile on Murali's face. It summed up everything worth remembering about this tour, namely "makiḻcci", which is Tamil and essentially means a state of happiness.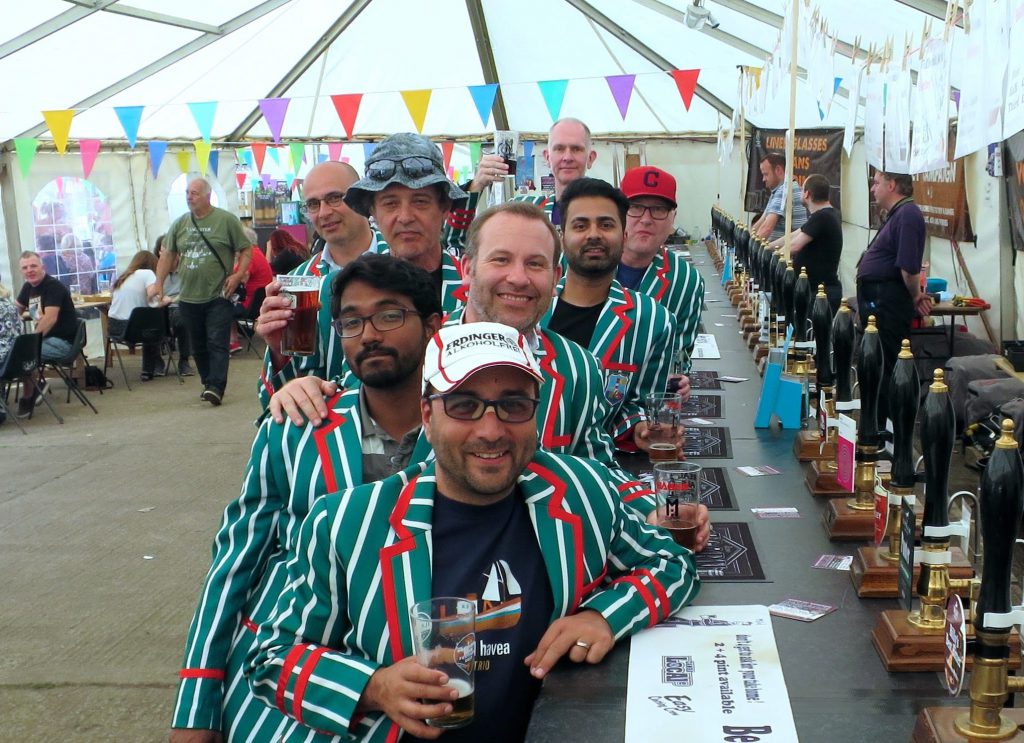 Heligoland Pilgrims: Nabeel (cpt.), Adrian, Bianca, Cam, Dev, Jon, Jürgen, Mark B. (wk 1), Mark R. (spirit only), Moritz, Murali (wk 2) and "Double-0" Steve, accompanied by Emilie, Anisha and Heena
Stainborough CC: Josh Abson (cpt.), Alan Crutch, Paul Brown (wk), Alan Fletcher, John Baughan, Emilia Rossi, Murray Raw, Lewis Shepherd, Chris Thomas, Richard Mills and Rosanno Rossi
Umpire: Lloyd Taylor
Scorer: Ian Fletcher
Support: Keith and his wife
Report: Max Minor, cricket correspondent, Photography: Jessica Mancuso