Read the English version below.
Besonderes Cricket

Was macht das jährliche Alan Jefferys Match im Jenischpark eigentlich so besonders? Ist es die schöne Kulisse, eingerahmt vom herrschaftlichen Jenisch Haus im Norden und dem belebten Fluß im Süden? Ist es die verrückte Mischung von Spielern, jung und alt, männlich und weiblich, erfahren und unerfahren, deutsch und ausländisch (in diesem Jahr aus 7 Ländern), langjährige Teilnehmer und Neulinge? Ist es die fröhliche Stimmung in der jeder tatsächlich mitmacht, die Atmosphäre des Gemeinsam-ein-Spiel-Spielens statt einzeln verbissen um einen Sieg zu kämpfen? Ist es das kostenlose ERDINGER Bier, das die Flüssigkeitszufuhr und gute Laune von Spielern und Schiedsrichter vor, während und nach Getränkepausen aufrechterhält? Sind es die Pilgrims in ihren adretten Blazern, die Selbsternannten Förderer von Cricket eher als Geisteshaltung denn als Sport? Sind es vielleicht die Zuschauer, die entweder das unerwartete Spiel im Park bewundern oder einfach unbekümmert ihren Spaziergang über das Feld fortsetzen und die auffallenden Flaggen am Rand ignorieren? Oder ist es in Wirklichkeit der große australische Pate des Wanderpokals, der nicht nur auf der ganzen Welt davon berichtet, sondern die Veranstaltung mit Zuspruch und Hingabe beehrt.

Vielleicht ist es ein bißchen von allem. Um mehr von unabhängigen Quellen zu erfahren, hat der Korrespondent, der über die Jahre alle Alan Jefferys Matches erlebt und davon berichtet hat, ein altgedientes Mitglieder der Barbarians nach seiner Meinung gefragt, der schon Cricket gespielt hat "in der einen oder anderen Form – auf dem Hinterhof, am Strand, auf dem Gang im Studentenwohnheim und auf echten Pitches – während der Zeit, als ich in Neuseeland lebte. Jetzt spiele ich nur noch einmal im Jahr ein Cricketspiel – das Alan Jefferys Match. Das kommt davon, in Deutschland und ein Leben mit anderen Verpflichtungen zu leben, aber ich weiß wirklich die Gelegenheit zu schätzen, in diesem Match wieder zu spielen und mich dadurch erinnern zu lassen, warum ich diesen Sport so sehr liebe – die Geschicklichkeit zu bowlen oder einen Ball zu schlagen, die Kameradschaft, das Fair Play, das scherzhafte Geplänkel und die Freude, ein Wicket zu ergattern oder den Ball über die Grenze zu dreschen". Und hier ist, was ein Novize der Barbarians zu sagen hatte, zufällig auch aus Neuseeland: "Es hat mir so viel Spaß gemacht, Cricket zu spielen, wie nicht mehr, seit ich mit meinen Freunden im Hinterhof gespielt habe, als ich 14 war. Das Fehlen von Egoismus empfand ich als sehr erfrischend, keine Aggressionen, die Pilgrims schienen mehr daran interessiert, wenn überhaupt, sich selbst auf die Schippe zu nehmen, und es wurde allen Leuten die Möglichkeit gegeben, dabei zu sein und mitzumachen. Die Organisation war auch tadellos. Wenn das Spiel am Sonntag irgendwie aussagekräftig war, würde ich gerne wieder mitspielen".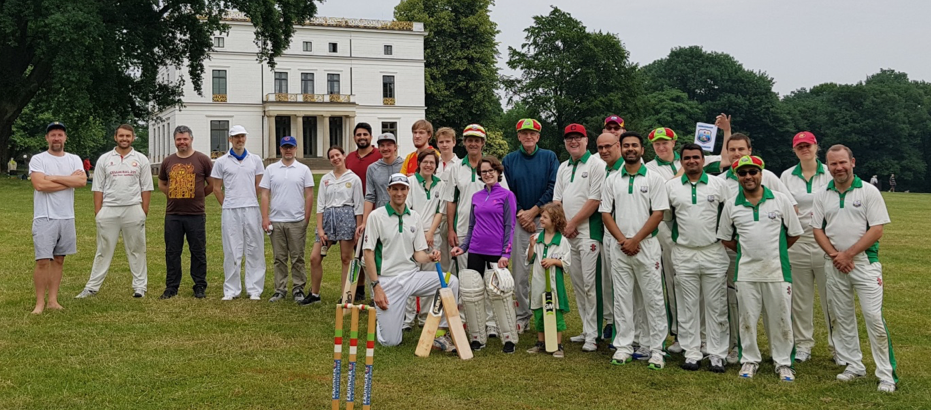 Was das Spiel selbst angeht, sollen die wesentlichen Einzelheiten nicht verschwiegen werden. Heligoland Pilgrims, kompetent angeführt von Prasad, gewannen das Los und entschieden sich zu schlagen – auf Vorschlag von Pilgrims Schatzmeister Cam, der sich freiwillig bereit erklärt hatte, THCC Barbarians anzuführen, so daß die Pilgrims sicher waren, die volle Kontrolle über beide Seiten zu haben. Auf einem Überraschungs-Pitch, das Bowler gegenüber Batsmen bevorzugte, legten die Pilgrims 113 für 4 nach 25 Overs vor und schafften es dann, die Barbarians auf 98 für 8 zu halten, so daß sie mit 15 Runs gewannen.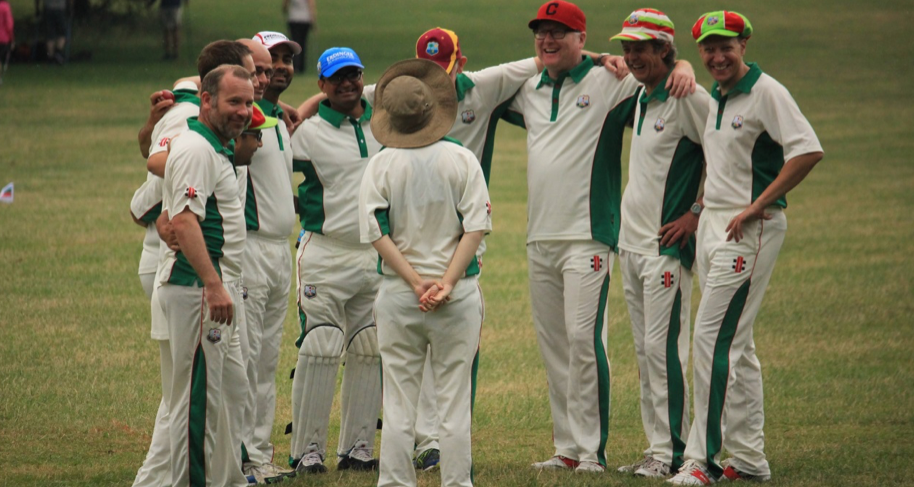 Und ob man es glaubt oder nicht: "Catches win matches". Von den 12 Wickets, die fielen, wurde nur eines von Ruben für THCC gebowlt (4-0-12-1), alle anderen wurden gefangen. Ruben hielt zwei Fänge für THCC, Muneeb hielt einen; die glücklichen Bowler waren Luke, Miriam und Jeff. Die höchste Punktzahl der Pilgrims, nämlich 32*, erzielte Jon, der später 2-1-1-0 bowlte und deshalb von Alan mit dem eingefaßten Spielball als Spieler des Tages ausgezeichnet wurde. Andere nennenswerte Punktstände wurden erreicht von Pilgrims Adrian (21*), Steve (12*) und Prasad (9*), die alle anschließend aussetzten, um anderen Spielern auch eine Chance zu schlagen zu geben.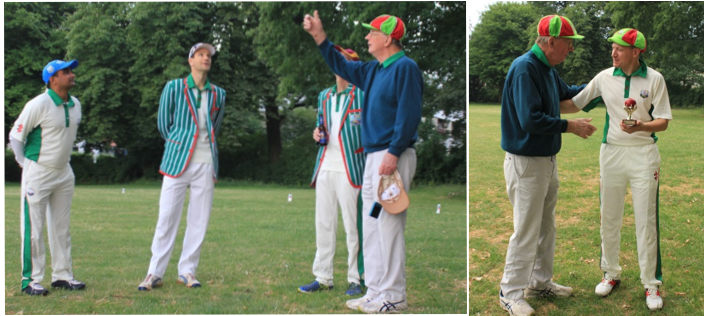 Eröffnungsspieler Jeff trug 20* zum Punktestand der Barbarians, 15* kamen von Nigel, 9* von Ruben und noch verzweifelte 8 (einschließlich der einzigen Boundary 6 des Tages) von Kapitän Cam, der die Schlagposition erst im letzten Over einnahm, zu spät im den Vorsprung von 24 Runs noch einzuholen. Die hervorragenden Fänger der Pilgrims verdienen einzelne Erwähnung: Dev, solide auf Mid-Wicket, Steve als erster Slip, einmal auf der Leg-Seite, einhändig mit links in teleskopartiger Zeitlupenbewegung knapp über dem Boden, das andere Mal ein Abpraller hoch rechts, Tina von ihrem eigenen Bowling einhändig auf Schulterhöhe, Mark B. hinter sich, lief unter dem Ball und versuchte verzweifelt, seine Bierflasche nicht zu verschütten, wobei er seine Mütze verlor, Adrian, der wie eine Gottesanbeterin niederkniete, Daniel und Prasad beide Bogenlampen hinter den Stumps. Tina und Daniel nahmen jeder 2 Wickets, Bianca, Nabeel, Mark B., und Prasad jeder eins.

Das Wetter war bewölkt mit leichtem Nieselregen während des Innings der Pilgrims. Allerdings verzog sich der drohende Donner und machte später Platz für etwas Sonnenschein, vor allem während des Grillens nach südafrikanischer Art nach dem Spiel. Nachdem sie Prasad, dem siegreichen Kapitän der Pilgrims, den Pokal überreicht hatte, schenkte sie dem Pilgrims Präsidenten ein Wimpelband in den Clubfarben zur Dekoration einer Heimstätte, nach dem ihr Club schon lange sucht. Vielleicht wird einer der Barbarians es in seiner Kneipe auf St. Pauli aufhängen – das wäre eine ideale Möglichkeit, das ganze Jahr über das Alan Jefferys Match anzukündigen. Die Veranstaltung soll im nächsten Jahr in den Jenischpark zurückkehren, und das werden vermutlich auch viele Spieler tun. Wer mit dazugehören möchte, sollte sich rechtzeitig den Pilgrims oder den Barbarians anschließen. Schließlich ist es eine ganz besondere Erfahrung, am AJM teilzunehmen.

THCC Barbarians: Cam (cpt. & wk), Harry, Jeff, Johann, Luke, Miriam, Muneeb, Nigel, Ruben, Rupert, Shane, Sophie
Heligoland Pilgrims: Prasad (cpt. & wk I), Adrian, Bianca, Cam, Daniel (wk II), Dev, Jon, Jürgen, Mark B., Moritz, Steve, Tina
Scorer: Alan Jefferys, supported by Anne Jefferys and Kerstin S.
Oberschiedsrichter: Mark R.
Text: Max Minor, Cricketkorrespondent, Photographie: Jessica Mancuso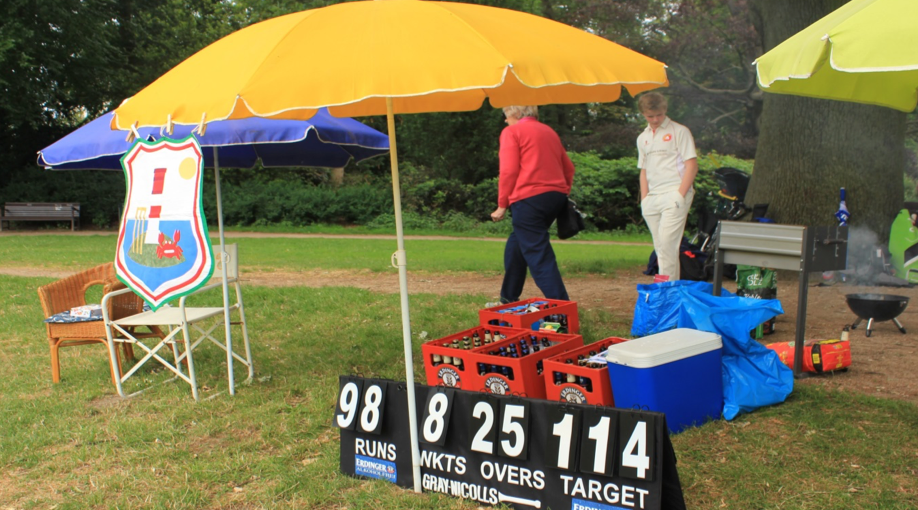 Special cricket

What is it that makes the annual Alan Jefferys Match in Jenisch Park so very special? Is it the beautiful setting in the park, framed by the stately Jenisch Haus in the north and the busy river further south? Is it the mad mix of players, young and old, male and female, experienced and unexperienced, German and foreign (7 countries this year), long-time attendants and newcomers? Is it the jolly spirit in which everyone is effectively participating, the atmosphere of playing a game altogether rather than individuals doggedly competing for victory? Is it the free ERDINGER beer which sustains players' and umpires' hydration and high spirits before, during and after drinks breaks? Is it the Pilgrims in their dapper blazers, the self-appointed promoters of cricket as a state of mind rather than a sport? Is it perhaps the public who either marvel at the unexpected match in the park or just continue unperturbedly walking across the field, ignoring conspicuously flagged boundaries? Or is it actually the presence of the great Australian godfather of the challenge cup who not only spreads the word all over the world but also graces the event with encouragement and dedication?

Maybe it is a bit of everything. In order to find out more from independent sources, your correspondent, who witnessed and reported all Alan Jefferys Matches over the years, has asked a stalwart member of the Barbarians who has played cricket "in one form or another – in the backyard, at the beach, in halls of student flats and on proper pitches – throughout my life while living in New Zealand. I now only play a game of cricket once a year – the Alan Jefferys Match. It's a consequence of living in Germany and a life with other commitments, but I really appreciate the chance the match gives me to play again and be reminded of why I love the sport so much – the skills involved to bowl a ball or play a shot, the camaraderie, the fair play, the playful banter, and the joy of taking a wicket or smashing a boundary". And here is what a Barbarian novice had to say, incidentally also from New Zealand: "I had the nicest time playing cricket that I have had since I was playing backyard with my friends when I was 14. I found the lack of ego very refreshing, no aggro, the Pilgrims seemed more interested in sledging themselves when at all, and a lot of space given for people just to be there and participate. The organisation was spot on too. If the game on Sunday is anything to go by, I'd happily play again".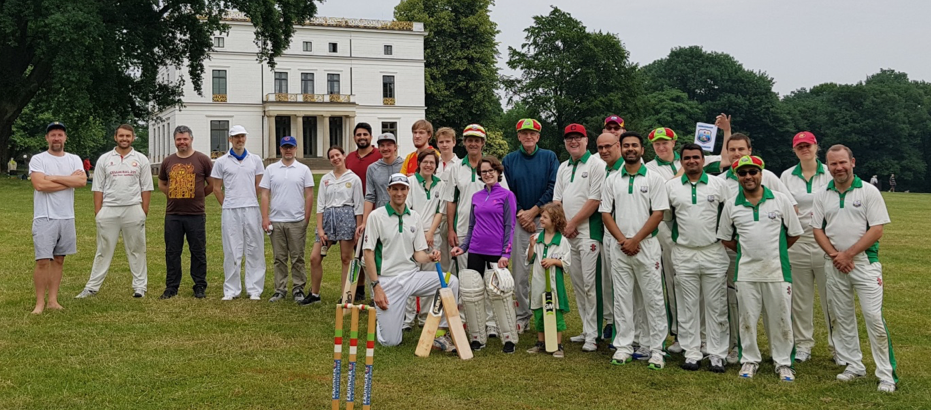 As regards the match itself, the relevant details shall not be kept secret. Heligoland Pilgrims, ably captained by Prasad, won the toss and elected to bat – following the suggestion of Pilgrims Treasurer Cam, who had volunteered to captain THCC Barbarians, thus ensuring that the Pilgrims were in full control on both sides. On a mystery pitch that favoured bowlers over batsmen, the Pilgrims put on 113 for 4 off 25 overs, and then managed to restrict the Barbarians to 98 for 8, thus winning by 15 runs.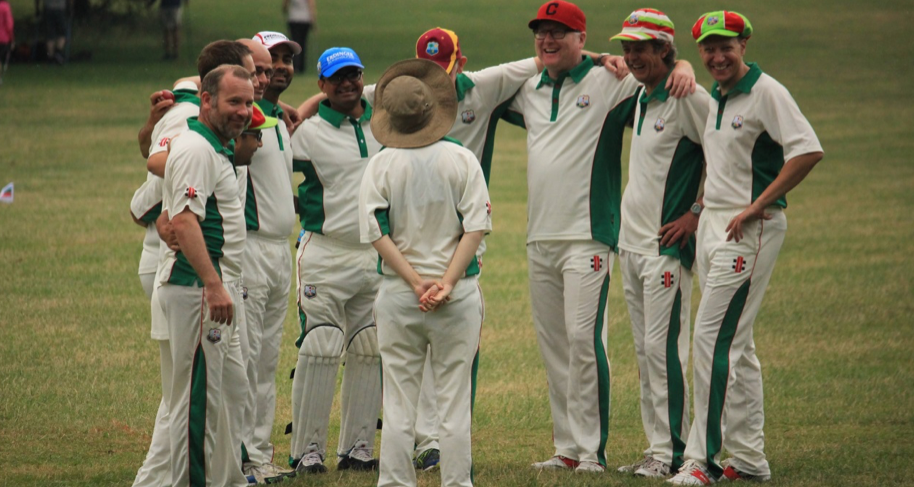 And believe it or not: Catches win matches. Of the 12 wickets that fell only one was bowled by Ruben for THCC (4-0-12-1), all others were caught. Ruben took two catches for THCC, Muneeb took one; the lucky bowlers were Luke, Miriam and Jeff. The Pilgrims' top score, namely 32*, was achieved by Jon who later bowled 2-1-1-0 and therefore was presented with the girded match ball as man of the match award by Alan. Other notable scores were reached by Pilgrims Adrian (21*), Steve (12*) and Prasad (9*), all of whom retired to give other players a chance to bat, too.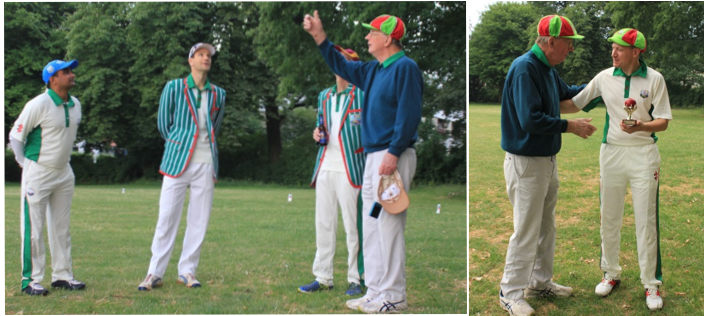 Opener Jeff contributed 20* to the Barbarians' score, 15* came from Nigel, 9* from Ruben and another desperate 8 (including the only boundary 6 of the day) from captain Cam who entered the crease only in the last over, too late to close the gap of 24 runs to win. The Pilgrims' superb catchers merit individual mention: Dev, solidly at mid-wicket, Steve at first slip, one towards leg side, single-handed with his left in telescopic slow motion just above the ground, another one edged high on his right, Tina off her own bowling single-handed at shoulder height, Mark B. turning back, running under the ball, desperately trying not to spill his bottle of beer, but losing his hat in doing so, Adrian kneeling down like a praying mantis, Daniel and Prasad both looping balls behind the stumps. Tina and Daniel took 2 wickets each, Bianca, Nabeel, Mark B., and Prasad one each.

The weather conditions were overcast with some drizzle during the Pilgrims' innings. However, the imminent thunder receded to give way to some sunshine later, especially during the South African style barbecue after the match. Having handed over the cup to victorious Pilgrims' captain Prasad, Anne Jefferys presented the Pilgrims President with a band of pennants in club colours to decorate a home their club has long been looking for. Maybe one of the Barbarians will display them in his pub on St. Pauli – this would be an ideal way of advertising the Alan Jefferys Match throughout the year. The event is scheduled to return to Jenisch Park next year and so are, presumably, many of the players. If you want to be in that number, why not join the Pilgrims or the Barbarians in time? After all, the AJM is a very special experience to participate in.

THCC Barbarians: Cam (cpt. & wk), Harry, Jeff, Johann, Luke, Miriam, Muneeb, Nigel, Ruben, Rupert, Shane, Sophie
Heligoland Pilgrims: Prasad (cpt. & wk I), Adrian, Bianca, Cam, Daniel (wk II), Dev, Jon, Jürgen, Mark B., Moritz, Steve, Tina
Scorer: Alan Jefferys, supported by Anne Jefferys and Kerstin S.
Head Umpire: Mark R.
Text: Max Minor, cricket correspondent, Photographs: Jessica Mancuso