Read the English version below.
Das Entscheidungsspiel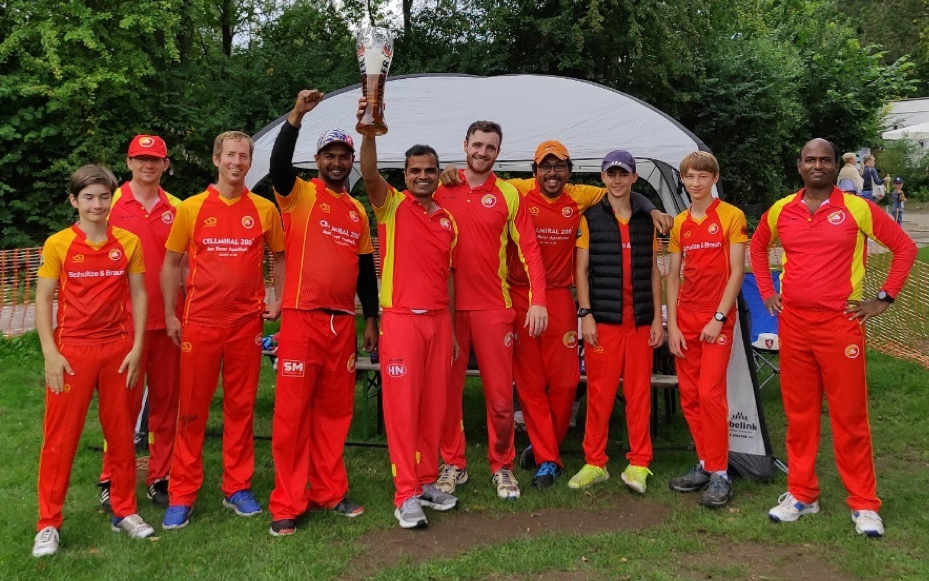 Viele Entscheidungen wurden im Hinblick auf "das Entscheidungsspiel" getroffen. Sie mündeten in der letzten Entscheidung: Die THCC Pandemics gewannen den zweiten ERDINGER Alkoholfrei Pandemie-Cup – verdientermaßen. Nachdem das erste Spiel der Serie unentschieden ausgegangen war und das zweite wegen Regens abgesagt werden mußte, hatte der Cricketwart des THCC beschlossen, das letzte Spiel verhängnisvoll als "das Entscheidungsspiel" zu bezeichnen. Dan hatte entschied, sich nicht für die Pilgrims-Mannschaft zu melden, Mithun hatte entschieden, seine Meldung zurückzuziehen, und Keith hatte entschieden, für die gegnerische Mannschaft zu spielen – schwere Schläge für die Siegchancen der Pilgrims. Pilgrims-Kapitän Jon hatte beschlossen, den Hamburg-Marathon zu ignorieren und verpaßte so das Los, das er hätte gewinnen können. THCC-Kapitän Sudhir, der das Los gewann, entschied, daß sein Team den feuchten und bewölkten Morgen nutzen und als erstes bowlen würde. Moritz hatte entschieden, nicht zu batten, wurde aber von seinem Kapitän überstimmt. Aswin entschied sich, sein Wicket mit seinem ersten sauberen Ball zu nehmen.

Danach schien es als hatte die Wickets der Pilgrims entschieden, in vergleichsweise kurzen Abständen zu fallen. Das wurde nicht nur dadurch möglich, daß Angus und Oscar den Ball ständig abtrockneten, sondern vor allem dadurch, daß die Hälfte der Batsmen ausschied, ohne punkten zu können. Nur der zuverlässige Cam (45) und der zähe Thomas (15) hielten die Hoffnungen der Pilgrims auf eine verteidigungsfähige Punktzahl mit einer 57 Runs-Partnerschaft am Leben. Doch nach Devs kämpferischem Nachhut-Angriff (26) und dem Auftritt eines gewissen Mr. Wide (33) blieb ein Gesamtergebnis von 131 Runs aus 33 Overs bescheiden. Dieses magere Resultat ist den insgesamt 11 Bowlern des THCC zu verdanken, insbesondere Oscar, dessen Bowling von Cam ein entscheidender Wendepunkt des Spiels war. Der unentwegte Keith holte ein weiteres Wicket, Abhik holte 2 für 11, Aswin 3 für 7 und Buddhika glänzte mit 4-2-4-4, wobei er 2 Wicket-Maidens erreichte und einen Durchschnitt von 1 Run pro Wicket erzielte. Keith fing auch 2 Bälle, einen hinter dem Wicket und den anderen auf dem Feld, und sein Sohn Farren fing 2 weitere Bälle auf dem Feld.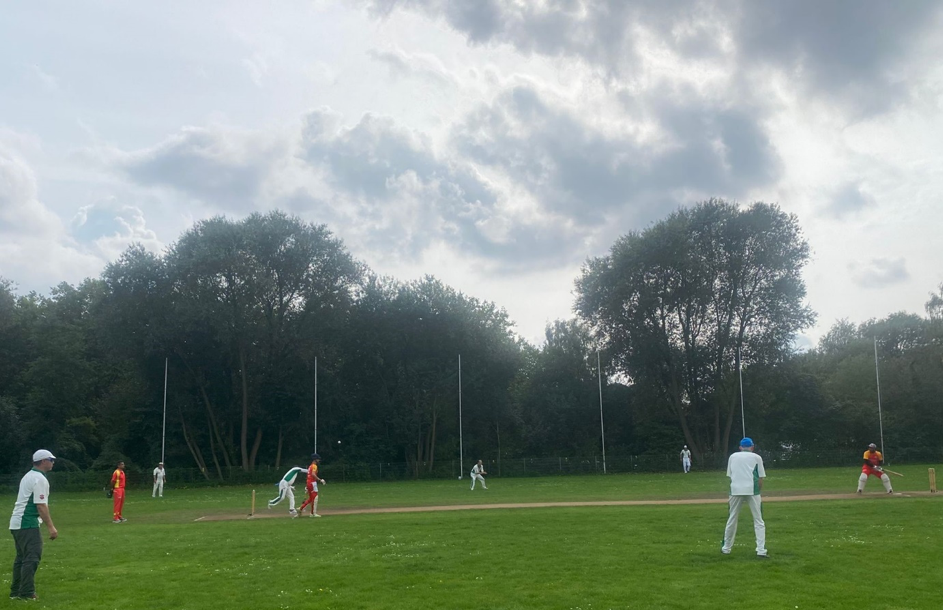 Das frühe Aus der Pilgrims ließ den THCC Pandemics viel Zeit, um ihr Ziel zu erreichen, sie hätten tatsächlich 29 Overs spielen können. Sudhir entschied offenbar, das Beste daraus zu machen. Er ließ Keith (37*) und Buddhika (45*) bis kurz nach der Mittagspause das Batting eröffnen. Dann, bei einem Spielstand von 77 Runs nach 10 Overs, gab er seinen jungen Batsmen Oscar, Farren und Connor die Chance, sich dem Bowling der Pilgrims zu stellen. Hier schlugen die Bowler der Pilgrims zu, Matthew und Prasad zweimal und Jörg einmal; die anderen sieben hatten keine Chance gegen die starke Hintermannschaft des THCC. Angus (31*) entschied sich, mit der linken Hand zu schlagen, da er seine rechte Hand brauchte, um nach seiner Flasche ERDINGER (Alkoholfrei?) zu greifen. Endlich, im 26. Over, als jeder Pandemics-Batsman zum Einsatz gekommen war, wechselte Kapitän Sudhir sich für Angus ein und erzielte den Sieges-Run, passenderweise von Kapitän Jon.
Wie ein bekannter internationaler Beobachter bemerkte: Es war großartig, die aufstrebenden Jugendspieler des THCC in einem ihrer ersten Wettkampfspiele zu sehen. Ihre Trainer hatten die richtige Entscheidung getroffen, sie in das Team der Pandemics aufzunehmen. Eine gute Mischung aus jungen und alten, erfahrenen und lernwilligen, ausländischen und einheimischen Spielern machte die Heimmannschaft zu einem würdigen Sieger des Cups. Die beeindruckend starke und ruhige Gesamtleistung von Buddhika brachte ihm die unbestrittene Auszeichnung als Mann des Spiels ein. Und der Korrespondent ist der Meinung, daß auch Abhik eine Auszeichnung verdient: Er war das beste Opfer von Beleidigungen des Tages und ertrug den albernen Humor, der über ihn hereinbrach, mit einem wunderbar breiten Lächeln.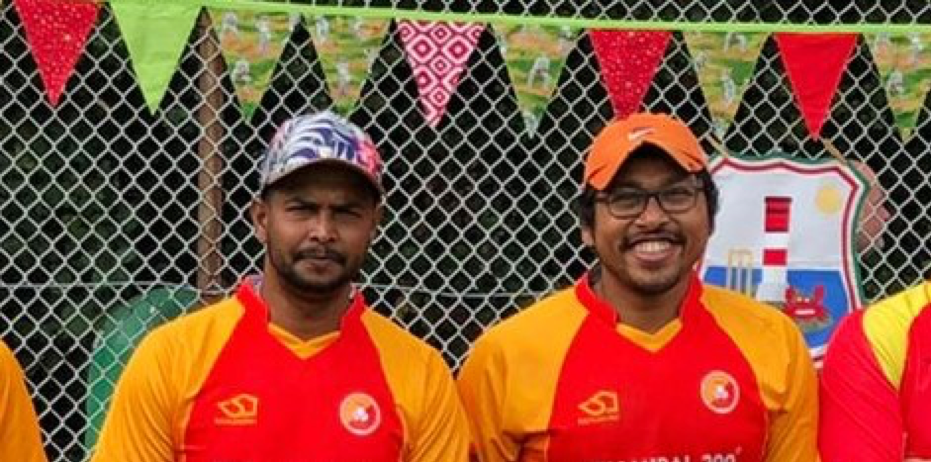 Fazit aus der Perspektive von Heligoland Pilgrims: Mit dem ERDINGER Alkoholfrei Pandemia Cup haben die Insulaner eine dringend benötigte Entlastung in der anhaltenden Cricket-Dürre in Hamburg gefunden. Vor allem das Zeitspielformat hat den THCC Pandemics zu schaffen gemacht, nicht nur in den Momenten, in denen die Pilgrims Zeit zu schinden schienen, z.B. durch intensives Fegen des Pitches oder vorgebliche Strategiebesprechungen. Natürlich kommt dieses Format der entspannten Herangehensweise der Pilgrims an ihren Sport zugute. Sobald sie jedoch auf einen starken Gegner treffen, können sie nur noch Cricket spielen, scheinen aber nicht mehr in der Lage zu sein, Spiele zu gewinnen. Sollen sie versuchen, das zu ändern, oder sollen sie sich an ihr jüngstes Motto halten: "stick to the plan"? Das sollen sie entscheiden.
Heligoland Pilgrims: Jon (cpt.), Bai, Cam, Chris, Dev, Jörg, Thomas (wk.), Matthew, Moritz, Nigel, Prasad and Mark B. (12th)
THCC Pandemics: Sudhir (cpt,), Angus, Abhik, Aswin, Buddhika E., Connor, Ferran, Keith, Michael, Oscar, Pritam
Scorer: Abhi
Report: Max Minor, Cricket-Korrespondent, Übersetzung: Max Minor (with DeepL)
Photographie: Abhinand Jha, Kerstin Jefferys, Prasad Thute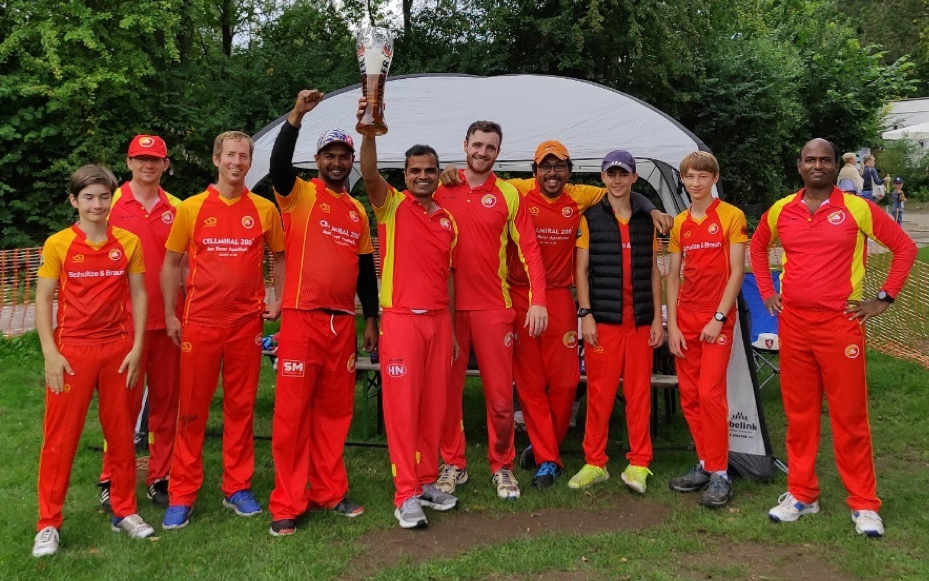 Many decisions were made with regard to "the decider". They culminated in the ultimate decision: THCC Pandemics won the second ERDINGER Alkoholfrei Pandemia Cup – deservedly. After the first match of the series had been drawn and the second rained off, THCC's cricket officer had decided to ominously label the last match "the decider". Dan had decided not to register for the Pilgrims team, Mithun had decided to withdraw his registration and Keith had decided to play for the opposition – some considerable blows to the Pilgrims' chances of winning. Pilgrims' Captain Jon had decided to ignore the Hamburg marathon and thus missed the toss which he might have won. THCC's captain Sudhir, who won the toss, decided his team would make use of the damp and overcast morning and bowl first. Moritz had decided not open the batting but was overruled by his captain. Aswin decided to take his wicket with his first clean ball.

Thereafter it seemed the Pilgrims' wickets had decided to fall in comparatively short intervals. This was facilitated not only by Angus and Oscar permanently drying the ball, but mainly by half of the batsmen getting out without having been able to score. Only reliable Cam (45) and dogged Thomas (15) managed to keep the Pilgrims' hopes of compiling a defendable target alive with a 57 runs partnership. But after Dev's fighting rear-guard attack (26) and the cameo of a certain Mr. Wide (33), a total of 131 all out off 33 overs remained unimpressive. Credit for this meagre result must be given to THCC's altogether 11 bowlers, especially Oscar, whose bowling of Cam was a decisive turning-point of the match. Stalwart Keith took another wicket, Abhik picked 2 for 11, Aswin 3 for 7 and Buddhika excelled with figures of 4-2-4-4 which included 2 wicket maidens and averaged 1 run per wicket. Keith also caught 2 balls, one behind the stumps, the other whilst fielding, and his son Farren held 2 more catches in the field.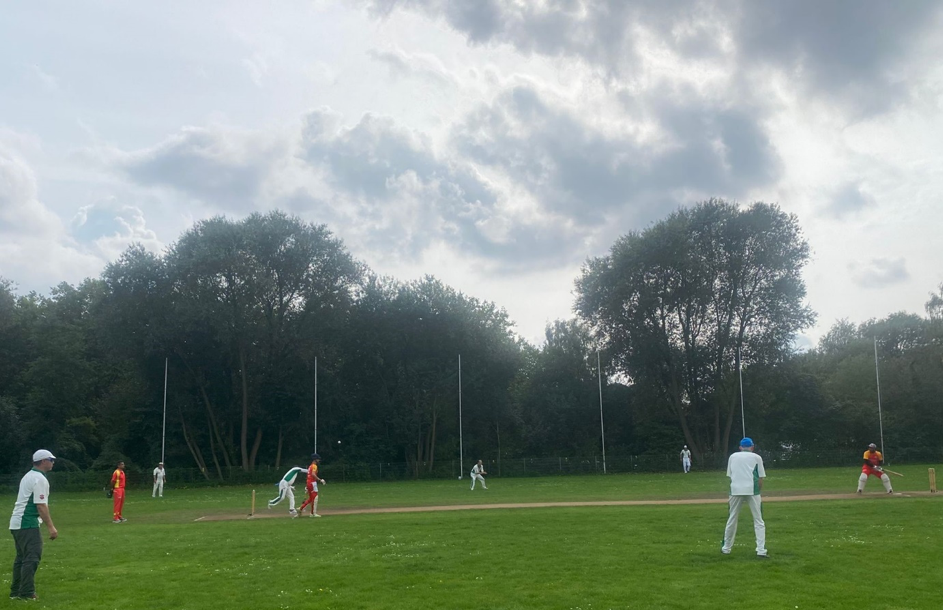 The Pilgrims' early demise left THCC Pandemics with plenty of time to reach their target, indeed they could have batted for 29 overs. Sudhir apparently decided to make the most of it. He let Keith (37*) and Buddhika (45*) open the batting until shortly after lunch. Then, at a score of 77 off 10 overs, he gave his young batsmen, Oscar, Farren and Connor, a chance to face the Pilgrims' bowling. This is where the Pilgrims' bowlers struck, Matthew and Prasad twice and Jörg once; the other seven had no chance against THCC's heavy tail. Angus (31*) decided to bat left-handed as he needed his right hand to reach for his bottle of ERDINGER (Alkoholfrei?). At last, in the 26th over, when every Pandemic bat had been wielded, captain Sudhir replaced Angus to score the winning run, fittingly off captain Jon.
As has been remarked by a well-known international observer: It was superb to see THCC's emerging youth players in one of their first competitive matches. Their coaches had made the right decision to include them in the Pandemics team. A good mixture of young and old, experienced and eager, foreign and home-grown made the home squad a worthy winner of the Cup. Buddhika's impressively powerful and composed all-round performance earned him the undisputed man of the match award. And your correspondent has decided that Abhik also deserves an award: He was the best sledged player of the day, and took all the silly humour that effused over him with a wonderfully broad smile.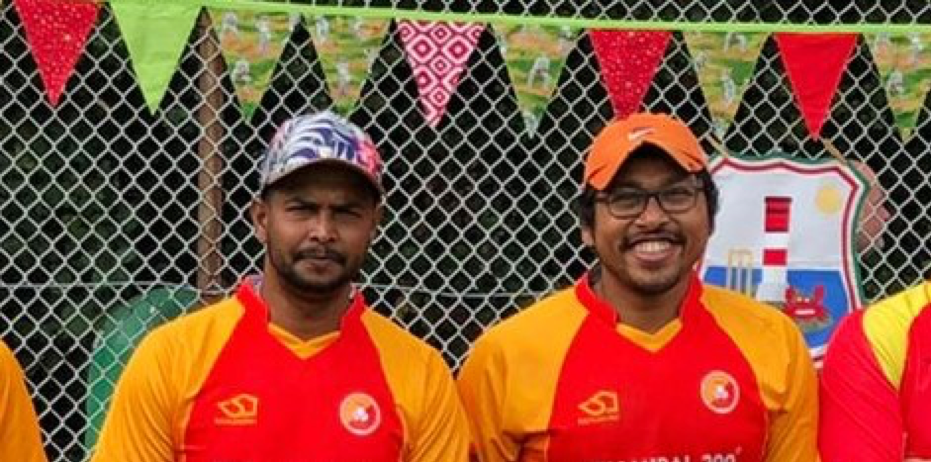 Conclusion from a Heligoland Pilgrims perspective: With the ERDINGER Alkoholfrei Pandemia Cup the islanders have found a badly needed relief from the persistent cricket drought in Hamburg. Especially the time game format has been challenging for THCC Pandemics, not only at times when the Pilgrims appeared to waste time, e.g. by intensively brushing the pitch or entering phoney strategy discussions. Of course, the Pilgrims' relaxed approach to their sport is favoured by this format. However, once they face a strong opponent, they can only play cricket, but seem to be unable to win matches. Should they try to change that or should they adhere to their recent motto "stick to the plan"? Let them decide.
Heligoland Pilgrims: Jon (cpt.), Bai, Cam, Chris, Dev, Jörg, Thomas (wk.), Matthew, Moritz, Nigel, Prasad and Mark B. (12th)
THCC Pandemics: Sudhir (cpt,), Angus (wk 2), Abhik, Aswin, Buddhika E., Connor, Ferran, Keith (wk 1), Michael, Oscar, Pritam
Scorer: Abhi
Report: Max Minor, Cricket-Correspondent
Photography: Abhinand Jha, Kerstin Jefferys, Prasad Thute