Read the English version below.
Cricket ist lustig

"Cricket ist lustiger, als ich dachte", sagte eine uneingeweihte Zuschauerin nach dem Spiel. In der Tat war das, was diese junge Dame beobachtet hatte, eine der lustigsten Veranstaltungen auf dem THCC-Oval seit Menschengedenken. Das war natürlich auch der ursprüngliche Plan für das allererste Mark Richardson Memorial Match gewesen. Zeugen können bestätigen, daß die Spieler viel Spaß hatten, daß sie das Publikum unterhielten, und Mark hätte es sicher gefallen. Es war ein herrlicher Tag, sonnig und windig, mit fröhlichem Cricket, vor den Augen von Anja als Ehrengast, und einer Handvoll Zuschauer, die zum wohltätigen Zweck der Spieler beitrugen: mindestens 1.000 € für das Emmaus-Hospiz in Blankenese zu sammeln.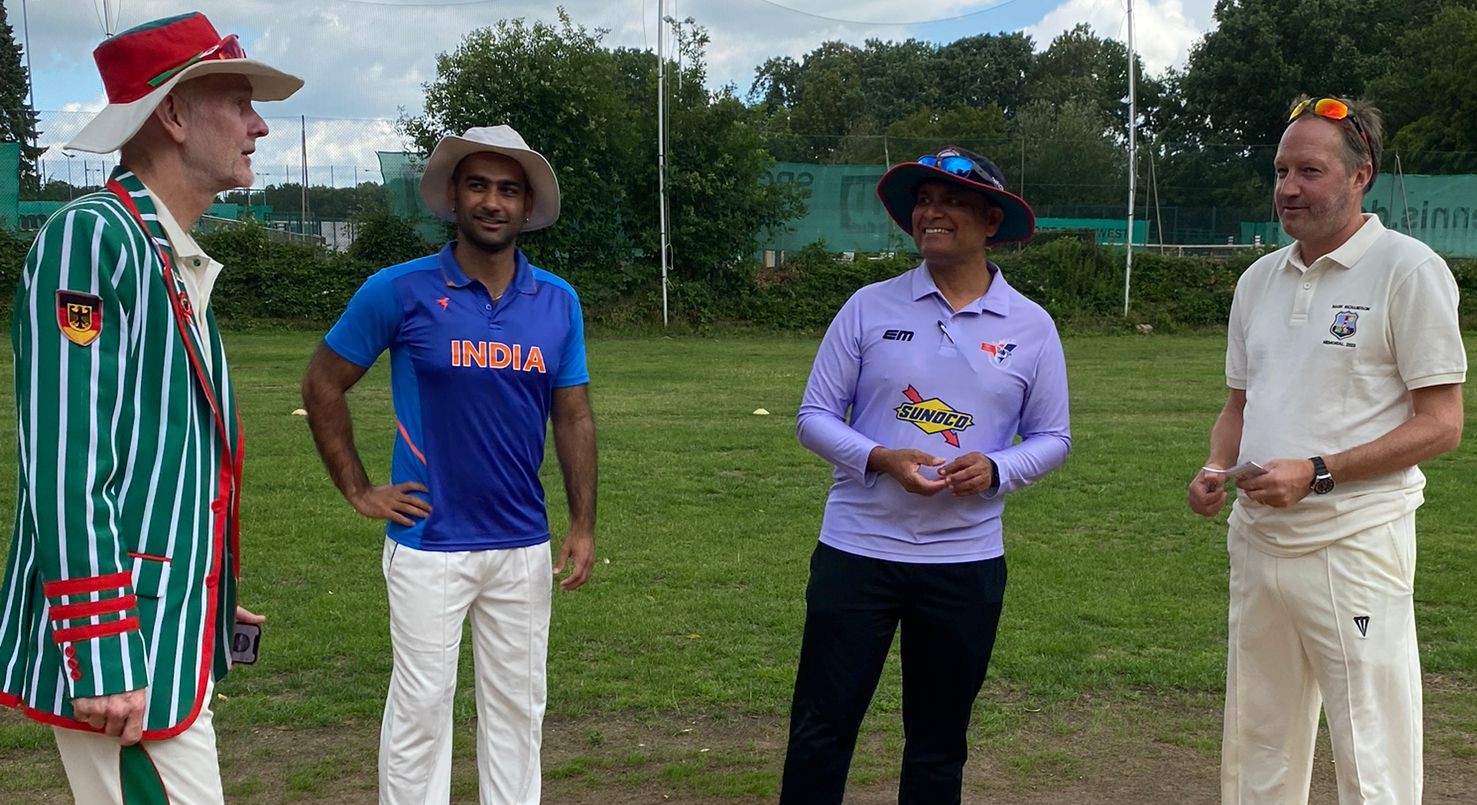 Zum Gedenken an ihren verstorbenen Ehrenvizepräsidenten hatten sich 22 Vereinsmitglieder in speziell angefertigten cremeweißen Gedenkhemden in Klein Flottbek eingefunden, jung und alt, männlich und weiblich, fit und eingerostet, bis aus London, München und Rosengarten; drei konnten kurzfristig nicht kommen, einer aus Tostedt stieß nach der Spielpause dazu. Aufgrund einer ursprünglichen Idee von Sid war es das erste Mal, daß Heligoland Pilgrims ein Spiel gegen sich selbst veranstalteten. Es war also von Anfang an klar, daß niemand wirklich verlieren konnte. Marks Bruder Matt führte die Richardson Pilgrims als Kapitän an, zu denen auch Marks Sohn Luke gehörte, und wurde von Surya als Vize-Kapitän tatkräftig unterstützt. Die Pilgrims President's XI wurde nominell von Moritz angeführt, tatsächlich aber leitete Schatzmeister Cam das Team, da der Präsident andere Aufgaben zu erledigen hatte.
Es war seine Idee gewesen, das 5,5-stündige Spiel mit einem Live-Kommentar zu begleiten, und Moritz lieferte die erste Hälfte dieser Vorstellung ab, gelegentlich von Rick und Karthik entlastet. Das ermöglichte es den Zuschauern, die bisher mit den Regeln nicht vertraut waren, eine Einführung in die Cricket-Grundlagen sowie in einige Feinheiten des mäandernden Spiels zu erhalten. Da die Lautsprecher den gesamten Platz beschallten, konnten auch die Spieler mithören – und die Kommentatoren konnten sie direkt ansprechen. Während des zweiten Innings und bevor er schließlich durch Dev ersetzt wurde, übernahm Andy das Mikrofon. Ohne daß seine Vereinskameraden es gewußt hatten, entpuppte sich der professionelle Pfarrer als unterhaltsamster Kommentator, und seine witzigen Plaudereien werden sicherlich von niemandem auf dem Spielfeld vergessen werden.

Er feuerte die Spieler nicht nur an, sondern machte sich manchmal auch über ihre Bemühungen lustig. Er sah auch Dinge, die andere nicht erkennen konnten, sei es in den sich ständig verändernden Positionen im Feld oder in den individuellen Aktionen der Cricketspieler. Zeigte Surya wirklich Angst vor den Bowlern, indem er fluoreszierende orangefarbene Pads anlegte? Warum um alles in der Welt sollte jemand Satya als den "Muchkin" aus München bezeichnen? Und wer sonst hätte Dan mit einem australischen Känguruh verglichen? Es wurde für die Feldspieler und Schlagmänner zunehmend schwierig, sich auf ihr Spiel zu konzentrieren, ganz zu schweigen von den stets durstigen Schiedsrichtern, so urkomisch waren seine begeisternden Kommentare. Für diese witzige Showeinlage und seine ungeschlagenen 25*, mit denen er den Richardson Pilgrims das Unentschieden rettete, wurde Andy als Mann des Spiels ausgezeichnet und erhielt ein rotes Hemd.

Und das, obwohl Bai mit 51* (und einem Maiden Over), Abhi mit 45 (von 28) und Dev mit 39 (von 30) die meisten Runs erzielten. Weitere Not-Outs waren die Eröffnungsspieler Keith 18* und Cam 29* (von 24), Satya 15* (von 14) und Jon 9*. Wie es bei den Pilgrims üblich ist, erhielt jeder eine Chance zum Bowlen, wobei Satya (6-2-11-2), Rick (2-27), Moritz (2-37) und Nabeel (2-41) am erfolgreichsten waren. Jeweils ein Wicket wurde von Dev, Bianca, Chris, Su, Abhi, Dan und Götz geholt. Drei Fänge gingen auf das Konto von Karthik hinter dem Wicket, zwei auf das von Surya hinter dem anderen Wicket und je einer auf das von Jon und Luke im Feld. Das einzige Run-Out wurde von Trived als Keeper erzielt.

Ein besonderer Dank ging an Julia und Oliver, die freundlicherweise die Veranstaltung als Vertreter des Emmaus-Hospizes besuchten, an die THCC-Schiedsrichter Jasveer und Dhaval, die über 71 Overs lang intensiv gegen Dehydrierung im Feld ankämpften, und an Sven, der genügend Vorräte für ein anständiges Grillen besorgt hatte, sowie an Nabeel und Keith, die den Grill bedienten. Unmengen von Marks Abschiedsbier "Noakes Baltic Amber Ale" wurden während und nach dem Spiel von Teilnehmern und Zuschauern konsumiert, im Austausch gegen Spenden. Auch einige rote und grüne Souvenir-Shirts wurden für den guten Zweck verkauft. Am Ende waren sich alle einig: Diese Art von Veranstaltung muß im nächsten Jahr wiederholt werden – hoffentlich mit einer größeren Zuschauerzahl. Wo sonst kann man mehr oder sogar besseren Cricket-Spaß erleben?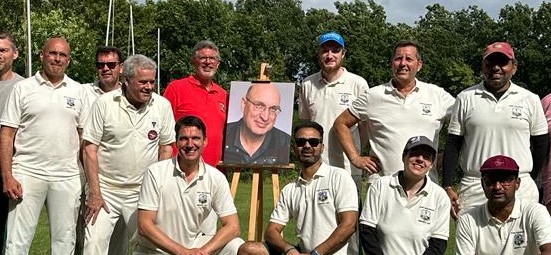 Richardson Pilgrims: Matt (c) Surya (vc, wk I), Jörg, Bianca, Jürgen, Chris, Dev, Trived (wk II), Luke, Nabeel, Jon und Andy (abwesend: James)
Pilgrims President's XI: Moritz (c), Karthik (wk), Satya, Cam (vc), Rick, Bai, Götz, Sven, Keith, Dan und Abhi (abwesend: Sid und Mithun)
Schiedsrichter: Jasveer und Dhaval
Ehrengast: Anja
Bericht: Max Minor, Cricket-Correspondent (Übersetzung: Max Minor mit DeepL)
Photographie: Karthik Suresh, Richard Bamford

Cricket is funny

"Cricket is funnier than I had thought" said an uninitiated bystander after the match. Indeed, what this young lady had observed was one of the funniest events on the THCC Oval in living memory. Of course, that had been the original plan for the very first Mark Richardson Memorial Match. Witnesses can confirm the players had lots of fun, they kept the audience entertained, and Mark would certainly have loved it. It was a glorious day, sunny and breezy, with jolly cricket, observed by Anja as guest of honour, and a handful of spectators who contributed to the players' charitable cause: raising at least 1,000 € for the Emmaus Hospice in Blankenese.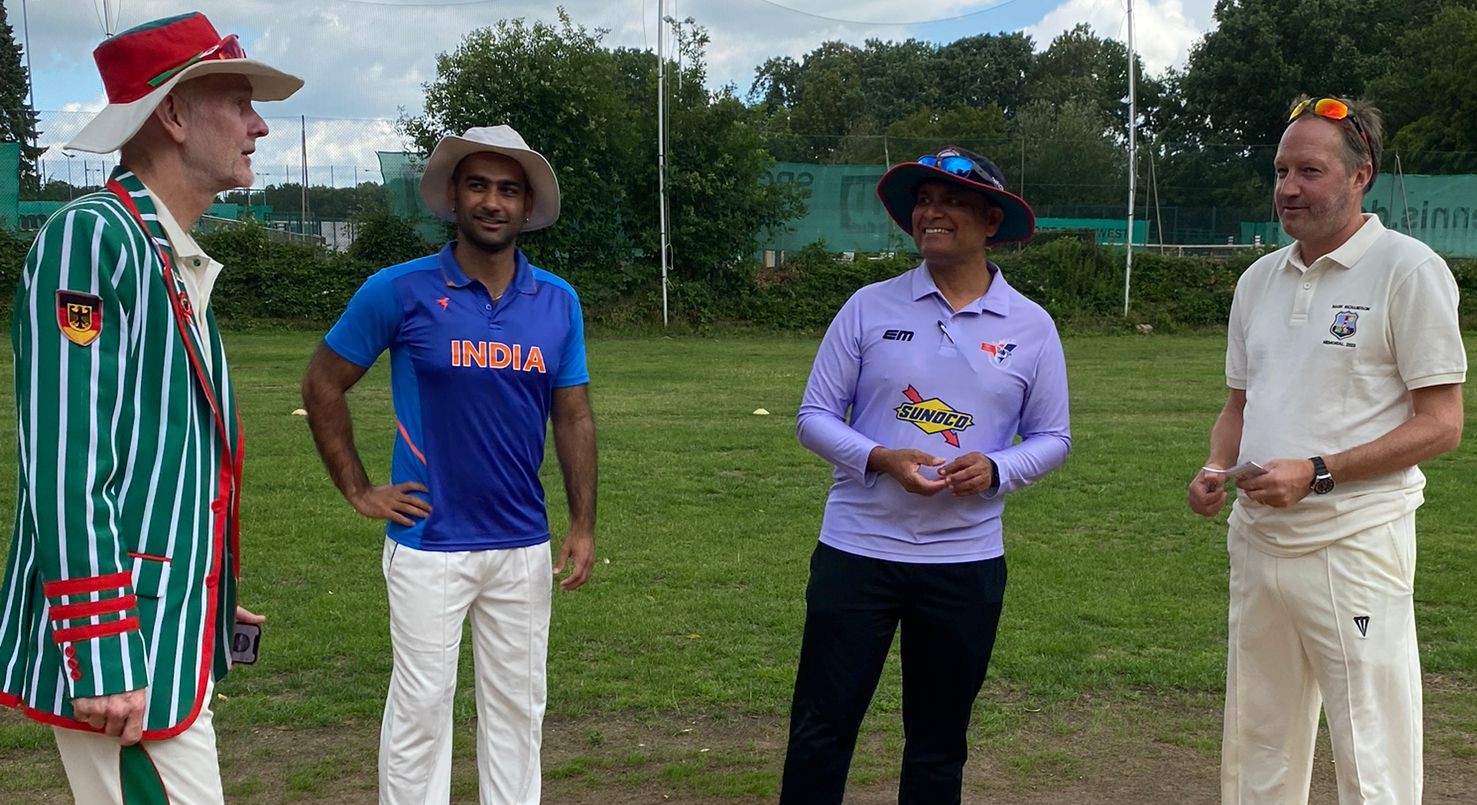 To remember their late honorary vice president, 22 club members in custom-made cream white memorial shirts had gathered in Klein Flottbek, young and old, male and female, fit and rusty, from as far as London, Munich and Rosengarten; three could not make it at short notice, and one from Tostedt joined in after the innings break. Following an original idea of Sid, it was the first time that Heligoland Pilgrims staged a match against themselves. So, it was clear from the outset no-one could not really lose. Mark's brother Matt captained the Richardson Pilgrims, including Mark's son Luke, ably supported by Surya as vice-captain. The Pilgrims President's XI was nominally captained by Moritz, in fact, however, treasurer Cam led the team, because the president had other tasks to handle.
It had been his idea to accompany the 5.5 hours match with live commentary, and Moritz delivered the first half of this performance, from time to time relieved by Rick and Karthik. This made it possible for spectators so far unfamiliar with the laws to receive an introduction into cricket-basics as well as some intricacies of the meandering game. As the speakers sounded over the whole ground it also allowed players to listen in – and commentators to address them directly. During the second innings, and before ultimately being replaced by Dev, Andy took over the microphone. Unbeknown to his club mates, the learned parson emerged as the most entertaining commentator, and his comic chit-chat will surely not be forgotten by anyone on the field.

Not only was he encouraging players, or sometimes mocking their efforts. He also saw things others could not detect, be it in the ever-changing field settings or individual actions of the cricketers. Was Surya really showing fear of the bowlers by putting on fluorescent orange pads? Why on earth should anyone label Satya the Munchkin from Munich? And who else would have compared Dan with an Australian kangaroo? It became increasingly difficult for fielders and batsmen alike to concentrate on their game, not to mention the permanently thirsty umpires, so hilarious was his inspiring commentary. For this funny show-element, and an unbeaten 25* to save the draw for the Richardson Pilgrims, Andy was awarded the Man of the Match award and given a red shirt.

This was in spite of the fact that Bai top-scored 51* (and bowled a maiden over), Abhi 45 (off 28) and Dev 39 (off 30). Other not-outs were retired openers Keith 18* and Cam 29* (off 24), Satya 15* (off 14), and Jon 9*. In true Pilgrims' style, everyone was given a chance to bowl, the most successful being Satya (6-2-11-2), Rick (2-27), Moritz (2-37) and Nabeel (2-41). One wicket each was taken by Dev, Bianca, Chris, Su, Abhi, Dan and Götz. Three catches were held by Karthik behind the wicket, two by Surya behind the other wicket, and one each by Jon and Luke in the field. The only run-out was effected by Trived whilst keeping.

Special thanks went Julia and Oliver, who kindly visited the event representing the Emmaus Hospice, THCC-umpires Jasveer and Dhaval, who fought intensively against dehydration in the field for more than 71 overs, and Sven, who had procured sufficient supplies for a decent barbecue, as well as Nabeel and Keith, who operated the grill. Copious amounts of Mark's farewell beer "Noakes Baltic Amber Ale" were consumed during and after the match by participants and spectators, in exchange for donations. Some red and green souvenir-shirts were also sold for charity. At the end everyone agreed: this type of event must be repeated next year – hopefully with a larger audience. Where else could you find more or even better cricket-fun?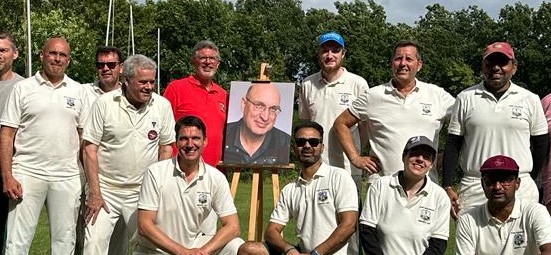 Richardson Pilgrims: Matt (c) Surya (vc, wk I), Jörg, Bianca, Jürgen, Chris, Dev, Trived (wk II), Luke, Nabeel, Jon and Andy (absent: James)
Pilgrims President's XI: Moritz (c), Karthik (wk), Satya, Cam (vc), Rick, Bai, Götz, Sven, Keith, Dan and Abhi (absent: Sid and Mithun)
Umpires: Jasveer and Dhaval
Guest of honour: Anja
Report: Max Minor, Cricket-Correspondent
Photography: Karthik Suresh, Richard Bamford