Read the English version below.
100% fehlerfrei

Bai war zuversichtlich, daß Helgoland Pilgrims mithalten könnten. Sie schienen die schwächere der beiden Mannschaften zu sein, die um den Atlantik Cup spielten. Aber der Kapitän hatte einen Plan: Wenn jeder 100% gäbe, würden die Pilgrims das Spiel nicht verlieren. Vor dem ersten Innings ermutigte Bai sein Team daher, Fehler zu vermeiden. "Und wenn ihr einen Fehler macht, dann wiederholt ihn bitte nicht". Diese Zauberformel wurde von allen leicht verstanden. Und sie funktionierte – nicht zuletzt, weil Bai mit gutem Beispiel voran ging. Er lieferte eine fehlerfreie Leistung ab, erzielte 64 Runs, nahm insgesamt 5 Wickets, davon 3 für Ducks, und fing in jedem Innings einen Ball. Am Ende retteten die Pilgrims das Spiel in ein spannendes Unentschieden gegen die THCC Voyagers mit nur zwei verbleibenden Wickets.

Die Tour als solche war nicht einfach zu veranstalten gewesen. Ein zwielichtiger englischer Gegner hatte sich nur sechs Wochen vor dem vereinbarten Termin zurückgezogen. Die Fähre war gebucht, der Platz auf der Insel reserviert, Herbergsbetten waren vorhanden, aber niemand, gegen den man spielen konnte! Mitten in der Saison erwies es sich als unmöglich, einen Ersatz aus England zu finden. Also griff der Präsident der Pilgrims erneut auf den Schwesterverein THCC Rot-Gelb Hamburg zurück, der den Cup zuletzt 2014 gewonnen hatte. Als sechs THCC-Mitglieder zusagten und drei Pilgrims sich freiwillig meldeten, um für den Gegner zu spielen, war die Tour wieder am Leben. Und siehe da, innerhalb einer Woche vor dem Spiel meldeten sich zwei weitere Spieler, darunter der neue Pilgrim John, so daß beide Teams endlich komplett waren.

Alle erschienen pünktlich zur Fähre in Hamburg. Nach einer ruhigen Überfahrt kamen die Touristen auf Helgoland an, bezogen ihr Quartier in der Jugendherberge und erkundeten die Insel an einem sonnigen Freitagnachmittag und -abend. Am Sonnabendmorgen begaben sich die Cricketspieler auf den örtlichen Sportplatz und bereiteten das Pitch in der richtigen Länge vor. Der THCC gewann das Los und entschied sich zu schlagen. Alle Spieler versammelten sich auf dem Mittelkreis für eine Schweigeminute zum Gedenken an Mark Richardson, den kürzlich verstorbenen Ehrenvizepräsidenten der Pilgrims. Dann wurde der erste Tag des zweitägigen Pokalspiels traditionell mit den Klängen von "Soul Limbo" eingeleitet und verlief wie folgt:

Bai nimmt den Ball und eröffnet das Bowling gegen den starken Wind vom Meer. Bereits im 4. Over entfernen die Pilgrims Voyagers Opener Keshav durch ein knappes Run-out; Mithun hat den Ball schnell von Mid-Off zu Keeper Andy geworfen. Dann holt Bai zwei Wickets mit zwei Bällen, Opener Sid, einer der Pilgrims, die für den Gegner spielen, wird von Moritz wunderschön über Kopf auf Deep Point gefangen, und Karthik, ein weiterer Pilgrim in den Farben der Voyagers, wird für eine erste Duck sauber gebowlt. Nabeel beginnt seinen Bowling-Einsatz mit einem Wicket Maiden, indem er Rishab sicher auf Long-Off von Rick gefangen bekommt. Auf dem Feld werden keine Fehler gemacht, von Wiederholungen ganz zu schweigen. Die Tafel zeigt 60/4 nach 10 Overs.
Die Pilgrims bleiben auf Kurs. Nach 21 Overs steht es 125/8 für die Voyagers. Mithun hat Sarmad (20) gebowlt, Nabeel hat Rahul gebowlt, Bai hat Yash (34) von Ricks Bowling gefangen und Chris hat John lbw erwischt. Abhi jedoch, der dritte Pilgrim-Voyager, schafft es, das halbe Hundert zu überschreiten (56); dann lupft er den Ball zu Thomas, der daran denkt, Fehler zu vermeiden, und ihn tief auf Long-On fängt. Nur der junge Voyager Akhil läßt sich von den engen Angriffen der Pilgrims nicht aus der Ruhe bringen; er überlebt ungeschlagen mit 45* bis zum 40sten Over. Der umsichtige Kapitän der Voyagers, Dhaval, hat sich selbst als letzter ins Spiel gebracht und erhöht mit schnellen 24 Runs den Spielstand auf 241 all out; er fällt lbw auf einen sanften, aber täuschend geraden Ball von Götz.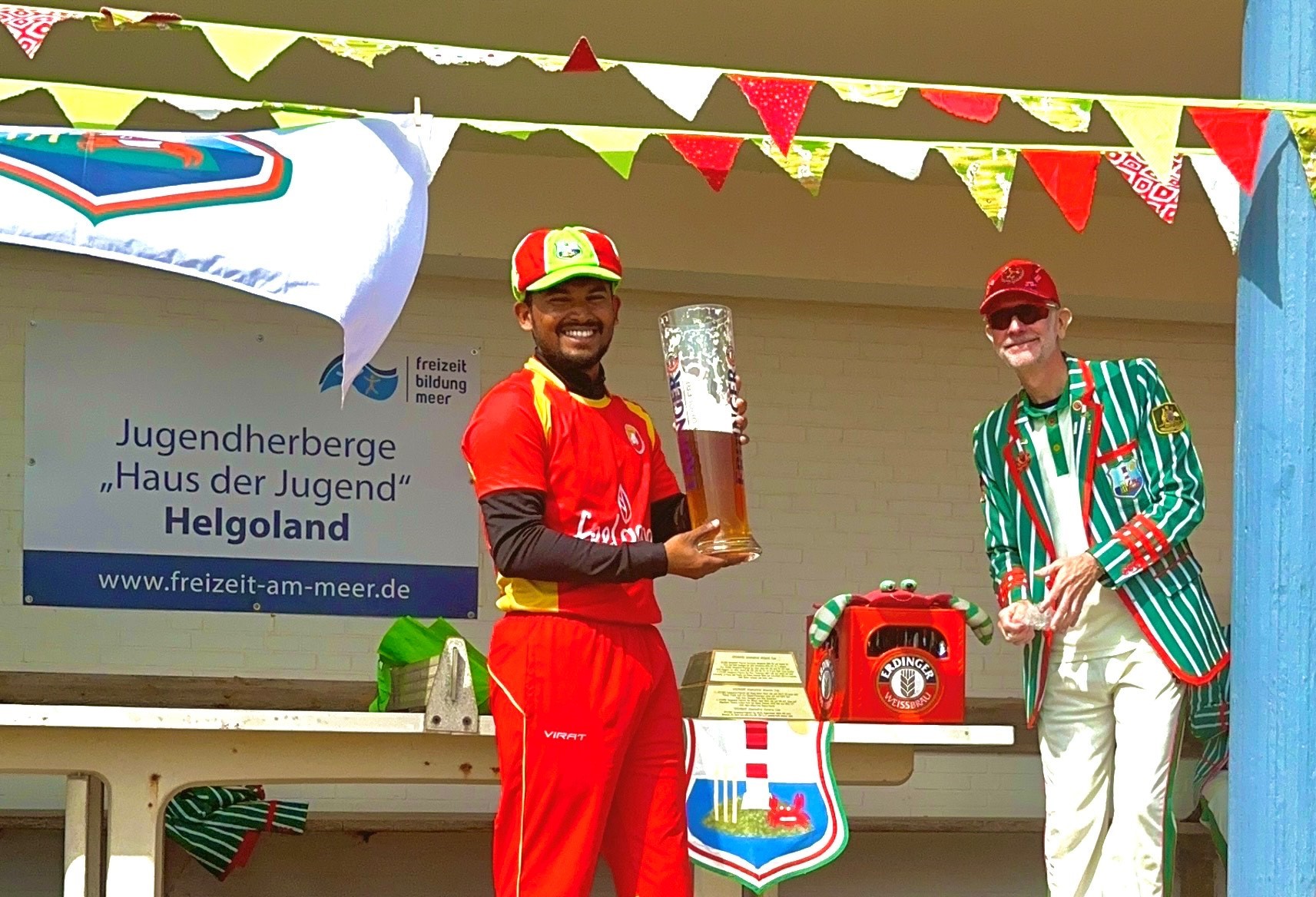 Nach der Mittagspause mit köstlichem Kuchen aus dem Panorama-Hotel-Café und ERDINGER-Bier beginnen die Pilgrims langsam ihr Innings. Moritz hat offensichtlich keine Lust zu punkten, vor allem nicht während es eine Stunde lang regnet. Gegen alle Bowler der Voyagers überlebt er insgesamt 5 Partner bis zum 34. Over, als er auf 25 (von 82 Bällen) einen Ball von Abhi zu Sarmad ablenkt. Kapitän Bai führt die Scores mit starken 64 Runs an (inkl. 11 x 4 und 4 x 6), bis er von Sid gebowlt wird, dessen Zahlen von 4-3-5-1 beeindrucken. Sonst sind die Schlagmänner des Heimteams nicht so erfolgreich, lediglich Chris (16), Mithun (14) und Rick (13) erreichen zweistellige Werte. Ihr Vereinsmitglied Karthik hingegen erzielt 2-16 für die Gegner, Übertroffen wird das noch von Dhavals herausragenden Bowling-Zahlen von 4-1-13-3 (inkl. ein Wicket c&b und eine Duck). Keshav holt auch 1 Wicket und fängt 1 Ball.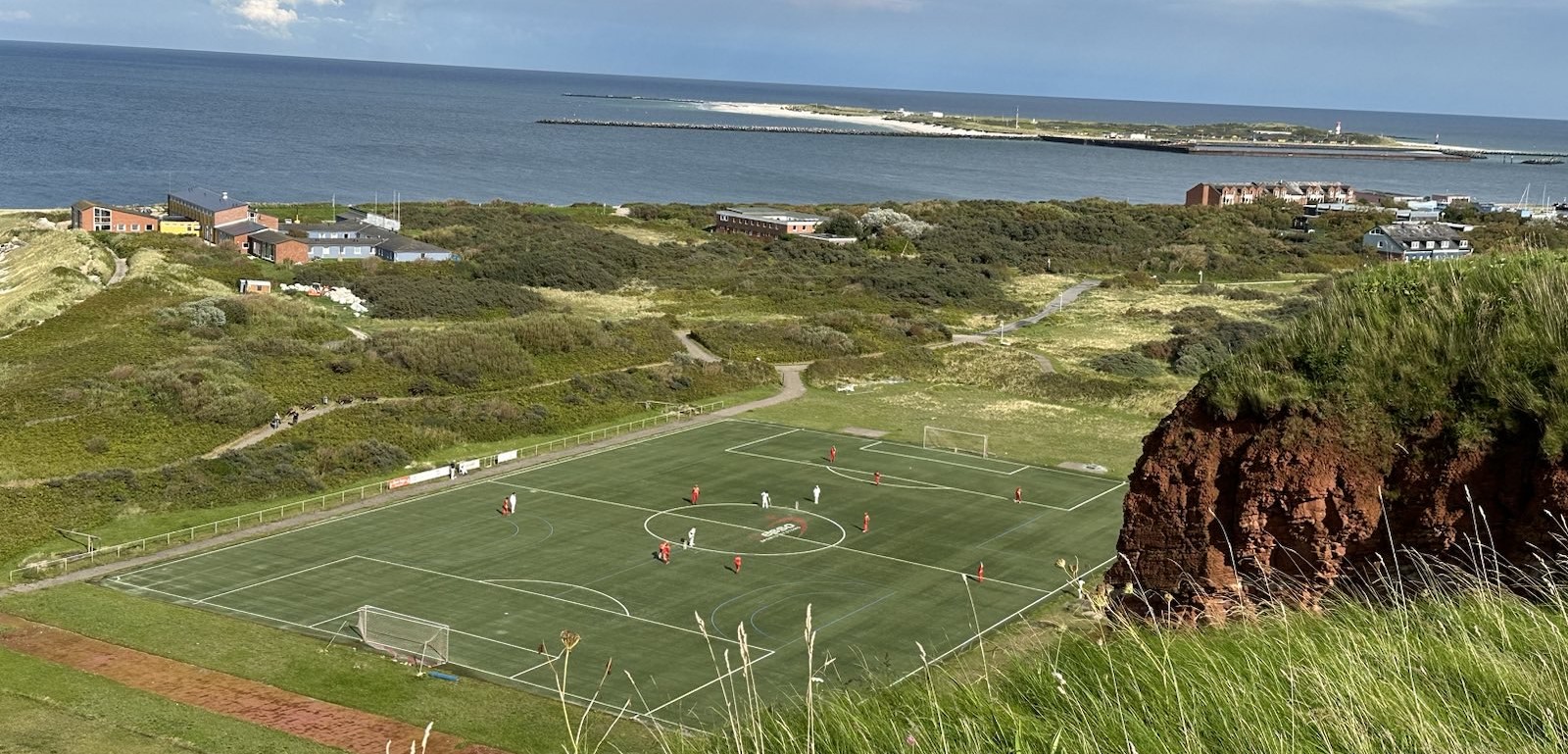 Mit nur 195/8 lagen die Pilgrims am Ende des ersten Tages 46 Runs hinter den Voyagers. Dieser Vorsprung hätte genügen müssen, um am folgenden Sonntag ein haltbares Ziel zu erreichen. Wie konnten die Voyagers mit ihrer stärkeren Mannschaft, unterstützt von drei der besten Pilgrims und einen Veteranen, den Atlantik Cup nicht gegen eine Pilgrims-Mannschaft gewinnen, die aus insgesamt sieben sonst nicht mehr aktiven Spielern bestand? Nun, sie hatten es mit einer Heimmannschaft zu tun, die sich an den Plan ihres Kapitäns hielt. Sie unterstützten ihre Bowler und einander im Feld, jeder gab 100%, und Bai selbst gab sogar noch ein bißchen mehr. So verlief der zweite Tag des Spiels:

Bai und Mithun fetzen durch die erste Hälfte der Voyagers. Das Scorebook listet die folgenden Zahlen für die ersten sechs Batsmen auf: 0, 5, 0, 8, 0, 0; das schließt Karthiks zweite Duck ein. Bais magische Zahlen lauten 4-0-5-3, Mithun hat 2-23 genommen, und die Anzeigetafel zeigt nach 5 Overs unglaubliche 12/5 an. Nach einer Weile schaffen es Sid (28, lbw für Chris), Abhi (49, lbw für Jon) und Keshav (30*), das Schiff zu stabilisieren. Nabeel holt ein weiteres Wicket und einen Fang, weitere Bälle werden von Bai und Andy hinter den Stumps gefangen. Beim Stand von 138/8 nach 23 Overs denken die Voyagers über ihre Declaration nach. Da schlägt Rick zu und holt sich die restlichen 2 Wickets, ein Ball wird von Mithun gefangen, Andy gelingt ein Stumping. Ein Ergebnis von 144 all out bedeutet einen Vorsprung von 190 – oder ein Ziel von 191, das in 75 Minuten erreicht werden muß, unterbrochen von delikaten Fischbrötchen und mehr ERDINGER Bier.

Die Pilgrims wissen, daß sie die benötigte Schlagzahl nicht erreichen können. Aber sie sind optimistisch, daß sie bis zum Ende des Spiels am Schlag bleiben können – wenn sie Fehler vermeiden. Die Voyagers versuchen ihr Bestes und erledigen Götz noch vor der Mittagspause. Mithun (10), Jörg, Nabeel und Thomas verlieren ihre Wickets in den ersten paar Overs der letzten Stunde, der Spielstand ist 26/5 nach 7 Overs, und noch 45 Minuten zu spielen. Die Voyagers kassieren 3 Ducks und entfernen 3 weitere Batsmen im einstelligen Bereich. Maiden Overs kommen von Dhaval, der wieder mit 4-1-21-3 glänzt, und Sid, der mit 3-2-1-2 nachzieht. Yash holt 2-2 und sogar Großvater John ist mit 1-1 erfolgreich. Keshav und Sarmad fangen jeweils 1 Ball.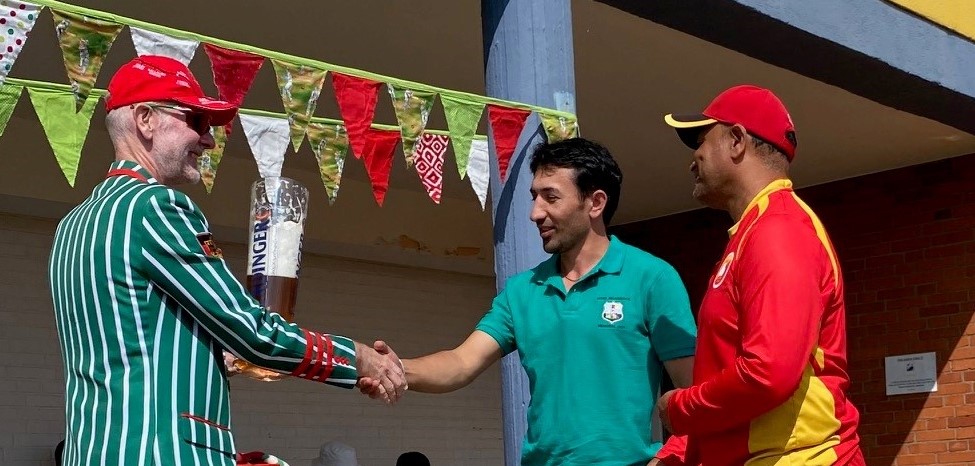 Die Anzeige hat sich extrem langsam von 46/7 nach 13 auf 63/7 nach 19 Overs bewegt. Jon allein hat dem Angriff bis jetzt standgehalten und ist solide stehen geblieben (28*), im wesentlichen unterstützt von Andy (10) und Chris. Plötzlich wird Chris von Dhaval gebowlt, noch 3 Bälle zu spielen, 2 Wickets für die Voyagers, keine Chance auf den Sieg für die Pilgrims. Moritz muß sich an den Schlag begeben, Rick ist aufgestanden, er ist der letzte Mann auf der Bank. Die Voyagers ziehen ihr Feld zusammen. Der erste Ball wird geblockt, der zweite auch, das Spiel ist technisch unentschieden. Moritz wendet sich zu linkshändigem Schlag, Dhaval bowlt einen Ball auf die Leg-Side, könnte das ein Wide sein? Nein, Schiedsrichter Götz hat genug gesehen, er gibt keinen Extrapunkt, das Spiel ist vorbei.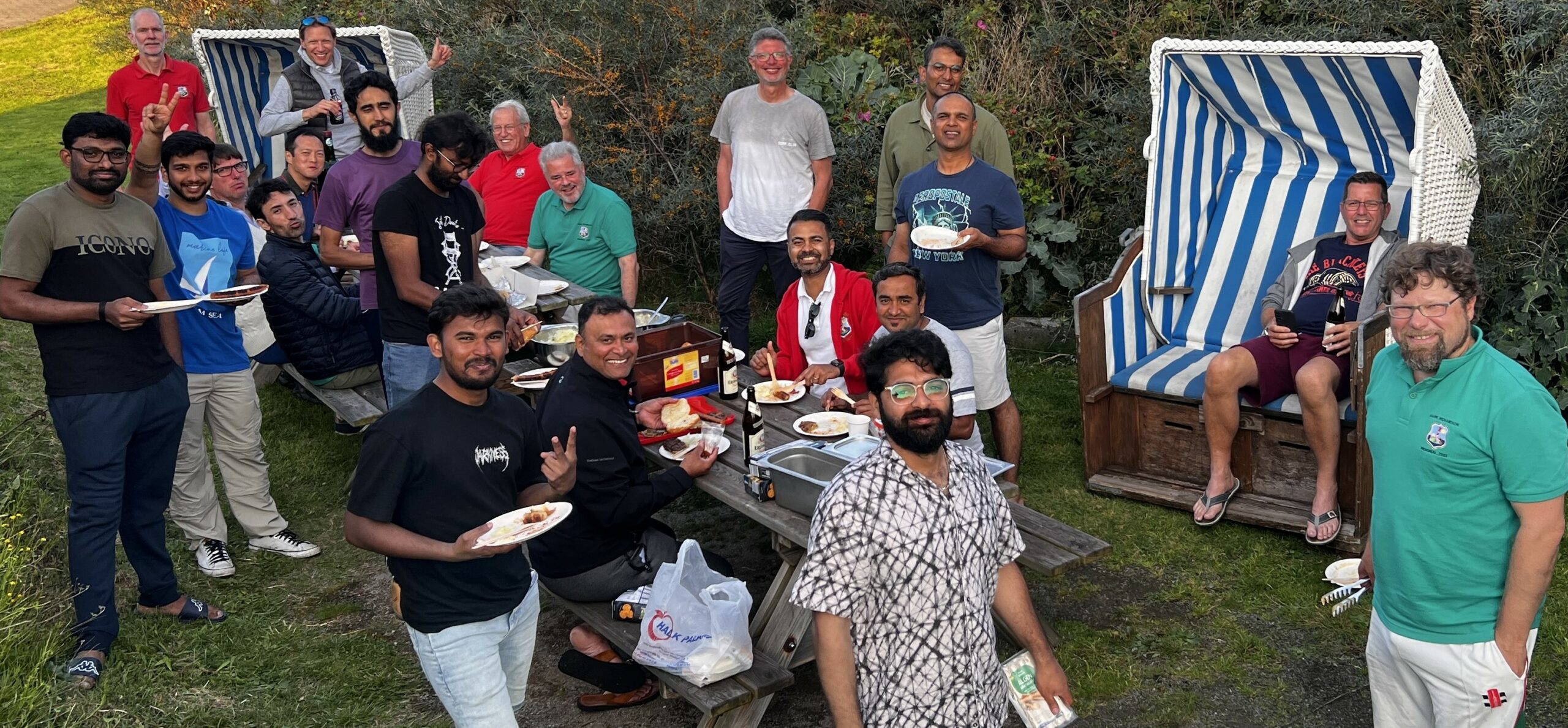 Glückwunsch an beide Teams. Ein wunderbares zweitägiges Cricketspiel, bei dem jeder mehr als eine Chance bekam, sich einzubringen und zu glänzen. Auf die Frage, was er vom Atlantik-Cup hielt, faßte der Veteran John, der sein allererstes Pilgrims-Match bestritt (für den Gegner!), es in drei Buchstaben zusammen: "Fun". Das galt auch für das traditionelle, fröhliche und von ERDINGER inspirierte Grillen am Sonnabendabend, gefolgt von einer Schachpartie unter freiem Himmel, die alle in ihren Bann zog. Die Voyagers teilten Johns Ansicht, wobei einer von ihnen meinte, daß sie so etwas nicht erwartet und auch nicht für möglich gehalten hätten.
Die Siegerehrung nach dem Spiel wurde wegen Regens vorsorglich zur Jugendherberge verlegt. Doch der Pokal konnte beiden Kapitänen bei strahlendem Sonnenschein überreicht werden. Die Auszeichnung "Man of the Match" ging an Voyager Akhil für sein beherztes Spiel am ersten Tag, die andere – nach einstimmigem Beschluß der Gegner – an Bai auf Seiten der Pilgrims. In seiner Abschlußrede dankte Bai dem Präsidenten der Pilgrims für die Organisation der Veranstaltung. Seine Dankbarkeit wurde von allen geteilt. Auf der Rückfahrt mit der Fähre sah Andy rundum glückliche und zufriedene Gesichter, und der Präsident stellte am Ende fest, daß eine solche unglaubliche Tour ohne den Einsatz aller Teilnehmer nicht möglich gewesen wäre. Die Pilgrims werden im nächsten Jahr nach Helgoland zurückkehren.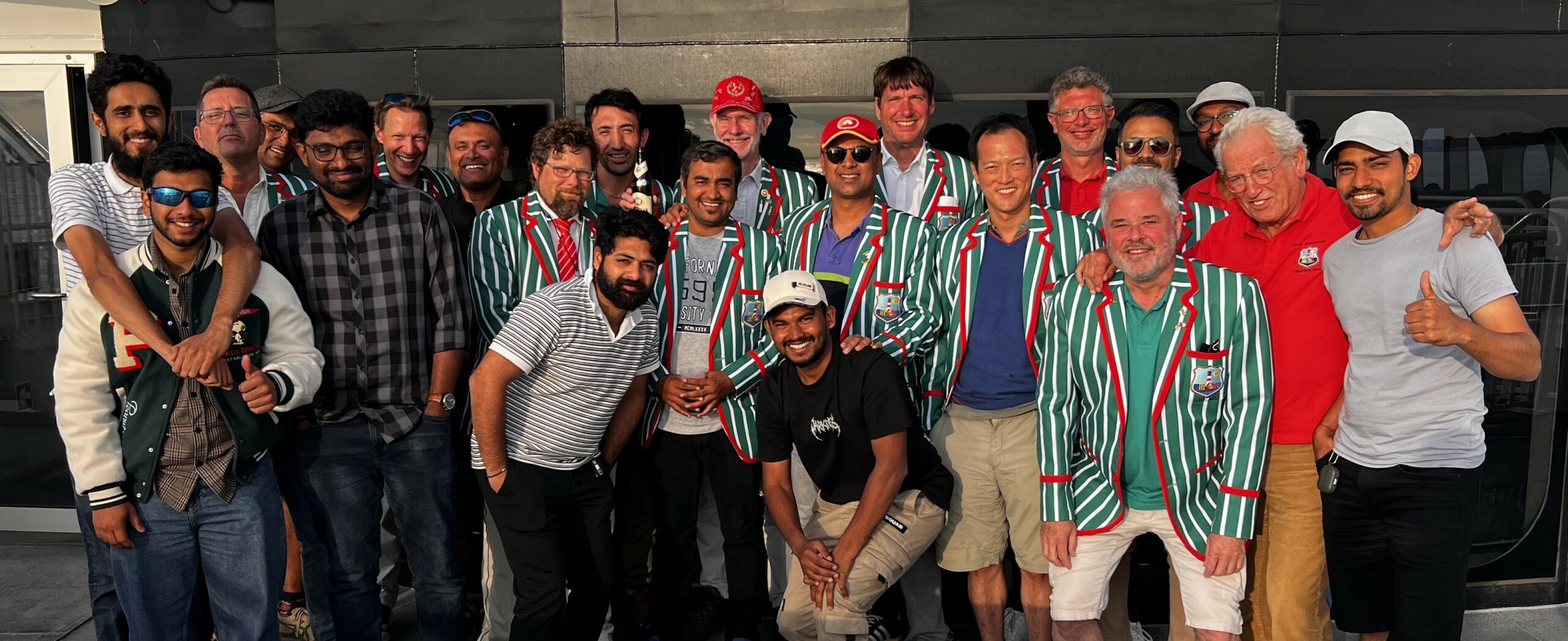 Heligoland Pilgrims: Bai (c.), Andy (wk.), Chris, Götz, Jon, Jörg, Mithun, Moritz, Nabeel, Rick, Thomas
THCC Rot-Gelb Hamburg Voyagers: Dhaval (c.), Abhi, Akhil, John, Karthik (wk.), Keshav, Rahul, Rishab, Sarmad, Sid, Yash
Report: Max Minor, Cricket-Correspondent (Übersetzung Max Minor mit DeepL)
Photographie: Richard Bamford, Andreas Timm, Rishab Saxena, Carsten Oelrichs, Nabeel Iqbal, Siddharth Vallath, Akhil Dunna


Bai was confident Heligoland Pilgrims could compete. They looked the weaker of two teams playing for the Atlantik Cup. But the captain had a plan: If everyone gave 100%, the Pilgrims would not lose the match. Before the first innings Bai thus encouraged his team to avoid mistakes. "And if you make a mistake, please do not repeat it". This magic formula was easily understood by everyone. And it worked – not least because Bai led by example. He delivered a flawless performance, top scoring 64 runs, taking altogether 5 wickets, 3 of them for ducks, and holding 1 catch in each innings. At the end, the Pilgrims saved an exciting draw against THCC Voyagers with only two wickets standing.

The tour as such had not been easy to stage. A dodgy English opponent had withdrawn a mere six weeks before the agreed date. The ferry had been booked, the island ground had been reserved, hostel beds were available, but no-one to play against! In the middle of the season, it proved impossible to find a replacement from England. So, the Pilgrims President resorted to their sister club THCC Rot-Gelb Hamburg once again, who had last won the Cup in 2014. When six THCC members confirmed and three Pilgrims volunteered to play for the opposition, the tour was on again. And lo and behold, within a week of the match, two more players signed up, including new Pilgrim John, so that both teams were complete at last.

Everyone turned up on time for the ferry in Hamburg. After a calm voyage the tourists arrived on Heligoland, camped down at the youth hostel and explored the island on a sunny Friday afternoon and evening. On Saturday morning the cricketers ventured to the local sports field and prepared the pitch in the correct length. THCC won the toss and elected to bat. All players gathered on the central circle for a minute of silence to remember Mark Richardson, the Pilgrims' recently deceased honorary vice president. Then, introduced as per tradition by the sound of "Soul Limbo", the first day of the two-day cup match unfolded like this:

Bai takes the ball and opens the bowling against the strong wind from the sea. Already in the 4th over the Pilgrims remove Voyager's opener Keshav in a close run-out; Mithun has thrown the ball swiftly from mid-off to keeper Andy. Then Bai takes 2 wickets with 2 balls, opener Sid, one of the Pilgrims playing for the opposition, is caught beautifully overhead at deep point by Moritz, and Karthik, another Pilgrim in Voyagers' colours, is clean bowled for a first duck. Nabeel commences his bowling spell with a wicket maiden, getting Rishab caught safely at long-off by Rick. No faults are made in the field, not to mention repetitions. The scoreboard shows 60/4 after 10 overs.
The Pilgrims stay on course. After 21 overs the Voyagers' score is 125/8. Mithun has bowled Sarmad (20), Nabeel has bowled Rahul, Bai has caught Yash (34) off Rick's bowling and Chris has trapped John lbw. Abhi, however, the third Pilgrims-Voyager, manages to scrape beyond the half century mark (56); then he hoiks the ball to Thomas who remembers to avoid mistakes and catches it low at long-on. Only young Voyager Akhil does not budge the Pilgrims' tight onslaught; he survives unbeaten into the 40th over on 45*. Voyagers' circumspect captain Dhaval has brought himself on last and with a quick-fire 24 pushes the score to 241 all out; he is lbw to a gentle, but deceivingly straight ball by Götz.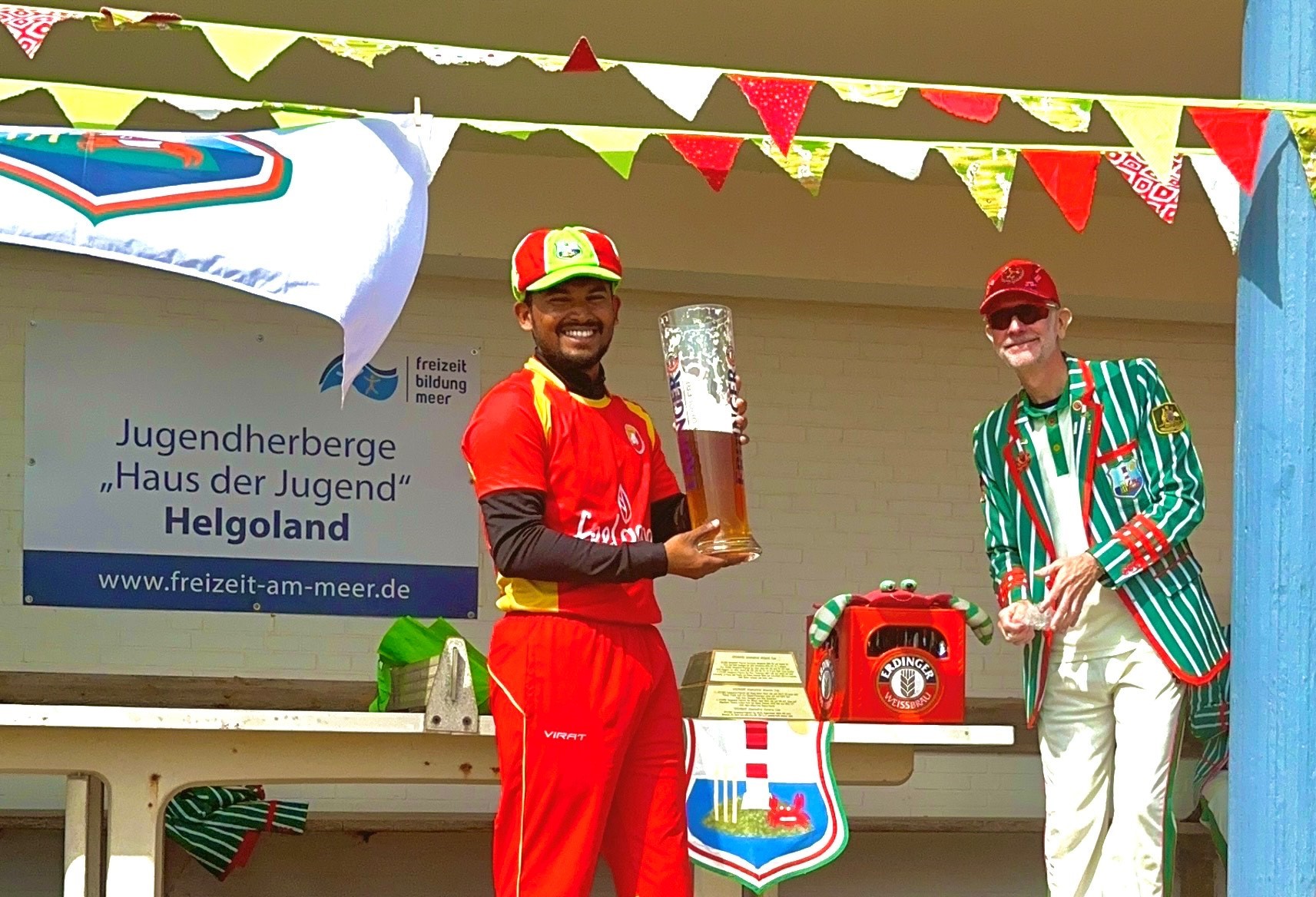 After the lunch break with exquisite cake supplied by the Panorama Hotel Café and ERDINGER beer, the Pilgrims begin their innings slowly. Moritz appears disinclined to score, especially in a rainy period. Facing all the Voyagers' bowlers, he outlasts altogether 5 partners right into the 34th over when he is caught on 25 (off 82 balls) edging Abhi to Sarmad. Captain Bai tops the scores with a powerful 64 (incl. 11 x 4 and 4 x 6) until he is bowled by Sid, whose figures of 4-3-5-1 impress. Otherwise, the home team's batsmen are not so successful, merely Chris (16), Mithun (14) and Rick (13) reach double figures. Their club member Karthik, however, takes 2-16 for the opposition. This is surpassed by Dhaval's outstanding bowling figures of 4-1-13-3 (incl. a wicket taken c&b and a duck). Keshav also takes 1 wicket and 1 catch.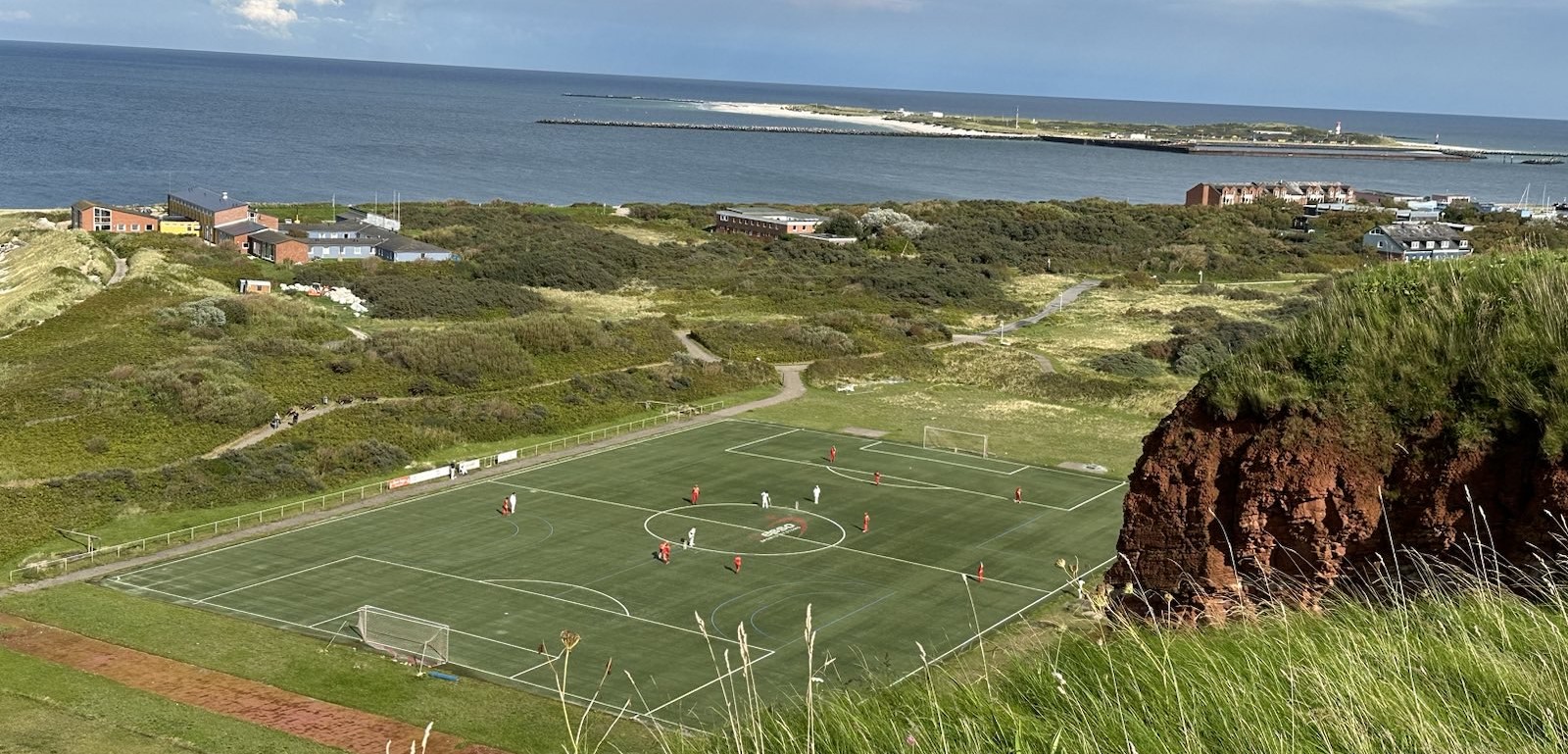 With only 195/8 the Pilgrims were 46 runs behind the Voyagers at the end of the first day. This lead should have been sufficient to reach a defendable target on the following Sunday. How could the Voyagers with their stronger team, reinforced by three of the best Pilgrims and a veteran, not win the Atlantik Cup against a Pilgrims' crew consisting of altogether seven retired players? Well, they were up against a home side that stuck to their captain's plan. They walked in and backed up, everybody gave 100%, and Bai himself even gave a little bit more. This is how the second day of the match went:

Bai and Mithun rip through the Voyagers top order. The scorebook lists the following digits for their first six batsmen: 0, 5, 0, 8, 0, 0; this includes Karthik's second duck. Bai's magic figures read 4-0-5-3, Mithun has taken 2-23, and the scoreboard shows an incredible 12/5 after 5 overs. After a while, Sid (28, lbw to Chris), Abhi (49, lbw to Jon), and Keshav (30*) manage to steady the ship. Nabeel takes another wicket and a catch, further catches hare held by Bai and Andy behind the stumps. At 138/8 after 23 overs the Voyagers ponder on their declaration. That is when Rick strikes and mops up the remaining 2 wickets, one caught by Mithun, one stumped by Andy. A score of 144 all out means a lead of 190 – or a target of 191, to get in 75 minutes, interrupted by delicious fish rolls and more ERDINGER beer.

The Pilgrims know they cannot achieve the required rate. But they are optimistic they can remain at the crease until the close of play – if they avoid mistakes. The Voyagers try their very best and remove Götz before lunch. Mithun (10), Jörg, Nabeel and Thomas lose their wickets in the first couple of overs of the last hour, the score is 26/5 after 7 overs, and still 45 minutes to play. The Voyagers collect 3 ducks and remove 3 more batsmen on single figures. Maiden overs feature by Dhaval, who shines again with 4-1-21-3, and Sid, who follows suit with 3-2-1-2. Yash takes 2-2 and even grandad John succeeds with 1-1. Keshav and Sarmad hold 1 catch each.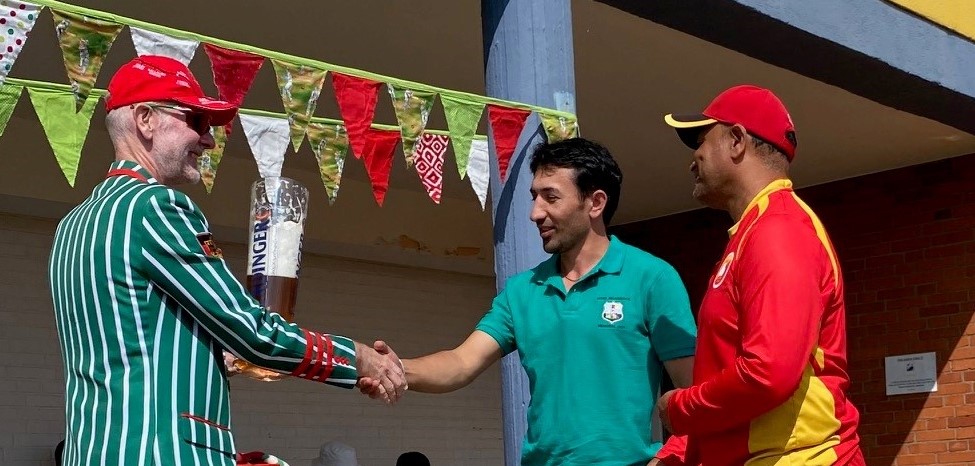 The scoreboard has moved extremely slowly from 46/7 after 13 to 63/7 after 19 overs. Jon alone has withstood the attack so far and stayed in solidly (28*), essentially supported by Andy (10) and Chris. Suddenly Chris is bowled by Dhaval, 3 balls to go, 2 wickets to take for the Voyagers, no chance to win for the Pilgrims. Moritz has to enter the crease, Rick has padded up, he is the last man on the bench. The Voyagers pull their field in. The first ball is blocked, and so is the second, the match is technically drawn. Moritz turns to left-hand batting, Dhaval bowls a ball on the leg side, could this be a wide? No, umpire Götz has seen enough, he does not give an extra, the game is over.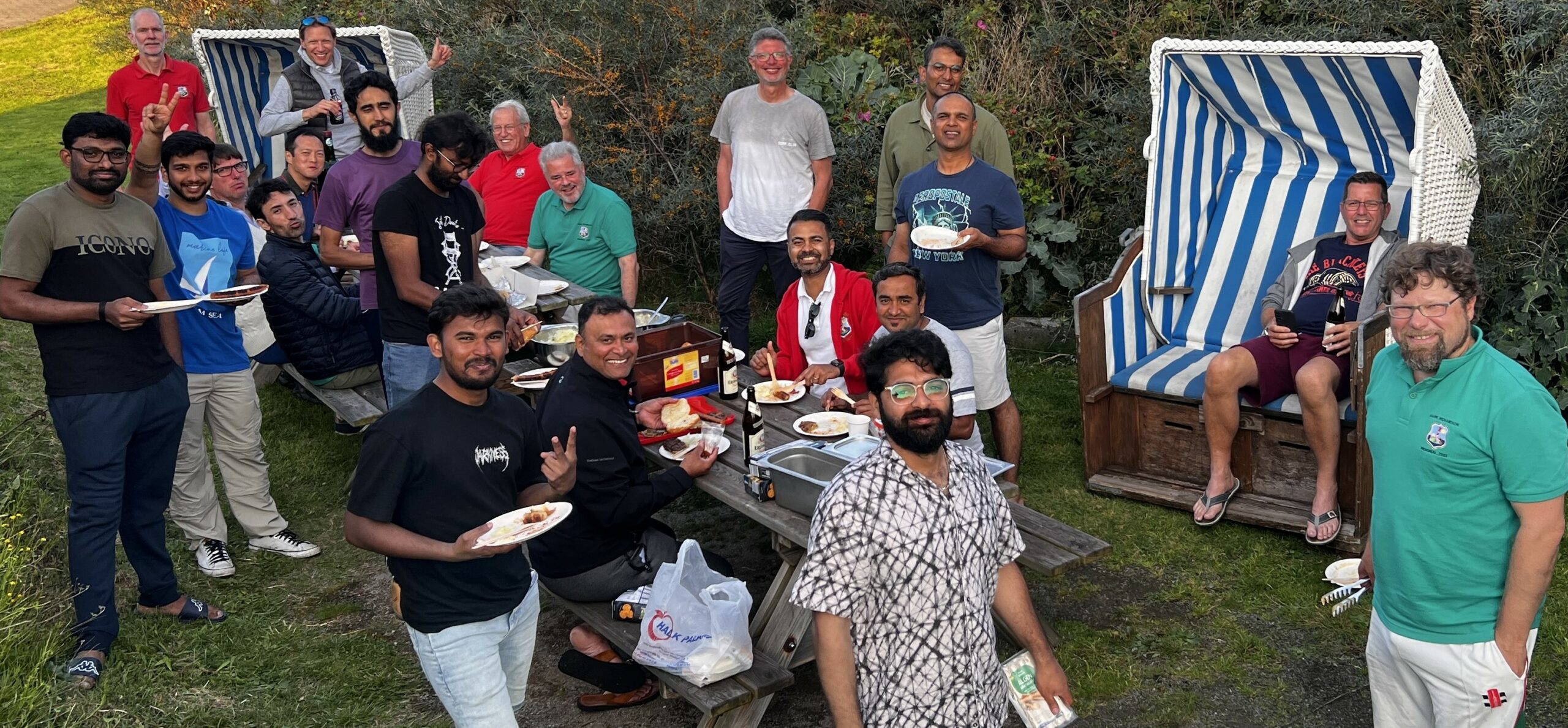 Congratulations to both teams. A wonderful two-day cricket match with everyone getting more than one chance to be involved and shine. When asked what he thought of the Atlantik Cup, veteran John, who played his very first Pilgrims' match (for the opposition!), summed it up in three letters: "fun". This also extended to the traditional, jolly and ERDINGER-infused barbecue on Saturday evening, followed by an open-air chess match which grabbed everyone's attention. The Voyagers shared John's view, one of them commenting they had neither expected something so enchanting, nor even imagined it was possible.
The awards ceremony after the match was shifted to the youth hostel as a precaution against rain. However, the cup could be presented to both captains in glorious sunshine. One man of the match award went to Voyager Akhil for his spirited batting on the first day, the other – based on a unanimous decision of the opposition – to Bai on the Pilgrims' side. In his closing speech Bai thanked the Pilgrims President for organising the event. His gratitude was shared by everyone. Andy observed happy and content faces all round on the return ferry, and the President concluded, as in the past, that such an incredible tour would not have been possible without the contributions by all participants. The Pilgrims will return to Heligoland next year.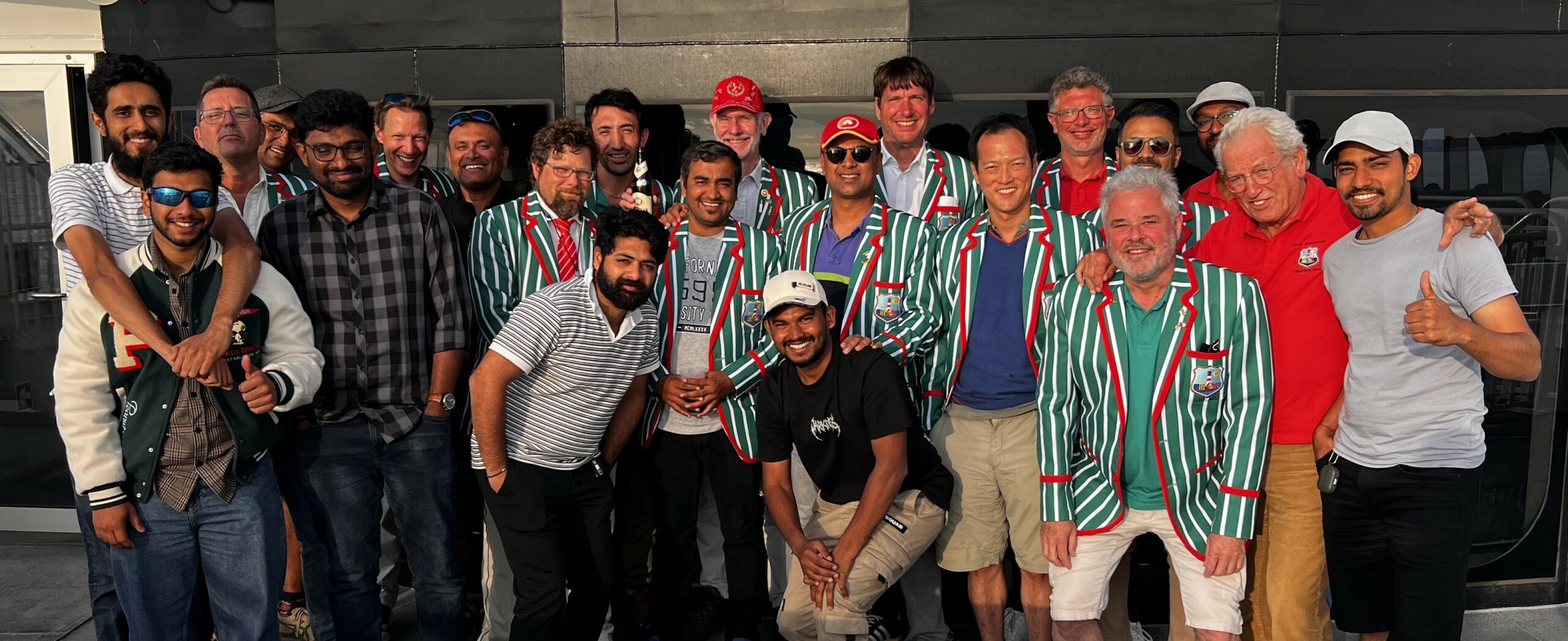 Heligoland Pilgrims: Bai (c.), Andy (wk.), Chris, Götz, Jon, Jörg, Mithun, Moritz, Nabeel, Rick, Thomas
THCC Rot-Gelb Hamburg Voyagers: Dhaval (c.), Abhi, Akhil, John, Karthik (wk.), Keshav, Rahul, Rishab, Sarmad, Sid, Yash
Report: Max Minor, Cricket-Correspondent
Photography: Richard Bamford, Andreas Timm, Rishab Saxena, Carsten Oelrichs, Nabeel Iqbal, Siddharth Vallath, Akhil Dunna