Read the English version below.
Eine geistige Erfahrung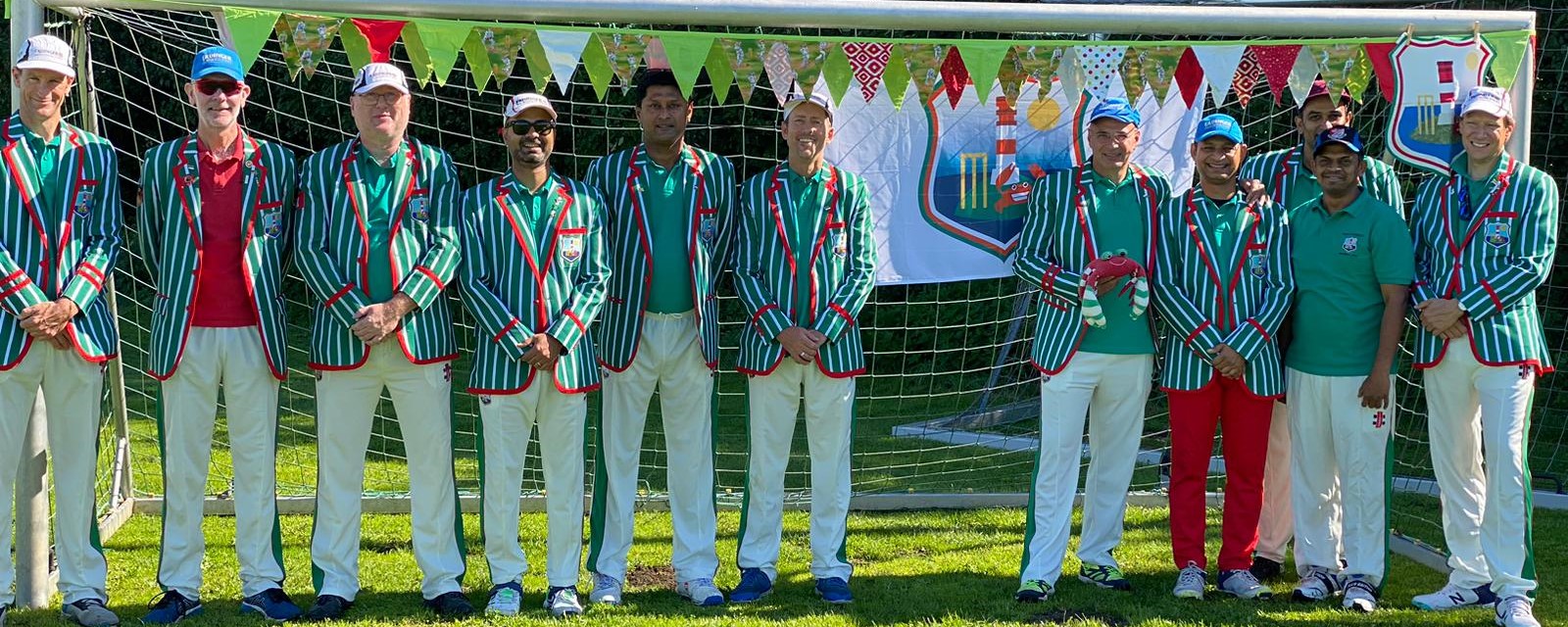 Neben seinen vielen und vielfältigen Traditionen (und Merkwürdigkeiten) gibt es beim Cricket Gesetze (keine Regeln), und diese Gesetze haben eine Präambel, die den Geist des Cricket beschreibt. An erster Stelle steht: "Schaffe durch dein eigenes Verhalten eine positive Atmosphäre und ermutige andere, das Gleiche zu tun." Zweifelsohne verbreiten Heligoland Pilgrims überall dort, wo sie auf ihren Cricketreisen unterwegs sind, eine positive Atmosphäre, und diese Positivität ist (meistens) ansteckend. Außerdem repräsentieren sie ihren Verein und das Spiel in hervorragender Weise, von ihren glänzenden Jacken und bunten Mützen bis hin zu ihrem Verhalten auf und neben dem Spielfeld. Und sie bringen Erfrischungen mit (vielen Dank, Erdinger Weißbräu).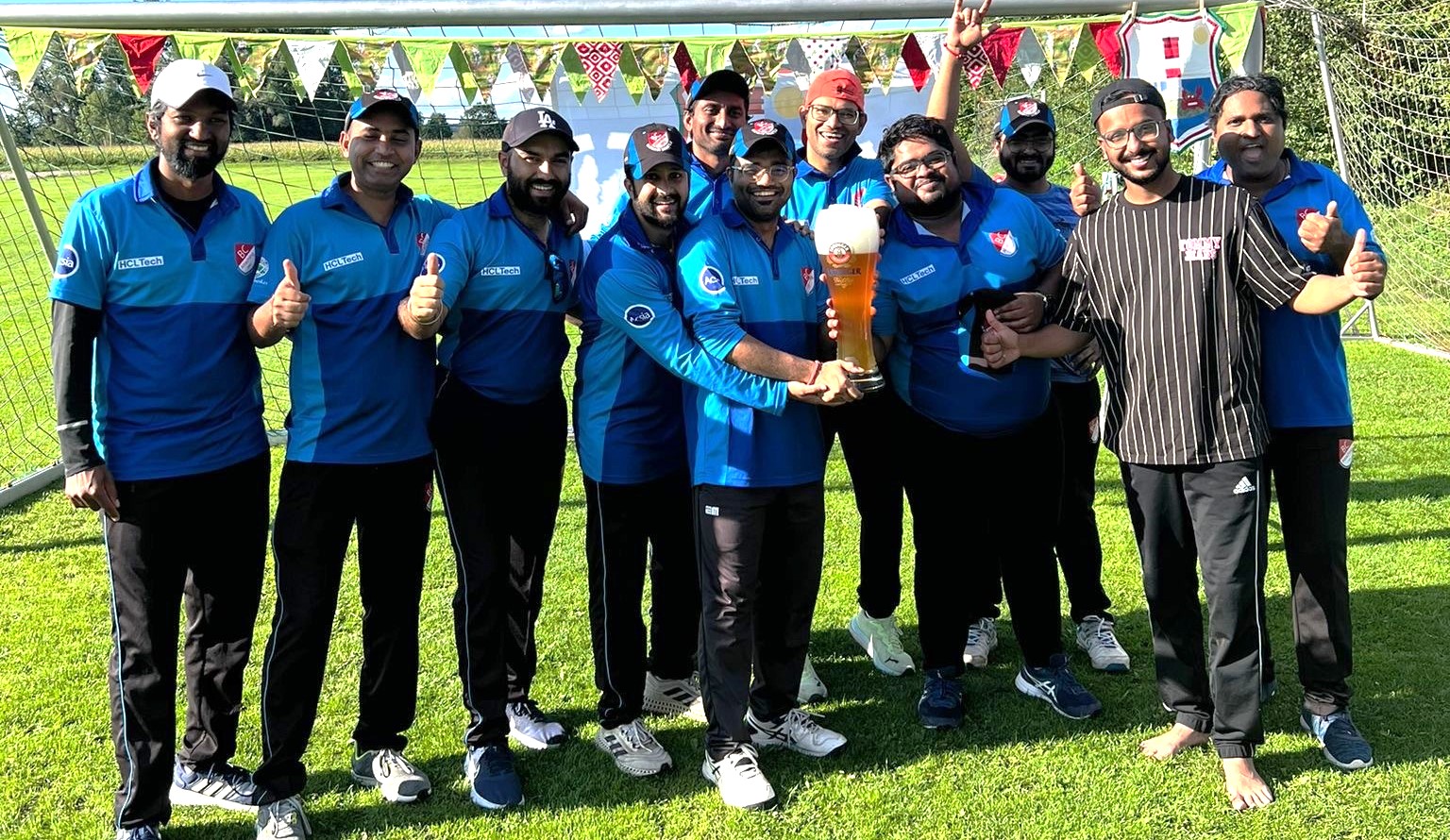 Sie sind die "tollste Truppe, gegen die ich je gespielt habe", sagte der bayerische All-Star Kapitän Nitin nach der dritten Auflage des Erdinger Alkoholfrei Bavaria Cups, den die All-Stars mit einem Vorsprung von 38 Runs zum ersten Mal gewannen.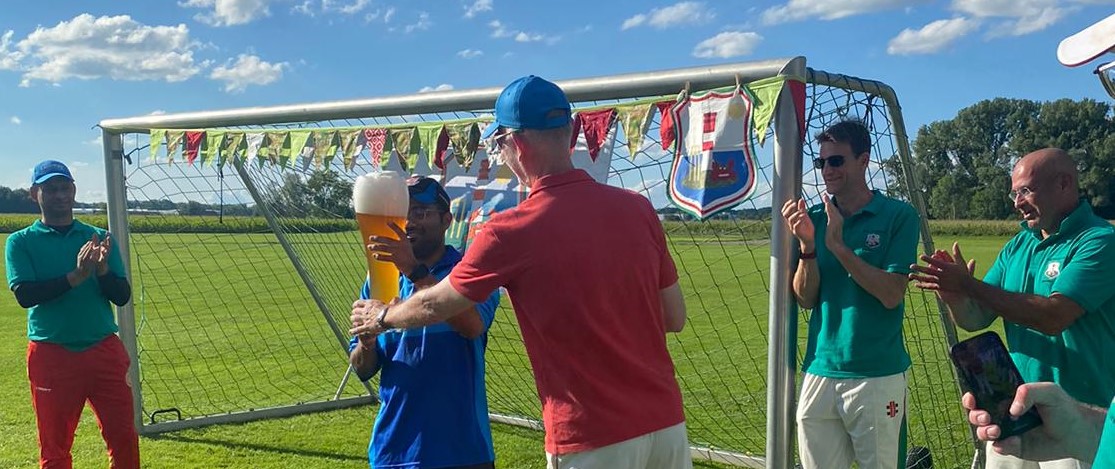 Nach Abstechern in den Jahren 2019 und 2022 brachten die Pilgrims ihren einzigartigen Cricket-Stil an einem irrwitzigsonnigen und warmen ersten Septemberwochenende erneut nach Bayern. Wie im letzten Jahr spielten sie am Sonnabendden Bavaria Cup gegen die All Stars (diesmal im wesentlichen BC Attaching) und am Sonntag ein Freundschaftsspiel gegen Moosburg, zwei Tage, die sie mit einer ausgeglichenen Bilanz von einem Sieg und einer Niederlage beendeten. Abhi hatte ein solides Wochenende mit Runs, Wickets und Fängen, während Satya mit dem Ball brillierte und insgesamt 6 Wickets einsammelte. Bipin, Cam, Dev, Jon, Jürgen, Keith, Moritz, Nabeel und Surya genossen alle Momente in der Sonne der Sonne, egal ob sie wichtige Wickets holten, Fänge machten, Runs erzielten, am Schlag ausharrten, den Ball auf einer mehr oder weniger ebenen Oberfläche jagten oder Runouts ausführten. Aber in diesem Bericht geht es nicht um das Cricketspiel. Es geht um den Geist des Cricket.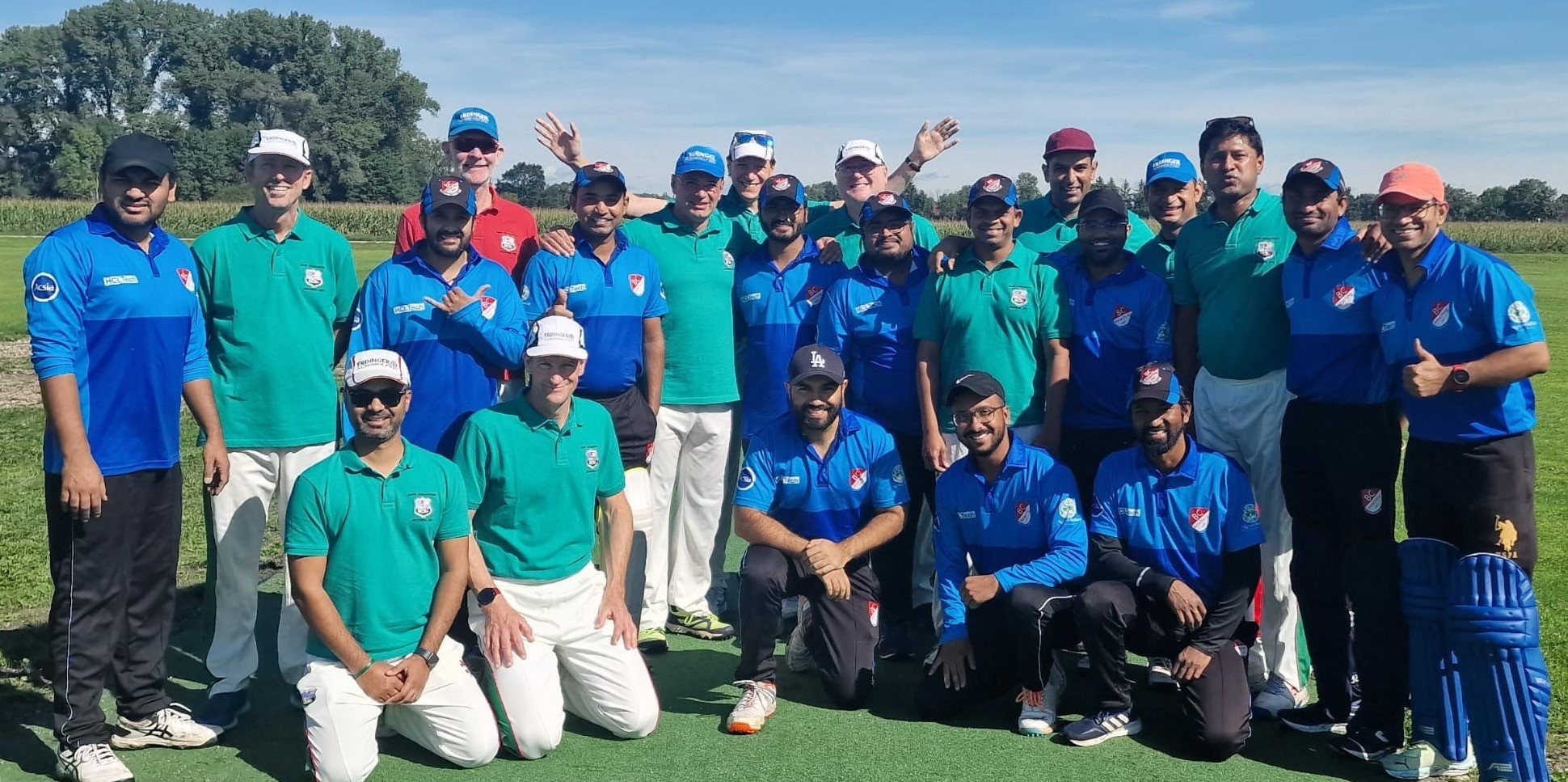 Und an diesem Wochenende bedeutete "Geist" weit mehr als die Art und Weise, wie die Spiele gespielt wurden. Die Pilgrims, normalerweise in cremefarbenen Trikots, trugen bunte Hemden zu Ehren des Gründungsmitglieds Mark Richardson, der bei der ersten Tournee 2019 dabei war und leider Ende letzten Jahres verstorben ist. Als die Pilgrimswährend des Spiels am Sonnabend den Faden verloren und die All Stars während ruhiger 10-Over-Phasen in beiden Innings wieder ins Spiel kommen ließen, konnte man ihnen verzeihen, daß sie im Gedenken an ihren Freund die Gedanken nicht bei der Sache hatten. Gedanken galten natürlich auch dem immer lächelnden Abhik (der letztes Jahrhier auf Tour war und inzwischen wieder nach Indien zurückgekehrt ist), Adrian und Jess (Vizepräsident der Pilgrims bzw. offizielle Photographin), die 2019 dabei waren, aber Anfang des Jahres nach Großbritannien gezogen sind, und Mithun, dem designierten Kapitän, der sich leider kurzfristig von der Tour zurückziehen mußte. Seine Abwesenheit bedeutete, daß Dev am Hamburger Flughafen das Kapitänsamt übernahm, und er leistete gute Arbeit, indem er dafür sorgte, daß jeder Pilgrim in das Spiel am Sonnabend einbezogen wurde.
In dieser Atmosphäre sportlicher Herzlichkeit, in der sehr gutes Cricket gespielt wurde (wenn auch ein wenig zu wettbewerbsorientiert), verdeckten das Lächeln und die Freude (bei einigen) das traurige Eingeständnis, was und wer fehlte. Ohne Abhik, Mithun, Adrian und Jess, und ganz sicher ohne Mark, schien es, als ob die Dinge nicht mehr ganz so gut liefen. Angesichts der Tatsache, daß die Spiele zu hart umkämpft waren, wäre der stets gütige Mark sicherlich eingesprungen, um sicherzustellen, daß die Pilgrims weiterhin ihren Cricket-Stil spielen und nicht in die Falle des "Gewinnen-Müssens" oder des "Gute-Leistung-abliefern-Wollens" oder gar des "Scheltens von Teamkameraden für kleine Fehler" tappen, was den absoluten Tiefpunkt imCricket-Niveau darstellt. Aber das ist passiert. Außerdem kommt es selten vor, daß ein Bowler in einem Spiel der Pilgrims "ausschöpft" (die maximal erlaubte Anzahl von Overs zu Ende bringt), aber auch das passierte in beiden Spielen.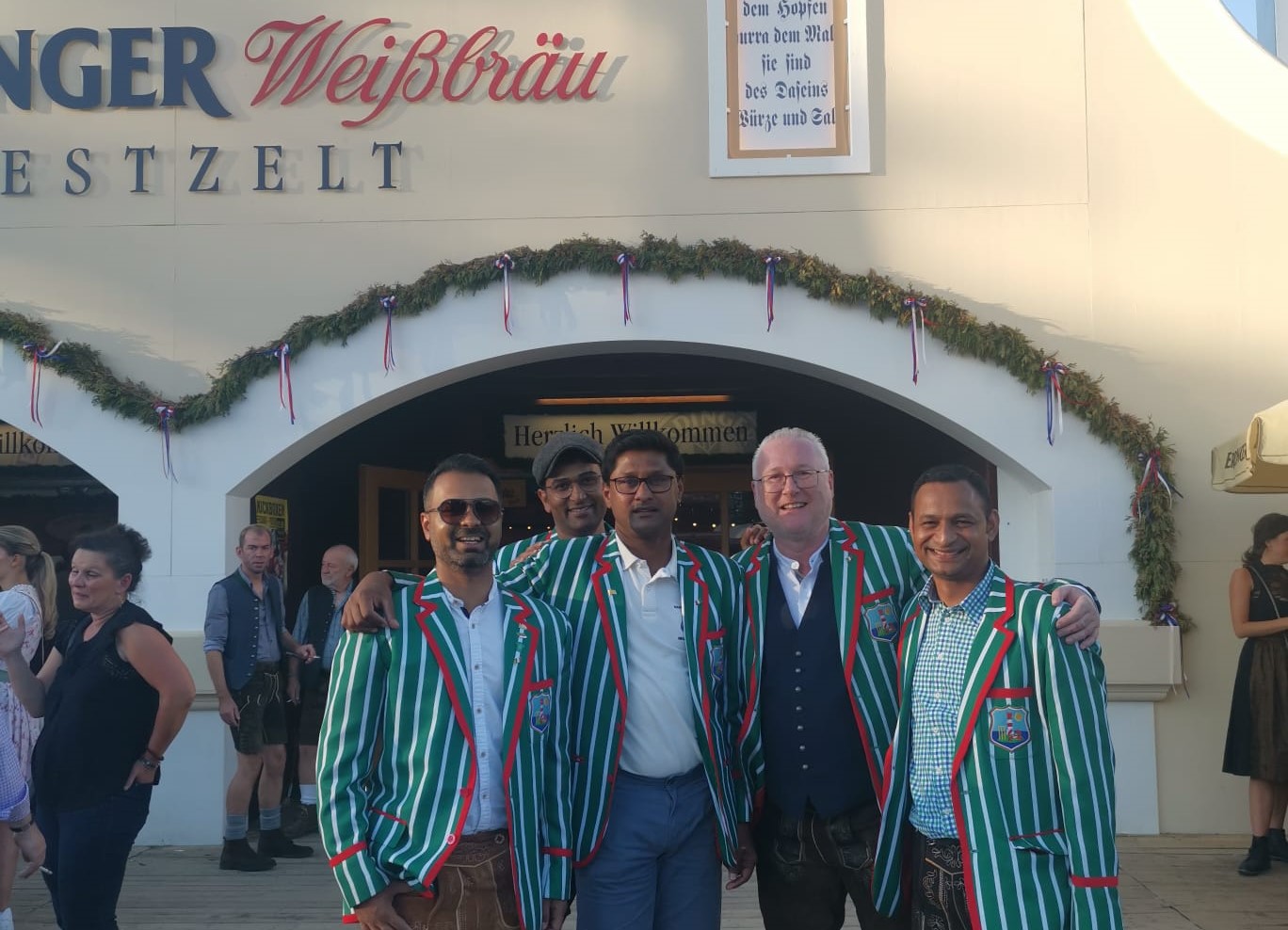 Waren die Pilgrims früher nach Erding gefahren, um Cricket zu spielen, Erdinger Weißbier zu trinken und fröhlich zu sein, so schien es dieses Mal, daß die Reisegruppe mit höheren Ambitionen angereist war. Das bedeutete, daß die Niederlage am Sonnabend ein wenig enttäuschend war, während sich der Sieg am Sonntag etwas hohl anfühlte, obwohl beide Spiele eigentlich nur hätten "Spaß" machen sollen. An dieser Stelle ist es angebracht, die Canterbury-Tour 2019 zu erwähnen (der bisherige Lieblingsausflug Ihres Schreibers), bei der wir alle eine unglaublich fabelhafte Zeit hatten. Beide Spiele gingen zwar verloren, aber das machte nicht das Geringste aus. Ganz oben auf der Liste der XI (unter der Leitung von Mark und mit der Unterstützung von Adrian) stand der Spaß, die Freude an der Gesellschaft der anderen und das Beste aus der Tour zu machen (Ihr Schreiber ist persönlich sehr dankbar, daß er Teil dieser Canterbury-Tale war).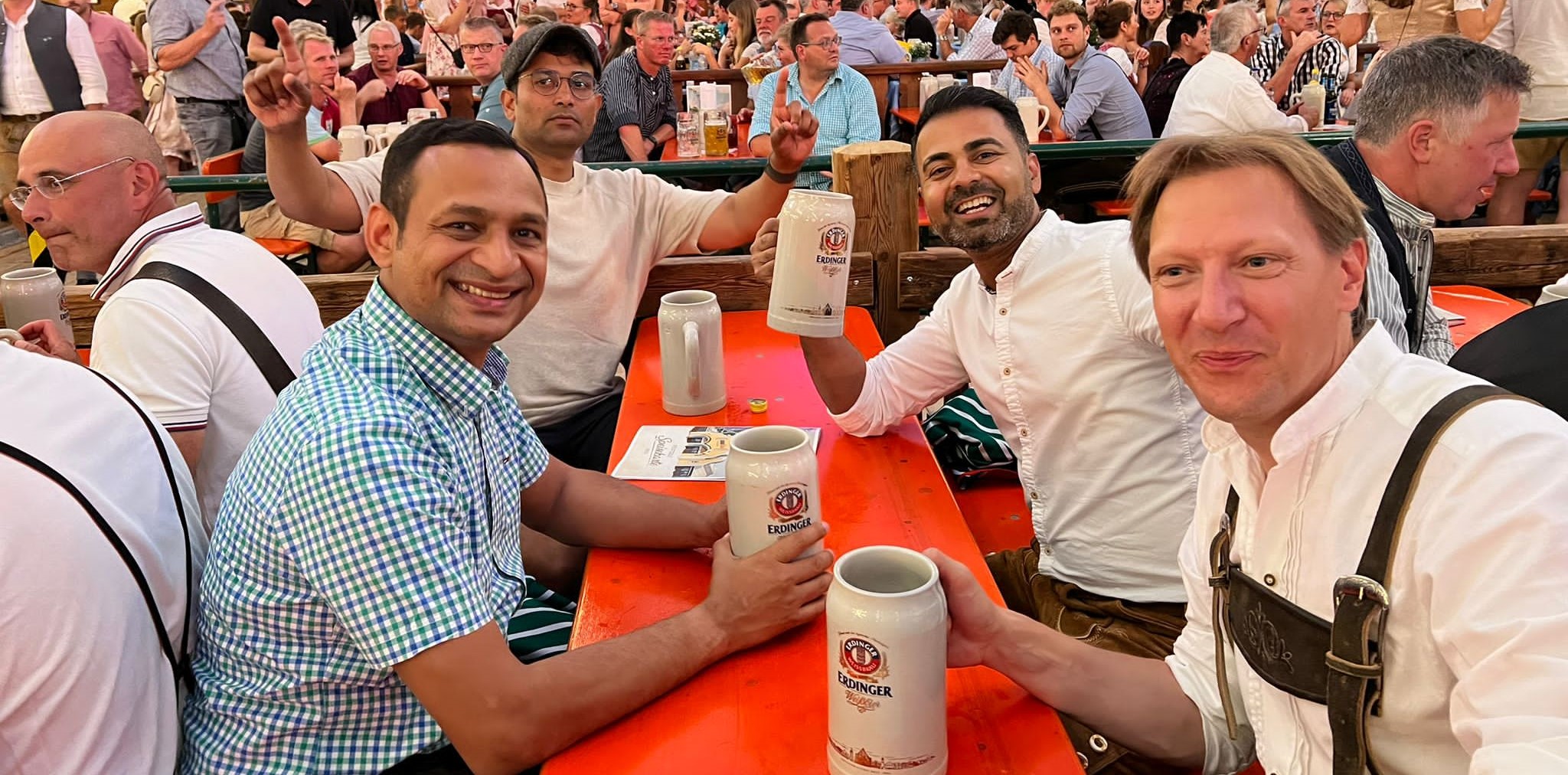 Doch zurück nach Erding, wo sich der Spaß an andere Stelle abspielte, vor allem abseits des Cricketfeldes. Am Freitagabend gab es für die meisten Spieler ein leckeres Curry im TAJ-Restaurant, gefolgt von einem Absacker im Dubliner. Am Sonnabendabend kamen die in Lederhosen gekleideten Pilgrims rechtzeitig zu ihrem reservierten Tisch im Erdinger Weißbierzelt, um den ganzen Trubel des Volksfestes zu genießen (nochmals vielen Dank, Erdinger). Es dauerte bis in die frühen Morgenstunden, zur Belustigung aller Beteiligten, was allerdings nicht jedermanns Spielfähigkeit am Sonntag besonders verbesserte.

Heligoland Pilgrims sind sehr stolz darauf, die Erdinger Brauerei als Hauptsponsor zu haben (seit 2013 und für weitere drei Jahre), und möchten die Chance nutzen, Cricket wieder auf das Volksfest in Erding zu bringen; 2019 wurde der Pokal auf dem Hauptsportplatz der Stadt ausgetragen, einen Steinwurf vom Erdinger-Zelt entfernt, und war ein Spektakel, das sich sehen lassen konnte. Letztes Jahr fanden die Spiele in Attaching und Moosburg statt, und obwohl sie gut waren, fühlten sie sich vom Fest und von Erding selbst entfernt an. Dieses Jahr wurden beide Begegnungen in Attaching gespielt, auf einem fabelhaften neuen Spielfeld, aber es scheint immer noch, daß die Pilgertour nach Erding (unserer geistigen zweiten Heimat) einen Auftritt im Zentrum von Erding einbeziehen sollte. Hoffentlich läßt sich das beim nächsten Mal arrangieren, im Jahr 2024 und darüber hinaus, und Cricket könnte dann Teil des Erdinger Volksfestes werden.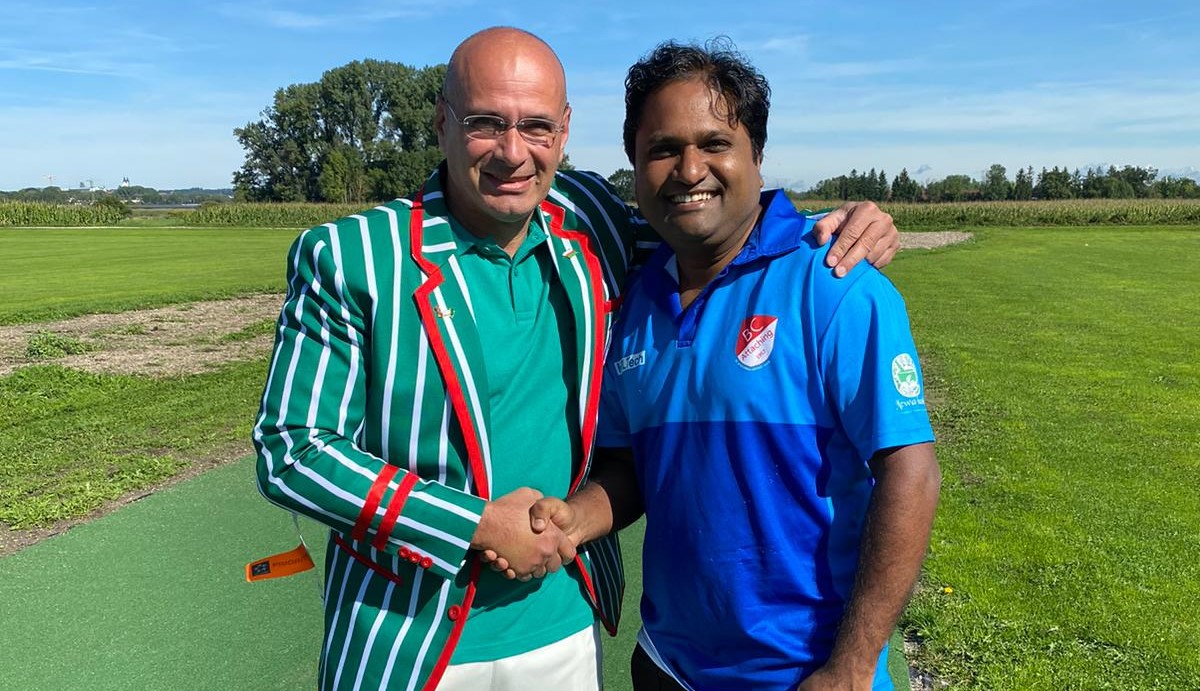 Bis zum nächsten Mal bedanken sich die Pilgrims herzlich bei Erdinger Weissbräu und allen Spielern, Organisatoren (insbesondere Moritz, Satya und Ankit), Kapitänen, Schiedsrichtern und Scorern, die an der diesjährigen Tour beteiligt waren.
Auch bei Sasi, der beim Bavaria Cup Mann des Spiels war. Und bei Mark, den wir sehr vermissen.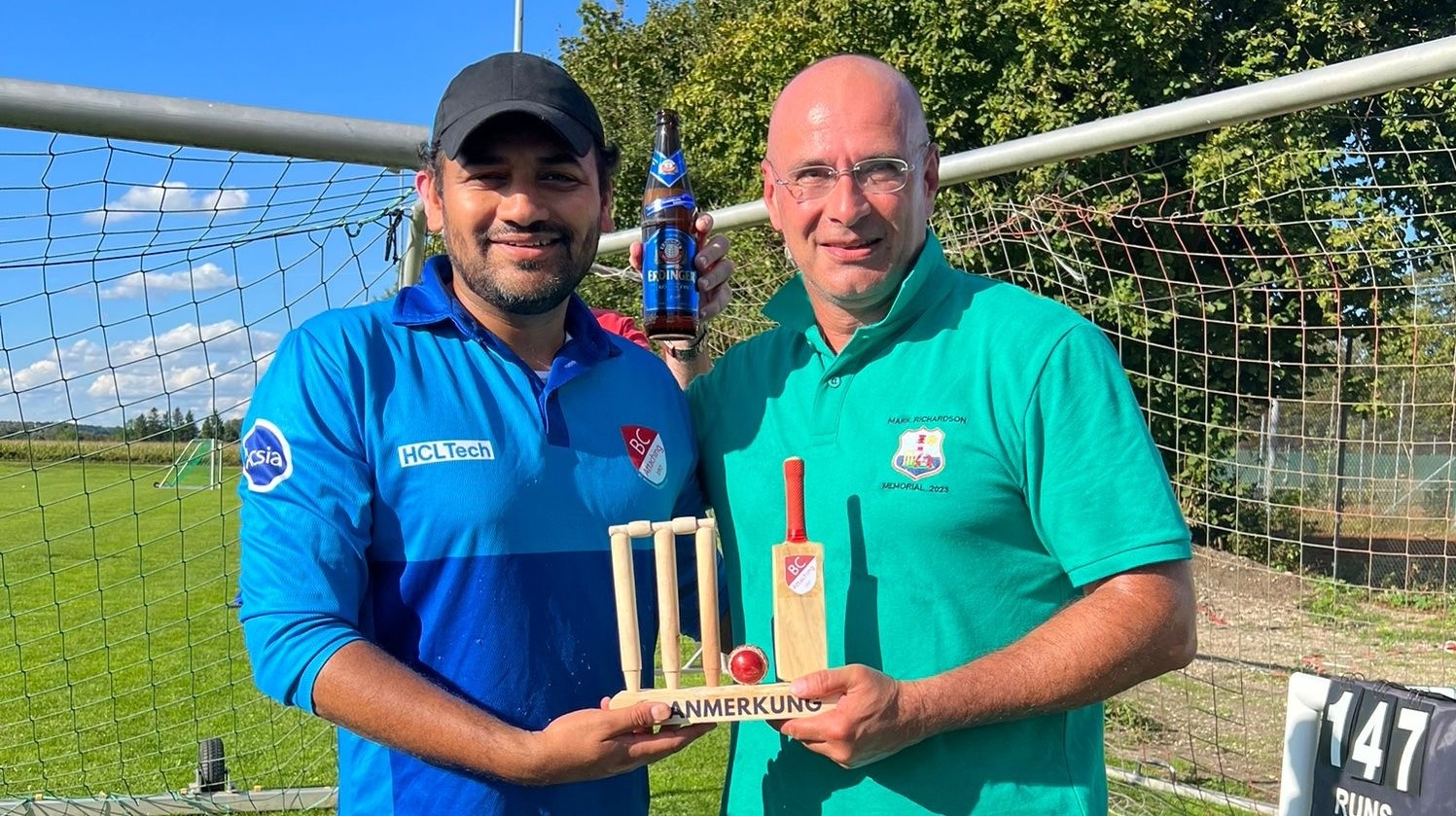 Heligoland Pilgrims: Dev (Kapitän 1), Surya (Kapitän 2 und Keeper 1), Abhi, Bipin, Cam, Jon (Keeper 2), Jürgen, Keith, Moritz, Nabeel, Satya.
Bavarian All Stars: Sasi, Akshay, Amit, Bhavin, Gundeep, Nitin (Kapitän), Nitesh, Prashanth, Rajesh, Sai, Zee.
Moosburg CC: Satya (Kapitän), Aranjit, Dishant, Hardik, Jassi, Karthik, Manish, Ram, Sai, Venkat, Zeeshan.
Bericht: Royce Leville (Übersetzung: Max Minor mit DeepL)
Photographie: Mitglieder der Reisegruppe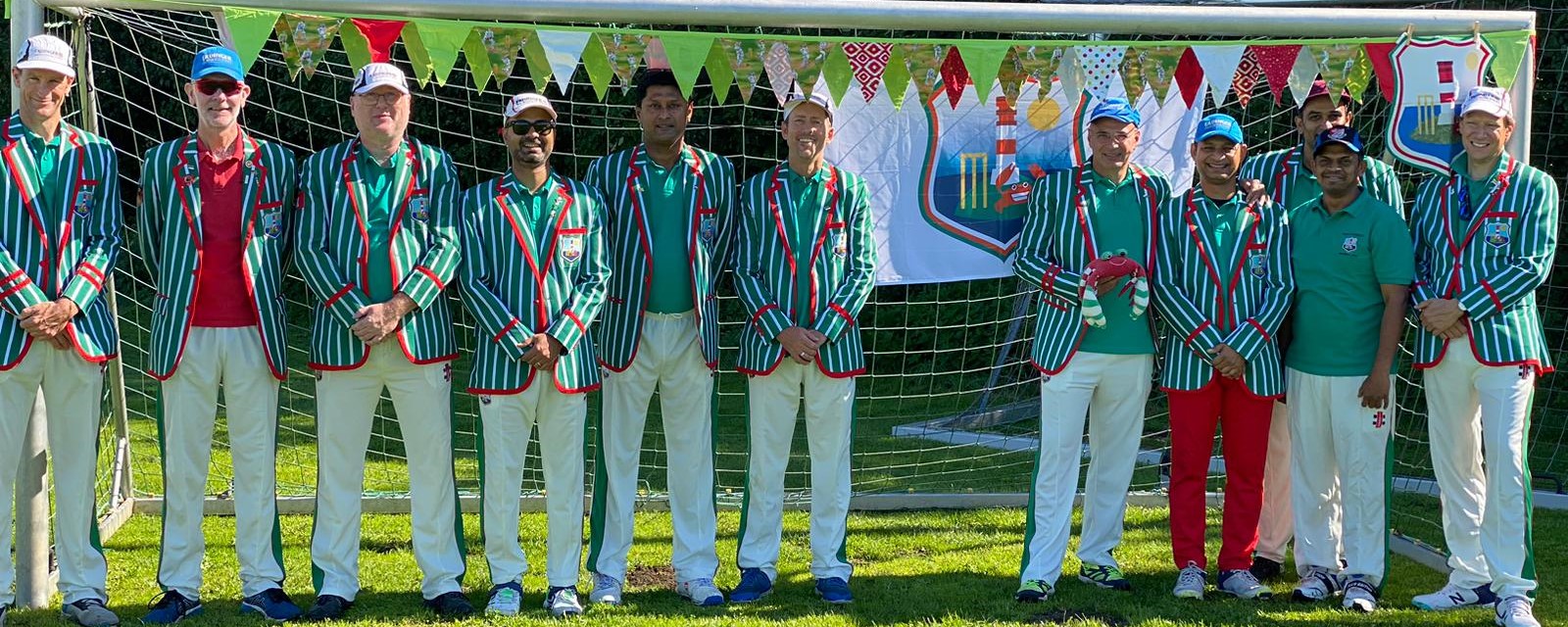 Among its many and varied traditions (and oddities), cricket has laws (not rules), and these laws have a preamble that covers the Spirit of Cricket. Best on the list is "Create a positive atmosphere by your own conduct, and encourage others to do likewise." Without doubt, wherever theHeligoland Pilgrims travel on their cricket journeys, they bring a positive atmosphere, and that positivity is (mostly) contagious. They also represent their club and the game in fine fashion, from their sparkling blazers and colourful caps to the way they conduct themselves on and off the field. And they bring refreshments (thank you very much, Erdinger Weissbrau).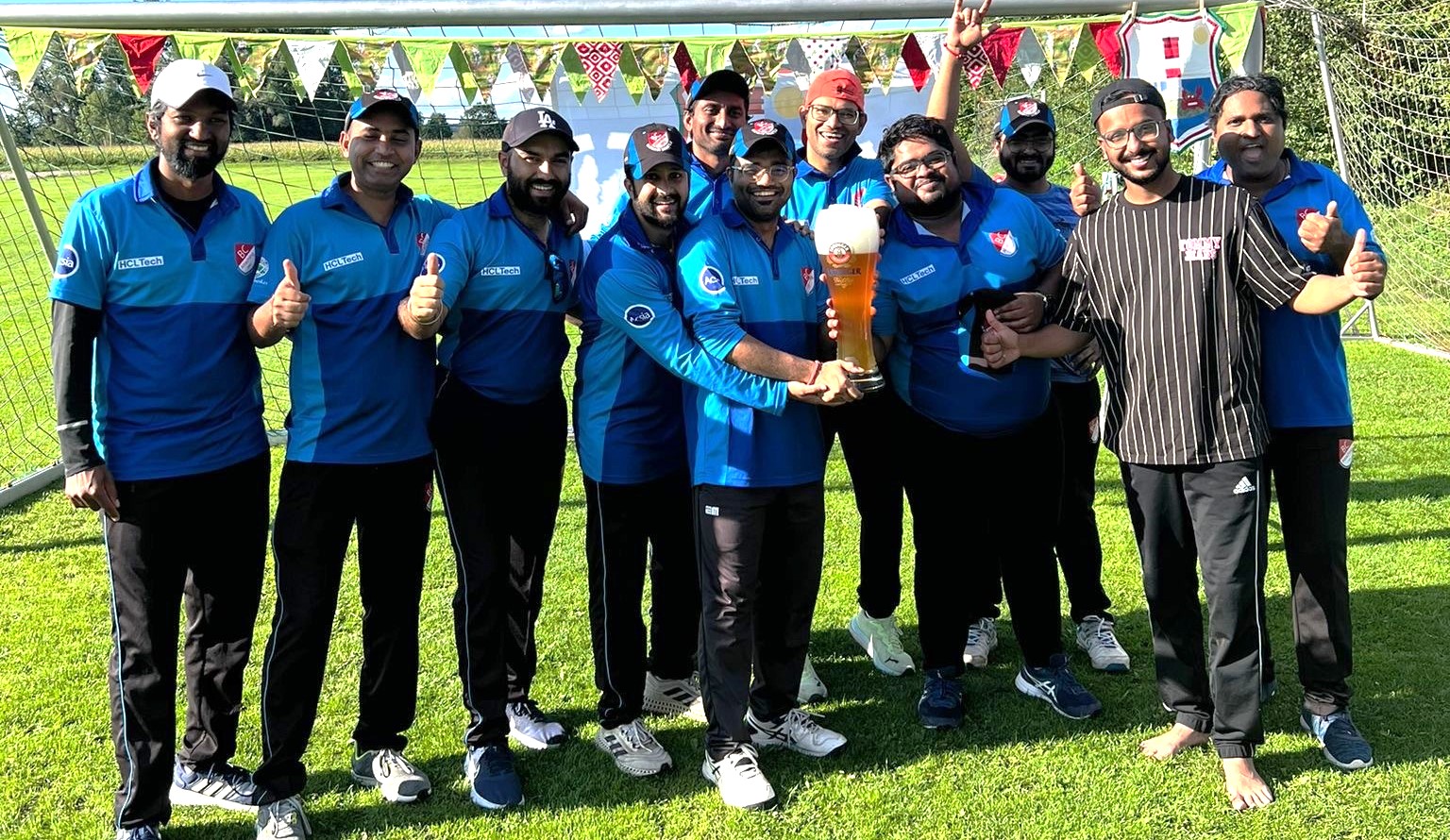 The most "amazing bunch of people I have ever played against," said Bavarian All Star Captain Nitin, following the third edition of the Erdinger Alkoholfrei Bavaria Cup, won by the All Stars for the first time, by a margin of 38 runs.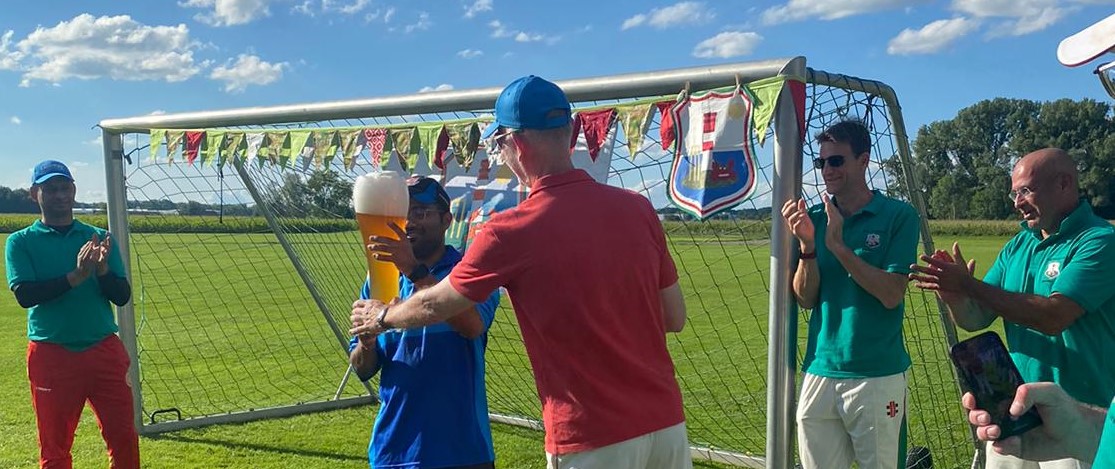 Following forays in 2019 and 2022, the Pilgrims once again brought their unique style of cricket to Bavaria, on a ridiculously sunny and warm first weekend in September. As with last year, they played the Bavaria Cup on Saturday against the All Stars (this time essentially BC Attaching) and a friendly match on Sunday against Moosburg, leaving with a squared ledger of one win and one loss. Abhi had a solid weekend of runs, wickets and catches, while Satya excelled with the ball, taking 6 wickets all up. Bipin, Cam, Dev, Jon, Jürgen, Keith, Moritz, Nabeel and Surya all enjoyed moments in the sun, whether taking vital wickets, holding catches, making runs, occupying the crease, chasing the ball on a more or less even surface or executing runouts. But this report isn't about the play of cricket. It's about the Spirit of Cricket.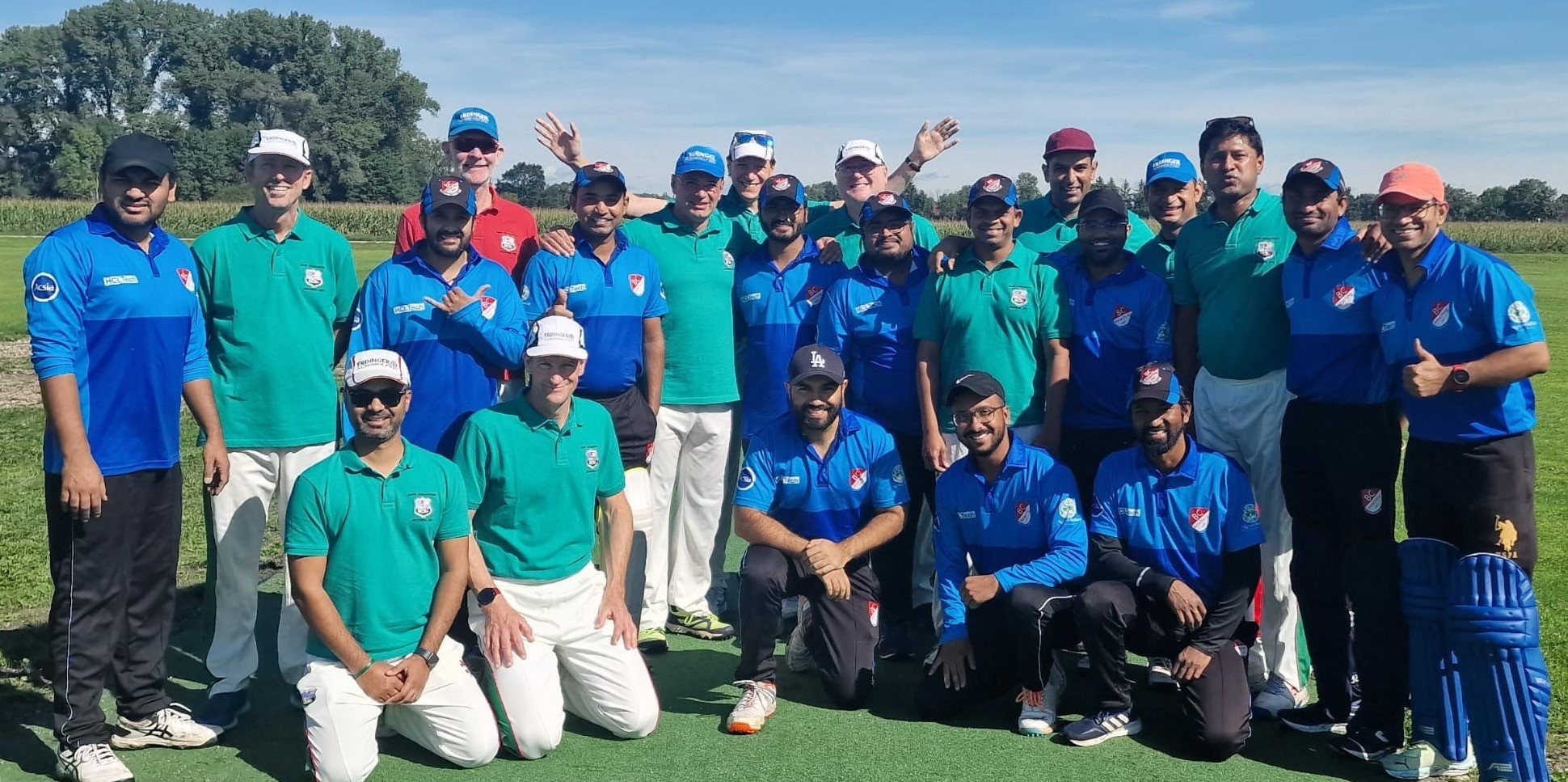 And on this weekend, "spirit" meant far more than how the games were played. The Pilgrims, usually in creams, worecoloured shirts in honour of founding member Mark Richardson, who was on the inaugural tour in 2019 and who sadly passed away late last year. When the Pilgrims lost their way during Saturday's game, letting the All Stars back into the match during placid 10-over stretches in both innings, they could be excused for having their minds off proceedings while remembering their friend. Thoughts were certainly also extended to the ever-smiling Abhik (on tour here last year and who since moved back to India), to Adrian and Jess (Pilgrimsvice-president and official photographer, respectively), who participated in 2019, but moved to the UK earlier this year,and to Mithun, the designated captain who unfortunately was a late withdrawal from the tour. His absence meant Dev took on the captaincy, at the Hamburg Airport, and he did a fine job ensuring every Pilgrim was involved in Saturday's match.
So, within this atmosphere of sporting cordiality, with some very good cricket being played (albeit a little too competitively), the smiles and enjoyment (for some) masked a forlorn admission of what and who was missing. Without Abhik, Mithun, Adrian and Jess, and most definitely without Mark, it seemed things just weren't quite the same. In the face of the matches turning too competitive, the ever-gracious Mark would certainly have stepped forward to ensure the Pilgrims continued to play their style of cricket, and not fall into the trap of "having to win" or "wanting to perform well"or even "chastising teammates for minor mistakes", which is scooping the absolute bottom of the cricketing barrel. But this happened. Additionally, rare in any Pilgrims match is a bowler who "bowls out" (completes the maximum number of overs allowed), but this also happened in both matches.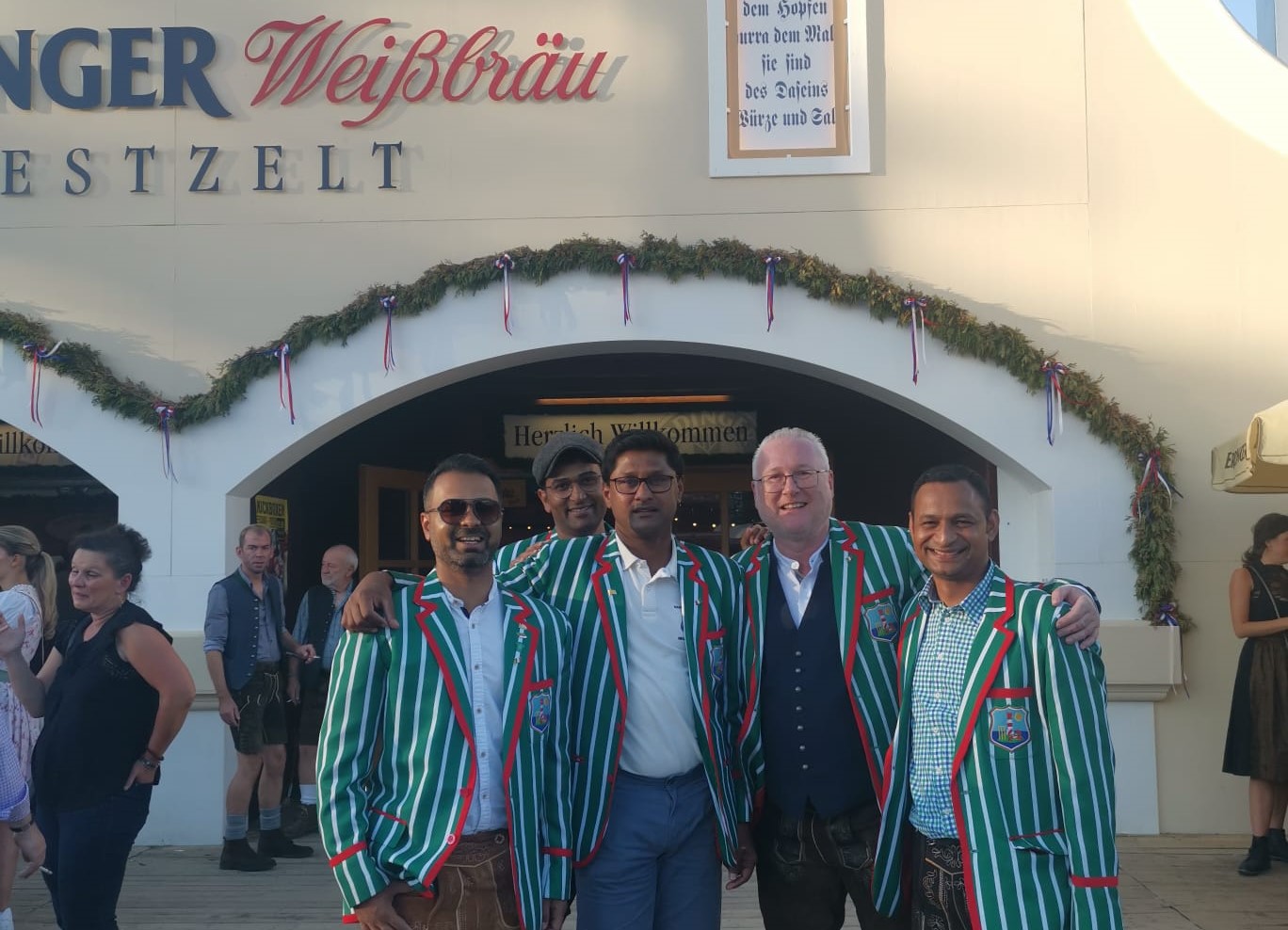 Whence before the Pilgrims had travelled to Erding to play cricket, drink Erdinger Weissbier and be merry, this time it seemed the touring party had arrived with loftier ambitions. It meant that Saturday's loss felt a tad disappointing, while Sunday's win felt somewhat hollow, when really both matches should have just been "fun". It seems pertinent here to mention the Canterbury tour of 2019 (your scribe's favourite excursion so far), where an incredibly fabulous time was had by all. Both matches were lost, but that didn't matter in the slightest. At the top of the XI's list (led by Mark and supported by Adrian) was having fun, enjoying each other's company and making the most of the tour (your scribe is personally very grateful for having been part of that Canterbury tale).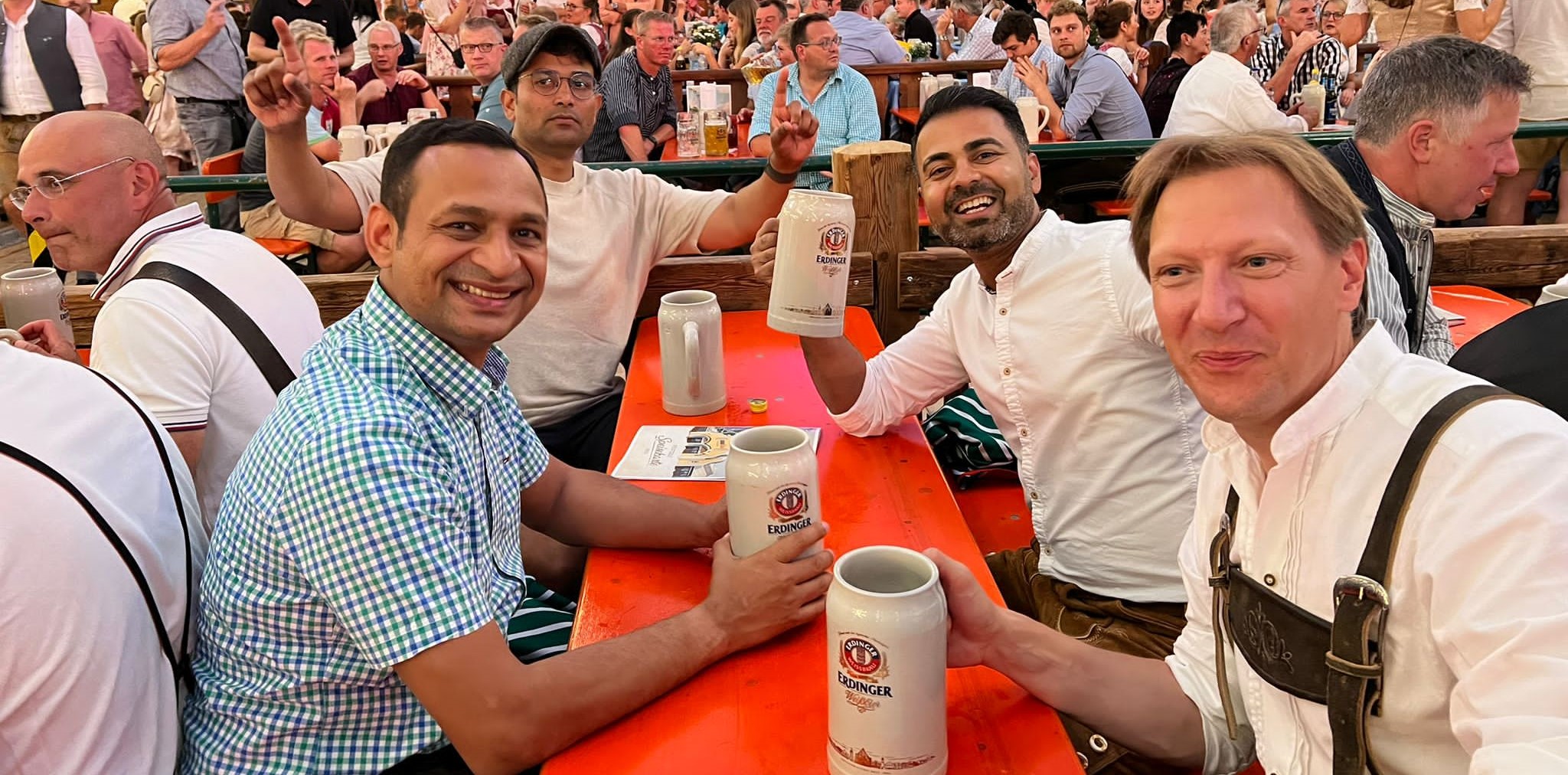 But back to Erding, where the fun stayed elsewhere, predominantly off the cricket field. On Friday evening, most players had a delicious curry at the TAJ restaurant, followed by nightcap chasers in The Dubliner. On Saturday evening,the Lederhosen-clad Pilgrims got to their reserved table in the Erdinger Weissbier tent in time to enjoy all the fanfare of the Volksfest (thank you again, Erdinger). It went to the early hours of the morning, to the amusement of all involved, while not exactly improving everyone's playing skills on Sunday.

The Heligoland Pilgrims are very proud to have the Erdinger brewery as their main sponsor (since 2013 and for another 3 years), and would like the chance to once again bring cricket back to the Volksfest in Erding; in 2019, the cup was contested on the town's main sports field, a stone's throw from the Erdinger tent, and was a spectacle to behold. Last year, the matches were played in Attaching and Moosburg, and while good, they felt removed from the festival and from Erding itself. This year, both matches were played in Attaching, on a fabulous new pitch, but it still seems that the Pilgrims tour to Erding (our spiritual second home) should involve appearing in the centre of Erding. Hopefully, this can be arranged next time, in 2024 and beyond, and cricket could then become part of the Erdinger Volksfest.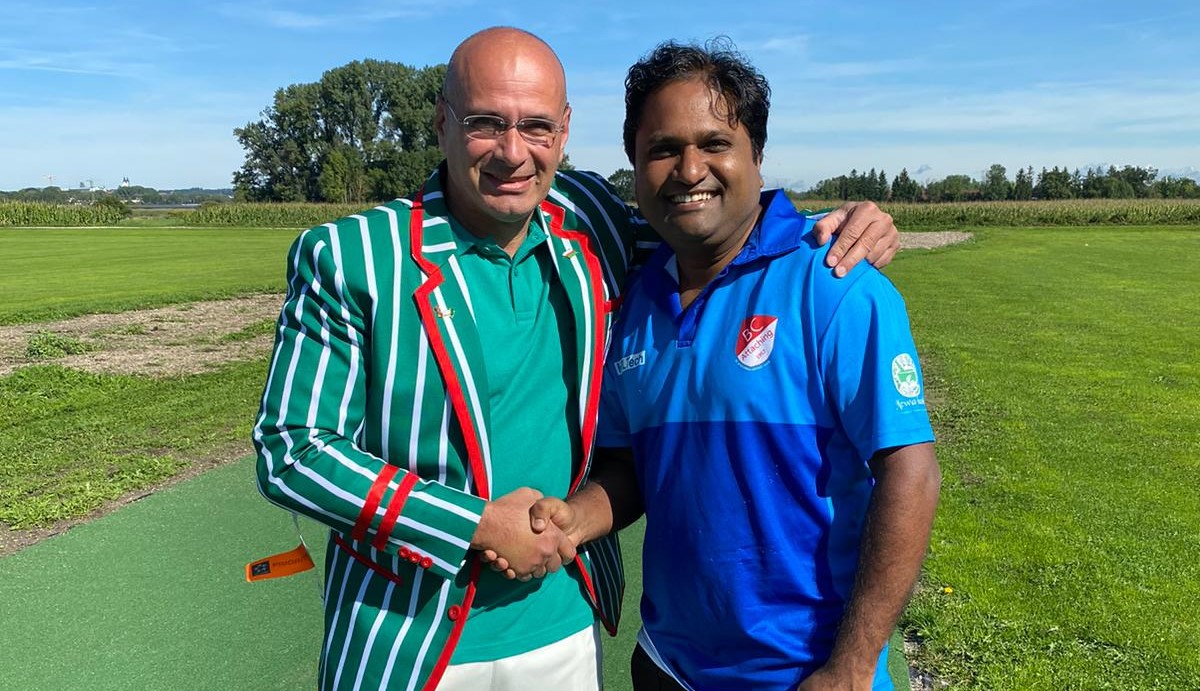 Until that next time, the Pilgrims extend a hearty thank you (and raise a half-filled glass) to Erdinger Weissbrau, and also to all the players, organisers (Moritz, Satya and Ankit especially), captains, umpires and scorers involved in this year's tour. Also to Sasi who was Man of the Match in the Bavaria Cup. And to Mark, who we miss dearly.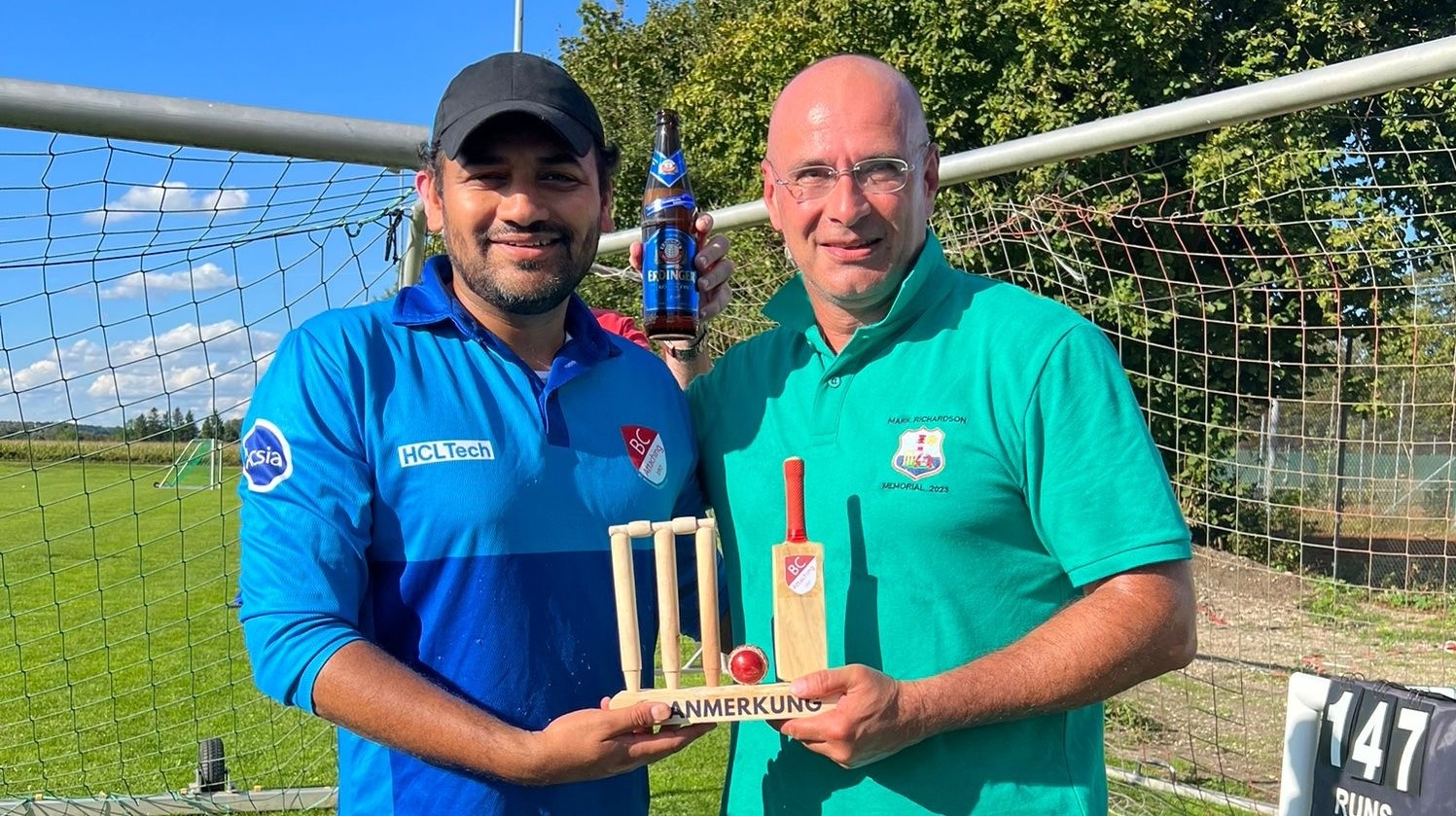 Heligoland Pilgrims: Dev (captain 1), Surya (captain 2 and wk. 1), Abhi, Bipin, Cam, Jon (wk. 2), Jürgen, Keith, Moritz,Nabeel, Satya.
Bavarian All Stars: Sasi, Akshay, Amit, Bhavin, Gundeep, Nitin (captain), Nitesh, Prashanth, Rajesh, Sai, Zee.
Moosburg CC: Satya (captain), Aranjit, Dishant, Hardik, Jassi, Karthik, Manish, Ram, Sai, Venkat, Zeeshan.
Report: Royce Leville
Photography: members of the tour party